The Blue Yeti microphone is one of the most well-known and loved microphones on the market today, and whether you use it for streaming or podcasting, you obviously need it to pick up your voice as well as possible.
Another important thing when it comes to mics, the one that comes before the Yeti microphone picking up your voice, is that your software detects your Blue Yeti microphone and that the mic works fine.
As you know, this can be done with only using the default Windows mic settings, however, having the Blue Sherpa software installed creates an even better experience for you and your Yeti microphone.
But as with every single piece of technology, sometimes things can go south, and maybe you can even get the error "Blue Sherpa not detecting Yeti".
---
Here is why Blue Sherpa might not be detecting Yeti:
* Improper connection;
* Indirect connection to PC;
* Faulty USB cable;
* Wrong Control Panel settings;
---
So let's see what can be done about that.
What Does the Blue Sherpa Software Even Do?
In case you aren't really sure what does this software even does, here are some explanations before you start fixing it. You might even be asking yourself if having a separate software is even that different when Windows already has its basic options.
As Blue Sherpa is the software made by the same company that makes the Blue Yeti mic, having it installed makes it easier to get updates for the Blue Yeti microphone.
The updates are installed directly to the mic, so you don't have to overthink anything.
Through the Blue Sherpa, things like the Gain of your Blue Yeti mic can also be adjusted, as well as the Direct Monitoring and the Headphone Level, which are quite important details when it comes to streaming and podcasting.
And while the gain and headphone levels could also be adjusted with the headphone volume knob, having a way to deal with that through software will eliminate the sounds of you adjusting being picked up by the mic.
Just find the volume icon and set what sounds best for you.
Also, you can be way more precise with your settings and find what works best.
QUICK OVERVIEW: Best XLR Microphone
Impedance: 150 Ohm
Voltage: 1.12 Millivolts

Frequency Response: 75 to 18,000 Hz
Sensitivity/SPL: -56dB ±2dB

Sensitivity/SPL: 44.1kHz, 48kHz
Connectivity: USB, XLR
Why Do You Get Blue Sherpa Not Detecting Yeti Error?
There are different reasons as to why the Blue Sherpa won't recognize your Blue Yeti mic, some are quite simple and may only require you to just turn things off and then on again, but you may also need to dive into Device Manager and fiddle around with some settings.
The solutions will be listed from more simple to more complex ones, and we hope you find one that will be useful to fix the Blue Yeti complications you're having.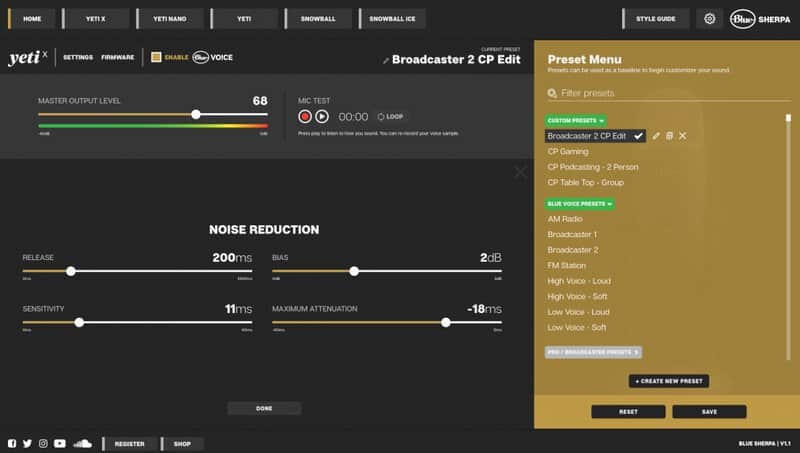 1. Make sure the Blue Yeti mic is properly connected
When the Blue Sherpa doesn't recognize that the mic is connected, an "Oh No!" message will appear in the app, and it will say that you don't have any devices connected.
The first thing to do here would be to check if you accidentally forgot to connect any previously disconnected devices.
And of course, make sure that you're plugging the microphone in the place it is supposed to go, which is the USB port.
The microphone should be connected via the supplied USB cable.
Eventually, plug it in and out a couple of times just to be sure. As we all know, as silly as this method seems, it does work quite often.
However, if this is not one of those situations, then head below and try out some of the other solutions.
2. Connect Blue Yeti microphone directly to your computer
Blue Yeti microphones can be faulty when plugged into your computer via hubs or multipliers.
As with most devices, the manufacturer advises that Blue Yeti products should be plugged directly into the PC's USB port.
This may be a bit of a complication for you, especially if you need multiple devices to be plugged into your PC simultaneously, but having your Blue Yeti device not be connected via a hub or a multiplier might just be the solution you've been looking for.
3. You may have a faulty USB cable
Even if you're using the USB cable that was provided by the company when you bought your Yeti stereo microphone, that doesn't guarantee that it will be a good one.
Sometimes mistakes happen and you ended up being the person who got the faulty product.
To be sure that this is the case, you should first try to connect Yeti with your computer by using some other USB cable that you have on hand.
If it works, and you don't need that particular cable, then by all means continue using it instead, however, it's always a good idea to contact customer service and complain about your Blue Yeti problem.
It might work and you may get yourself a new and working cable.
Another way to check this is to try and plug in some other devices that have the same USB input device as Blue Yeti.
If that works out well, it might be the sign that the cable is what's causing you trouble.
4. Make sure that all of the settings in the Control Panel are okay
For your PC to recognize that a microphone has been plugged in, you have to fiddle a bit with the mic settings in the Control Panel.
First and foremost, you should be sure that the audio format is good.
So, when you enter the Yeti control screen, go and click on the Open Control Panel button that you'll find under the window that's currently on.
When you do that, it should automatically launch the Recording tab of the Windows Sound panel.
There you will see a list of all available devices, and obviously, you should choose the Yeti Stereo microphone.
Then you go and click on Properties.
The next window that appears will be the Microphone Properties one, and when it does you should search for the Advanced tab and click on that.
You will see what's the default format that's currently on, but after clicking on the down arrow, you will see what are all the options available.
After you choose the option you want, click on Apply, and on OK after that.
Make sure that your headphones are plugged in and test if you've resolved your Blue Yeti issue.
QUICK OVERVIEW: Best ASMR Microphone
Top Choice

Sennheiser Pro Audio

Shotgun Condenser
Frequency Response - 40 Hz - 20 kHz

Polar Response - Cardioid
SPL - 160dB

Sensitivity - 16.00mV (-94 dB)
SPL - 162 dB
Blue Yeti Not Recognized by Blue Sherpa
If you've tried all of the more simple resolutions and your PC still says "Blue Yeti not recognized" here are the steps you will need to go through in order to set Blue Yeti up well.
Despite getting the "Oh no!" message in the Blue Sherpa app, it's more than likely that when the Sounds Settings or Control Panel are opened, it will show that the device is plugged in and that it fully recognizes it.
So, what should you do with the Blue Sherpa now?
Firstly, you should go to the Device Manager.
If you can't find the Device Manager search for it via the Search bar on your taskbar.
When the application shows up, click and select Device Manager from there.
When you get in there, you should click on the device and delete the Blue Yeti as an audio device, and here are the precise steps for doing so.
If this has worked like we hope it did, you will now be able to go to the Yeti tab and work with the Blue microphones settings and control sliders.
Hopefully, this will put an end to your Blue Yeti microphone issues.
But if something does happen again and you forget the exact steps you need to take, you can always come back here and work through it!
FAQ
How do I fix my blue Sherpa not detecting my mic?
The answer to this question depends on what is the root issue that is causing you problems. The first possibility is that you didn't plug your device incorrectly. To resolve this, you should plug your device out, wait for around 10 seconds and then plug it back into your PC.
Make sure that you're plugging it in the right slots. If you are using a hub or a multiplier, that can also be a problem, so try plugging the mic indirectly into the PC.
Another option is that your USB is faulty, so you will need to change the cable in order for the mic to work. If nothing works, you will have to uninstall the mic from the Device Manager, reboot your PC and let Windows install the mic's driver again.
Does Blue Sherpa work with Blue Yeti?
Yes, Blue Sherpa works with the Blue Yeti. Blue Yeti is the default device that Blue Sherpa works with, as it is the software made by the same company as the mic.
When you get a mic from Blue, you can install Blue Sherpa for easier access to a lot of adjustments you might need. When your Blue Yeti mic is plugged in the Blue Sherpa home screen will automatically open. This is also how you will get all the needed firmware updates.
Why is my Blue Yeti not recognized on Mac?
Sometimes it can happen that your Mac doesn't recognize your Blue Yeti mic, or it fails to launch the advanced audio settings. This is a problem with compatibility, and it is mostly found between the Blue Yeti software and the new M1 Macs. To fix the Blue Yeti issue that you have with your Mac, you will have to boot up your Mac, but keep the Blue Yeti plugged in while doing so.
Some other issues might require you to update your Mac, or go through the audio settings and make sure you select "Set default device" for your mic so new problems don't arrive in the future. You can also try installing software called Krisp, which people also found useful when dealing with background noise.