Streaming has become immensely popular, and nowadays, PC is not the only popular option. People use other devices for streaming gameplay, namely consoles.
If you have a PS3, probably the first thought that comes to your mind is that such older consoles cannot be used for streaming. However, that is not the case. You are able to stream gameplay from your PS3 using a device called a capture card.
In this article, we will provide you with five reviews of the best capture cards that will enable you to stream from your PS3 console. Furthermore, will we will give you some pieces of advice on what you should be looking for when buying a capture card for PS3.
Therefore, the following points shall be discussed:
Best PS3 Capture Card
Reviews
For this article, we have chosen five capture cards that are compatible with PS3 consoles. Moreover, we have tried to cover a wider price range. So, both affordable and pricier options are included.
QUICK OVERVIEW: Best PS3 Capture Card
1080P@60Hz capture
USB 3.0 high transmission port

Full HD 1080P 60FPS live broadcast
1080P 720P HDMI

High definition input
1080P 60fps
1. Mirabox 4K Capture Card
---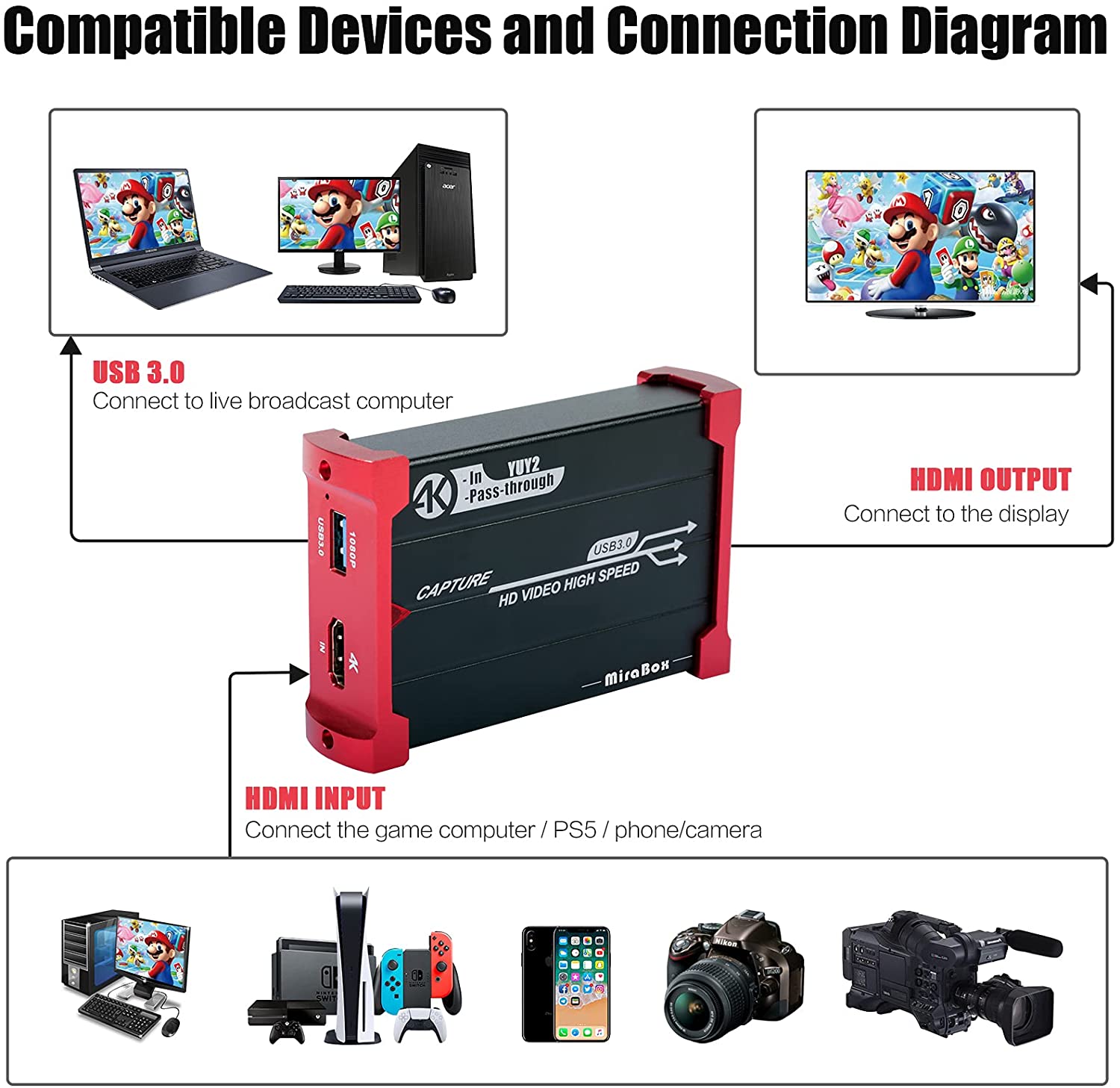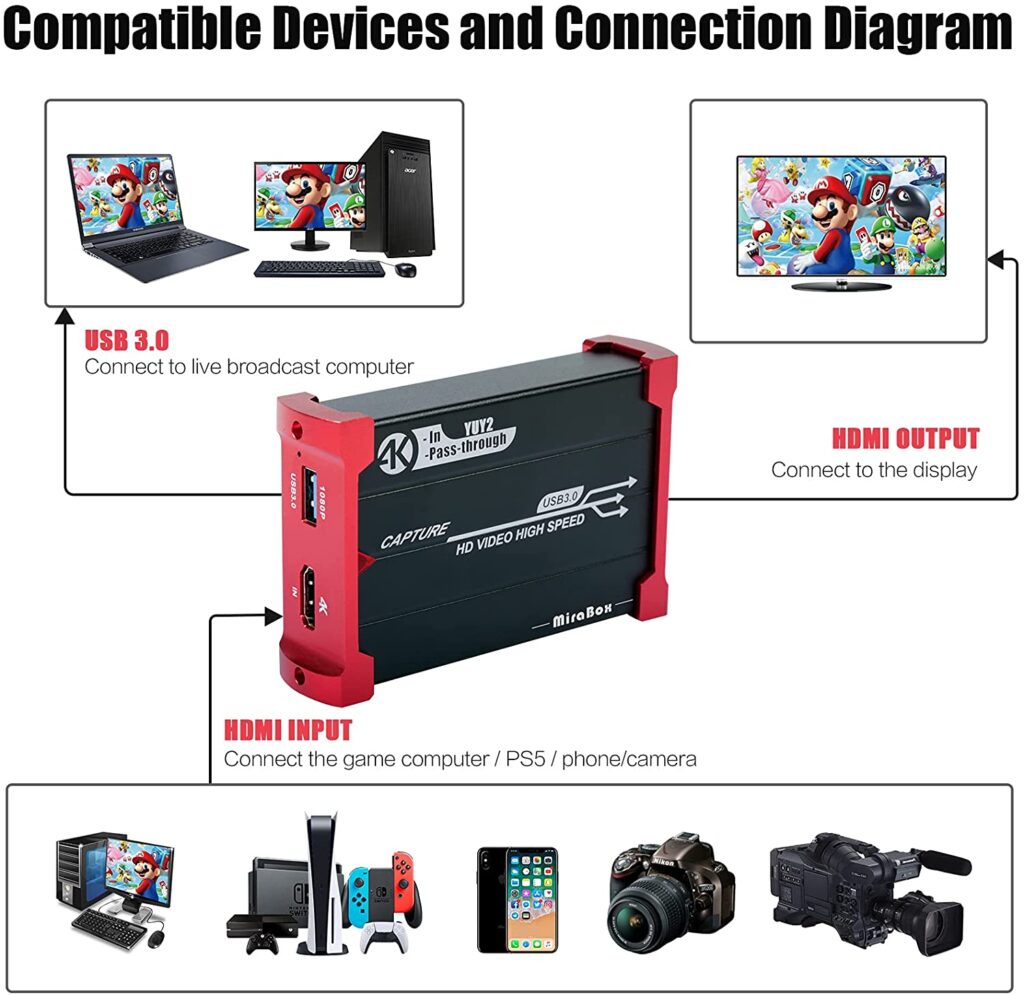 ---
Description
Mirabox 4K capture card is a great option for live streams since it supports 1080P with 60FPS.
If you use the HDMI cable to connect the two devices, there will be no delay between the live gameplay on your PS3 and the footage that is being broadcasted on the PC. Hence, this capture card is suitable for streaming gameplay.
Most of the mainstream operative systems function well with this capture card. The ones that support it are Linux, Windows7/8/10, Mac OS, and Ubuntu Mate.
When it comes to streaming software, the Mirabox capture card works well with all common streaming applications. Therefore you can use it with OBS(Open Broadcaster Software), XSplit, Potplayer, Twitch Youtube Live, Facebook Live, etc.
You are not required to install any additional drivers. As soon as you have plugged this capture device into the USB port, the PC will automatically detect the card.
Overall, a solid capture card that works well with older consoles such as the PS3. It synchronizes well with the OBS Studio, which is a huge plus, considering that it is the most convenient free streaming software.
2. DIGITNOW HDMI Capture Card
---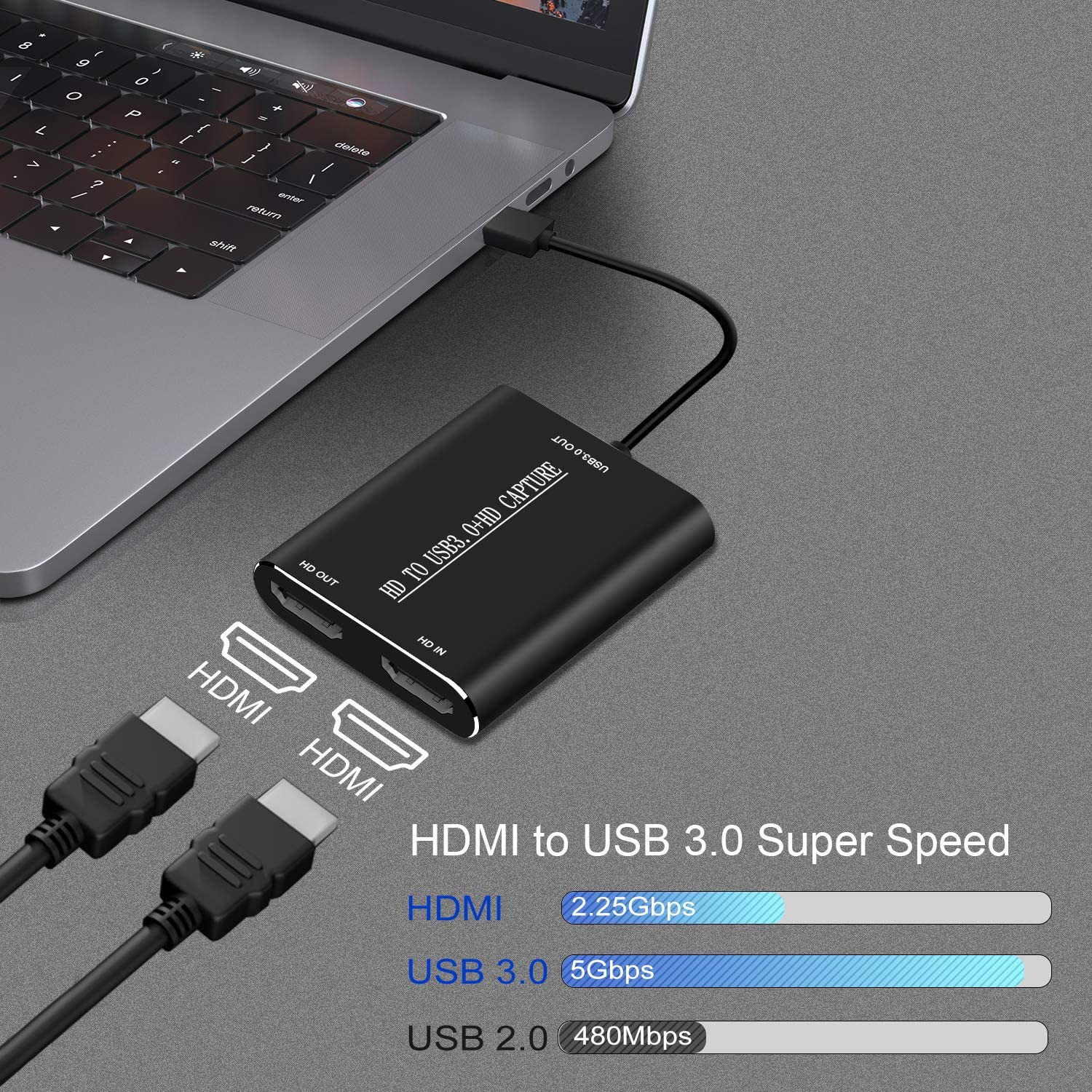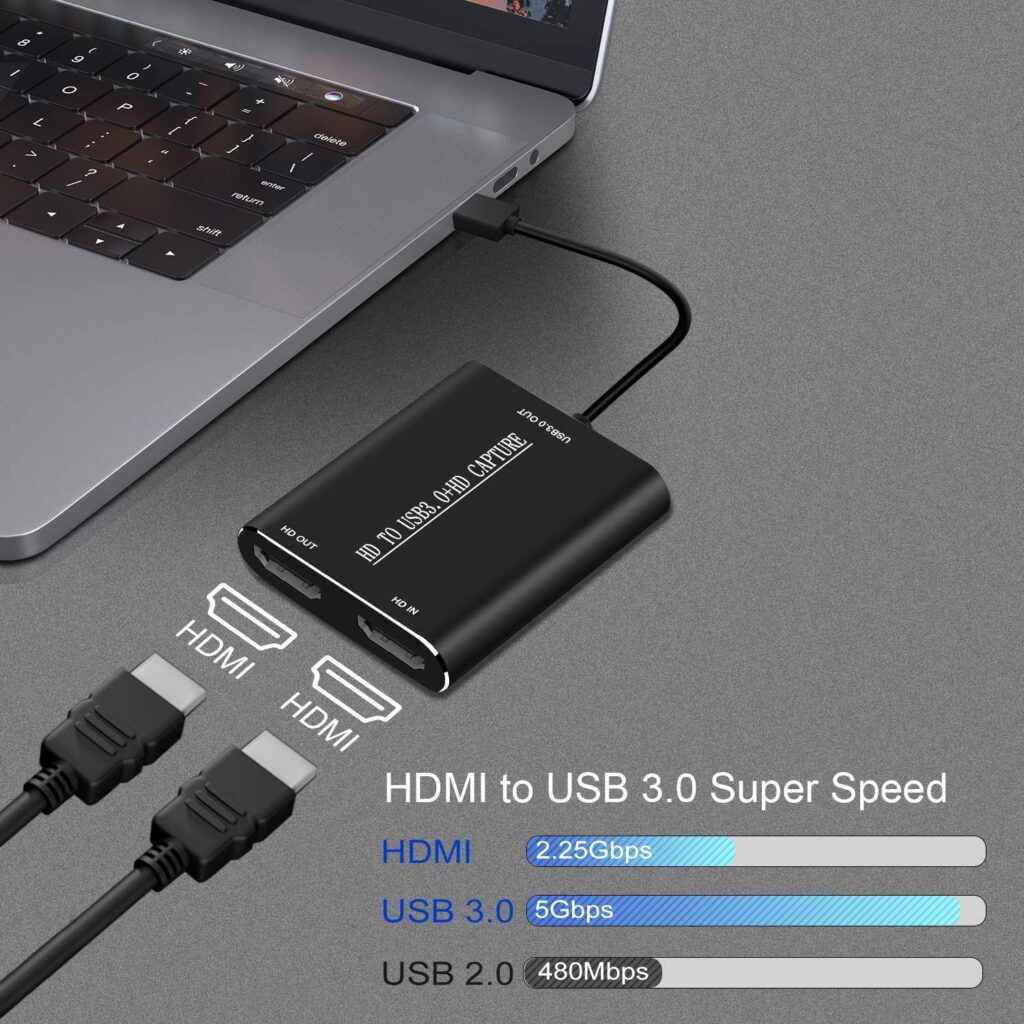 ---
Description
HDMI Video Capture Card is another great capture device that is quite suitable for streaming gameplay from your PS3.
When compared to a lot of other capture cards, the design of this capture card is of high quality since it is made of metal. Thus, it is quite resistant and sturdy.
It does not require any additional drivers to be installed. Therefore, it immediately starts working after you have connected it to your PC.
The quality of resolution and frame rate which it can broadcast is high. It reaches 1080P at 60FPS, which is mandatory for a good stream.
Regarding the streaming software, it works well with all the popular ones such as Twitch, Youtube, Facebook, Twitter, OBS, Potplayer, and VLC.
Bear in mind that this capture does not come with any video recording software. However, the instruction manual, which is included in the package, provides you with a few recommendations.
3. AVERYN Upgraded Capture Card
---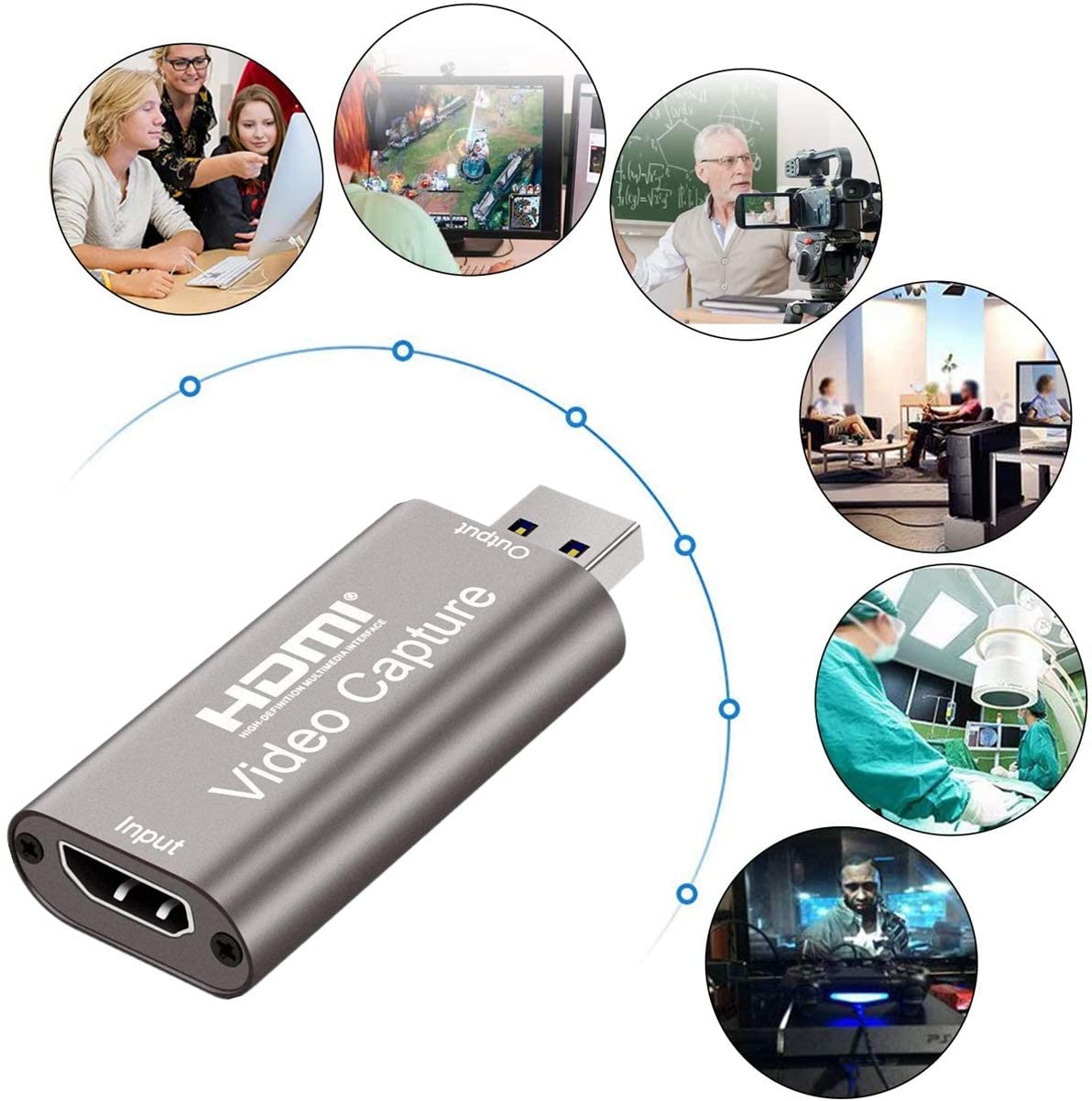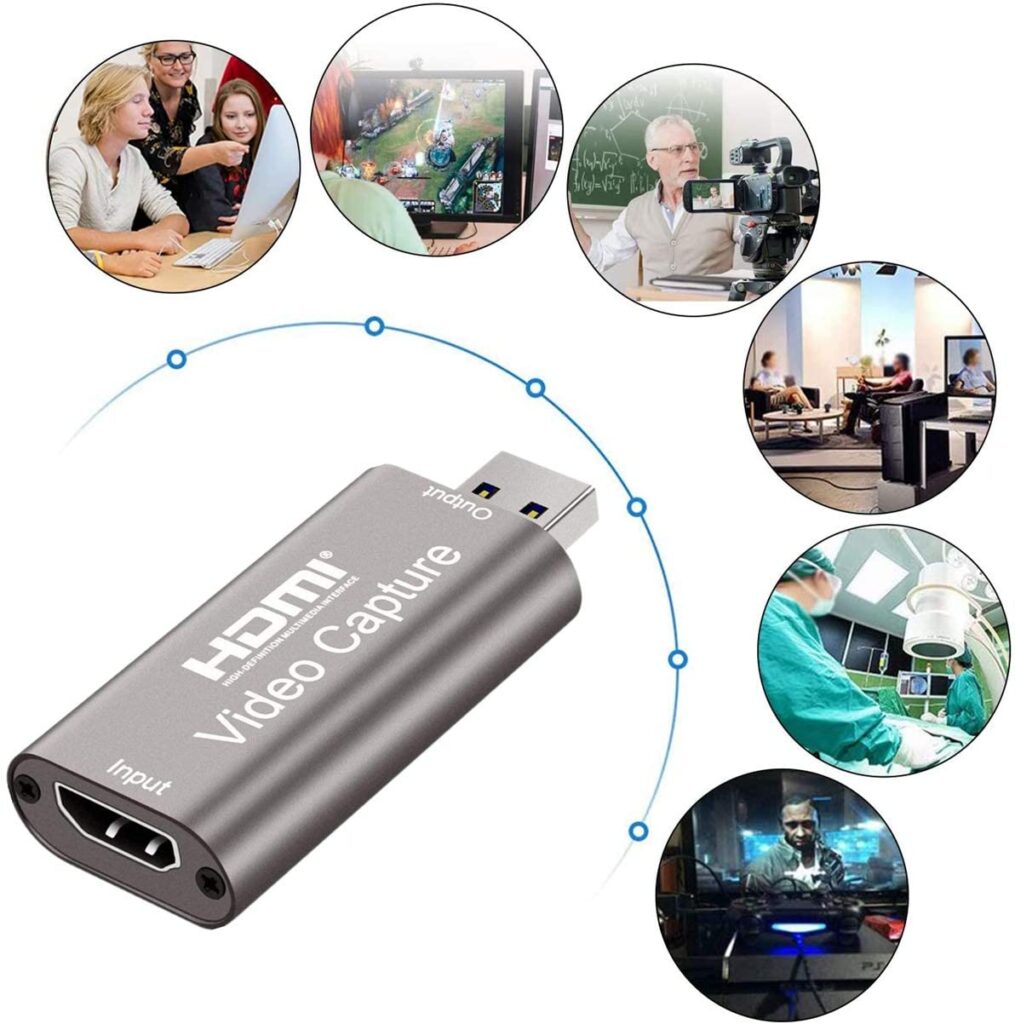 ---
Description
AVERYN capture card represents a device that can enable you to establish a stream with extremely low latency, and it is also great for direct video recording as there is no delay.
Windows, MAC, and Linux are the operative systems that this capture card is compatible with.
This capture card is compatible with the majority of popular streaming software such as Twitch, YouTube, OBS, Potplayer, and VLC.
It automatically synchronizes with your PC when connected. Therefore, you do not require to download any drivers or additional software
One of the significant advantages when purchasing this card is that the AVERYN company offers a 24 hours customer service and tech support. The package also includes a user manual.
Furthermore, if your capture card has developed a fault, the company offers a free replacement or a refund.
All in all, this is a great choice for you if you want to try to stream from your PS3 console. Surprisingly, for its low price, it can provide you with high frame rates, and generally speaking, it is a quality product.
4. TreasLin HDMI Capture Card
---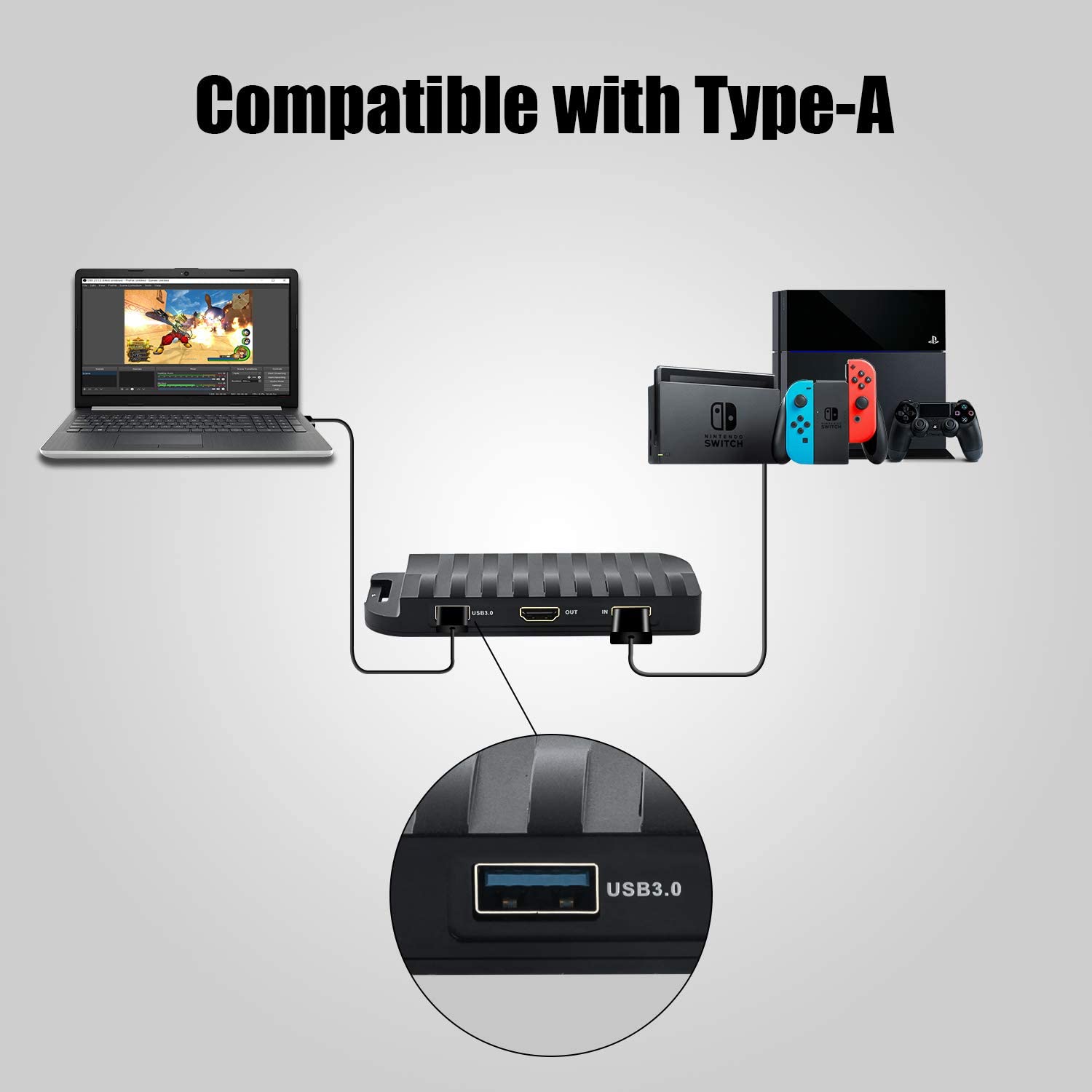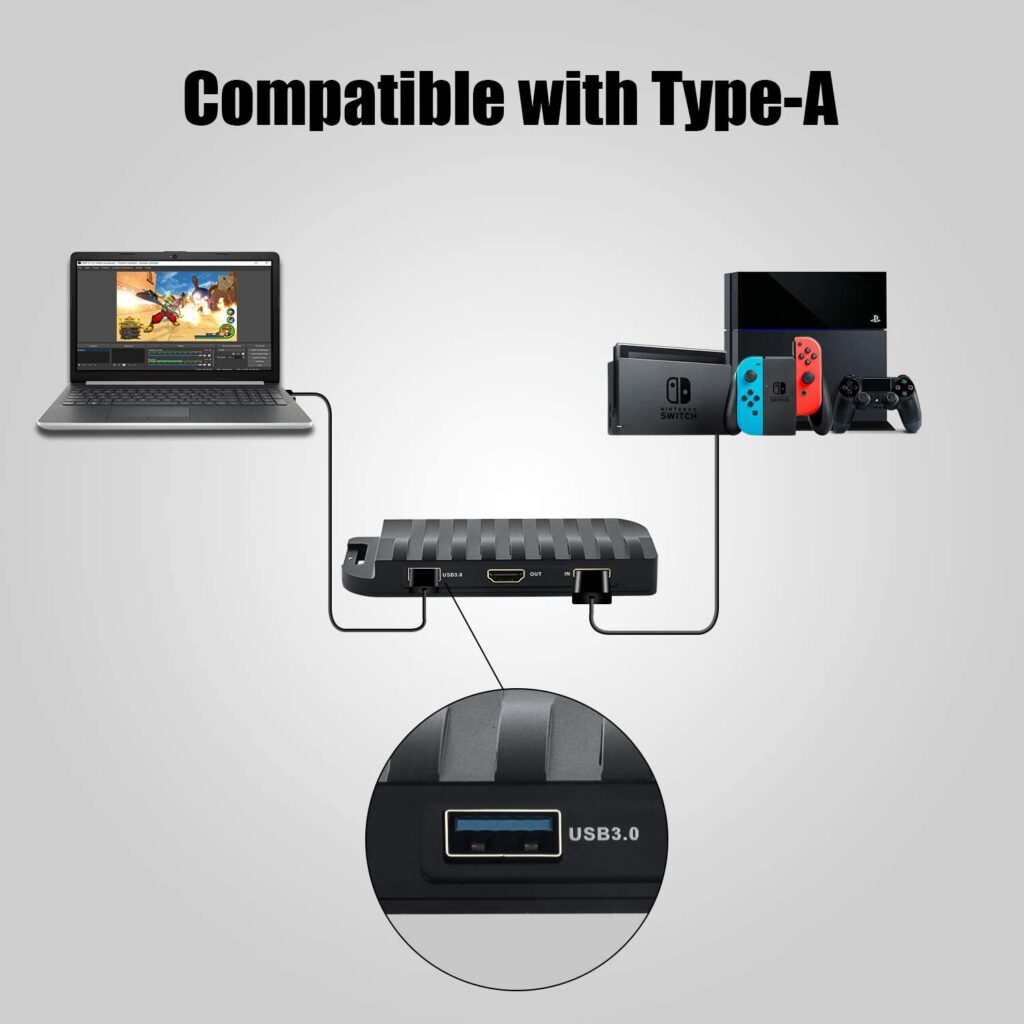 ---
Description
TreasLin HDMI Game Capture Card can reach a transfer speed of up to 5Gbps when connected to a 3.0 USB port.
Therefore, it is a great addition for anyone who wants to stream gameplay from his PS3 console, as this capture card will provide a broadcast with almost no latency.
What makes this device even better for game streaming is the fact that the developers have incorporated in it a technology that regulates the CPU usage of your computer. Thus, the quality of your stream or videos can be even higher than expected.
Another great aspect of this capture device is the inputs for the microphone and audio hardware that it possesses. Therefore, you have the possibility to regulate your audio controls and to use your audio mixer with higher precision.
Furthermore, you also have the option to record and stream your voice with high quality.
It is compatible with all 1080P 720P HDMI devices.
Although this capture card can be used only with the most common operating systems, it is still compatible with all popular streaming software that is used when streaming games.
After you have plugged it in, no additional drivers are needed.
If you are looking to establish longer streaming sessions, this is a perfect capture card for such streams. It is made of aluminum material that is quite resistant to heat.
Besides the capture card, the package includes a USB cable, a carabiner, and an instruction manual.
To sum up, if you want to buy a good capture card that will enable you to stream in high resolution, this is the card for you. It is versatile and produces a stable frame rate which is essential if you want to stream games.
5. DIGITNOW Audio Capture Card
---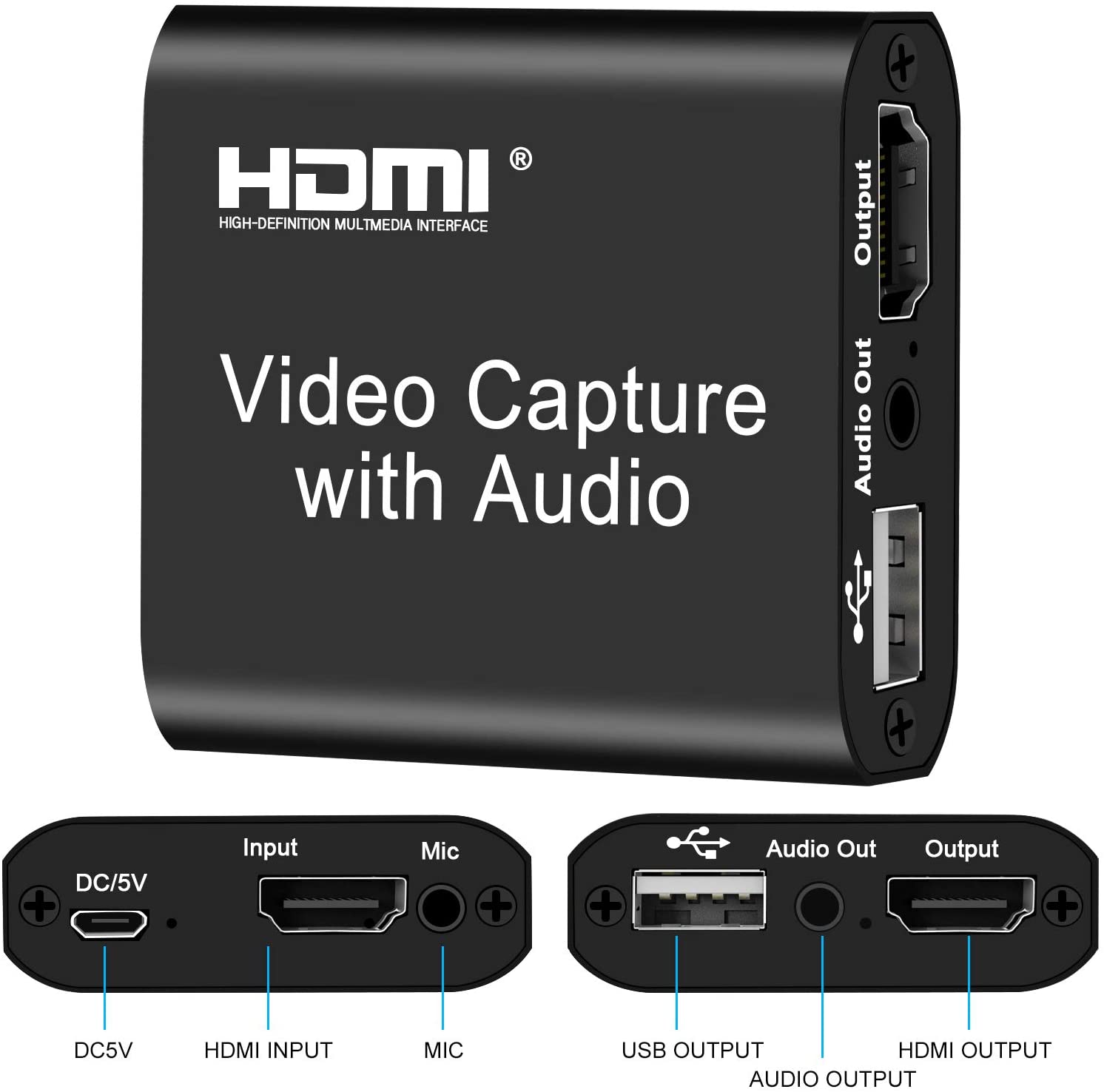 ---
Description
DIGITNOW capture card is a great choice for someone who is not intending to spend a lot of money and is searching for a budget capture card.
The device is compatible with all the most popular operative systems such as Windows, Mac OS, and Android.
Furthermore, it can be used with all the most popular streaming software applications such as Facebook live, YouTube, OBS, etc.
Once you have plugged this capture card into the USB port, the capture software will be automatically installed, so there is no need for any additional drivers.
In addition to the HDMI input, it also has a microphone input which is quite convenient for streamers.
Besides the capture card, the package includes a USB cable, a micro USB cable, and an instruction manual.
Overall, it is a great capture device for people who are beginners and want to learn the craft of streaming, and generally, for people who do not have any high streaming aspirations. It will do the job, and the picture on your screen will have a decent frame rate.
What to Know Before Buying a Capture Card for PS3?
Quality of the image
If your desire is to stream gameplay with success, you should acquire a capture card with the broadcast potential of 1080P at least. Luckily, full HD is a standard nowadays, so you will be able to find budget cards that can easily achieve 1080P.
Types of input for consoles
Most modern consoles are connected to a capturing device via HDMI cable, which at the same time is probably the most reliable way to connect your console with your PC. The HDMI cable enables streaming with extremely low latency and no delay.
However, bear in mind that the HDMI cable alone will not provide high-resolution streaming. It is certainly an important component but much depends on your capturing device.
The type of USB input
There are two types of USB inputs that can be found on a capture card, USB 2.0 and USB 3.0. This makes a big difference when it comes to the overall performance of the capturing potential since the USB 3.0 cards have a much higher capacity overall.
Furthermore, you have to check if your laptop or computer has a suitable USB port for your capture device. Many computers are not equipped with a USB 3.0 port, and you will not be able to connect your capturing device.
Compatibility with the operative system and streaming software
Luckily, most modern capture cards are compatible with operative systems and streaming applications that are commonly used.
However, we advise you to double-check if that particular capture card that you desire to buy is compatible with the system of your computer and with the streaming applications that you would like to use.
For instance, if a certain capturing device is not compatible with YouTube, you will not have the option to use YouTube as your streaming platform. Luckily, you can find all the information on the internet.
Frequently Asked Questions
---
Are there any alternatives to Elgato game capture HD cards?
Yes, there certainly are. Elgato cards are renowned for their quality, but they are also quite expensive as well. There are many options to choose from if you want an Elgato game capture alternative.
Moreover, some of them have the potential to satisfy all the standards of professional streams both in audio and video aspects.
Therefore, the Elgato game capture card has the reputation of being one the best capture cards available on the market, but other cards can compete with Elgato.
Has PS3 become an obsolete console for streaming?
No, PS3 is still pretty popular among the gaming community. Moreover, there is a whole section of viewers that loves to watch retro game streaming. Thus, if you are thinking about starting a stream from your PS3, it can potentially be a huge success.
What do I require in order to start streaming from a PS3 console?
In order to start streaming from a PS3 console, a capturing device called a capture card is required. Furthermore, an additional computer or a laptop is also required besides the console.
It is recommended to use a PC setup since a capture can use a high amount of your CPU. Furthermore, you could possibly attach another audio component to regulate the game volume of your footage for example.
That can all consume a lot of power, and laptops are not suitable for such activities.
Can a capture card that I bought for PS3 be used for the Xbox series?
Yes, most likely, your capture card will be compatible with all Xbox series. Modern cards are quite versatile. Most of them can be used with any modern console and any computer system to stream and record gameplay.
However, if you have any special demands, you need to check whether that particular card is compatible with your system and your gaming device.
Conclusion
Hopefully, these reviews have helped you choose a capture card for your PS3 if you have decided to stream. As you have read, there are more affordable options and ones that are a bit pricier. Therefore, you should choose a card according to your needs.
If you are new to streaming and have decided to stream from your PS3, we think that it is a great choice to go for DIGITNOW or AVERYN card.
Do not let those low prices dissuade you from buying them. They will most certainly accommodate your needs, and you will be able to learn the craft of streaming with them.
---
We are sorry that this post was not useful for you!
Let us improve this post!
Tell us how we can improve this post?