Boom arms have long been the bread and butter for all home video content creation that needs good audio. They help us manipulate the microphone easier and minimize unwanted sounds, such as loud noises that come from hitting the desk.
That's why I searched the market for the best boom arm for my Shure dynamic microphone and came to the conclusion that RODE PSA 1 posses all the quality needed for such a piece of equipment.
Let's see what other great choices I found out for you.
QUICK OVERVIEW: Best Boom Arm For Shure SM7B
820mm horizontal reach
360-degree rotation

Dual-layer pop filter
All kinds of mounting options

82cm reach in all directions
360-degree rotation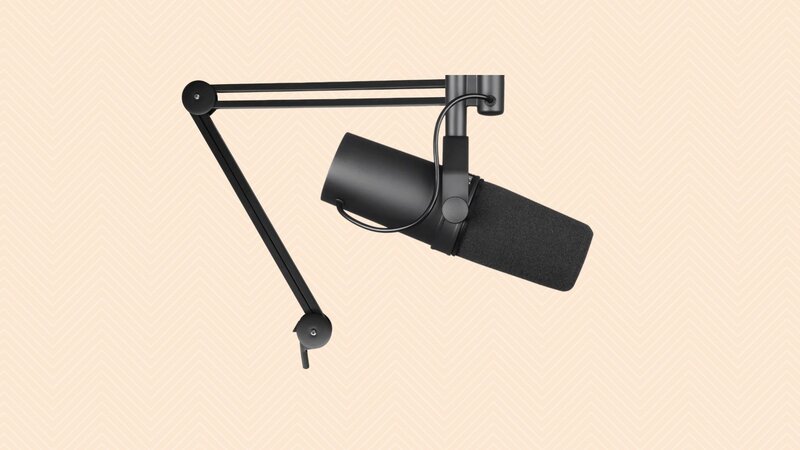 Best Boom Arm For Shure SM7B
Reviews
Boom arms aren't the same as mic stands. They are more of a subset of mic stands, or a type of them if you will.
A regular mic stand will provide just a metal pole with a place to put your microphone and guarantee that it will stay there.
Boom arms are a bit more advanced and best suited for your desk space. That makes them perfect for creating video/audio content at home and in non-studio conditions.
Depending on the model and make, some offer more options, and some are more basic. It all depends on what you need from them and what your recording conditions entail.
I'll try to sum up my years of experience in audio production and present you with the best boom arms on the market.
1. RODE PSA 1
Top choice for a boom arm overall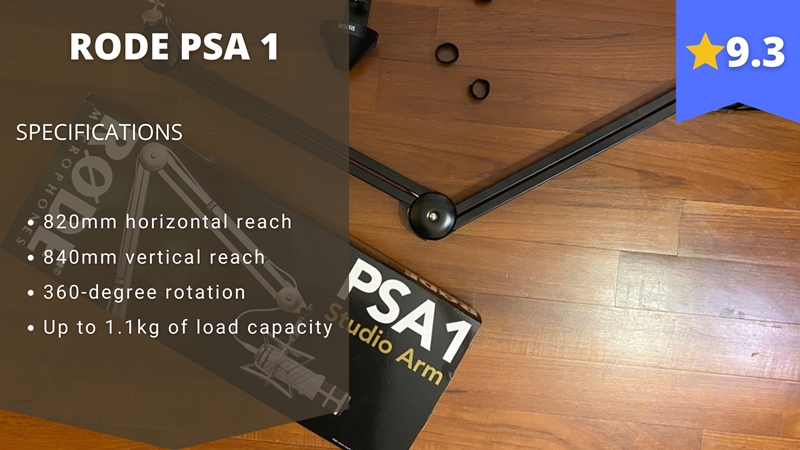 Stefan's Take:
With this boom arm, you get a complete package, decent reach, excellent design and durability, and an almost complete lack of noise. Streaming sessions are much more efficient with it.
Personally, this boom arm is one I use at home because it gave me all I was looking for in this piece of equipment.
| | |
| --- | --- |
| Reach | 9.2 |
| Load Capacity | 9.0 |
| Durability | 9.7 |
| Quietness | 9.1 |
RODE is a well-known household name in the world of audio production, especially, microphones and the equipment surrounding microphones.
From their humble beginnings in the 90s, they've slowly crept up the ladder and have now become an industry standard.
The PSA1 is suited for studios, radio, and home use. It has an 820mm horizontal reach, and 840mm vertical reach, and it rotates a full 360 degrees.
Other than that, it comes with a lovely couple of velcro cable bands in order to help you with cable management. We all know how awful messy cables can get and how much that can hinder our workflow.
A clamp mount and desk-insert style attachments are also included for easier mounting to desks of various thicknesses, as well as reducing desk space clutter, so there will be enough space for both your Shure SM7B and your other equipment.
It supports microphones of up to 700 g in weight, which goes up to 1.1 kg if combined with a shock mount. The shock mount is, however, sold separately.
Pros
Reliable
Versatile
Durable
Cons
Not very budget-friendly.
2. Luling Arts Boom Arm
Best solution for cable management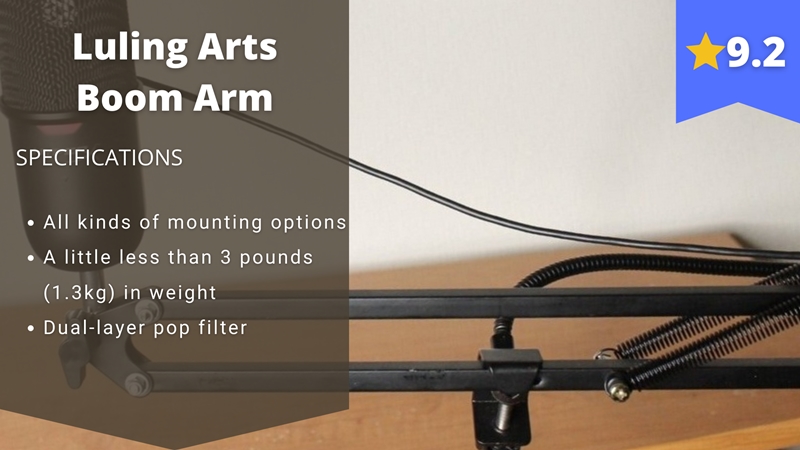 Stefan's Take:
Luling Arts company being strictly oriented to creating boom arms is almost always a sign of quality, and this case is no different. With this one, you will get many extras without making any compromises in design and usability.
Besides all the quality this boom arm possesses, it is quite affordable, so I would recommend it to people looking for a budget option.
| | |
| --- | --- |
| Reach | 9.0 |
| Load Capacity | 9.2 |
| Durability | 9.4 |
| Quietness | 9.2 |
Luling Arts are one of those up-and-coming brands that are still cheap, but their up-and-coming status is based on the quality they offer.
Other than the one linked, they offer a wide variety of microphone boom arms and stands, and they are almost exclusively oriented towards manufacturing just that.
It has an internal space dedicated to cables, which means that you can put the cables in through the boom arm. This is extremely good since it's photo-friendly and does a lot for your cable management issues.
Other than that, the manufacturer claims that it's one of the quietest boom arms, and that's pretty much true. Being quiet is essential for a boom arm, being that one of its primary purposes is to minimize unwanted sounds and raise the sound quality you get out of your Shure that way.
Pros
Extremely affordable boom arm
Excellent suspension boom arm hold
Various mounts
3. Blue Compass
The quietest boom arm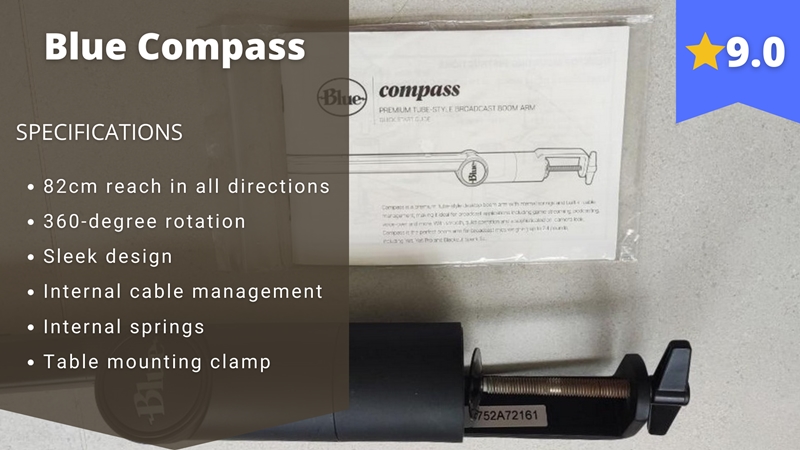 Stefan's Take:
Oh, this one is a beauty! It's rare to see boom arms that aren't comprised of double poles and without visible springs. This one is the super-model of the boom arm world.
Great design and quietness are the main selling points of this boom arm. Although I put it in third place on my list, I recommend it to anyone looking for an excellent boom arm for streaming.
| | |
| --- | --- |
| Reach | 9.0 |
| Load Capacity | 8.8 |
| Durability | 8.8 |
| Quietness | 9.4 |
This might be the best-looking boom arm on this list. It's so sleek-looking that your visual cred is almost surely going up astronomically if you have it in view on your Twitch stream, podcast, or anything similar.
I said that the Luling Arms one was quiet. Well, this one is even quieter. And rock-solid, too.
You can manipulate its position and tighten it without almost any sound coming from it. It's a little bit eerie to experience, really. You'll begin to worry that you've gone deaf.
Other than that, it also boasts an internal cavity for cables, but this one is completely closed up, so – absolutely no cables are going to be visible.
Internal springs offer both better sound isolation when switching position and a neater, more tidy look overall. That way, it does wonders for your cable management and the overall professional look of your studio or home recording station.
It can carry up to 2.4 pounds (1 kg) worth of microphones, and that's one of the strongest boom arms I've seen. Add a shock mount to that, and you'll add even more carrying capacity and a secure place for your Shure SM7B.
Pros
Low to no handling noise
You can attach it easily
It can carry a lot of weight
Cons
The materials used could be of more quality
4. NEEWER Adjustable Boom Arm
Best low-cost option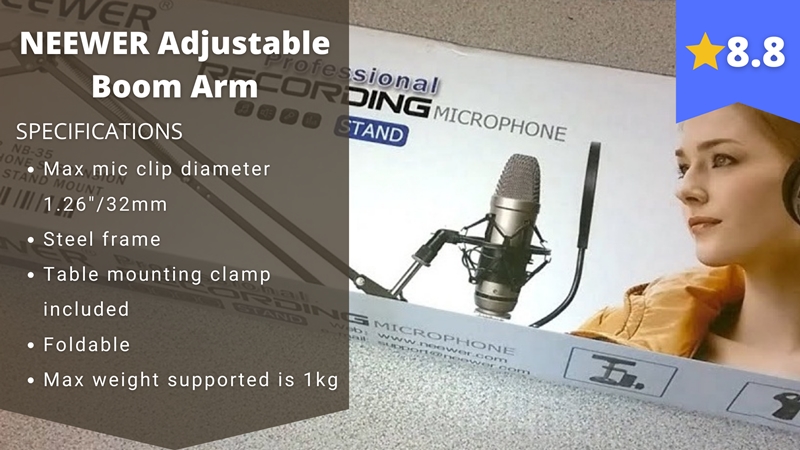 Stefan's Take:
This is probably the most budget-friendly entry on this list. The Neewer scissor arm stand is exactly what you need from a boom arm, and for a comically small amount of money.
Although it is pretty cheap, a steel frame is something I have a lot of experience with, and I think this boom arm will suit you well.
| | |
| --- | --- |
| Reach | 8.4 |
| Load Capacity | 9.1 |
| Durability | 9.4 |
| Quietness | 8.2 |
From a technical point of view, it's pretty similar to most of the items listed here. And let's be honest, there's little to no real way to be different when it comes to creating a thing such as a simple mic stand.
So-no. This boom arm isn't something that will change your life in any significant way, but it will get the job done.
The regular boom arm package is present here, although there wasn't much thought put into the product's overall aesthetics.
But, let's be honest, audio producers and audio people generally don't really have a knack for the visual part of things.
One notable advantage is that it has a sturdy steel frame. Most of the previous entries are made out of some kind of aluminum alloy, but this is steel. Steel means strength.
And strength means stability, durability, and load capacity, all of which are essential factors in choosing the best microphone boom arm for your Shure SM7B.
Cons
Not really aesthetically pleasing
5. TONOR Boom Arm
Most durable boom arm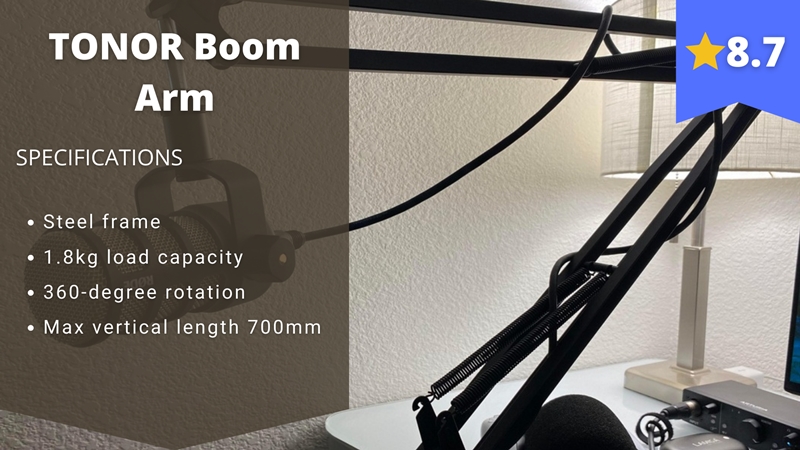 Stefan's Take:
It's a nice piece of studio equipment, in and of itself not revolutionary in any significant way, but essential nonetheless.
For me, the biggest downside of this boom arm is the noise it tends to make. You'll get a lot from this product if you can ignore that.
| | |
| --- | --- |
| Reach | 8.0 |
| Load Capacity | 9.4 |
| Durability | 9.8 |
| Quietness | 7.5 |
A decent price tag also helps this item bounce up to the near top of your "boom arm I'm interested in" list.
Its steel frame allows it to be the strongest arm in this review. With a 1.8 kg load, it's a complete beast of a mic stand. That is its main advantage over any of the others.
Other than that, it is, again, the regular package. But this time, it's a package in a literal sense of that word: you get the arm, a pop filter, a desk clamp mount, a 3/8″ to 5/8″ adapter (crucial for Shure SM7B), a foam cover, and four cable ties for that all-important cable management.
It has the regular external cable mount, which can look ugly, but there are little to no alternatives, so it's a standard.
The sturdy steel frame helps with the stability but doesn't help with movement noise, and the screws will need some maintenance from time to time.
The screw adapter is crucial for us, being that it wouldn't be possible to mount a Shure SM7B without one.
Pros
Affordable
Strong
Reliable
What To Look For In A Microphone Boom Arm
It's basically the same thing you'd be looking out for in any product. You want it to be reliable, and durable, and that lasts.
Aside from those, pretty normal standards, there are a few things that you need to keep an eye out for that are specific to microphone boom arm stands.
Quietness
This is pretty much imperative. In almost every podcast, radio show, live event, or whatever you're doing, you will need to re-adjust the stand live, and on the go.
If the stand makes noise during that adjustment, the sound will transfer through the arm very efficiently and directly into your Shure SM7B's membrane.
That kind of sound can be very loud because the microphone hears it like the sound is inside of the mic itself. Aside from it being loud, the timbre of a squeaky microphone boom arm is not a pleasant timbre.
You don't want your listeners to be blasted with very loud, clipping squeaky noises over their headphones while listening to your show.
Load Bearing
Look out for mic stands that can take a decent amount of weight, since the Shure SM7B isn't a light thing.
FAQ
Does Shure SM7B come with a boom arm?
No. I have, actually, never seen any microphone that comes with its own boom arm included in the price.
Either way, it's not a huge additional investment, so that's not a huge setback.
Unless you go for the RODE boom arm, that is. It costs as much as a couple of off-brand microphones.
Is it worth getting a boom arm?
Absolutely. Especially if you need to de-clutter your desk and enhance your cable management while maintaining the visual impression of a professional radio or tv studio.
Does the SM7B need a shock mount?
No microphone needs a shock mount by itself, but you might need one.
A shock mount is what helps you lessen the sound vibrations of your desk that get transferred to the mic, and to your audience.
A good shock mount will dampen those unwanted sounds in their entirety.
Conclusion
Because boom arms are very similar to each other, it is very difficult to recommend just one model. You could see from my ratings that all of these 5 boom arms are great choices for the SM7B microphone.
Depending on my preferences, my final verdict would be:
But, whatever boom arm from my list you pick, I think you will be satisfied with the results.