Sure, with all the monitors, microphones, cameras, tripods, light stands, and other gadgets, it's understandable that the streaming desk might not be on the top of your to-do list.
Today, I will present some choices for the best desk for streaming. My personal winner is Cubiker L-Shaped desk because it is practical, durable, and comes with everything a streamer or gamer needs.
In reality, your workspace is the basis for everything you'll do as a streamer and a key to successful, efficient, and comfortable streaming.
QUICK OVERVIEW: Best Streaming Desks
Size: (50.8″+50.8)(W) x 18.2″(D) x 29.5″(H)
Weight: 38.6 Pounds

Seven Warrior Gaming Desk

Size: 60.0″L*27.6″W*29.5H"
Max Capacity: 330lbs

Size: 55" (W) x 28" (D) x 50" (H)
Rectangular Shape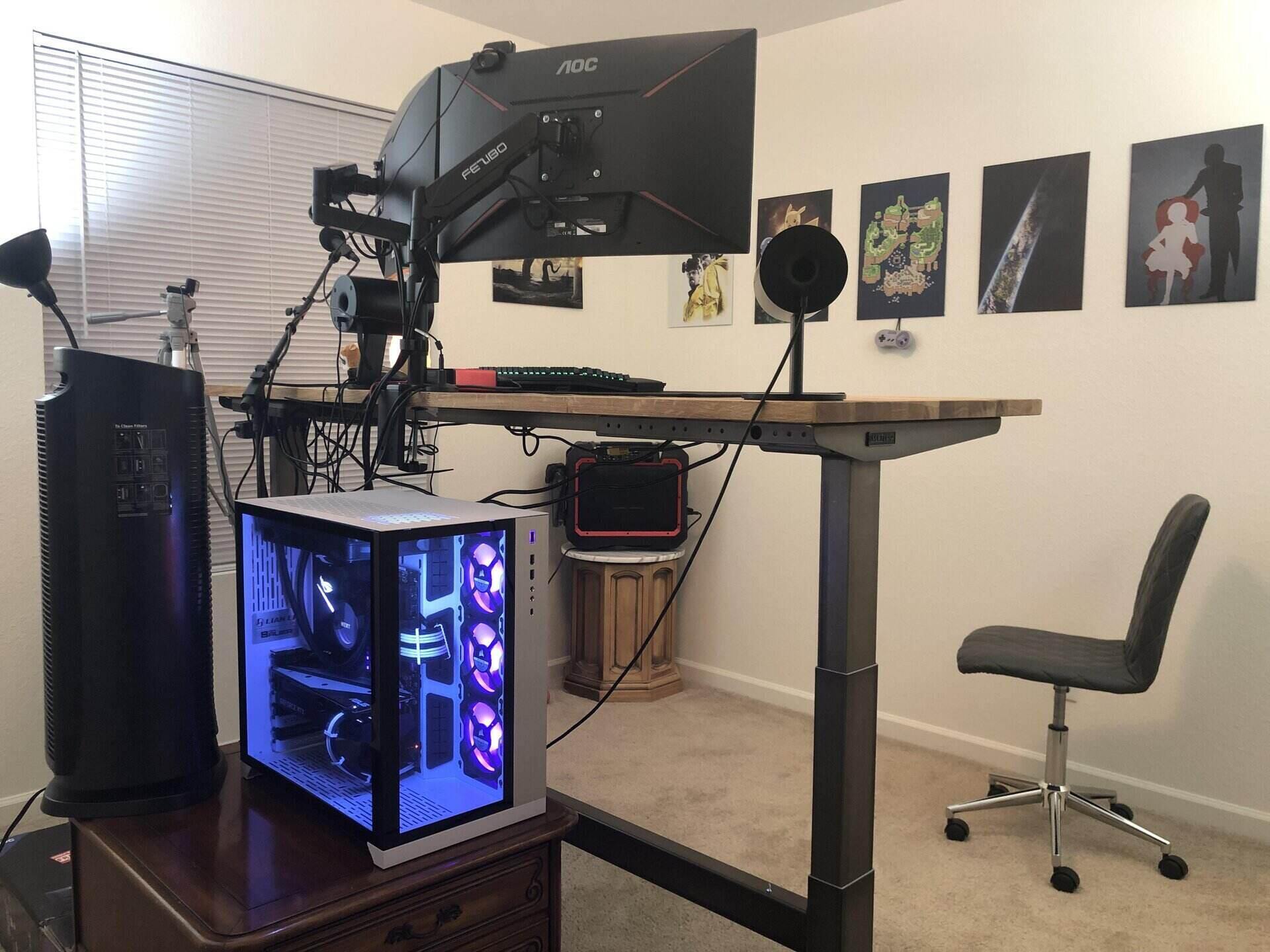 Best Desks for Streaming
Reviews
Streaming is an extremely technical job, so you'll need a streaming desk that can meet all your requirements and fit into your budget.
However, finding that perfect streaming desk isn't easy – your run-of-the-mill dining desk from IKEA won't cut it. I learned this the hard way.
So, just for you, here is my list of gaming desks that can help you choose the best desk for streaming.
1. Cubiker L-Shaped Desk
Best L-Shaped Streaming Desk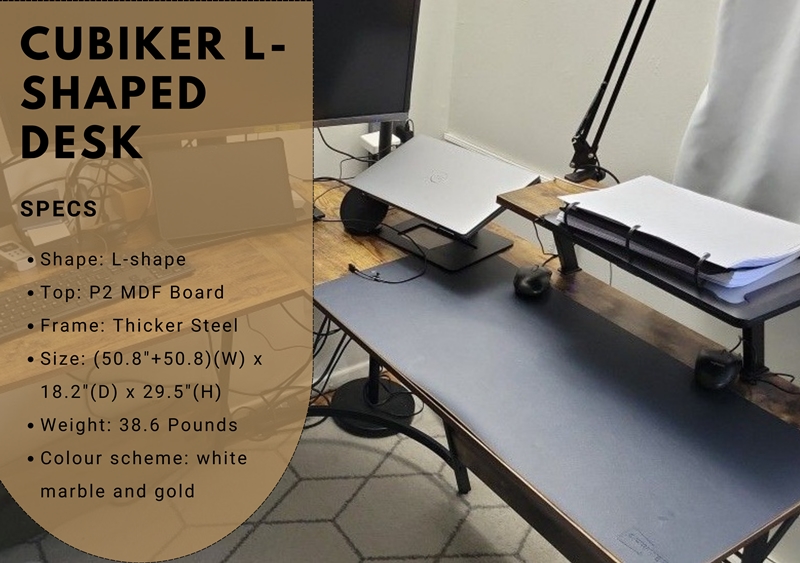 Stefan's Take:
Cubiker L-shaped desk is made from high-quality materials, durable, and tastefully designed with a pleasant color scheme. This is what attracted me to it at first.
Furthermore, this desk is designed to comfortably fit into a corner of your room, thus efficiently saving valuable space. This is great if you live in small flats as I do.
Another great thing I noticed is the additional shelf for a monitor, allowing me to spread my streaming equipment properly.
| | |
| --- | --- |
| Size | 9 |
| Shape | 10 |
| Material | 9 |
| Value | 10 |
The first item on my list is a rather neat L-shaped streamer desk setup coming from Cubiker. When it comes to their line of gaming desks, they had always strived to design affordable multipurpose desks – and Cubiker L-shaped desk demonstrates it perfectly. 
As seen from its arrangement and additional equipment, Cubiker L-shaped desk is designed specifically for gaming and streaming purposes.
I might be stating the obvious by now, but as an L-shaped desk, this particular model will sit in the corner and conserve space off your office, work, living, or dorm room.
This is especially important for those streamers who work in a confined environment since the surface of the desk itself is spacious enough to hold all your streaming equipment and other paraphernalia. 
The other interesting feature that can be derived from its L-shape is that it's modular to a point. Combine two of those Cubiker L-Shaped desks and you'll get yourself the ultimate workstation and streaming setup.
In the spirit of space-conserving, Cubiker L-shaped desk comes with an additional monitor shelf. It can be mounted on the left or right side of the table, or anywhere you prefer, thus holding an additional monitor. As a part-time designer, I know how handy this is.
The metal frame is designed with x-shape supports, which provide additional stability. Thanks to this feature, they also can support more weight. 
Finally, adjustable leveling foot pads will allow you to fine-tune the balance of your desk, making it perfectly stable on uneven surfaces.
Pros
Affordable
Sturdy
Well designed
Easy to assemble
Comes with the assemble manual
Assembly tools included 
2. Seven Warrior Gaming Desk
Best Desk for Gaming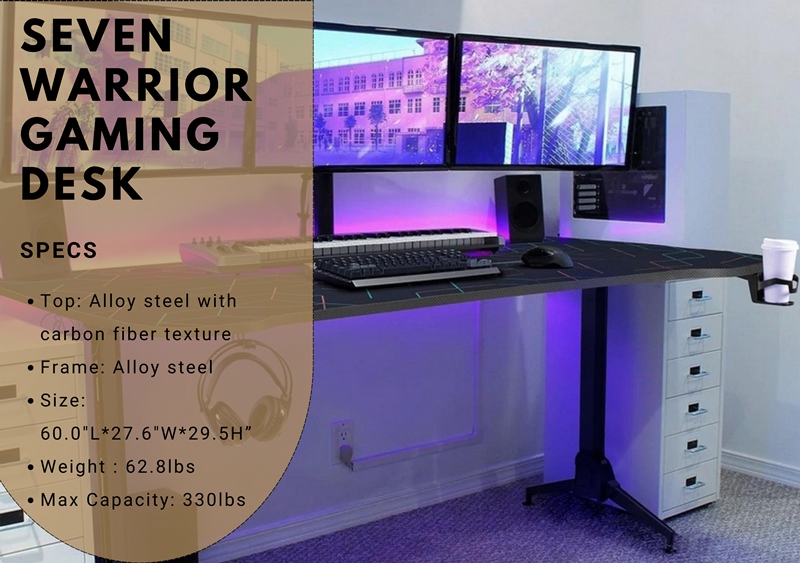 Stefan's Take:
The whole design and aesthetics of the Seven warrior gaming desk simply "screams" gaming. It's not as spacious as some other desks on this list, but its other features make up for that.
It also includes a couple of extras specifically created for the needs of gamers, so it's easy for me to conclude that this superb desk is a good choice for gamers and streamers.
| | |
| --- | --- |
| Size | 8 |
| Shape | 9 |
| Material | 10 |
| Value | 9 |
When a title of a gaming-oriented product includes the word "warrior", you can expect it to be radically designed, large, sturdy, and reliable in every way. Seven warrior gaming desk lives completely up to this expectation – and more.
However, the manufacturer also points out that this is, indeed, a multi-purpose desk, which is suitable for either home or office conditions. 
Seven warrior gaming desk boasts an ample surface for all your gaming or streaming needs. It is made from alloy metal, and with T-shaped legs, which provides not only great durability but also great stability as well since the design includes adjustable footpads.
Thanks to that, the surface of your desk will always be ideally level, no matter where you place it.  
The top surface of the Seven warrior gaming desk is made of textured carbon fiber, with a brand logo and a stylized image of a dragon, which is a neat detail in my opinion.
Not only that it makes it extremely eye-catchy – this top layer is easy to clean and maintain and it's also completely waterproof, basically acting like a mouse pad.
That provides maximum comfort in all your gaming or streaming activities, ensuring that every inch of the surface will be utilized to your best advantage.
Seven warrior gaming desk also includes a few extras, which every passionate gamer will be able to appreciate – double headphone hooks mounted on one side of the desk, a classic cup holder, and a gaming handle rack. 
This last item deserves special attention. It can be used to store your gamepads or CDs, but it also includes 4 USB charging ports at the base. 
Pros
Great design
Sturdy
Easy to maintain
Comes with the assemble manual
Includes screwdriver and an allen key
3. FLEXISPOT EP4 Gaming Desk
Best for Professional Streamers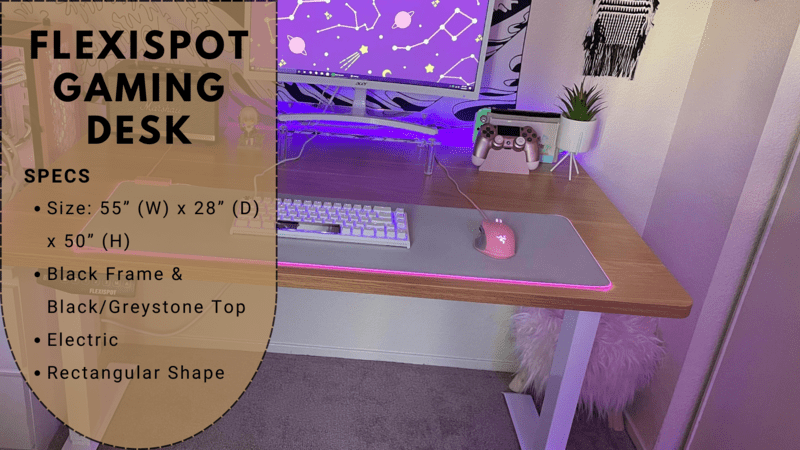 Stefan's Take:
FLEXISPOT gaming desk can be successfully used by all, but, in my personal opinion, gamers and streamers will reap the most benefits from it.
What got to me is the fact that you can adjust the height, basically transforming the desk into a standing desk.
This allows you to stand while working and playing games, which is great if you are on your PC the whole day like I am.
| | |
| --- | --- |
| Size | 8 |
| Shape | 9 |
| Material | 9 |
| Value | 9 |
FLEXISPOT gaming desk has an impressive gaming surface, rugged, yet elegant construction, and neat overall design that will satisfy even the most demanding gamers.
As is the case with most FLEXISPOT products, this particular desk is also advertised as a multi-purpose workstation.
While it is completely true, the overall design, from the ergonomic shape of the tabletop to its many features, is adjusted specifically to the needs of gamers. 
Of course, the tabletop is sufficiently thin, so you won't have any problems mounting all your mic boom stands. I tried my Blue Yeti boom stand and the results are as expected.
The metal frame is designed to ensure not only great stability but also ample space for your legs. Adjustable feet with anti-scratch, anti-slip, and anti-tilt protection are also a nice touch.
Finally, the FLEXISPOT gaming desk also includes "mandatory" gaming features, such as a headphone hook and cup holder.
The main advantage of this desk is electric height adjustment. You can use it to transform the desk into a standing working station.
Pros
Enough worksurface
High-quality design
Easy to maintain
Stable
4. Atlantic Original Gaming Desk
Best for New Streamers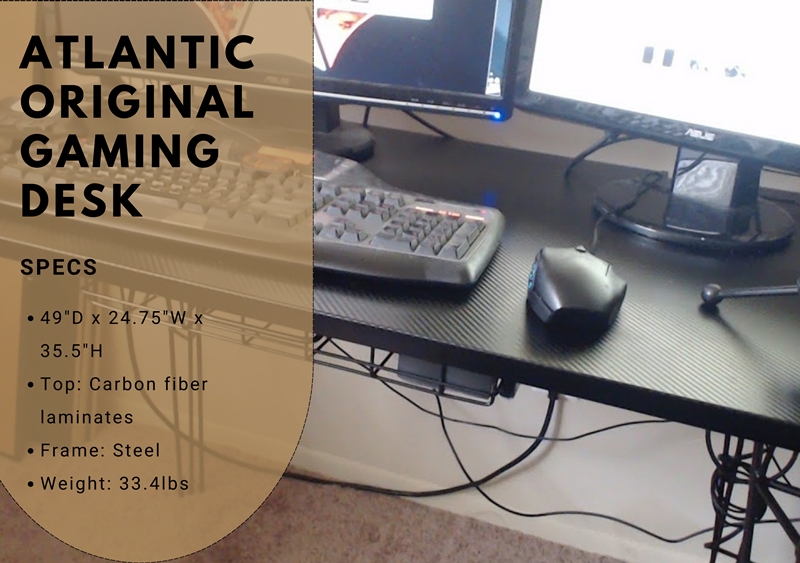 Stefan's Take:
The words I can use to describe the Atlantic original gaming desk are: functionally designed, modern, compact, reliable, and highly affordable.
What impressed me the most is how much extra space you get for additional equipment such as headphones, CDs, USBs, and monitors.
So, even if the desk itself is a bit smaller, you will rarely feel like you need more space.
| | |
| --- | --- |
| Size | 7 |
| Shape | 9 |
| Material | 8 |
| Value | 9 |
Packed with multiple storage options for your gaming gear, customizable, sporting minimalistic aesthetics, black with red or blue stripes – depending on the model – Atlantic original gaming desk still manages to look visually effective.
Considering all its features, and dimensions, as well as a very affordable price, this budget-friendly desk will be an ideal first choice for all novice gamers or streamers. However, even hardcore gamers won't find many flaws in it.
Atlantic original gaming desk is made of modern and durable materials, which gives it stability and extended durability.
Its legs afford this desk increased stability, while they will provide you with ample space for legs. 
Of course, the most impressive feature of Atlantic original gaming desk and a thing that separates it from the competition is the sheer number of different storage options for your equipment. 
They include a second shelf that can support up to 32 inches monitors, a game storage shelf, a charging stand, a controller holster, a hook for your headphones or VR headset, an under-desk basket, and, of course, an obligatory cup holder for safe-storing your favorite beverage. 
Pros
Affordable
Multiple storage options
Compact size
Lightweight
5. DESIGNA K-Shape Gaming Desk
Great Ergonomic Design
Stefan's Take:
DESIGNA gaming desk is a gaming workstation that's custom-tailored specifically for gamer needs.
It's made from modern materials, ultra-durable, and cleverly designed, with a plethora of features that made my gaming experience even more enjoyable. 
| | |
| --- | --- |
| Size | 8 |
| Shape | 7 |
| Material | 9 |
| Value | 7 |
What's even more important, with its substantial desktop space, the DESIGNA desk is one of those long desks for gaming that'll actually perfectly double as a streaming hub.
Without a shadow of a doubt, the DESIGNA gaming desk will be best appreciated by gamers and streamers. Almost every little detail of this gaming desk is carefully chosen to provide you with the best user experience possible. 
From ample surface space for those of you who rock multiple monitors, controllers, microphones, and other gear, to stable construction that will endure even the most turbulent of multiplayer gaming sessions.
The top part of the desk is made from durable P2 particle board, which is then covered with a generous layer of carbon fiber so that the complete surface is waterproof and extremely resistant to scratches and other mechanical damages, as well as to corrosion.
DESIGNA gaming desk also comes with an attractively designed mouse pad that covers the entire desktop. This seemingly little tweak adds to the functionality and visual appeal.
Also, the desktop isn't plain rectangular-shaped but has a discreet ergonomic curve which allows you greater comfort and a better reach to your gear. 
So far I've discussed exclusively the features concerning the gaming activities that can be conducted with this desk. It is, therefore, important to mention that the tabletop itself is not only spacious but also elegant and thin.
That means that you can easily mount multiple microphone boom stands and other equipment you see fit.
DESIGNA desk has two cable manager holes and a socket holder, which will make your life easier, especially if you plan to use multiple monitors and other equipment. 
Finally, as far as the tabletop is concerned, the DESIGNA gaming desk comes with a gear rack, complete with 4 USB ports for charging, a headphone hook, and a cup holder. These last two items can be mounted on either side of the desk, according to your preference.    
The frame itself is made of high-quality metal, which is highly corrosion-resistant. In fact, the manufacturer points out that the metal frame has passed the salt spray test with flying colors. 
The desk legs are T-shaped, which allows great stability and provides ample space for the legs. For a 6 foot 3″ guy, like myself, this is good news.
Pros
Ample work surface
Ergonomic design
High-quality materials
Rugged construction
Durable
Cons
Several manufacturing defects had been reported on rare occasions
6. CubiCubi Computer Desk
Most Compact and Elegant Computer Desk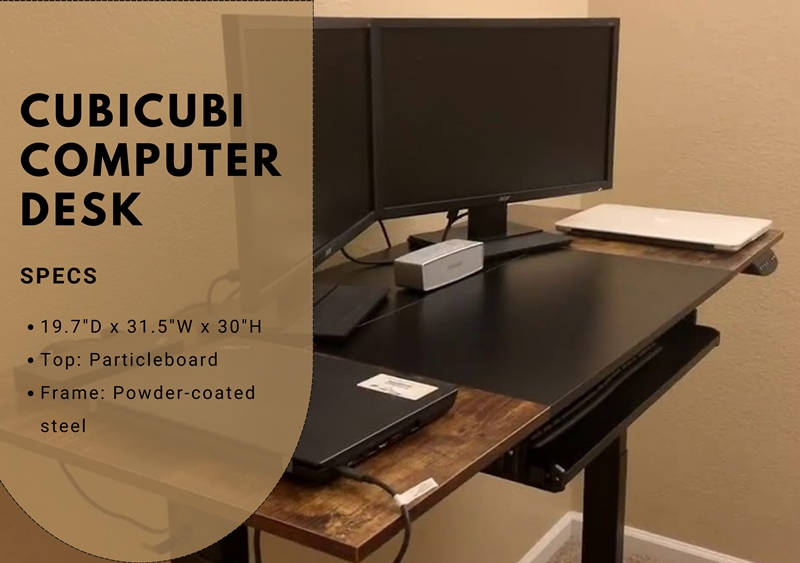 Stefan's Take:
One of the advantages of this particular model is that you can choose between several color options – black and white, walnut, espresso, and rustic brown. To me, the last one is the finest looking one.
If you prefer contemporary, elegant solutions for your gaming or streaming, the one that's more toned down in comparison to other more aggressively gaming-oriented items from our list, I would say this little desk is a perfect choice for you.
| | |
| --- | --- |
| Size | 6 |
| Shape | 8 |
| Material | 7 |
| Value | 8 |
CubiCubi is a manufacturer of affordable, fashionable, and contemporary styled office furniture. As is the case with most of their products, CubiCubi computer desk skilfully balances on the subtle borderline between a classic office desk and a specialized gaming desk. 
That, however, isn't a flaw, but an advantage, especially if you're looking for a desk that will seamlessly blend into your office or living space. 
As I already mentioned, judging by its overall design and sense of style, the CubiCubi computer desk isn't so explicitly gaming-oriented.
Thanks to that fact, this desk is a good choice for a wide user demographic – from students, through at-home amateur streamers, to avid gamers. 
The tabletop is made of durable particle board with a realistic and delicate wood grain texture.
CubiCubi computer desk also includes a neat little shelf or – as the manufacturer advertises it – a small table gift. By design, this "small table" is identical to the desk itself and will fit neatly on the tabletop, serving as a monitor stand. 
Although the CubiCubi computer desk isn't so chock-full of gaming extras, it includes a handy iron hook, which can serve as headphones or backpack hangers. 
The powder-coated steel frame is sturdy and reliable and provides abundant leg space. 
Pros
Affordable
Multiple style options
Sturdy
Versatile
30-days no reason return
Lifetime customer service
7. JWX Wing-Shaped Gaming Desk
Quite Spacious Gaming Desk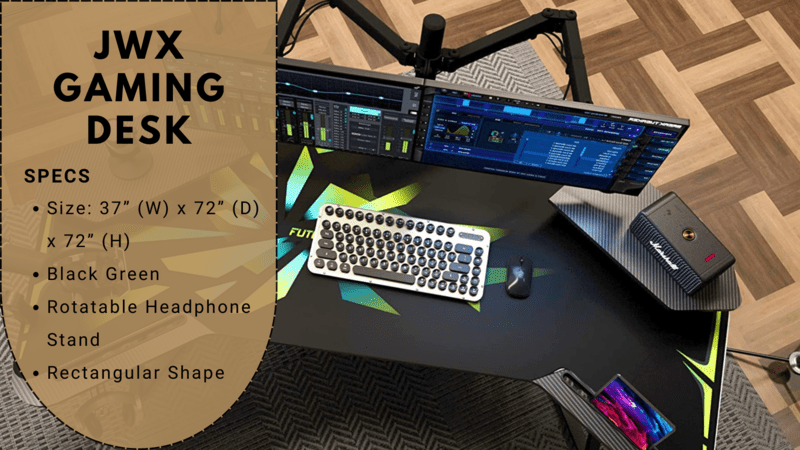 Stefan's Take:
This wing-shaped desk from JWX can be a very interesting addition to your gaming corner. What I liked the most is that it offers a lot of space, so let's get into it and see what you can expect if you decide to go for it.
If you need a big desk, but L-shaped desks aren't your thing, then try considering a wing-shaped desk like this one.
| | |
| --- | --- |
| Size | 7 |
| Shape | 8 |
| Material | 6.5 |
| Value | 7 |
This desk is great for gamers with a lot of equipment, but the main target audience would probably be streamers and influencers.
These jobs require that you have many pieces of equipment, some of which can be quite bulky, so something this spacious will certainly be a lifesaver.
This one can fit two monitors, one keyboard, and one mouse, but the sides can fit all of the equipment you need to work with.
If you hate having cables around, don't worry, there is a dedicated hole for gathering them, so you can have the neat desk of your dreams easily.
When you open the package, there will be the installation tools, a manual, and an instructional video.
Some new features recently added to this model include an updated headphone stand that can be rotated and a full-coverage mouse pad.
Overall, many people could benefit from this desk, so if it's been on your radar, it is worth getting.
Pros
It has a lot of space
Very sturdy
Reasonable pricing for the versatility it offers
Cons
It can be challenging to assemble
8. MOTPK L Shaped Gaming Desk
Great L-Shaped Design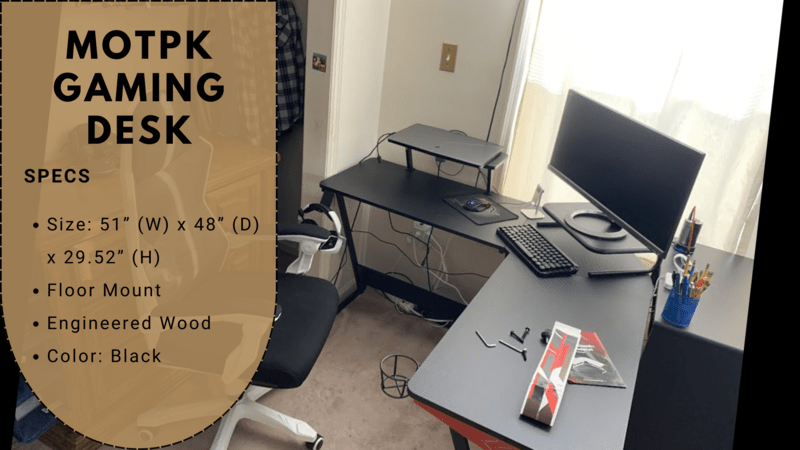 Stefan's Take:
What I liked the most about this corner desk is that you can use it for multiple different things, and I also liked the red and black aesthetic.
Also, as this desk is made with gamers in mind, it was not a surprise to see a headphone hook, a cup holder, and a monitor stand included in the package.
| | |
| --- | --- |
| Size | 5 |
| Shape | 8 |
| Material | 6.5 |
| Value | 8 |
This desk is a good choice for people who want to have everything in one corner – your gaming essentials, as well as things for work and some additional shelving.
Great if you are a practical person.
These are the things that the manufacturer thought of when creating a desk that should provide you with a superior gaming experience.
The carbon fiber texture of this desk is what makes it very hard to have any skidding and scratching and also what makes it easy to clean.
It can fit 3 desktops, and probably even more if you need that, but either way, it is able to hold up all of the equipment that you need it to.
The guide for assembling it is detailed and mostly helps with getting everything together, and at the end of it, you will have a very sturdy desk in front of you, as the materials are of great quality.
Pros
Gives you a lot of additional space
Interesting carbon fiber texture
A lot of options for customization
9. FEZIBO L-Shaped Electric Desk
Great Coloring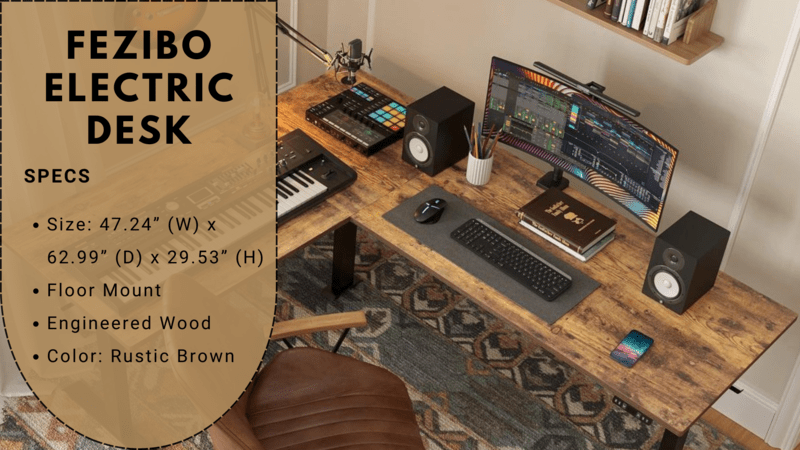 Stefan's Take:
This desk is something that caught my eye because the design is more contemporary and modern compared to the typical gamer aesthetic that you usually see, but it has a lot more to offer.
Apart from the good looks, I really enjoyed how spacious the desk is. I was able to set up all of my equipment without any trouble or lack of space.
| | |
| --- | --- |
| Size | 5.5 |
| Shape | 7.5 |
| Material | 8 |
| Value | 6 |
While this desk gives you the space to have a lot of equipment on it, and it could do the job of a streamer, it will probably be best suited for people who work from home, for example, programmers.
The first thing that you notice about this desk is the very modern work surface with a striking wood design that makes any workspace look elegant.
However, besides the looks, this desk provides you with versatility when it comes to functionality, too.
The legs are adjustable, and you can set the desk to be three different heights, depending on what your preferences are.
The system behind this function is made out of steel, so whatever you do with the desk won't change its sturdiness.
All of that makes this desk able to hold up to 330 lbs, meaning that you will be able to put all you need.
The casters on the desk are lockable, so even though they can swivel, you can easily set everything to be in place and prevent scratches and similar things from occurring.
Pros
Very modern and sleek design
Good, reliable build
Easy to assemble
Cons
Quite a heavy build and package
10. Coleshome Computer Desk
Compact Design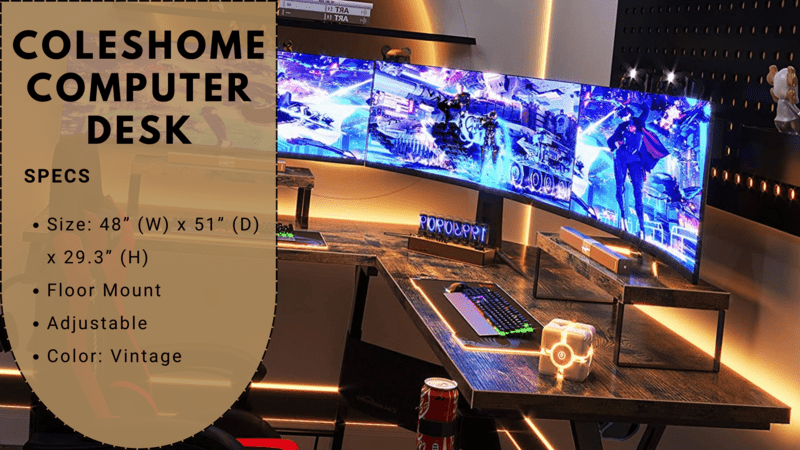 Stefan's Take:
What I liked about this L-shaped desk is that it comes with a very modern and sleek design, but that doesn't make it lack all of the cool accessories that usually come with this kind of desk.
It's equipped with a standard cup holder, as well as a phone hook, so I didn't have to worry about all of those things getting in the way on the desk surface.
| | |
| --- | --- |
| Size | 5 |
| Shape | 6.5 |
| Material | 7 |
| Value | 8 |
L-shaped desks that aren't in the typical gamer aesthetic are a thing, and if you're looking for that, look into this one!
This desk is best suited for people who have a lot of equipment to store around them at every moment but would prefer to have a sleek, minimalistic, and modern aesthetic.
The monitor stands are added to adjust the position at which you're looking at them, but if that doesn't work for you, you will be pleased to know that these are removable, so you can mix and match things however you like it.
Depending on your needs and how your room looks, you can change things up with the sides of the table while assembling it, which is explained in the manual.
Overall, the build and the frame are made from good-quality materials, making them pretty sturdy, and the board is also waterproof.
With all of that, this desk is able to handle around 220 lbs, and with the leveling studs, you'll be able to adjust everything no matter what kind of floors you have at your home.
Pros
Sleek, modern design
Good price
Easy to assemble
11. HYTXEN Gaming Desk
Modern Design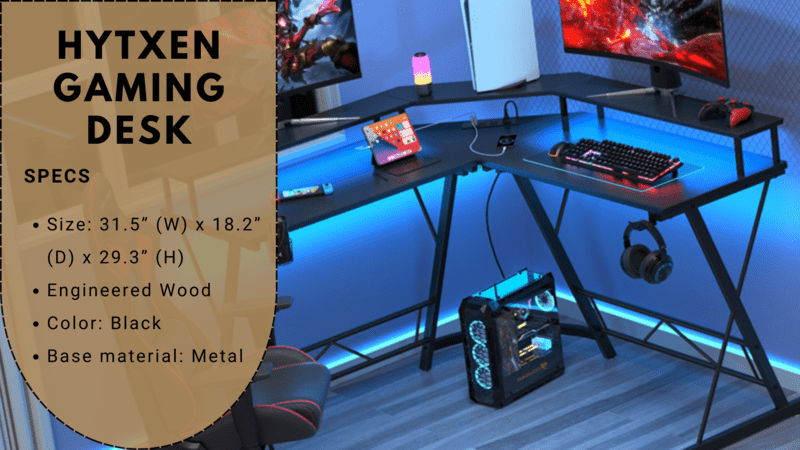 Stefan's Take:
The first thing that came to my attention when it comes to this desk is the LED lighting strips included with the desk which light up quite a lot of its space.
Besides that, additional shelves follow the whole shape of the desk, so I had a lot of space for my monitors, the rest of the equipment, and even the clutter that can easily go under these shelves.
| | |
| --- | --- |
| Size | 5 |
| Shape | 6 |
| Material | 7 |
| Value | 8 |
If you wanted a desk that has an integrated light strip and you generally like that aesthetic, HYTXEN has made a desk for that purpose.
This desk is best for people who have mainly a lot of monitors but also other equipment that needs to be close to you at all times, so it's great for streamers.
Regarding the cool accessories that come with this desk, firstly, there are 3 socket outlets, and then there are 2 USB ports, so you will get what you need for all of your devices.
There is also a headphone hook and a cup holder, but if these are something that you don't like and they mostly come your way rather than helping you, it's very easy to remove them.
Since the desk has X-shaped legs, it's ensured that it will have more than enough stability to handle everything you need to have on it.
Finally, the company gives put a 3-year warranty and also works with 24/7 customer service, so even if you do encounter problems, they will most likely be easily fixed.
Pros
Has amazing LED strip light
Good pricing for everything you get
Easy to assemble
Cons
The upper shelf should be wider
12. Armocity Computer Desk
Great for Smaller Rooms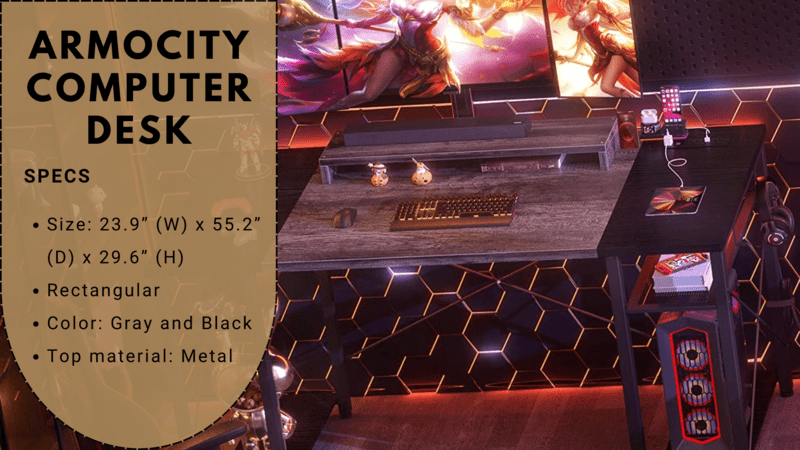 Stefan's Take:
What impressed me about this desk is that it's not too big, but it has many features that make up for that, which is perfect for people with smaller offices or rooms.
If you live in a small space, like me, but your setup is not so small, then you probably have a hard time finding the best solution for storing everything.
| | |
| --- | --- |
| Size | 5 |
| Shape | 5.5 |
| Material | 7 |
| Value | 8 |
Sometimes, you just need a small desk for a small space, and that's exactly what this Armocity desk is.
This Armocity desk is best for gamers who have a small space for storing all of their gear.
It could work well for streamers, too, if you don't have too much equipment.
Firstly, there is a USB charging station as well as a few power outlets, which will be very useful for all the devices you probably use.
These outlets and the station are made to be fast charging, which is a big plus.
The overall design is quite minimalistic and modern, so if that's the aesthetic you're after, it will easily fit in your space.
The monitor stand on this desk was made with the intention of the desk being more ergonomic so that people who do spend a lot of time working on it do not feel as much strain.
Also, said monitor stand is moveable, so you can adjust everything entirely and have it in places that work the best for you and your whole setup.
A fun feature that's also very useful is the moveable parts; the smaller parts on the side can be moved around, so you can customize the placement of the charging station however works best for you.
Pros
Great for small spaces
Sleek design that fits a lot of styles
Many useful compartments
Cons
Hard to assemble because of difficult directions
13. Soges 55 inches Gaming Desk
Simple Design
Stefan's Take:
A simple-looking desk that will fit your room in case you are building your new gaming room or if your old one just needs a refresh.
It also comes with many great accessories, like the XL water-proof separate mouse pad, a cable grommet, and a USB holder, so your setup will look professional.
| | |
| --- | --- |
| Size | 6 |
| Shape | 6 |
| Material | 6 |
| Value | 6.5 |
This is best for people who want a new setup but don't have too much equipment that takes up space and requires additional shelving.
With dimensions of 55.1″*25.5″*29.5, this desk gives you a lot of space and depth.
Because of the sturdy build, it can hold up quite a lot on it, up to 330lbs, to be specific, so it can hold up all of your equipment, no matter how much of it there is.
The surface is a sleek carbon fiber, so the feel is very nice and durable, and also anti-scratch, so even if you have pets that like to wander around your desk, this one will be safe.
As the feet are adjustable, this desk will be able to fit all floor conditions, and even if there is some unevenness in your home, you can easily set everything exactly how you want it and still have a stable desk that's leveled.
Overall a great choice for gamers because of the added accessories and the space it has for the multiple monitors you probably have.
Pros
Simple design
Appropriate for different uses
Ergonomically made
Cons
Hard to assemble, especially because of the unclear instructions
14. Teraves Modern L-Shaped Desk
Great for Working from Home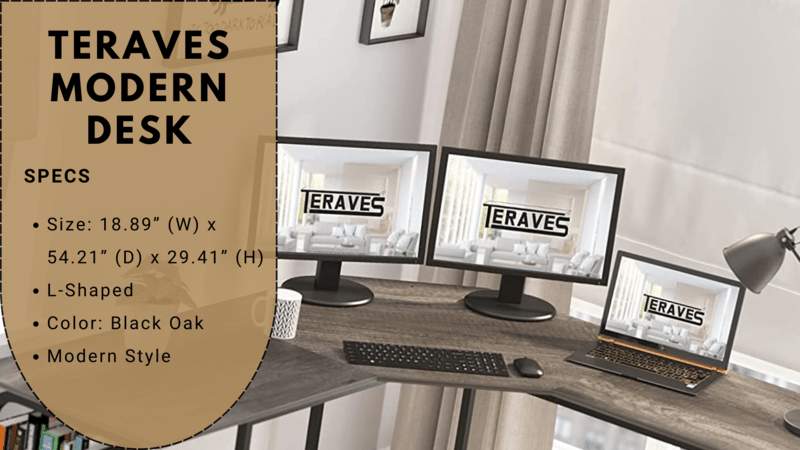 Stefan's Take:
The first thing that I noticed about this desk is just how much space there is. You can fit almost anything you need for work, gaming, and even streaming.
Also, these shelves can be moved around, so you can easily customize everything to be where you need it.
| | |
| --- | --- |
| Size | 6 |
| Shape | 6 |
| Material | 6 |
| Value | 6 |
L-shaped desks are pretty big and usually tend to fit everything you need them to, but if you want one that offers, even more, this Teraves Modern desk is something that you should look into.
As long as you have a lot of equipment and a lot of things that need to be within arm's rhea while you work, this is a great choice for you.
Naturally, streamers will love this desk that has a lot of space.
Firstly, it's an L-shaped desk, which automatically means you will have double the space compared to a regular desk.
The additional shelving has an open 4-tier design, meaning that many things can easily fit and be close to you at all times.
What's unique about this L-shaped desk is that in the middle, there's some additional space that you don't often see, which can mean a lot.
This design gives you the space and the versatility to use it for anything you need, even multiple things at once, so if your room needs something where you will set both your setup and all of the clutter your hobbies make, this one is for you.
The table top is made out of wood, and it looks very nice, and it's held by a metal construction, proving that this desk will stay sturdy for quite some time.
Also, there are adjustable leg pads for everyone who needs different heights.
Pros
A lot of space
Modern, sleek design
A lot of additional shelving
Cons
Things sometimes get damaged during shipping
Things to Consider When Buying the Best Desk for Streaming
1. Dimensions
This might seem a bit self-explanatory, but the dimensions of your future gaming or streaming desk are of utmost importance. Sure, you might find a desk that seems like an ideal choice, but it'll prove to be completely useless if it can't fit the space you have available. 
Likewise, if the surface of the tabletop isn't sufficient to store all your equipment, or if you fail to take into consideration future gear acquisitions, it'll prove useless in the long run.  
Another all-important factor is the height of the desk. If it's too small, it won't be suitable for comfortable usage. Some people also prefer standing desks. 
2. Shape 
For the most part, the shape of the desk is a matter of personal preference.
However, on some occasions, like when, for example, you have limited space at your disposal, the shape of the desk might prove paramount.
For example, L-shaped desks are an excellent choice if you want to save valuable space.
Also, in the gaming community, ergonomically shaped tabletops are much appreciated.
3. Materials 
Although nowadays there is a wide range of reliable and sturdy materials, they are an important factor when you're choosing your ideal streaming desk. 
Even though a choice between PVC, particleboard, or some other material for the tabletop might seem insignificant, true gamers or streamers will always appreciate the ones that will provide them with unrestricted action.
Of course, easy maintenance, anti-scratch, or waterproof properties are always a plus.
Also, I advise you to pay special attention to the material of the frame – it'll make all the difference between a stable desk you can rely on or a rickety, shaky mess.
4. Extras 
Even though extras might not seem essential for the basic functionality of your desk, features such as additional monitor stands, shelves, storage space, USB ports for charging, headphone hooks, or cup holders are indeed important for most users. 
They aren't unnecessary gimmicks introduced to raise the price of the product, but in fact, considerably increase the practical value of the desk.
5. Price
It's not my intention to spoil your fun, but the price is always an omnipresent factor.
Of course, a sky-high price isn't a guarantee of quality and vice versa. However, it can represent a reasonably good indication of the quality product.
For instance, a suspiciously low price can often suggest subpar materials and a product that won't last long.  
Conclusion
As you might see, acquiring the new streaming or gaming desk that will be the right for you and will fit into your budget, isn't a simple task.
That's why I've compiled my list in such a way that it offers a nice overview of what's on offer at the moment.
I've included budget choices, the desks that will discreetly blend into almost any space, and those that'll represent an unequivocal statement of your gaming or streaming passion. These are my personal favorites:
Cubiker L-Shaped desk because it is very spacious and comfortable;
Seven Warrior Gaming desk for its durability and modern design;
FLEXISPOT EP4 because of its versatility;
All of them, however, are reliable and well-designed solutions that will last you a long time and will prove an invaluable hub for all your streaming activities. 
Frequently Asked Questions
What desk do most streamers use?
There isn't an easy answer to this question, due to a large number of variables. Some streamers are on the lookout for high-end desks with a plethora of extras, others are willing to compromise and are choosing more modest options. 
It all depends on the number of factors and how much you're willing to invest in your hobby.
Are L-shaped desks good for streaming?
L-shaped desks are actually a great choice for streaming. They usually are designed in such a way to provide ample surface space, while they can snuggly fit into the corner of your room.