A dedicated streaming machine is much more than just a mere machine that streams videos – it is a high-end computer that can handle challenging games and streaming activities all in one!
Finding the right PC can be tricky. The best dedicated streaming PC, in my opinion, is the iBUYPOWER Pro Gaming PC because of the powerful CPU and GPU that will ensure you're at the top of your game at all times.
This list focuses on giving you a close look at some of the best-dedicated streaming PC builds on the market so you can pick the right one.
QUICK OVERVIEW: Best Dedicated Streaming PC
Intel i7-12700F
GeForce RTX 3060 TI 8GB

CyberpowerPC Gamer Xtreme

16 GB DDR4 Memory
GeForce GTX 1660Ti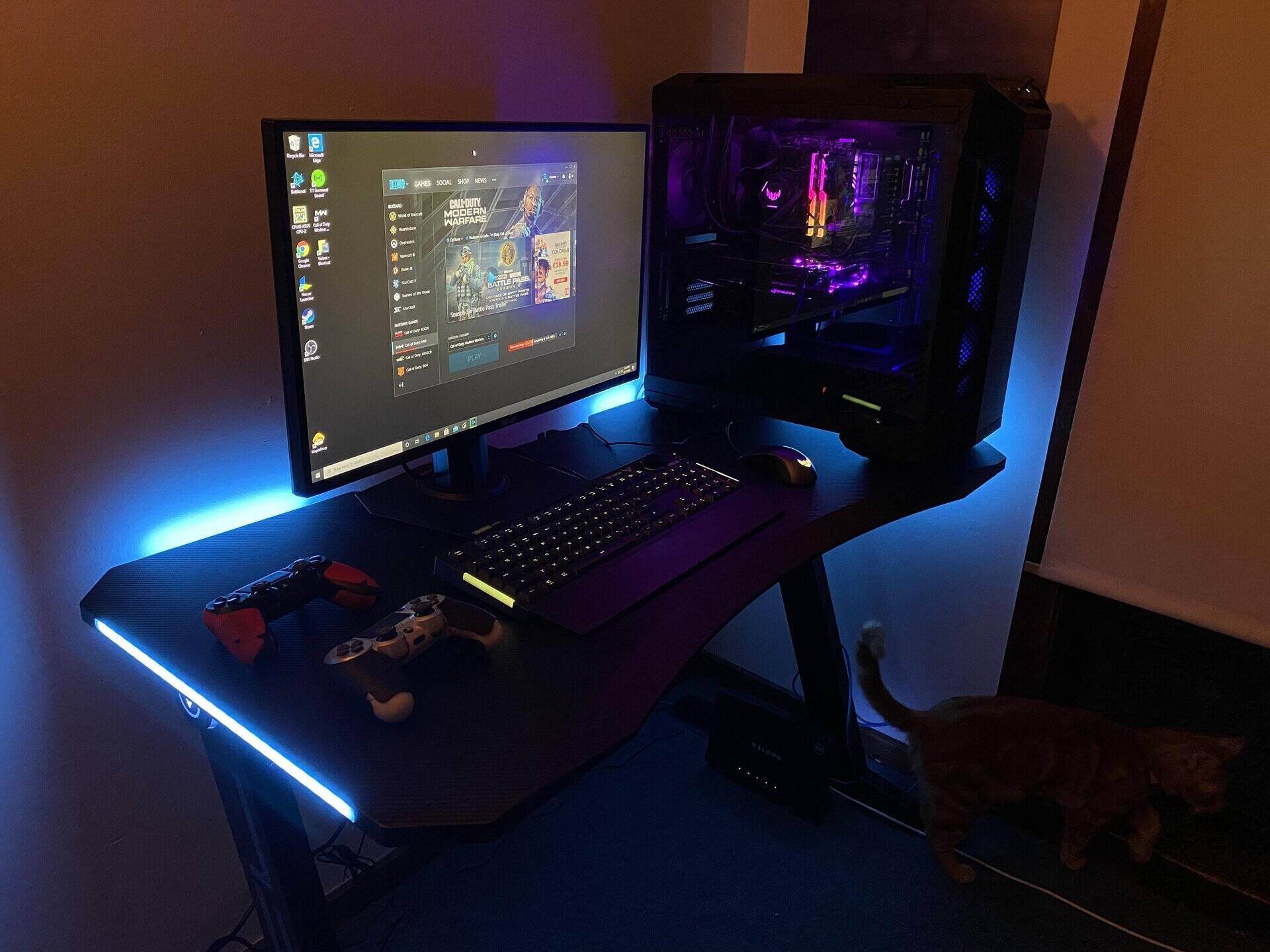 Best Dedicated Streaming PC
Tested & Reviewed
1. iBUYPOWER Pro Gaming PC
Best overall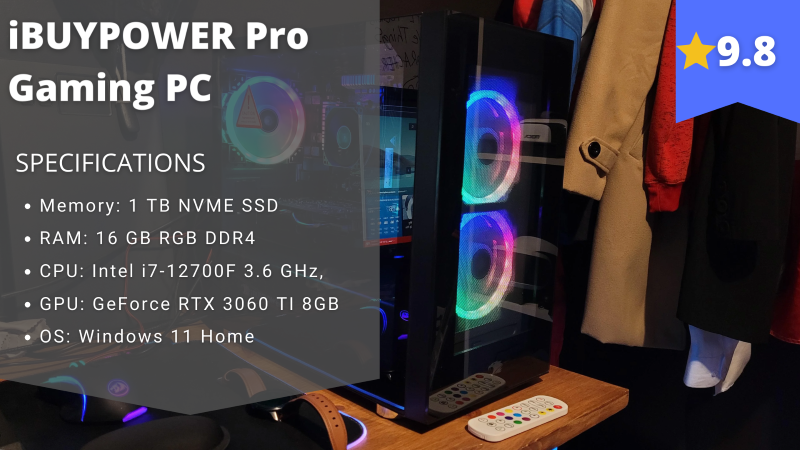 Stefan's Take:
What I like about this gaming PC is that it supports heavy-duty gaming while still being a great choice for beginners.
I tested several fast-paced games at max settings and didn't encounter any issues with stuttering or a drop in FPS. The video quality was maintained, and I could simultaneously stream and game without any issues.
Also, the great RAM and memory are a big plus!
| | |
| --- | --- |
| CPU | 10 |
| GPU | 10 |
| Storage | 10 |
| RAM | 9 |
Why do I think iBUYPOWER Pro Gaming PC is the best among these?
For a dedicated system that packs a tremendous punch, the iBUYPOWER represents a relatively affordable top-of-the-line dedicated streaming PC setup that offers immense power at a compact size.
Who is it best for?
Being picky about your configuration is often an absolute must, as plenty of machines offer a plethora of suitable components while leaving the rest at sub-par quality. This time, it is not the case.
If streaming seems like a great idea to you but being dedicated to it is still not a certainty in your case, you cannot go wrong with this computer.
Offering outstanding specs for those who are just starting in the world of streaming, this prebuilt streaming PC is designed to give you impressive power at a desirable price tag.
Customers who are just starting in their streaming careers will be immensely pleased to know that they can get a very competent PC build that can run most average and high-in-demand games with ease.
It does cost over $1000, but a gaming PC can cost three times as much and offer less.
Moreover, it's suited even for heavy-duty gaming. The GPU this build offers leaves not much to be desired. If you plan on running games such as Metro Exodus on maximum resolution, this configuration will easily support it.
Overall, it stands tall as an excellent all-around choice for customers who want to test the waters before diving into streaming, as this machine performs admirably in all aspects of use.
Key features
The Intel i7-12700F CPU is the heart of this machine that allows you to run most games without lag while still maintaining fantastic FPS. With 3.6 GHz, your PC will run at admirable speeds most of the time.
What makes it stand out is the solid GPU: GeForce RTX 3060 will suit those that prefer light and heavy gaming.
It also includes a 1 TB SSD and 16 GB DDR4 of RAM, which is more than enough to store all of the games and software you need for streaming and gaming.
Additionally, it has multiple slots that allow you to connect external devices with ease, and you also have absolute control of the RGB lighting, which can be controlled by the LED button.
If you are a tech-savvy user, you will be happy to know that you can easily expand your computer's storage.
The entirety of this prebuilt streaming PC can be easily upgraded even by less-experienced consumers, so you won't have to pay someone else to do a simple upgrade for you.
Pros
Easy to set up
Supports demanding games
Great storage
Fully equipped for immediate use
It suits beginner and pro streamers
2. CyberpowerPC Gamer Xtreme
Great PC for light gaming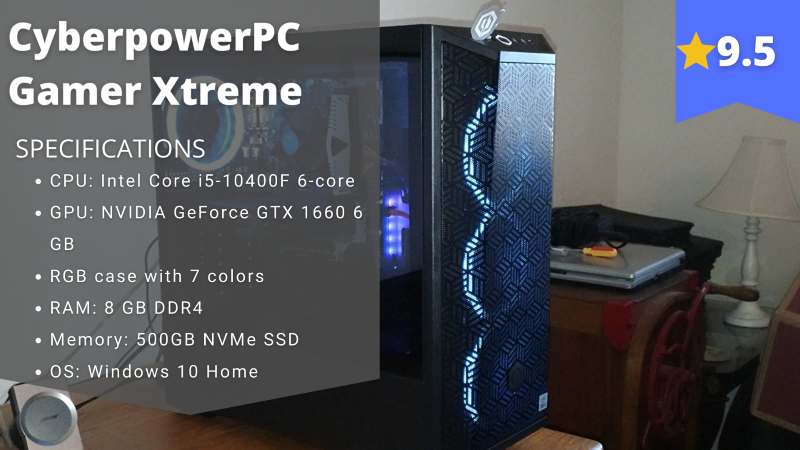 Stefan's Take:
I really tested the limits of CyberpowerPC Gamer Xtreme. The Intel i5-10400F and GeForce GTX 1660 Super are great value CPU and GPU that support light gaming.
For example, this PC supports Fornite on 1080 ultra settings. FPS can be maintained over 100, so you'll get a great gaming experience.
In my opinion, a 500 GB SSD is just enough for gamers that prefer to focus on only a few games, but if you need more storage, you can upgrade it.
| | |
| --- | --- |
| CPU | 10 |
| GPU | 10 |
| Storage | 9 |
| RAM | 9 |
For streamers who want to capitalize on a more potent PC and reach their full potential in their hobby or career will be overjoyed to know that this dedicated streaming PC setup is the real deal!
Robust and compact, it offers sweet performance in tasks such as video editing and HD streaming.
Who is it best for?
Built to support the latest generation of games and tech, the CyberPowerPC is a dream come true for streamers with a desire to enter streaming with one of the best guns on the market for high-end streaming.
First and foremost, this is a professional prebuilt streaming PC seen on the esports scene and in use by some of the best streamers.
It is fully compatible with the latest VR equipment, such as HTC VIVE and Oculus Rift, while offering perhaps the best CPU for gaming and streaming on the market in terms of overall value -the 10th generation Intel Core Processor.
The dedicated streaming PC specs this set packs also include a gaming keyboard and mouse that sweeten the deal even further.
Combined with a lifetime of free tech support and 1-year guarantee for parts and labor, thou are secured with your purchase every step of the way.
While the price might set you back slightly, it is an ideal long-term investment for professional gamers and streamers who want high quality and longevity in their setup.
Key features
The specs this machine packs are truly impressive, especially when taking into account the 8 GB DDR4, 3000 MHz, and 500 GB solid-state flash memory. The good news is that you can upgrade this machine further.
The NVIDIA GeForce GTX 1660 is fantastic for 1080p gaming while remaining silent during operation. It is a great balanced choice for streaming a multitude of modern games, with a RAM size of 6 GB.
The Intel Core i5-10400F is based on Intel's new "Comet Lake" microarchitecture that enables high clock speeds and new boosting algorithms.
Although you can't overlook this locked CPU, its 2.9 GHz has a Turbo Boost frequency of 4.3 GHz, which can give you some extra power if you need it.
Oculus Rift VR and HTC VIVE optimization make it a staple of high-end VR gaming, while the DirectX 12 technology ensures stunning graphics in all the games you play, making it perfect for demanding FPS games.
The set has 6 USB 3.0 ports and 2 USB 2.0 ports for connectivity, and it comes with an exclusive 102-key keyboard that has 8 multimedia keys and ergonomic construction.
The whole set also includes 3 buttons and 7 RGB LED backlight gaming mouse that come with a 4000 DPI Optical Sensor, making this choice all-encompassing.
Pros
High-quality PC equipment
Completely upgradeable
Great power at a reasonable price
Cons
It comes with only 8 GB of RAM
3. ROG Strix GA15DH
Best for professional gamers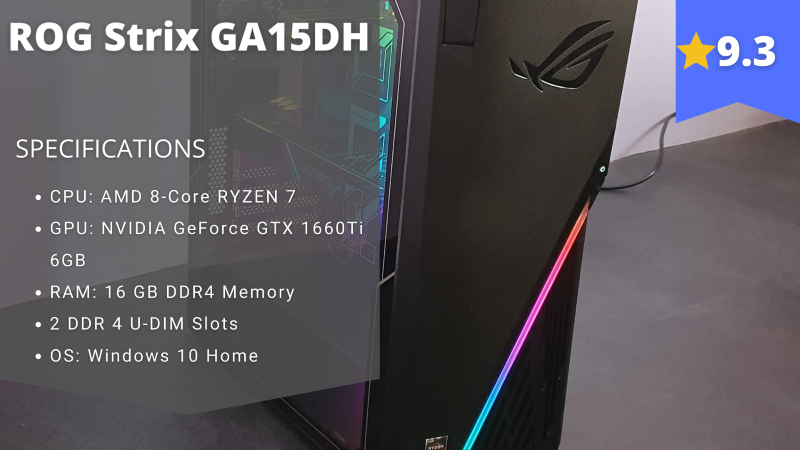 Stefan's Take:
I was excited to get my hands on this gaming beast! ROG Stix GA15DH features one of the most powerful hardware: AMD 8-Core Ryzen 7 CPU and GTX 1660.
Also, the 16 GB of RAM at 3200 MHz ensures smooth gaming, and 1 TB of storage is just enough for pro gamers to keep all their games and software on one disk.
The only downside is the price – I don't think many gamers are willing to spend 3000 bucks on a prebuilt PC.
| | |
| --- | --- |
| CPU | 10 |
| GPU | 9 |
| Storage | 9 |
| RAM | 9 |
As an absolute gaming beast that will leave no customers indifferent, this is a compelling choice for a Twitch streaming PC build that professional content creators and gamers alike will find hard to put down!
If you want a beast with an 8-Core processor and a high-end graphics card in your setup, you will be elated to pick this for your dedicated streaming PC!
Who is it best for?
The ROG Strix GA15 combines some of the best hardware AMD and NVIDIA can muster into an elegant combination that aims to please the top-tier competitors at LCS gaming competition and hardcore gamers who want to up their content level of quality to the next level.
From video editing and fast-paced FPS games to AAA titles, this computer does it all and still has some sweet power to spare! Its beautiful design is complemented by its mobility; it combines the power of a powerhouse PC with the touch of a dedicated streaming laptop all in one!
Whoever wants to up their game to entirely new heights and go beyond the limits of a casual prebuilt streaming PC will adore the dedicated streaming PC specs this computer has to offer.
Key features
The 3.6 GHz AMD RYZEN 7 CPU is excellently integrated with the power of the GeForce GTX 1660 Ti GPU to power almost any game you want! It has an outstanding CPU for gaming and streaming that is above most prebuilt setups.
The 3200 MHz memory speed and 16 GB DDR4 of RAM make this a killer combination in terms of speed and capacity, which will allow you to engage in demanding video editing and other tasking activities; this PC can really have no limits imposed on it based on what it can do!
It also houses a multitude of ports- from a D-Sub to two USB 3.2 Type-A ports; you won't be left without a substantial choice of options for connecting all your devices without issue.
As a cherry on top, this particular PC also has a unique heat-dissipating design that stores all the important components (GPU, CPU, and power supply) in different chambers to lower ambient temperature and the chances of overheating.
You can additionally personalize this bad boy to your liking completely, as the options for upgrades or just aesthetic additions are nearly endless!
Pros
Extremely powerful and elegant
Nearly limitless possibilities for improvement
Sturdy and mobile casing
Things to Consider when Buying a Dedicated Streaming PC
Although well-known among the veteran streaming community, getting a dedicated streaming PC is more complicated than it looks!
These are the crucial factors.
1. Are dedicated streaming laptops comparable to PCs?
For streamers who are often on the move, a laptop might be a better choice compared to a desktop computer due to its convenience alone, especially if you don't plan on using it for intensive gaming.
As long as the CPU of the laptop can support software for streaming, which is a standard in most modern computers, and if it can use capture cards, you are in the clear- it is a possibly fantastic choice for your streaming activities.
Related: Best Laptop for Streaming Twitch
2.  Include a video card if you want raw power
GPUs have taken up the reputation of oil; everyone wants them, yet they are hard to find and expensive due to the mining craze that is happening worldwide. Still, it isn't a necessity.
If you don't need a particularly strong streaming PC, a CPU with an onboard iGPU will do the trick. If power is a must, spend some additional money on installing a solid GPU.
Related: Best GPU for Streaming
Conclusion
That concludes this list of the best dedicated streaming PCs. I hope you find this guide helpful. Here is a quick summary of my top picks:
iBUYPOWER Pro Gaming PC as the best overall,
CyberpowerPC Gamer Xtreme as a great choice for light gaming,
ROG Strix GA15DH as the best choice for pro gamers.
I wish you happy streaming!
Frequently Asked Questions
What do you need a dedicated streaming PC for?
In most cases, you will need the following: CPU, Motherboard, RAM, SSD, HDD, PSU, and Case.
Streaming PC can warry, yet you can get away with a lower price compared to your gaming PC as the power needed to stream 1080 p video at 30 or 60 FPS is still smaller compared to the power a full-on gaming PC will need.
As long as it is compatible with capture cards and can use the NDI protocol, you are in the clear!
Do you need a dedicated streaming PC for Twitch?
There are two most common reasons why you would need a dedicated streaming PC. First is when you are streaming a console game that doesn't have a built-in ability to stream. In these cases, a streaming PC and a capture card for OBS are a must.
Next is when your PC can't both render and use its streaming function simultaneously and operate smoothly. You also have the option to upgrade your configuration or use a GPU encoder, yet getting yourself a streaming PC might be more helpful.
In either case, it is not a necessity, yet it's often bought by streamers who want to offload their PC and use the full potential of a dual PC setup.
Does a dedicated streaming PC need a GPU?
A dedicated GPU? No, yet you do an onboard one. The most important part of a streaming PC is a strong CPU that will encode the video, yet a GPU, even if it is not that impressive, is still necessary.
In most cases, investing in a high-end CPU and budget GPU will get you desired results.