Many streamers with little experience don't know how to do reruns on Twitch, even though they would like to.
They shouldn't be worried since I can help with that.
Apart from that, each and every Twitch streamer wants to grow followers list and how terrific would it be if they could do that while sleeping?
You want to know how?
Read this text and you'll get all the answers to the question of how to rerun on Twitch.
How to Rerun on Twitch?
Since there are many inexperienced streamers or even those who plan to start streaming on Twitch, who googled "rerun meaning" and still have no idea what is a rerun but are interested in the topic, I will start this text with a brief explanation of rerun.
What is a Twitch rerun and why to rerun at all? After I answer these questions, I'll show you how to rerun on Twitch.
Well, a rerun is practically content that is played on your channel but isn't going live.
Additionally, you can also create a Twitch rerun queue, which is a list of videos that will play one after the other when you start the rerun.
Finally, you can schedule a rerun on Twitch as well.
Normally, it's logical that followers like live content better than reruns.
So, now you'll ask: why should I do rerun in the first place?
From my experience, there are two main reasons for doing a rerun.
1. Replaying popular content
First of all, some of your content is better than the other and your audience liked it better. By knowing how to rerun on Twitch, you can give your audience a chance to enjoy some of their favorite videos of yours one more time.
2. Allowing viewers from different time zones to enjoy your streams
And secondly, there are time zones all around the world. Therefore, for example, some viewers from Brazil will be able to watch your stream at, let's say, 3 P.M. in his country.
However, in Japan, it will be 3 A.M. and your viewers from that region will be sleeping. That's why want to know how to rerun on Twitch: to give all your viewers the equal opportunity to watch your content.
Now, we'll turn to one of two main topics of this text and that is starting a Twitch rerun.
How to Start a Rerun on Twitch?
Setting up a rerun on Twitch is quite an easy process.
However, in order to make it even simpler for you, I created a list of steps you need to follow to start a rerun on your channel. Let's see how to rerun on Twitch!
1. Dashboard
Firstly, click the avatar in the top right corner. Afterward, you'll see a dropdown menu where you should click the Creator Dashboard option.
2. Stream Manager
After you've completed the first step, simply click the Stream Manager option.
3. Start a Rerun
If you've completed the second step, your stream manager will appear on the screen.
Then you should click the Start a Rerun option.
Nevertheless, some streamers don't have that option in the Stream Manager.
If you are one of them, there is a "+" icon that you should click.
4. "+" icon
This step is for those who had to use the "+" icon.
After you've done that, a menu will open.
Find Start a Rerun and click it.
5. Twitch Rerun Queue
If you don't have any videos in your rerun queue, you will have to add some.
There is a useful search bar that you can use to find exactly what you need.
Afterward, just select the video you want to rerun and click Start Rerun.
After doing all this, you are good to go.
All the options regarding the managing of the rerun can be found on the bottom of your channel screen and the rerun will always play in 720p resolution.
6. Chatbot
A chatbot is another useful option concerning reruns.
You can use the chatbot to inform people that they are watching a rerun.
Just type the message for your followers and set the timer with which you determine how often you want the message to appear.
If you set the timer to, let's say, 4 minutes, the message will, logically, appear every 4 minutes.
Twitch Rerun Requirements
Now that you know how to rerun on Twitch, let's discuss about certain requirements you need to meet before doing so.
Not everyone can use Twitch reruns.
There are some requirements that have to be met and now I will list them:
You need to have at least 50 followers.
You also need to have at least 3 concurrent viewers.
If you didn't stream at least 500 minutes throughout 7 days during the previous 30 days, you won't be able to rerun.
In other words you need to join the Affiliate program on Twitch.
How to Grow Followers List While Sleeping?
If you don't buy followers, it sounds impossible that you can grow followers during the inactive period, practically while sleeping.
However, reruns in the first place, have enabled that.
As I've already mentioned, it's normal that you have followers all around the world and there must be some followers who are wondering how to view past streams on Twitch, perhaps some streams that were going live while they were asleep.
Knowing how to rerun on Twitch allows you to do that.
If you don't use reruns and your Twitch past broadcasts aren't playing or there is no option of playing your past broadcasts, there is a possibility that your disappointed followers will un-follow you.
On the other hand, if you enable viewers to watch your content hours or days after it was streamed, your followers list will probably start to grow.
Therefore, you will basically grow your followers list while sleeping.
You don't have to do anything, just enable your viewers a rerun option.
Conclusion
In general, knowing how to rerun on Twitch is a useful thing.
It gives you the opportunity to show even more respect to your followers and to allow them to watch your content, no matter where in the world they live.
Furthermore, it practically enables you to stream while you are doing something totally different.
And finally, as mentioned in the very headline, knowing how to rerun on Twitch allows you to grow followers while sleeping.
However, just like with any other stuff in your life, don't exaggerate.
If you exaggerate, you will create the opposite effect.
Related: How to Rewind Twitch
Frequently Asked Questions
Join our Discord Group. Ask questions, team up with fellow streamers, share memes, and more!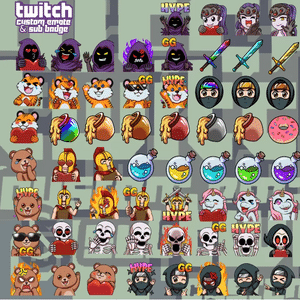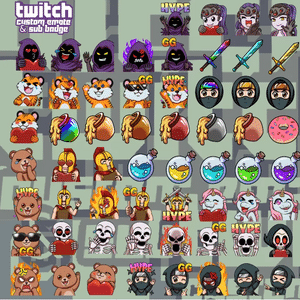 Claim for FREE:
FREE Emote PACKS
A book on growing your audience