Going on vacation is always exciting. Every vacation is an adventure of its own.
We experience so many great moments; naturally, we want to share them with our online friends.
But sometimes, it's just so hard to come up with a perfect caption that describes your feeling and is witty at the same time.
Luckily, I have made a compilation of the best vacation Instagram captions for you to use on your next vacation photo.
Scroll below for ideas on vacation captions for Instagram.
Top 200+ Vacation Captions for Instagram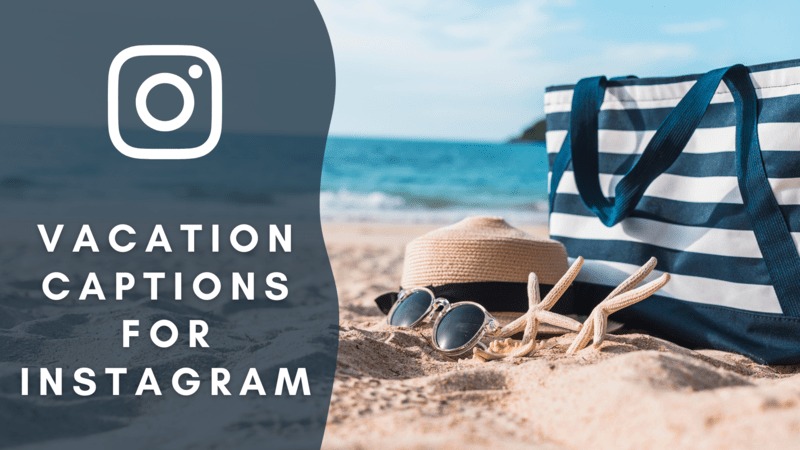 Don't worry, be happy.
A vacation a day keeps the boredom away!
Hasta la vista baby!
Life is a journey, not a destination, but this destination is worth the journey…
Took my breath away
Don't take me home country roads
Travel is the only thing you buy that makes you richer.
Adventure time starts now.
Hello (insert city name), I love you.
The only things you should be chasing are your dreams and your flights.
The subscriber you are trying to reach is currently not reachable.
To travel is to live.
It's vacation o'clock.
Traveling is a great investment because as you spend money, you get richer.
Don't count the calories, count the memories.
If I'm dreaming, don't wake me up.
I was in desperate need of vitamin Sea.
To-do list: nothing.
Vacation vibes all day.
Vacation mode: ON!
And I think to myself, what a wonderful world!
Beach hair day.
Sweet escape!
Gotta go, adventure awaits!
Enjoying my well-deserved vacation.
Good vibes happen when you travel.
Nudes? No, send me travel pics.
Sometimes, bright blue skies are all you need.
The easiest thing in the world is to fall in love with a lovely sunset.
Vacation and heaven are almost the same thing.
Perfect vacation doesn't exi…
Happiness is not only the feeling you get, it can be the places you visit.
Nature's gift for my birthday.
The journey of a thousand miles begins with one click on the "buy ticket" option.
Sea breeze, salty hair, and palm trees, does life get any better than this?
Dear vacation, I've missed you so much!
Time to get myself into a vacation mood.
Vacation pictures can never show the real beauty of every moment, but let's at least try.
How much stuff is needed for happiness? In this case, just a suitcase and a ticket.
Vacation addict for life!
Vacation addict and not considering rehab!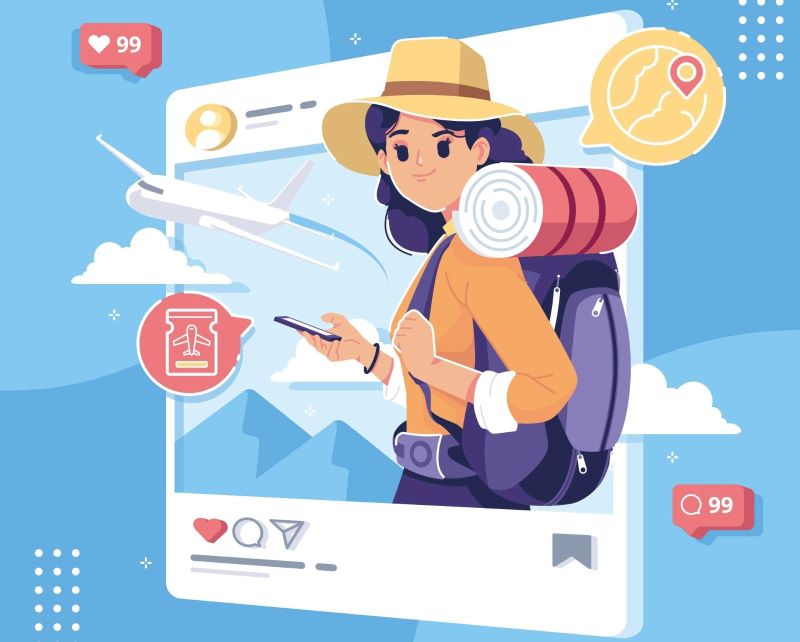 I've been California dreaming all my life.
It's another (vacation) day for you and me in paradise!
Killing me softly with this scenic tropical island view.
Vacation time is also a time for a family adventure.
Spending a beautiful weekend with a loved one? Priceless.
I tried to insert some clever vacation quotes, but my mind is currently on standby from all the vacationing.
The things you should leave behind when leaving a place should be only footprints, and the things you should take with you are only memories.
It's hard to explain my resting beach face to people these days.
Don't worry, beach happy!
Sun day fun day!
So many stars here beside me.
A new adventure awaits…
Let the vacation begin!
Our family adventure begins! Pray for us.
If you thought it would be nice to see some vacation pics right now, here you go! And if you haven't, shame on you!
I know you are eager to see some more of my vacation photos, so it is only fair that I share them with you instantly.
Summer vacation is the only thing keeping me sane right now.
Vacation calories are not real calories, don't you agree?
Somewhere out there, there is a perfect vacation waiting just for me.
How much stuff do I need to enjoy my vacation? Just my flip-flops.
It is not about having the perfect vacation Instagram caption, it is about having the perfect vacation.
Random trips make the best memories.
Living my best life.
Warm sun and ocean air on my skin, let the adventure begin!
Even jet lag is worth this view.
Ocean breeze makes all the difference in the world.
Ocean tides and good vibes only.
My relaxation technique? A long vacation.
A good vacation is one that starts as a fun vacation and ends as the biggest adventure.
The reason why I love vacations so much is that they make me forget all my passwords!
All I want in life is for someone to look at me the way I look at plane tickets.
Beach, please!
It's time to hit the road again.
Quit your job, buy a ticket, get a tan, fall in love, and never return.
Travel therapy is the best kind of therapy.
Another day another vacation memory!
The ocean breeze and it's time to ease.
Never take me back.
I want to stay in this moment forever.
Every moment spent with you is a moment I treasure.
Jet lag is for amateurs.
The vacation we often need is freedom from our own minds.
"Happiness consists of living each day as if it were the first day of your honeymoon and the last day of your vacation." – Leo Tolstoy
Traveling is like flirting with life. It's like saying, 'I would stay and love you, but I have to go; this is my station.
Go where there isn't a Wi-Fi connection.
Don't be rude and keep your vacation waiting.
Girls just want to have sun.
"Travel far enough, you meet yourself." —David Mitchell
Sea you soon.
You can't buy happiness, but you can buy plane tickets, which is pretty much the same.
Weekend getaway.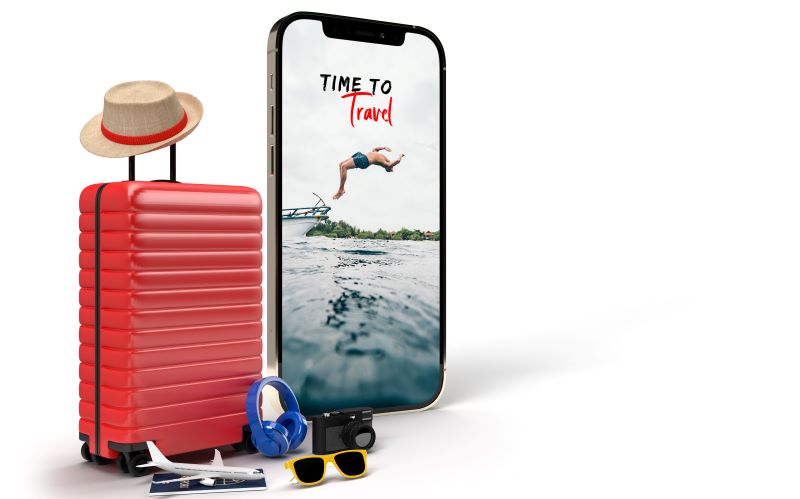 A little preview of my real vacation in a few months.
Friends who travel together stay together.
I only collect one thing – stamps on my passport.
My favorite color? Sunset.
Spread my wings and fly away.
Dora the explorer who?
They see me rolling they hating.
Good vibes happen on the tides.
Everywhere you go, always bring good weather with you.
Sun is up, move your body!
Lost in paradise
Heaven on earth
Finally off my bucket list!
I am always at a loss for words when I visit this place
Deep into nature.
Stumbled upon this beauty.
Moments like these are priceless.
Never stop making memories.
My little escape.
Is there a better way to start a day?
Life is short, world is wide, I just got started.
Beautiful overlook.
Adventure is out there!
Good morning from______.
Between one sunset and the other.
Color in the rain.
A postcard for my followers.
Absolutely amazing.
Just stunning.
Sun and margaritas.
It's 12 o'clock somewhere.
You only live when you see the world.
Vacay time!
Time to put the groove on.
Tan, sun, and fun.
I think I found my happy place.
Keep calm and travel on.
A spa weekend is always a good idea.
Take only pictures, leave only footprints.
Relax, enjoy, and live.
Only visit places that spark joy.
A vacation is having nothing to do and all day to do it
Living my life to the max
Worries off, relaxation on.
Everything is better by the sea.
Ain't no mountain high enough.
Dear vacation I love you!
When in doubt, travel!
Travel is never a matter of money but of courage.
The best stories begin on the pages of a passport.
Travel to find yourself.
The only trip you regret is the one you don't take.
Make memories all around the world.
There is so much beauty in the world, go and find it.
Always take the road less traveled.
Follow the sun wherever you go.
When reality calls, don't pick up.
There isn't a movie as interesting enough as the sunset.
I'd rather carry personal baggage than an emotional one.
Running to the gate is my only cardio.
Let your dreams go wild.
99 problems and traveling solves every one of them.
Selfies or vacations didn't happen.
I don't like traveling- said no one ever.
All you need is love and a plane ticket.
The best give you can give me is to give me an adventure.
Find your favorite place and let it consume you.
Permanent vacation.
Life isn't meant to be lived in one place.
I don't know where I'm going but I sure know where I've been.
Perfect vacation spot.
At the end of the day, it's the people you meet along the way.
It's a wonderful life.
A holiday to remember.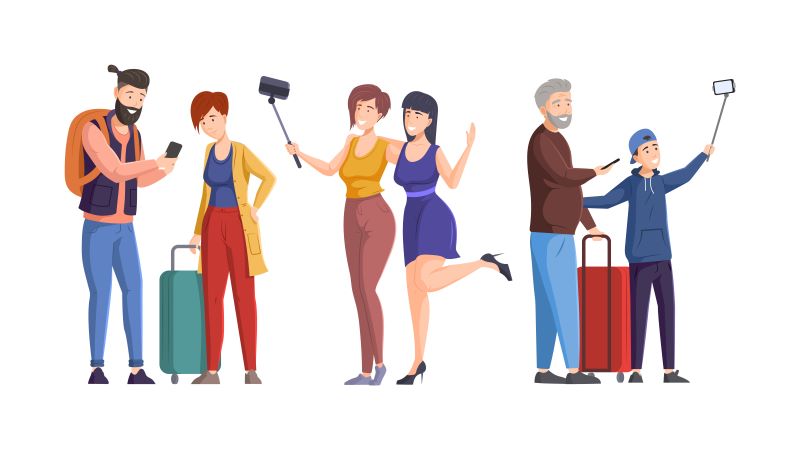 Be back never.
Travel to remember who you are.
Wish you were here.
I want to relive this day forever.
Does the beach miss me as much as I miss it?
Feeling a bit wanderlusty.
The dress code is bikini only.
A travel bug bit me again.
It doesn't get better than this.
Sweet dreams are made of this.
Seize the day.
Beach doesn't kill my vibe.
To travel is to get wiser.
Life is short, but a vacation is shorter.
My one true love is traveling.
It feels good to get lost sometimes.
With every journey you take, you become a different version of yourself.
Travel opens our minds and heart at the same time.
Meeting new cultures is bound to make you a better person.
Traveling gives you new eyes to see the world with.
You'll always more regret the things you didn't do than the ones you did.
Not all those who wander are lost.
Wherever you go, it becomes a part of you.
It is better to die with memories than with dreams.
You only get to know someone when you go on a trip with them.
I follow my heart, and it somehow always leads me to a new vacation.
May every day be a new adventure!
Good things come to those who travel.
Work hard, travel harder.
Age doesn't mean a thing when it comes to traveling.
Adventure is worthwhile.
I travel so my life isn't disrupted by routine.
Life is either a daring adventure or nothing at all.
Wander often, wonder always.
The best view comes after the hardest climb.
365 days in a year, 365 reasons to travel.
When a vacation calls, you must answer it.
Summertime sadness.
That summer feeling.
Cozy winter.
Hot girl summer.
Summer in the city.
Take me somewhere nice.
Relax, go do it.
My feet are tired, but my heart is happy.
The best things in life happen when you take a break from them.
Living in the moment.
Livin la vida loca.
Vacation is the best medicine.
All you need is love. And the sea, definitely the sea.
Pro Tip for Instagram Captions
Stay true to yourself.
Although there are many great, clever, and funny captions for you, don't be afraid to put a caption that you thought of. If you would like to make it personal, go for it!
You can always share some interesting facts about that place with your followers or share with them how you felt at the moment when the picture was taken and the times that impressed you the most.
What matters there is the good times you have and the memories you make along the way, and your followers will appreciate the authenticity of it all, and sometimes all it takes is to be yourself and to be honest.
Now go and enjoy your adventure and make some lifelong memories!
FAQ
What is an Instagram caption?
An Instagram caption is a description of your Instagram post or reel. Instagram captions can be text captions, hashtags, mentions, emojis, or a combination of all four.
Descriptions are used to explain your posts better, give them more context and improve reach and engagement on your posts, as people are more likely to engage in commenting somewhere where their opinion is asked for or if they stumbled across some thought-provoking content.
How to write a good Instagram caption?
A good Instagram caption is one that makes you stop scrolling and actually read it.
Your caption should be short, meaningful, and related to your post.
If it's not a serious matter, you should put an emoji in your caption, as it helps people to notice it, and it's more interesting that way. You should be careful to include only emojis related to the subject because it's proven that people automatically dislike posts with misleading emojis.
Why should you put captions on your Instagram posts?
You should put captions on your Instagram posts because that makes them much more personal than just a picture or a video.
You'd give your followers a chance to see what your post is about and to decide whether they want to see it or not, which is especially important if you posted a video or a carousel post where they can't see the entire content immediately.
You should also add relevant Instagram hashtags in your post so people who are interested in that type of content can find you easier.