If you are using Instagram, I'm pretty sure you've come across hashtags.
You also might have noticed a huge variety of Instagram hashtags, and some of them are used for a specific purpose, while others are just placed by people without much specific intent.
In this guide, I would like to help you understand the function, meaning, and power these seemingly little symbols have and how Instagram hashtags can be a big game-changer.
Defining What Instagram Hashtags Are
So, what are Instagram hashtags? An Instagram hashtag is a metadata tag. It can help us index keywords for specific topics. It is inserted in front of the topic keyword.
If you have a product or service you want to offer, you'd probably like your target audience to be able to find you, right?
The best Instagram hashtags can attract an audience, and they will strengthen your social media presence and ultimately help you gain more followers.
If properly used, Instagram hashtags can help you connect with like-minded because this way, they can find you easier.
People will look into and follow hashtags that have meaning to them.
Relevant Hashtags Vs Trending Hashtags
Did you know that the most used hashtag is #love? It has been used 1.835B times and seems to be one of the best Instagram hashtags.
Sounds promising?
Just because something is trending currently or has been trending for a while, doesn't necessarily mean it is the hashtag that will drive traffic to your account.
This is why the factor of relevancy is a little above the trending factor.
If you tell me, your business is a car business, how relevant would be the hashtags like #love, #happiness, and #life? You would rather like to use hashtags like #cars, #carservice, and #repairservice.
Always keep this in mind: If your audience is searching for a specific service, they will be putting the keywords into the search bar and it is going to look like this: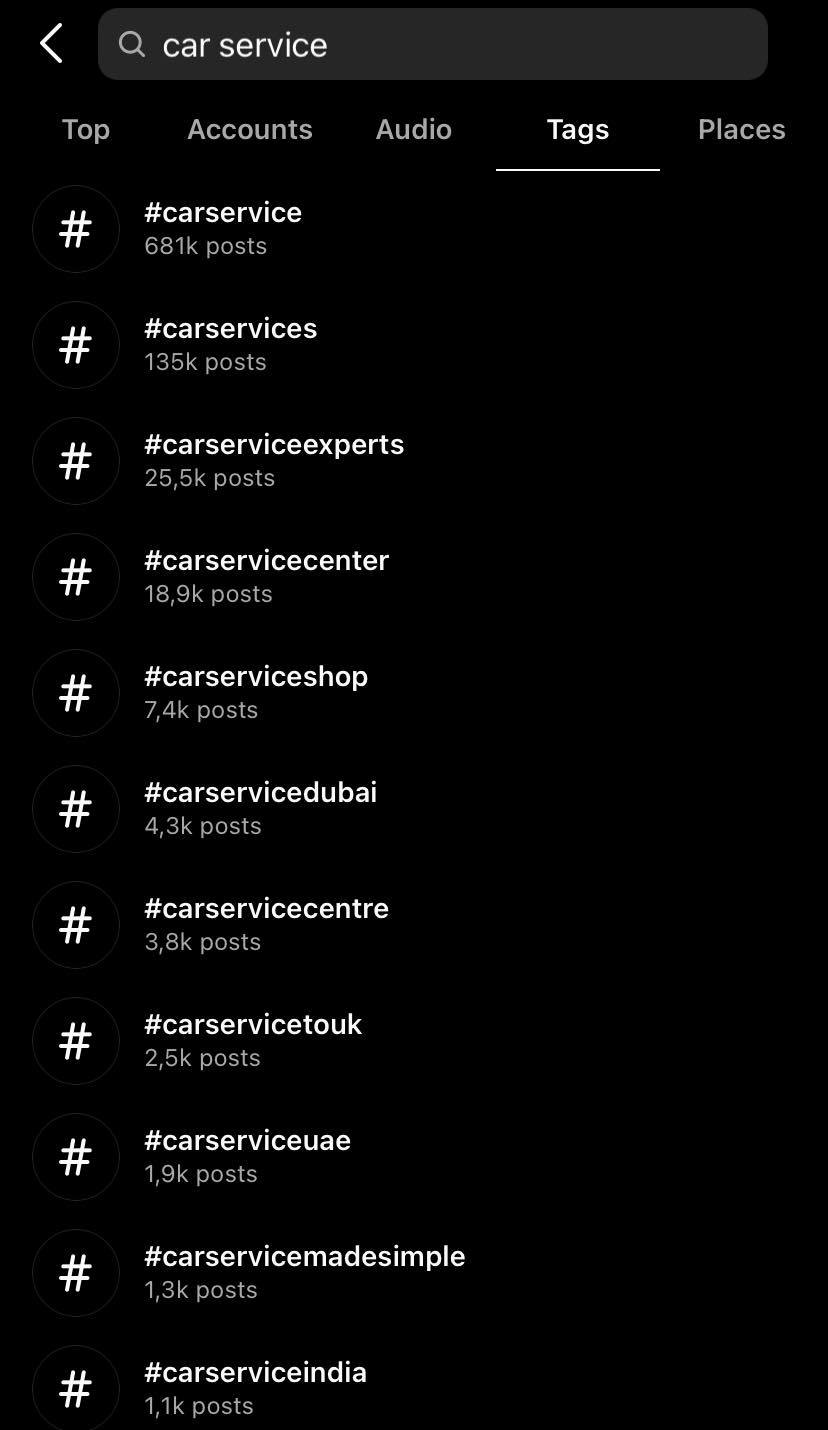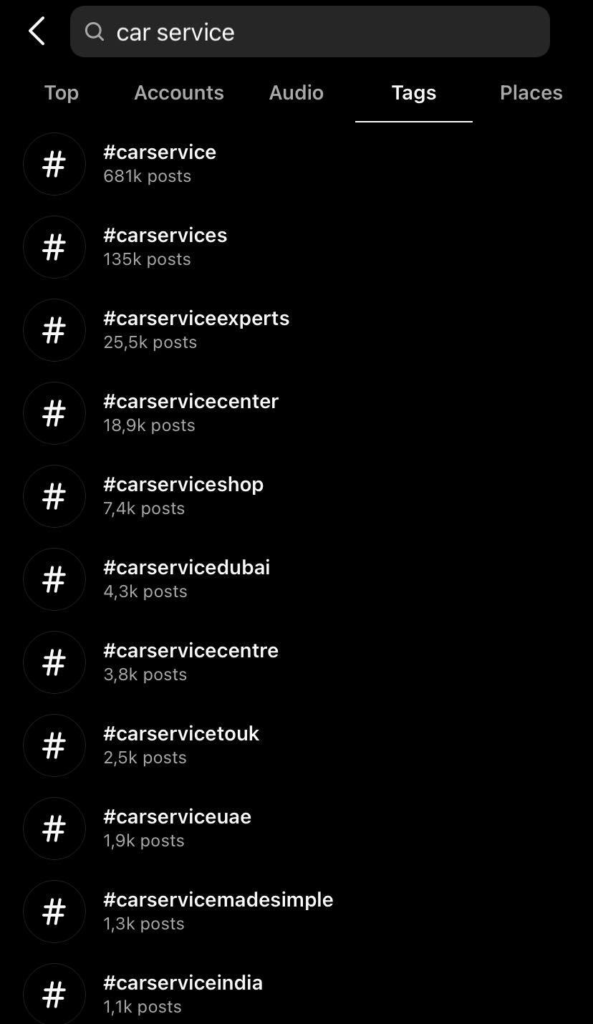 So, you see how sometimes one relevant hashtag can have a huge impact. Regardless of your niche, always pin it down to the factor of the relevant content.
Types Of Hashtags On Instagram
Now that I have helped you to understand a little better what hashtags on Instagram are, allow me to walk you through some types of hashtags on Instagram.
Different hashtags will be used for different purposes.
1. Most popular Instagram hashtags
A
#artwork
#art
#artist
#artistsofinstagram
#artsy
#artoftheday
#artwork
#artistic
#artofvisuals
B
#beauty
#beautiful
#beach
#bhfyp
#beautydoesnthavetobepain
#bride
#business
#beats
#businessminded
#businesswoman
#businessasusual
#businessman
#businesscoach
#businesslife
#businessowner
#businesstips
#businessowners
C
#cat
#catlover
#catsofinstagram
#cool
#coffee
#coffeetime
#coffeelover
#coffeeshop
#coffeeaddict
#coffeebreak
#coffeelover
#caffeine
#caffeineaddict
#casamento
#crossfit
#contestalert
#contest
#cute
#canon
#capture
#countrymusic
#concert
D
#dog
#dogsofinstagram
#doglover
#drawing
#dogsofig
#dogscorner
#dogsofinstaworld
#dogsitting
#dogsandpals
#delicious
#dinner
#deardiary
#decorations
#dance
#dj
#digitalart
E
#engagement
#electronicmusic
#energy
#energysaving
#explore
F
#friends
#family
#f4f
#follow
#followforfollowback
#followme
#fashion
#fashioneditor
#fashiondesign
#followers
#followback
#fashionstyle
#fashionphotography
#fashionable
#fashionaddict
#fashionblog
#fashiongram
#foodie
#food
#foodphotography
#foodlover
#fitness
#fit
#fitnessmotivation
#forever
#fotografia
#forest
#flowers
#flowerpower
G
#girl
#gadget
#gadgetsgalore
#gym
#gymlife
#goldenhour
#goodmorning
#games
#gaming
#gamersofinstagram
H
#happy
#home
#hauslabs
#healthy
#homeowner
#holiday
#hangover
#host
#handmade
#healthyfood
#happyhour
#happyfourth
#happyhanukkah
#hanukkahgift
#hildayspirit
#handcrafted
#handmadewithlove
#hiking
#happiness
#hiphop
I
#instagram
#instalike
#instadaily
#instagraphy
#instastyle
#instagood
#indiancuisine
#indianwedding
#illustration
#instagramreels
#instaready
#instareels
#ilovemgadgets
#instacontest
#instaphoto
#instatravel
#innovation
#instagiveaway
#instamusic
L
#love
#life
#likeforlike
#likeforlikes
#likes
#landscape
#localbusiness
#local
#l4l
#lifestyle
#lovely
#loveyou
#lovemyjob
#loveyourself
#lovequotes
#loveit
#lovelife
#loveher
#lovers
#legend
#livemusic
M
#me
#music
#makeup
#makeupartist
#mua
#makeupbyme
#makeuplover
#makeupjunkie
#makeupaddict
#makeupforever
#makeuptutorial
#makeuplook
#makeupoftheday
#muscle
#motivation
#move
#movement
#mountains
#magic
#magical
#magician
N
#newyearseve
#newyears
#newyearnewme
#newyearsresolution
#nikon
#nature
#naturelover
P
#party
#partyscene
#partytime
#parties
#popular
#picnic
#popmusic
#prize
#prizewinner
#producer
#pop
R
#reels
#reelsinsta
#reelsbrasil
#reelsofinstagram
#reelstead
#reelsvieo
#roadtrip
#rap
#rapmusic
#ready
#rock
#rockmusic
S
#style
#stylish
#software
#set
#sport
#stockingstuffers
#sweepstakes
#selfie
#smallbusiness
#smallbusinessowner
#supportsmallbusiness
#support
#supportlocal
#startup
#success
#smallbiz
#shopsmallbusinesses
#supportlocalbusiness
#singer
#singersofinstagram
#sing
#song
#sketch
#sunset
#sunsetphotography
T
#taste
#tast
#travel
#travelblog
#travelphotography
#travelblogger
#trip
#tech
#techie
#technology
#techs
#technews
#training
#thanksgivingtable
#thanksgivingtime
#turkeyorham
#trap
#tiktok
#tiktokvideos
#tiktokcreator
V
#vsco
#voyage
#valentinesdaylovers
#valentinesdaygift
#video
#videoproducer
#videoediting
#vr
#virtualreality
W
#wanterlust
#wonderful
#wish
#wishes
#wings
#wonders
#waves
Y
#youngforever
#yourstruly
#yourstyle
#yummy
#yummyfood
2. Niche hashtags
Contrary to the most popular Instagram hashtags, there is a category that speaks to specific groups, and they are called niche hashtags.
You should use specific hashtags to communicate with specific groups, right?
Some people will use Instagram purely for fun. Waiting in line, bus drive, and morning scrolling on Instagram without intent and just to kill time is very common among users.
There are others, though, who will use their time to either sell or buy something on this app with very specific intent.
The third category would consist of people who are searching for answers and could turn into potential buyers of your product or service.
I like to buy perfumes and came across the term niche perfumes. Immediately, I decided to search more about it on Instagram. It's not just a perfume category, but a much smaller scale of business in general.
The hashtags used here were related very, very specifically to cater to a small and unique community.
Niche hashtags have the function of directing the user exactly to where he wants to get and find and pinpoint specific products and services.
3. Campaign hashtags
Many popular brands in various fields of products and services have popularized the concept of creating campaign hashtags. A campaign hashtag is created for an individual or an entire brand. It can direct users to a new product or line of products.
Big names will often use only a few hashtags on their social media posts. These are exceptional and successful hashtags. Keep in mind, here, that there's an entire team behind this Instagram marketing.
It can be used for a constantly produced item or for limited edition pieces.
For example, Gucci has created the branded hashtag campaign #GucciBeloved. It is related to a line of bags created by Creative Director Alessandro Michelle.
4. Community hashtags
If you are anything like me, you will try to create and maintain a community of your followers. Building an environment for your followers, maintaining it, and enlarging it could be something you want to do.
Community hashtags bring people to you and vice versa, and it is an easy way to connect with people who are looking for similar products but also to get in touch and exchange similar ideas.
A popular show these days is HBO's House Of Dragon, so people who want to see content related to that show on Instagram are likely to search for the hashtag #houseofdragon.
If you own a brand, and you would like to create a specific hashtag, you will create branded hashtags. Branded hashtags are already being used a lot by big names in the industry on their Instagram posts.
Of course, these brands can be globally recognized on Instagram because they have something that is a branded hashtag, like #cocacola or #adidas
You already have some background knowledge about these names as they have made history with their marketing strategies and are very common among many different age groups
A great way to use this is to create a unique hashtag and use it consistently on your posts. As I always like to say, be authentic and stay true to yourself and your brand.
You can build a great online presence sometimes this way by using branded hashtags on your own Instagram post.
5. Banned hashtags
Would you believe me if I told you that the hashtags #beautyblogger and #besties are questionable choices? Try to avoid banned hashtags.
A seemingly normal Instagram account with a decent Instagram bio might not be what it seems. Certain people use hashtags on Instagram for all the wrong reasons.
Sometimes the posts behind these simple and mundane hashtags can go against the community guidelines; the same thing goes for popular hashtags.
Before you start your journey, and before you start even thinking of creating a hashtag strategy, you can easily check out which hashtags are banned on the Instagram app.
You can simply go to the website called IQHashtags and check them out on Instagram.


Using The Power Of Instagram Hashtags
Before we dive deeper into this and I let you know more, I would like to let you in on a secret.
Sometimes the best hashtags are simple and obvious hashtags. I have seen so many examples of users searching on various hashtag pages, scrolling through so many popular hashtags, and using all of them at once.
Let me repeat this again – popular Instagram hashtags just might not be good enough for your business
Something, you should also not forget, are location-based hashtags. In general, hashtags with the name of your location can draw in traffic from people who use Instagram and live nearby.
Optimal Hashtag Usage
Finding the right hashtags is one thing, but finding the right number of hashtags is also relevant. So, how many hashtags are too many hashtags?
Quality is above quantity. Using too many hashtags, especially very random and unrelated hashtags, will not be helpful. Use three to five hashtags on Instagram posts ideally.
Remember, every hashtag is carrying an amount of audience. Too many hashtags on Instagram will confuse the algorithm. This can potentially scatter the information and the user search will not be successful.
Whether you might be creating Instagram feed posts or Instagram stories, a few hashtags with intent will perform better for your Instagram audience.
You could also potentially use analytics tools, which can help you see how well your Instagram feed posts perform.
Instagram Hashtag Strategy
Creating an Instagram strategy for your social media presence needs to be defined and targeted.
If you want to reach Instagram users, search through their feeds daily. Once you have created your catchy and unique Instagram content, make sure you build brand awareness.
If you're not sure exactly where to start, try to create hashtag lists. A hashtag list will help you create an overview of which audience groups exactly you wish to reach.
Yes, this means hashtags are a must. Do not use them randomly, avoid hashtags that are similar. Similar hashtags will probably bring you the same audience groups.
To add context to this point, let me explain this:
If you are creating a post for Halloween, create Instagram content that is related to Halloween and go for the hashtags #halloween, #october, #spooky, instead of #halloween, #allhallowseve, #halloweentime, etc.
So, yes, slightly related hashtags around the same topic are a good idea, but too similar is not something that would work.
Instagram accounts who are searching for all things Halloween-related will be in similar audience groups, but try to stick with the topic whilst exploring the facets within the topic.
Remember this again: The number of hashtags is not supposed to be large – multiple hashtags repeatedly used will not bring the traffic you are looking for.
You can always use Instagram hashtag generators to help you here. Remember that the best hashtags sometimes can be the simplest and most obvious ones, instead of top Instagram hashtags.
Don't forget your Instagram stories
Instagram stories can also be included in your hashtag strategy. All the related hashtags you use on your feed posts could also apply to your Instagram stories. Do keep in mind the hashtag usage here – use on Instagram stories only one or two hashtags.
If you overdo the number of hashtags, it will not be aesthetically pleasing nor will it get you traffic.
Event hashtags
This is a great way to implement new hashtags now and then, regardless of how your hashtag strategy might look like
In case you might be hosting an event at a specific location, don't forget to include event hashtags. Try to make these very specific as possible. Descriptive hashtags are a great way to explain exactly where what, and what is happening.
Content matters. ALWAYS.
Here's just a kind little reminder to take care of the visual aspect of your posts.
Even when you find the best new hashtags on Instagram, don't forget about your content quality.
Your Instagram post should be appealing to your audience.
No matter how many hashtags you find and how often you use the most popular Instagram hashtags, a solid variety of high-resolution imagery and the best product placement (based on your niche) are a must for your Instagram marketing.
Apps make things easier
There is a huge variety of very useful apps. One of them is Hashtag Expert. It is a powerful tool, which can help small businesses and also influencers, regardless of their current following, grow their social media presence.
FAQ
What does UGC mean?
User-Generated Content. This represents content you make by yourself without having to be an influencer. Videos for Instagram and TikTok in which you can unpack, show and review items from brands. Anybody can be a UGC creator.
What are the most popular hashtags?
The most popular Instagram hashtags and also the most trending hashtags are:
#love
#instagood
#ootd
#tbt
#friends
How do I use an Instagram hashtag generator?
A hashtag generator for Instagram is basically a website, where you can look up and find the right hashtags for your Instagram posts.
Hashtag research tools are beginner-friendly, and you can find trending hashtags in a few clicks on hashtag pages. Give Keyword Tool a try and find top Instagram hashtag lists!
Conclusion
If you are an independent content creator, you should use the right hashtags and know how many hashtags are needed for your post.
Once you understand the power of this tool, you will be able to elevate your social media presence and be one step ahead of the competition.
Implement these tips and tricks into your marketing strategy and notice your number grow beyond your own expectations.