Every streamer's dream is to have more and more viewers. The bigger the audience the more you engage yourself. And above all, you will have more motivation to play your favorite games.
Twitch giveaways can be a fun thing for your Twitch community, mainly they get to win something cool, and secondly, you will have a chance to connect even more with your Twitch audience and possibly attract new viewers.
---
Today we are going to go through all the necessary stuff you need to know about Twitch giveaways, and show you which "tool" to use.
Creating a custom giveaway with Streamlabs OBS
1. Find the "Cloudbot" icon on the left side and click on it;
2. Click "Add Giveaway";
3. Choose a Custom giveaway;
4. Type in giveaway name;
5. Set giveaway duration;
6. Choose who can enter giveaway;
7. Enter the prize;
8. Swap to Advanced tab;
9. Insert advanced options you want;
10. Click "Add" button;
Create a giveaway with StreamElements
1. In the StreamElements dashboard, click "Giveaways";
2. Add giveaway title and description;
3. Set giveaway image or video;
4. Choose ticket cost and maximum number of tickets;
5. Set up subscriber's luck if you want and add the giveaway;
---
Let's not dull any longer, let's dive in and engage ourselves at the given subject.
Giveaway Options
If you are not familiar with the giveaway tool, simply put, it's a way for you to send prizes to your viewers that have been following you and watching you play.
This can be anything from custom merchandise from your merch store if you have one, or special rewards that you can give to your viewers like v bucks (in-game currency) or even a new game on steam.
These are only a couple of suggestions, you can literally give anything you seem fit. The bigger your Twitch audience is the better the prizes can be (the more you invest in this, the more people will be attracted to following your streaming channel).
To make the competition for a prize in your Twitch account more interesting and to make the community more involved and engaging be sure to have a lot of fun ideas when it comes to prizes.
Therefore your Twitch community followers will have only one question; When is the next giveaway? From that point on the hype will just increase.
As I said above, the thing you choose for the giveaway is solely yours to pick. As one smart man said everything that is free is highly welcomed.
How to Create a Giveaway With the Help from Streamlabs OBS
To create any giveaways simply click on the "add giveaway" button on the right side of your screen.
This will open a drop-down menu with two choices, merch, or custom. To create a merch giveaway you must have an item in your merch store first.
Creating a custom giveaway
For this example here I'm going to create a custom giveaway post and go over all the settings to make it easier for all of you potential users out there.
First of all, when crafting a new giveaway you have to assign it a name and also give it a few parameters.
For example, if you want it to last for a certain amount of time, you can simply turn on the timer and designate how long you want that timer to run for.
Not only that, but you can also assign permissions on who can make entries into the giveaway.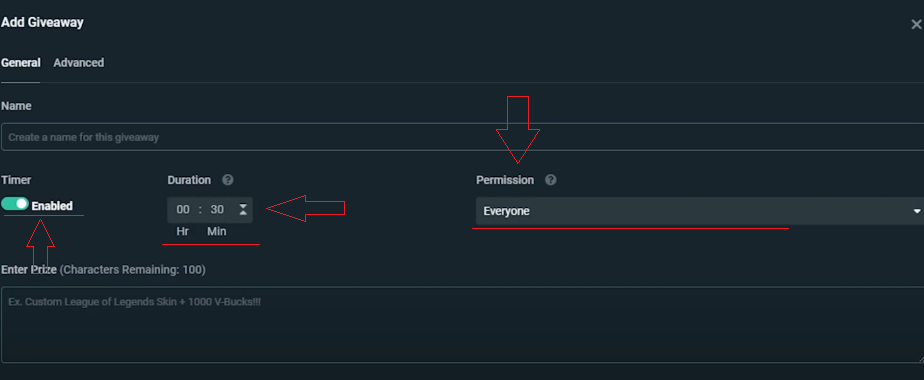 After you have done all that, at the bottom of your screen is the option where you can assign the name and the description of the prize. I can rest assure you that there can't be anything that is considered a bad idea.
The better the name and the description the more of your Twitch friends will enter and strive to make themselves winners.
As you might expect, there are also advanced features (settings extension) I recommend taking a look at because there are some really good ones.
For the first option here we have "must be a follower to win", my personal recommendation is to have this on.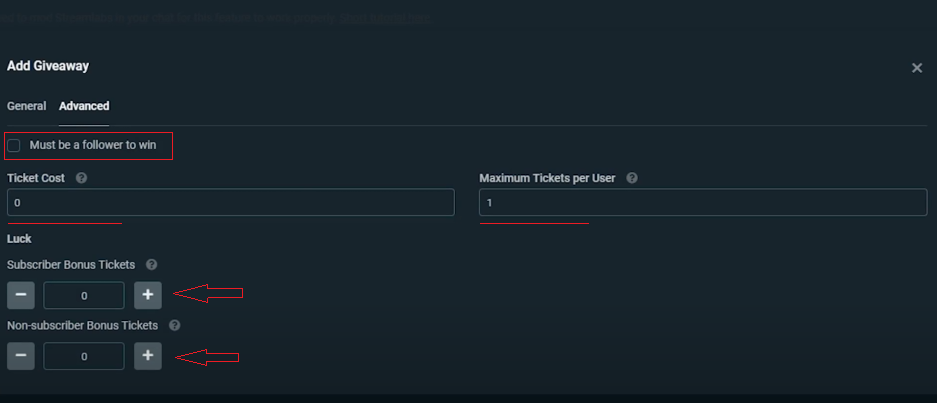 Under that, we have ticket cost, which can be used to assign a loyalty cost for entries if you are using that system.
The next thing we have here is "maximum tickets per user", which obviously means how many tickets they are allowed to buy for this particular giveaway.
Near the bottom, we have "luck" which is a setting that can be used to give some extra entries.
If you choose this option as you may already expect the subscriber bonus ticket will add extra entries (tickets) to viewers that are subscribed to your channel and boost their chance of winning.
As well as the non-subscriber bonus tickets will be added to non-subscribers at your channel if you choose to go with that option.
With all of your general and advanced settings made all you got to do is click "Add" and now you can start the giveaway game.
When you are ready to start your Twitch giveaway simply click on the "start giveaway" button.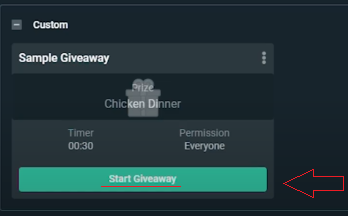 When you click on that start giveaway button a window on your screen will pop up. There you can see the number of viewers that have entered the giveaway, and you can also see how many tickets they posses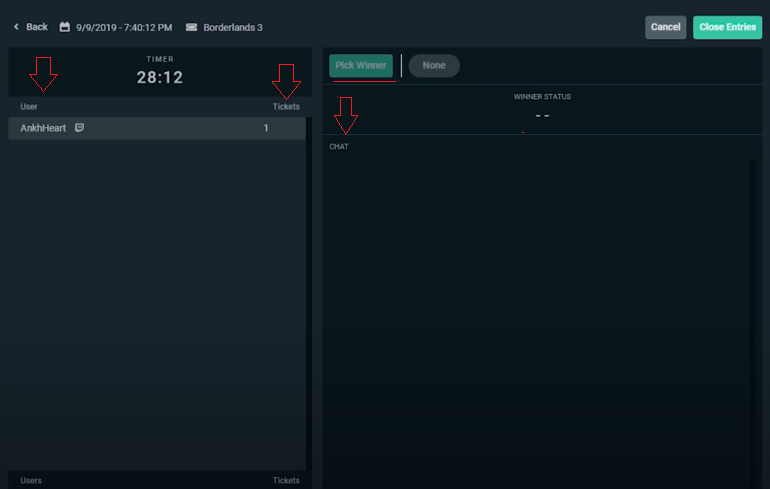 When the giveaway is closed you will be able to pick a winner. When the winner is picked there will be a message that appears in the window.
Therefore, whenever your chat is active you will be able to see who the winner is and if they are active or not, or if you even need to reroll the giveaway.
For a side note, custom giveaways are able to pick up to ten winners per giveaway. When it comes to Twitch merch giveaways you can only pick one.
Creating a Twitch giveaway trough StreamElements
As we concluded above giveaways work by letting your viewers purchase tickets with their loyalty points towards winning something in your channel and you can draw as many winners as you want to.
How to set up your giveaways in StreamElements
One cool thing, you have a couple of ways that you can let your viewers kind of stack the odds in their favor. But first, let's just simply walk through how to set one up via StreamElements.
First, as you can already guess, you would want to title your giveaway. And under the title, you can put a description.
Therefore, your fans will know exactly what to expect from your giveaways and that is a good thing, nobody wants to be kept in the dark.
As things couldn't get any more straightforward, below that you have an option to set an image or video as a preview in your overlay manager.
Therefore, they will be completely sure that you are not playing any games, besides the games that you stream. Jokes aside, they will see that this is no game and they will surely support your stream even more.
The next option is to "give everyone their first ticket for free" if you choose to do so. This can be a good push for your fans to enter the giveaway and stimulate the competition for good entertainment.
Below you can also set the ticket cost and the maximum tickets per user. Boosting the maximum ticket per user will mean that people who have more points in your stream community will have greater chances.
Their chance of winning will be higher because they can purchase more tickets.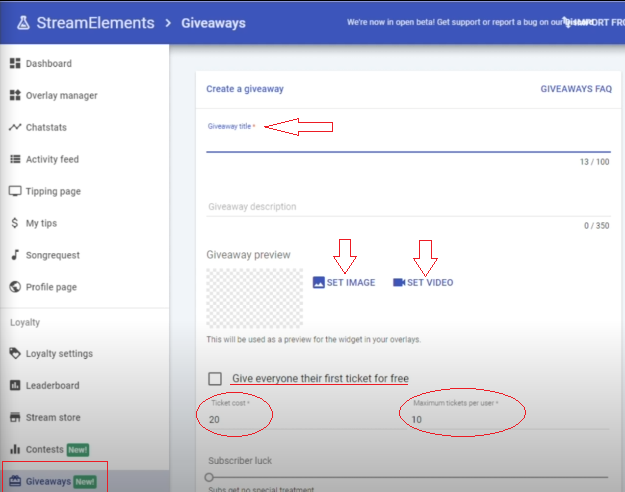 You can also reward subscribers and give them more hope in succeeding if you want, with the subscriber luck bar (it goes up to 10 times).

This means that it will multiply their chances of winning, so if you put two times chances of winning, they've got twice the odds of winning as somebody that is not a subscriber.
Therefore people, if you want to win, support your new streaming sensation and boost your chance of winning by subscribing, and just lay back and watch them play your favorite game as you win a free prize.
Observing and maintaining your giveaways
After you have gone through and set everything up, go ahead and click "create" and "start"
This will transfer you to your back-end page for the Twitch giveaways which shows how many people have entered, the number of tickets purchased, the amount of time elapsed, and all the following stuff.
Here you can also close the giveaway and draw the winner. One tip, you have to close the giveaway before drawing the lucky winner from your community audience and giving him his reward.
You also have a similar option like when you do a contest and that is the option to refund the tickets if by any chance you decide to not go through with the giveaway. Just closing the giveaway will not refund the tickets.
Be sure to remember this because you do not want your followers and your Twitch friends to lose their tickets.
Now that you have done all this, you would want to go back to the overlay manager.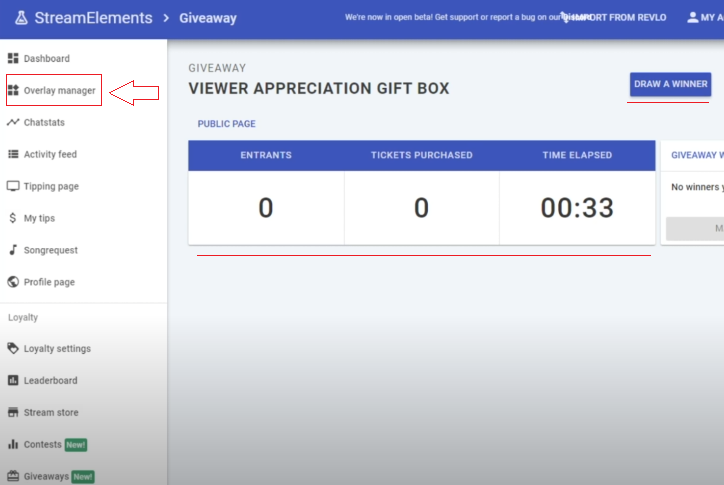 At the overlay manager, you can see what the widget is going to look like. At the top of your screen go to "Widgets" and find the giveaway widget and click "Add".
Your widget should appear on your screen. This is a great thing if you ask me because this will draw your followers' attention to the fact that a giveaway is even happening and you will have more entries.
Therefore, if you got people coming in and out everybody will know about the giveaway and more people will definitely come so you can just lay back and watch the hype build.
My word of advice is to go and be creative with the widget when you make it you've got nothing to lose you can only gain from it.
And this is also how your users can enter a Twitch giveaway, they can either visit the public-facing page and enter right there on stream elements by simply selecting the number of tickets and clicking buy tickets.
FAQ
Which rules can be set for giveaway entry?
Well, you can literally put any rules such as: to follow you on Instagram, showing support to a fellow friend on youtube, retweeting something on Twitter, post something on your discord server, giving you a Twitch follow, refer friends so they can follow them, or any other matter of things.
How often can you do giveaways?
This is based solely on your goodwill if I can say it like this. If you choose to have one giveaway a week or even a month that will be your decision only. You can always communicate with your audience through your discord chat and ask your community how they feel about giveaways and engage them as much as possible (my advice).
Can I promote my Twitch giveaways on social media and other platforms?
I guess you can, and that wouldn't be such a bad idea if I may say. You can use youtube, Twitter, and Instagram to try and attract new people to join your community on your Twitch channel by promoting your giveaways there.
Conclusion
If I managed to help you guys in any way to improve your stream and learn something new I'm grateful. I know everybody likes to watch a free stream on Twitch but consider subscribing to your favorite streamer so that you can have a better chance of winning. Good day and good luck to all of your guys and gals.
Related: How to Grow on Twitch