Technology is constantly evolving, and more advanced keyboards appear on the market every year. For gamers and other professionals for whom everyday work involves the use of a keyboard, this is starting to become an issue!
How to make the right choice and invest money in a keyboard that meets your personal needs?
In this article, we will look at a newly released wireless gaming keyboard model, and help you find out if the Logitech G915 is the right keyboard for you.
In this gaming keyboard review, we will thoroughly explore the features of this futuristic keyboard!
Logitech G915 Review
Features, Software, and Price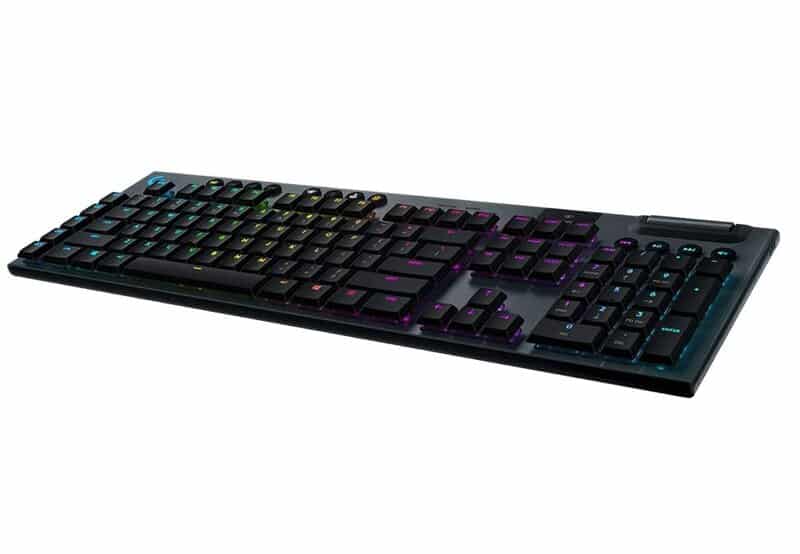 The Logitech G915 is a new class of low-profile gaming wireless keyboards with GL switches and a professional 1ms Lightspeed wireless connection. With an incredibly sleek yet durable design, the G915 takes gamers into a new dimension of the game.
This mechanical gaming keyboard is equipped with light sync RGB lighting, long battery life, media keys, and low-profile GL mechanical switches.
You can connect the G915 wireless gaming keyboard either via lightspeed wireless technology or Bluetooth to another device. The keyboard allows you to quickly change the connection mode at the touch of a button. The battery is capable of providing up to 30 hours of non-stop gaming without recharging.
Packaging contains G915 Lightspeed wireless mechanical keyboard, lightspeed USB receiver, USB extension cable, Micro-USB cable, and user documentation.
Logitech G915 TKL
Logitech G, the leading innovator of gaming technologies and devices, introduced Logitech G915 TKL Tenkeyless Lightspeed Wireless RGB Mechanical Gaming Keyboard in June 2020. The Logitech G915 TKL offers high-performance lightspeed wireless technology, LightSync RGB, and an ultra-slim, high-performance design.
Logitech G915 Design
Logitech G915 TKL gaming keyboard has that advanced gaming technology in a sophisticated, extremely slim design. Designed for gaming, it is equipped with low-profile LG mechanical switches in three versions: folding, tactile and linear.
The G915 wireless gaming keyboard is adorned with an incredibly refined and slim board. The dimensions of the keyboard are 475 x 150 x 22 and it weighs 1025 grams without a cable.
The upper surface of the keyboard is made of dark gray, matte aluminum which is connected to a steel fixed base. Brushed metal surfaces and anti-grease buttons reduce fingerprints to a minimum. The steel construction of the case retains the structure of the keyboard even in the most intensive use. The slim body design and low-profile switches make typing easier, as the fingers stay flat in the hand, which reduces hand fatigue during long play.
Each detail on the keyboard has been placed there for a reason. The aluminum carved wheel allows you to precisely determine the volume, and the soft media controls allow intuitive management of media content.
The height of the base is equal along the entire length. It's low enough that the keyboard doesn't need a wrist rest for comfortable use, so it's not even included in the package. On the bottom of the keyboard, there are six wide rubber feet and a pair of folding feet in two stages. All seven rubber feet create a lot of friction, especially if you hold the keyboard on one of the large cloth pads, so there is no fear of unwanted slipping.
Gaming Keyboard RGB Lighting
The G915 is equipped with RGB illumination of each individual key in 16.8 million colors. You can create your own color animations or choose from pre-designed settings.
Thanks to the keys on the keyboard itself, adjusting the light effects and brightness has never been easier. Up to 7 animations can be selected by pressing the highlight key and using keys 1-7. Two additional profiles that will occupy the numbers 8 and 9 can be installed via software.
With LIGHTSYNC technology, lighting can match effects in games, sound, or screen colors and this feature is highly supported by its audience.
Above the function keys F5 to F8, there are two keys that control the type of connectivity, a key to turn on the gaming mode that deactivates operating system shortcuts, and a button to control the intensity of RGB lighting.
Logitech Gaming Software
Logitech's g hub software allows you to create an infinite number of combinations of light effects across the entire wireless mechanical keyboard. Choose your favorite colors, effects, or design your own animations with the robust LightSync lighting editing tool.
The tool also allows you to include the influence of games, sound, or monitor content on the keyboard lighting. The result is superior ambient lighting that permeates all LightSync devices.
This software allows you to set up and store profiles, but also to load other people's profiles and macro commands downloaded from the Internet. The software allows you to store up to 3 profiles for the purpose of additional G keys, for a total of 15 additional commands. The profiles can be easily selected using the M1, M2, and M3 keys located at the top of the board.
G915 TKL Mechanical Keys
In addition to a sleek and sophisticated design, the G915 mechanical keyboard also provides a complete set of commands, additional keys, and software that allows you to turn your board into the right control panel for your computer. All basic multimedia functions are at your fingertips with intelligently located and arranged additional buttons and dials for volume control, and it has a perfectly comfortable wrist rest.
On its left edge are five programmable macro keys, and on the left top of the keyboard are keys for quickly recording macro commands and switching between three user profiles.
The low-profile mechanical switches have been rigorously tested for the highest standards of durability, responsiveness, and precision. Logitech G915 lightspeed keyboard achieves speed, precision, and gaming performance with low-profile mechanical switches. The low-profile switches also contribute to the thinnest board design on the market and the most advanced gaming keyboard to date.
The dedicated media controls are located above the numeric part, where there is also a large, very comfortable volume-adjusting roller under the fingers, which changes the level in 2% increments.
There are no additional keys, but on the basis of the board there is also a Caps Lock status indicator and a battery status indicator, which turns on only when the battery drops to a critical level – there is no other function. At the top (back) there is a Micro-USB port for charging the built-in battery and a slide switch to turn off the keyboard when not in use.
The Logitech G915 Lightspeed uses Logitech's new GL mechanical switches to register pressure, using some of the concepts seen on Romer G switches. Five additional G 5-keys that can be used to activate additional functions in games, system commands, run software, or execute macro commands.
The Logitech G915 TKL gaming keyboard is available in three versions. GL Linear, GL Tactile, or GL Clicky switches, depending on your preferences. Since the linear is the smoothest, the tactile provides more feedback and clicks that give you that complete mechanical sound from the keyboard.
The game mode is a popular keyboard function among professional gamers. The game mode key turns off Windows keys, but the Logitech G HUB software can be used to turn off all keys that interfere with your game.
Performance
The Logitech G915 uses the company's Lightspeed wireless technology to connect to a computer. This technology has been tested on several models of the company's gaming mice and is special for its exceptional economy, which ensures that the battery on the battery with RGB lighting lasts up to 30 hours of heavy use, and the absence of noticeable latency, which makes even the most demanding FPS players.
For wireless connectivity, the keyboard uses a small, 2.4 GHz adapter that does not cause interference even if it is located near a wireless router. Apart from Lightspeed, the G915 can be connected to various devices via Bluetooth, which makes this keyboard an ideal candidate for connecting to all devices in the house where this type of input is important.
We would not recommend using Bluetooth for gaming, the latency is still too high, but for everything else, it will be more than enough.
System requirements for the LIGHTSPEED wireless connection are USB port and Windows® 7 or later, macOS® X 10.11 or later. While for Bluetooth connectivity: Windows® 8 or later, macOS® X 10.11 later, Chrome OS ™, or Android ™ 4.3 or later, iOS 10 or later.
Main Features
1. Logitech G915 Lightspeed
The G915 is equipped with professional lightspeed wireless technology that provides super-fast 1ms performance. It is a technology that enables users around the world to use professional wireless devices. The G915 can also work when connected to a USB charger and allows simultaneous charging and gaming.
2. Mechanical keys
The GL clicky switches are approximately 50% lower than traditional mechanical switches, with even better responsiveness and pressure recording after only 1.5 mm, and with a total path height of 2.7 mm.
Apart from the switches, this performance is undoubtedly due to the high-quality button caps, which do not wobble and are extremely comfortable under the fingers. They are partly reminiscent of those we see on laptops, with a minimally more pronounced dent, which is hard to see with the eye but works wonders under the fingers.
3. Battery life
Logitech G915 TKL also boasts Logitech's Lightspeed wireless technology, which means an accurate logging speed of 1ms and an incredible battery life. With the RGB lights on, you'll be able to play for 40 hours before turning on. Logitech is off and says you could manage for up to 135 days – assuming you play eight hours a day. There's also LightSync to match your lighting to other Logitech peripherals.
Price
Can wireless, extremely comfortable low-profile switches and unrivaled elegance justify the price of Logitech's new flagship mechanical keyboard? We have to agree that $ 200 is a high price, that not everyone is willing to invest in a keyboard.
However, if you are a professional gamer, you most likely like to invest in your equipment. The question is, is it worth investing $ 200-250 in a Logitech G915 keyboard? The first thing to consider is whether your needs match the features of this keyboard.
If you are warmed up for a wireless keyboard then this is a great choice for you, however, if you do not need a wireless mechanical keyboard and macro or media keys, you can find a similar performance at a much cheaper price range.
There is no question that the G915 Lightspeed wireless keyboard is at the very top of Logitech's offer. This is one of the best gaming keyboards we've had a chance to try, but it's accompanied by a really high price.
Still, those who choose to make this purchase will certainly get a quality piece of durable hardware that will serve them for years. And if by any chance it doesn't, Logitech's well-known support will certainly replace it with a new one, sometimes even after the warranty expires.
In any case, you will invest money in a brand that holds a high reputation and cares about the needs of the customer.
Frequently Asked Questions
Is G915 overpriced?
Whether G915 is overrated or not, we cannot give a uniform answer. It all depends on the individual capabilities of the user as well as the needs.
Nearly $250 for a single keyboard is certainly a high price, but if you need a premium keyboard you can rely on, lightspeed wireless and Bluetooth modes as well as additional multimedia control keys, the Logitech G915 is a great choice.
If the mentioned performance is not so important to you, then you can definitely save money on other mechanical keyboards that will meet your requirements.
How do I connect my Logitech G915?
There are several connectivity options available to you. You can use the 1.8m braided cable that comes with a micro USB connector and just plug it into your computer. On the other hand, dual wireless connectivity enables you to seamlessly switch between lightspeed wireless and Bluetooth connection.
Depending on how you plan to use the keyboard, select the connection method. If you use the keyboard to play games, it might be better to avoid the Bluetooth mode.
How do you charge a Logitech G915 TKL keyboard?
The battery consumption indicator on the keyboard, as well as the Logitech G HUB software, will alert you when you are on a 15% battery. The keyboard will be fully charged in 3 hours.
You can charge your keyboard with a micro USB port, that you get in the package with your Logitech G915 TKL keyboard. The game can also be continued while charging via the micro USB port. Enjoy hours of uninterrupted play with one charge.
Is Logitech G915 Unifying receiver?
The Logitech g915 lightspeed wireless keyboard is a standalone device that uses a receiver of Lightspeed technology. So the G915 does not come with a Unifying receiver.
We hope that in the future Logitech will provide a dedicated unifying receiver. Until then, the G915 keyboard has the ability to connect to a Bluetooth receiver with other devices making it a good choice.
Should I buy G915?
The Logitech G915 mechanical keyboard is a new class of low-profile gaming wireless keyboards with GL switches and a professional 1ms lightspeed wireless connection. Capable of providing up to 30 hours of non-stop gaming without recharging.
With a sleek and incredibly slim design, yet durable design, the G915 takes gamers into a new dimension of the game. If this sounds like the ideal keyboard for your needs then the bottom line is that you should buy Logitech G915 lightspeed wireless gaming keyboard.
What do the buttons on the G915 do?
In addition to the standard keys that most gaming keyboards have, the Logitech G915 keyboard has a row of macro keys on the left, a macro capture button above the F1 through F4 keys, and three macro profile keys. The keys above F4 and F8 are used for direct USB and Bluetooth connectivity and the well-known game mode that disables the selected keys.
Which two forms of wireless connection does the G915 use?
The Logitech G915 keyboard offers the ability to connect to lightspeed wireless super-fast connection of 1ms or Bluetooth connectivity. You can very easily switch from one connection to another, or from one device to another, all you have to do is press a button on the keyboard dedicated to this function.
Conclusion
All of these innovations and technologies have been carefully incorporated into one of the thinnest gaming keyboards in the industry and the most advanced gaming keyboard to date.
The bottom line is G915 TKL gaming keyboard has high gaming performance and a compact wrist rest for a more comfortable typing experience. With Logitech G915 lightspeed wireless gaming keyboard you will experience gaming in a whole new dimension!
I hope that we have made your decision a little easier with this keyboard for streaming review!