Dungeons and Dragons is a very popular game and it keeps getting more and more widespread, especially on Twitch. Some people want to watch it, other people want to view it.
So why not make a Twitch channel, record a good set of streams with one campaign, and get the audience to follow the adventures of you and your friends?
D&D is a multiplayer game set in a fantastic world. It is open-ended, giving you the opportunity to create an infinite amount of high-quality content for your audience.
It can be played with only two people: a dungeon master and one player, or with any number of players you want. You can even have a guest character if someone from the community wants to participate in a session or two.
As this is a very good opportunity for an aspiring Twitch streamer, there is a number of things to set up before streaming begins.
You need to get a party of people to play and arrange a meeting schedule with them. Then, you should set up the play base (setting, characters, etc). Last, but not least, you are to organize the technical side, which includes choosing the software for streaming and a good stream overlay and equipment.
Today, I will write about D&D stream overlays for Twitch (our shop), where you can get them, and how you can design them.
Elements D&D Stream Overlays Needs
There are certain elements that are of high importance for this game. The players need to see them and so do the viewers. These are:
1. Players
All players need to be visible on the screen during the play. Obviously, the best way is to have a camera for each player. But there are other options, such as having two or three people on one camera or even getting the entire room with one cam. The last option is definitely the worst one as some aspects of the gameplay may not be visible to viewers.
2. Their names and characters
A title with the name and character of every player should be visible. It is common sense and my own experience when watching D&D games, that without those, it is very hard to follow the game, especially if a viewer isn't there from the beginning or hasn't followed the streams in some time. Having this info written under (or over) each player's webcam overlay may save the chat from getting overcrowded with character explanation comments.
3. Dungeon master
The dungeon master is just as important as the other players. It is advisable to have the DM's webcam overlay slightly away from the other players so that it is clear to viewers who are running the game.
4. Board or map
The D&D map is also one significant part that needs to be visible to the audience. It may be a physical map or an electronic image, but it deserves its place on your overlay. Actually, as it is the point of the game, it should take up the biggest portion of the screen.
5. Additional elements: chat, more game info, or sponsors
For more info from the character sheet, D&D Beyond has a great Twitch Extension. Real-time changes are displayed, the streamer can customize which details are shown, and the best thing is that viewers can click on the character and see the analytics (the streamer doesn't have to do this anymore).
Extra tip: you can use two overlays – just position them one over the other. Though this may seem like too much, it is actually very useful design-wise.
One image can frame the players and the other can be for the map. If you have a high-quality person to give you the graphic support for this, you can have a great set with an appealing final appearance for your Twitch account.
Where to Get D&D Stream Overlays?
If you want to get a custom overlay, it is possible. There are places online where you can pay for and download a premade overlay.
However, as each Dungeons and Dragons game is special, there isn't a great number of overlays of high quality out there. How one is created depends to a great extent on the game settings, the number of players, the info that you want to display on the screen at all times.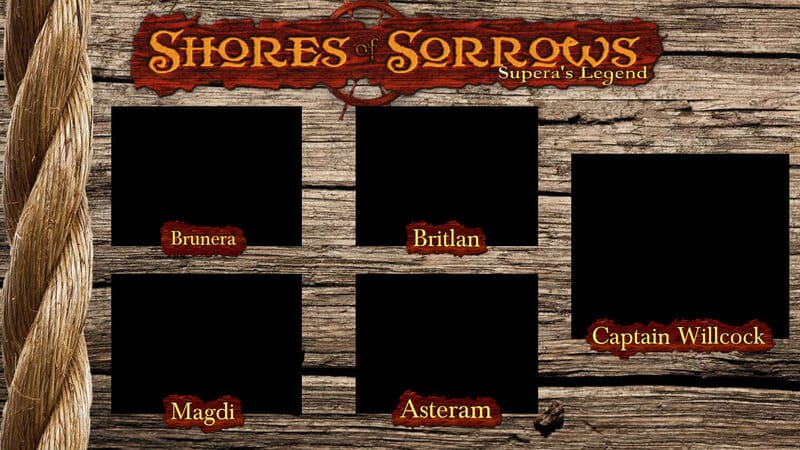 A better option would be to design the image of the overlay yourself or to search for someone to design it for you. Websites like Fiverr have a great artist bunch where you can choose someone who will match your vision. Tip: use reviews to see their customers' experiences.
How to Get a Custom Twitch Stream Overlay for D&D?
A custom stream overlay is a great thing for streamers because no one else has the same one. Here are the steps and tips about choosing the right artist and obtaining a great Twitch overlay.
The best way to do this is together with your fellow Dungeons and Dragons players. The group will probably have great ideas. You can even draw sketches related to the campaign and send a copy to the artist to integrate into the product.
FAQ
How do I make a D&D stream overlay?
You can create one or two overlays yourself and I must say that it is not that complicated. It is all about making an image that will serve as a layer in your streams.
There are tutorials online. If you choose to do this, remember to add frames for your friends' cameras, the title of each character, and the dungeon map. It is also important to position the elements in a clear and comfortable way. Make it clear who is the dungeon master and who are the other players of the campaign.
How do I get a stream overlay?
You can get an overlay image that is premade. However, the overlays that are made specifically for Dungeons and Dragons are not that abundant because each game is unique.
Another way to go about this is to have the entire D&D Twitch overlay custom-made. You can search for a designer with good skills who can make it high-quality and pleasant for viewers to watch. This is the easiest way to receive a unique and cutting-edge product.
Where is the best place to get stream overlays?
Websites such as OWN3D, Placeit, or Nerd or Die have great Twitch overlays and streamers recommend them. If you are looking for overlays that are specifically for Dungeons and Dragons, you can look up what is offered on dmsguild.com. If you want to have one custom-made, then Fiverr is the place for you.
How do I use DnD Beyond Twitch overlay?
DnD Beyond offers an extension to Twitch overlays. When you download the files, you use them to display character statistics on demand regardless of the software you are using for streaming. This is done by the viewers. A person clicks on a character and their detailed information is displayed. The streamer can hide some content if necessary.
Conclusion
Getting a stream overlay for streaming D&D games on Twitch isn't such a difficult matter altogether. Once you get into it and understand what you need, it is just a matter of finding the right means to get it.
Stick to the vision you have created with your fellow players and enjoy the process. You can get a great thing in the end.