As this social media platform becomes more popular, so does having a TikTok account for yourself or your business.
---
I have decided to write a guide on how to create a Tik Tok account. Here are the steps:
1. Download the TikTok app on your phone;
2. Once you launch the app, click the "Sign Up" button;
3. Choose the way to sign up (phone, email, or social media)*
4. Enter personal details and interests;

*Note: If you chose one of the social media sign-ups, you will need to log in to the selected account.
---
In this guide, you will find all the information about creating a TikTok account, as well as a step-by-step guide leading you through the whole process.
How to Make a Tik Tok Account via Phone Number
The most common way to create a TikTok account is to use your phone number. Here is an explanation.
First, you will need to download the TikTok App from Google Play or App Store.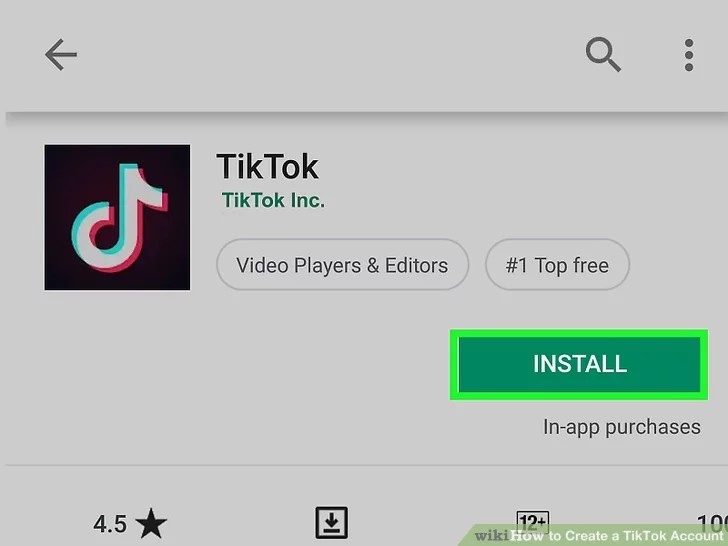 source: wikihow.com
Then, start the App after it is installed.
Afterward, you will see the: "Don't have an account? Sign Up" button. Press it.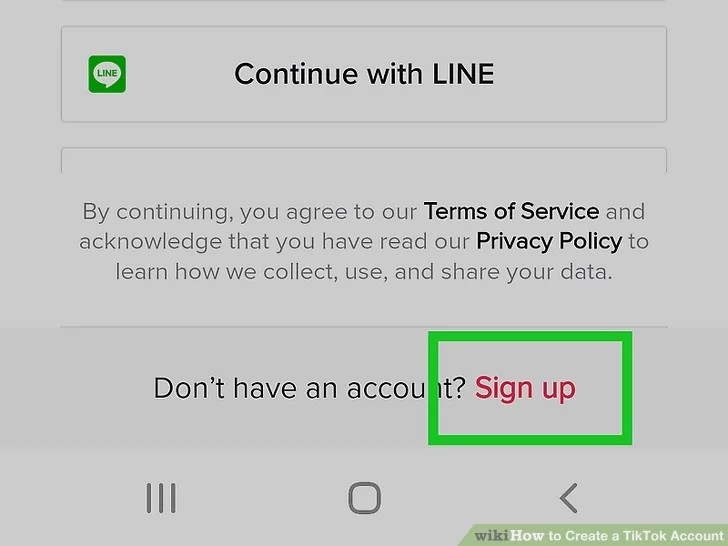 source: wikihow.com
First, the App will require you to type in your date of birth. This is because TikTok requires you to be at least 13 years of age to use it.
source: wikihow.com
Next up, you will be given a prompt to enter your sign-up details, which you will later use to log in to your account. You can choose between using a phone number and an email. Let's stick to the phone number for now.
Once you enter your data, you will be asked to confirm by entering a code sent to your phone number. Most modern smartphones will do this step automatically.
The next thing you will be required to pick out is a username. Your username on the discover tab of your TikTok profile makes you different from other users, so you should take some time to choose something interesting.
The final step of your TikTok account creation is choosing your interests. These interests will determine what will show on the discover tab of your TikTok profile, making certain types of TikTok content easier to access.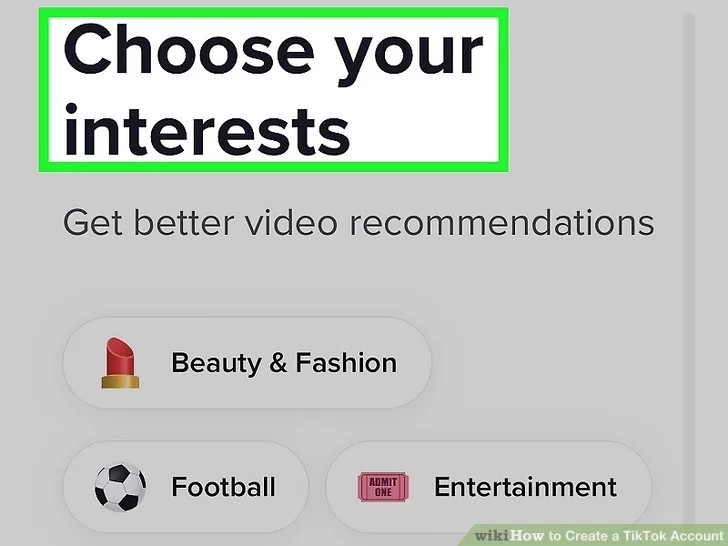 source: wikihow.com
How to Make a Tik Tok Account via Email
Creating a TikTok account by email is in many ways similar to creating one with your phone number, but there are also notable differences. With that in mind, here is how you create a new TikTok account via email.
First, you will need to download and install the App from the store corresponding to your device.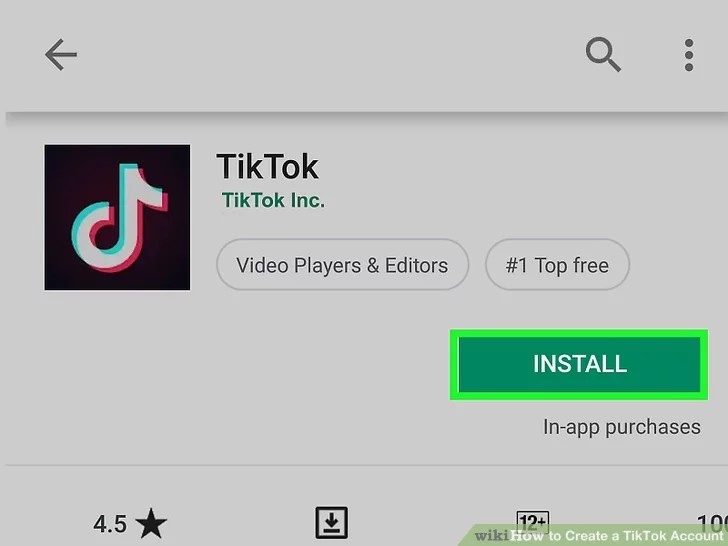 source: wikihow.com
Then, open the TikTok App on your device and look for the "Sign up" button that looks like a human face. Tap it.
It will allow you to use your phone or email as the login type. Upon selecting email, you will be given a prompt to choose your birth date. Once again, this is because of the 13+ rule the TikTok App has.
Upon confirming your age, you will be given the option to type in your email address and your password. Tap next to have a confirmation code sent to your email.
You will have to enter this code in the textbox to proceed manually, but it should take you no more than a couple of seconds.
After you have confirmed your account, you will be prompted to select your username. This might be the essential part of your entire TikTok account creation process, as it will affect your page and significantly influence what people come to visit your video content.
How to Make a Tik Tok Account via Social Media Account
Finally, there is another way to create a TikTok account, and this is by using an already existing social media platform and integrating it with the TikTok App.
The first several steps are once again the same as before, and you will need to download the App from App Store or Google Play, or even Microsoft if you are using it on a Windows device, and then run it.
Once you start the App, you will be offered a variety of choices for making your account. You can use platforms such as Google or Facebook and Twitter, Instagram, or Apple.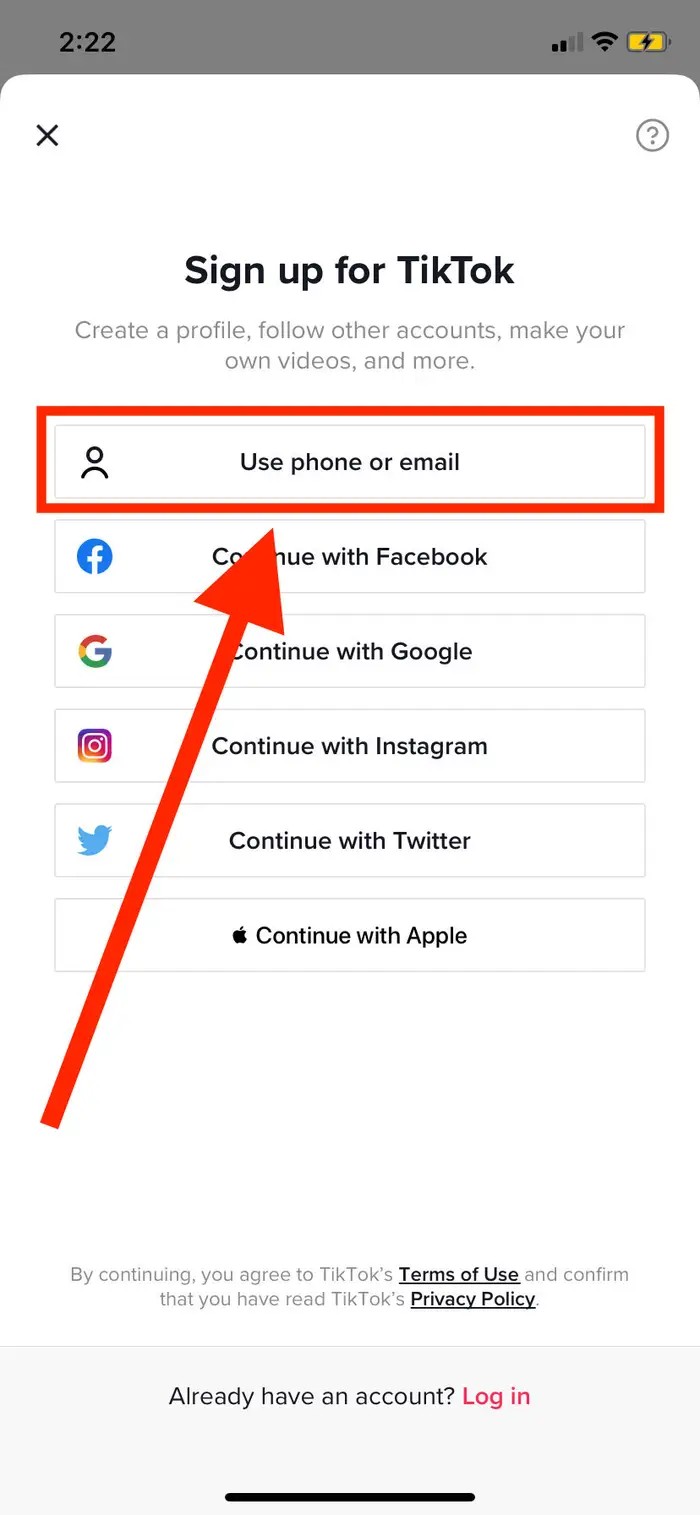 source: wikihow.com
All of these services are integrated with Tiktok, so you can use the same account. Choosing one will prompt you to login into your account on that platform.
After you have done so, the Tiktok app will ask for your birthday. Type it in to proceed to the next step.
The App will then provide you with a new username that will be similar or identical to the one you have on the connected platform, but you can immediately choose a unique username instead.
After this, you will be prompted to select your interests. Once you have done so, you will be logged into your new personal account.
Setting up Your Tik Tok Account
You need to do several steps to fully set up your TikTok account, depending on your account type and the reasons you have it. Here are some of the basic things:
First of all, you will need a good username for your account. Changing your username can be done during the account creation process, or you can go to your profile picture and then tap it. Doing so will open a prompt with an Edit profile button in it.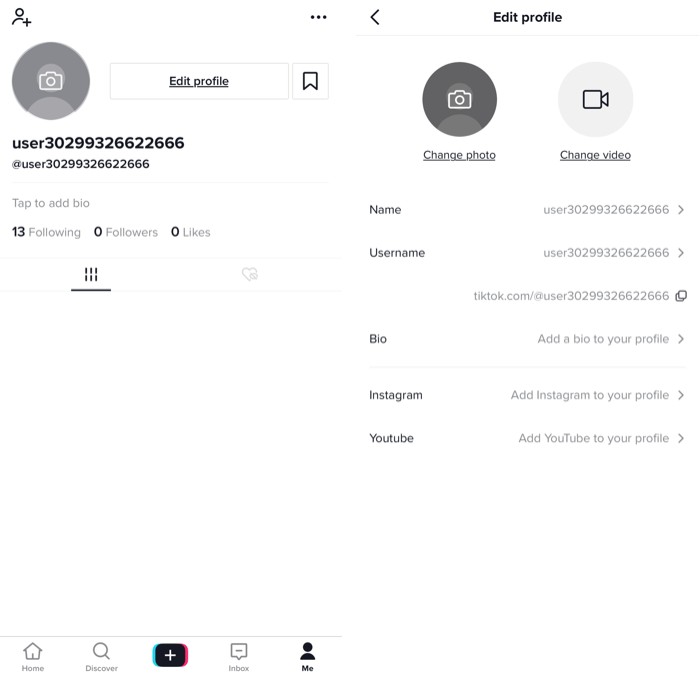 source: wikihow.com
Click on the button to be given an option to change your username. Depending on your account's security settings, you may be asked to input your password.
The first video content you will put on your account will likely be your profile video. Unlike most other social media platforms, the TikTok profile allows you to choose between a photo and a video as your profile picture.
Adding one to your account is pretty simple; you need to go to your page, then click or tap on the icon with your face on it. You can choose to upload or record a photo or video of your choice.
On this same page, you can write a short bio, telling your future followers about yourself or your business in case you opt to convert to a business account.
Regardless of the account type, however, you will need to focus on writing an interesting bio as it will influence how the TikTok algorithm treats your account, directly affecting its popularity.
Finally, you will want to link your TikTok account to other social media accounts you have. It can be done from your Edit profile page by simply tapping on the "add to your profile" button corresponding to each social media platform.
Doing so will open the App of the said platform, where you will be prompted to log in. Completing this process will connect the two accounts.
How to Make a Tik Tok Pro Account
Tiktok pro account is a specific type of account meant for business users, and it features a number of options that you won't have available on a personal account.
That being said, most TikTok users won't need a business account. However, if you still want one, here is how to make it.
Why Use Tik Tok to Grow Your Business?
The Tiktok app has become extremely popular over the last few years since the first TikTok video was uploaded, making this App an incredible marketing opportunity for all kinds of businesses and projects.
Knowledge of how to manipulate the Me tab and the trending hashtags to make your content creation more appealing to other users can greatly boost your overall business performance.
As a result, many companies are now hiring social media managers specifically for TikTok, with the specific goal of having easier access to customers who spend a lot of their time there.
How does Tik Tok Pro Account work?
A TikTok pro account is primarily meant to enhance the experience of business users by allowing them to track the statistics of their profile and the following tab and provide them with the additional filters to better manipulate who gets to see their content.
This is done through the analytics option that is only available on a TikTok pro account.
How to Make a Business Account on Tik Tok
Making a business account on TikTok is quite simple. All you need to do is download an app, create a regular account, and go to your Me tab. You will find an option to switch to a business account in it. Enable that option.
Now, the TikTok App will offer you a range of options to customize your new business account. Select those you believe will positively impact the reach of your videos and other content you upload, and you are all set.
Conclusion
With TikTok rising in importance as its popularity increases, more and more people believe they need an account on this social media platform, whether for themselves personally or for their businesses.
Because of this, I have felt a need to write up a guide containing everything you might require in order to create, flesh out and maintain one of these accounts. I hope this guide helped you to understand Tik Tok more.
FAQ
Why Can't I Create a Tik Tok Account?
There are several reasons why you might not be able to create a TikTok account. First of all, the email, phone number, or username you are trying to use might already be taken.
In this case, it is most likely because you already have an account on the TikTok platform. Alternatively, if you are under 13 years of age, you might need parental approval in order to create an account on TikTok.
Is Tik Tok Safe?
Tiktok is safe for the most part, but you can get in trouble if you post illegal or frowned-upon content. Regarding your data getting leaked, TikTok is certainly one of the safer platforms available to the general public.