If you've been playing games or video streaming for some time, you've probably experienced both wired and wireless keyboards. Many gamers would agree that wired keyboards are more reliable and faster. But the question is, is it possible to have a lag-free wireless keyboard?
Logitech G is a world-leading manufacturer of gaming equipment. Logitech brand is dedicated to producing innovative designs tailored to their customer's needs.
This article will review the Logitech G613 wireless keyboard that may have managed to overcome this issue.
Here's a complete Logitech G613 review, from aesthetics to performance!
Logitech G613 Review
Features, Software, Audience, and Price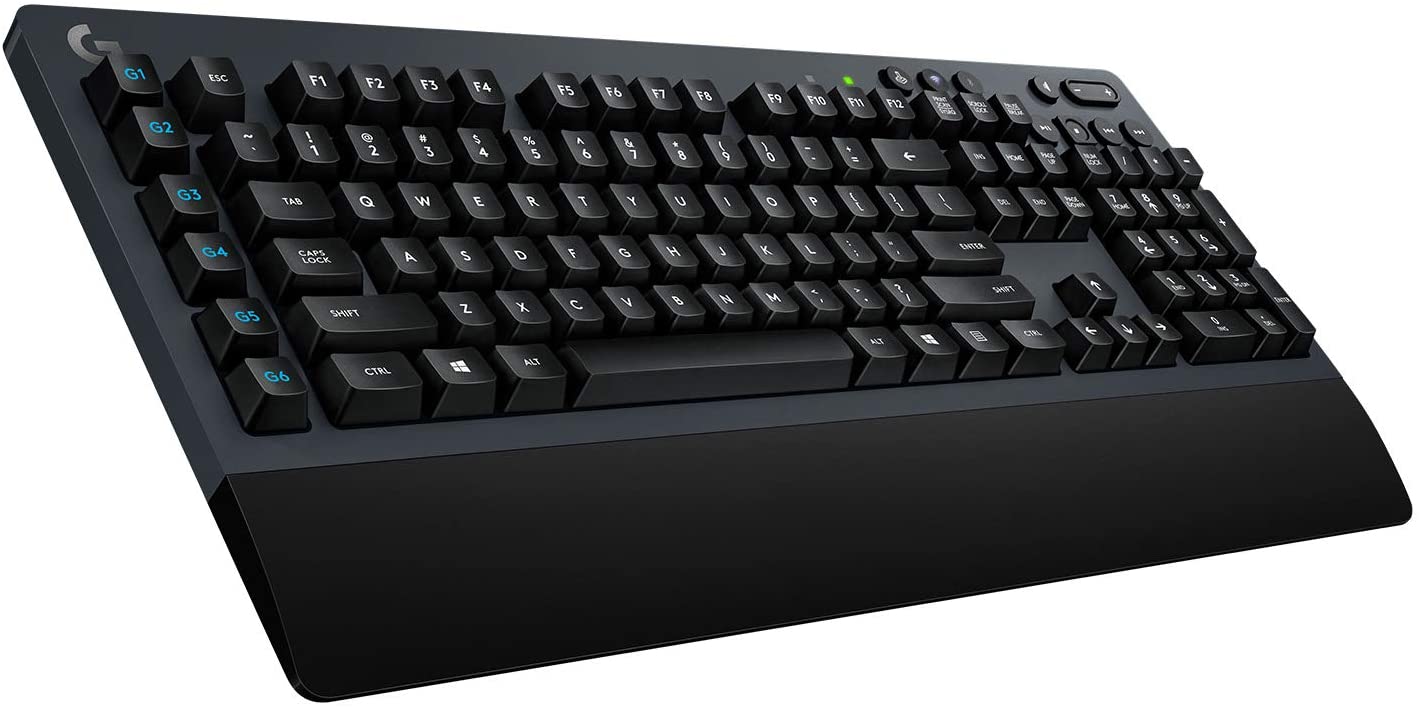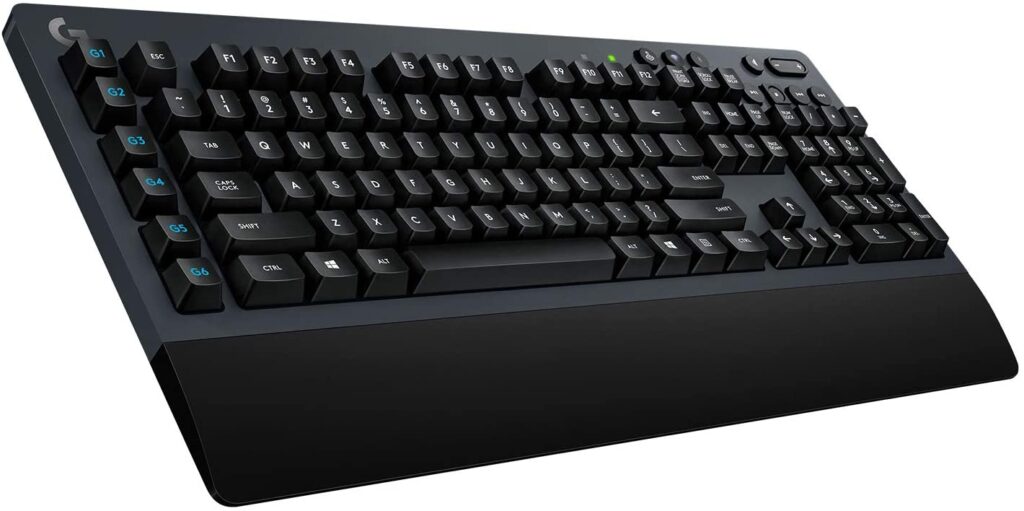 Logitech G613 is an innovative wireless mechanical gaming keyboard designed for everybody who doesn't like dealing with cables! Logitech enabled multiple device connectivity via Wireless, USB adapter, and Bluetooth technology. Lightspeed wireless technology makes it a serious competitor to wired gaming keyboards.
The matte black plastic board is quite elegant and looks nice on the office desk. Romer-G keys are highly reactive under mild pressure and they make a more subtle sound while typing. Media keys are placed above the number pad and six programmable keys can be customized per each profile.
It is larger than many other keyboards, but an 8.5-inch wrist rest comes in handy for multiple-hour use.
Logitech G613 wireless mechanical keyboard runs on two AA batteries and weighs 1460g. Many people have questioned Logitech's decision to make this keyboard run on batteries.
At first thought, it might seem like an extra expense, but the batteries last up to 18 months. It is actually an advantage because you wouldn't have to think about charging or dealing with wires for a year and a half. All that, without ever having to switch it off to save batteries!
AA batteries are pretty easy to replace if you feel the need to do so before 18 months have passed. It doesn't hurt to keep a spare pair on hand!
In the Box, next to your G613 mechanical gaming keyboard and batteries, you will find a Lightspeed USB receiver, extender USB cable, phone stand, and user documentation.
You might be wondering, why do you need a phone stand along with the keyboard? Phone stand might come as a surprise, but it is kind of cool. You can pair your mobile phone and keyboard via Bluetooth and switch between devices at any moment. The phone stand is just an extra accessory Logitech added to make it easy and neat.
Supported operating system versions for lightspeed wireless connection are Windows 7 or later, Mac OS X 10.10 or later, Chrome OS, Android 3.2 or.
You can choose to pair it via Bluetooth to Windows 8 or later, Mac OS X 10.12 or later, Chrome OS, Android 3.2 or later, iOS 10 or later.
Although it is the first wireless keyboard with strong gaming performance and a speed that surpasses wired gaming keyboards, the G613 model has no lighting. This is a feature that gives as many bad reviews as good ones, it all comes to your preference.
The bottom line is that Logitech G613 wireless mechanical keyboard is durable and convenient. We will definitely give it a good rating!
Logitech G613 Design
Ergonomic keyboard design sets this model apart from others. What does it mean? The keyboard is designed to make the keys harmonious, the same height without sharp edges and awkward angles that contribute more to the overall look than functionality.
The keyboard is plain and neat with a matte black-gray plastic base. The software doesn't have lighting, and the keys are simple black with white letters.
The height of the keyboard is 18.8 inches/478mm and the width is 8.5 inches/216mm. It is on the larger side, up to 2-3 inches larger than its competitors.
Logitech G613 is a bit heavier keyboard that weights 49.7 oz/ 1410 g without the batteries, and 51.4 oz / 1460 g with two batteries.
The G613 has a large wrist rest and an extra row of macro keys. The depth of the wrist rest is 8.5 inches/21.6 cm. The keyboard can be raised to a very comfortable angle.
Logitech has adapted the design of the G613 to be comfortable and practical for hours of use but to retain the modern aesthetics. It would look amazing on any office or living room desk, as many design reviews unanimously show!
RGB Backlighting
Many RGB lighting fans were disappointed to found out that the G613 doesn't have any lighting. Although this is a model that is sold as a gaming keyboard, Logitech has decided to keep the simple black design without colorful variable lights.
If we take the Corsair K63 Wireless Mechanical Gaming Keyboard and the Logitech G613 you would notice that they are very similar, except some people prefer the Corsair K63 because it has blue backlighting.
However, many reviews have shown that there is a group of people who prefer keyboards without RGB lighting so we can say that opinions are divided. We can't label this as a flaw, although it's unusual that the gaming keyboard doesn't have lighting because the keys may be poorly visible at night and this makes professional gaming difficult. We all know that gamers are night owls!
On the other hand, Logitech has managed with this move with RGB lights to unite two different worlds into its target group of professional gamers and office workers.
From a technical point of view, it is understandable that RGB lighting was omitted to extend the life of the batteries to a year and a half, otherwise, it would be necessary to implement a built-in battery. AA batteries would last only a few hours.
Mechanical Switches
Logitech's G613 uses Romer G Switches. The switches are linear and comfortable under the fingers but they have only a solid "clicky" feel, unlike Cherry MX keys. Romer G keys are more durable than the popular Cherry MX keys like on Corsair K63. We must say, that some people prefer the Corsair K63 because of the Cherry MX switches.
Logitech G613 switches last around 70 million characters, but in some cases, they lasted for 90 million keypresses. Cherry MX Keys offers the durability of 50 million characters. The actuation distance is 0.059 inches/1.5 mm while the total travel distance is 0.125 inches/3.2 mm. The actuation force of the key switches is 1.58 oz/45g.
When it comes to latency, the G613 mechanical keyboard has enviably low latency. Latency is N / A wired, with the 3.4 ms latency receiver and a 7.7ms latency Bluetooth. Highly responsive keys make your experience more vivid, especially while playing games.
The switches are linear and comfortable under the fingers. Mechanical switches usually have a pronounced 'clicky' sound, like Cherry MX keys. Due to its short-range activation, the G613 sound is fairly quiet. Although switches are often a matter of personal choice, if you have not used these switches before, you will judge for yourself after you try them to see if they work for you. There is no general agreement as to whether one or the other is better. What is definitely an advantage of this keyboard is the keyboard response time.
G613 has standard media keys – mute, play/pause, rewind, fast-forward, and command that toggles between game modes. Media controls are placed above the number pad in the right top corner with slightly different surface textures, so you can easily distinguish them under low light. Besides these standard keys, you can quickly switch from wireless to Bluetooth connection just using the two buttons on the keyboard!
Unlike other models that have a roller button for volume control, G613 is made with two separate buttons. On the left side of the keyboard in a vertical sequence, you will find six macro programmable keys. Some keyboards, like Corsair, have no macro keys. The slide switch is used to enable the Meta Windows key. The only lights on the keyboard are the battery warning lights as well as the Caps Lock notification.
Keyboard has full Windows compatibility and partial macOS, Linux, Android, iOS, and iPadOS keyboard compatibility. All keys work on all platforms, except the Apple operating system where several keys do not respond. Another exception on Linux and Android is that you can't customize the keyboard.
Logitech Gaming Software
Logitech G613 wireless gaming keyboard is using the Logitech G HUB software. Logitech Gaming Software enables you to set up macro programmable g-keys. You can create up to six or more accounts and save your custom settings.
This is very convenient if you are playing different games that require custom settings or you are sharing the keyboard with a friend who would like to use it on his own settings. You can also save your settings on the onboard memory in case you don't have your software installed.
Of course, it allows you to sync your settings to the cloud, so you could quickly synchronize your custom settings on more than one device or if you are changing the operating system.
G HUB software is available on Windows and macOS. But, you must connect the keyboard via a wireless USB receiver so the software would recognize the keyboard.
Performance
The G613 keyboard has multiple paring options and connecting is just as simple via Bluetooth as it is via wireless.
The biggest issue that most gamers confront is the latency of wireless keyboards. The question is whether Lightspeed wireless can achieve a lag-free performance? Absolutely!
Its amazing one-millisecond response time has improved this model's performance significantly. Some reviews will say that this feature makes it the best wireless keyboard on the market!
While it is widely believed that wired gaming keyboards are faster and more reliable, Logitech has implemented wireless technology that accomplishes the overall performance of a wired keyboard.
The 2.4 GHz lightspeed receiver has insensibly low latency. The number of wireless devices in your home can affect the overall speed of your Logitech G613 wireless keyboard.
Logitech suggests that their wireless solution can be even faster than traditional wired solutions. Either way, the G613 is just as fast as any other wired gaming keyboard with no connectivity issues. This is a good selling point for Logitech G613 and supports a good review!
Logitech's G613 wireless gaming keyboard is compatible with PlayStation 4, and you can connect it via Bluetooth or wireless dongle.
Did you know that you can connect a keyboard to more than one device? If you own a PC and a laptop, this means you can use simultaneously a PC and a laptop, PC and a mobile phone or two computers. Just connect one device via wireless and the other via Bluetooth. Switching from one device to another is achieved by simply pressing the key for the selected connection method.
We must note that related keyboards have the same feature, but it was brave to implement this feature on a wireless keyboard as well. Logitech is a truly dedicated brand that has outdone itself with this wireless mechanical gaming keyboard!
Main Features
1. Bluetooth connection
In some reviews, users stated that they didn't even know they needed Bluetooth on the keyboard until they tried the G613 which implemented this feature brilliantly. Although there may be a delay when switching the keyboard from wireless to Bluetooth, both options still proved to be amazing. System Requirements for Bluetooth are Windows® 8 or later, Mac OS X 10.12 or later, Chrome OS, Android 5.0 or later.
2. Lightspeed Wireless
This connectivity mode has significantly raised the value of the G613 keyboard. One millisecond report rate comes with the 2.4 GHz lightspeed receiver. At the time this keyboard was dropped, it was a high leap for Logitech wireless keyboard. Lightspeed wireless system requirements are Windows 7 or later, Mac OS X 10.10 or later, Chrome OS, and Android 3.2 or later.
3. Romer G Tactile Switches
Romer G-keys actuate at a distance of 1.5mm, which creates as much as 25 percent faster response than major competitors. The keys require a small activation force, so you can spend more hours on your computer by typing lightly without getting tired. Typing is much more subtle on Romer g switches than Cherry MX keys for example.
Target Audience
Logitech G613 wireless mechanical keyboard is not a typical gaming keyboard. The G613 is customized in design and performance for both corporate and gaming environments.
Actually, it has quite a corporate look because of the clean charcoal black chassis made from textured plastic, with black gaming keycaps and wrist rest. Excluded RGB lights contribute to the clean design, and therefore you can place the keyboard on your living room table or even an office desk.
The performance of this wireless gaming keyboard, as well as the mechanical keys and extremely fast reactivity, is extremely good for playing games.
Do you have any idea who Target Audience is? Logitech wanted to charm two target groups of people with its G613 model.
One group consists of passionate gamers who will enjoy the lightspeed wireless performance of this keyboard, while the other group consists of modern companies that want to make typing easier with a comfortable wrist rest of this keyboard!
The $149.99 price tag will attract groups of people who are willing to invest a little more money in a long-lasting build quality keyboard.
Price
 G613 Lightspeed Wireless Mechanical Gaming Keyboard was brought to the game in August 2017 for the retail price of $149.99 and $129.99 UK pounds. This keyboard is a bit more expensive than other related products.
Compared to other wireless keyboards that are in the same price range, the G613 can also be used during competitive gaming and tournaments, as you can rely on the speed and lag-free operation of its wireless mode.
If you are looking for a keyboard that covers all the traditional needs of gamers, the G613 supports basic functions but you can also find other cheaper keyboards with RGB lighting. On the other hand, if you are looking for a multi-practical, highly functional, and comfortable keyboard, which you can use for wireless gaming, then you will not go wrong with the G613.
G613 is an amazing keyboard designed to work either as a Bluetooth or wireless keyboard using just a simple swap button. It is worth the investment if you are searching for a durable and fast wireless keyboard.
Frequently Asked Questions
Is Logitech G613 worth it?
The Logitech G613 is a keyboard with outstanding performance and a simple design. LightSpeed wireless mode gives it an advantage over other models as well as multiple paring options.
The keyboard is really worth $ 150 because of that, but if it weren't a wireless model it would be a bit overrated. Especially because the backlight is omitted and there is no built-in battery.
Does the Logitech G613 have a backlight?
The downside of the G613 wireless gaming keyboard is that it doesn't have a backlight. Logitech has opted to exclude the backlight on this model to ensure that the batteries last longer.
The only lights on the keyboard are the battery indicator lights and the Caps Lock. However, this is not a significant omission when it comes to keyboard performance, but an unlit keyboard is often unattractive to gamers.
How long does G613 last?
Logitech's G613 doesn't have a built-in rechargeable battery, it runs on two AA batteries instead. Battery life is estimated at 1.5 years. The weight of this product with external batteries is 51.4 oz / 1460 g.
The LED on the keyboard will activate when the battery life is at 15% to alert you. The battery life depends on how often you use the keyboard and PC requirements.
Does Logitech G613 have Bluetooth?
The G613 has several pairing options. It is a Bluetooth-compatible keyboard on iOS, iPad, and Android devices. In fact, Bluetooth is enabled with Windows® 8 or later, Mac OS X 10.12 or later, Chrome OS, Android 3.2 or later, iOS 10 or later. Another way to connect to your devices is with a wireless dongle.
What switches does the Logitech G613 use?
This keyboard is using the Romer G Tactile switches which are even more durable than the popular Cherry MX keys. Romer g keys last around 70 million characters, but in some cases, they lasted for 90 million keypresses.
Cherry MX Keys offers the durability of 50 million characters. The actuation distance is 0.059 inches/1.5 mm while the total travel distance is 0.125 inches/3.2 mm. The actuation force of the key switches is 1.58 oz/45g.
Can you remove the G613 wrist rest?
G613 wrist rest has a great clean design and is quite comfortable for several hours of gaming. However, it is an integral part of the keyboard and cannot be detached. Many models at this price have provided the possibility to separate the wrist rest, so this feature of G613 is not supported by its audience. The depth with Wrist Rest is 8.5 inches/21.6 cm.
Does the Logitech G613 work with Xbox One?
Logitech's G613 is the best wired-free keyboard compatible with Xbox, including the X|S Series. Xbox supports the G613 keyboard but only via USB or Wireless connection. It can't connect to the Xbox via Bluetooth.
You will need a wireless key that connects to a USB port or a USB cable provided by Logitech as one of the connection options. The keyboard cannot be used to control games but only to insert text.
Conclusion
While some gamers can't get past the lack of RGB lighting on this wireless mechanical keyboard, other features really make up for it. Although the keyboard is recommended for gaming, no matter what purpose you use it for, soft keys and a wide wrist rest will make typing easy and comfortable.
In this Logitech G613 Review, we have presented in detail all the strengths and weaknesses of this mechanical keyboard, it is up to you to decide if it suits your needs. But in any case, you will not go wrong with the purchase, although it is a slightly larger investment, it is also more durable.
The bottom line is that G613 is a multifunctional, comfortable quality keyboard that you can enjoy from the comfort of your office or living room!