If you want to become a successful streamer, you should provide yourself with the finest possible equipment. And that includes a silent keyboard.
In my opinion, the best quiet keyboard for streaming is Logitech Craft Advanced because of its very intuitive layout, great response time, and compatibility with different devices.
To help you choose, I have tested several keyboards and created a unique list of the best quiet keyboards for gaming and streaming.
QUICK OVERVIEW: Best Quiet Keyboard for Streaming
2.4 GHz wireless keyboard
Battery lasts for 10 days

10-key rollover anti-ghosting
5 programmable macro keys

Unifying USB receptor
Battery life: infinite - powered by light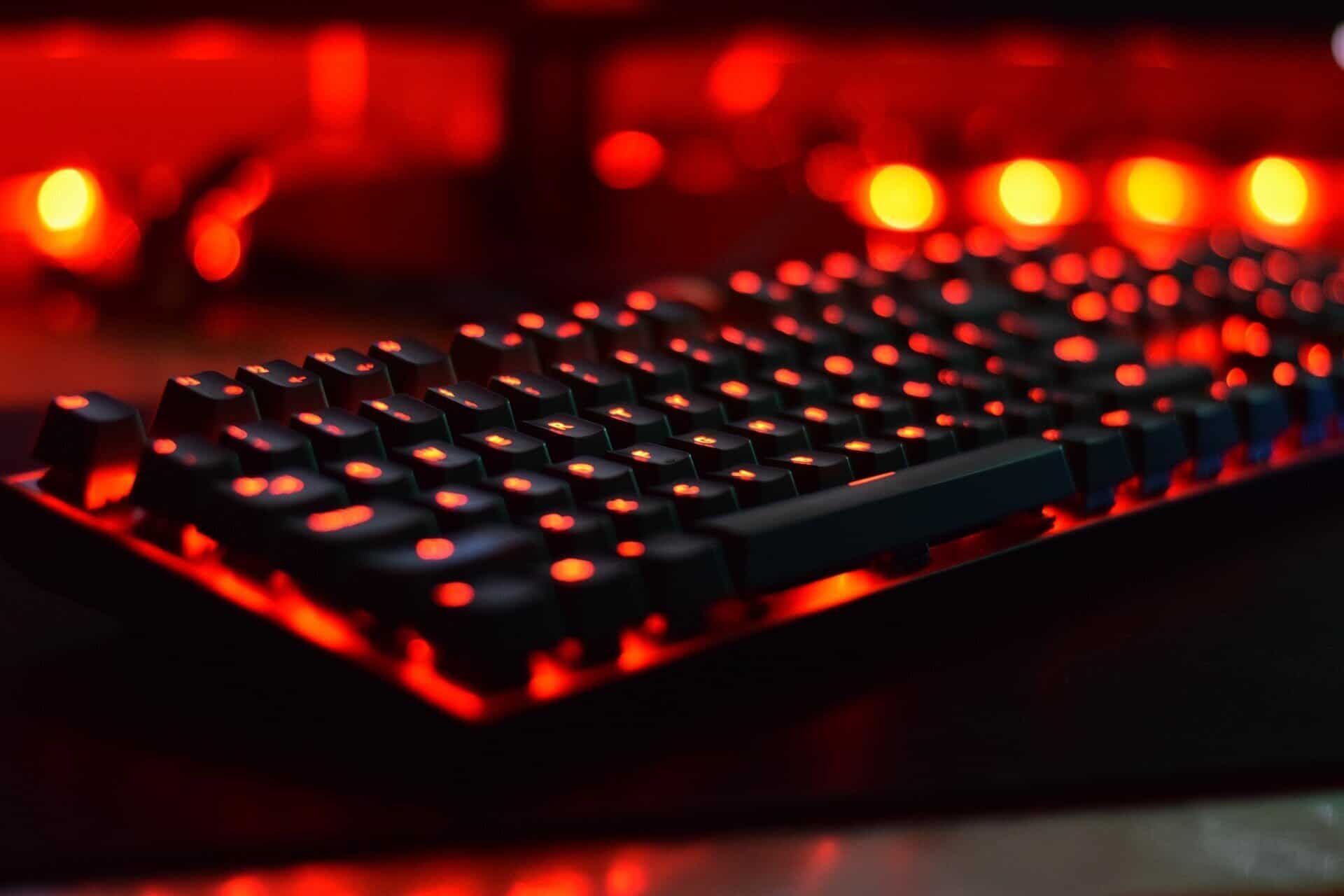 Best Quiet Keyboard for Streaming
Tested & Reviewed
Those audible clicks can be pretty annoying, cannot they? The only solution to overcome that is to purchase a quiet but high-quality keyboard.
I have decided to help and test multiple keyboards. These are the best 7 silent gaming keyboards.
1. Logitech Craft Advanced
Best overall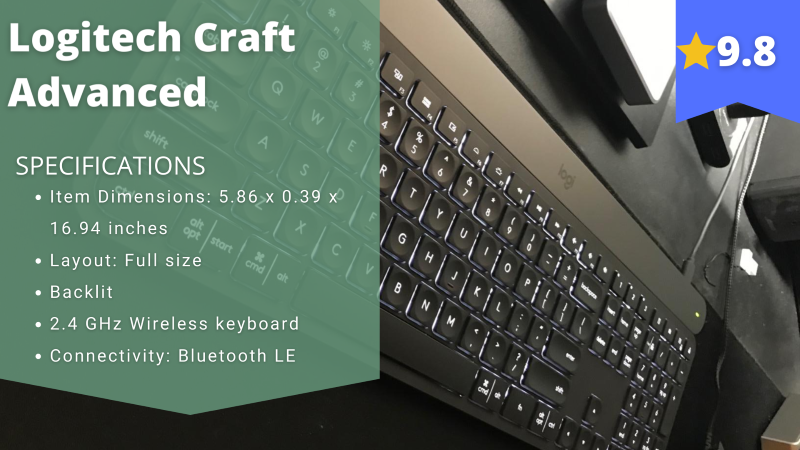 Stefan's Take:
The words I would use to describe this keyboard are: modern, high-quality, intuitive, and durable. And because of those qualities, it's an absolute winner in my books.
It was just 'right' from the moment I first used it. I didn't feel like I had to adjust to it and simply knew where each button was!
Moreover, I liked the backlit and how they adjusted to the light in my room. The light wasn't too harsh on my eyes and just enough to see where each key was.
| | |
| --- | --- |
| Response Time | 9 |
| Comfort | 10 |
| Compatibility | 10 |
| Quietness | 10 |
Why do I think Logitech Craft Advanced is the best among these?
Because of its proven quality and top performance at more than a reasonable price.
Who is it best for
This keyboard is not made for serious gaming. It is too delicate, so it would hardly resist enraged or sudden movements that can often happen.
Yet, it provides pleasant typing and is widely used as a keyboard for work.
It can be used for streams if they are not based on gaming because the keyboard is quiet and pleasant for work while you talk.
Key features
The keyboard is wireless, illuminated, and thin, yet still sturdy. It provides a tremendous typing experience, and the typing performance is impressive.
The keyboard is a laptop-type keyboard. Its key feature is, of course, illumination. If you prefer to stream or type with the lights off, you'll be amazed at how well-defined and lighten-up they are.
But if you prefer light on, you can easily adjust the intensity to get the optimal work conditions.
When it comes to design, it is not very bulky. It is easy to move around the desk because it is cordless and does not take up too much space.
These are the unique selling points of this keyboard.
Another feature that stood out to me was the Crown feature that promotes your workflow. You can easily access your most-used and needed apps for work and change your project as desired with just one click.
This feature helped me stay focused and complete the pending tasks.
In addition to the keyboard, you get the USB charging cable and extension cord for your receiver if you want to move your receiver nearer to your keyboard.
And finally, you get the mini USB receiver which you can use with any Logitech mouse that is suitable with this or any other Logitech device.
Battery life is satisfying. Logitech claims that the battery can last around 10 days if used responsibly (turn off the keyboard when it is not being used). Anyway, one can use it as a wired keyboard while charging.
Pros
Wireless
Solid illumination
Nice design
Great compatibility
Cons
Height (very low and flat)
Delicate
2. Razer BlackWidow
Best keyboard for gaming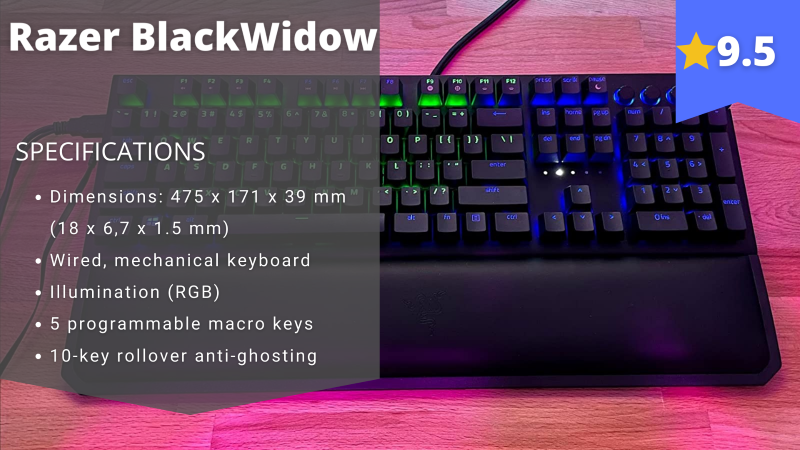 Stefan's Take:
Razer BlackWindow mechanical keyboard comes with various pre-made effects for several most popular Twitch games and with fully programmable micro keys. Therefore, it suits professional gamers the best.
The big plus is a wrist rest, which you can remove if it's in your way, and I'm a big fan of its RGB lighting. There is an option to customize the light, so you can match it with the rest of your streaming setup if you're a geek in this way, as I am.
| | |
| --- | --- |
| Response Time | 10 |
| Comfort | 10 |
| Compatibility | 9 |
| Quietness | 9 |
Razer BlackWidow Gaming Keyboard is an improved version of one of the best-selling silent gaming keyboards.
Although the keyboard is more than satisfying, I must admit that its price is higher than it should be. You could easily find more cost-effective options.
Now, let's dive into specs.         
Who is it best for
Gamers. In every possible way.
The game developers can use the Chroma SDK to control the keyboard's illumination. Furthermore, they can adjust it to changing in-game situations.
Pre-made effects for the games like "Diablo," "Overwatch," "Tomb Raider" and many more are available. For example, in the famous "Counter-Strike," your keyboard will be a health bar for you.
However, some users might be disappointed because the keys are made of ABS plastic.
Also, those who stream the games will not be satisfied.
Although it is said that silent and tactile switches are available, this is not the best silent keyboard for gaming.
Key features
The keyboard has redesigned gaming keycaps with a nice standard font. New features are three key switches to pick from- classic Razer green, Razer orange, and Razer yellow. 
Greens are tactile and clicky, orange ones are tactile and silent, while the yellows are linear and silent.
One of the newer additions is the adoption of new magnetic, detachable wrist rest. Probably one of the best I have ever used on the keyboard.
Two words – soft and pillowy. Ideal when your wrists get tired. However, that is all about the new features.
The keyboard is typical of what I have seen in the past from Razor keyboards. On the left side of the keyboard, there are five macro keys.
The macro keys and RGB lighting can be customized in the Razer Synapse 3 companion software.
A stress-free gaming experience is ensured by 10 key-rollover anti-ghosting and the gaming mode, which prevents minimizing games through the Windows key.
A USB pass-through and a 3.5 mm headphone jack are on the right side.
It is fascinating that over 16 million different colors can illuminate this keyboard.
A variety of lighting effects and illumination modes are available. You can adjust the illumination for every single key. Therefore, it gets ten out of ten for its aesthetic appeal and flashiness.
The biggest downside is that it cannot be used wirelessly.
Pros
Solidity
RGB colors are fully customizable
Easily programmable macro keys
Razer Synapse compatibility
Soft and detachable wrist rest
10 key-rollover anti-ghosting
Cons
No software support for Linux or macOS
Price
3. Logitech K750
Best wireless keyboard for streamers
Stefan's Take:
What drew me to this keyboard was a one-of-a-kind feature: two built-in solar panels that charge the keyboard and ensure it never runs out of power. As I sometimes tend to forget to recharge my gadgets, it was good to know that I don't have to worry about this.
Moreover, the keyboard is modern, sleek, lightweight, with a full layout, made of durable materials, and quite intuitive. Its keys are quite similar to those found on laptops but ensure even more comfortable typing.
| | |
| --- | --- |
| Reponse Time | 9 |
| Comfort | 9 |
| Compatibility | 10 |
| Quietness | 9 |
Here is another keyboard that comes from Logitech.
What makes Logitech K750 Wireless Solar Keyboard remarkably unique is that it has an internal battery that is charged by photovoltaic cells.
It means you get to have a wireless keyboard without the struggle of changing the batteries regularly.
Who is it best for
Streamers might find this keyboard interesting because of its durability. They will not have to worry about recharging it before long streaming because its battery is recharging all the time (when exposed to the light, of course).
The keyboard feels like typing on your laptop but is more comfortable. I know I sound like I am just quoting their marketing brag, but I have checked it, and they have not lied. The feeling is excellent.
So, if you are looking for quiet gaming keyboards or durable keyboards for a lot of journalist-quantity typing, this one is a great choice. 
Key features
Installation is quite simple. You have to plug in the mini wireless receiver and switch on the keyboard.
A driverless install will be completed briefly, and then the Solar App will be downloaded and installed automatically. After that, you are done.
The keyboard is thin and flat. That is because it has a built-in battery that runs the whole length of it. If you do not prefer it flat, there are keyboard bracket legs that you can switch out.
The keys are flat and well-defined. It provides an enjoyable typing experience. Even the space bar is as well-balanced as the other keys.
For example, if you are in a hurry, there is no real chance of slipping in between the keys and missing a keystroke.
At the top are two solar panels, so the artificial light and sunlight charge the keyboard at all times while the light is on.
The battery that gets recharged in this way and powers the keyboard lasts for about a year or year and a half. For people who simply hate changing batteries regularly, K750 might be a perfect choice.
Pros
Wireless
Durability
Easy accessibility
Quiet keys
Cons
Delays can happen
Not long battery life
4. Logitech K780
Great mini keyboard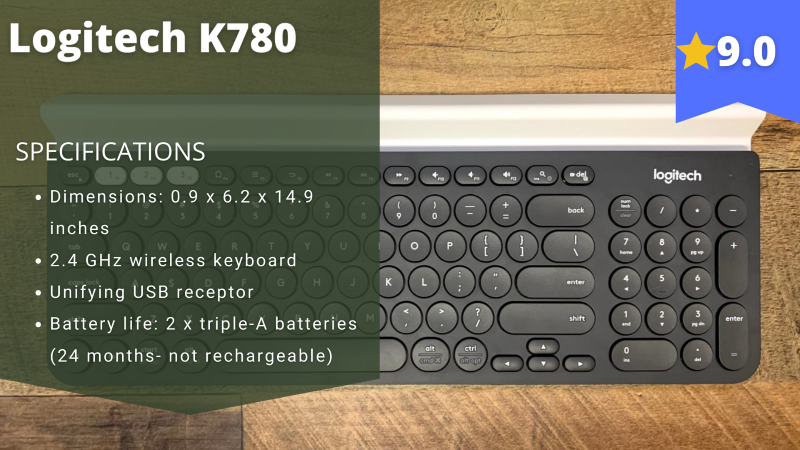 Stefan's Take:
I'm not the biggest fan of mini keyboards, but this is the one I don't mind using. Actually, I would describe it as a feel-good keyboard that requires just a bit of a learning curve compared to other keyboards on this list.
The typing is smooth and soft, with great response time. It can be connected to up to three devices, and the battery lasts for around two years, so there is no need for frequent recharging.
| | |
| --- | --- |
| Response Time | 9 |
| Comfort | 9 |
| Compatibility | 9 |
| Quietness | 9 |
Another Logitech keyboard.
In my third review, I tested the bigger brother of the Logitech K380 keyboard.
An important thing to know is that you can easily switch Logitech K780 Multi-Device Wireless Keyboard between three different devices with a simple press of the key.
To pair a keyboard with the device, you just have to go through the standard Bluetooth pairing mode. 
Who is it best for
Well, because you can easily switch between three different devices, it can greatly benefit your daily workflow.
The latency is relatively high, so it is acceptable for general desktop use. Unfortunately, if you are a gamer, you should better look elsewhere.
The media keys at the top are great if you are a live streamer and prefer to play music in the background.
You do not have to spend time adjusting anything, one press is enough. Therefore, I think that streamers and businessmen will be the most satisfied with this one.
Key features
As I mentioned, you can easily switch between three different devices. How is that possible? There are three white buttons at the top left of the keyboard.
Thus, you can easily select from 1, 2, and 3 and choose a device you want to use with the keyboard.
Besides, the three buttons have LED on them, so they will flash for pairing and light solid when it is connected.
On the bottom part, you will see the controls to cover both Windows and Mac. Therefore, the user is provided with the usual shortcuts and functionality.
Media keys are at the very top of the keyboard. They are efficient due to their simplicity – "one press to activate."
A power switch on the right end of the device lights an LED up to indicate it is powered on. That LED is located next to a Logitech logo on the keyboard.
The rubber cradle is a built-in stand that protects your keyboard. It can hold a variety of devices, such as smartphones or 12-inch iPad pros.
The typing experience is very nice, although you might need some time to get used to circular keys.
The keyboard has two triple-A batteries (non-rechargeable) and the unifying receiver, located under the battery cover on the back.
However, the battery cover is a little bit difficult to get off, so be prepared to use your nails if you want to pull the batteries up because they are too close to each other. According to Logitech, the battery can last around 24 months.
Pros
Wireless
Pleasant and quiet key movement
Connectivity
Solidity
Cons
The connection gets laggy sometimes
Bulky and heavy
5. Corsair K68
Great mechanical keyboard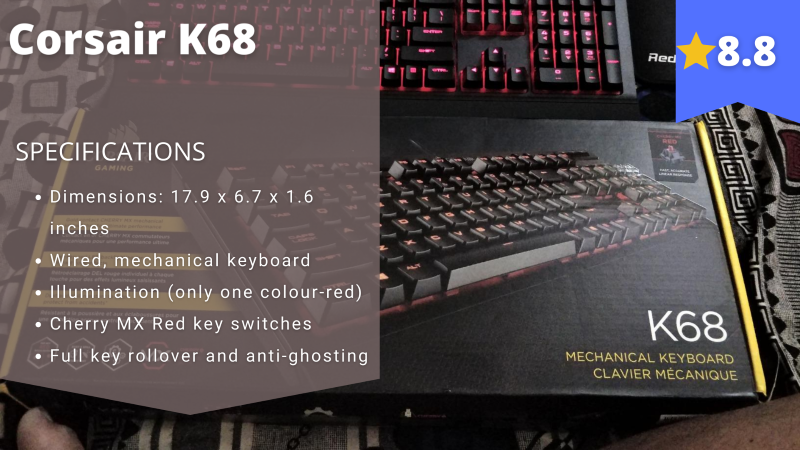 Stefan's Take:
Mechanical keyboards are typically not so quiet, but this one is an exception. I was pressing hard on the keys during the test, and there was little-to-no noise, making it great for streaming.
The customizable RGB lighting is another plus – you can change the color and intensity of the light, so it's not too harsh on your eyes.
Also, there was no lag when typing or gaming, which I know passionate gamers will appreciate the most.
| | |
| --- | --- |
| Response Time | 9 |
| Comfort | 9 |
| Compatibility | 8 |
| Quietness | 9 |
Bearing in mind Corsair's biggest share of the market in gaming keyboards, which guarantees quality, and that the price and performances of Corsair K68 Mechanical Gaming Keyboard are in line, this might be a perfect choice for you.
Who is it best for
You should check this one out if you are a casual or competitive gamer. It is probably the quietest mechanical gaming keyboard that I have tested.
So, if you stream, you will not have a problem with audible clicks.
Even if you are just a super-heavy computer user, you will be thrilled with this keyboard's typing experience.
Key features
I want to start with the build quality. Straight to the point – K68 is outstandingly well-built.
The hard, plastic chassis is super solid, and the keyboard itself has a substantial weight from the internal reinforcements.
Corsair uses Cherry MX switches that have been remarkably accurate and responsive. These switches are linear, so they do not have audible or tactile feedback.
The space bar is highly textured, while other keycaps are cylindrical. They have also included a detachable plastic wrist-rest and bracket legs that you can switch out.
A feature of paramount importance for me was that this model is dust and water-resistant. Corsair has implemented this protection by including a translucent silicon sheet above the printed circuit board.
Therefore, if you spill water down on it, it would deflect down the rubber and then out through some internal drain holes and channels.
Of course, this does not mean that you can dive or take a shower with the keyboard in your hands, but it will protect your keyboard from accidental spills.
While I was using it, I got the impression that it was very quiet. Again, it is related to the abovementioned silicon, which simply dampens that sound.
You will find media buttons on the top right above the number pad. You have immediate access to them. For example, you can mute the video immediately if you have an urgent phone call.
This keyboard cannot be used wirelessly. With this keyboard, you get anti-ghosting and full key rollover.
The Illumination and macro keys can be configured via Corsair Utility Engine. For instance, you can address your keyboard's duration, speed, and darkness.
Pros
Switches are remarkably responsive
Water and dust resistant
Accessibility of the volume controls
Price
Illumination
Solidity
Full key rollover and anti-ghosting
6. HP Wireless Elite Keyboard v2
Great budget keyboard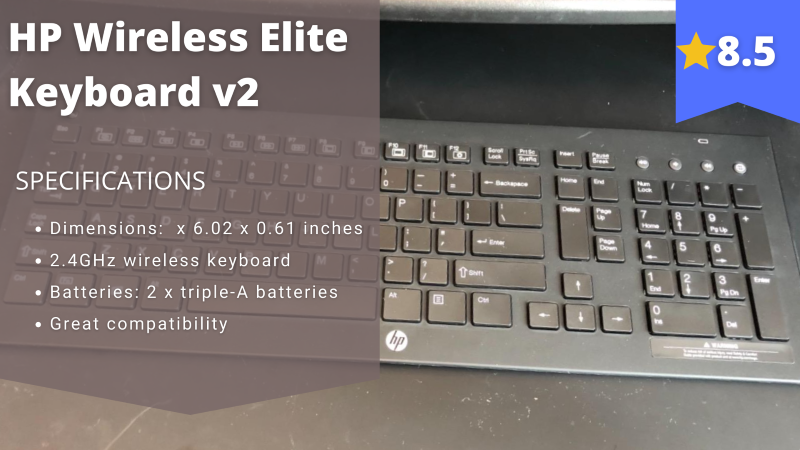 Stefan's Take:
The biggest advantages of this keyboard are its size, quietness, and minimalistic design. I don't mind very flashy keyboards with RGB lighting, but I understand they're inappropriate for every situation.
The typing on this keyboard is smooth and soft, and it's very easy to get used to its layout.
Regarding response time, for daily tasks, it's more than good enough, but for gaming, I wouldn't recommend it. 
| | |
| --- | --- |
| Response Time | 8 |
| Comfort | 9 |
| Compatibility | 9 |
| Quietness | 8 |
CHECK IT OUT
Another amazing wireless keyboard is the HP Wireless Elite Keyboard v2 – a good-looking and quiet keyboard. It is inexpensive compared to other high-end wireless keyboards.
Who is it best for
If you are looking for great quality for a reasonable price, then this is a perfect choice.
For example, if you want to equip your office space with keyboards, this would be the right choice. You will not have to worry about the noise because the keyboards are virtually silent.
Marvelously low price for objectively pleasing performances leaves other similar wireless keyboards in the shade. So, if you are led by the financial aspect, this would be a real bargain.
Key features
This is a very comfortable keyboard to use. HP has created a keyboard that is at the same time quiet and responsive.
The first thing you will notice is that this is a full-sized, wireless keyboard that is not very flashy.
Due to the minimalistic design and the slimness of this keyboard, it seems so classy. However, its plastic chassis is not so flexible.
Something else that caught my eye was that above the alphanumeric keys were dedicated keys for various programmable functions and media playback.
Four hotkeys for quick access to your browser and volume controls are also available. The sleep button sits on its own in the top left corner.
It is worth mentioning that if you get a mouse along with the keyboard, it can connect via a single HP link-5 USB micro receiver.
The HP link-5 receiver plugs into the USB port. You just have to press the "connect buttons" on the bottom of the keyboard.
The most important feature and probably the unique selling point of this keyboard is that they are practically silent. Furthermore, the keys are spaced enough, so the typing should be comfortable.
Pros
Thin but sturdy
Extraordinarily reasonable price
Oustanding typing feel
Quiet
Wireless setup
Cons
Restricted macOS compatibility
No Caps Lock nor Num Lock indicator
7. G810 Orion
Great for light gaming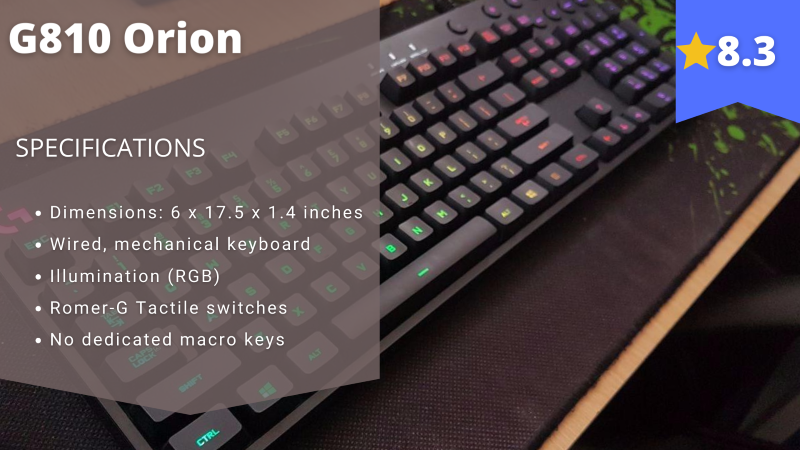 Stefan's Take:
The first feature of the G810 Orion I noticed was the mate finish – I liked that no fingerprints or dust were collecting on the keys.
Moreover, G810 Orion features customizable lighting, quick and easy activation, and hundreds of lighting profiles. The response time is okay, but pro gamers will probably miss programmable macro keys.
| | |
| --- | --- |
| Response Time | 8 |
| Comfort | 9 |
| Compatibility | 8 |
| Quietness | 8 |
Well, I begin and finish with Logitech's products. Logitech G is one of Logitech's product lines for professional gamers and gaming teams.
G810 Orion Spectrum RGB Mechanical Gaming Keyboard is the most expensive shown. However, it is the cost of a complete performance-driven design.
Who is it best for
Although Logitech G has wonderful cooperation with gamers, I must say that this model is not suited for serious gamers.
Hard-core gamers do not like the fact that it does not have dedicated macro keys and wrist rest.
On the other hand, customizable lighting and high-performance keys keep this keyboard attractive.
Moreover, typing is fantastic because you do not have to apply much force. The same goes for gaming. The lightweight nature of the keys means no fatigued fingers, so you will not have to worry about that.
Key features
The G810 is mostly matte to avoid fingerprints and has glosses around the edges. At the top of the keyboard are the LED indicators (Caps Lock, Num Lock, and Scroll Lock).
Next to the LED indicators is a game key, which enables and disables the windows lock feature. Then, there is the backlight on/off button. Next is the mute key.
The final feature in that line is the volume wheel. Below it, one can find the media keys.
Logitech's gaming keyboards have always had these keys fitted with the rest of the keys. So, if I were picky about aesthetics, I could ask why these keys are round.
Logitech claims that their Romer-G switches have an activation point that is 25% shorter than standard mechanical switches.
In the beginning, I thought that the keys were a bit mushy and not so responsive. However, it turned out that I needed some time to adapt to it.
Furthermore, I must admit that they are very smooth and silent and that every quiet keyboard for gaming should have something like this.
You get 26 key rollovers, so all your key presses will be registered. You can also import or export game profiles at Logitech Gaming Software.
It means that one can change the keystroke or assign a multi or macro key. When it comes to lighting, you can set the intensity and the color of each key or lighting zones.
Moreover, there are lighting effects. Of course, you can choose its speed or color. Even the colors of LED lights can be changed.
There are 16.8 million colors, so definitely, you will have some fun with them. Anyway, I have expected a wristrest of some sort for this price.
Pros
Activation is fast
Adjustable lighting
Programmable function keys
300 preloaded gaming lighting profiles
Cons
Lack of dedicated macro keys
No wrist rest
Too sensitive switches
Things to Consider when Buying a Quiet Keyboard for Streaming and Gaming
Here are a couple of things that I consider important when it comes to buying a quiet keyboard for streaming:
1. Type
The first thing you need to think about is the type of work you will be doing with your keyboard. Many different keyboards are available today. Each one has its "fors and againsts."
There are keyboards designed especially for gaming. They have incorporated particular gaming keys that will help you during your play. On the other hand, keyboards designed for typing jobs must provide a comfortable typing experience.
Therefore, considering the things I have mentioned, you choose the one that suits you the most.
2. Compatibility
Before buying a keyboard, you need to check if it is compatible with your computer system.
Nowadays, most keyboards connect to the computer via USB ports. Unlike them, wireless keyboards use Bluetooth to connect to the computer.
Be aware that some wireless keyboards might have a tricky setup.
3. Keystrokes
You do not want to get a keyboard that will give you a hard time. By that, I mean that you feel like typing on the typewriter. You need to check the keys.
You should avoid sensitive keyboards if you are into serious gaming. Due to a lot of sudden or enraged movements, they may not last long.
You need a responsive and solid type of keyboard. Moreover, if you are a future streamer, you need the quietest mechanical gaming keyboard possible.
On the other hand, if you are looking for something that can provide you with a pleasant typing experience, then those feather-like keyboards might be perfect for you. 
4. Design
According to design, the keyboards might be ergonomic, gaming, and standard.
The ergonomic keyboards are designed to reduce the pressure on your hands. Thanks to a wrist rest, your hand will not get fatigued after a long period of typing.
The gaming keyboards are naturally designed for gamers. They incorporate special keys for gaming with multimedia keys.
Finally, the standard keyboards are the most usual type of keyboard. They come with standard and multimedia keys.
Nowadays, keyboards with illumination are a must-have for those who enjoy typing in the dark. Besides, it is always good to have a dust and water-resistant keyboard in case of accidental spilling of something.
Generally, manufacturers today invest large sums of money in the development of keyboard designs. Therefore, it is up to you to choose the most preferable keyboard.
5. Price
Not only that the keyboard needs to meet your requirements, but also it needs to meet your budget. Logically, the more features the keyboard has, the bigger the price will be.
It is important to stay smart when you buy the keyboard and not spend money on things you do not actually need.
Related: Best Streaming Deck – Top 5 Products and Reviews
Conclusion
I have tried to help you and maybe introduce you to some of them you have not heard about before. My top three picks are:
 Logitech Craft Advanced as the best overall,
Razer BlackWidow as the best for gaming,
Logitech K750 as the best for streamers.
All keyboards on this list are quality keyboards. The choice relies solely on you and your needs. I hope you're happy with your purchase and wish you happy streaming!
Frequently Asked Questions
What is the difference between mechanical and rubber dome keyboards?
Mechanical keyboards are high-quality-built keyboards. The mechanical keyboards are far superior compared to rubber dome keyboards, which flooded the market in the 90s.
The rubber dome keyboards are cheaper, but the features of the mechanical keyboard, such as functionality, key construction, or LED lighting simply leave the former in the dust.
How to connect and install a computer keyboard?
If your keyboard is wireless, it can be connected mostly via Bluetooth. You have to make sure that your keyboard is charged or has the batteries. Pay attention to a switch that you have to turn on.
It is most of the time at the back of a keyboard. You have to plug the receiver (usually a mini USB) into your computer, and your keyboard will connect to it wirelessly.
When the keyboard is connected, it should be installed automatically. If your keyboard is wired, it is connected via a USB keyboard plug. You should connect your USB keyboard plug to the USB port on the backside of the computer.
The external keyboard can also connect to your laptop via USB ports. The connected keyboard should automatically be detected and installed. However, if your new keyboard has special features, you need to install special keyboard drivers and software. 
How to make the mechanical keyboard quieter?
Although I mentioned a few silent gaming keyboards, some might still be unsatisfied with their typing noise. The noise comes from slamming plastic into the plastic on big metal plate on the keyboard. For those who would like to make them quieter, I suggest rubber O-rings.
The O-rings physically separate the elements that make those sounds. All you need to do is to pull off the keycaps, stick an O-ring on the center of a column, and put it back on.
The keyboard definitely seems quieter. The O-rings prevent keystrokes from having that plastic-on-plastic noise. My team even measured the keyboard typing noise before and after sticking the O-rings.
The O-rings lowered the typing noise by about 6 dB (decibels), which was a significant improvement. Therefore, if you want to turn your mechanical keyboard into the best silent keyboard for gaming, this is a perfect option.