Green screens are most commonly used for streaming video games on Twitch and YouTube platforms or video production.
As a content creator, you have probably looked into getting a green screen but there are so many options. We're going to do the Elgato green screen review and hopefully help with your decision.
Elgato is offering the all-in-one solution for having a professional-looking green screen. Based on pop-up tech green screen solutions, Elgato green screen sets in less than 5 seconds!
In this Elgato Green Screen review, we will show you the pros and cons of this product and detailed product info!
Elgato Green Screen Review
Features, Audience, and Price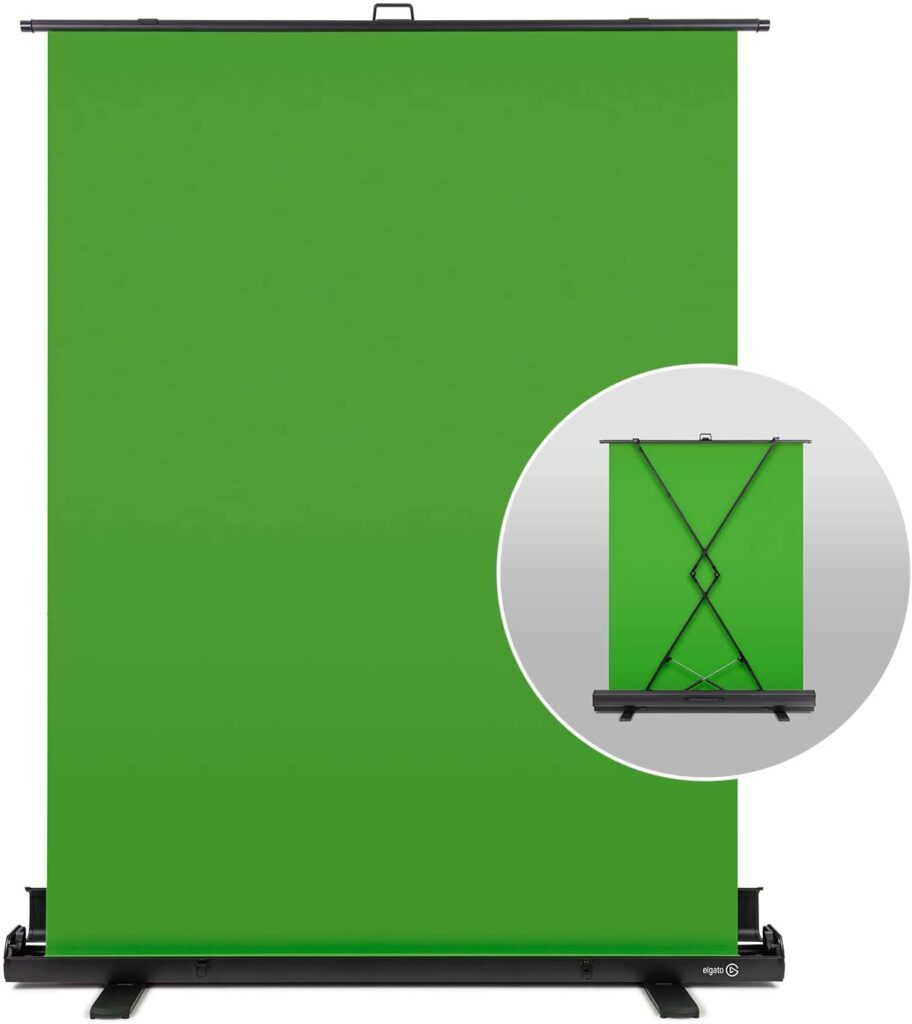 Elgato screen is a premium product that allows you to produce a high-quality video. Green screen is most commonly used by video game streamers, but it is not exclusively designed for that. Anyone can use it for video recording and live streaming on YouTube, Twitch, and other platforms.
Collapsible Chroma Key Panel is a premium product that allows you to produce high-quality video. The green screen material is 100% polyester, wrinkle-resistant, and easy to set up.
You just pull up the screen from the ground and let the pneumatic x-frame automatically lock the screen in place. You don't need adhesive tapes or nails to hang this green screen on your wall.
Elgato's collapsible green screen is super convenient if you are working remotely because you can set it up in any space for less than five seconds. Pop-up technology provides the added benefit of saving space.
It weighs about 9.3 Kg, which is not bad if we take into account the aluminum base and hardy case. Fully extended it has a height of 70.87 inches and a width of 58.27 inches.  Retracted dimensions are 64.76 x 4.13 x 4.53
Unlike other green screen solutions, you can set up Elgato's green screen in any studio or recording room. If you're streaming in your bedroom when you fold it all up and slide it under your bed or put it up against your wall or in the corner of your home office. It is much convenient than having a dedicated green screen.
Elgato offers its customers a one-year product warranty to correct every possible manufacturing error and maintain good reviews.
So far, no brand has thought of green screens in such a practical way. The design work Elgato brand has done on this creator's canvas is just extraordinary! No product can have zero issues, but Elgato has taken care that their product overcomes the most common problems that occur during a live stream.
According to the reviews on the web, Elgato green screen is rated as one of the best green screens to buy in 2021. We can't help but agree and give it a five-star review.
Elgato Green Screen Setup
The setup process is easy and simple. It takes less than 10 seconds to set up this chroma key panel which is a huge selling point.
The green screen is stored in a black aluminum case with a handle. Be sure to place the case with the logo facing upwards to access the product more easily. Simply flip open the lid by unhooking two small locks on top.
The heavy base of the case has rubber support that helps keep the green screen from slipping on different floor textures. You can place it on tiles, wood, or even carpet and the setting will be stable.
After opening the box, you will see a handle in the middle of the rolled green screen. All you need to do is draw your 5.9 feet tall green screen from the ground. Pneumatic x-frame will automatically lock into place and you can just push it back when you're done using it. That is the whole setup process!
Place the green screen directly behind you. It is not necessary to cover the entire width of your body, but you can also bring it closer to cover as large an area as possible. The advantage of the Elgato green screen is that you can easily set it up anywhere you want and that is why we give it extra good reviews!
Key Features
1. Aluminum case
The solid black case ensures safe disposal and transfer due to the locks on the top of the case and the handle. It is made of aluminum, so it definitely makes the product heavier, but also more stable on the ground. Stability is improved with two rotatable rubber legs on the bottom. They prevent slipping on different floor textures like tiles, wood, or carpet.
2. Collapsible Screen
Collapsible Screen is a time and space saver! You don't need extra set up equipment, you get it all in one product. The collapsible green screen is an extremely practical solution for all people who do not have a lot of space in the room and you can easily put it away. Also, this is another feature that adds to the improved green screen design.
3. Screen Material
Chroma green surface is made of 100% polyester with outstanding quality. The material is firm, non-transparent, and completely smooth, resistant to wrinkles. This is a rocksteady solution optimized for camera Chroma keying. The sturdy aluminum frame allows the fabric to stay taut, so it doesn't cause unwanted shadows on your background.
4. Pneumatic x-frame
The pneumatic x-frame automatically locks the screen in place. The pneumatic system with double scissors will save you a lot of time when setting up and assembling the green screen. All you have to do is pull up the screen when you want to set it up and press it down when you are finished using it. The pneumatic x-frame really enhances the design of this product.
Target Audience
As we have mentioned, the chroma key panel is mostly used for streaming and video production. The most common users are streamers on various platforms such as YouTube or Twitch, but also many other video producers.
The Elgato brand is not narrowly focused on a specific target group as their products are consumed by both beginners and professionals. Certainly, the green screen is a premium product with a slightly more expensive price that mostly attracts professionals.
Elgato has adapted the design to make it easier for all content creators. Their product gets the best reviews for its quality, practicality, and time-saving setup process.
Chroma Key
Chroma Key is an integral part of using the green screen as a streamer. The biggest advantage of the green screen is that you can key out everything behind you and choose your preferred stream background. It is a great tool for content creation that allows you to compose two images based on color shades, light, and chrome range.
Keying is the process of removing a green screen as a background using video editing software. Elgato Game Capture, OBS, and XSplit worked fine for most streamers. These programs will allow you to use the Chroma key support in your streams.
Essentially, when the green screen background is unlocked it will become completely transparent so that you can replace it with any image, logo, or video you want.
If you are using OBS you need to plug in the video source, such as a webcam or any camera. The higher the resolution of the camera, the better the results.
The goal is to keep the key as clean as possible and avoid the green light to reflect on your subject. This happens when the key light is too bright. In OBS you can change the brightness of the key light reflected on the green screen, add chrome filters and adjust other parameters.
You can work your creative magic by putting yourself in any content imaginable!
Elgato Green Screen Price
Opinions are divided when it comes to the price of this product. Some people would rate it as too expensive because there are many other green screen solutions. But it all depends on your needs, whether you are recreationally engaged in some recording or streaming, or a professional who needs top equipment.
The Elgato green screen retails for $ 150, which is a slightly higher price compared to similar products you can find on Amazon. Beginners may opt for a cheaper option until they develop their stream audience. After that, such a practical solution as Elgato green screen will surely attract their attention.
Cheaper alternatives range from $30 but you would have to compromise the quality. If your production is on a tight budget you could use a $10 piece of fabric.
Elgato has been reviewed as the best screen on the market for YouTube and Twitch Streaming because you can easily and quickly set it up in any studio. Elgato green screen guarantees longevity, quality, and portability. If you are a streaming professional, the green Elgato screen will be a worthwhile investment.
Frequently Asked Questions
Is Elgato Green Screen worth it?
Elgato's green screen is on the more expensive side, but if you are a professional streamer, you will not find a more practical chroma key panel on the market.
Purchase an Elgato green screen and you will get the complete setup equipment, wrinkle-resistant screen, and quality design. It is definitely worth the price of $150 and many positive reviews prove it.
How do you use green screen Elgato offers?
You must first set up a green screen Elgato in your room or studio. Place it behind you so that it covers the entire display on the camera. Then you will need software that allows you to key yourself and adjust the image. The most commonly used software are OBS, Elgato Game Capture, and XSplit.
Is the Elgato Green Screen wide enough?
The dimensions of the fully extended Elgato green screen are 58.27 x 70.87 inches. That's wide enough to include one person in the frame, maybe even two.
How much the green screen covers is also affected by how far you place it behind you. You can also use the editing software to crop the rest of the background.
How do I clean my Elgato green screen?
Essentially, the Elgato green screen doesn't need cleaning if you pack it neatly right after using it. If you still want to wipe the dust off or you have accidentally wet it, it is best to use a soft cloth and wait until the surface is completely dry before you retract it back in the case. Do not use aggressive cleaning fluids.
How heavy is the Elgato Green Screen?
Elgato green screen is composed of a heavy aluminum base and a sturdy case. Two longitudinal pneumatic shock absorbers are supporting the weight of 9.3 kg / 20.5 lb.
It is heavier than most other products, but the build quality is considered good because of that. However, the weight of this amazing product does not reduce its mobility.
How long is the Elgato Green Screen?
Elgato's green screen is 5.9 feet tall when you fully extend it. We can conclude that the Elgato Green Screen is intended for use while sitting. This is a suitable height for most steamers based on their reviews. There were no bad reviews regarding the height of this quality product, so it probably matches the average height of most gaming chairs.
Conclusion
Elgato is a brand dedicated to content creators who want innovative and practical solutions for their streams and video editing. The green screen is a real example of this because it is made so that it does not require a lot of time and space to set up and start using!
You don't have to worry about someone interrupting your stream, nor what your wall or background looks like! We hope that our Elgato green screen review has cleared up your mind of any ambiguities related to this product.
We would agree that $ 150 is the price for a premium product and an investment that not everyone would make when they can put a plain green fabric behind them. But just imagine how much effort you need to set it up. Improvised support that would hold your fabric, nails on the wall to hang it, the appropriate distance, and all that with the possibility that you have unwanted shadows in the final picture.
These are all resources of energy and time that you could make much better use of if you can turn your room into a studio in just 3 seconds with the Elgato green screen setting! You would invest all your energy to improve your stream and be even more creative with chroma-keying.
Elgato's green screen is a premium content creation product that enables truly immersive broadcasting. We have reviewed everything you need to know about this product and we have no choice but to give it the best review for quality and innovation.