Keyboard for Streaming
If you need to find other streaming gear, make sure to look at our Streaming Gear page. Here, you will find everything you need!
Post 4 of 8
As we all know technology has developed a lot during the last decade and now we have some technologically advanced things that we couldn't imagine 10 years ago.
Among the things that have developed apart from software-related things, there are also pieces of hardware such as mice, monitors, speakers, etc.
However, even though keyboards have developed as well and even though nowadays we have various sorts of keyboards, most people and especially gamers still opt for good old classic mechanical clicky keyboards.
Post 4 of 8 in the Keyboard for Streaming
Best Clicky Keyboard
Reviews
The reason why most people prefer this kind of keyboard is the fact that they are faster, more durable, and have more tactile switches, and, thus, provide better tactile feedback.
And since we have realized that clicky keyboards haven't gone out of fashion, we have decided to conduct thorough research and create a list of the best mechanical keyboards that you can find on the market.
So, instead of searching the information by yourself, you can find everything you need to know about the best mechanical keyboards on our list and, based on those pieces of information, you can afterward decide which one would meet your expectation and which one you want to buy.
QUICK OVERVIEW: Best Clicky Keyboards
<!—INSERT CODE BLOCKS BELOW—>

Havit Mechanical Keyboard

PBT colorful keycaps
Retro design
1. Redragon K552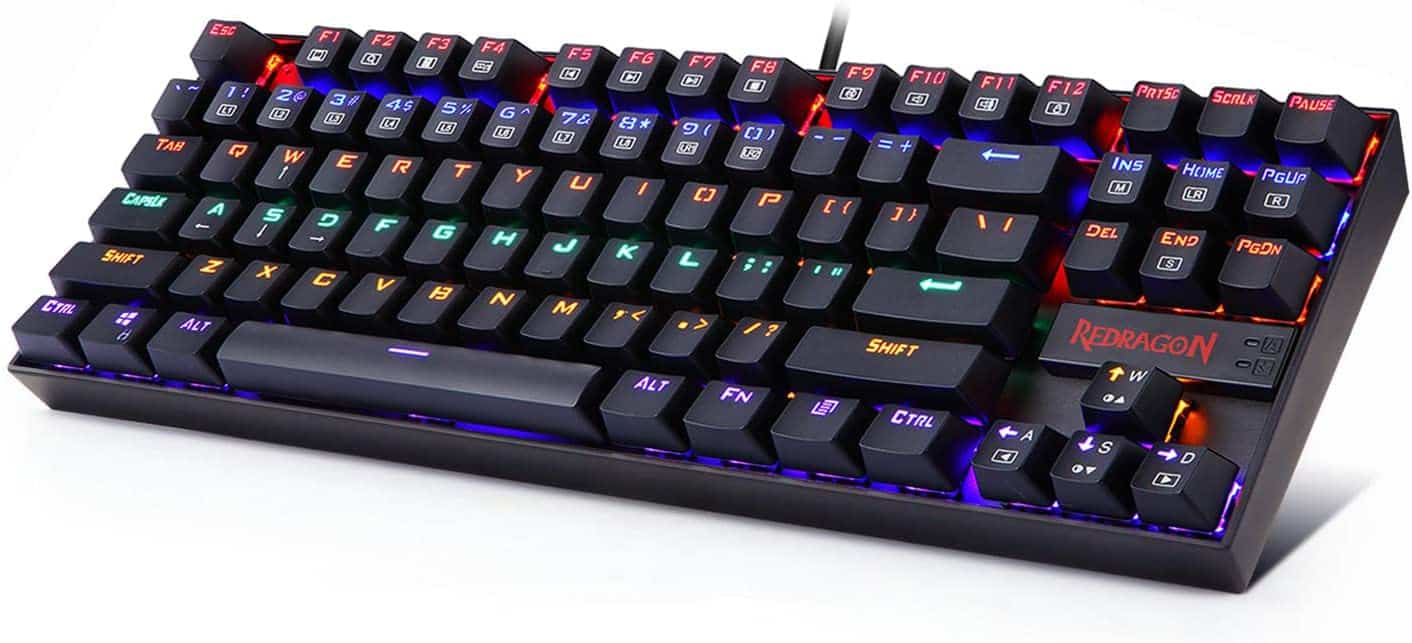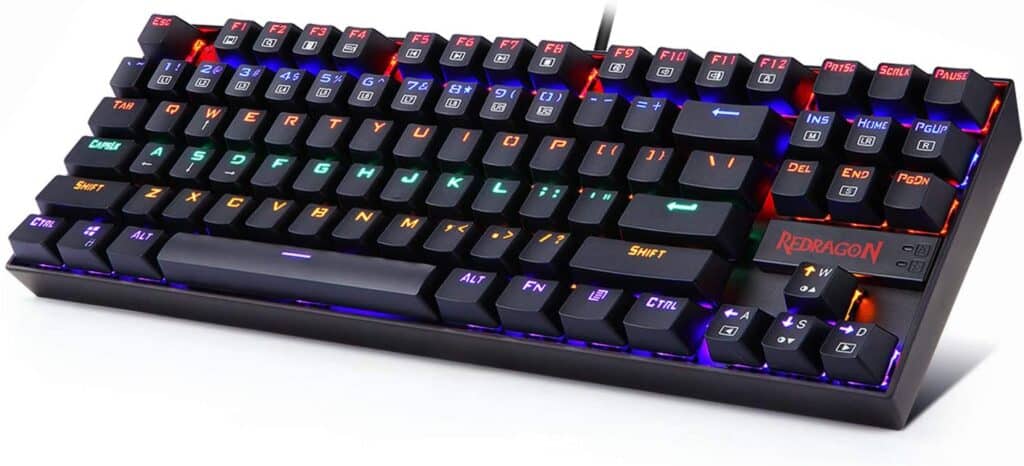 Redragon is a brand that is owned by Eastern Times Technology Co., Ltd and that has been in the field of gaming gear for 20 years.
Redragon's gaming products are high-performance, world-class, innovative, and created with dedication and experience.
As for the K552 mechanical keyboard, Redragon claims it provides comfort and saves space given that it is very compact.
Additionally, according to Redragon, it is affordable so it is a good bargain.
Specs
Who is it best for?
Generally speaking, this mechanical keyboard is suitable for everyone, but it would be a bit more suitable for gamers.
The main reasons for that are that it has a backlight and that it is quite loud, so it might not be appropriate for using it in an office.
Key features
First of all, we have to say that this mechanical gaming keyboard is very durable, sturdy, and it has a small footprint and red switches.
As we mentioned in the specs section, it is made from heavy metal and then covered in plastic.
Besides, the keycaps are molded and the entire gaming keyboard is splash resistant.
In terms of design, we have to admit that it is quite simple, but the design isn't the main reason why you would want to buy this mechanical keyboard.
The mechanical keys are also conflict-free with 100% anti-ghosting and a high polling rate.
However, this gaming keyboard is quite loud, so you should have that in mind before buying it.
Of course, some people don't like it, but also people who adore the clicking sounds, so they would probably be very satisfied with the K552 gaming keyboard.
LED backlighting, which can be turned on and off, is spread across the entire TKL keyboard and the brightness level can also be adjusted with several dedicated media keys.
There are 19 selectable backlight modes in total.
K552 gaming keyboard is plug & play so you won't need to install anything before using it.
The driver CD comes with the product but the drivers can also be found online.
An excellent thing for gamers is hot-swappable switches so the arrow keys and the WASD keys can be interchanged.
This option is especially great for left-handed gamers.
As for the things we didn't like, first of all, the ABS plastic the keys were made from is very thin and the legends printed on the keypads will eventually start to fade.
And secondly, the USB cable is not detachable, which makes it more prone to damage, and the keyboard itself is quite heavy, so it would be a bit more difficult to pack and transport.
---
2. Redragon K556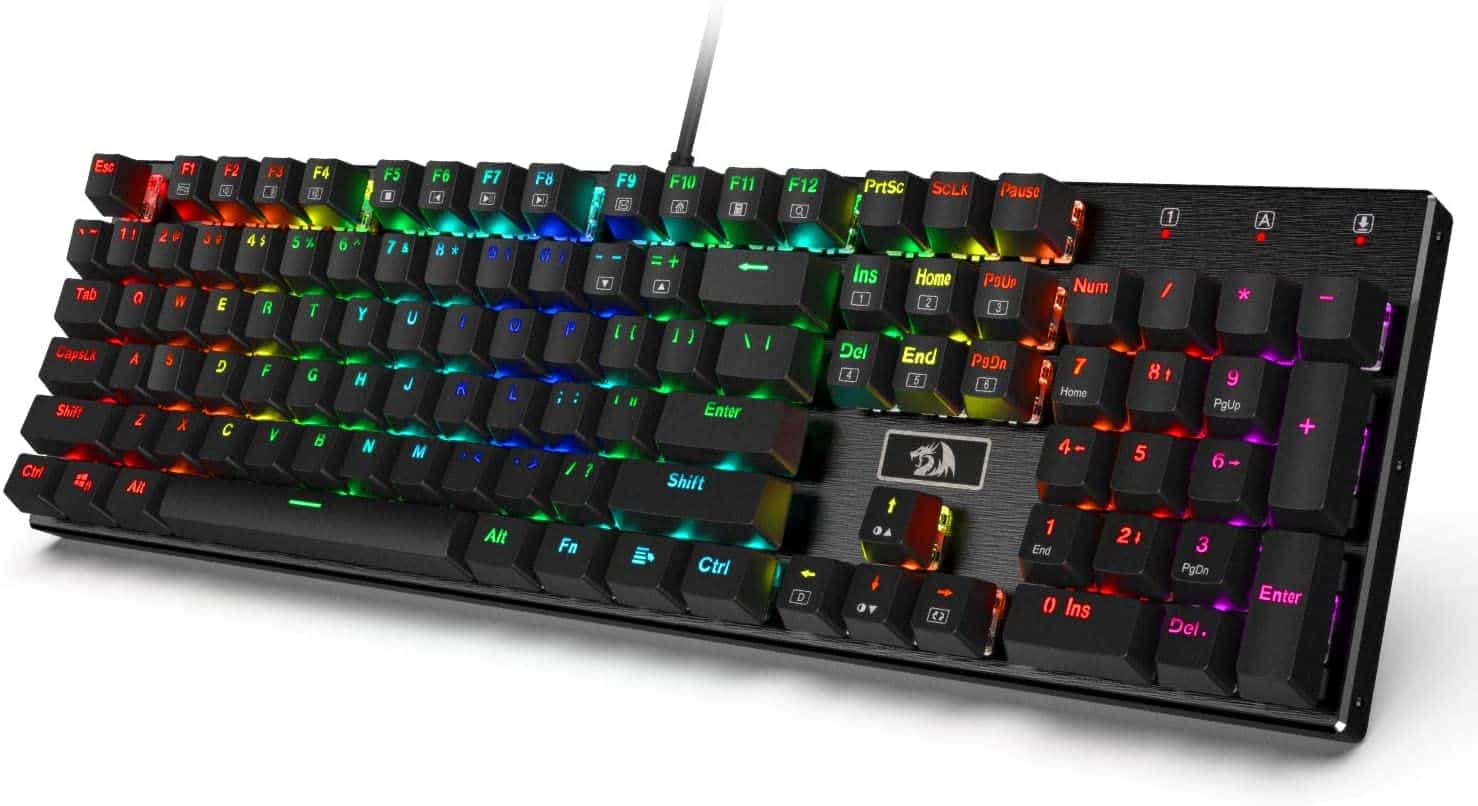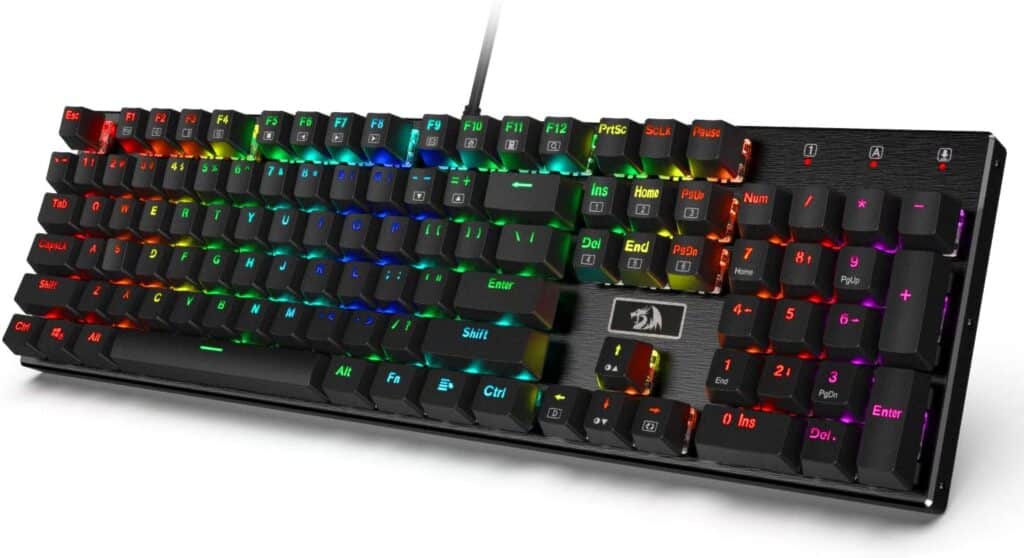 Redragon aims to bring quality products and the best service to their customers and it is highly devoted to that as a company.
Subsequently, Redragon's products are sold in more than 30 countries in Asia, North America, Africa, and Europe.
When it comes to the K556 gaming keyboard, the manufacturer claims that it offers the best gaming and typing experience, great compatibility and that it is very durable.
Specs
Who is it best for?
This is perhaps the best mechanical keyboard for gaming given that Redragon's keyboards are simply made specifically for gamers.
Backlights, loud typing sound, and very cool design speak in favor of this claim.
But of course, if you want a cool keyboard for your work, why not buy this one.
Key features
Since the previous gaming keyboard on our list was also made by Redragon, we have to initially highlight that there are a lot of similarities between K552 and K556 gaming keyboards.
Namely, just like K552, K556 has a spill-proof design and LED backlights.
Additionally, the K556 gaming keyboard is also 100% anti-ghosting, the materials it is made of are almost the same as the materials the K552 keyboard is made of, and you can shift keys such as arrow keys and WASD keys just like with K552.
However, unlike K552, the K556 mechanical keyboard is quieter so it can be more suitable for some office work and it also has 17 more keys than K552.
Now, some of you will consider this a positive thing since some people like more keys on their keyboard, but on the other hand, some will consider it a flaw, since the K556 gaming keyboard has a bigger footprint than K552 and, thus, takes up more space.
The key switches used on this mechanical keyboard are Outemu Brown switches and Redragon has included 8 extra gaming keyboard switches in the box.
The design is quite simple, but the build quality is very high and the RGB key backlighting with 18 different modes is very good.
On the bottom of this gaming keyboard, you will find two rubber pads that provide stability and two adjustable feet, which when retracted offer a slightly raised back and when extended offer a more angled setup.
K556 is plug & play keyboard and its software is very easy to use.
When it comes to the cons of this keyboard, we didn't like the lack of dedicated macro keys and the plain design which might be a problem with all Redragon keyboards.
---
3. Havit Mechanical Keyboard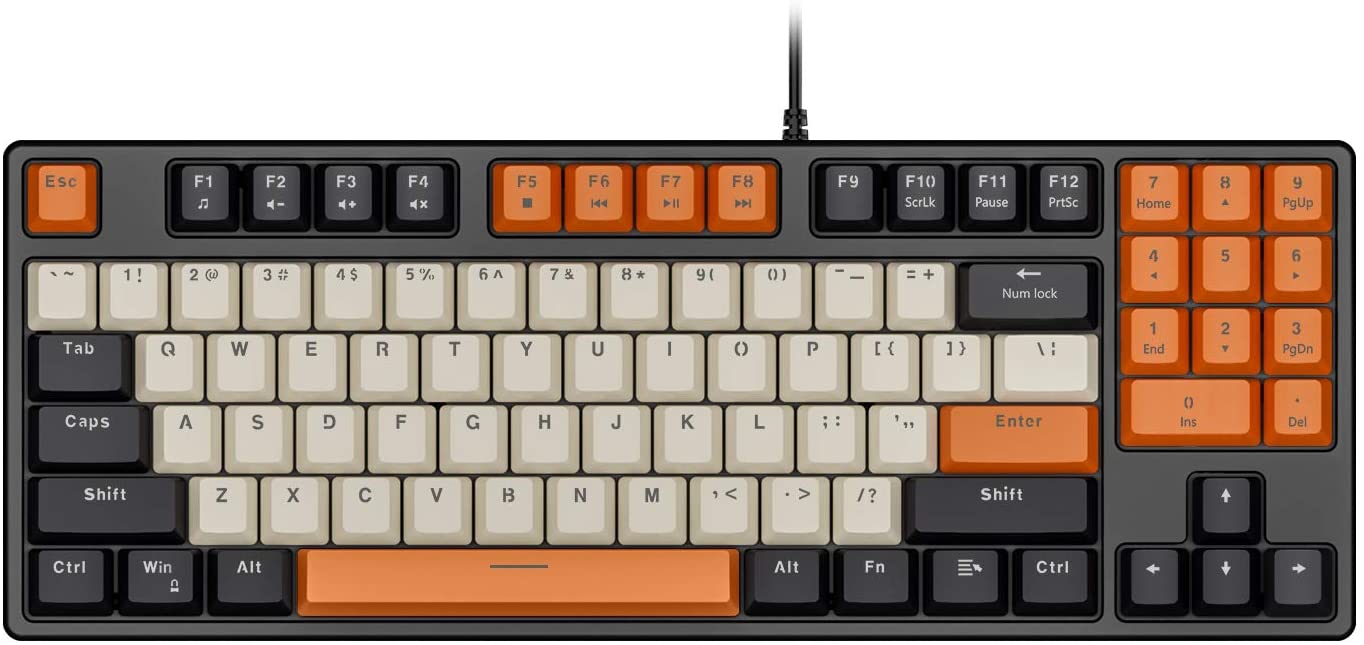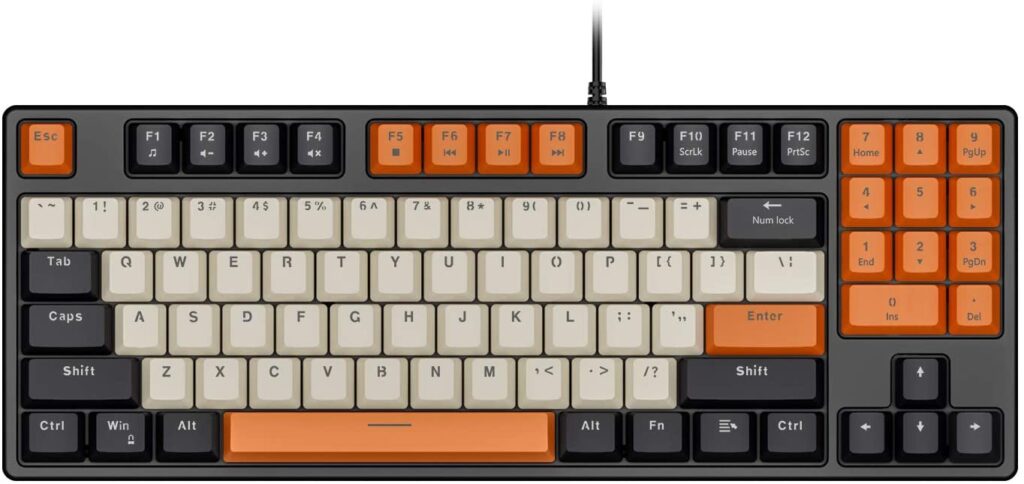 Guangzhou Havit Technology Co., Ltd was founded in 1998 in Guangdong, China.
This company's two main brands are Havit and Hakii and its main goal is serving the world and developing innovative technologies.
Havit describes its products as modern, originally designed, and high-quality and asserts that their creation is based on independent research and development.
Regarding this particular mechanical keyboard, Havit recommends it to all gamers and guarantees good performance and the best quality.
Specs
Who is it best for?
With this keyboard, it is difficult to determine whether it is more suitable for work and everyday use or gaming.
Namely, its retro style could look very good in some offices and since it is pretty silent you can be sure that you won't disturb your colleagues.
On the other hand, it is quite colorful so from that perspective, it could also look nice on a gaming desk.
Key features
Given that this keyboard has a lower number of keys, it is very compact and doesn't take up much space since it has a small footprint.
Unlike most keyboards, this one is quite silent, which is something that, according to our research, most gamers won't like, but office workers might like this characteristic.
However, whether someone will find the lack of typing sounds positive or negative depends on their personal preference.
Additionally, while most mechanical keyboards on this list have RGB backlights, this one is designed in a sort of retro style.
Namely, there are no RGB lights, and the design with orange, black, and white keys is reminiscent of some past times.
Again, whether you like that feature or not is completely up to you, but we suppose that you would agree that this keyboard is pretty unique.
However, we have to admit that the lack of typing sounds and RGB lights makes this keyboard more suitable for an office than for gaming.
This mechanical keyboard has a firm braided USB-A cable which is not detachable.
This is an ergonomic keyboard and the keys feel very spacious when you type.
Besides, you can set it to two different angles: flat, without the legs, and elevated, with the legs pulled out.
Regarding the cons of this keyboard, the major one is the low quality of the legend on the keycaps, since the letters start to fade after only a couple of weeks of use.
---
4. Das Keyboard 4 Professional


Das Keyboard was founded in 2005 in Austin, Texas, USA.
According to Das Keyboard, it makes stunning products and uses premium materials for its creation.
Additionally, Das Keyboard asserts its products provide maximum typing experience and are suitable for all typists and gamers.
As for this particular keyboard, Das Keyboard says that it delivers an unmatched experience and provides high performance.
Specs
Who is it best for?
The case with this keyboard is similar to the previous one.
Since there are two sets of standard mechanical switches you can choose whether you want a more silent or louder one, and, therefore, you can use this mechanical keyboard anywhere.
Nevertheless, if we make a judgment based on this keyboard's look since there are no backlights it, honestly, looks more like an office type of keyboard.
Key features
First of all, we need to clear up the confusion related to the number of keys.
Namely, the US version of this keyboard has 104 keys, whereas the version that is sold in Europe has 105 keys.
This mechanical keyboard is being offered with two sorts of switches.
So you practically get to choose between two sorts of Cherry MX switches: Cherry MX Brown and Cherry MX Blue.
The Cherry MX Blue switches are firmer and, thus, louder, while the Cherry MX Brown linear switches are lighter and quieter.
This keyboard is very sturdy and stable and instead of flip-out legs on the bottom side of the keyboard, which we all probably got used to, it has a magnetic foot bar for adjusting the typing angle.
Additionally, there are some very useful buttons such as Track Back, Track Forward, Play/Pause, Mute, and Sleep as well as a volume wheel.
There is also a two-port USB hub that supports USB 3.0, which is a very rare case with other mechanical keyboards, but if your computer doesn't have an available 3.0 USB port, it will work as 2.0 USB.
The key switches are high-quality and, most importantly, clicky and tactile.
Furthermore, as with the previous keyboard on our list of the best mechanical keyboards, there are no backlights, so we could say that this Das Keyboard is less aesthetically appealing than some other similar gaming keyboards.
As for the minuses of this keyboard, the first one would have to be the lack of macro keys.
Subsequently, even though this keyboard has a very high quality, we have to admit that it is somewhat expensive.
Finally, as with many other mechanical keyboards, the mechanical switches on this one are also made of ABS plastic and the legend on the keycaps wears off almost in no time.
---
5. SteelSeries Apex Pro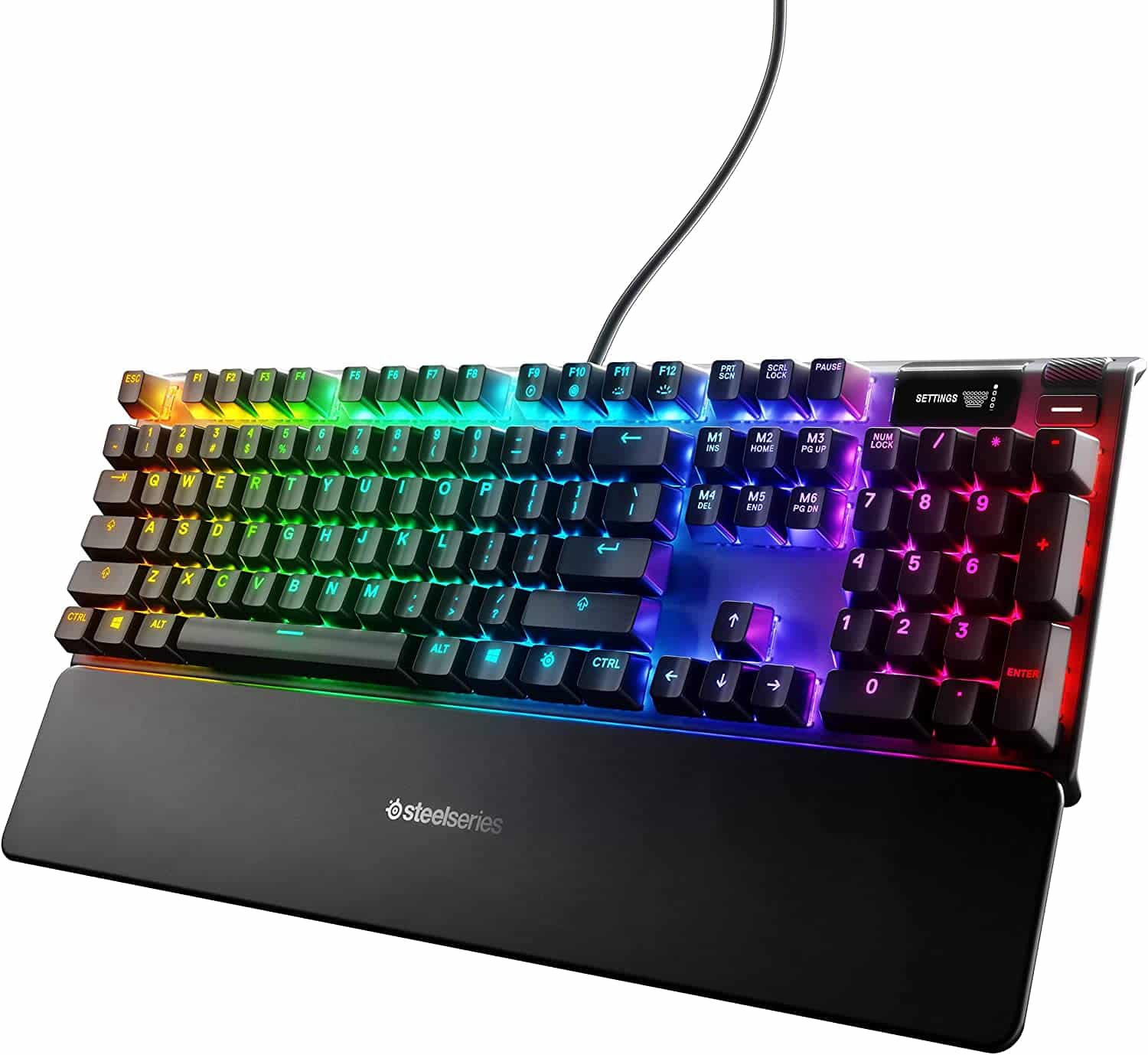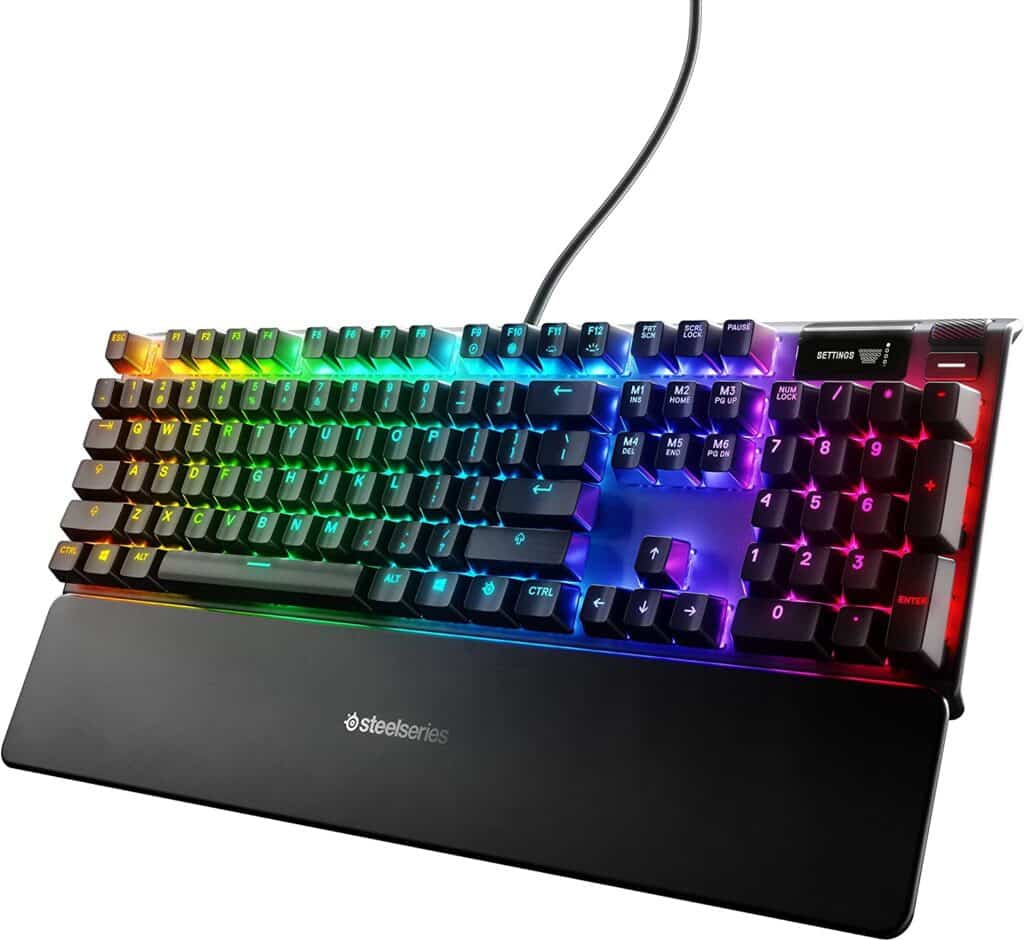 SteelSeries company was founded in 2001 and today it has offices in Atlanta, Chicago, Taipei, Lille, and Copenhagen.
SteelSeries is focused on helping gamers and growing the gaming industry and it offers some of the best gaming keyboards on the market.
Reportedly, SteelSeries introduces innovations into the gaming world and creates its products with great dedication and passion.
The manufacturer describes the Apex Pro keyboard as modern and comfortable and recommends it not only to gamers but to all people who are engaged in typing.
Specs
Who is it best for?
RGB lights definitely make this mechanical keyboard more suitable for gamers.
However, things like a wrist rest can be very useful if you spend many hours using the keyboard regardless of your job.
Key features
This mechanical gaming keyboard is 100% anti-ghosting and has a 2.0 USB passthrough port.
In order to begin using it, you will have to install the SteelSeries Engine 3 software.
The RGB lighting is excellent and certainly adds to the best gaming experience.
Of course, the lights can be turned on and off and the brightness can be adjusted to your preference using dedicated media keys.
The construction of the keyboard is made of aluminum which means that it has great stability and it is very sturdy.
There is also a customizable OLED display and the switches are OmniPoint.
An excellent thing regarding these mechanical switches is the fact that you can adjust the actuation point of almost all keys on the keyboard and, thus, customize your typing experience or encounter the best gaming.
SteelSeries Apex Pro Gaming keyboard is quite compact and doesn't take up much space.
However, in case you want additional comfort, there is a magnetic wrist rest that enlarges the footprint of the keyboard, but your wrists will enjoy and you won't feel any discomfort or pain.
Even though the keycaps are made of plastic, they are quite solid and quality and they are not very loud.
However, it lacks dual-key functions and, honestly, we would not expect that from a mechanical keyboard that has the price this one has.
What we also didn't like is the non-detachable USB cable which is very thick so it requires careful cable management since it can be easily damaged.
Additionally, there is no padding, so the keyboard is prone to attracting dust and it's not easy to keep it clean.
---
6. ANNE PRO 2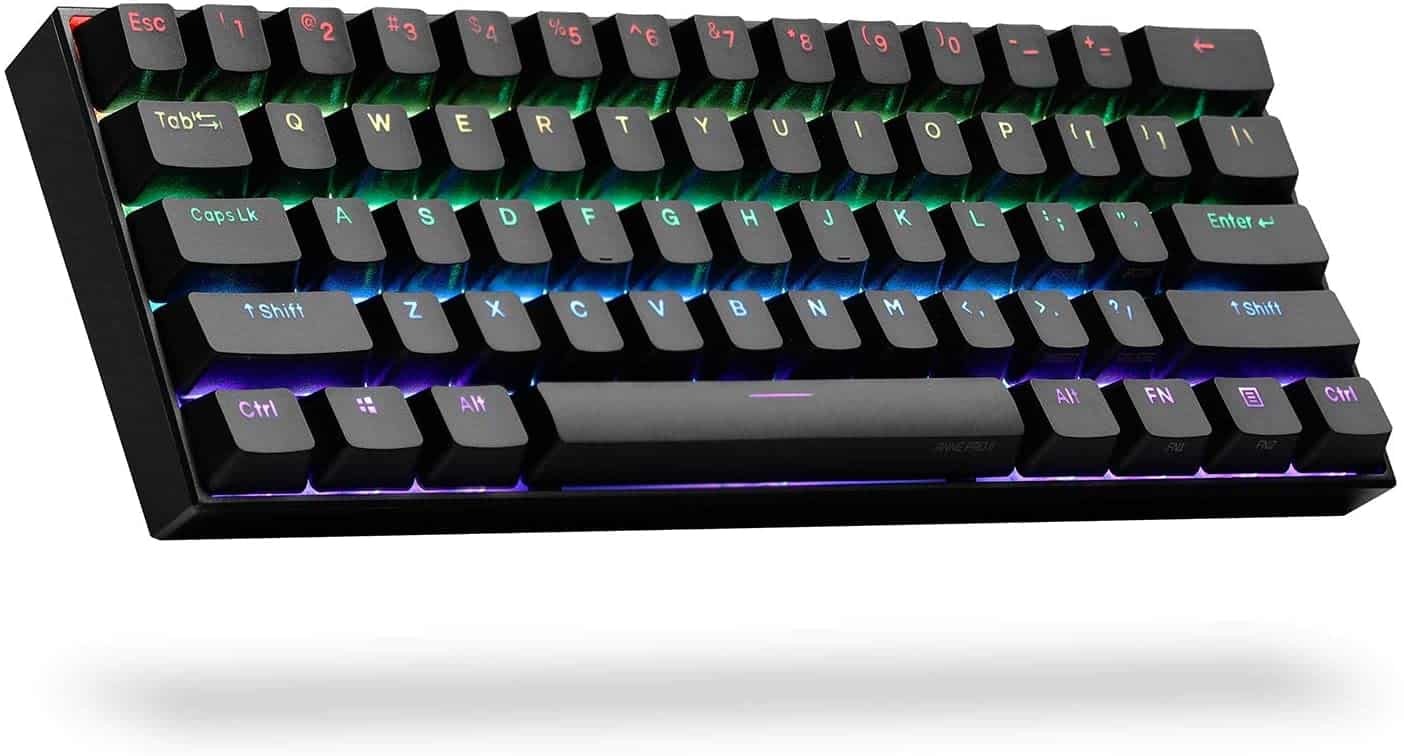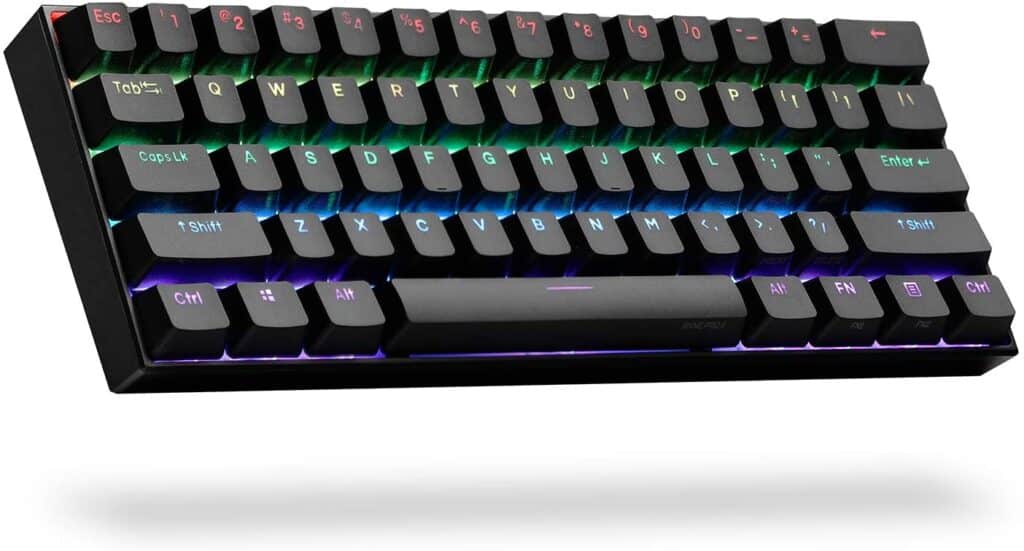 Anne Pro is an innovative keyboard company whose goal is to share the love for keyboards with its customers and to bring them the best possible service.
Anne Pro's products are, allegedly, highly compatible, stylish, reliable, and cool.
As for this mechanical keyboard, Anne Pro claims that it's its best mechanical keyboard and that it won't disappoint even the most demanding customers.
Specs
Who is it best for?
Given that this mechanical keyboard has a very small number of keys it might be more suitable for gamers since most people like to have all the necessary keys on their keyboard.
Backlights and the general design just add to this impression.
Key features
This mechanical keyboard has a very small footprint and only 61 keys, but it is quite a powerful piece of equipment.
Namely, first of all, you get to choose the switches you want and the options are Cherry, Gateron, or Kailh mechanical switches.
There are also extra keycaps included in the box and they are always necessary and useful.
So, in case some unwanted things happen to your individual keys you have the replacement.
The case is made of ABS plastic, while the keycaps are made of PBT plastic and both are high-quality and very durable.
Since the keycaps are so smooth and flexible, both typing and gaming on this mechanical keyboard are mostly silent.
The USB cable is detachable and it is a USB-C cable so we could say that the USB cable is of premium quality.
When it comes to wireless connectivity, it uses Bluetooth 4.0 which is another feature that makes this keyboard stand out and it is compatible with Windows 8-10, MacOS, Linux, Android 4.4 and above, and iOs 7.0 and above.
The battery capacity is 1900mah which means that it can be used wirelessly for up to 8 hours.
There is also an on/off switch that conserves the battery when the keyboard is not in use.
There is also the Obinskit software that comes with the keyboard and using this software you can even change each key's color and completely reprogram the lighting.
Additionally, the Anne Pro RGB backlighting effect can produce 16.8 color schemes, you can set the macro feature on up to 16 keys, and there are multiple switch options.
Finally, the design is very modern and the very small footprint just adds to the stylishness, and, although the price is a bit higher, in our opinion it's totally worth it.
The negative side of this mechanical keyboard could be the lack of Fn dedicated keys, arrow keys, as well as the lack of a number pad.
---
7. HK Gaming GK61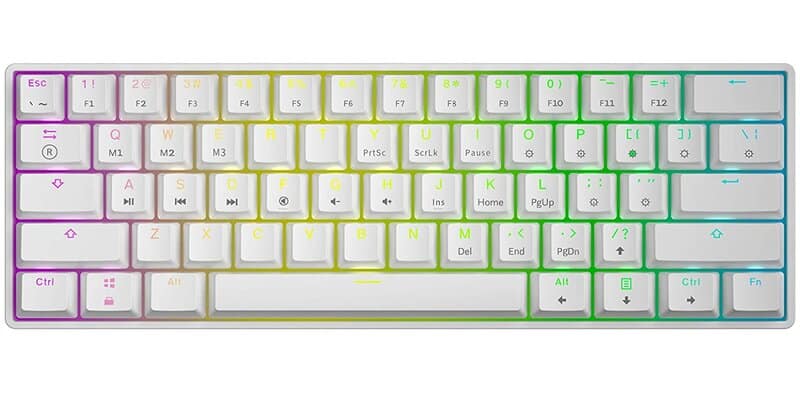 GK keyboards are created by Meckeys company.
Meckeys guarantees affordable prices and an awesome build company and presents itself as a trustworthy company.
Apart from GK, Meckeys also produces SK keyboards and other computer equipment.
When it comes to the GK61 keyboard it is described by the manufacturer as reliable, modern, compact, and the best gaming keyboard out there.
Specs
Who is it best for?
The same statement that we made about the previous keyboard on the list could be made for this one as well.
It has a small footprint, a small number of keys, and a lot of backlights, and those keyboard features are ideal for gamers.
Key features
Just like the previous one, this mechanical keyboard also has a small number of keys, only 61, and, therefore, it's very compact and has a small footprint.
It cannot work wirelessly so you cannot pair it with multiple devices at once and it has a detachable USB-C cable.
In the box, you'll also get an aluminum switch puller and a plastic keycap puller.
The base of the keyboard is made of aluminum and covered in quality plastic, so it is quite sturdy and durable.
However, you cannot expect audible and tactile feedback from this keyboard.
On the bottom side of the GK61 gaming keyboard, there are four rubber feet that prevent the keyboard from sliding.
Gateron optical switches are available in 6 different colors and that allows you to choose different levels of smoothness.
Even though there are no dedicated arrow keys, you can create their function by using the Fn button.
This button can also be used for controlling the lights, so it basically works as one of the media keys.
GK61 uses LED lights and comes with RGB lighting which provides a lot of effect and combinations.
The brightness can also be controlled and there are 21 levels in which the brightness can be adjusted.
A great thing concerning this gaming keyboard is the fact that it has a built-in microphone.
The advanced software that this gaming keyboard comes with is quality but somewhat complicated and you can use it for various things such as saving and recording macros.
Regarding the cons, we noticed that there are no kickstands on the bottom side of the keyboard so you won't be able to adjust the angle that you use it at.
Subsequently, the legend on the keycaps is prone to wearing off.
---
Things to Consider When Buying Best Clicky Keyboard
1. Typing sounds
As we mentioned in the text, according to some researches most gamers like to hear loud typing sound.
However, some like silent keyboard better and if you are an office worker your colleagues probably won't like a loud keyboard.
We included some loud as well as some silent office and gaming keyboards in this list, so you will be able to choose the one you prefer the most.
2. Build quality
If you use your keyboard a lot, you certainly want it to be sturdy and durable.
The best mechanical keyboards should have a construction made of metal (mostly aluminum) and plastic keycaps.
Those gaming keycaps should be made of high-quality plastic and you should also pay attention to the legend on them since it wears off easily and quickly on many office and gaming keyboards.
3. Number of keys and footprint
These two features are directly connected.
Mechanical keyboards with more keys will have a bigger footprint and vice versa.
Therefore, if you want to save some space, you should get a keyboard with fewer keys.
On the other hand, if you want to have all the necessary keys there you should be prepared to give up some desk space.
4. Backlights
Backlights are probably the least important thing on this "Things to consider" list.
Many gamers like them because they add to the aesthetic feature of the keyboard and they can also be useful if you are gaming at night.
Nevertheless, if you are going to use your keyboard in the office, backlights probably won't be necessary.
Frequently Asked Questions
What is the most clicky keyboard?
We can't actually tell which keyboard is the most clicky one, but if you should probably look for Cherry MX switches such as the Blue ones or Kailh BOX White switches since they are some of the loudest out there. Some companies use their own proprietary switches and their keyboard can also be somewhat clicky. On the other hand, Cherry MX Brown switches are some of the more silent ones.
Are clicky keyboards better?
Once more, it depends on your preference, but as we've mentioned in the text most gamers like mechanical clicky keyboards better given that they have more tactile switches, are more durable, portable, and have a smaller footprint and, usually, lower price.
What are the clicky keyboards called?
Clicky keyboards are called that way mostly because you can usually hear the sound of clicking very clearly since they have clicky switches. The other name for clicky keyboards is mechanical keyboards because they have individual mechanical switches under each key.
Conclusion
We have tried to include different types of mechanical clicky keyboards on our list so that anyone could find at least one keyboard that fits them perfectly.
Therefore, we are hoping that this list of the best mechanical keyboards will be useful to all people in need of a keyboard and hopefully the information about each keyboard we have gathered will make their decision-making process much easier.
Related: Best Quiet Gaming Keyboards for Streaming
Join our Discord Group. Ask questions, team up with fellow streamers, share memes, and more!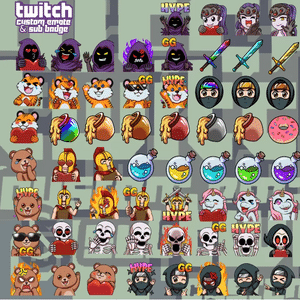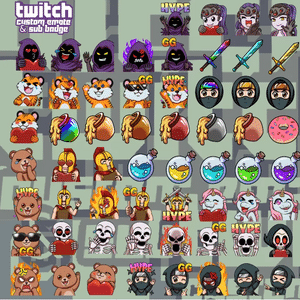 Claim for FREE:
FREE Emote PACKS
A book on growing your audience