Having a high-quality webcam is, as you probably already know, very important when it comes to having good streams.
Logitech webcams have always been among the best on the market, so getting stuck in between two of the models they have is not a rare situation to be in.
That's why I made a comparison between two particularly popular ones, so after reading this, you'll know which one of these is more compatible with your needs.
Logitech c925e vs c920: Which Webcam is Better for Streaming
Comparison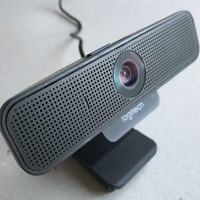 Logitech C925e
Resolution: 1080p/30fps, and 720p/30fps
Focus: Autofocus
Field of View: 78°
Lens: Glass
2 omnidirectional microphones
Included built-in privacy shutter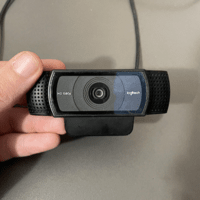 Logitech C920
Resolution: 1080p/30fps, and 720p/30fps
Focus: Autofocus
Field of View: 78°
Lens: Full HD Glass
Microphone: 2 stereo microphones
Privacy Shutter: Not included
Logitech C920 vs C925e – What's the difference
These two webcams don't only have a very similar name but a very similar design, as well. Both of them are sleek, thin rectangles and very lightweight devices.
Despite being quite small in size and not at all heavy, these webcams are very sturdy and stable once gripped to your monitor. However, the Logitech C925e is a bit more expensive and comes with a few additional features compared to the Logitech C920.
One of those things is a built-in privacy cover, which is a highly important feature for a lot of people. Sure, you can work your way around with that by adding something else over that might even do a better job, but having it built-in is certainly a big plus.
Product Quality
The main difference when you look at the design of these webcams is the fact that the C925e is more modern and sleek, while the C920 holds a more sturdy, basic webcam design to it. Because of that, it might seem like that one might be more durable, as it looks more sturdy, but they are actually almost the same weight, which tells me that they're quite similar when it comes to that.

They come with a tripod mount that was shown to be of good quality plastic, so it won't break on you after a short while. Both of the webcams have lenses that are made of glass, so that shouldn't be on your list of worries. Finally, the clip each one of the cameras comes with is good and won't cause you much trouble.
So, when you draw a line, it seems like each device is very well made, and quality isn't something that makes a huge difference since it's good on both.
Image And Audio Quality
Resolution
Maximum resolution is another feature where there isn't much difference between these two – actually, there's none. With both of these webcams, you can expect to capture videos and have them be at either 720p or 1080p, with a frame rate of 30fps.
While streaming, the frame rate can be important to some, so if having it at 60fps is on your list of must-haves, then neither of these will be the right camera for you. However, this mostly depends on the content you stream on your account, so if the video frame rate wasn't something you worried about before this, there's no reason to pay higher prices in order to get that.
Whatever you choose, you're sure to get incomparably better quality than the one from your laptop webcam; it's a very big jump from that.
Field Of View
When it comes to the field of view, this is again something where the ability is the same in both webcams – they both have a 78-degree field of view. This is more or less a standard at this point and what most of the webcams support.
If you need a lot of things to be included from your background, then you might need something with a wider field of view, but I think that a device like this will picture just enough. If you need less to be seen, you can always zoom the video in via whatever software you're using to deal with webcam settings during the stream.
Image Quality
The image quality is more or less similar with these two, and you will get crisp images that are very color-accurate, at a level that might not be expected from a webcam. However, this is an aspect where the higher price of the Logitech C925e is becoming to be more justified since it's capable of a bit more.
With the Logitech C925e, you will get sharper and brighter pictures and video quality compared to what you get with the Logitech C920 webcam. Also, the Logitech C925e webcam comes with light enhancement technology, the upgraded RingLight 2 technology, that gives your recording with fixing the light and colors.

The main settings that are related to this technology are the ones that make sure that the subject stays well-lit even in low-light conditions, so it's great when it comes to functionality. This will come incredibly handy if you work with one or more computers and don't have enough budget to get some more proper lighting or don't have the money in your budget to do so.
When it comes to focusing, these are basically the same webcam, as they both have auto focus. It might not always work the best, and it might need some time to adjust when you move a bit more, but when you're in a Skype business call, and especially when you're on stream, you will probably enjoy not having to worry about focus and having to change it wherever it's needed.
In comparison, this makes the Logitech C925e better suited for streaming than the C920.
Microphone
Both of the webcams come with two microphones. However, the Logitech C925e could probably support more, as it has a wider range, and the sensor can work even with more than one person.
Should the mic device in your webcam be the main audio device that you use for recording? Probably not, as they sometimes don't pick up things the way we want them to, and background noise is probably going to be included in that. But is this going to sound better from the laptop mic? It's very likely.
The microphones on the Logitech C925e have a better range since they are omnidirectional mics, meaning that they can pick up sounds from many different directions. This can be useful not only when you are streaming but also for Zoom and Skype business calls. And even more so for casual calls, as you can change your place and have the microphone's sensor still pick your voice.
Logitech C920 comes with two stereo mics, which can work well for Skye and Zoom calls way better than the mic on your laptop, so having that as an addition to the webcam can work well for you, as you won't need to buy additional devices.
But, just to clarify – I will always recommend that you get separate devices for the mic and speakers, rather than rely on the ones built in a webcam because there is no comparison when it comes to sound quality. But, if that's not currently in your budget, the devices with the built-in mics could definitely be of service before you're able to get a separate mic.
Software
You most likely won't have any software issues, as both are compatible with most streaming and video conferencing software – Zoom, Skype, Microsoft Teams, and so on. This also goes for streaming ones, like OBS, or of course, the Logitech camera software.
When it comes to operating systems, there's just one slight difference – Logitech C925e can work with Linux in addition to macOS and Windows, while the Logitech C920 doesn't work with Linux devices.
Conclusion
When we consider all the features I mentioned above, you can draw the simple conclusion that both of these webcams are good webcams, but that they might work better for different uses.
So, if you are a beginner in streaming or need a good home webcam to work with many different needs, the Logitech C920 will be the best choice for you.
If you are a streamer who works on building a career, or if you need a webcam for office and business purposes, you are then investing just a tad more money into the Logitech C925e will work out great!
FAQ
Is Logitech C925E good?
Logitech C925e is a great webcam, especially if you need a webcam that will serve as more than just a home camera. It has some great features, like the RingLight 2 technology, which works great in low light conditions.
Also, it has 2 built-in omnidirectional microphones that will serve you well if you don't yet have a separate microphone to work with. Another bonus is the design – very sleek and modern, and it will very likely fit very nicely with your remaining setup.
It also has a privacy shutter that's built-in, so you won't have to worry about that either.
What is better than the C920?
The Logitech C920 is a favorite and has been for a long time for a good reason. It provides you with good quality videos, with a resolution of either 720 or 1080 pixels and a 30fps frame rate.
Besides that, it's also very well priced, so you won't have to break the bank in order to get a nice webcam for yourself. It has automatic HD light correction, so it will help you out when the lighting conditions you're working with might not be at the finest.