In the past year, the main question among streamers has been what does DMCA stands for. The Digital Millennium Copyright Act is the set of laws that laid the foundations for online copyright protection.
---
Key Takeaway
No use of copyrighted music on your channel – no popular songs and music without a license!
If you're using your own work and want to protect it from someone using it, you need to submit a request and register your work
Twitch owns your streaming content for 24h
If you accidentally use copyrighted content, you'll get a DMCA warning and you can take it down quickly. You have 3 strikes.
iTunes or Spotify subscriptions are not copyright licenses and you still can't use that music in your streams.
You can use your own music, Twitch copyright-free music, Streamable music, Epidemic Sound services, or Own3d free music.
---
DMCA is of global importance because platforms like Twitch would find it difficult to monitor copyright abuse without such a legal framework.
Twitch took these laws seriously in the past year. All streamers should be familiar with these regulations, and not risk having their account banned!
In this article, we will answer all your questions about DMCA Twitch and how to avoid copyright strikes!
DMCA Twitch
Twitch has the right to remove any content on your account that violates copyright law. In the last year, users have been warned that their accounts will be revoked if they receive three notices.
Twitch usually only mutates unfavorable content, but in some cases, the content is deleted months after it was published.
Many streamers are wondering if it is even possible to play copyrighted music on twitch streams. Whether you are a popular or a small streamer on Twitch, Terms of Service do not allow the use of copyrighted content on your channel.
Some smaller streamers are not warned immediately, but it could happen in a few months after the Vods have been posted. Bots are scanning the content 24/7 and they can mute your VoD right away or send a copy strike.
If you have used the protected content on your channel, you will receive DMCA notifications in your Twitch inbox, and an email sent directly to an email address linked to your Twitch channel.
All content creators are now probably asking how do I copyright something? Well, you must submit an application and officially register your work.
In the event that your content is misused, you will have proof that you own the copyright to that work. Another question would probably be how much does it cost to copyright. You can always look up copyright owners on YouTube and learn from their experience. The standard fee is $ 45 and may increase depending on the amount of work you assign copyright to.
Takedown Notice
DMCA takedown is a formal request to remove all copyrighted material used on private channels without permission, and it is a way to protect online service providers from liability for copyright infringement.
The DMCA protection allows anyone to submit copyright strikes, which is an official notice to the service provider. The notice identifies the content posted by the user and states that the applicant considers that it infringes their copyright.
Due to secure provisions in the DMCA, service providers are encouraged to quickly remove content that allegedly infringes copyright. If they do not take the contents quickly, they may be liable for pecuniary damage if they are appointed in court.
This is a much faster way to take down the content outside of the usual legal path as it only requires sending a notice of removal that can be prepared without a lawyer. Instead of a lengthy lawsuit, the content is likely to be deleted fairly quickly and without court costs.
The applicant must fill in a form indicating the violation of this right. These requirements are very common on streaming platforms, especially since last year when these laws seem to have been taken a little more seriously. Most streamers received a copy strike and were forced to remove some old content that contained copyrighted material.
Avoid DMCA Strike
You are not allowed to share the music you have not created and you are not authorized to use, content created by other twitch users, copied content from other websites, series, movies, and video games downloaded from the Internet as well as all content from unauthorized privately owned servers.
If your content has been discontinued due to the Digital Millennium Copyright act, your service provider will alert you.
If the person who submitted the original notice of termination does not take further action such as requesting a court decision, the suspended work may be returned after 10 working days.
If you find yourself in a situation where you have received takedown requests for the content you are authorized to use, you have the option to file a "counter-notice" to Twitch with the proof of your copyright claims and avoid the strike. Takedown notifications are sent to your network service provider stating that an error has occurred.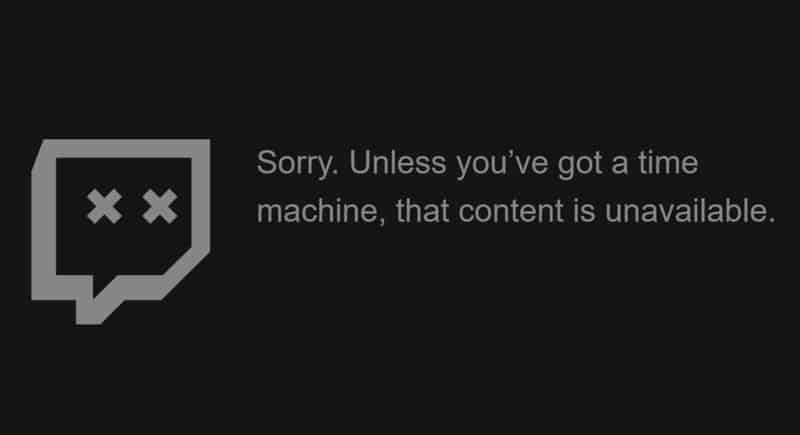 It's way easier to add free content to your streams! Explore alternatives and avoid using even music clips from other artists or videos.
The best way to avoid DMCA takedown notices is to follow the rules prohibiting the use of other content creator's work in the situations we mentioned in the previous paragraph.
Since last year, the measures have been more serious and, regardless of their popularity, all streamers have received warnings. The vast majority of the repeat infringer's channels have been banned.
If you make an innocent mistake and get a DMCA warning, there is no need to worry because if you immediately remove that content from your channel you won't get any additional strikes. Only in the case of three warnings will your order be banned.
Once you have made a mistake, you will certainly be more careful the next time. This law is disliked by music lovers, but there are thousands of songs from different genres that you can insert during your live streaming and reduce the risk of violating the terms of the Twitch service platform.
Music for Twitch
Twitch DMCA claims have recently increased and Twitch streamers are now more than ever in need of content creators who make free music. We will mention some of the most popular websites in the music industry.
Please note, purchasing songs on iTunes or Spotify subscriptions does not give you the copyright to play the song on your Twitch channel.
Licensed music owned by music publishers on YouTube is also protected. If you own the song, or you have obtained permission to record labels from the copyright holder you are free to use that material.
Of course, you can use Twitch copyright music from platforms that don't require copyright ownership or permission to be used.
Streamable music is easily available online. One of the better copyright-free libraries is Stream Beats. You can download Streambeats for free from their website. It is available on streaming platforms and you can find various music labels.
Epidemic Sound has provided a free 30-day version with music licensing services. With this membership, you will be able to download over 30,000 songs and twice as many sound effects for your live streams!
Another great platform is OWN3D where you can get over 200 songs for free and ready to use without any copyright issues.
Related: Best Copyright Free Music for Twitch
Conclusion
You can always find content that is available for use without copyright.
It's simple and fun, you just need to get used to it so you don't accidentally post unwanted copyrighted material and get a surprise DMCA warning letter.
In addition to what we have listed regarding the music for Twitch, there are many websites that offer other content as well. It is better to use google and find what suits you rather than risk the survival of your channel.
Whether you are a well-established Twitch streamer or just starting out, this article will give you answers to all your questions about copyright abuse on content and quality solutions.
This way, no copyright law in the universe could affect your channel!
Frequently Asked Question
What does DMCA mean?
Digital Millennium Copyright Act is a set of US laws. The law was passed by the U.S. Senate on May 14, 1998. in an attempt to protect rights holders on the internet.
Although the law was passed in America, it also has its form in the European Union according to EU Directive 2000/31. Today, anyone who uses copyrighted content can be prosecuted under the law in the United States, as well as in Europe under similar laws.
What is a DMCA strike?
DMCA strike is an official notice to a service provider of violated copyright law. This penal system is used by platforms like Twitch and YouTube against anyone who infringes copyright.
If this is the first time that he has infringed copyright, the user will not be banned from the account until he achieves three strikes. Unwanted content will definitely be removed.
Who enforces DMCA?
In addition to private rights holders, and U.S. federal enforcement courts, government agencies such as the FBI are involved in enforcing the DMCA.
The law finds that all content that infringes the copyright of the owner is removed, and government agencies are involved to keep any infringement on the radar. The owner may request a DMCA warning or sue a website that did not remove the infringing content.
Can you get DMCA live on Twitch?
During the live streams, there are warnings and 24-hour bans on playing any music content. In most cases, Twitch mutes any VoD using copyrighted songs.
But given the size of the platform, not every live stream is always banned after violating this rule, but only after the VoD is released does it receive a DMCA warning.
The plan is to implement this feature as well, so streamers should definitely be more careful and not test the system.
How does DMCA on Twitch work?
If you use another user's copyrighted work on your channel, the DMCA will send Twitch a notice of that content and a request to remove it.
The service provider's policy is to comply with digital copyright notices as well as other laws. By the Terms of Service Twitch is required to ban user accounts that have received more than three DMCA warnings.