Whenever there is a discussion on the hardware needed for successful streaming, an often overlooked piece of hardware is the streaming keyboard.
With so many choices on the market, it can be difficult to choose the right one. In my opinion, the best keyboard for streaming is SteelSeries Apex 3 because of its durability, comfort, and a plethora of handy features like Dedicated Multimedia Controls.
Read on to learn more about this keyboard, and about the other models that made it on this list.
QUICK OVERVIEW: Best Keyboard for Streaming
2.8 lbs weight
USB Connectivity

Customizable macros
104 keys

Ergonomic wrist rest
Durable, allows up to 80 million clicks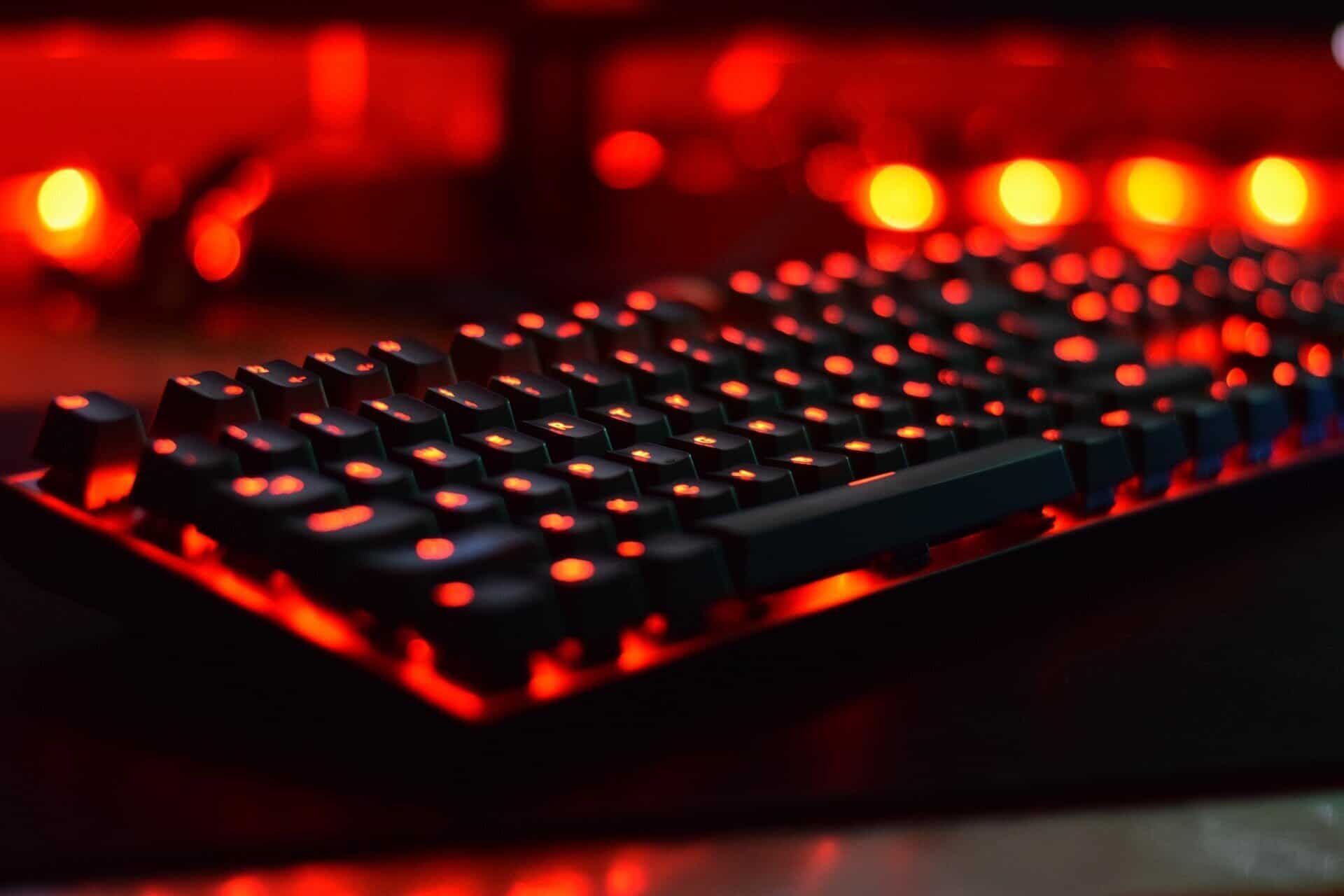 Best Keyboard for Streaming
Reviewed & Tested
Keyboards are an essential part of any PC set up and you would be hard-pressed to find anyone using a PC for anything without a keyboard, let alone streaming without a keyboard.
I have done my research on the best twitch keyboard, tested several models, and here are 5 Keyboards that have stood out.
1. SteelSeries Apex 3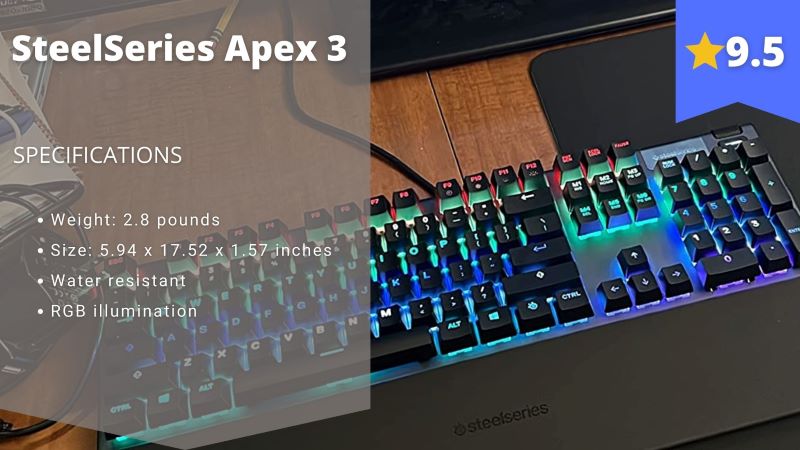 Stefan's Take:
I knew from the start that this SteelSeries keyboard wouldn't disappoint me because SteelSeries is well known for its quality and innovations.

What I liked about this keyboard was its durability, ability to customize it to my liking, and Whisper Quiet Gaming Switches – I think this is the feature that my viewers appreciated the most.

Also, multimedia controls were quite handy, so this is a winner in my book, no doubt!
| | |
| --- | --- |
| Comfort | 9 |
| Connectivity | 10 |
| Durability | 9 |
| Extra Function Keys | 10 |
Why do I think SteelSeries Apex 3 is the best among these?
This keyboard is silent (something your viewers will appreciate), well-made, with a great tactile feel and speed, and thanks to ergonomic design, you can play and stream for hours without any discomfort.
Moreover, SteelSeries efforts are often concentrated on innovation, they produce some of the best gaming keyboards on the market, which you can see in this keyboard. Multimedia control is a quite practical feature.
Who is it for?
The SteelSeries Apex 3 RGB Gaming Keyboard is excellent for anyone that is looking for a professional gaming keyboard with all the needed features but does not prefer mechanical switches.
This keyboard has excellent lighting customization options, a removable magnetic wrist rest, and 3-way cable routing which ensures this keyboard is aesthetic, and comfortable, and reduces desk clutter.

This keyboard is excellent for anyone who wishes to make the first step into next-level gaming. It provides all the necessary features of a good streaming keyboard and some more.
Key features
The Apex 3 is IP32 Water Resistant, to ensure no damage comes from accidental spills that occasionally happen during long and lively gaming sessions.
The 10-Zone RGB Illumination this keyboard comes with allows for customization of the lighting to your liking.
The lighting is not as adjustable as the Razer keyboards for example, but it will still satisfy most people's visual needs.
Even though the switches are not mechanical the Whisper Quiet Gaming Switches are excellent for streaming as they produce next to no noise and ensure a pleasant listening experience for your viewer without unnecessary clicks.
The Dedicated Multimedia Controls allow for lowering the volume and changing songs with just a press of a button, to not disturb the flow of gaming.
The Premium Magnetic Wrist Rest provides full palm support and comfort and is easily removed and put back into place.
Pros
Silent
Comfortable
A lot of features
2. Razer BlackWidow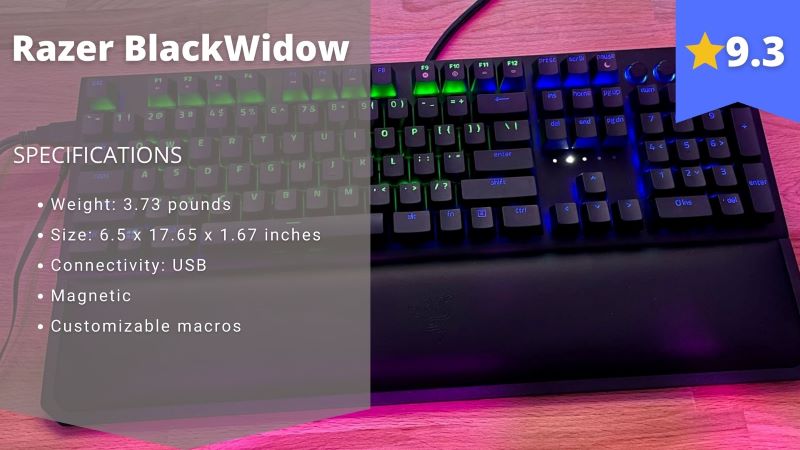 Stefan's Take:
BlackWidow has silent keys, integrated audio output, and completely programmable macros. All of the added control buttons really make streaming easier –  I could easily change the volume and playlists or pause the game if needed.
| | |
| --- | --- |
| Comfort | 9 |
| Connectivity | 9 |
| Durability | 10 |
| Extra Function Keys | 9 |
The Razer BlackWidow Elite Mechanical Gaming Keyboard (Orange Mechanical Switches) is one of the best-selling higher-end keyboards, though it might be out of some people's price range, it is well worth the money.
Who is it for?
This keyboard is excellent for anyone that is looking for a high-quality fully customizable keyboard.
Some of the more advanced features are better suited for more choosy users who prefer the visual aspect to be exactly like they envisioned it.
The added buttons: volume control, mute bottom, and media controls (Pause Music, next, back) are very useful to have on a twitch keyboard for ease of use while streaming, and can help avoid situations where you have to pause your game to adjust the volume or change songs.
Key features
The military-grade metal it is made from ensures this streaming keyboard will last for a very long time and can withstand any sort of use and abuse and still look good and feel good.
The customizable lighting can make the keyboard fit aesthetically into virtually any setup and can be adjusted to anyone's visual preferences with the software provided with the keyboard.
The software provided for adjusting the RGB settings of the keyboard can be a bit clunky and hard to use for more advanced features.
The integrated audio output and USB help with better cable management and enable an easier setup and less clutter on your streaming desk.
Pros
Silent mechanical keys
Integrated audio output
Fully programmable lighting and macros
3. Razer Ornata
Stefan's Take:
Unlike the first Razer model, this one doesn't have a mechanical keyboard, but the mecha-membrane switches still performed well. Again, I liked the programmable macros, but the design really blew me away. The wrist rest made streaming for hours much more enjoyable.
| | |
| --- | --- |
| Comfort | 9 |
| Connectivity | 9 |
| Durability | 9 |
| Extra Function Keys | 9 |
Another keyboard made by Razer, The fact that two of their keyboards made it onto our list just confirms Razer's place in the market as one of the most popular keyboard manufacturers.
Who is it for?
The Razer Ornata Chroma Gaming Keyboard does not disappoint.
Even though it does not have mechanical keys per se, the High-Performance Mecha-Membrane Switches Provide the same tactile feel as a mechanical key with more of a "rubbery" feel.
The Ornata Chroma is similar in some aspects to the BlackWidow Elite in its customizable features and quality of design, but it lacks some of the durability aspects.
I would recommend this keyboard to much the same people I would recommend the last one to with the added caveat that some of the "feel" elements of this keyboard are not up-to-par with the BlackWidow Elite.
This keyboard does come with an 80 million clicks warranty.
Key features
The Fully Programmable Macro Support Razer Hypershift allows for all keys and keypress combinations to be remapped to execute complex commands.
The lighting effects are very similar to the BlackWidow Elite's lighting and are adjustable in much the same way.
This keyboard comes with a magnetic Wrist Rest that is very comfortable and highly praised by the reviews which allows for many hours of enjoyable use.
The magnetic Wrist Rest is easily removed but does not move at all when set up.
The Switches are excellent for long gaming sessions and relatively quiet to reduce microphone bleed, enabling a much better viewing experience, especially when paired with a noise gate (either software or hardware).
Pros
Fully programmable lighting and macros
Comfortable
Switches feel good
Cons
Not many advanced options
4. Corsair K70 RGB MK.2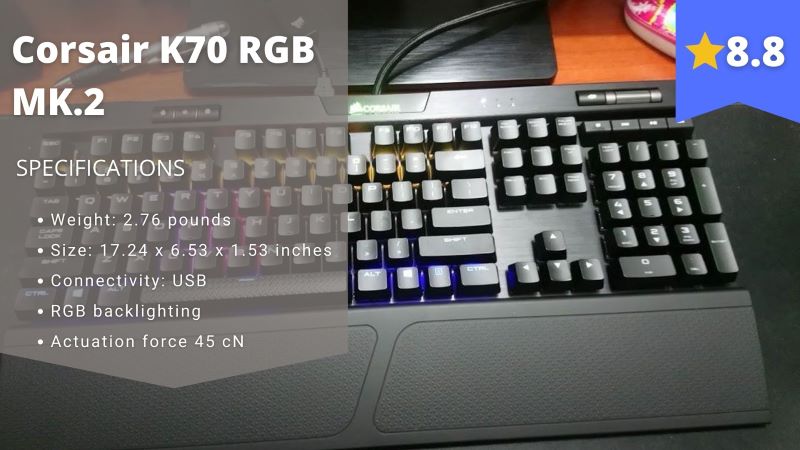 Stefan's Take:
The feature that amazed me was durability. I really liked the high-quality aluminum frame – it's worth every penny. Also, the option to customization it and integrated audio output was a good addition.
| | |
| --- | --- |
| Comfort | 9 |
| Connectivity | 9 |
| Durability | 9 |
| Extra Function Keys | 8 |
The Corsair K70 RGB MK.2 Mechanical Gaming Keyboard is their high-end gaming keyboard, built to last and provide a long and enjoyable experience to anyone interested in gaming and streaming keyboards.
Who is it for?
The Corsair K70 RGB MK.2 Mechanical Gaming Keyboard will provide an excellent experience to anyone looking for a high-end keyboard.
The keys are comfortable and relatively silent and the built-in macro and lighting storage allows 3 profiles without the need to use any external software as opposed to the Razer BlackWidow elite.
For those who want more color profiles and more intricate lighting effects, the CORSAIR CUE software enables dynamic lighting control, intricate macro programming, and full lighting synchronization across all your different CORSAIR peripherals, coolers, fans, and more.
Key features
This keyboard has an Aircraft-grade aluminum frame, built to withstand a lifetime of streaming. The durability is a huge plus for this keyboard.
The 8MB of profile storage with macro and lighting playback allows for up to 3 different profiles without the need for any external software.
Every key is multicolor RGB backlit and allows for customization that can also be further optimized with the provided CORSAIR iCUE software.
The Cherry MX Red switches are linear and silent and provide an excellent feel for gaming as well as being very reliable.
The USB pass-through port provides an easy way to connect your mouse and headset without the need to clutter your PC ports, allowing for better cable management.
Pros
Silent mechanical keys
Integrated audio output
Very durable
5. Corsair K63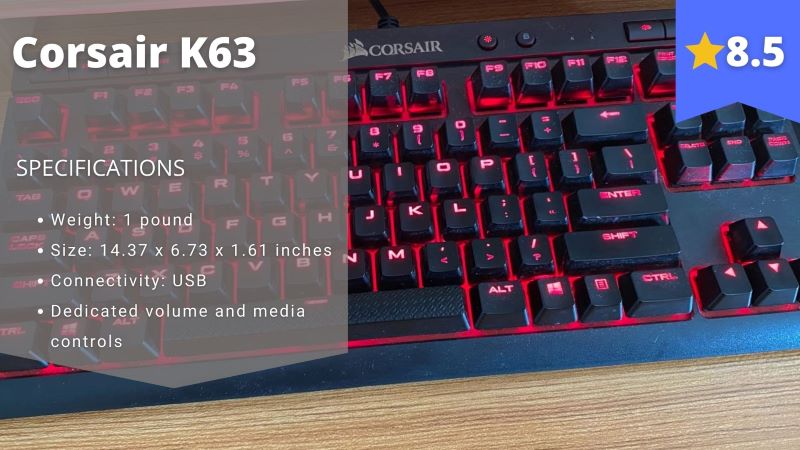 Stefan's Take:
What I liked about this Corsair K63 was its design – it takes way less desk space compared to other keyboards on this list, yet it has similar features: customization, silent keys, and complete key rollover with excellent accuracy.
| | |
| --- | --- |
| Comfort | 8 |
| Connectivity | 8 |
| Durability | 9 |
| Extra Function Keys | 9 |
Next in line, I have another keyboard by Corsair called the Corsair K63 Compact Mechanical Gaming Keyboard.
This streaming keyboard provides exactly what is promised, a compact portable Mechanical keyboard that can easily fit into any setup.
Who is it for?
The Corsair K63 Compact is excellent for anyone that needs more desk space for their mouse or travels a lot.
It does have highly customizable lighting effects but they are a bit more limited when compared to the already mentioned keyboards on this list.
The backlighting enables a very dynamic and pleasurable experience, but it might not correlate with everyone's lighting needs.
The Corsair K63 Compact is the best streaming keyboard for someone who travels a lot or has very limited desk space.
But it might not be the best pick for anyone who prefers a lot of lighting effects or a very heavy keyboard.
Key features
This keyboard has 100 percent anti-ghosting with full key rollover which ensures accuracy, so every keystroke translates directly into accurate gameplay.
The Red Backlighting is fully adjustable and allows some customizations with Corsairs software CUE. The 100 percent Cherry MX red mechanical key switches are relatively silent and deliver the ultimate performance and competitive advantage.
Things to Consider When Buying Streaming Keyboards
1. Durability
Durability is one of the most important aspects we need to take into consideration when choosing to invest in a streaming keyboard.
To be able to succeed as a streamer you need to spend a lot of long hours gaming and, in general, using your keyboard.
A sturdy keyboard that can withstand countless hours of aggressive use is of the essence here, if a keyboard is of low-quality materials a chance of failure, in a high-intensity gaming situation where emotional outbursts are a frequent thing, is eminent.
A keyboard that is of high built quality and can withstand physical mistreatment for long periods is very important, but also a keyboard that can be easily cleaned and not easily threatened by possible liquid spillage is something to be on the lookout for.
2. Comfort
The importance of comfort must not be overlooked when buying any piece of streaming gear, especially an essential part, such as the keyboard.
Keeping your hand in an uncomfortable position for long periods may lead to muscle strain and possibly calluses.
An overall uncomfortable keyboard leads to a slower reaction response and thus, an inability to achieve peak performance.
Key size and their placement is also something to look out for when buying a new streaming keyboard, if the new keyboard is drastically different than the previous, it might take some time to get used to it.
3. Noise (clickiness)
A noisy keyboard can be a major distraction for the streamer and the viewers. When playing a game where the ability to accurately hear what's going on is important to achieving the objective.
Having that obscured by the noise of the keyboard can be a terrible nuisance. Constant clicking can annoy the viewers and can easily make someone's first impression bad.
4. Extra Function Keys
Accessible shortcuts are a necessity when streaming, due to the multitasking nature of the activity. A keyboard with extra function keys allows for easier access to options that would otherwise take an unnecessary amount of time to adjust and would therefore drive the viewer's attention away from the live stream and distract the streamer from gaming.
5. Design
A great design leaves no person indifferent. Whether it's the led lighting or the overall shape of the keyboard, the font design, or color choices, a manufacturer's keen attention to detail might be the main reason why someone chooses a certain keyboard.
You might disagree with certain design choices but you just can't argue with taste.  The key thing to look for in the overall practicality of the design is whether it suits your needs and whether it pleases the aesthetic of the space it will occupy when bought.
6. Connectivity
A USB cable connection as secure and reliable as it might seem might not be the preferable choice for everyone.
Going wireless and not having a seemingly trivial thing such as a cable "tie you down" to a certain place can be a liberating experience, but sometimes also a crippling one.
A dual connection is a much-needed feature nowadays and having a choice between connecting via cable and wirelessly might be a thing to consider when buying a keyboard.
When not sure what connection suits you, it's good to have both.  
Bluetooth wireless connection as practical and comfortable as it might seem might suffer from interference and latency issues and in a fast-paced environment of gaming, such flaws present a major problem.
Conclusion
When it comes to choosing the best streaming keyboard, your personal preference is the deciding factor. All the keyboards I have mentioned on this list meet all the required criteria for a good streaming keyboard.
Here is a quick overview of my top three streaming keyboards:
SteelSeries Apex 3 as the best overall,
Razer BlackWidow as the best mechanical keyboard,
Razer Ornata Chrome as the best mecha-membrane keyboard.
I hope I have made your search a bit easier and that you're happy with the new piece of streaming equipment.
Frequently Asked Questions
Why would I need a gaming/streaming keyboard when I already have a regular keyboard?
Choosing a streaming keyboard over a regular one is like choosing a professionally designed piece of gear for a certain task in any area of interest.
Streaming keyboards are meticulously designed to meet the needs and demands of streamers that require a keyboard that doesn't get in the way or slow down their needs but elevates the experience to a new level with its durability, comfort, and other design choices.
What keyboard does Technoblade use?
Technoblade uses the CORSAIR K70 Lux gaming keyboard with Cherry MX Red key switches. The Lux series of keyboards are next to identical to the keyboard we have mentioned in our list, the Corsair K70 MK.2, the initial main difference are the switches, but he replaced them with the Cherry MX Red switches, which are the same switches in the MK.2 we mentioned in our list at number 3.
What keyboard does tommyinnit use?
tommyinnit uses Razer BlackWidow Elite mechanical gaming keyboard which we have mentioned in our list at number 1, which just confirms the quality of the BlackWidow Elite keyboard.
What keyboard does Bugha use?
Bugha uses the Logitech G Pro Mechanical Gaming Keyboard. The Pro-grade Logitech G mechanical keyboard is built to the specifications of E-Sports athletes for a blend of speed, precision, and quiet performance. It is very compact and portable.
What keyboard does Clix use?
Clix currently uses the Clix x Matrix 60% gaming keyboard. The Clix x Matrix 60% has 5 different switches you can choose from: Red, Blue, Brown, Speed Silver, and Optical Yellow.
Is the corsair k55 good?
The Corsair K55 is a membrane keyboard, which means it uses rubber domes under its keycaps as opposed to mechanical switches.
The keys are a bit heavy to type on and you need to apply a bit more fore for the button press to register. On the other hand, the 6 macro keys and very low latency are useful for streaming. It is a decent keyboard.