Finding the right webcam is one of the most important things when starting your streaming career because your video quality will drastically impact your performance on these platforms.
Becoming successful on Twitch and similar streaming platforms really has a lot to do with image quality, and I believe every potential streamer should invest the most money into a good webcam.
However, finding the right option is not that easy, especially if you are on a tight budget, and the whole search for it may last a long time.
In order to make this process a little bit easier for you, we have decided to do a complete Logitech C930e review and help you find the right option for yourself.
Logitech C930e Review
Features, Software, Audience, and Price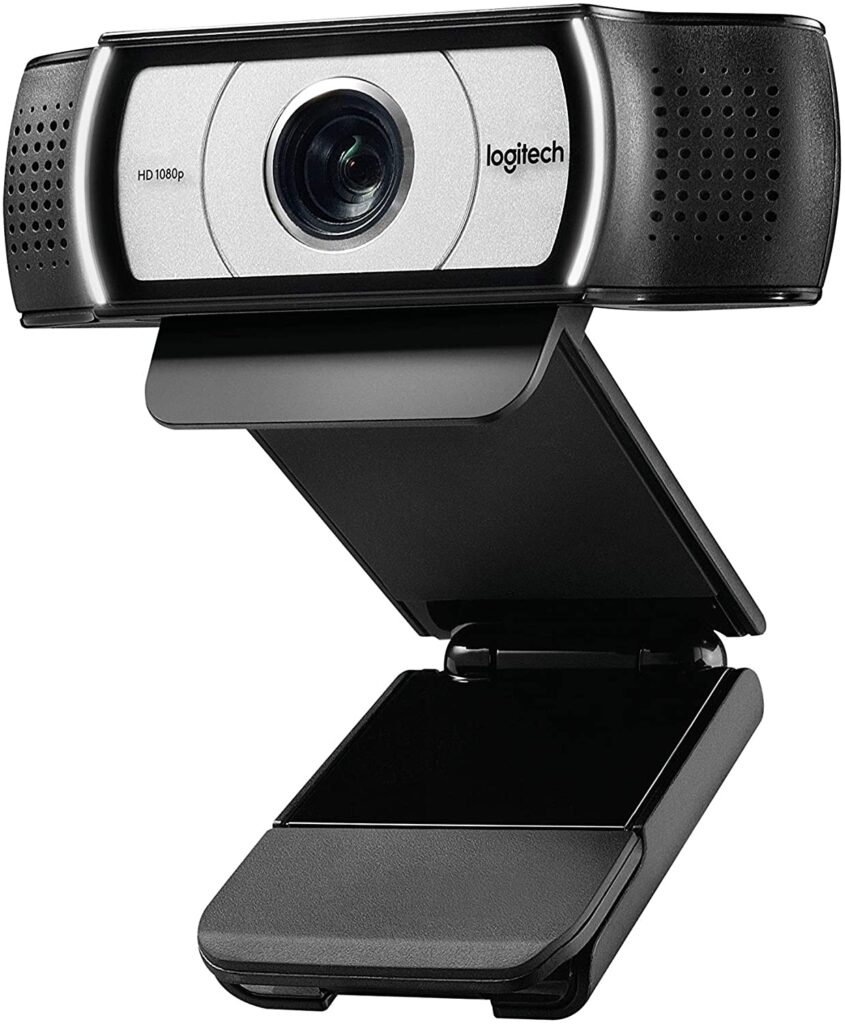 This Logitech webcam is one of the most popular webcams among streamers and gamers, and it is one of the best webcams on the market these days.
It is great for filming youtube videos, streaming purposes, and video conferencing, and every person who needs a webcam to earn a living should invest in this device.
Like every other Logitech camera, this one will also provide you with amazing video quality, so it is really worth the money.
Even though many people claim it is way too expensive, it is a camera that is made to be used as a business webcam, whether you are someone who streams for a living or uses Skype Hangouts and Zoom for that.
It may not have a lot of additional features, and its device manager is probably not the best, but everyone who already has some experience with handling webcams will definitely be able to get a lot of use out of it.
If you are looking for excellent video quality, then this is definitely the right choice for you, and it will last you for a long period of time, so you can be sure you won't be wasting your money.
Software Installation
This Logitech webcam doesn't need special software in order to be installed on your device – it operates on the simple Plug and plays principle.
All you will have to do is connect your webcam to the USB port of your other device, and you will do that using the special USB cable that comes with the camera.
Once you have connected them, a software box will appear on your homepage, and you will have to confirm a few things before you can start using it.
After you have done that, you will be able to connect your webcam whenever you want without problems.
The Logitech Webcam c930e is compatible with both Windows and Mac devices, but it can create some trouble if you try using it on a Linux device, so I would recommend avoiding that.
Key Features
1. HD quality
The Logitech Webcam c930e will provide you with HD-quality pictures and videos at all times, but you can also count on the sound quality to be amazing.
Your built-in webcam will become a thing of the past the moment you start using this webcam, and you can plug it in and get into your conference room.
You can also enjoy the benefits of the flippable lens shade and choose the one that works best for you, or choose the autofocus lens type that will help the viewers concentrate on you and only you.
The videos will always be available in 1080p resolution, but you will have to make sure your internet connection is stable; otherwise, problems may appear.
2. 90-degree view
This was one of the first webcams with HD quality that offered its users a 90-degree view option, which is especially useful for streamers and business people.
The wide-angle camera lens will guarantee you good image quality at all times, even when there is low light. And you will be able to control it through the Logitech capture program, so you really shouldn't be struggling with any problems.
When using this option, you will show your while background or environment and feel free to make a presentation or film a special explanation or game for your audience.
The audio quality will remain amazing, and you will get the opportunity to show all of your skills, so I really believe this is a great PC or laptop webcam for people from many different industries.
Unfortunately, it doesn't have LED lights so it definitely won't provide you with an experience that is out of this world, but it is still great.
3. Tested audio quality
As we have already mentioned, this Logitech webcam will provide you with amazing audio quality at all times, even when you are chatting in a Zoom call.
However, you will need to have a good internet connection; otherwise, your performance may really get ruined, and your audio or image quality may drop during the video call.
This also makes it a great option for a video conference, because not only will the people be able to see you well, but also to hear you without problems.
It has omnidirectional microphones so you can really be sure everyone will hear you without any problems.
4. Several mounting options
Business people need to have a webcam that can be put basically anywhere and will be able to stay in that position for a longer period of time without problems, but this Logitech c930e webcam is really one step ahead of others.
When purchasing it, you will receive a versatile mount that will allow you to put your webcam basically anywhere – on your PC, laptop, on the desk, or the wall.
It comes with a rotatable clip, so you can easily put it anywhere and move it to the desired angle without problems.
Unfortunately, it doesn't have an optical zoom, so you will have to move the camera around if you want to appear closer to your viewers.
The build quality is also not very good, and the whole webcam is built from plastic, so I would recommend being very careful with it and making sure it is in a good position so it won't fall during the call.
Target Audience
The Logitech Webcam c930e is targeted at professionals, whether they are business people, streamers, or gamers.
It is also known as the c930e business webcam, and it is compatible with several supported business chat apps like Microsoft Teams, Zoom, Skype Hangouts, and similar.
This camera is perfect for video conferencing, and it can really create a clearer picture in your Google Meet call, so I highly recommend it to all the people who need it for business.
Since it also has wide, 90-degree lenses, it will allow you to present different projects to your co-workers easily, and even though it doesn't have many zoom options, they will still be able to see everything very well because of the quality.
If you are a streamer, this is definitely the right choice for you because people will be able to see you clearly, and you probably won't even need a microphone in order to produce great audio quality.
The technology is really impeccable, and this device is definitely worth the money, so if this is something you want to do for a living, this Logitech webcam is the right choice for that.
Price
When it comes to prices, the Logitech webcam C930e is pretty expensive, and it is definitely something that is reserved for professionals in different fields.
Starting at 85 dollars, this is a very expensive webcam, and it really doesn't have too many features that cameras in this price range usually have.
Even though it will provide you with 1080p resolution and has a 90-degree camera lens, I still believe it is way too expensive, especially because its build quality is extremely poor.
While it is definitely a great option for streamers and business people, I believe that others really don't need a webcam like this one that much, and you can always settle for a lot cheaper option from Logitech or any other brand out there.
Frequently Asked Questions
Is the Logitech C930e worth it?
This webcam is pretty expensive, so if you are willing to spend over 80 dollars on it, then it probably is worth it. However, I believe there are far better options within the same price range and that you will be able to find a webcam that has a lot more to offer for even a smaller amount of money.
Which is better, Logitech C920 or C930e?
It mostly depends on what you are looking for – if you're a business person or someone who earns a living from streaming, then the C930e is definitely the better option. If you are looking for a webcam for leisure and hobbies, then I would suggest the C920 one.
What is the difference between Logitech C930C and C930e?
The C930c webcam has a built-in flash in the webcam, and just one bright light like this can really improve your picture quality and performance. Both video cameras have similar specs, dual mics, manual focus and they can easily be connected – you just plug them in so I really believe both of these are a great option.
Does Logitech C930e have a microphone?
Yes, this device has two built-in microphones, and your viewers will definitely be able to hear you well as long as your internet connection is good.
Conclusion
The Logitech c930e webcam is a really great device that will definitely help you improve your streaming performance, and it is a product made for professionals from many different fields.
You can find many in-depth reviews about this product, and even though it is great and will provide you with amazing quality in all situations, I still believe it is very expensive.
Its build quality is very poor, and although the video and audio quality are great, it really doesn't offer too many options, especially for streamers.
If you are willing to spend over 80 dollars on a webcam, I really believe you will be able to find another product that will look great on your conference table or in your streaming setup but also have a lot more options and features to offer.
Related: Best Webcam for Streaming