Streaming on Twitch is becoming vastly popular, and with over 140 million users, competition is fierce.
With technology moving forward visual aspects of streaming are on a high level, selecting a monitor with high resolution and admirable size will emphasize game experience.
But without the full spectrum of sound frequencies you won't be able to feel so much as a part of the action, for a full experience of gameplay, intended by creators, you need headsets, earbuds, or headphones that can produce immaculate sound.
Post 9 of 9 in the Headphones, Headsets, and Earbuds
Best Gaming Earbuds for Streaming
Reviews
New earbuds and audio devices are not only convenient but also come with high-quality sound levels, easy switch from call to game chat, microphones with automatic sound balance, and a lean design.
These are the key features we had in mind when creating this list for the best gaming earbuds currently available.
QUICK OVERVIEW: Best Earbuds for Streaming
<!—INSERT CODE BLOCKS BELOW—>

Weight: 0.856 ounces
Dimensions: 4.76 x 1.4 x 6.5 inches

Sound and Frequency: 111db/7-40kHz
Bass boosted

Noise-canceling feature
Battery: Lithium/16h duration
1. HyperX Cloud Earbuds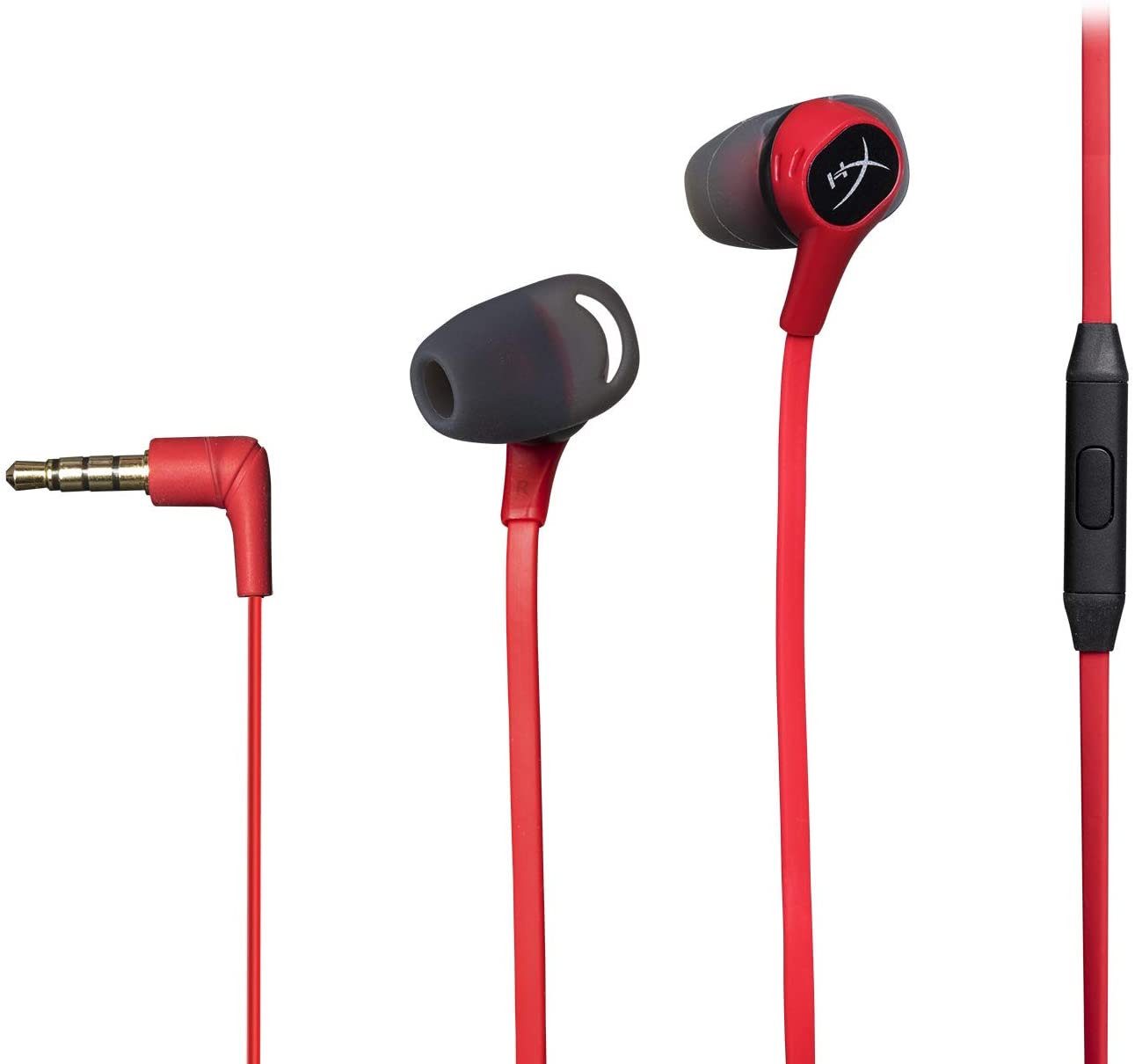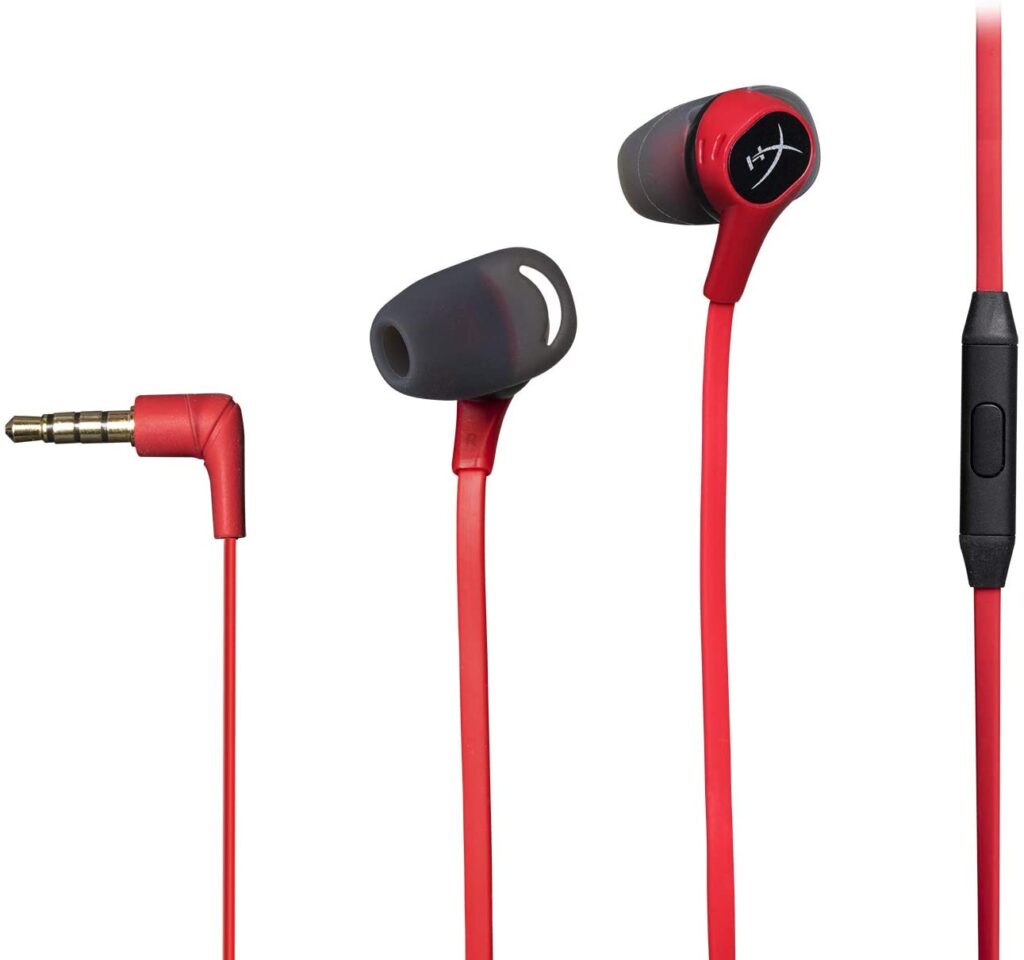 Kingston Technology entered the world market in 1987 offering solutions for devices memory shortage.
Over three decades they developed a variety of products such as USB ports, memory cards, and sticks, and nowadays are looking into new products.
The advantage of purchasing and testing products from big brands is the availability of information and reviews pre-purchase. Additionally, return policies, warranties, and tech support are available free of cost.
Who is it for?
HyperX Cloud Earbuds are ideal for the gamer who enjoys moving locations, outdoorsy gamers, and travel enthusiasts.
Nintendo Switch gamer who is on the go and is looking for gaming earbuds with a wide sound range and adjustable size.
Key features:
These highly rated gaming earbuds with mic are packed in a small convenient case with three different sizes of silicone ear tips for complete comfort during long wear.
The sound quality levels are adjustable for your preference, for deep bass lovers and balanced level users.
The mic is optimized for easy and fast switching from chat in gameplay to answering calls. Another convenience with HyperX Cloud Earbuds is their compatibility with CTIA standard connectors.
CTIA connectors are fundamental for good earbuds for gaming, a standard for multi-device usage.
---
2. Linsoul KZ ZS10 Pro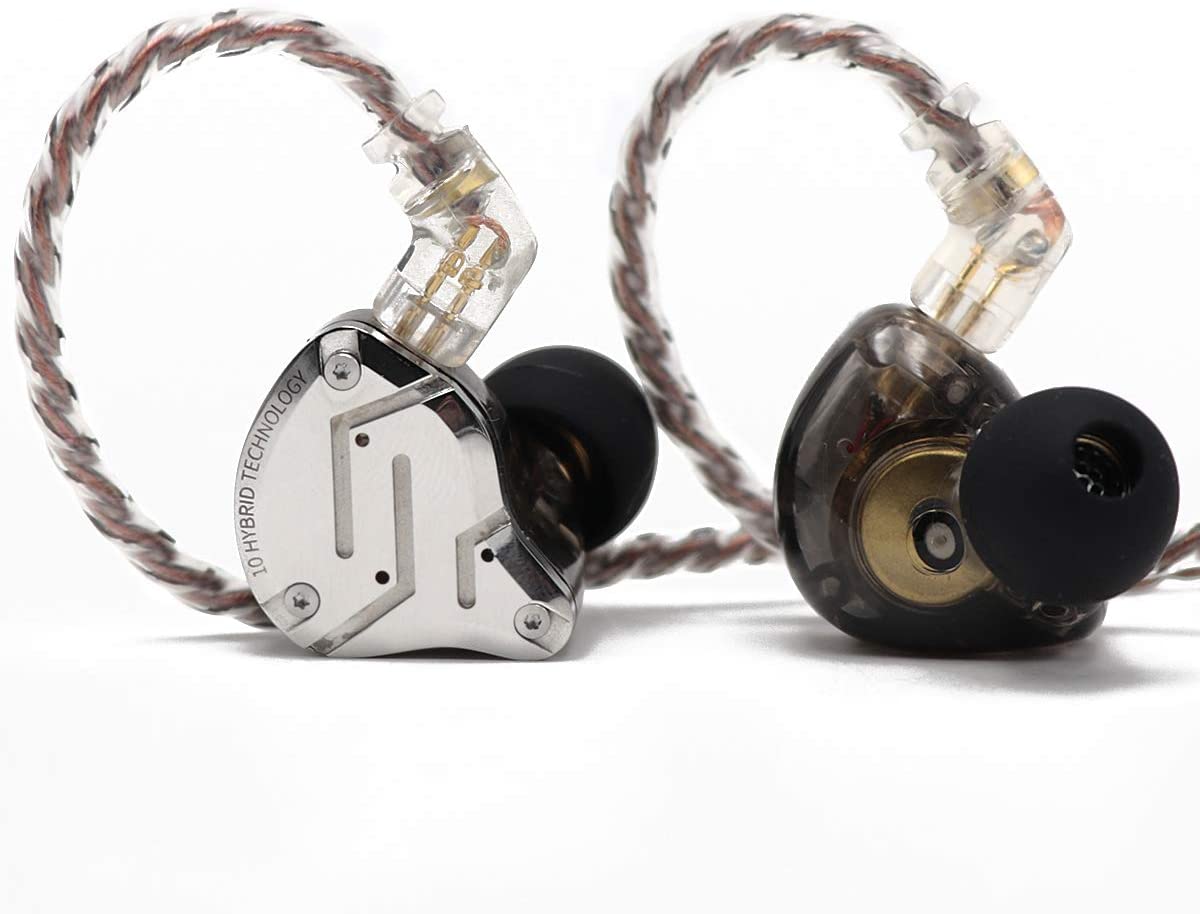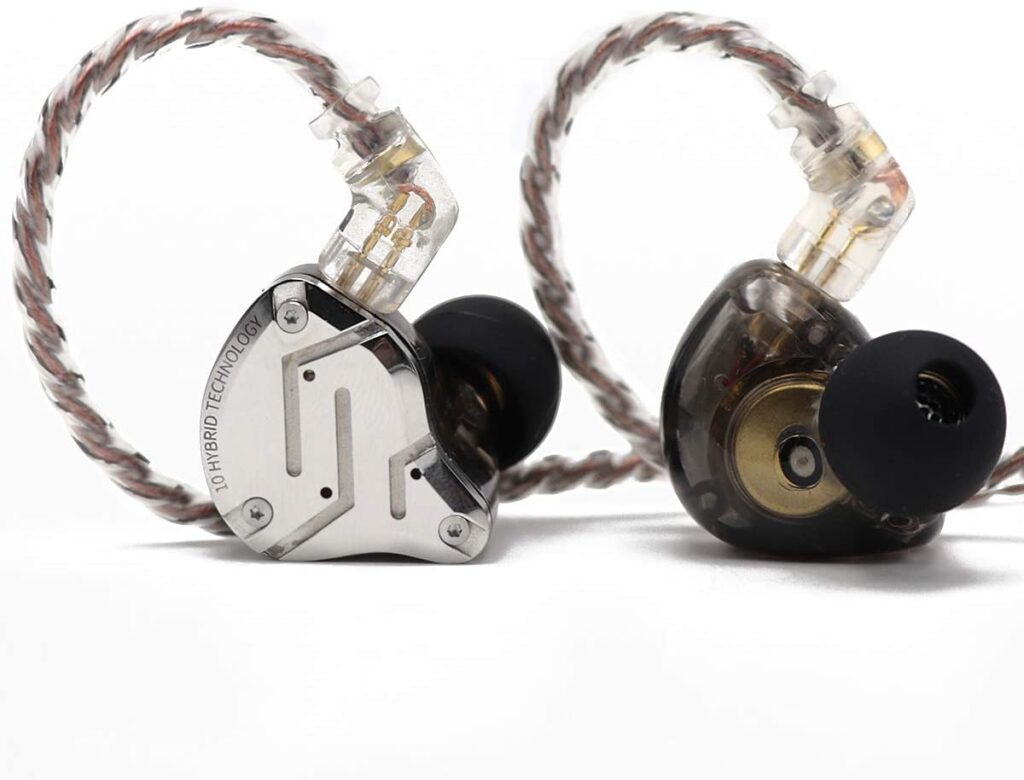 Linsoul is a relatively young brand with a keen eye for a unique product design and supreme sound quality.
They specialize in headphones and audio equipment. This brand carries a wide selection of earbuds for a variety of customers and their personal sound preferences.
KZ ZS10 Pro – found their deserved placement in the list for the best gaming earbuds with mic due to high ratings for quality and design.
Who is it for?
KZ ZS10 Pro are ideal for everyone who is looking for balanced high frequencies and deep bass sound while owning a pair of industrial-style earbuds. Streamers that are looking into earbuds for gaming with integrated microphones for canceling noise and ambient sounds and provide clear sound for chatting.
Key features:
The music and gaming earphones market is overcrowded with similar product designs and repetitive color schemes to the point where, seemingly, only the price range makes a difference.
These earphones are made with special attention to detail and a combination of materials.
Believe it or not, in addition to the stainless steel faceplate, the manufacturer uses some high-quality resin-fillings.
The cable is thick and high quality, braided for extra durability, which compliments the overall look and feel of the earbuds, and if you wish to make these more unique you can replace the cable and combine styles.
The manufacturer claims that these are comfortable for long-wearing, a feature offered in some of the best gaming earbuds out there.
High and low frequencies have wide ranges, cancel noise feature additionally contributes to immaculate sound quality.
---
3. Bose QuietComfort 20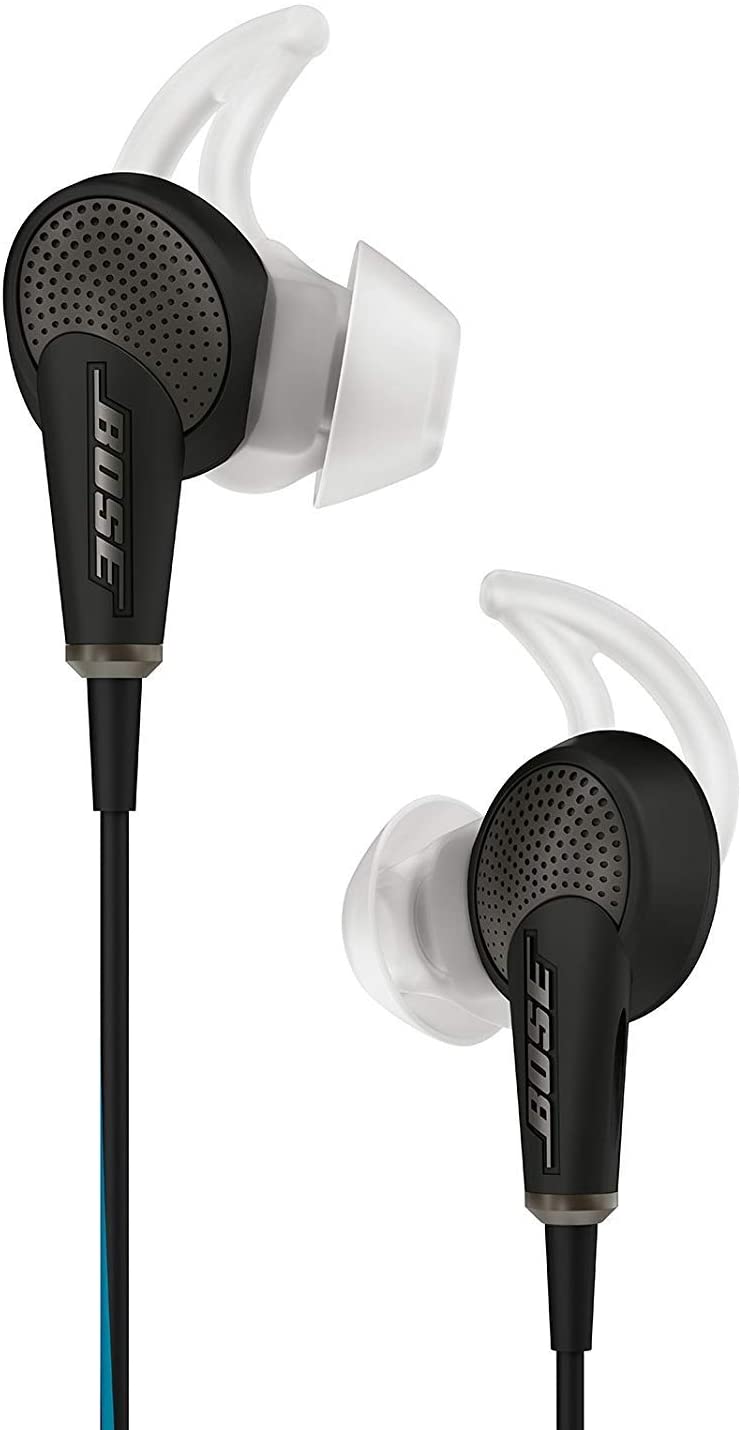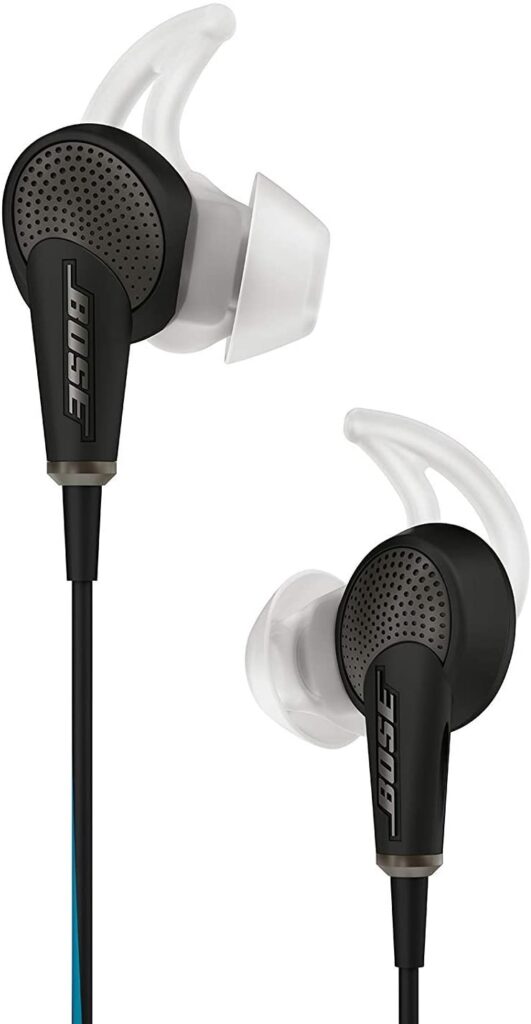 Bose brand has been around for a while. Founded in 1964. and still taking up the market, this brand states that its mission is to always improve and listen to the consumer's needs.
Specializing in audio/sound equipment they employ engineers from all around the world to create versatile devices for different needs.
With high rates in quality QuietComfort 20 Acoustic Noise Cancelling Headphones are getting a spotlight in this Best Earbuds for Streaming list.
Who is it for:
Ideal for music lovers, those who need a break from the noise, streamers, and gamers. The features offered in the product make these earphones the best earbuds for gaming if you are looking into the sound quality that will make your gameplay come to life.
This is also stated on the official manufacturer website, a claim supported by high ratings and reviews.
Of course, a microphone is a must for the advanced gaming experience and this set comes with a built-in mic and a remote controller, a one-touch switch from calls to chat, and vise versa.
Key features:
Noise pollution is a stressor and lately, more attention is drawn to this issue. Brands are adjusting to the ever-changing market and are following requirements in sustainability and quality in the newly placed products.
Bose titled their earphones QuietComfort 20 Acoustic Noise Cancelling Headphones, a straightforward and on-point description, and a key feature, all in one.
They are offering choices to their customers, either listen to your favorite music or switch to noise-cancel mode while walking through the loud city or just trying to get some good quality sleep.
Engineers took a sound quality pretty far with TriPort dramatic sound technology. Comfortable to wear and the need to remove earbuds is eliminated with the feature – Aware mode.
Selection of ear tips sizes are available in S, M, l, and clipping them to your clothes is a piece of cake.
---
4. Bose QuietComfort Wireless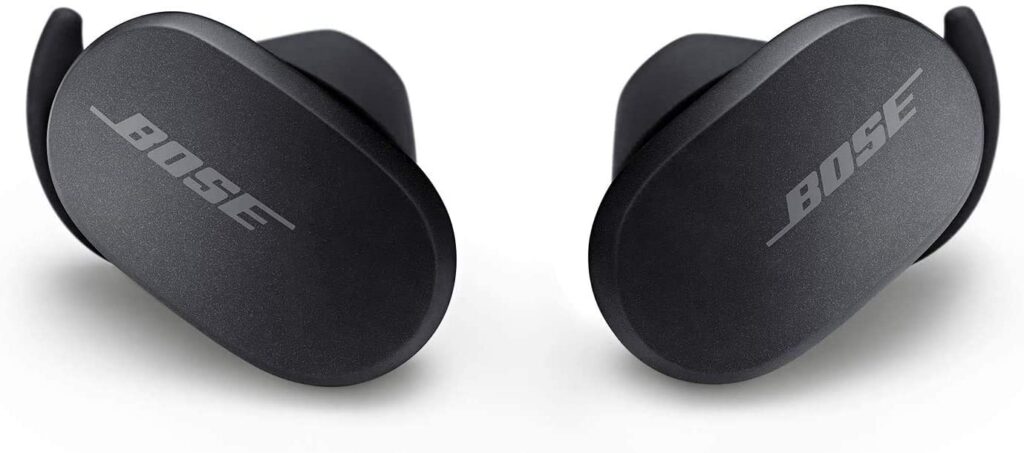 Another Bose invention, this time earbuds hit the market with wireless technology and claims of being the Worlds most effective noise-canceling earbuds.
The brand is standing by its recognizable high-quality inventions and it is following the trends and consumers' requests.
One thing is certain, Bose is here to stay and set standards for brands.
Who is it for?
Due to the crisp sound layout, these might be the perfect choice of wireless gaming earbuds.
The primary market is focused around music lovers and those that need silence, either at work or just taking a stroll, but gamers love these for the exact same reasons.
Earbuds for gaming need to support fascinating sound designs and efforts to transfer a full experience created by the game designers.
Not to mention that we are now in the VR technology world and games are becoming a real-life play.
The game streaming experience is elevated as well if your sound devices support a variety of levels in music and ambient sounds designers intended for you to hear.
Key features:
It seems that The Bose took noise cancelation seriously and made it a priority for QuietComfort Noise Cancelling Earbuds.
The team equipped these earbuds with fascinating 11 levels of unwanted sounds cancelation options.
By emphasizing the noise reduction feature they didn't forget other components needed to justify high ratings.
Improvements in sound levels offer details regardless of the volume range. Comfort in wearing wireless earbuds is another priority, and that also means the comfort in knowing that earbuds won't fall out your ears.
Water-resistance in addition to all the key features is a plus simply because the usage range is massively expanded.
Controles and charging case deserve special attention. Double-tap on the left and you are finally in complete silence, on the right you play the sounds you want to hear.
Charge them in the secure case, and ultimately charge the case itself for the travel and outdoor adventures.
---
5. Linklike Bluetooth Earbuds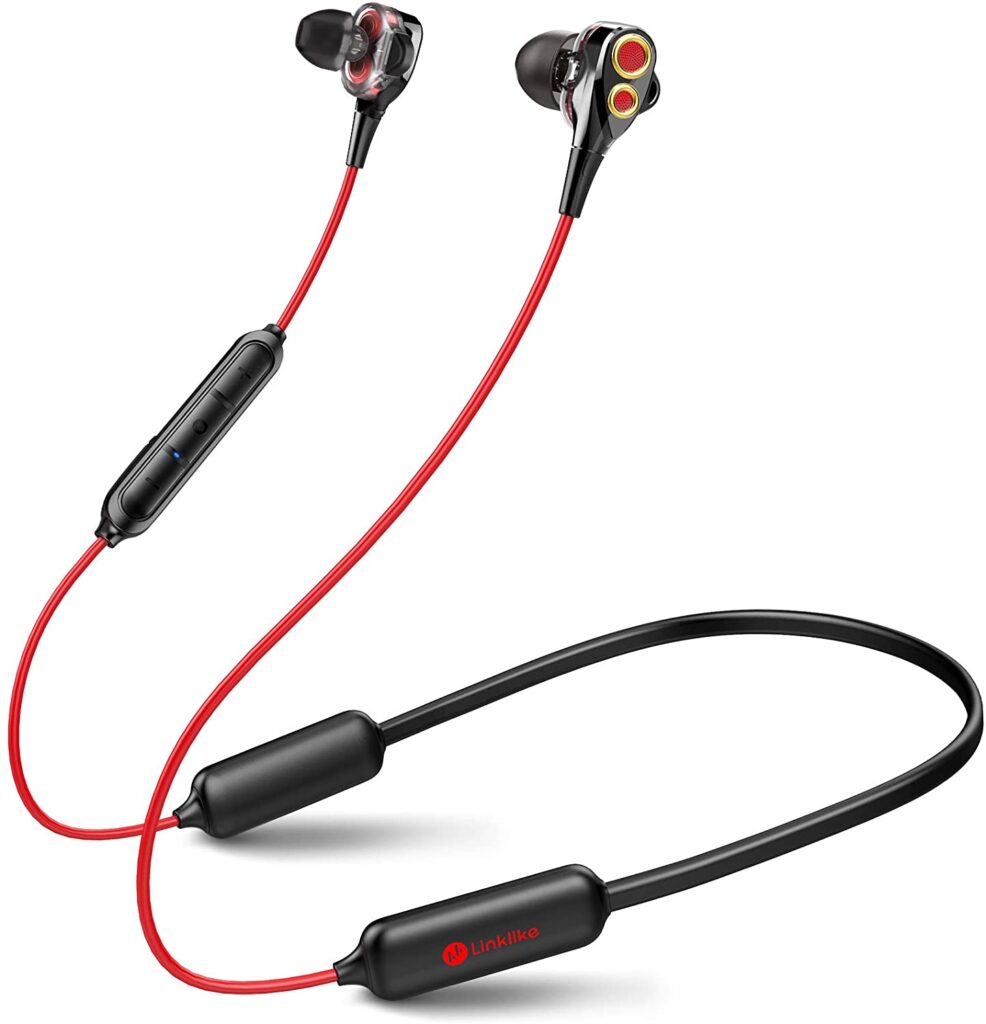 Linklike Audio is an independent company with a focus on audio devices and equipment.
Relatively new to the market these young enthusiasts already developed a range of earphones and speakers and are pursuing additional equipment.
For a young company, the only way to maintain high ratings is to constantly innovate and use the best of the best in each of their products.
Their design is also interesting, it is a combination of industrial and elegant and they are showing signs of surprising colors.
At this point, the color scheme might be in the testing phase but it looks promising.
Who is it for?
Quad Drivers Bluetooth 5.0 Headphones are created to Always be with you as stated by the brand.
Regardless of the activity level, the sound quality is there. The microphone has a noise cancellation feature and with all level frequency improvements, multi-size ear bids these may fit nicely to the gamer's ears.
If you are supporting independent brands and look for high-quality gear with fusion in design these are great for music and sound effects.
Key features:
Manufacturer incorporated Unique Quad Technology into drivers and the result is improved overall sound.
Low frequencies usually don't perform well which is why sound engineers use those huge streaming headsets to block the noise.
In this case, the company managed to better the quality of these sound levels but also improvements are noticeable in high tones and frequencies as well vocals.
Innovation in power usage is equally fascinating, with reduced charging time and battery with high energy retention, it is possible to maintain up to 16h of sound play.
Available in three different size tips and ergonomically designed, long-wear comfort is guaranteed.
---
6. Turtle Beach Battle Buds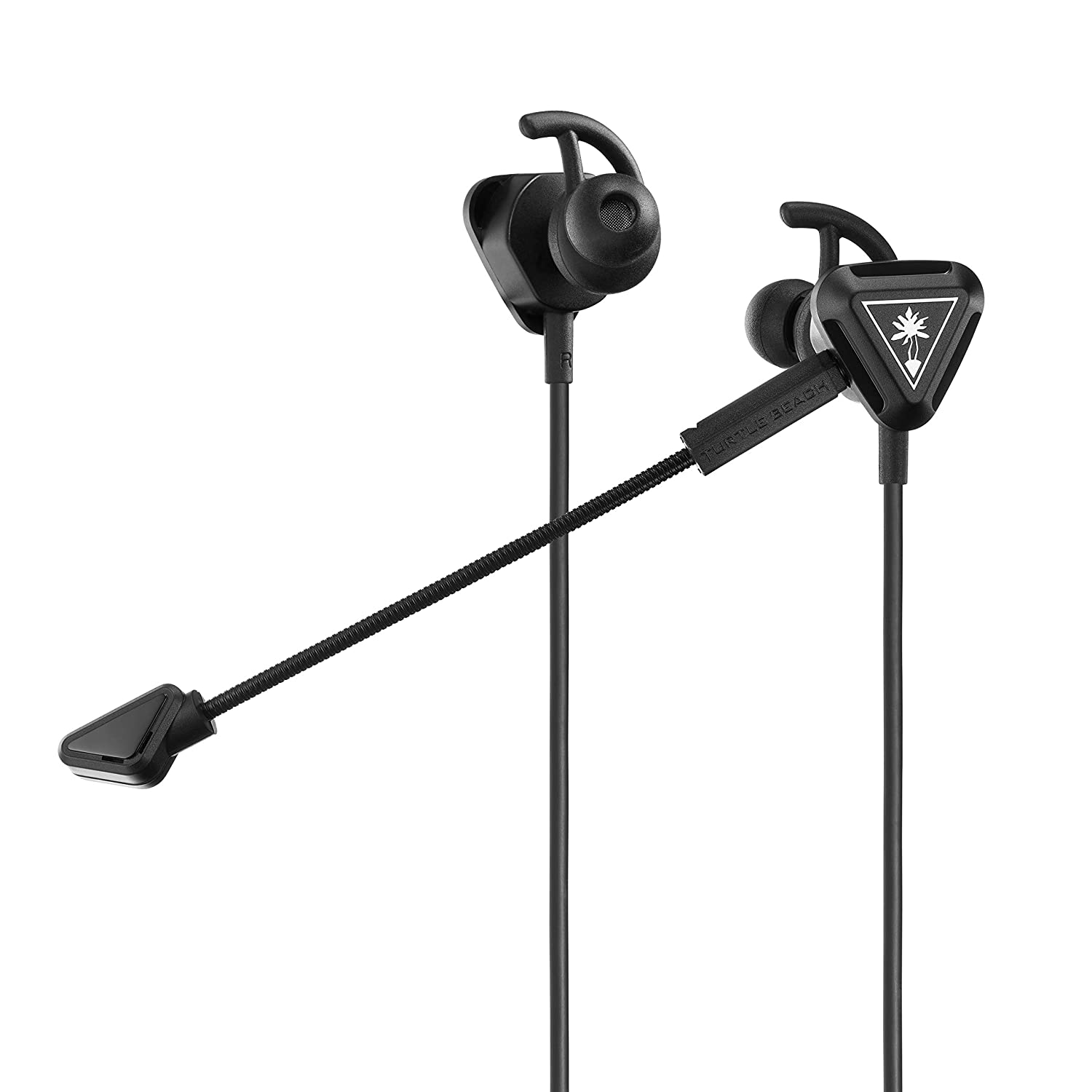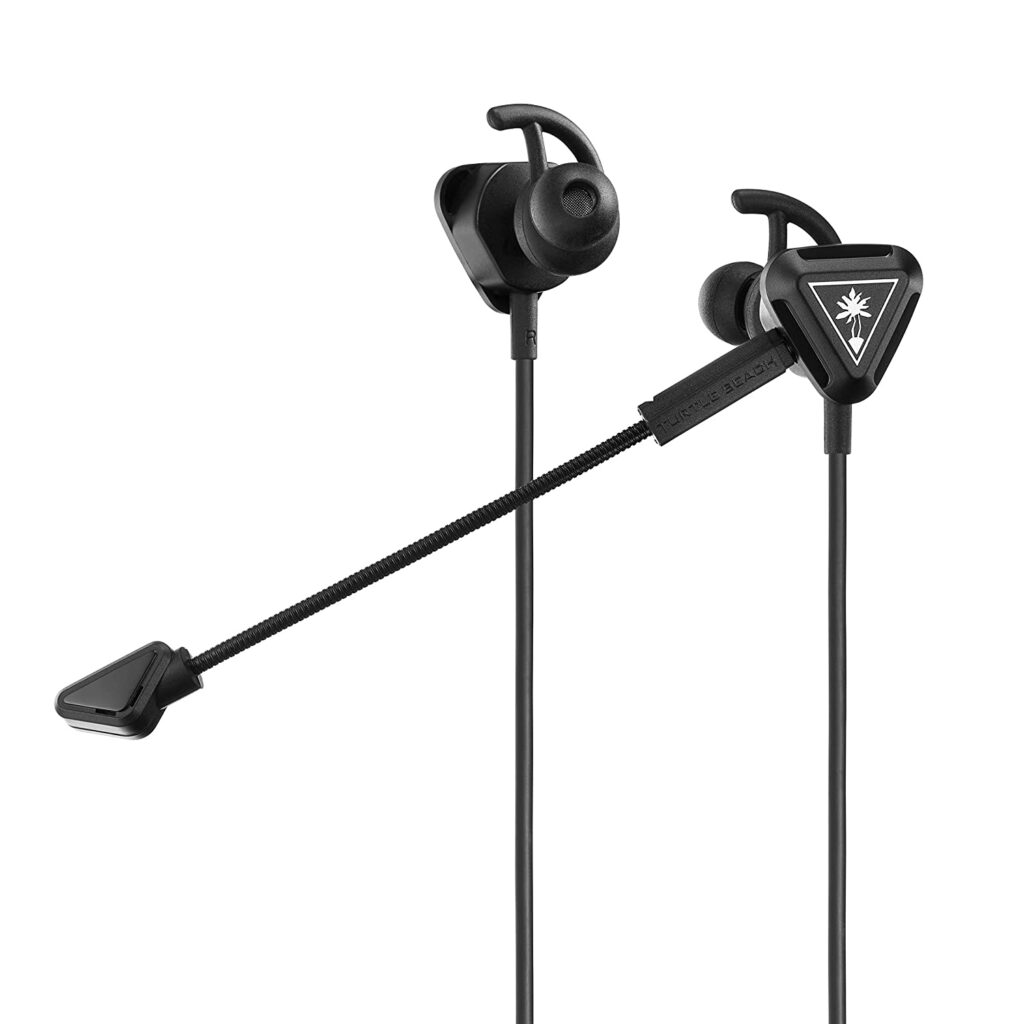 Turtle Beach started small around 40 years ago and around 2005 emerged with gaming headsets.
Their award-winning multi-console audio devices are pushing standards in Streaming on YT and Twitch.
The company specializes in gaming audio and while game design standards rise so are the innovations at Turtle Beach.
This brand is also affordable for those with a lower budget and it's one of their missions to contribute to inclusivity in this area of interest.
Who is it for?
"We create gaming headsets and audio accessories for gamers from all walks of life", a statement on the official Turtle Beach website, is as descriptive as it can be.
The idea is to bring equipment for anyone interested in gaming. Beginner or a pro they got you covered.
When they say gaming they mean it, all consoles are covered for a full impression and appeal of your favorite activity.
Other than innovations inside the equipment, the outside is looking pretty neat. Crazy color combos for a full set of big headphones to the minimalist and uniquely slack design in earbuds.
Key features:
Usually, when we talk about headsets or earphones we always focus on a sound quality that we hear, and it is logical to primarily focus on it.
Considering that when we talk about Turtle Beach that area is covered, and for years they lead the market in sound quality.
But when we focus on microphone features it becomes clear why this brand is an overall great choice for gamers.
First of all, you can monitor your sounds, separately when on chat without disrupting game sounds.
Microphones have high sensitivity range, your voice will be clear to your teammates just as you will hear them clearly.
You can adjust your microphone for an indoors setting and change your preference when you are on the go.
The appearance of the headsets are also worth mentioning, designs cover a variety of styles.
Battle Buds In-Ear Gaming Headset are very minimalistic and elegant while maintaining high standards for sound quality.
---
7. KASOTT Battle Buds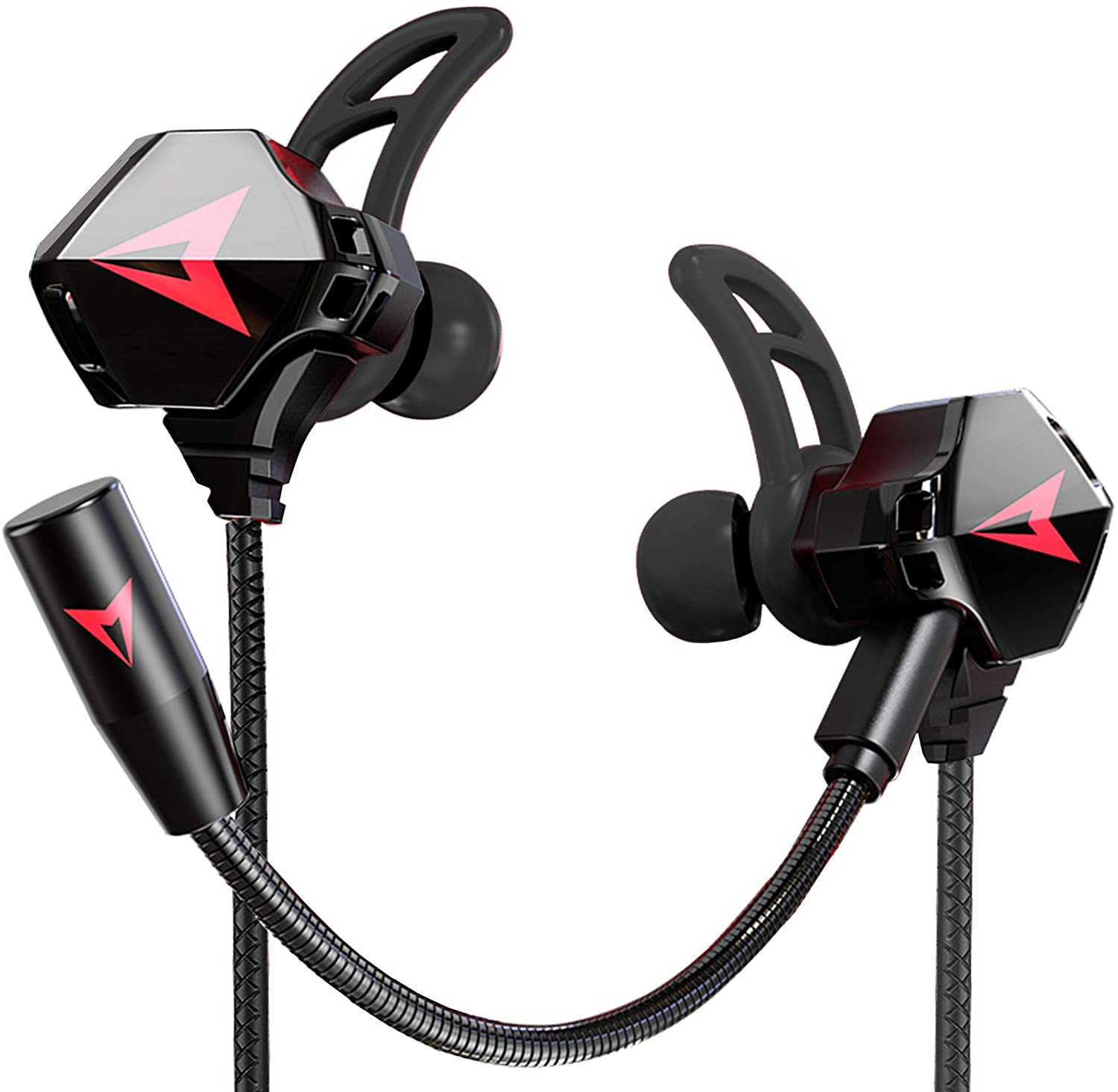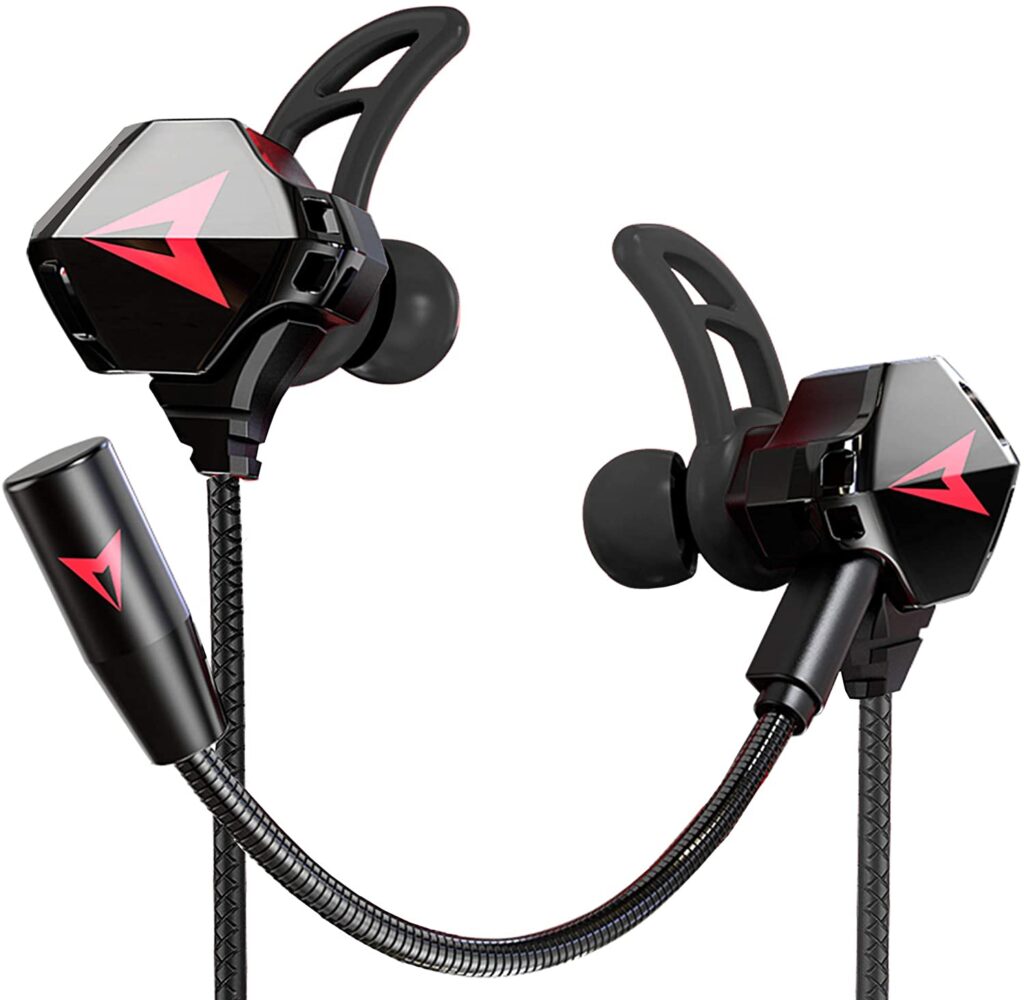 Not much info on this brand, however, ratings are impressive. This headset is sold all around the world so it is safe to say that it is a legit item.
Who is if for?
Gamers would appreciate the compatibility with consoles and devices. Due to lightweight, they are super comfortable and Battle Buds in-Ear Gaming Headset truly looks great.
Surround sound will take you into the gameplay and you might hear some whispering or enemy sneaking somewhere in the back.
Most reviewers are describing their experience with this headset as a surprise in a range of sound effects.
Some of the in-game sounds were new to them even dough they played the same game for years. Not too shabby for a well-priced headset.
Key features:
Some of the best gaming earphones have key features, sound quality, microphone quality, unique design, and are compatible with consoles and devices.
Battle Buds in-Ear Gaming Headset is compatible with leading brands such as PS4, Sony, Samsung even with older devices like DVD players, PCs.
The brand recognized the Vintage game's trend and responded to the demand for passionate gamers.
The sound produced in the headset is a combination of 10mm drivers, it is considered to be extra large and extra dynamic, and the surround sound is the final result of this combo.
Microphones are doubled, basic, and in line, very convenient to take with you anywhere. This device is packed with a remote, a one-push switcher.
---
Things to Consider When Buying Earbuds for Streaming
1. Sound Quality
Game designers and audio engineers are combining their skills to create the sound that will take your gameplay experience to the highest possible level.
Equipment that transmits this sound should equally respond. You might consider devices that have a multi-level mix of high and low frequencies, 3D sound, and options to adjust levels for your preference.
2. Microphone Quality
For streaming and smooth communication, you will need a mic that reduces ambient noise, cleans the echo, and transmits the sharp and clear sound of your voice.
Function to easily switch from chat to call is beneficial for your other devices so it is a plus for functionality and application.
Conclusion
Selecting the best earbuds can be tricky, sound perception is a personal experience and even the highest ratings don't necessarily mean that the specific earbuds will work for you.
A smart thing to do would be to check out some reviews on video platforms to better get the feel of size, design, and just overall impression of a person testing out the device.
This list offers seven choices with great specifications and reviews so another great what to come closer to a decision is to read about these and list those that you feel could be great.
You can personally test them in tech stores or purchase them, return policies are very appealing.
If you don't mind going through the fuss and deal with shipping you might be surprised with the quality and sound.
Frequently Asked Questions
Join our Discord Group. Ask questions, team up with fellow streamers, share memes, and more!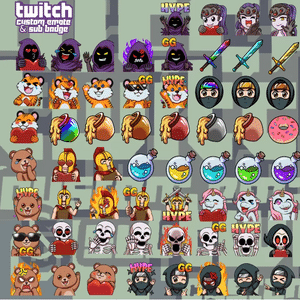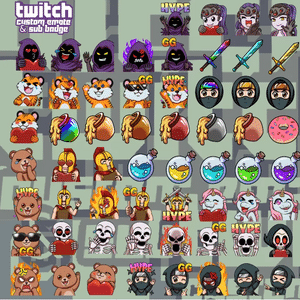 Claim for FREE:
FREE Emote PACKS
A book on growing your audience