As you all might already know, Twitch is the most popular streaming platform out there.
A vast community of streamers and viewers, all kinds of different content, something for everybody.
---
Twitch Turbo is a monthly subscription that allows you to watch Twitch channels ad-free (something like YouTube Premium).
To subscribe to a Twitch Turbo, just visit their internet page and click on the "subscribe" button at the bottom of the page. You need to be logged in for this option to appear.
Your subscription is automatically renewed every month until you decide to cancel it.
---
Sounds too good to be true, but it really isn't. As an internet community expands and more users begin to use it, ads come.
One thing that connects us all when it comes to internet browsing is ads. And you already know that I don't mean the love for ads but something completely different.
Thus, with the recent changes to Twitch, you might have noticed that you are seeing a lot more ads than before.
So, if you want to watch live streams or your favorite streamers ad-free Twitch turbo is the thing for you.
What Is Twitch Turbo?
So, basically, Twitch Turbo is something like YouTube Premium, a monthly subscription offered on Twitch.
Twitch Turbo allows you to watch channels ad-free and Twitch Turbo helps to offset some of Twitch's costs in running their platform.
Twitch Turbo is a feature that's existed on Twitch for many years, but I think a lot of people may have forgotten about it.
As I said above Twitch Turbo is like you are subbing to Twitch itself. By doing this you will have ad-free viewing.
Therefore, Twitch Turbo will remove ads, meaning no pre-rolls ads, no mid-rolls ads, no companions, and no display ads. Simply block ads with Twitch Turbo.
Twitch Turbo means you will still be financially supporting the streamers without having to watch any ads.
You may still be presented with promotions or ads that are embedded into the broadcast.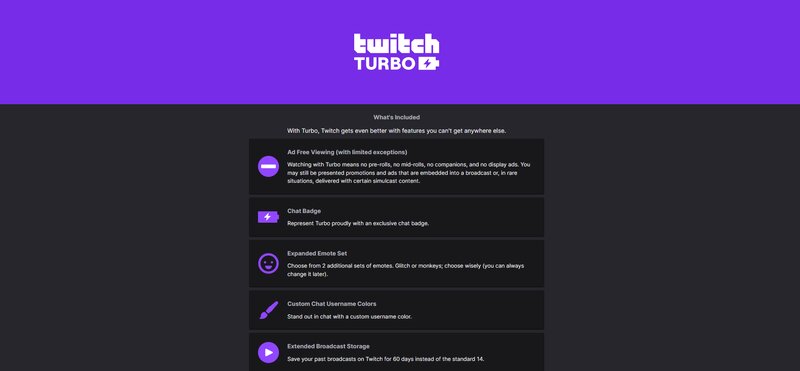 What that means, for example, is if the streamers you are watching decide to promote some kind of product, you obviously can't spot something like that.
You will also get a separate exclusive chat badge for Twitch Turbo subscribers.
On top of the special chat badge, the Twitch Turbo subscription will also grant you an additional expanded emote set.
You can choose from two additional sets, Glitch or Monkeys, choose wisely but you can always change it later.
And on top of all that you will also be granted the option to set your custom chat username color.
If you are not only a Twitch viewer but you are live streaming as well.
As a Twitch Turbo subscriber, you will also have extended broadcast storage so that you can save your broadcast for 60 days unlike the standard 14 days that other users can do.
Thus, you can save your past broadcasts for 60 days and have an easier state of mind.
The monthly subscription program for Twitch Turbo is 8.99 $. If you at any time decide to stop your subscription you can do that from your account settings.
Twitch Turbo vs Twitch Prime
If you are an Amazon user, and by that I mean if you are using Amazon Prime subscriptions. If you do, Prime gaming subscription options and benefits will be added to your account.
Twitch Prime gaming status will grant you the following benefits, such as, and I must mention that this is my favorite attribute, one free subscription to a channel of your liking per month.
One Free Twitch subscription to a single channel per month can come in quite handy you must agree.
When you play games in a live stream you will also receive game loot drops.
If we look through the Amazon Prime subscription solely through Twitch, the mentioned above is my favorite attribute.
But have in mind that apart from Twitch, the Amazon Prime account offers a lot of useful features and options to go with.
Such as priority customer support, free next-day shipping, and so on.
You will also get exclusive custom chat username colors and emotes and a special Twitch emote badge displayed.
You can always tell apart Twitch Prime users just by their custom chat usernames and custom username colors.
If you compare these two you can clearly see the similarities. But there is one thing that doesn't add up and that's ad-free viewing.
If you are a long-time Twitch user you might remember that a Twitch Prime account also had an ad-free viewing feature.
But sadly back in 2018, this feature was removed, leaving only Twitch Turbo as an ad-free viewing option.
Are There Any Replacements to Twitch Turbo?
For me, the most important thing while watching something, either on Twitch or YouTube, or any other platform is to watch it ad-free.
I think we can all agree on that, and for a rather small fee, we can do exactly that with Twitch Turbo.
Compared to its rivals' similar ad-free features, Twitch Turbo is the cheapest one.
You can always try the ad-blockers but I can promise you that the adblocker won't work. Unfortunately, if you are a regular Twitch user, Twitch Turbo is the only option if you want to have an ad-free experience.
With ad-blockers, the best outcome is to be interrupted with just a black screen with no ad. But that will also be annoying if you ask me.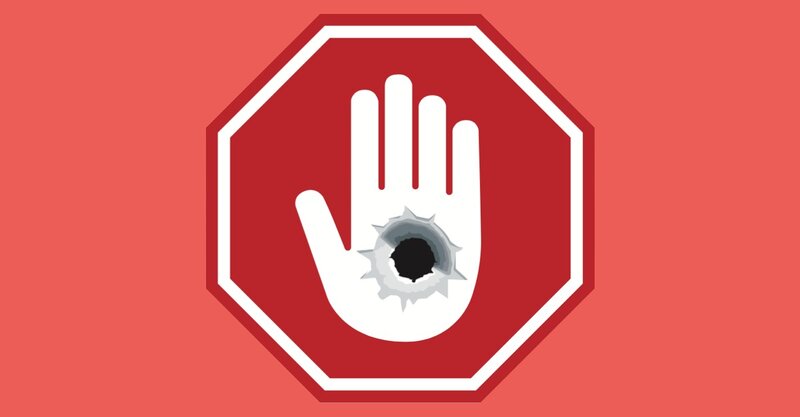 This is the feature that Amazon enforces to protect revenue and that is to directly block any attempts by a common ad-blocker.
Lots of people watch Twitch through their consoles and smart TVs. If you are amongst them ad-blocking is anything but possible.
The only way is to go with Twitch Turbo and watch from any device completely ad-free without having to subscribe to every channel you want to experience ad-free.
The Channel subscription option and overall Twitch subscriptions apart from Twitch Turbo are much more expensive than Twitch Turbo itself.
Therefore, if you don't want to watch Twitch ads the only option is to purchase Turbo Twitch.
How to Subscribe to Twitch Turbo?
Just simply open your browser and go to the Twitch Turbo webpage. If you are already logged in scroll to the bottom of the page. if you are not, first log in and then scroll to the bottom of the page.
At the bottom of your screen, you will find the "subscribe" button and click on it.
That will open the "Complete purchase" menu, from there you are going to give your billing info and choose the billing method.
From there everything is displayed on your screen.
When you have finished with the subscription you can go back to the Twitch Turbo webpage and select "view your subscription" to see your status as a subscriber.
How to Cancel Twitch Turbo
As with every other subscription, this one will also last until you decide to cancel it. The subscription will renew automatically every month until you decide to cancel it.
You can do that in two ways. You can go to the Twitch Turbo webpage or from your Twitch account settings.
To do so through your account settings, open your Twitch profile and login if you are already.
When you have logged in select the account icon at the top right corner, and from that many select "subscriptions".
From there select the "Other subscription", your Twitch Turbo sub will appear there. Next, select the "edit subscription icon".
From there you can select the "don't renew subscription". If your subscription was not longer than 10 minutes ago you will get a refund.
As you might expect, if you cancel your Twitch Turbo sub you will still have the benefits until your next billing date.
Conclusion
Twitch Turbo is the best and only option if you want to boost your Twitch experience and overall experience Twitch without any ads.
For me personally, this is a must-have, I would rather pay 8.99 than with the 30s of my life before every stream.
I hope we were able to shine some light on the given subject and help you in any way to make your decision about Twitch Turbo.
Good day and best of luck to all of you Twitch users out there.