If you want to know how to block Twitch ads, there are several ways, such as using adblockers, extracting videos, or subscribing to Twitch Turbo or Twitch prime.
---
Random ads on Twitch can be quite annoying. Today, I will show you how to block Twitch ads in these 4 simple ways.
1. Using Ad Blockers
You can use a number of ad blockers for any browser you're using, to get rid of the Twitch ads. Below, you will find some instructions on how to install and use some of them.
2. Using Streamlink
Search Streamlink and find it on GitHub
Download Streamlink
Install VLC Media Player
Follow instructions
3. Sub to Twitch Turbo
The simplest solution is to pay for Twitch Turbo and you will have a completely ad-free experience on Twitch!
4. Twitch Prime
If you want to remove ads from a specific channel, you can get a Twitch Prime sub and get rid of ads only on that channel.
---
In this article, we will put a stop to their hegemony by showing you how blocking Twitch ads is done. Stick with us if you want more.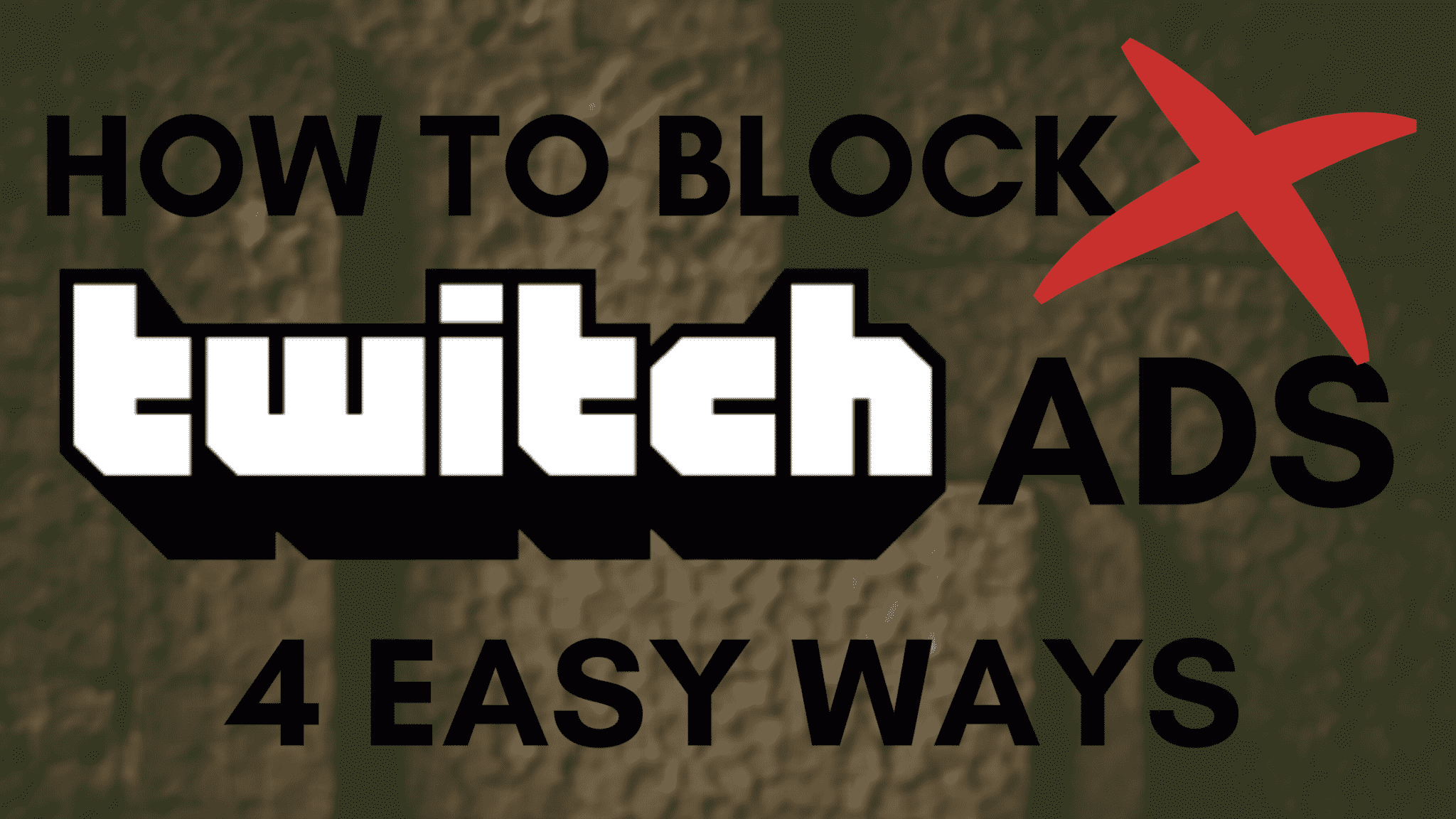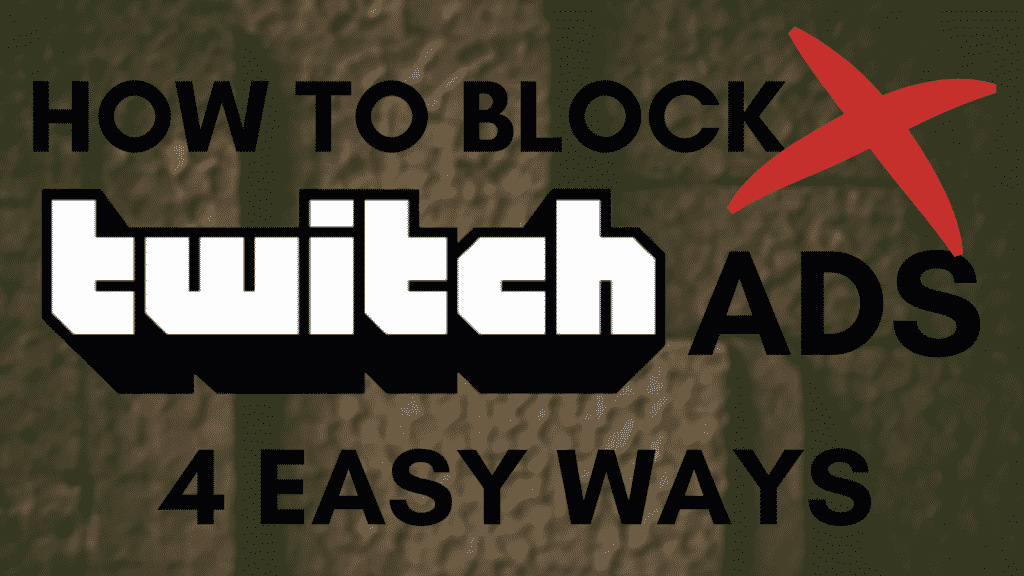 Using AdBlockers on Your Computer
As the most popular medium for pretty much any activity on the internet, PCs are a constant target for ads pretty much everywhere in the virtual space.
Luckily, there are a couple of good ways to neutralize them for good (or at the very least minimize your exposure to them).
1. Installing and Using Adblockers
While it is undoubtedly true that being bombarded by loud and monotonous ads is an unwanted side-effect of Twitch adopting an unorthodox approach towards ensuring a steady flux of income goes into its pockets, it does not mean we have to put up with every iteration of the unending tide of ads!
An easy way to get started is to install the AdBlock extension on your browser (for this process, we are going to use Chrome) and restart it afterward.
After you start it up again, head on over to the settings and go to the "General options" section. From there, you will encounter this set of options;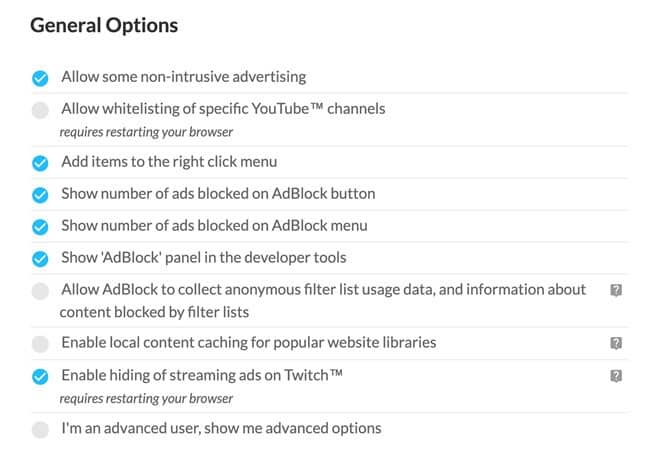 Once you enable the Twitch ad-blocking feature, your experience on the platform will be exponentially more to your liking, at least in terms of most ads.
This method won't eliminate all of the ads, but it will cull most of the obnoxious sub-types of ads and replace them with a black screen instead.
In case you run into any problems (such as noticing a higher number of ads popping up despite the ad blocker running), try the following:
Check if there is an update to the AdBlock extension
It might be due to the lackluster network service Chrome is receiving at the moment
Check if you use any filters
2. Installing and Using AdLock
This particular ad blocker is a multifunctional tool that not only keeps those pesky ads away but also provides additional protection against spyware, data leaks, and harmful links all in one.
Once you install it and allow it to run, that's it! AdLock is easy to use to the point of doing everything for you the moment you get it up and running.
Another great benefit of this option is that it keeps ads out of your browsers and any other software you use that employs ads.  Commercial content is automatically removed the moment AdLock detects it unless you configure it otherwise.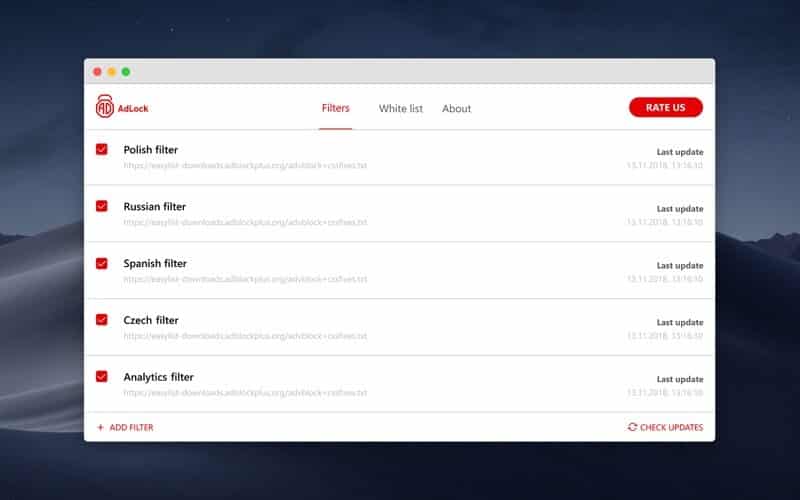 3. Installing and Using AdGuard
AdGuard functions very similarly to AdLock as it can neutralize most ads without needing additional supervision.  It offers the option to remove ads from both browsers and software during their use, making it a reliable all-around choice.
Once you get it installed, it is easy to find your way around the software as all you have to do to make sure it is working is to access its ad-blocking function that is laid out at the front of the interface as seen below:

How to Stop Twitch Ads on Other Devices
About 35% of Twitch users access Twitch through their phone, which is no small number. While mobile users might find ads more tolerable on mobile devices compared to computers, they are no less persistent in disturbing streams.
Enjoy a (mostly) ad-free experience on your mobile device by using the mobile versions of the most popular ad-blockers that can be found on the app store.
1. Blocking Ads on Twitch on Android Devices
For this quick step-by-step part of the guide on how to get rid of Twitch ads on mobile devices, AdLock is going to be the application of choice.
Once you have installed the application, all you need to do is periodically check if there is a new update of AdBlock available. As ad companies are continually devising new ways to pierce ad-block protection, your software must be up to date to combat them.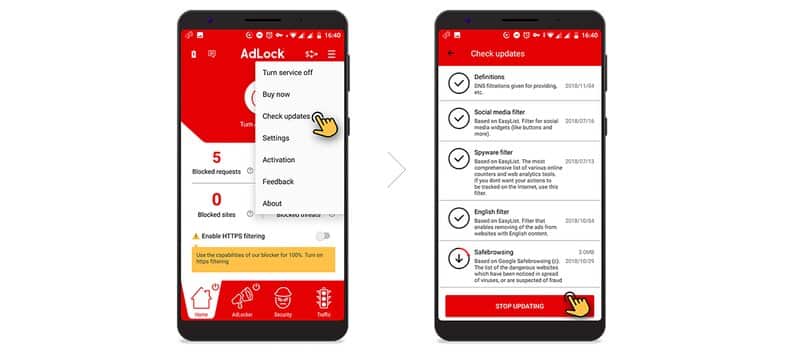 The last step revolves around enabling HTTPS filtering, which can be done in a minute. On the "AdLock" tab, allow for HTTPS filtering. A pop-up will appear asking you to set a graphic key for verification purposes: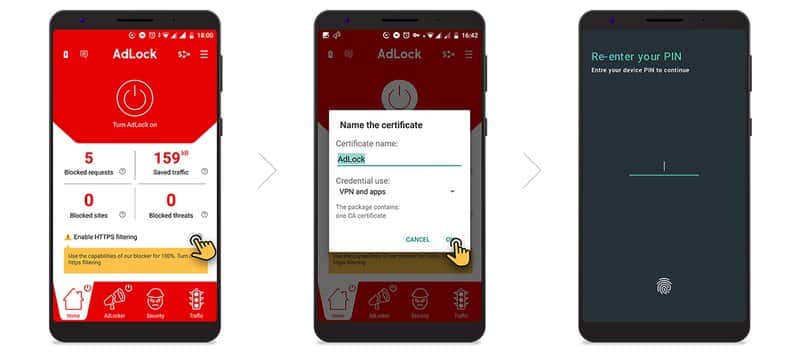 From that moment forward, the trouble of devising new ways on how to disable ads on Twitch through android use will be a thing of the past!
2. Blocking Ads on iOS Devices
The process is straightforward yet different on iPhone devices than their Android counterparts, as it can be counter-intuitive for users who might not be tech-savvy.
After you download your desired ad-blocking application (AdGuard, for example), head on over to the settings menu and search for Safari (the default iPhone browser).
At the bottom of Safari's configuration settings, a special section named "Content Blockers" is located, which houses all ad-blocker software you install on your device. You can toggle them on and off as you please, as shown in the picture below: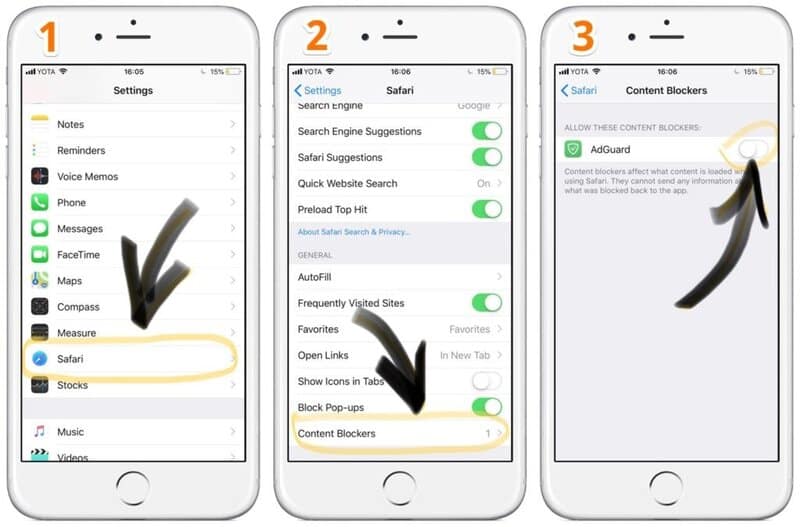 Additional Ways to Enjoy Twitch Ad-Free
Outside the domain of conventional ad-blockers, you do have a couple of options at your disposal that are foolproof ways to bypass the system's ad-integration features and remove Twitch ads seamlessly.
1. Using Streamlink to Extract Videos
For people who have experience in dealing with ads and GitHub, this is a familiar option. If you wish to put all the worries if your software will be blocking Twitch ads correctly behind you once and for all, Streamlink is your ideal choice.
This is how you can enjoy its benefits;
Search "Streamlink" on your browser. It should be located on GitHub
 Select Releases Streamlink GitHub
Go way down until you run into the download option and get the extension file
 Make sure you have a VLC media player installed
 Follow the  instructions
When the process is done, you can enjoy all your favorite streams buffer-free and without any ads.
2. Subscribe to Twitch Turbo
Believe it or not, Twitch knows precisely how annoying its ads can get! For that reason alone, it has released a unique feature that, for $8.99 a month, allows you to bypass over 90% (with very few exceptions) of ads without worry!
It's one of the easiest ways of how to block ads on Twitch app.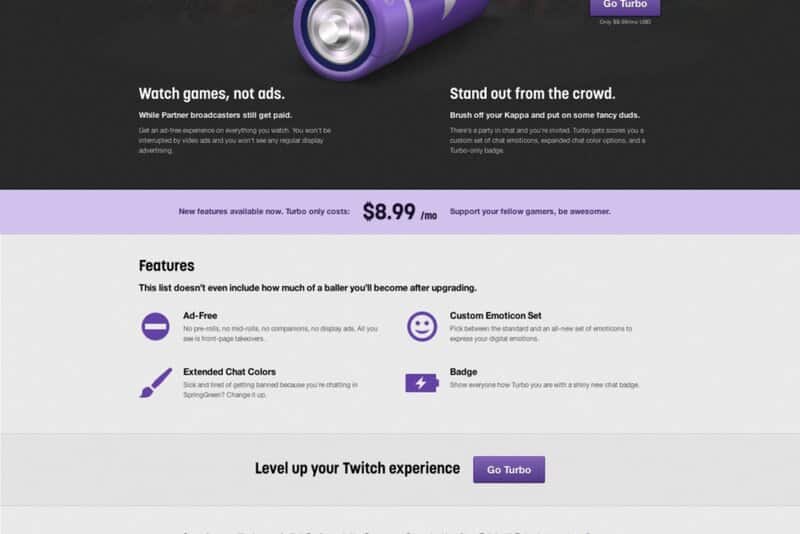 3. Get Twitch Prime to Stop Twitch Ads on One Channel
Prime was the de facto method of enjoying a premium experience on Twitch in absolutely every way. Sadly, it lost its exclusive ad-free feature for all channels in the update of August 2018.
However, you still do get the option to watch one channel without any type of ad. If you enjoy the many benefits Twitch Prime offers and have one favorite channel you follow for a larger part during your time on Twitch, this is an excellent option for you!
If you have Amazon Prime, you can simply link it up to your Twitch account in two simple steps:
Look up Twitchprime.com on your browser
Link your two accounts
In case you are not a subscriber to Amazon prime:
Head on over to Twitchprime.com
Create an Amazon account
Become a Prime subscriber
Attach it to your Twitch account to enjoy an ad-free experience on your favorite channel
---
What Kind of Ads Are You Likely to Run Into
As Twitch is almost as popular as YouTube, it comes as no surprise that Twitch had to up their game numerous times, resulting in their ads becoming more diverse.  As a consequence of their ever-changing policies, the average user often finds it puzzling how to skip Twitch ads, let alone how to block ads on Twitch.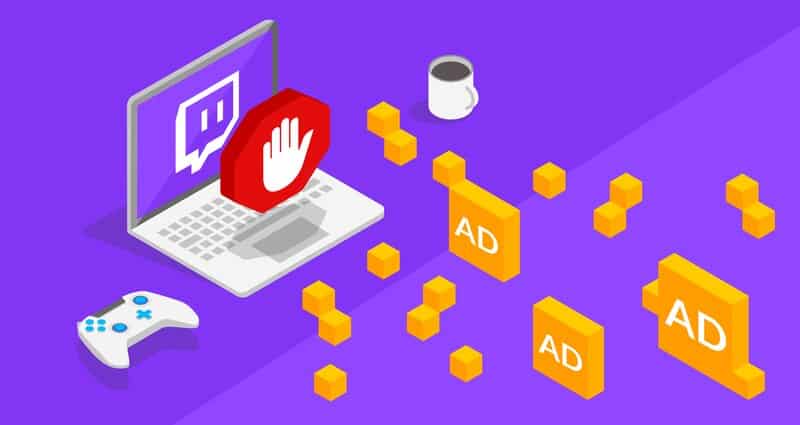 There are four main types of these nuisances that any long-term user has come into contact with at one point:
1. The Easily-Blocked Ads
The run of the mill "grunts" among the ads. This specific type is a banner that can automatically be removed by using AdLock or customizing the settings on your browser if you are using Opera or Firefox. These are annoying and numerous, but the easiest to get around.
2. Pay-Per-Click Ads
Commonly referred to as PPC, Twitch has cleverly implemented this type of ad as they insert it directly into the streams you are watching. What's even more frustrating is that most free ad removers often aren't able (or don't register) these ads. Yet, they can be manually removed (usually when the damage is already done).
3. Sponsored Ads
You ain't getting around these as they are the bread and butter of your chosen streamers! In case you want to earn a pretty penny on Twitch, you can allow promotions to pop up directly from the advertisers to your streams, thus enabling you to take a cut (and annoy your viewers).
4. Ads that Appear within Streaming Videos on Demand
The newest (and arguably the most difficult to go around) are VoDs. Due to Twitch investing large amounts of resources in keeping the revenue machinery running, it went so far as to include ads within your favorite videos, making it almost impossible to avoid all of them!
---
While all of the aforesaid might give you the impression that the user base is unable to skip Twitch ads or answer the question "How to disable Twitch ads" without running into a brick wall, there are several ways we can get around this problem on both android phones and browser. One of the most popular ones is using AdLock, AdGuard, or Adblock.