Unfollowing people on your Instagram account or any other social media platform can be a great way to distance yourself from a person or situation.
The sad news is – I know it can be difficult and emotionally distressing if you have to unfollow an ex or past friend. The good news is – I can show you how to unfollow on Instagram!
---
How to unfollow someone from the followers list
1. Go to your profile and open the followers list,
2. Find the account you want to unfollow,
3. Tap on the "Following" button next to the account's name.
How to unfollow someone from their profile
1. Go to their profile,
2. Tap on the following button,
3. Choose "Unfollow" from the menu.
How to unfollow someone on Instagram Website
1. Log into your Instagram account through the browser,
2. Go to your profile and open the followers list,
3. Click on the "Following" button to unfollow someone.

You can also go to their profile and unfollow them from their profile.
---
I can also show you some alternatives that might be a solution to your current problem. Let's dive in!
How To Unfollow On Instagram?
So, you have decided you want to go through unfollowing someone? If you no longer wish to see this person's Instagram posts on your Instagram feed, there are two ways for you to remove them from your followers' list.
All Instagram users will have their unfollow limit. Check all of your other options before you start slamming on the "credits".
1. Unfollow Someone Directly From Your Device
Unfollow from your followers list
To unfollow someone directly from your app, simply open your account and then click directly on your followers' list.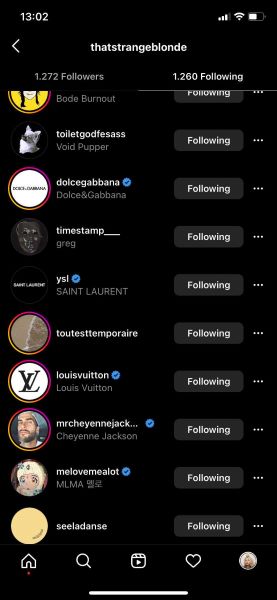 Once you have opened this, you will find all the accounts you are currently following.
So let's say I'd like to unfollow Dolce and Gabbana – all I have to do is to click on the "Following" button.
After tapping, this button will appear blue now, and it means that you have unfollowed that Instagram account. It will look like this now: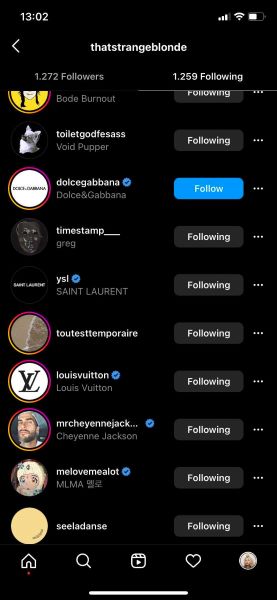 Unfollow directly from their account
Alternatively, you can also unfollow someone by simply opening their account.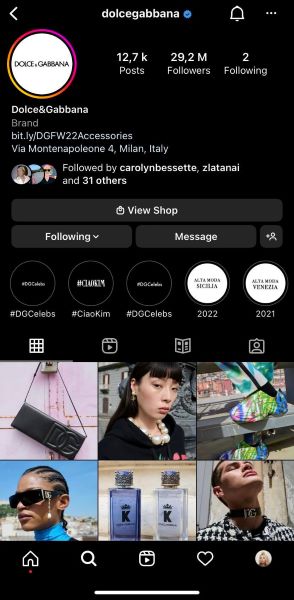 Tap on the following button, and a small new menu with a few options will pop up, and it is going to look like this: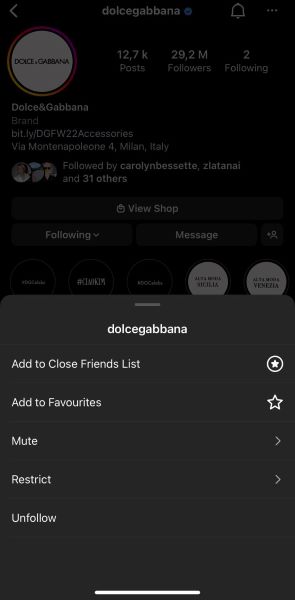 In this section, simply tap the "Unfollow" button, and you will have successfully unfollowed the given account. After this step, upon viewing the account, you will notice that the following button is blue.
You can follow the account again if you decide to do so in the future.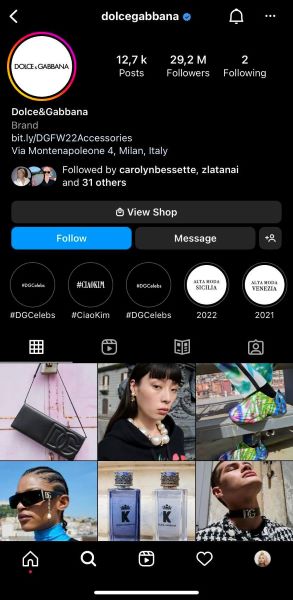 2. Unfollow Someone From The Desktop Version
Apart from snapping images and recording videos, the desktop version is not much different from your mobile app version of Instagram.
You can send private messages and follow, unfollow accounts, etc.
If you want to unfollow someone from the desktop version, you must log into your account first.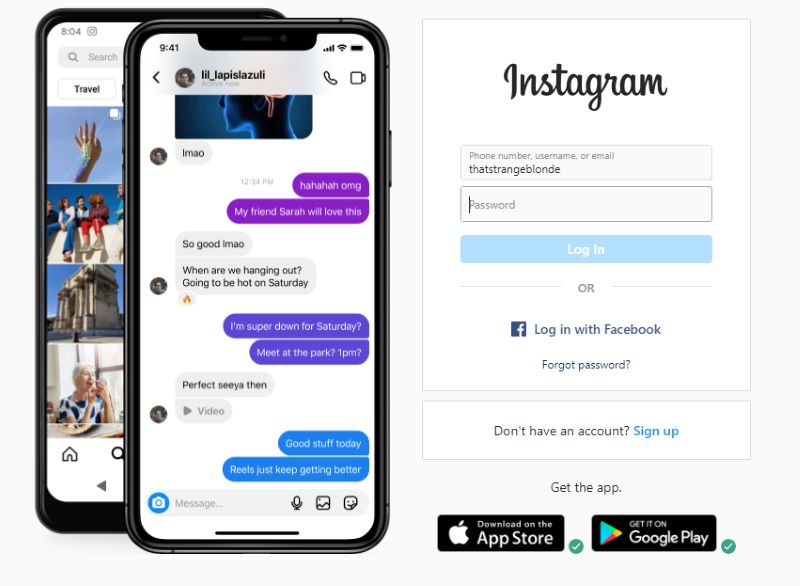 Once you have logged into the desktop version, you can open your account.
Just like the mobile app version, you will be able to have an insight into your followers' list, and in a few clicks, you will be able to unfollow the account.
What Happens After You Unfollow Someone?
Once you have unfollowed the account, you can always follow them again.
If you wish, though, for that person or people not to follow you any longer, you can also remove those Instagram accounts as your followers.
Before you decide to unfollow one or even more accounts, here are some things you should know and be aware of:
Private Accounts
As much as Instagram influencers are free and open to sharing every little detail from their life, other people decide to keep their accounts private.
Once you have unfollowed an Instagram profile that is a private account, you will no longer be able to see this Instagram user's posts or stories.
In case you want to be able to check out their profile page or their following and followers lists, you will have to request to follow them again, and only if they approve your request will you be able to catch up with their current posts and stories.
Unfollow Limit
If you decide to unfollow accounts for whatever reason massively, please wait! Always remember to check Instagram's guidelines.
To unfollow people are normal, but how many people can you unfollow per day?
Attempting a mass unfollow move can be a bad idea and might be too big of a cost, as Instagram will notice such activity. The more followers you unfollow, the more you are likely to clash with Instagram's guidelines.
How many people can you unfollow on Instagram today?
Depending on how long you've had your Instagram account, there is a daily limit for unfollowing people.
If you have had an account for a year or even longer – old accounts may unfollow up to 700 Instagram users daily.
If your account is new (you've had it for around 3 months), new accounts can unfollow 200 Instagram users daily.
Upon understanding how long you've had your account, do not go over the maximum number. If it is your first week of using Instagram, take a second to think about it.
There is also a certain number that represents a limitation within an hour. As a user, you are even limited by how fast you unfollow accounts.
Fast and repeated activity can be seen as spam by the algorithm. Make sure to have a waiting time of at least 30 seconds between unfollowing two accounts.
Just like posting inappropriate comments, repeating the same comment or certain things can get you recognized as a bot, unfollowing might lead to receiving a temporary ban or, in the worst case, a permanent ban. Be careful with your account's activity.
Here are a few other things that might happen upon unfollowing:
Direct Messages
After unfollowing certain accounts, especially the private ones, you might be unable to send direct messages again the same way you used to be able to before.
Depending on the other user's setting, your messages might end up in the general section of the other user's inbox instead of the primary section, so there will be a chance they do not even see your standard message notification after you have contacted them post-unfollow.
If you have blocked someone, they will receive an error message upon attempting to contact you.
Mute Option
We all realize that once you have tapped on that unfollow button, even though the other party will not be notified about it, they will realize you have unfollowed them the next time they check out your account.
So, maybe the best alternative for you if you wish not to see their posts or stories for a while, you can mute them.
Next time you see their story pop up on your homepage, long-tap, and you will see a small menu. Tap again on mute. Choose whether you want to mute only their stories or if you would like to mute their posts as well.
Remember, they will not be notified if you do this. You can mute them and move on in silence.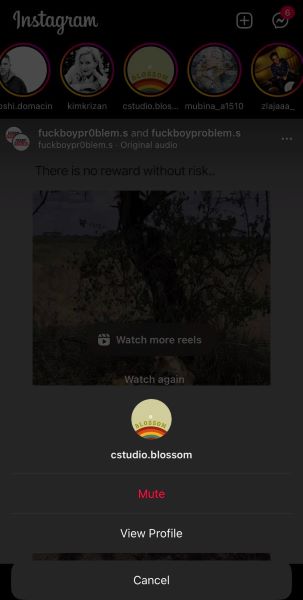 Other Alternatives
Blocked Users
If you are feeling overwhelmed or threatened by another Instagram account or Instagram accounts – yes, more of them, consider putting them in your blocked list.
Once they've made it to your block list, they will not be able to contact you again.
Restricted Users
If you feel blocking someone is too much, restrict them. They will be able to comment on your posts, but only you and they will be able to see them, no one else.
Useful App: Followers Assistant
Some third-party apps can be a fantastic addition for checking, following and unfollowing, and overall keeping up with your target audience.
I recommend the app Followers Assistant, as it is simple and easy to use for your IG account.
Check your users, keep up with who followed but also unfollowed you – and make sure you never cross the unfollow limit and respect Instagram limitations
Remember, you don't want to risk getting an account ban.

How Many People Can You Follow On Instagram?
So, by now, you know how many followers you are allowed to unfollow, but have you ever wondered – how many people you can follow on Instagram? Are there any limitations?
There are a few important factors we should be aware of when understanding Instagram limits, and one of them is also related to the number of people you can follow as a user on this platform.
You should note that, on the Instagram platform, you are allowed to follow a total of 7,500 followers. You cannot follow any more users above this number.
Conclusion
Unfollowing someone can be done very fast. A tap is enough – but keep in mind you have more options.
You can unfollow easily from your iPhone or your browser, but there is always a risk as there is a limited number of users you can remove per day, but also per hour before the user is recognized as a spam account.
Your IG account should be a safe zone for you, and you should unfollow people if you no longer feel comfortable.
The Instagram app is a platform where you can connect with friends and be creative with posts, but remember that the algorithm will pick up unusual activities.
FAQ
Can I hide who I unfollow on Instagram?
If you unfollow someone, they will not be notified, nor will your other followers. If anyone searches your following list, they will no longer be able to see the people you have unfollowed.
Why do people unfollow on Instagram?
Various reason. A breakup, an argument, the end of a business endeavor.
Some people also unfollow other users in an attempt to clean their feeds. Maybe they have way too many different accounts, and the user is no longer interested in viewing their content.
How do I know if someone unfollows me on Instagram?
Well, you will not get a notification if individual accounts unfollow you. No other users get that type of notification.
When in doubt about some users, see if you can find them in your followers list or use third-party apps to see if that is the case instantly.
Can I unfollow someone without them knowing?
At first, yes. Unfollow and move on. If they try to find you in their followers list and can't find you, they will know that you have unfollowed them.