Presuming that you already have a good-quality mic, the next logical thing when it comes to any online activity such as online conference meetings or streaming is the camera.
If you are looking for a good-quality camera with overall good performance, I prepared this list for you where I picked the Logitech PTZ Pro 2 as the best choice.
Besides that model, I reviewed 4 more webcams that showed some pretty neat characteristics.
QUICK OVERVIEW: Best Webcam With No Microphone
Item weight: 4.56 pounds
Video: 1080p

Item weight: 3.3 lbs
Optical zoom: 3x

Image capture speed: 60fps
Video quality: 1080p and 720p

Best Webcam With No Microphone
Reviews
---
When it comes to online business meetings or any other online event, your camera's video and picture quality should be top-notch.
Laptop cameras can't always suit your needs best, sometimes you need a wider angle, and sometimes you need to move your camera remotely.
Below you will find the list of 5 web cameras without a mic that, through my strict testing, proved to be the best on the market.
1. Logitech PTZ Pro 2
Best camera for conference calls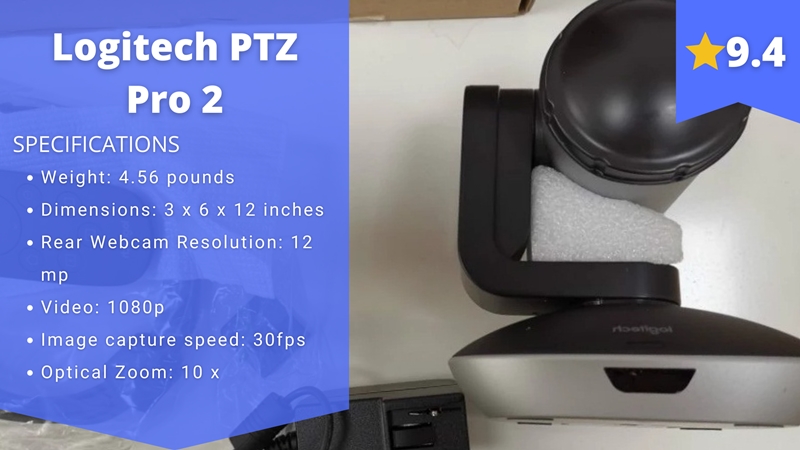 Stefan's Take:
This product is considered to be one of the best, if not the best webcam for video conferencing, any other large online event, or even streaming. It has excellent video quality and a wide recording angle.
When it comes to streaming, this camera is also first-class. It can perform in almost any lighting condition, from natural lighting to any other low or high light condition. The advanced technology of this camera frees up bandwidth. Therefore, all of you game streamers, and streamers in general, should consider this product.
| | |
| --- | --- |
| Video Resolution | 9.5 |
| Frame Rate | 9.2 |
| Design & Construction | 9.2 |
| Field of View | 9.5 |
This webcam can be manipulated via a remote controller, making it suitable for any type of presentation, conference meeting, or any other thing you can think of.
But aside from that, this webcam can be used for basically any other activity.
As a long-time gamer and amateur streamer, I took the liberty of trying out this Logitech streamcam on my live stream.
I must say that the video quality of my stream was pretty neat. My video ran perfectly in 1080p, and I couldn't have been more delighted.
As I said above, this product is ideal for conference rooms and any other large event that needs a camera with a wide angle.
The only setback is the price.
This product is very easily connected via USB. It has an image capture speed of 30fps which is acceptable.
The maximum focal length of this web camera is 30mm, and the minimum focal length is 28mm.
The optical zoom allows you to zoom in up to 10 times. With this feature, you can zoom in on anything, your whiteboard if the presentation is in progress, or any other thing you need.
One of the coolest features that this webcam has is the fixed focus, which means that the lenses won't come out of focus on every movement the camera makes.
It does this by processing the video within the PTZ Camera. Doing this results in overall better video quality in apps like Skype and minimizes the risk of video compression.
Pros
Wide field of view
Good color reproduction
Good image quality
Good focus
Remotely controlled
Monitor Mount
2. Tongveo 3X PTZ
The best choice for streaming beginners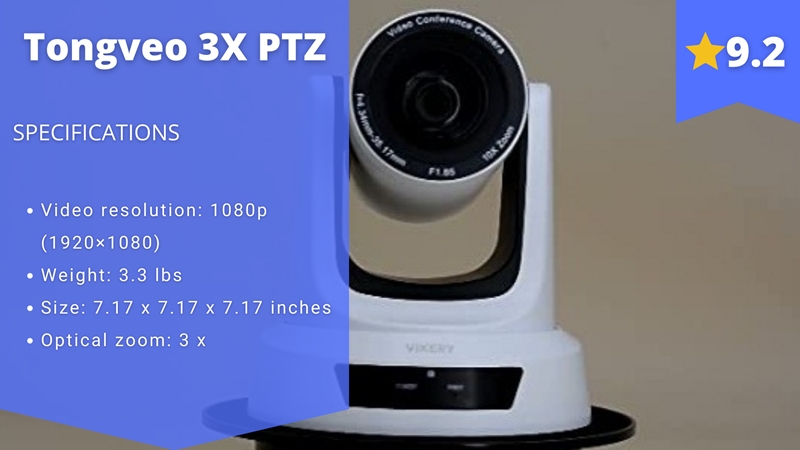 Stefan's Take:
This is one more webcam that is good for both conference meetings and streaming. I personally like that it is very easy to set up, but I miss the ability to work well in dark room conditions.
The fixed-focus lens is one of the premium features that this webcam brings to the table.
| | |
| --- | --- |
| Video Resolution | 9.3 |
| Frame Rate | 9.0 |
| Design & Construction | 8.8 |
| Field of View | 9.2 |
As well as the first product on my list, this also is a dedicated one for conference rooms and large meetings. Simply because of its wide-angle and remote control.
It works with almost all conference apps like Zoom, Skype, Polycom, Microsoft Lync, etc.
But aside from that, you can also use it for any other activity such as video making, live streaming, or anything else you can think of.
Like the previous product, I also tested this one on my stream.
Since it's three times cheaper than the first one, I didn't know what to expect.
But as soon as I started streaming, I realized that there isn't much of a difference between them.
My stream was running perfectly in 1080p, and everyone watching was delighted and showed support.
Because it's easy to use, this webcam is perfect for beginner streamers as well.
This product is very easy to set up, basically plug the USB in, and you are good to go.
The image quality was crystal clear, 1080p HD. The zoom was nothing special, but it got the job done (the digital zoom goes up to 3 times).
The cool thing was the multi PTZ control, Pan Rotation goes from 0 to 350 degrees (±175°), and tilt Rotation from 0 to 90 degrees (-35°~+55°).
The lens is made from 100% glass for superior quality. The 2D and 3D NR give you the best video quality in any lighting conditions.
But if you are going to use this webcam for live streaming, you should definitely get a ring light as well.
The ring light can help you significantly in boosting your streaming experience.
Pros
Price
Easy to use
Good build quality
Multi PTZ control
App compatibility
Tripod mount
3. Tenveo USB PTZ
Webcam with the best zoom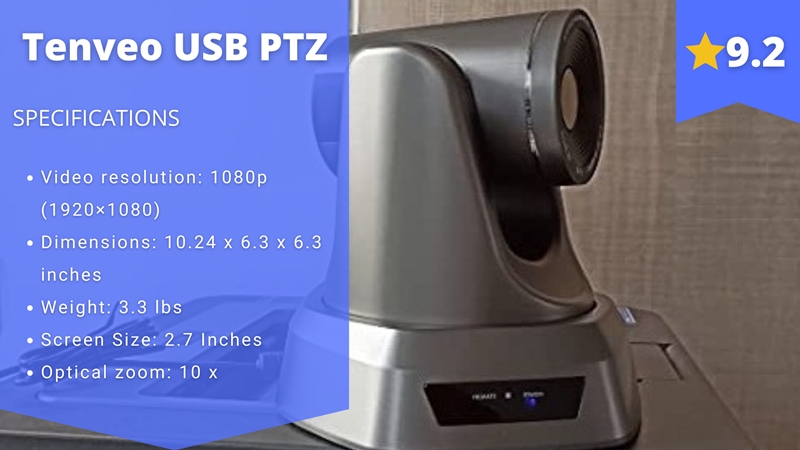 Stefan's Take:
The first thing that caught my eye and maybe even blew my mind was the image capture speed. It is a great 60 fps.
Other than that, this camera has almost all, great zoom, satisfying focal length, and neat price, and it is a piece of cake for setting up. The only downside is that colors sometimes tend to fudge.
| | |
| --- | --- |
| Video Resolution | 9.4 |
| Frame Rate | 9.5 |
| Design & Construction | 9.0 |
| Field of View | 9.0 |
This camera has some great additional features such as remarkable capture speed and outstanding video quality.
One of my friends is a professor at the local school, so I gave it to him for his online classes.
The outcome was fantastic, the video quality and zoom were working perfectly, and all of the kids were amazed.
You could see the writing on the whiteboard from a mile away. Therefore I must recommend this camera to all of you teachers out there.
With a remarkable capture speed of 60fps, this product exceeded all expectations.
Another cool thing was the maximum and minimum focal length.
With a maximum of 50mm a minimum of 5mm and an optical zoom of 10 times, this product would be among the first on my list if I considered buying a web camera.
It's very easy to set up, simply plug and play. It also works well in low-light conditions.
PTZ camera platform also moves neatly, with the pan movement from 0 to 340 degrees (at 80 degrees per sec) and tilt from 0 to 120 degrees.
Pros
Image capture speed
PTZ platform movement
Optical zoom
Focal length
Prestige image quality
Cons
Possible color distortion
4. Huddly GO Video Camera
Best lightweight camera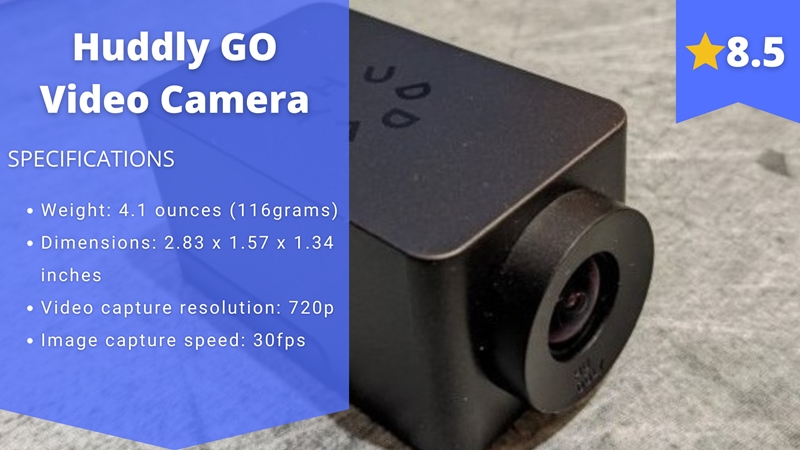 Stefan's Take:
The first thing you will notice is how small this camera is, but don't let that fool you. It still possesses excellent hardware inside.
I would recommend it for casual instead of business ones. It is compatible with almost every app, such as Skype, Zoom, Google Meets, etc.
| | |
| --- | --- |
| Video Resolution | 8.1 |
| Frame Rate | 8.4 |
| Design & Construction | 8.9 |
| Field of View | 8.6 |
The differences are obvious when you compare this product with the rest on my list. The other products exceed this one in every category except one, and that is its weight.
You won't find a better lightweight camera on the market than this one.
Because of the resolution (720p), I can't recommend this product for a business meeting or streaming.
I would say that this product is best suitable for students and the household PC.
If you have a family member who lives far from you, you can see each other through Skype, and 720p is just enough for that.
Or if you are a student and need to have a camera to attend online classes, then 720p will be just enough for you also.
If you need a camera for teaching classes or conducting online business meetings, I suggest going for one of the 1080p cameras on my list above this product.
As I said above, the best thing about this product is its weight (116 grams).
The video capture quality isn't that impressive because it's only 720p.
On the other hand, image capture speed is quite decent at 30fps.
The maximum focal length is 30mm, and the minimum is 28mm.
If you thought that was it, this webcam has a couple of more features.
One of those cool features is that Huddly constantly updates its software, which can sometimes improve image quality and other features.
The zoom goes up to 4 times, and the ultra-wide-angle lens goes up to 150 degrees.
It's easily set up with the help of a USB. This camera also supports USB 2 and USB 3 with the latest software update.
Pros
Ultra-lightweight
Wide-angle lens
Regular software updates
Cons
Price
Video capture resolution
5. Lenovo 500
The best budget webcam
Stefan's Take:
This webcam is the perfect solution for most people that need a camera for their household computer while being on a budget.
I used this webcam to conduct video chats with multiple people, and the results were more than ok.
| | |
| --- | --- |
| Video Resolution | 9.0 |
| Frame Rate | 8.1 |
| Design & Construction | 8.6 |
| Field of View | 8.0 |
The final place on my list goes to the most budget-friendly webcam I could find.
Considering that the price is meager, the video resolution is top-notch.
But as it lacks some crucial features, such as auto-focus, and has poor zooming abilities, I wouldn't suggest this product for any type of professional usage.
On the other hand, this webcam is perfect for everyday household use.
I can comfortably say that this is a good webcam for amateur purposes, if not even a great webcam.
As I said above, this web camera has an outstanding resolution of 1080p and performs well in low light.
The image capture speed is 30fps. The maximum and minimum focal lengths are 1mm.
The camera is ultra-lightweight (123 grams).
The thing that really affected the price is the auto-focus, or better said, the lack of auto-focus.
The zoom feature is inferior to other webcams on our list, and there is a possibility of an image quality downgrade.
But putting that aside, considering the pretty affordable price, this product is more than just a decent webcam.
Pros
Budget-friendly
Image resolution
Ultra-lightweight
Good quality
Cons
Poor zoom
Lack of auto-focus
Things to Consider When Buying a Webcam Without a Mic
Video capture resolution
Whether you record videos or stream, the resolution should be HD at least.
In some cases, 720p capture resolution should do the trick. But for most of you out there that need a webcam for professional purposes, I must suggest going for 1080p or higher.
The overall quality of the product
With webcams, the quality of the product mainly depends on the materials it's made of.
But the easiest way to be sure that your product is of good quality is to buy it from well-known companies that stand behind the quality of their products.
Frame rate and auto image adjustments
Frame rate is the number of pictures your camera can take per second. Anything below 30fps is not good, and your video will look poor and shaky.
Auto image adjustments can come in quite handy, especially if you conduct a business meeting or teach a class and need everything to work perfectly.
In order to prevent image distortion, some cameras have unique lenses. Ultimately this will improve image quality in low light ambient.
The lens determines how much light reaches the camera sensor, and if the lenses are top-notch, the image quality will be as well.
FAQ
What are the differences between a camera with and without a microphone?
Aside from the obvious difference, the microphone, there are multiple other differences. First of all, a camera without a mic will cost less.
Secondly, as the manufacturers don't need to focus on the mic, they will focus on other things more. Ultimately, most webcams without a mic will have a better resolution and overall better image quality.
Webcams with a built-in microphone can't always cancel out the background noise or provide you with clear audio, while separate mics can do that easily.
When to go for a webcam without a mic?
When high audio quality is needed, built-in microphones can't get the job done neatly. This is simply because the quality of the built-in microphones is average.
Thus as the mic itself is average, you cant expect the audio to be exceptional. The perfect example would be; If you are conducting a business meeting or you are teaching a class.
Your listeners need to hear you clearly so that everybody can understand you, right? Well, your average built-in mic most of the time can't do that for you.
That's when you go for a separate USB mic and a good-quality webcam. Then you can be 100% without any worries, as you will have a good quality mic to accompany your high-definition webcam.
Is the price important when buying a webcam without a mic?
The price doesn't have to be crucial when buying this type of product. As you can see on our list, we have an 800$ webcam and a 300$ webcam with almost the same features.
I suggest determining the highest price you would go for, then picking a couple of products in that price range and comparing them. Only then can you be confident that you went for the right one.
Conclusion
Buying a webcam doesn't have to be exhausting at all. I hope that I have managed to shine some light on this and made it easier for you to decide which webcam to buy.
To sum it up, my shortlist would be:
Logitech PTZ Pro 2 as the best overall webcam without a mic;
Tongveo 3X PTZ for streamers;
Tenveo USB PTZ if you need great capture speed and video quality.
As you can see, my list covered almost all webcams' uses, so you can pick the one that best suits your needs.