Being able to directly reply to a single message on Instagram is one of the best updates that happened to Instagram messages, but you might not be sure how it's exactly done.
This is a very useful feature, no matter if you need it for a group chat or if you've received multiple messages from one person.
Now, you will be able to find out how to reply to a message on Instagram, so just keep reading!
How to Reply to a Message on Instagram?
Leaving a reply to a specific message on Instagram is very easy no matter whether you're using Instagram from a desktop or your phone, so I'll go through the steps on how you can reply to individual messages in a private or group discussion on an Android device, iPhone, and desktop version.
On Android
Open your Instagram app.
Go to your Instagram feed.
Open your direct messages by tapping the icon in the top right corner.
Enter the chat that you want to.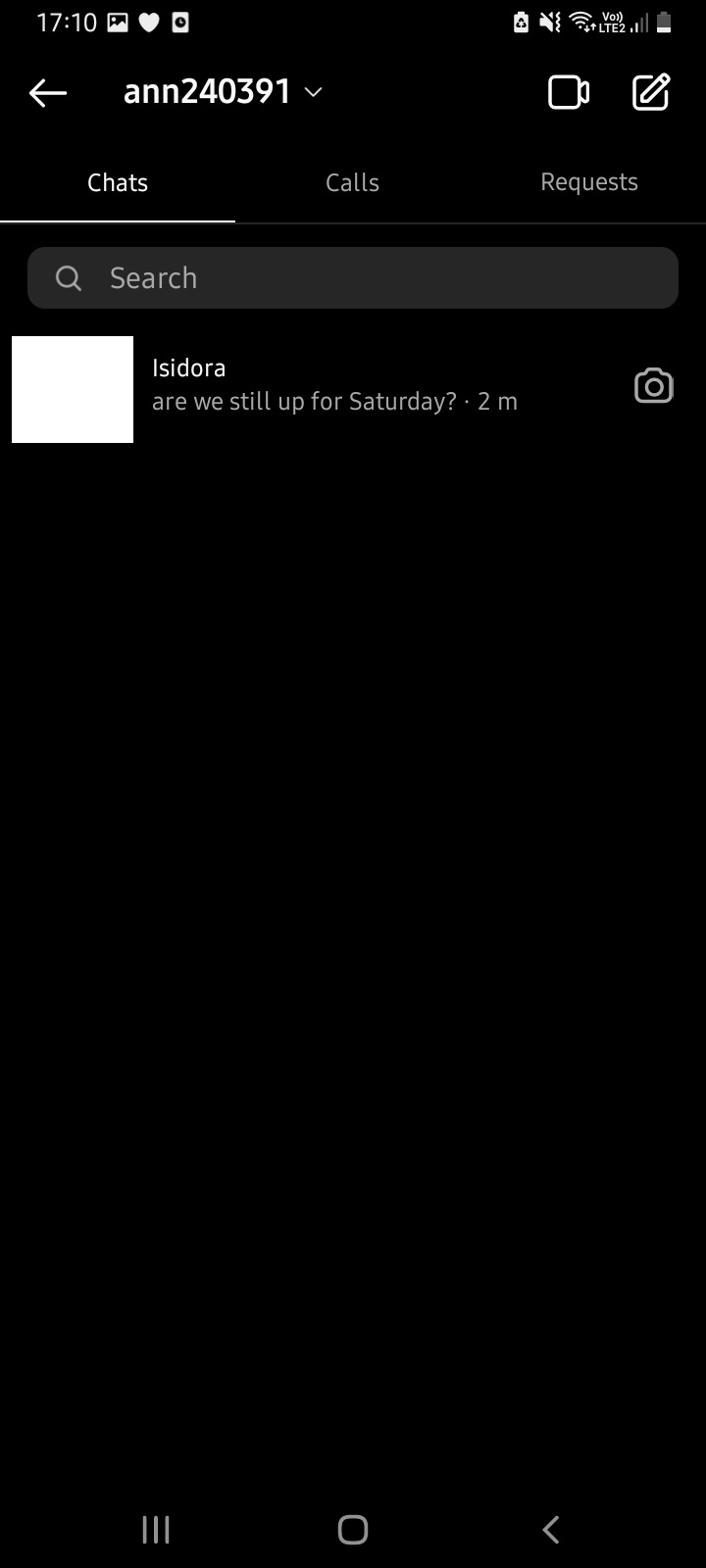 Go and find the message that you wanted to reply to, tap, and hold for a bit on it.
Very soon, you will see three options at the bottom of your screen – Reply, Report, and More.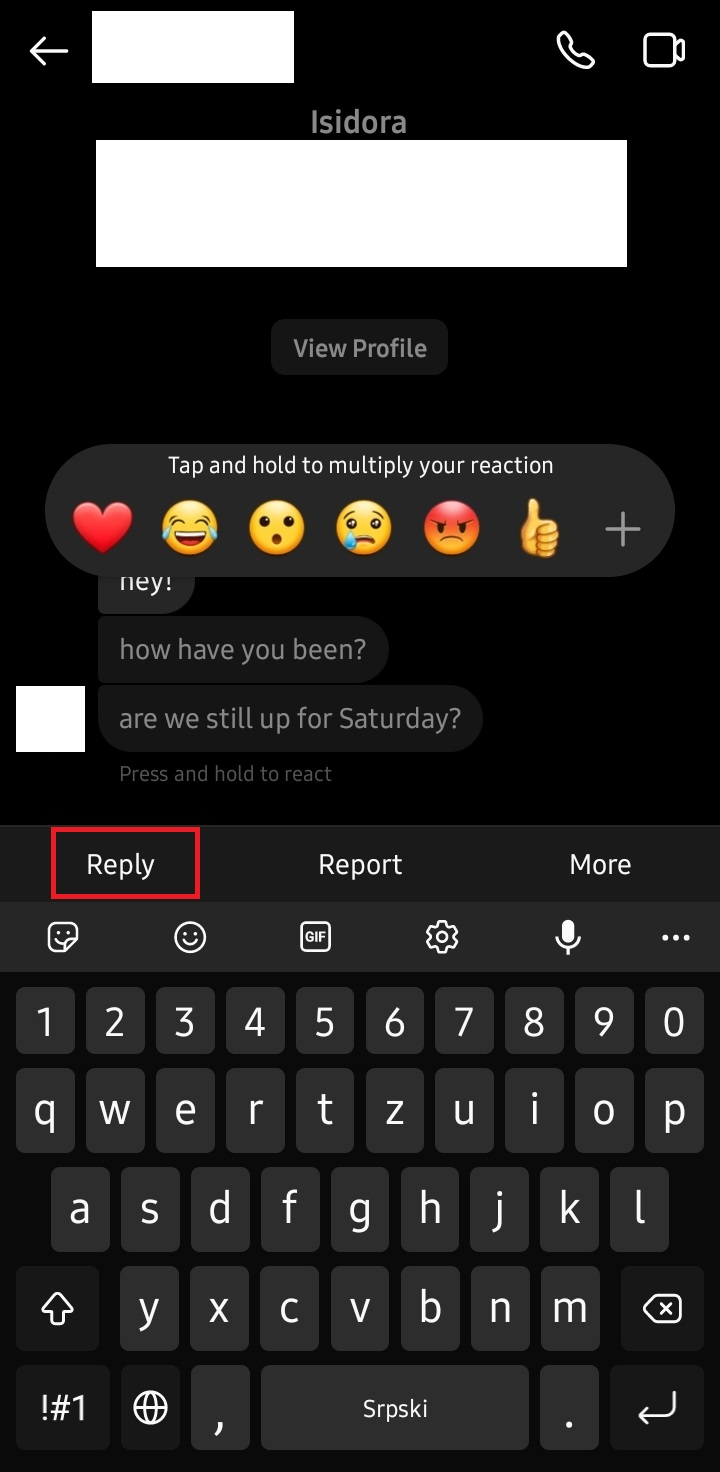 Tap on Reply.
Now, you will be able to reply to that specific message by typing your answer in the text input box and simply pressing Send.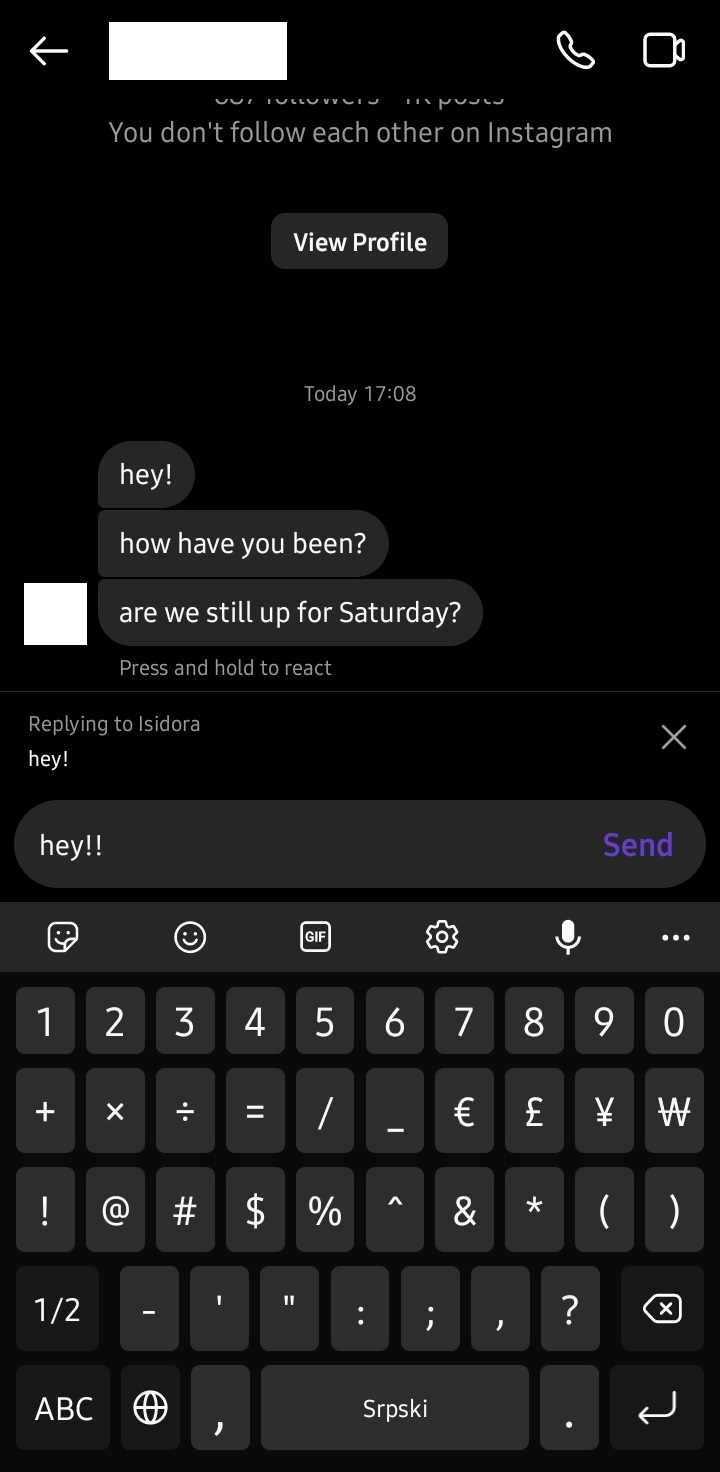 You're able to do this as many times as you want in direct messages with both your Instagram followers and people who are from your Facebook messenger.
On iOS
Replying to specific messages from an iOS device works pretty similarly to an Android device, and here are the steps that you need to take:
Open your Instagram app to the feed page.
Access messages by tapping the messenger icon in the top right corner.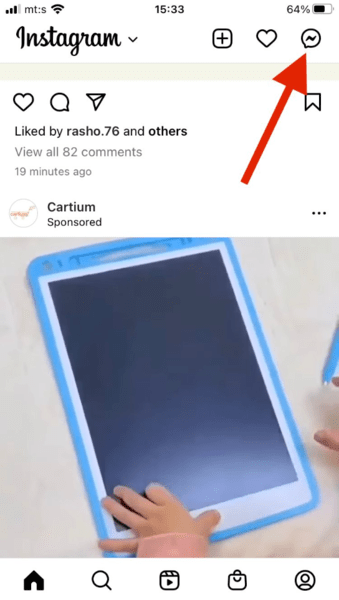 Choose the individual or group chat to which you need to send the message replies.
Choose the Instagram message that you want to reply to.
Tap and hold that message.
From the three options that will appear at the bottom of the screen, choose the Reply option.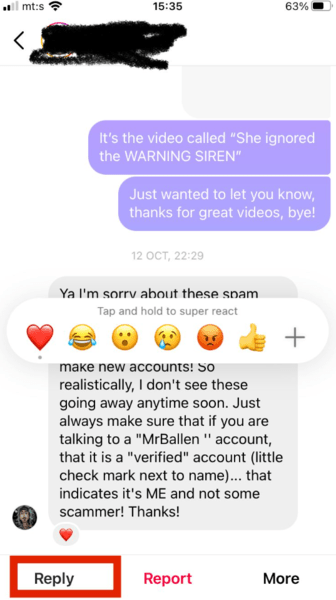 Tap your reply to the text messages in the message box.
Tap the Send button.
On desktop
If you are mainly using the desktop direct message version, you are still able to use this and more of the new messaging tools on Instagram, which I will talk about after this.
So, here are the steps:
Open the Instagram website and stay on the home page.
On the left-hand side, you will see multiple options to choose from, and you should click on the Instagram direct icon.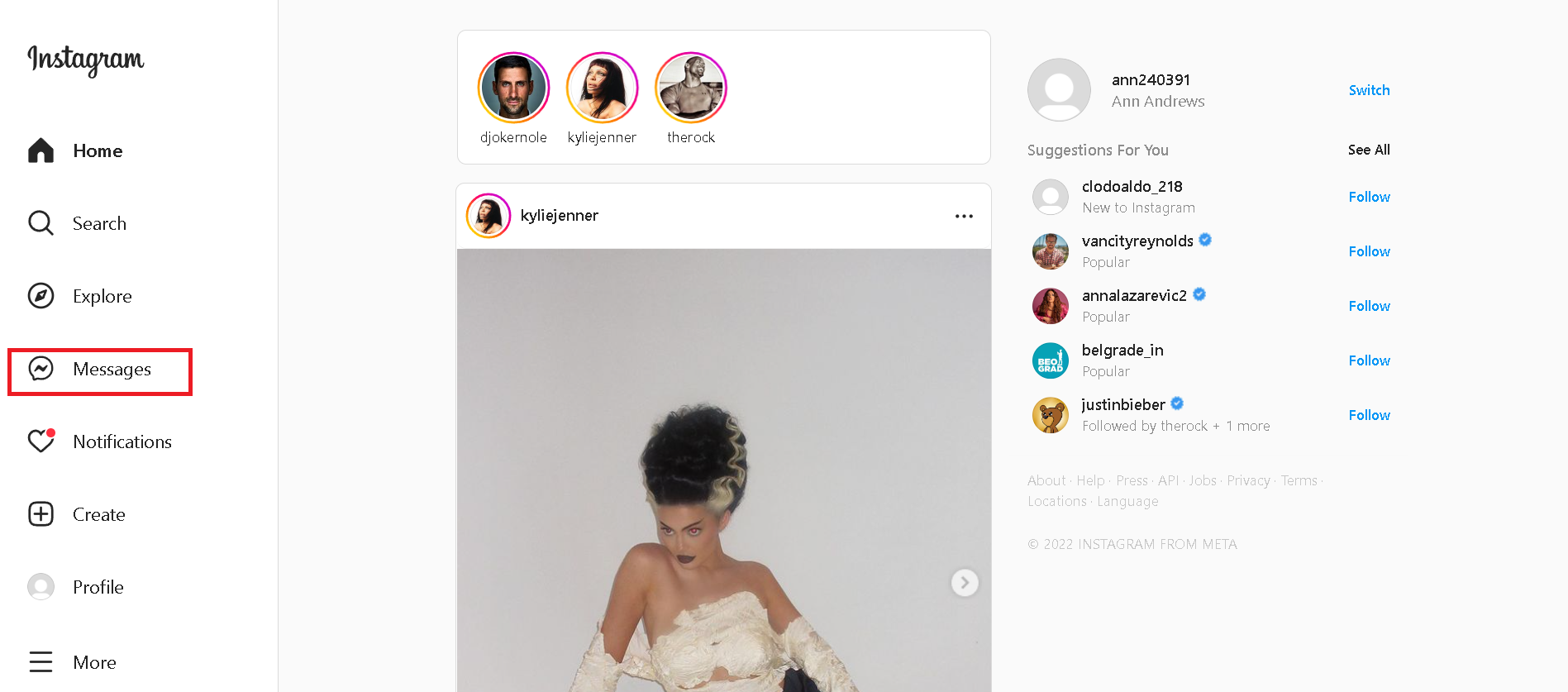 This will open the messaging feature, and you will see all of your chats there.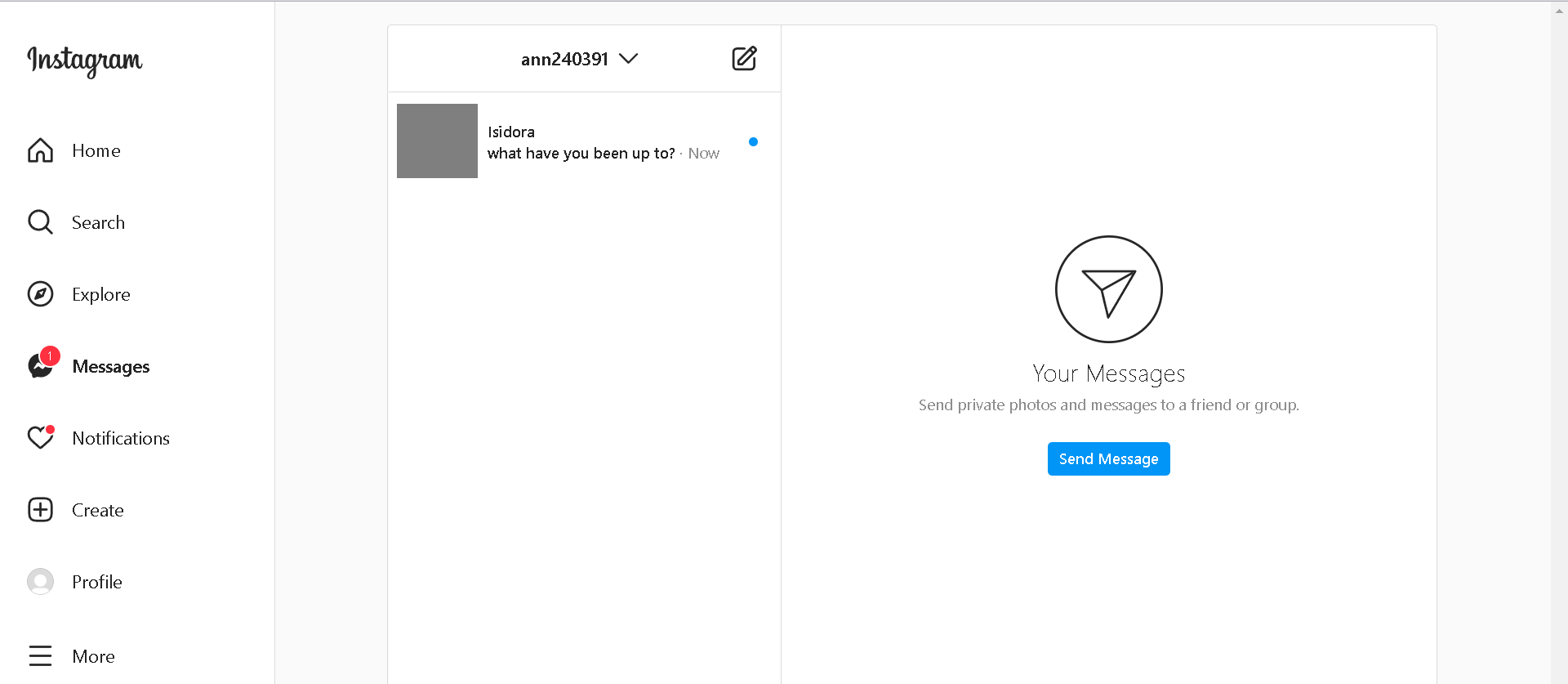 Click on the particular sender that you want to talk to.
This will open your chat, so now you need to look for the selected message that you want to reply to.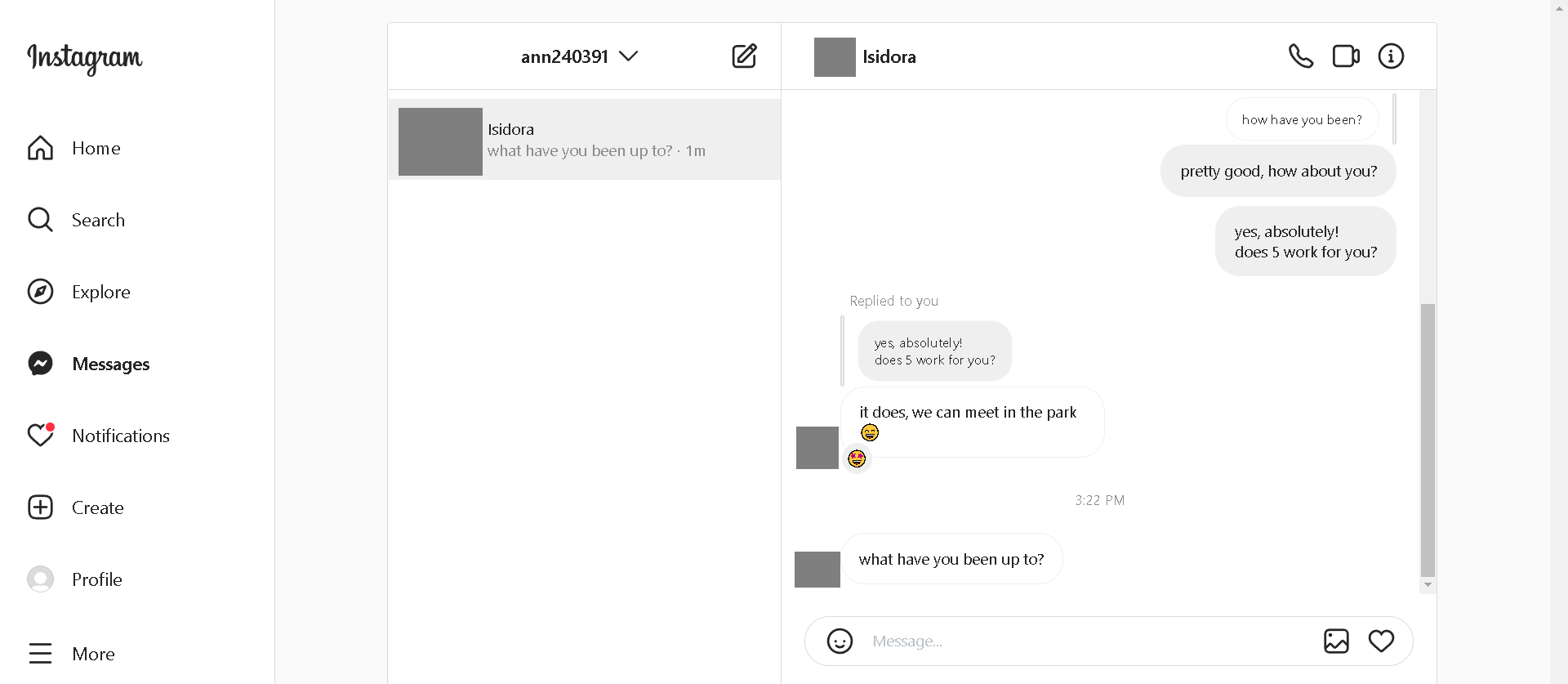 Once you find it, just hover on it with your arrow, and an arrow icon will show on the right side of the message.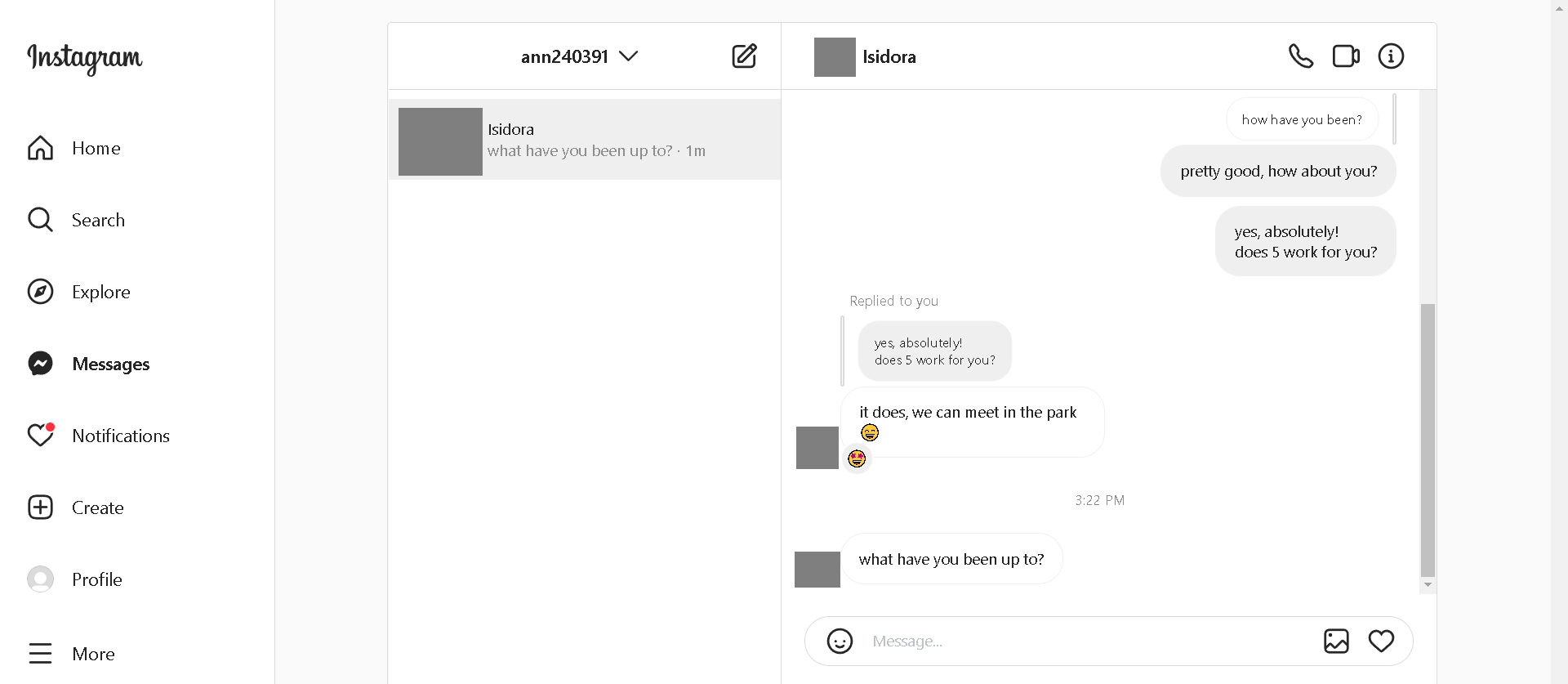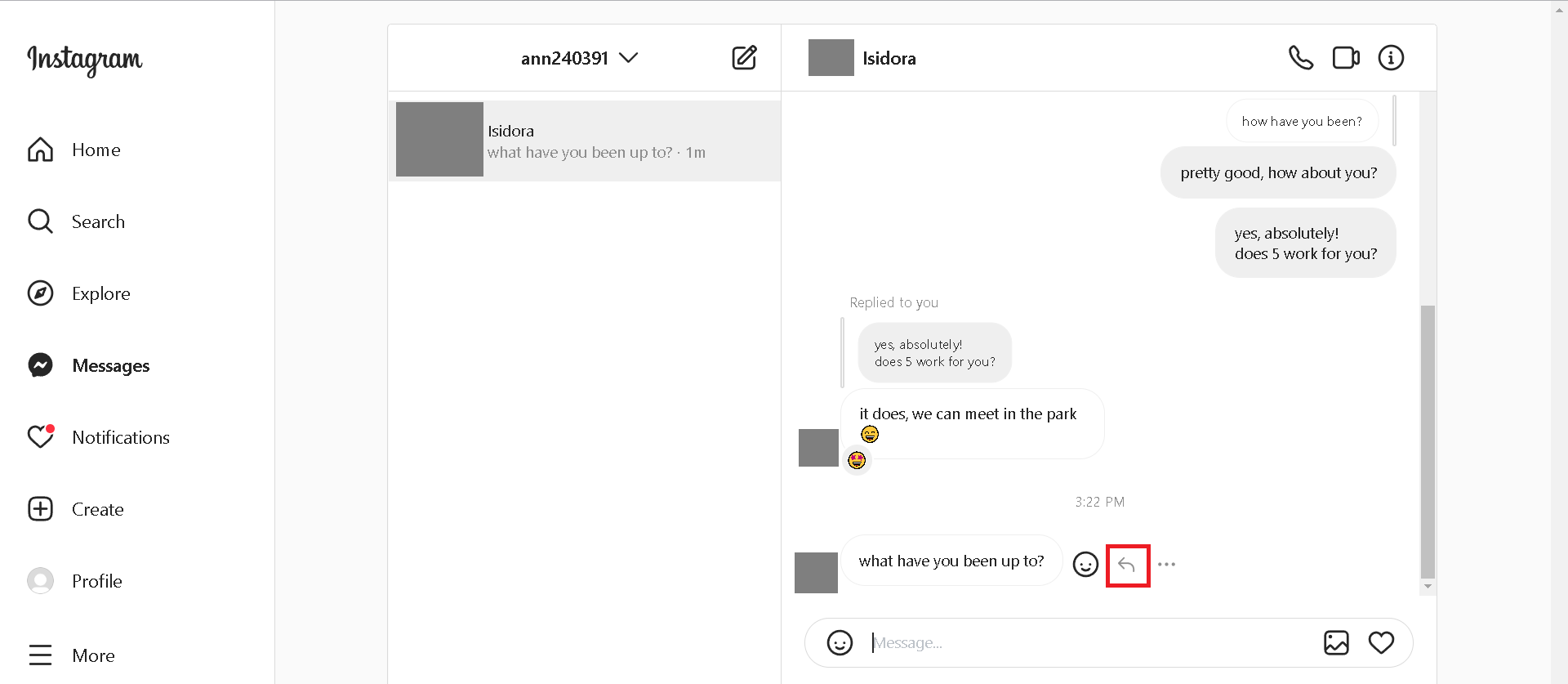 Now, all you need to do is type in your reply in the text box and click the Send button.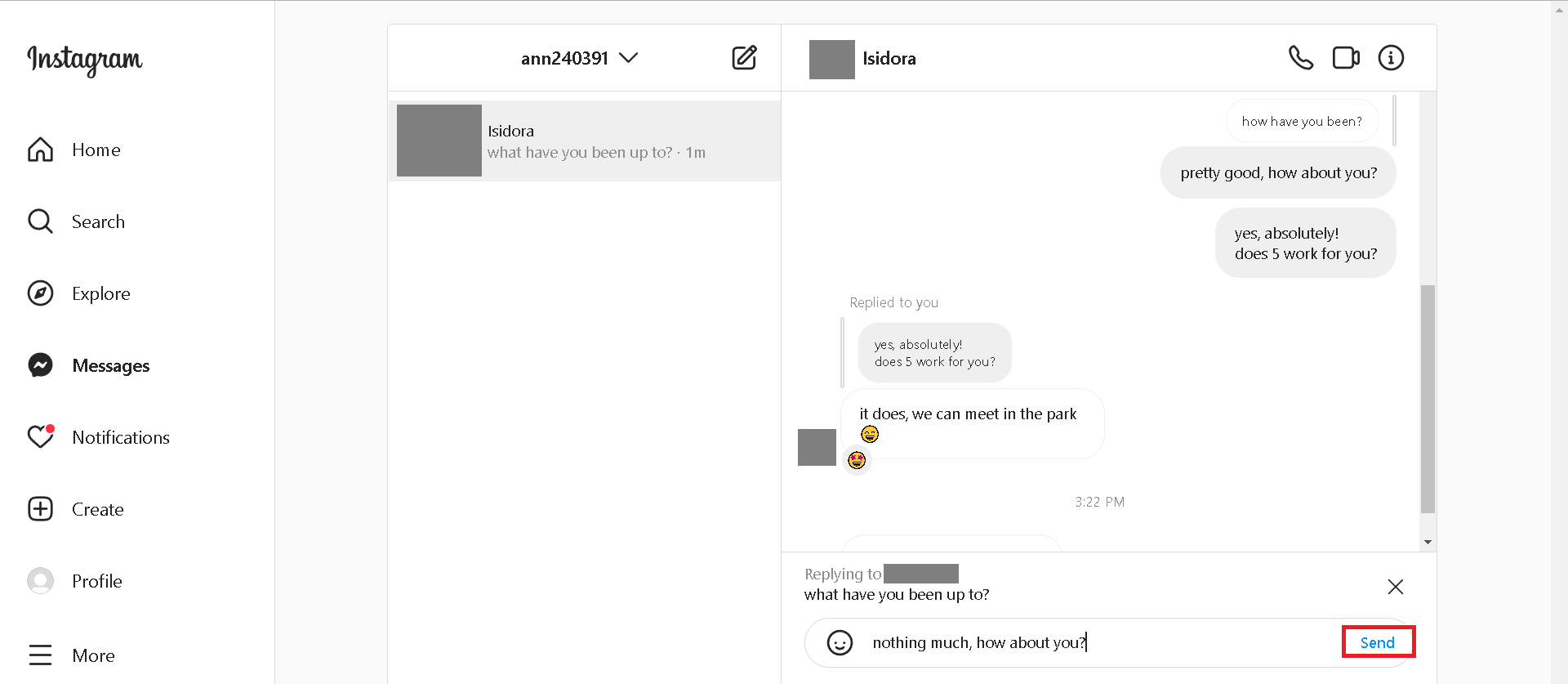 Reacting to Instagram Messages
One of the messenger features that are very fun and useful is the custom emoji reactions that you're able to put on messages.
There are a few different ones that you get by default, and they are a thumbs up, a heart reaction, a crying laughing reaction, a sad reaction, and an angry reaction.
To leave a reaction in direct messaging, whether it's in a private chat or some of the large group chats you're in, all you need to do is tap long on that message, and besides the options for replying that will appear on the bottom, the reactions will appear right next to the message.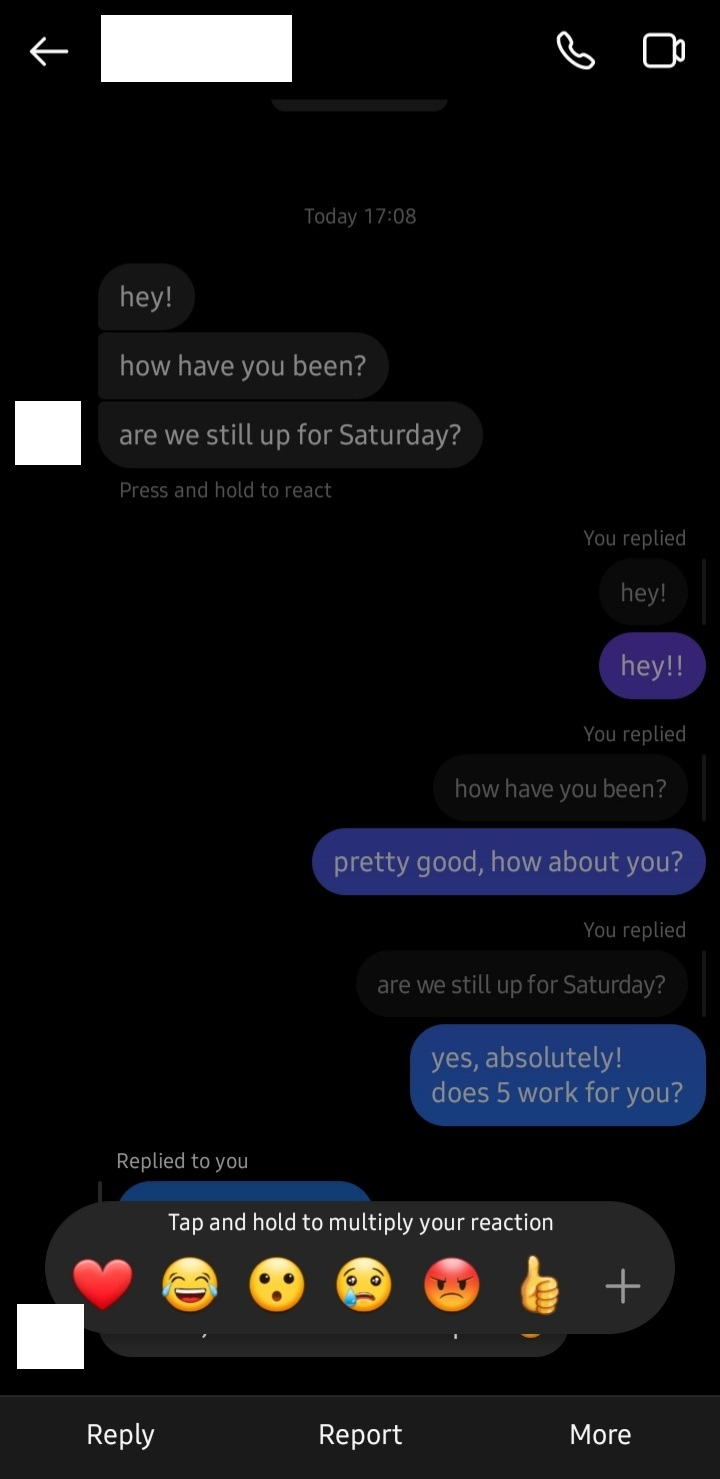 All you need to do is tap on the emoji that you want to react with, and that's it.
One fun messaging feature related to reactions is that you can choose a custom reaction.
When these reactions appear, you will see a small plus icon next to all of the default ones.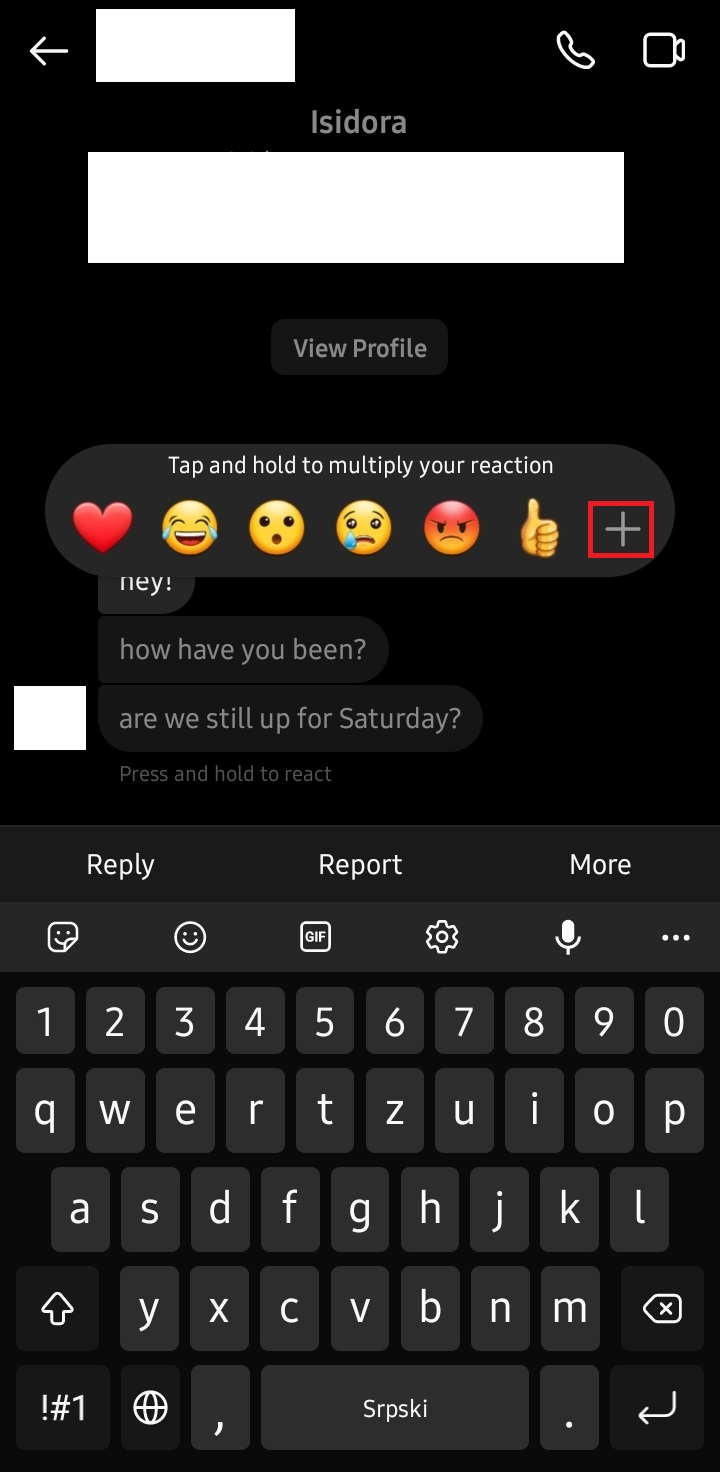 Just tap on it, and you will be able to choose what emoji reaction you want to have.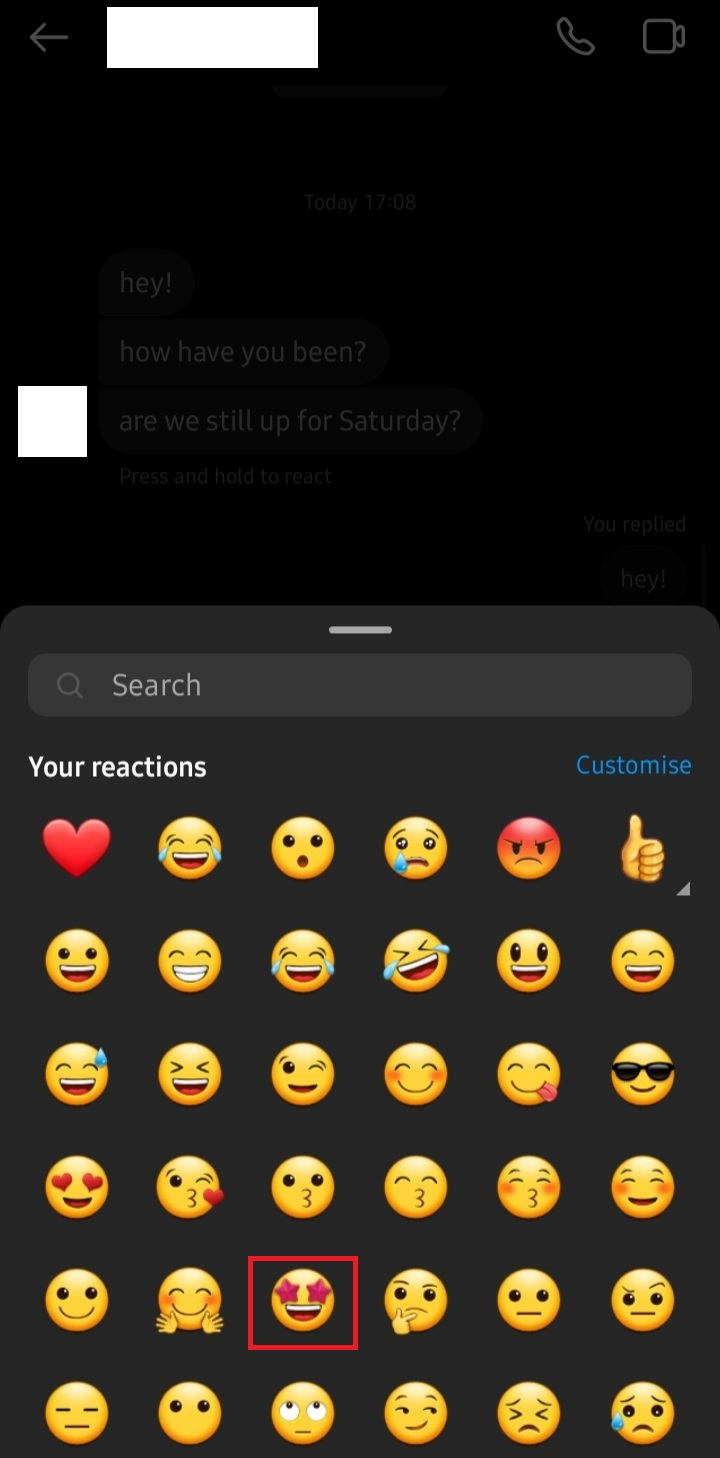 If you are using the Instagram desktop, you just have to hover over the message and right next to it, and you will see a smiley face emoji.
You just click on it, and the reaction options will appear, so all you need to do is click on the one you want, and that's it!
Updating Messenger on Instagram
As you might know, Facebook and Instagram are very easily connected, as they are a part of a bigger company called Meta.
One of the ways in which Facebook and Instagram are connected is through the Messenger app.
An update is available in the Instagram app settings for all users that basically merges these two apps, and then, it becomes possible for you to talk to people from Facebook on Instagram, too.
However, this is not available automatically, and you need to update it in just a few easy steps that all Instagram users can do.
Here are the steps:
Open Instagram on your phone.
Go to your profile page.
Open the menu in the upper right corner of your profile screen.
Go to Settings.
Among the different listed options, you will see the Update messaging option.
Now, a pop-up will appear, and all you need to do now is tap on the Update button.
Now, your apps are connected, and when you enter Instagram on your phone and tap on the messenger icon, you will be able to see both the messages from Instagram and from Facebook.
Cross-app messaging tools like this one can come in very handy if you are one of the people who don't like to go from one app to another too many times and would rather have everything in one place.
Conclusion
Leaving a reply on Instagram messages is very easy, no matter where you got the original message.
When you're using your phone, no matter if it is an iOS or an Android device, you will be able to find the message icon on the home page, and once you click on it, you will see all the messages you got and choose which specific message you want to reply to.
This new feature is great, and you can incorporate it nicely in all conversations, just like the emoji reactions and the vanish mode.
FAQ
Why can't I reply to a specific message on Instagram?
The reason why you might not be able to reply to a message directly might be due to your app not being up-to-date.
If you have had Instagram installed for a long time, but you haven't updated it for quite some time, you will need to do that in order to have this feature.
How to reply to a message on an Instagram group chat?
Replying to a particular message in Instagram group chats works the same as in a private chat.
All you need to do is tap and hold that message and directly respond to the message you want by typing your reply.