Making a screenshot of an Instagram profile and sending it to someone is easily done on your side. The other Instagram user you have sent it to will still have to later search via Instagram username.
Why not make it easier? In a few taps, you can super easily send the Instagram account information via URLs in a link form and send Instagram account info to other users.
---
How to find Instagram URL?
On mobile phones – combine Instagram website URL and your username: https/www.instagram.com/username;
On PC – login to the Instagram website, click your profile icon, and copy the URL from the browser;
URL of another user – visit their profile page, click 3 dots in the upper right and choose Share or Copy;
URL of the posts – go to the post, tap 3 dots and click "Share Post" or "Copy";
---
Make the use of social media platforms easy and convenient and exchange info about an interesting content creator by sending an Instagram profile URL. Let's find out how to find Instagram URL in more detail!
How Can You Find Your Instagram URL?
If you're curious about the structure of your URLs when you are maybe looking for your Instagram URL, let me tell you that it consists of two parts.
One of these two parts is Instagram's website itself: HTTP, www.instagram.com. It will always be a part of all URLs related to Instagram. The other part of this will be your Instagram username.
If you have convinced that very traditional and conservative cousin to create an Instagram profile, you might want to send them your own Instagram URL, so they can add you. You can do this via the mobile device app directly or via the desktop version.
Finding Instagram URL On Mobile Devices
OK, so firstly, open the Instagram app, and tap on your profile icon at the very bottom of the page in the navigation bar:
Here you will see in the top-left corner the exact name of your account, which you probably already know.

This part is critical because now I want to show you how to create the format of your Instagram profile URL.
You will use the following format to find your Instagram username:
You will use this as a base – https/www.instagram.com/
In the end, you will add your Instagram username:
https/www.instagram.com/xxxxxx
Here's what my very own Instagram profile URL looks like:
https/www.instagram.com/thatstrangeblonde
Finding Instagram Profile URL On PC
This one is pretty simple. First, log in to your account on Instagram. The desktop version is probably the easiest way you can do this: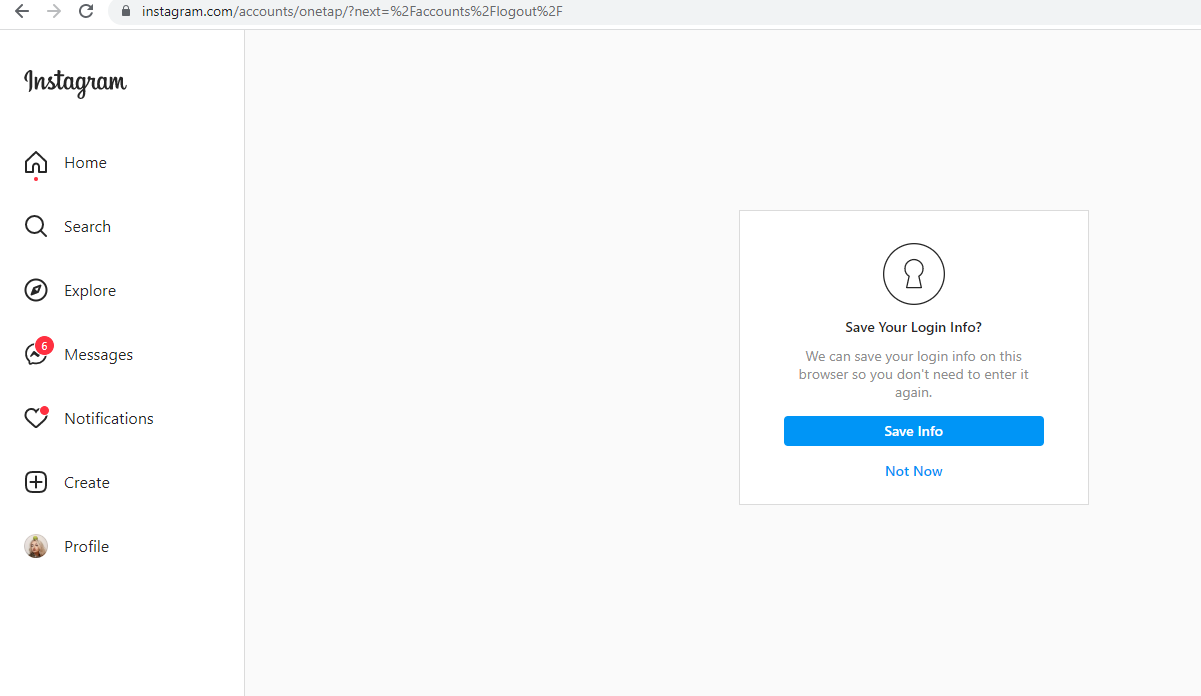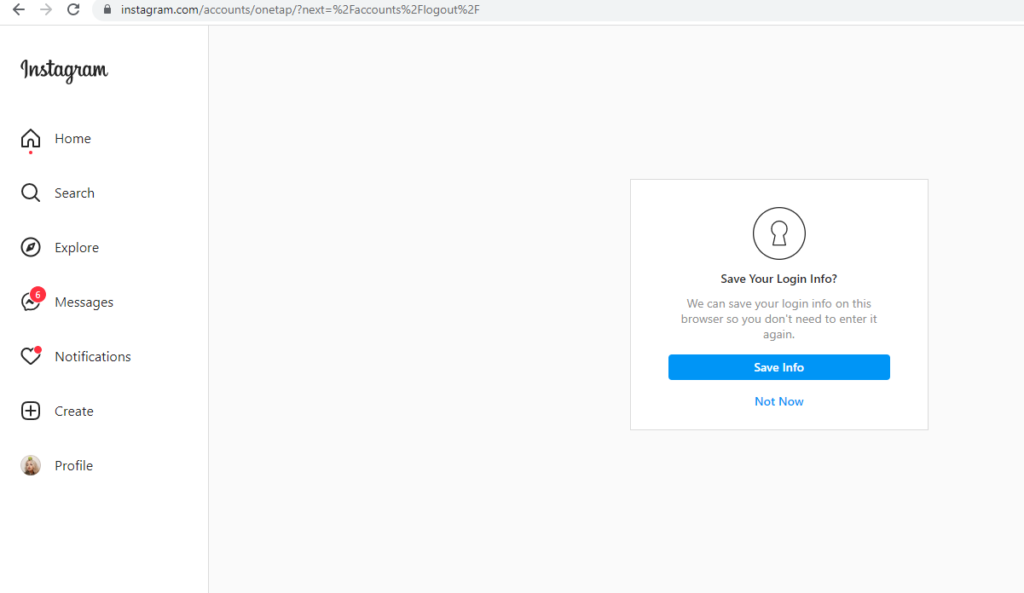 From here, you're simply just going to tap on your profile icon at the bottom of the options menu and access your account:
Now, At the top of the page, you will be able to see in your browser's address bar the URL. Ok, so now from here you can just copy the profile URL, then hit paste, and send your personal and original Instagram profile URL this easily!
Finding An Instagram URL of Another Profile
Sharing another user's URL is quickly done. A few taps and it's ready to be shared.
Start by searching for the desired location of the account and open that Instagram profile.

Once you see the other account's profile page, please tap on the three horizontal dots in the upper-right corner.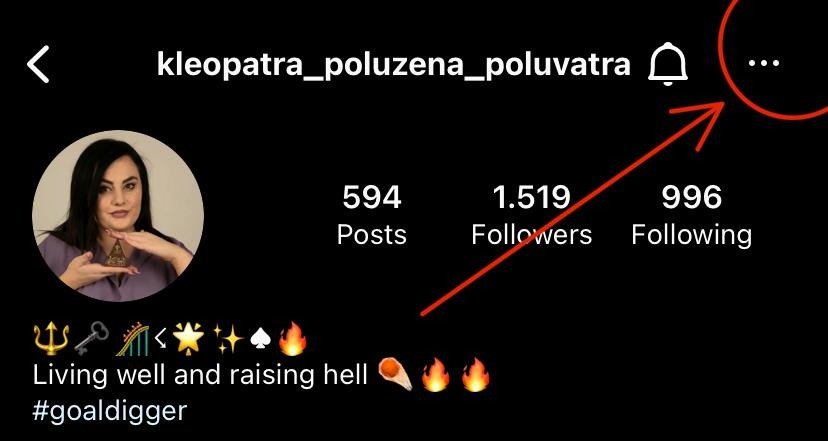 Here you will now see a menu, so you simply tap here on the Copy Profile URL button, and basically and only after this step, paste the copied link to the chat, e-mail, or location where you wish to send it.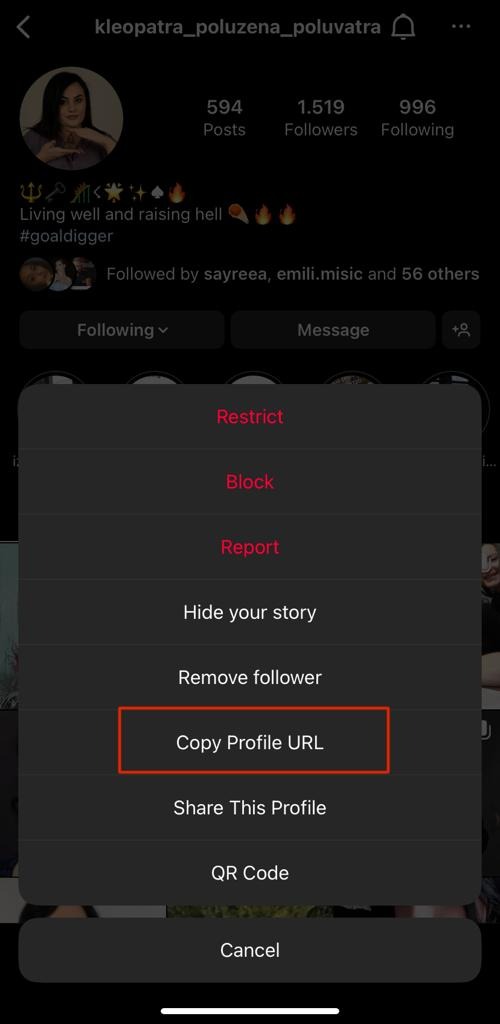 URL Share Icon
This one requires you to simply open the Instagram app and search for the account you wish to share.
From here, you see, you can tap on the three dots in the upper-right corner.
You will be shown a menu of options, now tap one, Share This Profile.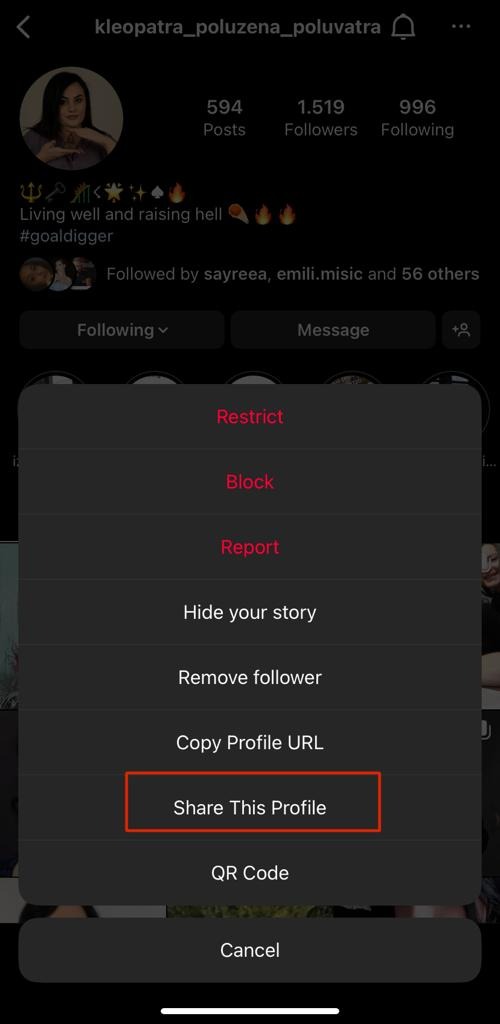 From here, choose one or many users, to whom you wish to send the Instagram profile link.
Finding the Post's URL
There are two ways to share your Instagram post. Firstly, you can share the post with your friends on the app, and secondly, as a B option, you can also find your Instagram URL, and send the Instagram Post URL.
So, this is how you do it
Open the post you wish to share: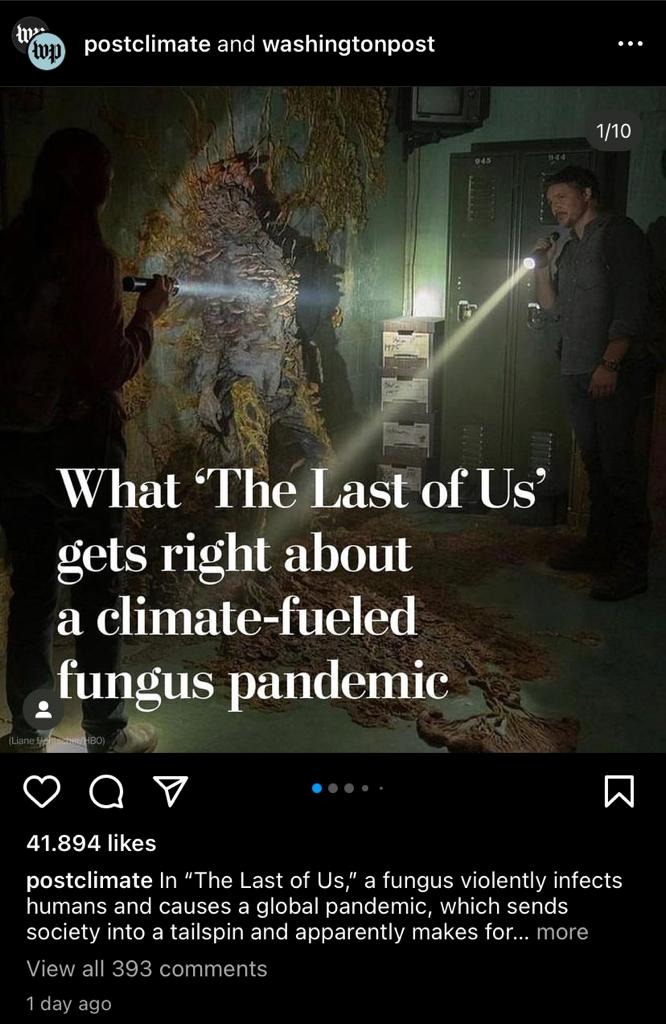 Tap the three dots which are located in the upper-right corner: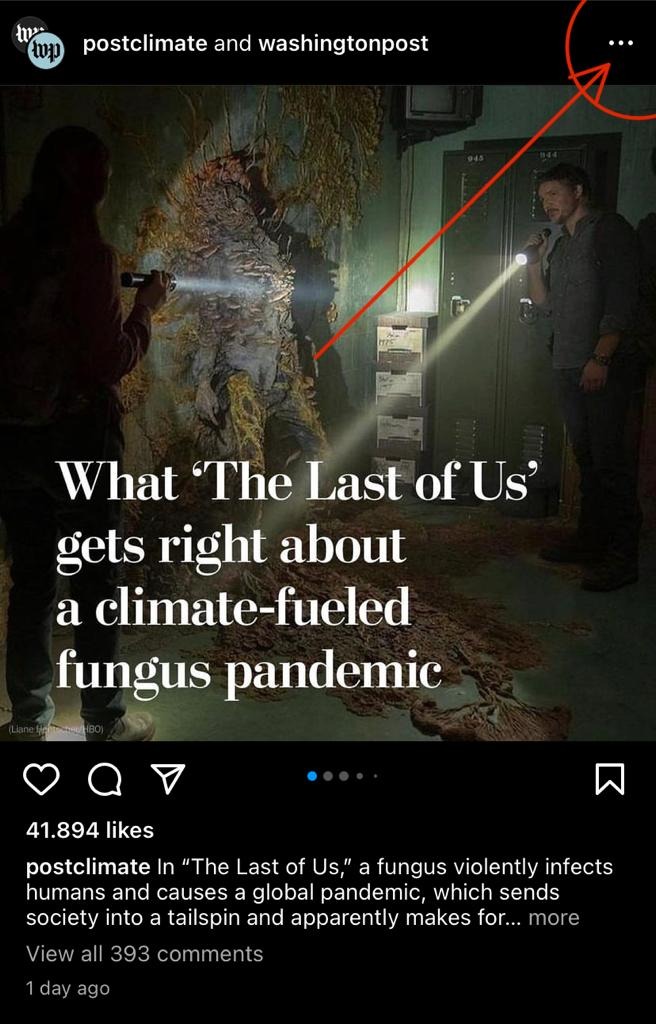 Now here, you can either tap on the Share button and send it to your friends in their DMs as a text message.
Or you can tap on the Link button and copy it. This way it's contained in your buffer memory, and you can paste it wherever you would like to.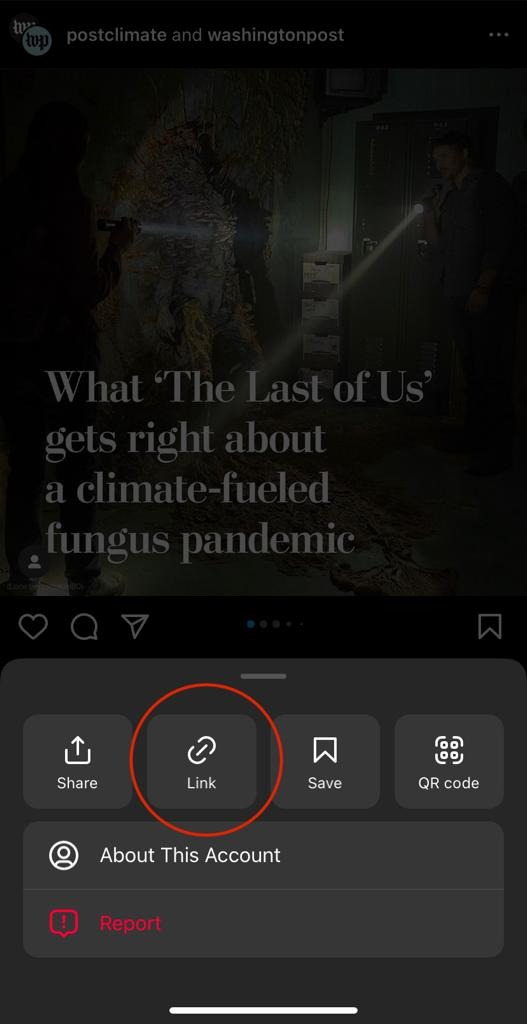 Can You Change an Instagram URL?
All of your personal details, that are displayed on your Instagram page, can be set and edited in a few taps:
Firstly, tap on your profile icon at the bottom of the page.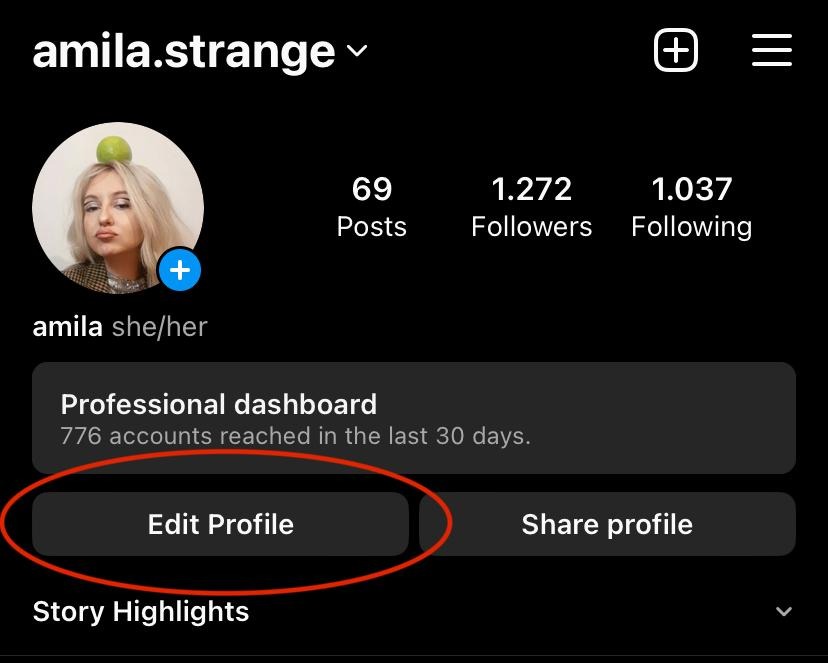 Now, in the middle of your Instagram profile page, you will see a button – Edit Profile. Tap on there.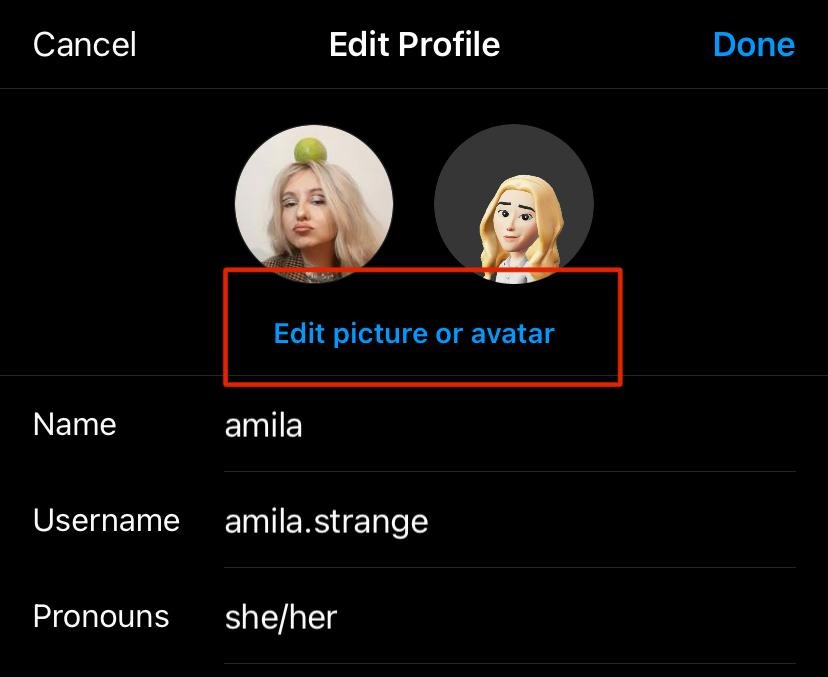 Here you can see all the basic info related to your account. You can also change your profile picture here.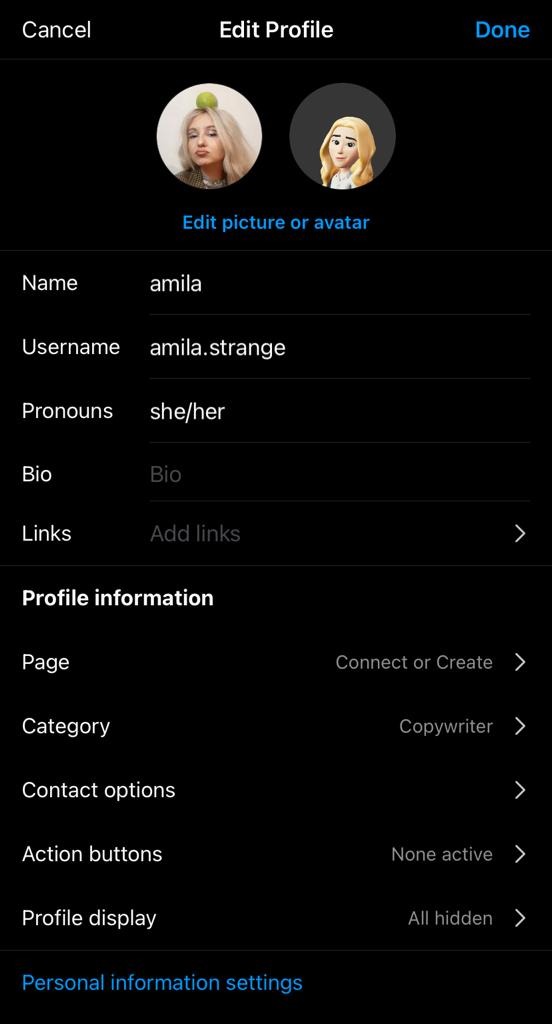 Simply add or change some of these fields and tap submit. Edit your profile as often as you want, but keep in mind that there is a waiting time of 14 days before you can change your Instagram username again.
Where to use your URL?
Many a time underrated, the Instagram profile URL is a powerful tool if used correctly. Regardless if you are using your own URL for the direct Instagram profile page URL location or if it is an Instagram post URL, explore and use its full potential.
An unbeatable social media strategy will require you to promote your product and or service on all popular social media networks.
Cross-promoting between several accounts is a great way to meet a new audience, now think in terms of promoting your Instagram content on other social media networks, such as YouTube, TikTok, Twitter, etc.
If your Instagram links other social media network portraits of you in cyberspace, expect growth in numbers among your following.
Networking and Connecting
See the Instagram profile URL for your Instagram account as a base for networking and exchanging your info with many users on the App.
The username of the account is an important factor here. Once you change your Instagram username, your Instagram URL will change as well.
The Instagram URL related to your old username will no longer be valid during the search. If the URL to someone's account is no longer working, that means that the user has probably changed their old username.
Alternatively, If you are finding Instagram accounts and cannot succeed in this attempt, the accounts you are looking for may also just be deactivated Instagram accounts.
URLs and Privacy
Keep in mind that you can get any Instagram profile URLs, but also any Instagram post URLs, if a certain account has been set to private mode, it will indeed lead you to the account.
You should know here, that the content will not be visible, except for the Instagram bio.
So, remember – if the account is private, the only way for you to see that Instagram account's posts are to follow them. Only if your request is accepted will you be able to see posts and the followers/following list.
Conclusion
It doesn't take much to understand that finding Instagram URLs is super easy and quick. The same thing goes if you want to find Instagram post URLs. Every URL is a unique URL.
Instagram comes very frequently up with so many remarkable and useful features. An Instagram profile link URL is no exception.
Now you know how to simply copy profile URL material and hit paste where it's necessary. You never know when you're going to need to use this feature.
FAQ
To whom should I send my Instagram profile URL?
Your Instagram URL info is public information. It is something people can figure out effortlessly. In case somebody gets access to it whilst you own a private account, don't worry, they cannot see your content.
If somebody doesn't even know your Instagram account username, they cannot find you at all. Just like with any other data, think twice before you hand it out to a third party.
Can somebody see if I copied their Instagram profile URL?
No. They will not get any kind of notification. Sending somebody a message, following them, liking their posts, or commenting on their content will result in them receiving a notification, but if you copy the profile URL, that will go unnoticed.
Should I write my Instagram URL in my bio?
You could do it, as you are allowed to customize your bio as you see fit. But it is simply not necessary.
It takes less than a few taps to copy profile URLs or Instagram post URLs.