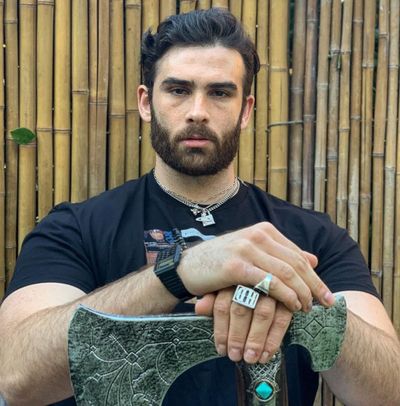 | | |
| --- | --- |
| Full name: Hasan Dogan Piker | Education: Political Science and Communication studies at Rutgers University |
| Date of birth: July 25th, 1991 | Height: 6′ 3″ / 190cm |
| Place of birth: New Brunswick, USA | Weight: 176lb / 80 kg |
| Current residence: New Brunswick, USA | Estimated net worth: $3 million |
Who is HasanAbi?
About, History, and Net Worth
---
Hasan Dogan Piker is a Turkish-American Twitch streamer and Political commentator with a great deal of influence on how young Turks think these days. Today, I will tackle the subject of HasanAbi net worth.
His decision to focus on political commentary instead of the more common gaming culture of Twitch makes him a bit different than the majority of the streamers on the platform, but no less popular, which reflects on his net worth.
HasanAbi Net Worth
HasanAbi's estimated net worth is in the range of around $3 million, with the majority of that wealth coming from his job as a Twitch streamer.
That being said, he is also participating in several other profitable business ventures that increase HasanAbi's total net worth. But before we get into the fine details of his sources of income, let's focus on the man himself for a moment.
Hasanabi's Media Career
HasanAbi began appearing in media as a show host for his uncle's media company. the Young Turks. He hosted several popular shows such as The Breakdown and the series called Agitprop with Hasan Piker in 2019.
These shows, while not as lucrative as his later Twitch stream, helped HasanAbi become more recognizable in the media world and kickstarted his Twitch and Youtube channel.
Still, he eventually decided to move away from working in this area and chose Twitch as his platform of choice, and hasn't been affiliated with Young Turks since 2020, leaving the company permanently.
HasanAbi Twitch career

HasanAbi first appeared on Twitch back in 2016, and he was quite a controversial figure right from the get-go, thanks to his political content and the influence he had on a younger audience.
Thanks to his degree in political science and left-leaning political analysis, he soon became a preferred political commentator for many people, even holding an election coverage that year.
He would subsequently get in trouble with Twitch as they felt his political critique was interfering with the US foreign policy but said issues have since been resolved, and the 2.1 million followers HasanAbi has amassed on his Twitch channel are free to enjoy the streamer's unique take at the US and world politics alike.
In addition to his political commentary, HasanAbi has also begun streaming gameplay from time to time, with his most recently played game being a viral cat simulator called Stray.
HasanAbi Youtube career

Other than his popular Twitch channel, HasanAbi also has a significant presence on Youtube, which is about to reach a subscriber count of 900K. Just like on Twitch, various political discussions and progressive news constitute the majority of the channel, with some gaming videos in-between.
The exact amount of HasanAbi's Youtube earnings is unknown, but it is quite likely that he has tens of thousands of USD in ad revenue alone, discounting any brand deals that may have resulted from his presence on this platform.
Naturally, as his subscriber count continues to increase, we will see the ad revenue rise as well, especially once HasanAbi's channel hits the 1 million subscribers milestone.
HasanAbi brand deals
It is currently unknown whether HasanAbi has any active brand or sponsorship deals as the streamer is keeping such information private.
Regardless, due to the popularity of his channels and the fact that he exercises a great deal of influence on the younger population on all his platforms, we believe that he will soon be approached by a company in need of marketing if he hasn't been already.
Conclusion
HasanAbi is a Twitch streamer and social media influencer of Turkish descent primarily focused on politics but also venturing into gaming and hosting TV and internet shows, with a total net worth of around $3 million.
FAQ
How much does HasanAbi make in a year?
While the exact figures are not known, based on the Twitch leaks that were released a few years ago, we can safely assume that his yearly income is still in the range of $1 million, if not larger, as both his Twitch and Youtube sub counts have increased since then.
Is HasanAbi married?
HasanAbi currently remains unmarried, though he is in a happy relationship with his long-time girlfriend, Janice Griffith. It is unknown whether they are planning to tie the knot at this time.