With new models released every month, Canon is one of the best choices on the camera market. Today, I will help you choose a gimbal for Canon cameras.
My personal choice is the DJI RS2 Combo gimbal because it is quite handy to use due to its low weight, and its load capacity is great for most Canon cameras.
So, if you want truly stable video footage with the best image stabilization, browse through my choices to find the best gimbal for you.
QUICK OVERVIEW: Best Gimbal for Canon
Weight: 1kg
RavenEye ActiveTrack 3.0

Maximum Payload: 4kg
Facial Regognition System

OLED screen
Quick-release plate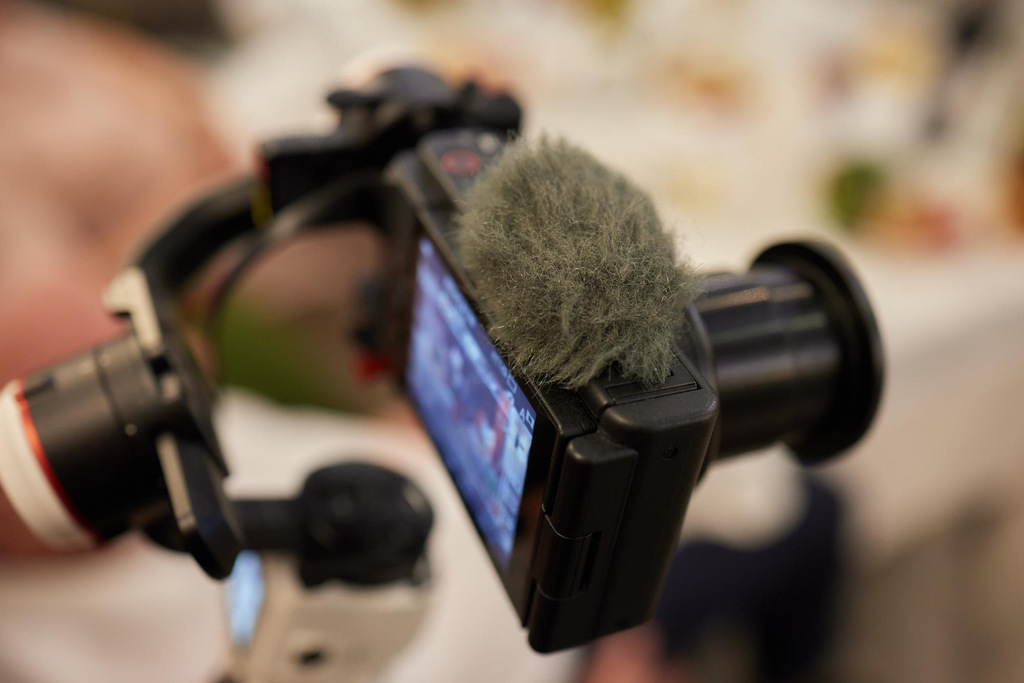 Best Gimbal for Canon
Reviews
1. DJI RS 2 Combo
Best Overall Canon Gimbal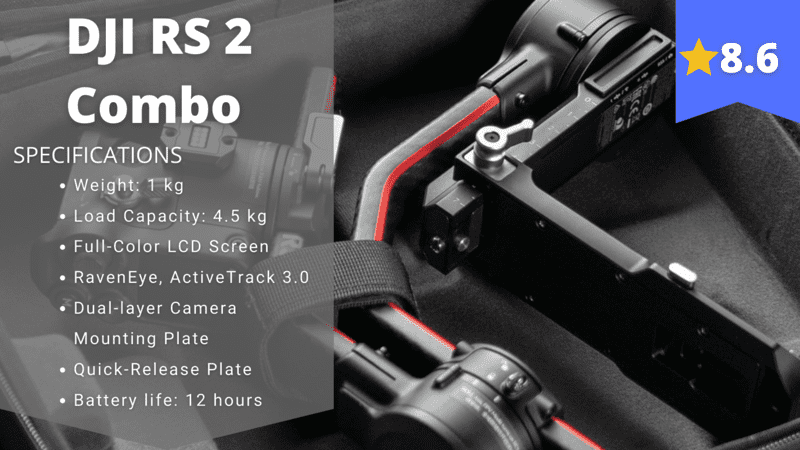 Stefan's Take:
With its lightweight but strong carbon fiber construction, this gimbal stabilizer will improve your photography skills. Whether you use small cinema cameras or larger DSLR and mirrorless cameras, DJI RS 2 Combo will support the camera's maximum payload of 4.5 kg.
That's what amazed me the most with it – small size but the highest weight capacity in the industry. This is for sure one of the lightest DSLR gimbal stabilizers I've tested with that payload capacity.
| | |
| --- | --- |
| Value | 8.7 |
| Weight | 8.2 |
| Compatibility | 9.5 |
| Performance | 8.1 |
Description
Titan Stabilization Algorithm with SuperSmooth mode catches all subject's and camera's movements and stabilizes even 100mm zoom lenses. I was looking for consistent and smooth footage and that's exactly what I got with this gimbal – full control of my Canon's shots.
The thing that makes this gimbal one of the best choices for camera stabilizers is its compact and stable construction. A one-handed operation like controlling focus via the button above the trigger makes this gimbal a pretty good handheld stabilizer. That made my filming easier and kept the camera steady the whole time.
Different shooting modes like TimeTunnel, Panorama, Timelapse, and Track can be controlled on the full-color LCD screen. RavenEye enables remote control of camera settings while transmitting videos from up to 200m.
Battery lasts up to 2 hours with just 15 minutes of fast charge. Of course, the full battery life is 12 hours which is more than acceptable for a DSLR gimbal stabilizer.
Pros
Lightweight
SuperSmooth Mode
Fast autofocus
Fast charge
Design
2. Zhiyun Weebill 2
Best for Angled Shots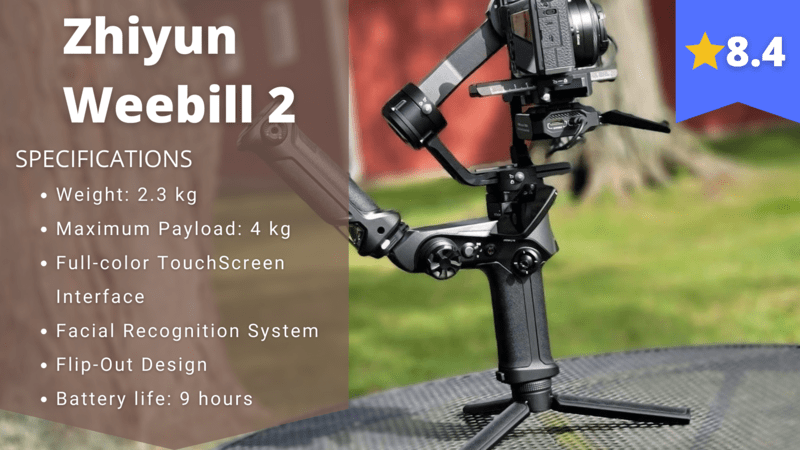 Stefan's Take:
What I liked the most with Zhiyun Weebill 2 are its precise angle shots. It doesn't have powerful features for photo shooting but believe me, this gimbal is made for professional-like videos.
I tried shooting videos with an action camera from different angles and I can guarantee that Zhiyun Weebill 2 is the master of low-angle captures via DSLR or mirrorless cameras.
| | |
| --- | --- |
| Value | 9 |
| Weight | 8 |
| Compatibility | 8 |
| Performance | 7.5 |
Description
A touch screen with a rotatable flip-out design will make it a better pleasure to control the filming and camera movement. It'll bring satisfaction into your filming routine or it'll make your first-time gimbal experience more exceptional.
Compared to the DJI RS2 Combo's battery life of 12 hours, they failed with this gimbal. Although the batteries still last long hours (9), it could be a problem to support cameras like Canon.
Yet, you can use it while charging via a power bank or add extra batteries into an external battery slot. However, I would expect more from a Zhiyun gimbal.
Pros
Nice Construction
Comfortable Grip
Good Zoom control
Fast Charge
Price under 500$
Cons
Not-so-great photos
Battery life: 9 hours
3. DJI RSC 2
Best for Versatility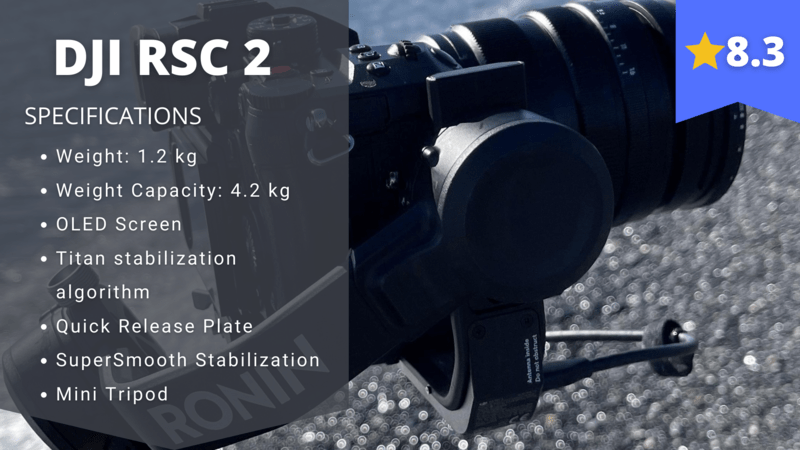 Stefan's Take:
Another three-axis handheld gimbal stabilizer that I enjoyed testing on Canon is DJI RSC 2.
It has nice performance, good image stabilization, and long hours of use, which makes this camera stabilizer an excellent tool for content creators such as myself. It is also very lightweight but still strong and payload durable.
| | |
| --- | --- |
| Value | 8 |
| Weight | 9 |
| Compatibility | 9 |
| Performance | 7 |
Description
Designed for DSLR and mirrorless cameras, with Titan stabilization algorithm and SuperSmooth feature, DJI RSC 2 will bring changes into your photography life. Whether you shoot like a pro or an apprentice, your filming will be compact, stable, and smooth. With long-lasting batteries and a maximum payload of 4.2 kg, you can mount even large cameras and enjoy full-day filming.
Long battery life is definitely its dominant advantage over all the gimbals from this list.
TimeLapse and Panorama empower filmmaking, but I like the Roll360 function more because it enables the camera rotation possibilities which you will adore. Vertical Video mode will be perfect for social hangouts and vertical photos and videos with your friends.
The combo kit comes with a mini tripod for stabilizing on a flat surface and camera control cables for controlling mounted cameras directly from the gimbal. The tripod finds the right balance and image stabilization for high-quality performance.
Pros
Powerful Motors
Vertical Shooting Modes
Long Battery Life: 14 hours
Foldable Design
Handles for additional accessories
Easy transportation
Cons
OLED Black and White Screen
Fast Charger Not Included
4. Zhiyun Crane 3S
Best Build Quality
Stefan's Take:
The build quality is the first thing I noticed. Its componentry is stable and well-designed. All components are packed in one solid handheld gimbal stabilizer convenient for serious maneuvers.
The handle is something that I think should be improved – it has a small screen that can be invisible at a certain angle during the shoot.
After you mount the camera, you can focus it with a nice, big control wheel. Brushless motors stabilize the camera quietly so you don't have to worry about little noises along with the shoot.
| | |
| --- | --- |
| Value | 7 |
| Weight | 9 |
| Compatibility | 7.5 |
| Performance | 8 |
Description
Insensibly heavier than its ancestor Zhiyun Crane 2S, Zhiyun Crane 3S features more load capacity – up to 6.5 kg for DSLR cameras and camcorders.
The improved lens and zoom/focus system make the Zhiyun Crane experience even better.
With only 4 hours of charging you get 12 hours of shooting time. With an extra TransMount PowerPlus Battery enjoy the run-time for up to 18 hours.
Zhiyun Crane 3S is a decent three-axis compact stabilizer that with Bluetooth and WiFi connection becomes your perfect link with your smartphone. What specifically impressed me while testing is that I could hold the control in three ways: from a gimbal, from a smartphone, and from a motion sensor controller ViaTouch 2.0. Well, that was a pleasant surprise.
The smooth and easy movement of the gimbal itself is the feature I liked the most. Powerful motors work quickly and with ease.
Pros
Speed
Easy Camera Balance Settings
Brushless motors
Extension Module
Additional Accessories included in the ProPack
Cons
High Price
Possible confusion between locking switches and tightening knobs
5. FLYCAM Redking
Best for Heavy Cameras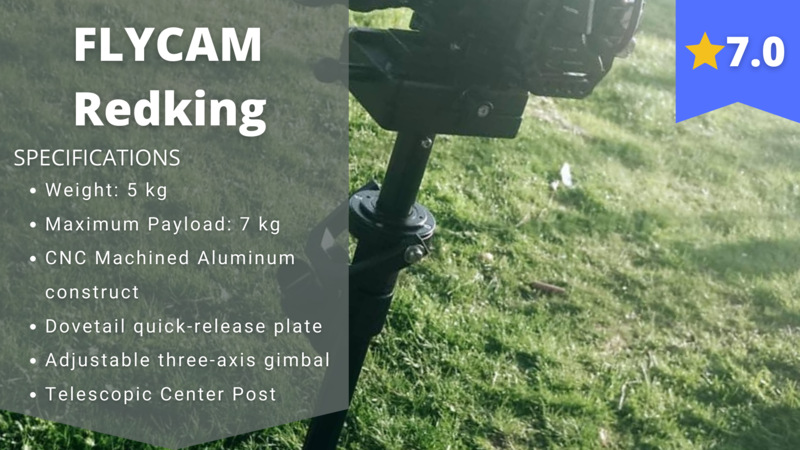 Stefan's Take:
FLYCAM Redking gimbal stabilizer is an ok product. I personally didn't enjoy using it as much as other gimbals for Canon. It's a bit heavier than the rest, though it can carry heavier cameras.
What I think should be improved is the overall design. It looks pretty simple and robust which can be repellent for someone who looks for modern and high-tech style.
| | |
| --- | --- |
| Value | 7 |
| Weight | 6 |
| Compatibility | 8 |
| Performance | 7 |
Description
FLYCAM Redking Quick Balancing is a nice solution for video cameras. It mounts them quickly with a sliding dovetail quick release plate and offers comfortable manipulation.
Set the three balance points: the top weight, the bottom weight, and the central access point. It stabilizes shaky handle footage and makes good smooth shots.
It's a great gimbal stabilizer solution for shooting on the run and even up and down the stairs. With easy horizontal and vertical settings via marking points and correct gimbal position.
With no LCD screen, it looks like it needs some extra accessories or smoother details.
Pros
Quick and Precise Balancing
Flexible
Simple Design
Nice Price
6. MOZA Air 2S
Best High-Tech Design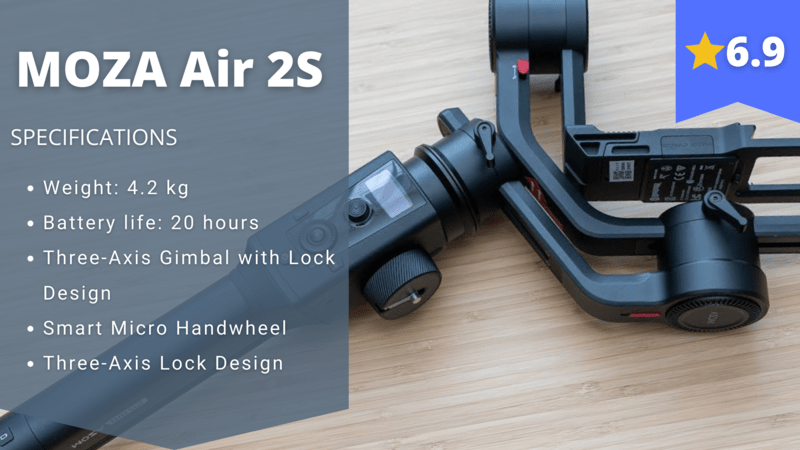 Stefan's Take:
I was really excited about testing the MOZA gimbal because my experience with MOZA camera stabilizers has always been positive.
Their design is always attractive and high-tech. The new three-axis lock design helps you find the proper balance and image stabilization.
What I didn't like compared to other gimbals, is the weight of Moza Air 2S. It felt a bit too heavy for what I needed.
| | |
| --- | --- |
| Value | 6.5 |
| Weight | 6 |
| Compatibility | 8 |
| Performance | 7 |
Description
So while testing MOZA Air 2S 3-Axis Handheld Gimbal Stabilizer, I confirmed to myself that the MOZA design is unsurpassed.
With this DSLR gimbal stabilizer, filming has never been easier. Super big battery capacity, fast charging technology, and an external unlimited power supply make the perfect trio for your perfect gimbal experience.
MOZA Air 2S can be controlled by a smartphone and follow its movements simultaneously.
With automatic rotation, there's no need for manual control of the joystick while shooting. Quality and stability are guaranteed.
Pros
Long Battery Life
Lithium ION Batteries
Auto-Tuning
Object Track
Things to Consider When Buying a Gimbal for Canon
Budget
Price is the first thing you will notice while searching for the gimbal. If your budget allows you to explore and enjoy the opportunities of a DSLR camera and along with it DSLR gimbal, a wide price range is in front of you.
Before making a purchase, set the price limit you can afford and stick to it.
Weight
If you need easy camera transportation or you just like a lightweight piece of kit, then the gimbal weight should be your first feature to consider when buying a camera gimbal.
Some gimbals are definitely not good for traveling, like Zhiyun Crane, but some of them are made for travelers, like DJI RS 2 Combo. It's up to you.
Compatibility
Before buying a gimbal for canon (but also for other models!), check its compatibility with your gear.
Some of the gimbals require a specific camera so prepare yourself for a little exploration before shopping.
Performance and Functionality
All the gimbals are there to make your camera steady and balanced.
It's good to know what stabilization options you need, what type of camera will you use, whether are you planning long hours of use and video making, and do you need great zoom control and image stabilization.
Those are the things I usually put on the top of the list for buying the best gimbal for your pleasure.
FAQ
Which gimbal is best for Canon?
There aren't a lot of gimbal stabilizers for Canon cameras but it is still hard to find the best compact stabilizer for your needs.
A small mirrorless camera is a common decision for most photographers and filmmakers, so DJI would be a good pick.
On the other hand, if you are a fan of large cameras like Canon EOS C200, and 300s, you should search for camera stabilizers like Zhiyun Crane.
Do I need a gimbal?
Yes. A gimbal is the best way to balance your camera with ease and without other extra accessories.
Camera stabilizers can be very expensive if you reach for qualitative equipment.
But since there are loads of gimbals for mirrorless cameras, DSLR cameras, and other action cameras, you can accommodate your camera choice with a camera gimbal for a reasonable price.
Gimbal is a good companion for vlogging, traveling, making commercials, and shooting videos.
How much does a good gimbal cost?
To make it clear, you HAVE to spend money on a good gimbal for Canon if you want a high-quality photo shoot. You pay for steadiness, comfort, design, and brand.
Prices range from 150$ to 900$. A good handheld gimbal for a Canon camera is approximately around 400-500 $, and for more serious work with larger payload capacity support (for cameras like large DSLR cameras and action cameras), the prices go up to +900$.
Conclusion
There isn't one best gimbal for everyone's taste. It depends on the camera and the equipment you have, the performances you want and, of course, your budget.
From my perspective, these are the top 3 choices:
DJI RS 2 Combo as the best overall gimbal for Canon;
Zhiyun Weebill 2 if you need a gimbal that can give you great angled shots;
DJI RSC 2 as best gimbal for versatile use;
I am pretty sure picking each of these could be considered a mistake, but eventually, it is up to you to find the one gimbal which suits you the most.