Virtual reality and metaverse are becoming huge in the gaming industry, and previous 3D virtual spaces could be replaced with more enjoyable and advanced.
Virtual world games are developing, and there are some pretty intriguing realities you can jump into, so if you are looking for the best virtual world games, you are in the right place.
These are some of the best virtual worlds for adults you will enjoy.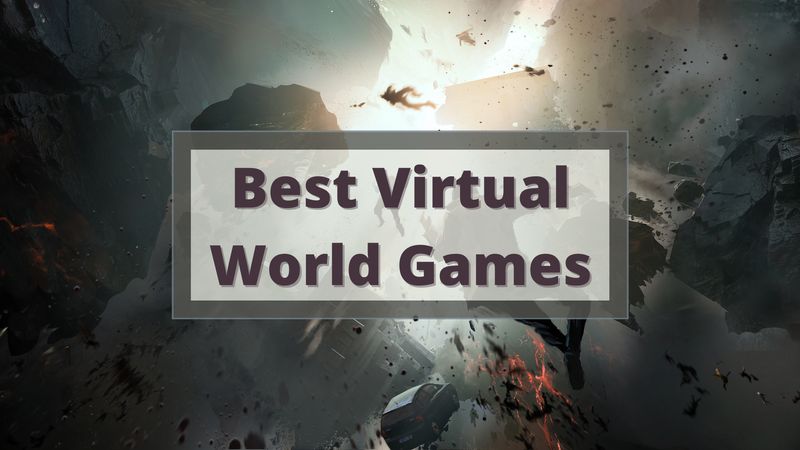 Best Virtual World Games
Second Life has been on the internet for the past 20 years, but it has never developed fully to collect a large community.
However, with the rise in popularity of virtual space, it became one of the online games that immerse its users profoundly and allow them to meet people and experience something new.
Second Life creates a 3D interactive environment, and it has elements of the gaming niche but also works like a social media platform that allows you to make new friends in the virtual universe.
The whole game is based on avatars created by real users, and your virtual life will allow you to gain unique experiences, just like you would in real life.
Everything in there is a replica of the real world, and your virtual environment can even feel too real at some moments.
It also has an excellent virtual economy that allows users to experiment in this area, and you will see people trying hard to get to the in-game currency and compete with other players.
Toontown Rewritten is one of the first virtual world games that allow people to live their life like they were in a cartoon.
Although it may seem like a silly thing to do to most people, Toontown allows you to show your creativity and engage in something fun and relaxing.
While there is a storyline and plot in this virtual world, you can completely ignore it and do whatever you want as long as you follow the guidelines.
This game offers many activities and features, so you can create a dream community and hang out with other kitties, bears, or dogs.
Although Minecraft is sometimes considered too simple, it is one of the original virtual reality games we have been playing for over a decade.
It has more than 140 million users worldwide and is one of the most popular games ever played.
There are no rules or instructions when it comes to Minecraft, and all you need to do is let your creative spirit flow and play games that will create a unique online virtual world.
All users will be free to create whatever they want and create an environment and storyline that is unique to them and can't be found anywhere else on the platform.
Unlike other virtual worlds, in Minecraft, you have complete freedom, and your virtual land and virtual avatar will always be one of a kind.
It is one of the best games for pushing your creativity and creating whatever you want while still being able to meet friends and experience some virtual life.
Upland is a very funny virtual world where people can sell and buy digital versions of land that already exists in real life.
It comes with a map that depicts the real world, and it is similar to regular Google maps; as you zoom in, you will be able to find your dream home and buy it, at least in the virtual world.
Your home will also have a virtual address that will be linked to the real-life one, and you will be able not only to buy new homes but also to add home decor or even become a virtual landlord, which I believe is something all of us want to test out at least once in life.
You can also be a real estate agent who is a lot of fun and make transactions in virtual Upland tokens negotiating with people around you.
Decentraland is one of the games that have the most significant number of users and also allows you to buy land and build your community out there.
This whole virtual world is divided into several communities, allowing you to become a part of different themed neighborhoods, like Design district, Vegas City, or District X.
Every neighborhood has different activities, and you can engage in different lifestyles, which is something you can't always do in real life, and probably why so many people enjoy spending time in virtual worlds like this.
With this virtual world game, you will be entertained for hours, and there is no place you would rather be in.
Virtual worlds are something we all want to experience, but some of us want to take it a bit further and experience the virtual cosmos.
No Man's Sky will take you to the virtual version of the cosmos and let you choose the planet you want to visit and stay on.
In this game, you can do whatever you want – create an environment in which you are constantly in survival mode, or go to Jupiter and build your farm.
There are so many different virtual worlds to choose from, and you will be able to use your imagination and self-expression to create original content and reality.
You can visit your friends in different galaxies too, so the experience in this virtual world is unique and allows you to get the taste of something you will never see or experience in your life.
OVER is similar to Upland, and it includes a full map of the physical world where you can create and interact with other users.
People in OVER the Reality will also be able to create their own NFTs they can use in the virtual world, where they can build, buy and sell their tokens.
You can also create different virtual reality experiences for other users on the platform and become a content creator of OVER the Reality.
Since this platform relies on the blockchain, it has access to fantastic technologies and applications like crypto and NFT, making it even more interesting than other virtual worlds.
This will make it an excellent option for both beginners and advanced users of this virtual world because they will be able to experiment with many different realities and create the one they want to see.
Sandbox has become not only a popular online virtual space but also one of the first NFT-based games on the market.
This is a 3D virtual world where you can buy your land, create properties, and buildings, and sell, buy or trade things so you can earn some NFTs.
However, the Sandbox game expands thanks to the effort of its users, and all the cities, environments, and communities you see in the game are created by people on the platform.
You can explore all virtual realities out there, get into the role-playing games, and create and explore.
There are unique features you can use to customize your experience, and by engaging in a new community all the time, you will get to experience so much new stuff and connect with new people.
Although GTA has been one of the most popular games for years now, its roleplay servers tend to have a lot more users these days.
The roleplay version of it has expanded a lot and now allows you to come into a virtual world where you can be a mafia leader or a police officer.
You will walk those streets you already know from the game, but this time with a completely different mission.
However, keep in mind that these servers are already moderated, so you may not be able to always get the role that you want, but you will meet plenty of new friends and engage in something realistic but still virtual.
Some servers host up to 200 players and smaller ones, so depending on how comfortable you are with a large number of people or on the type of game you want to play, you can choose a server for yourself.