Without the full spectrum of sound frequencies, you won't be able to feel so much as a part of the action and to match with other creators, you need earbuds that can produce immaculate sound.
My top choice is HyperX Cloud Earbuds, because of their powerful drivers that deliver clear tones, noise-canceling feature, and ergonomic design that allows you to wear them for hours.
Today, I will help you find the best earbuds for streaming and share my top seven choices. Let's begin!
QUICK OVERVIEW: Best Earbuds for Streaming
Weight: 0.856 ounces
Dimensions: 4.76 x 1.4 x 6.5 inches

Sound and Frequency: 111db/7-40kHz
Bass boosted

Noise-canceling feature
Battery: Lithium/16h duration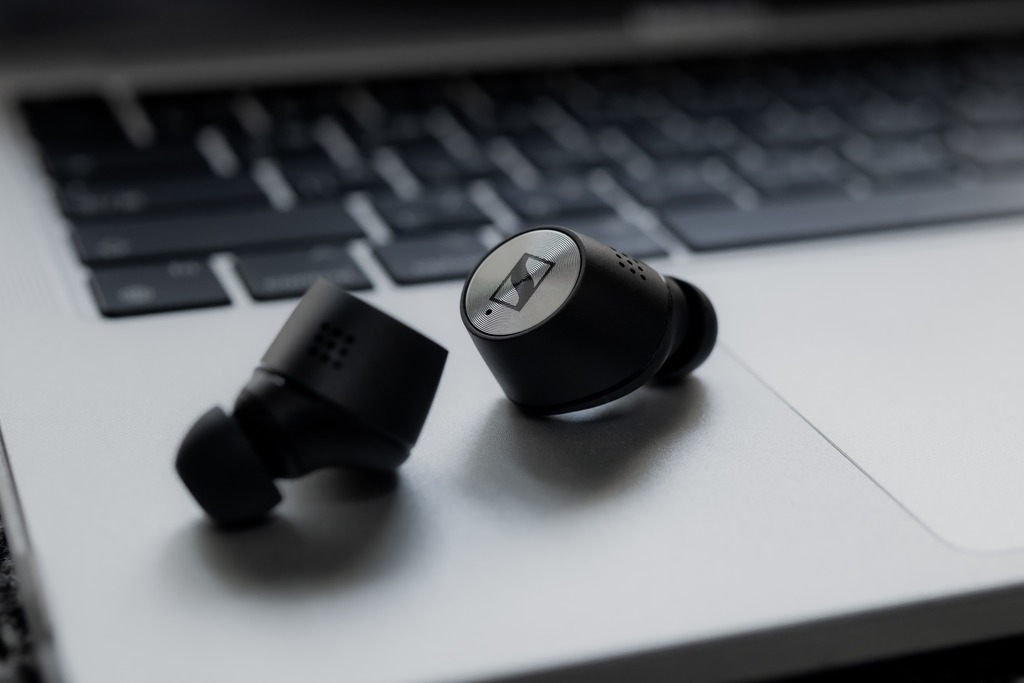 Best Earbuds for Streaming
Tested & Reviewed
Earbuds and audio devices are not only convenient but also come with high-quality sound levels, easy switch from call to game chat, microphones with automatic sound balance, and a lean design.
These are the key features I had in mind when creating this list of the best gaming earbuds.
1. HyperX Cloud Earbuds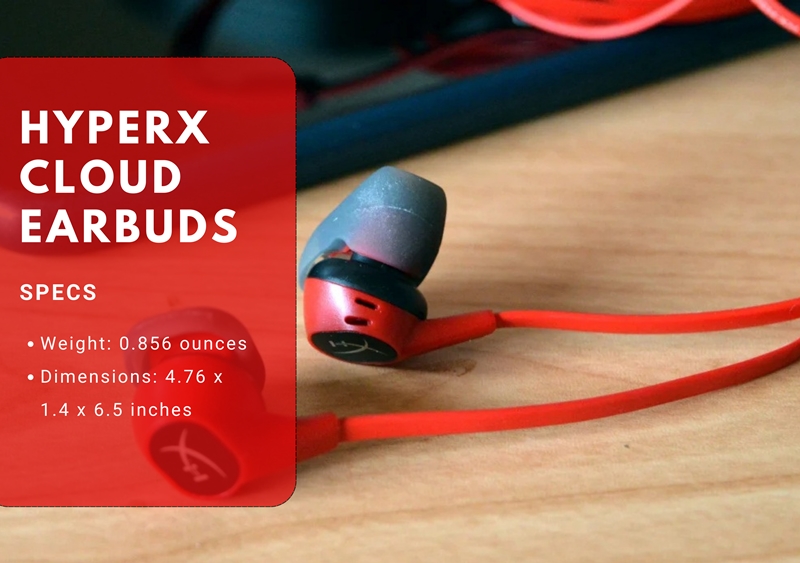 Stefan's Take:
My top choice and earbuds I use are HyperX Cloud Earbuds. What I really like about these is the performance of the audio drivers and unmatched sound quality.

You'll hear deeper, mid, and upper notes clearly, and bass delivery is also unmatched.

Also, my ears didn't hurt a bit even after wearing them for five hours, and I think you won't find a better pair.
| | |
| --- | --- |
| Sound Quality | 10 |
| Microphone Quality | 9 |
| Noise Canceling | 9 |
| For Streaming | 10 |
Buy on Amazon
The first earbuds on my list are these HyperX Cloud Earbuds that are under $70. Let's see what can you get for that price.
Who is it for?
HyperX Cloud Earbuds are ideal for gamers who enjoy playing on different devices and looking for gaming earbuds with a wide sound range and adjustable size.
Key features
These highly rated gaming earbuds with a mic are packed in a small convenient case with three different sizes of silicone ear tips for complete comfort during long wear.
But the reason I like this model the most is the sound quality. The sound levels are adjustable for your preference, for deep bass lovers and balanced level users.
I was amazed just how clear it delivered different tones and what an immersive gaming experience such sound creates.
Moreover, the mic is optimized for easy and fast switching from chat in gameplay to answering calls. It was really simple to adjust the sound, switch to call, and back to chat, so this model is an absolute winner!
Another convenience with HyperX Cloud Earbuds is their compatibility with CTIA standard connectors.
From my experience, CTIA connectors are fundamental for good earbuds for gaming, and a standard for multi-device usage.
Pros
Compatibility with different devices
Ambient noise canceling
Powerful audio drivers for superb sound quality
Comfortable to wear
Cons
Manual microphone control settings
2. Linsoul KZ ZS10 Pro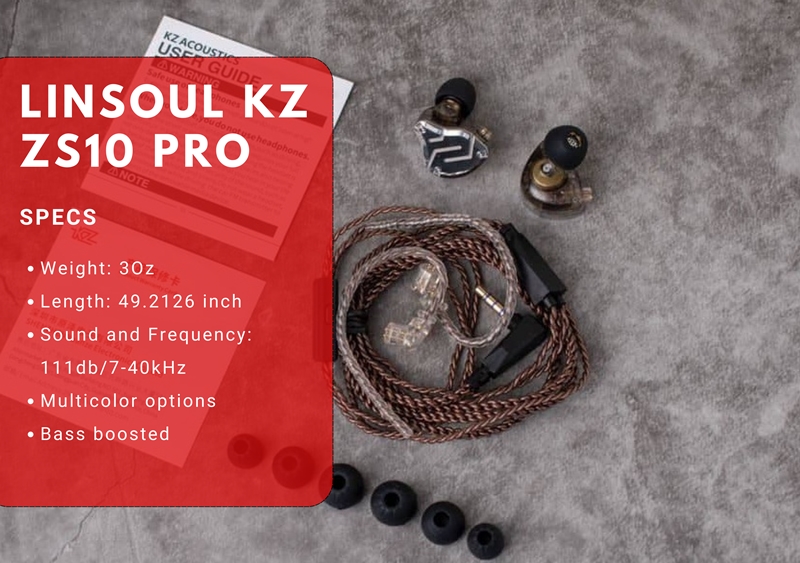 Stefan's Take:
What I liked about this model the most is the wide frequency range – four drivers deliver high and low frequencies clearly, and all that comes with a noise-canceling feature.

Thanks to the foam tips, I barely noticed that I had been wearing these headphones for over three hours.

The integrated microphone delivers clear sound for chatting, so if you pick this pair, you won't make a mistake.
| | |
| --- | --- |
| Sound Quality | 9 |
| Microphone Quality | 10 |
| Noise Canceling | 9 |
| For Streaming | 9 |
Buy on Amazon
KZ ZS10 Pro found their deserved placement on my list for the best gaming earbuds with mic due to great quality and design. 
Who is it for?
KZ ZS10 Pro are ideal for everyone who is looking for balanced high frequencies and deep bass sound while owning a pair of industrial-style earbuds. They can also be used by streamers looking into earbuds for gaming with integrated microphones for canceling noise and ambient sounds and providing clear sound for chatting.
Key features
These earphones are made with special attention to detail and a combination of materials.
Believe it or not, in addition to the stainless steel faceplate, the manufacturer uses some high-quality resin fillings, which I found entertaining.
The cable is thick and high quality, braided for extra durability, which compliments the overall look and feel of the earbuds, and if you wish to make these more unique you can replace the cable and combine styles.
The manufacturer claims that these are comfortable for long-wearing, a feature offered in some of the best gaming earbuds out there. I can confirm this for 3-hour game sessions.
High and low frequencies have wide ranges. The cancel noise feature additionally contributes to clean sound quality.
Pros
Adjustable and replaceable cord
Rich and adjustable sound
Noise-canceling feature
1-year warranty
Cons
You have to change from rubber to foam tips for better noise-canceling
3. Bose QuietComfort 20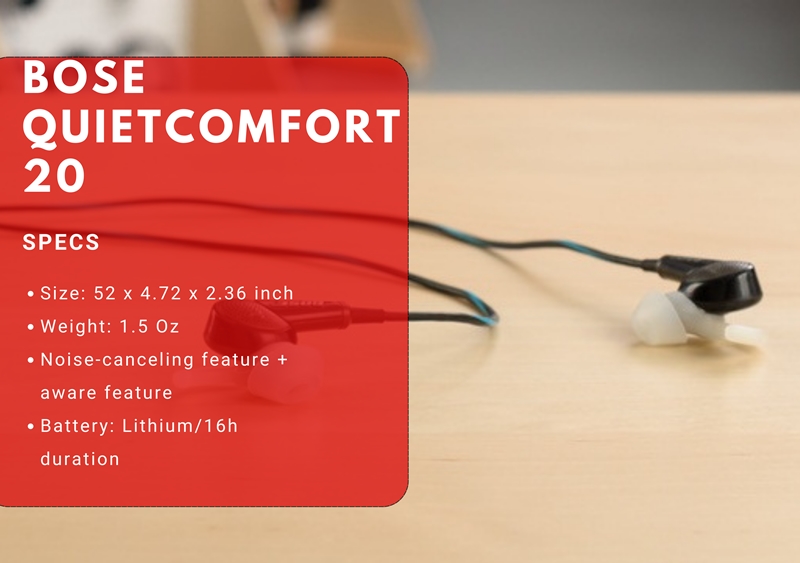 Stefan's Take:
I was amazed by the TriPort dramatic sound technology that works well with bass, low, mid, and high tones.

But the main selling point was the noise canceling feature that blocked out even the lower frequencies and the one-touch controller that allowed me to switch from chat to calls easily.
| | |
| --- | --- |
| Sound Quality | 9 |
| Microphone Quality | 9 |
| Noise Canceling | 9 |
| For Streaming | 9 |
Buy on Amazon
Because of the noise canceling and an aware feature, QuietComfort 20 Acoustic Noise Cancelling Headphones deserve a spot on my list of best gaming earbuds for streaming.
Who is it for
It is ideal for music lovers, those who need a break from the noise, streamers, and gamers.
I tried them playing atmospheric horrors like Amnesia: The Dark Descent and Soma, and my impressions are very positive. You can feel chills down your spine just from listening to game sounds.
Of course, a microphone is a must for the advanced gaming experience and this set comes with a built-in mic and a remote controller, a one-touch switch from calls to chat, and vice versa. 
Key features
Engineers took sound quality to the next level with TriPort dramatic sound technology. I was amazed by just how well this sound technology delivers bass, and notes of different frequencies.
Bose also offers choices to their customers: you can either listen to the game and music or switch to noise-cancel mode and just enjoy the complete silence.
Of course, a microphone is a must for the advanced gaming experience and this set comes with a built-in mic and a remote controller, a one-touch switch from calls to chat, and vice versa. 
Moreover, they are comfortable to wear and ear tips come in three sizes: S, M, and L.
Pros
Surrounding sound cancelation
Rich sound
Good quality microphone
Available in 3 sizes
New Tri-Port tech
Cons
The battery can't be removed
4. Bose QuietComfort Wireless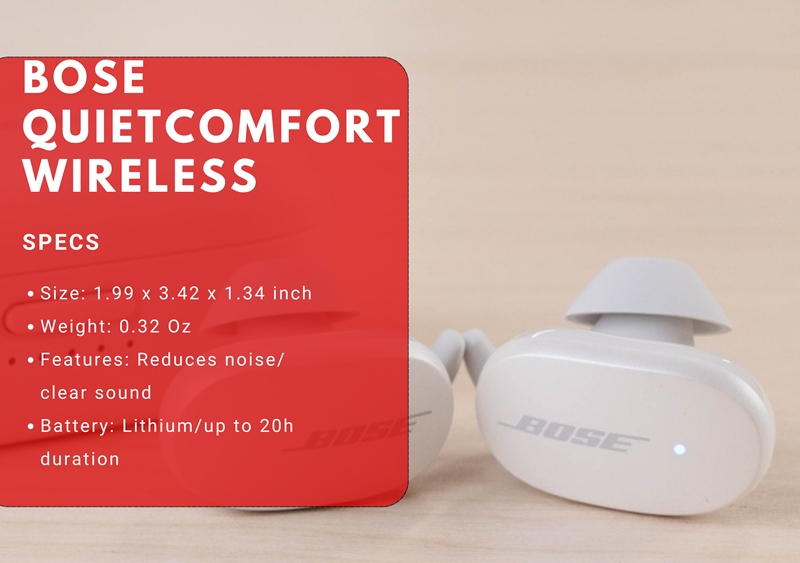 Stefan's Take:
If you prefer wireless headphones, I suggest this model.

It's quite similar to the previous one, with high-fidelity audio and volume-optimized EQ for clear delivery of notes of all ranges.

I was amazed the most by the noise-rejecting microphone. It filtered all of the background noise and delivered just my voice, which is a big plus for chatting when streaming.
| | |
| --- | --- |
| Sound Quality | 9 |
| Microphone Quality | 9 |
| Noise Canceling | 9 |
| For Streaming | 9 |
Buy on Amazon
Another Bose model with wireless technology that claims to be the world's most effective noise-canceling earbuds.
Who is it for?
The primary market is focused on music lovers and those who need silence, either at work or just taking a stroll, but gamers love these for the same reasons.
This Bose model supports a variety of sound levels and ambient sounds you need to hear to fully enjoy the game.
Key features
It seemed to me that The Bose took noise cancelation seriously and made it a priority for QuietComfort Noise Cancelling Earbuds. 
The team equipped these earbuds with fascinating 11 levels of unwanted sound cancelation options.
Engineers also put the same effort into the sound quality. The balanced and clear sound is a result of the volume-optimized active EQ. And you can enjoy the clear sound for up to 12h.
Comfort in wearing wireless earbuds is another priority, and Bose really outperformed itself. You'll get three sizes of ear tips: S, L, and M.
Controls and charging cases deserve special attention. Double-tap on the left, and you are finally in complete silence; tap on the right, and you play the sounds you want to hear.
Pros
Wireless
Pristine and multi-leveled sound
Comfortable to wear
Liquid resistant
Cons
Pricier compared to other models
5. Linklike Wired Earbuds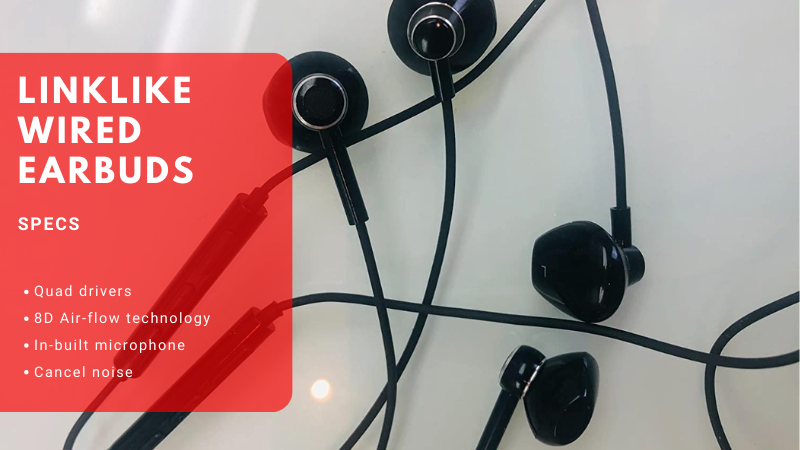 Stefan's Take:
I cannot miss out on talking about the Unique Quad Technology of the drivers, as it's truly amazing! The vocals, low and high frequencies, and bass sound incredible, and gameplay comes to life in your ears.
Thanks to eartips' design, you won't feel like you need to give your ears a break.
| | |
| --- | --- |
| Sound Quality | 9 |
| Microphone Quality | 9 |
| Noise Canceling | 9 |
| For Streaming | 8 |
Buy on Amazon
Up next is Linklike Wired Earbuds with quad drivers. Let's see what this brand and model have to offer.
Who is it for?
Quad Drivers Wired Headphones are created to "always be with you," as stated by the brand.
This model is a great choice for audiophiles and gamers that want that immersive gaming experience.
Key features
Manufacturer incorporated Unique Quad Diaphragm and 8D Air-flow Technology into drivers and the result is improved overall sound.
Low frequencies usually don't perform well, but Linkline managed to improve the quality of these sound levels with quad drivers and deliver high tones, frequencies, and vocals crystal clear.
Innovation in power usage is equally fascinating, with reduced charging time and a battery with high energy retention, it is possible to maintain up to 16h of sound play. I couldn't confirm that claim, but maybe I just haven't had enough time for testing.
Available in three different size tips and ergonomically designed, long-wear comfort is guaranteed.
Pros
Quad drivers for oustanding sound qualitz
Integrated microphone
Budget-friendly option
Cons
Microphone doesn't work on Mac
6. Turtle Beach Battle Buds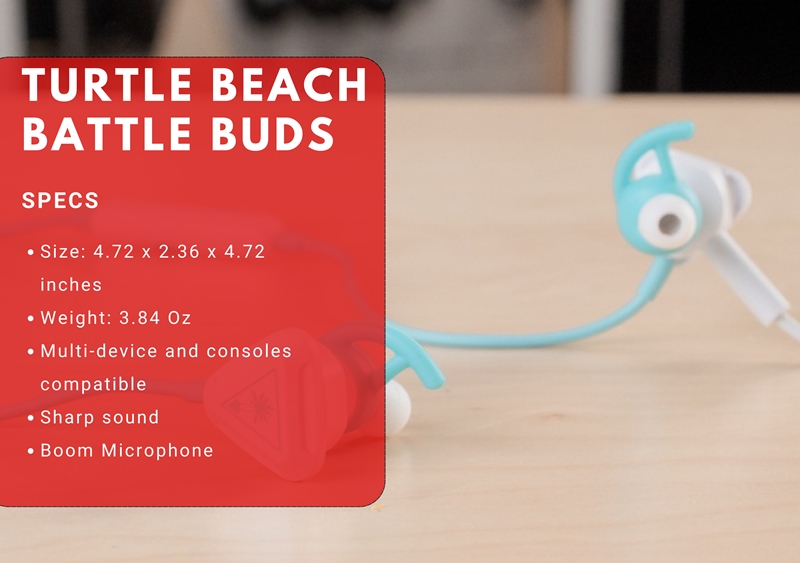 Stefan's Take:
I recommend this Turtle Beach model if you're looking for a good pair of earbuds on a budget.

The quality for such a low price is what stood out to me. 10 mm speakers delivered clear notes, and the earbuds remove the background noise quite well.

They have a built-in microphone, which is quite handy, but it does pick up some background noise. However, considering the price, these are awesome!
| | |
| --- | --- |
| Sound Quality | 9 |
| Microphone Quality | 8 |
| Noise Canceling | 9 |
| For Streaming | 8 |
Buy on Amazon
This model is great for those with a lower budget that still want top-notch sound quality. Let's dwell into the features of this Turtle Beach model.
Who is it for?
"We create gaming headsets and audio accessories for gamers from all walks of life", a statement on the official Turtle Beach website, is as descriptive as possible.
The idea is to bring equipment for anyone interested in gaming. Beginner or a pro, they got you covered.
When they say gaming, they mean it, all consoles are covered for a complete impression and appeal of your favorite activity. I got pretty nice results when playing games on PS4 and PS5.
Key features
When we talk about headsets or earphones, we always focus on the sound quality that we hear.
Considering that, I can say that area is covered when I talk about Turtle Beach. For years they led the market in sound quality and this model is not an exception.
Besides that, you can monitor your sounds, separately when on chat without disrupting game sounds.
Microphones have high sensitivity range, your voice will be clear to your teammates just as you will hear them clearly.
You can adjust your microphone for an indoor setting and change your preference when you are on the go.
The appearance of the headsets is also worth mentioning because designs cover a variety of styles.
Turtle Beach Battle Buds headset is minimalistic and elegant while maintaining high standards for sound quality.
Pros
Great sound quality
Slick design
Affordable
Built-in microphone
7. Razer Hammerhead Wireless Earbuds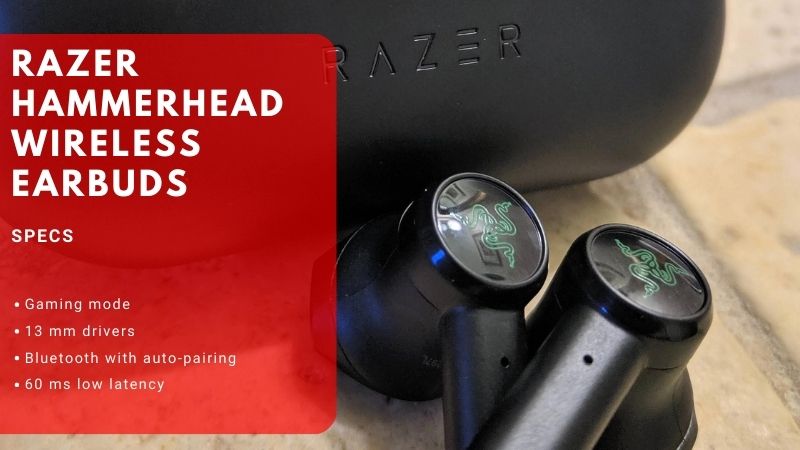 Stefan's Take:
The biggest advantage of this model is its Gaming mode. The lag-free experience and mobile app customization are truly unique features that will make streaming easier.

When it comes to sound quality, it's more than satisfying since the earbuds have 13 mm drivers.
| | |
| --- | --- |
| Sound Quality | 8 |
| Microphone Quality | 8 |
| Noise Canceling | 8 |
| For Streaming | 9 |
Buy on Amazon
If you prefer wireless earbuds but don't want to spend a fortune on a good pair, my recommendation is this Razer model.
Who is if for?
These are the earbuds designed for streamers! They have mobile customization and low latency so you can enjoy your game without any sound-lag.
Key features
The sound is a result of a combination of 13mm drivers that will really bring the game to life.
You might hear some whispering or an enemy sneaking somewhere in the back, and feel fully immersed in the game. Some of the in-game sounds were new to me, even though I had played the same game for years. Not too shabby!
What I really liked was just how easy it was to customize sound. All you need is an app to adjust the volume, and with fast-pairing feature, the earbuds automatically connect to the last paired device.
Also, once I enabled Gaming mode, I could adjust the sound with voice commands.
Pros
Lag-free sound
Gaming mode
Customization through the mobile app
Great battery life
Cons
You might need an additional Bluetooth adapter for set up
Things to Consider When Buying Earbuds for Streaming
1. Sound Quality
Game designers and audio engineers combine their skills to create the sound that will take your gameplay experience to the highest possible level.
You might consider devices with a multi-level mix of high and low frequencies, 3D sound, and options to adjust levels for your preference.
2. Microphone Quality
For streaming and smooth communication, you will need a mic that reduces ambient noise, cleans the echo, and transmits your voice's sharp and clear sound.
Function to easily switch from chat to call is beneficial for your other devices, so it is a plus for functionality and application. 
Conclusion 
Selecting the best earbuds can be tricky, sound perception is a personal experience and even the highest ratings don't necessarily mean that the specific earbuds will work for you.
My top three choices are:
HyperX Cloud Earbuds as the best overall,
Linsoul KZ ZS10 Pro as the best gaming earbuds with mic,
Bose QuietComfort 20 as the best noise-canceling earbuds.
I hope I helped you find your perfect pair of earbuds for streaming and that you're happy with your choice.
Frequently Asked Questions
Should I buy earbuds or headphones?
The difference in sound quality is lower than ever. At this point, it is all about your preference. If you are used to wearing earbuds and find them lighter and more comfortable, then you may choose a pair that reflects your style and preference.
On the other hand, if you find the headset more appealing, you might look at some great choices on the website.
Is it better to use an integrated microphone or a detachable microphone?
The integrated microphone can't be removed or replaced. If the microphone is integrated into the cable and not in front of your face, it is as convenient as a removable mic. However removable mic is replaceable and, in some cases, of better quality.