If you want to start your gaming journey and find the right gaming setup for yourself but still want to stay on budget, you struggle with monitor options.
Gaming monitors tend to be one of the most expensive parts of every setup out there, so finding a suitable device can be quite a challenge.
In order to make this process a bit easier for you, we have decided to gather the best gaming monitors on the market that will cost you less than 200 dollars. So, take a quick look at the best gaming monitor under 200 bucks.
Post 2 of 6 in the Monitors for Streaming
Best Monitors For Gamers Under $200
Reviews
In case your search for a gaming monitor didn't end well and you have no idea how to handle the multi monitor setup you want to have, we believe you will find our suggestions to be extremely helpful.
Finding an affordable but still great gaming monitor can be pretty tough, so if you don't want to waste your time but skip to the devices directly, make sure to read our guide carefully.
QUICK COMPARISON: Best Gaming Monitors Under $200
SAMSUNG Odyssey G3 Series Gaming Monitor

Freesync technology
High refresh rate and response time

Sceptre 24" Professional ThinLED Monitor

Adaptive sync technology
Sleek metallic design

ASUS VP249QGR 23.8" Gaming Monitor

Wider viewing angles
Gamer features
1. Sceptre 24″ Professional ThinLED Monitor
---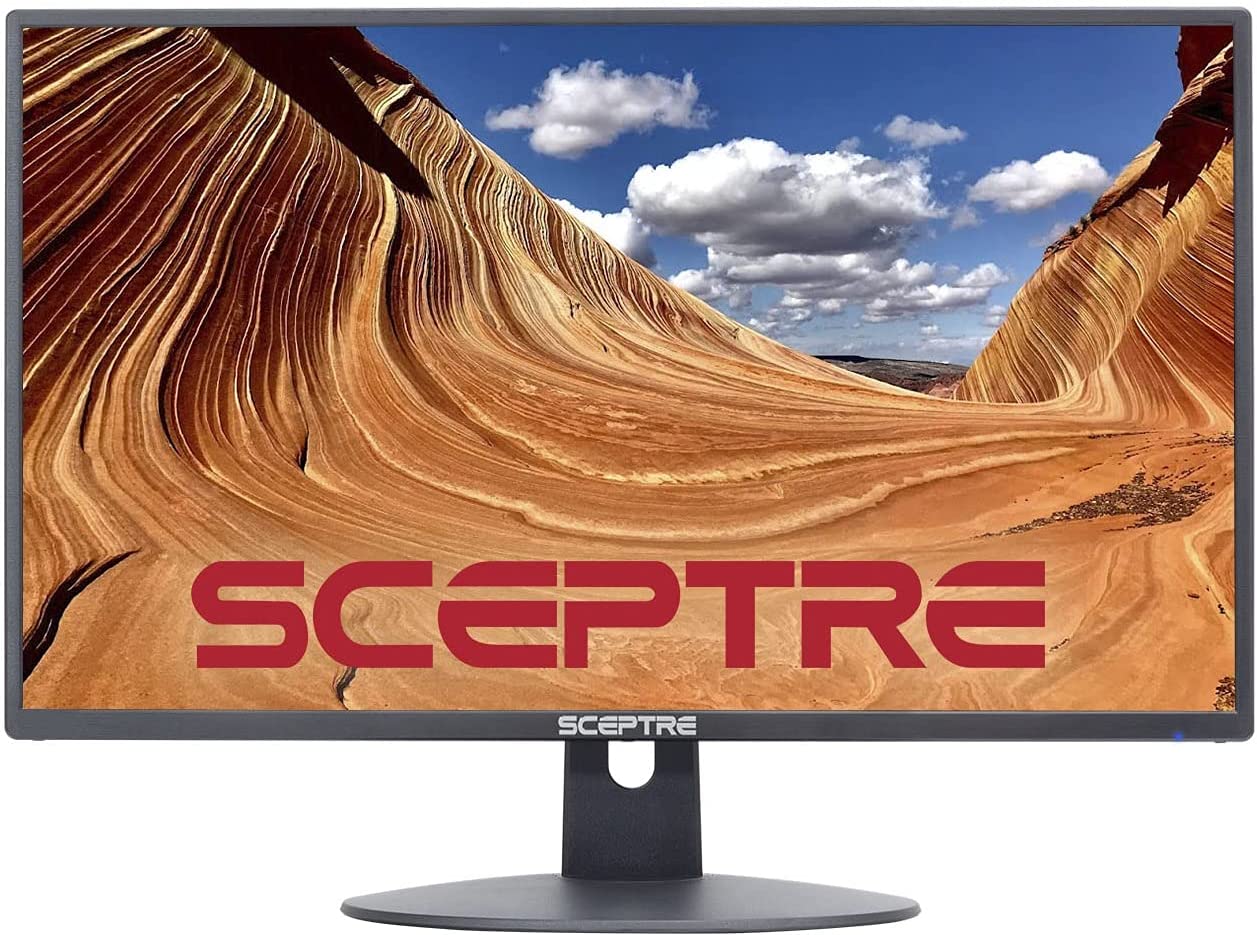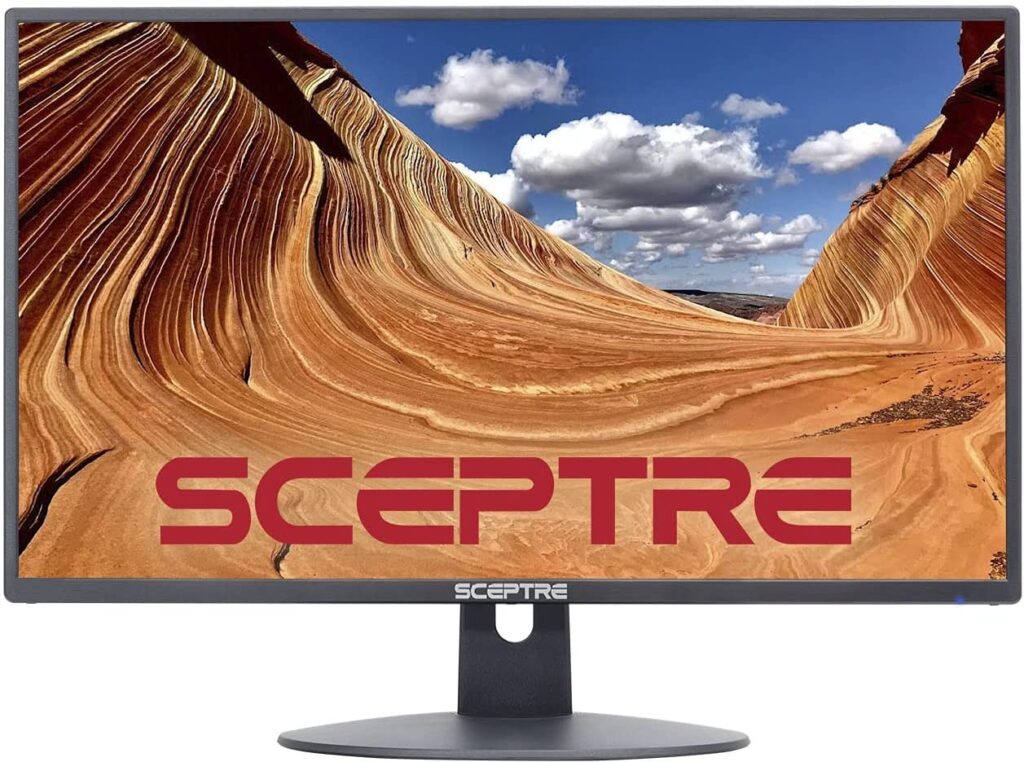 ---
Sceptre is one of the favorite brands among beginner gamers because it is known for affordable gaming monitor options that will still provide you with great picture quality.
Their devices don't differ too much from the most professional ones, and they are a great investment for those of you looking for a good device while staying on the budget.
Sceptre is a brand designing monitors for working professionals at a reasonable price, and their monitors can be used both for gaming and regular jobs.
This Sceptre 24 inch monitor is a solid gaming monitor with adaptive sync and anti flicker, which is not something you come across every single day.
It has a high refresh rate that will help you change the image very fast, which is great for playing games, and there are built-in speakers that will provide you with impeccable sound all the time.
The adaptive sync technology will provide you with excellent results even if your graphic card is not that extra, so this is an accurate budget monitor that can do anything you want.
Response time is also quite fast, and it will remove the blurring when you are transitioning between rooms or games, which is always helpful and can add to your successful performance.
It also has a blue light filter that will provide you with decent peak brightness and help you stay energized even if you were streaming for hours, which can be challenging.
The Spectra monitor also comes with a wall mount, so you will be able to put it anywhere you want because its ergonomic stand is very stiff and can endure a lot of pressure.
This monitor is amazing, especially if you take the price into consideration, so if you need a device that will work both for gaming and for regular stuff, this is a great option.
However, it may be a bit too big for smaller rooms and offices, so take this into consideration before you order it.
In my opinion, this is one of the best gaming monitor options you can find out there, especially within this price range, so don't overlook it.
2. ASUS VP249QGR 23.8" Gaming Monitor
---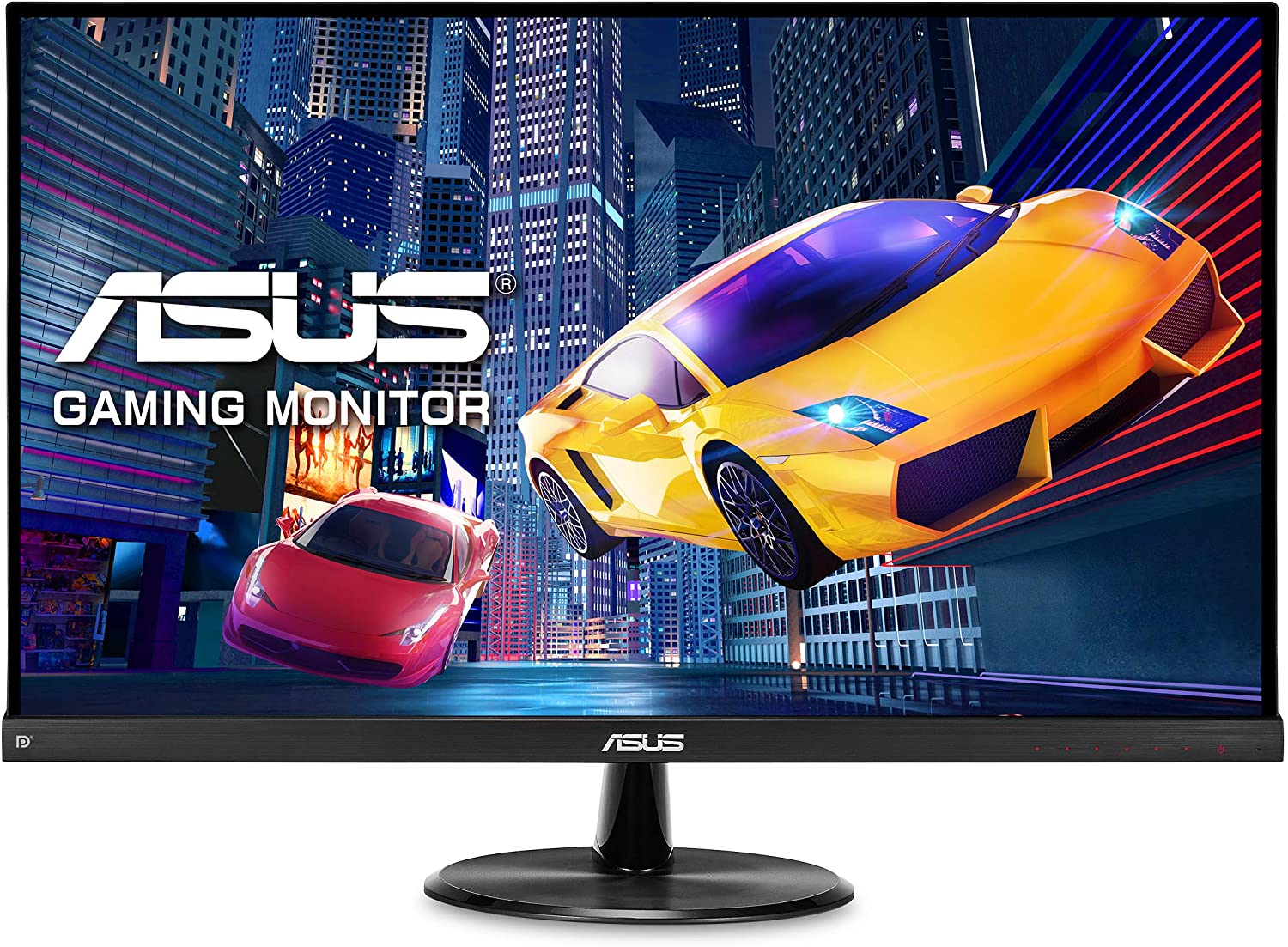 ---
Asus is one of the most popular tech-related brands out there, and it seems like all of their PC gaming devices are extremely popular in this niche.
They are known for their amazing quality, and they certainly have some of the most popular options among PC gamers, so this is the device you should give a try.
This ASUS VP249QGR gaming monitor is made for a more immersive gaming experience and is quite popular among competitive gamers, even though it is not too expensive.
It has wider viewing angles which make it an enjoyable device to stream on, and the image quality is amazing, just like on most Asus monitors.
This monitor is equipped with a 144hz refresh rate to eliminate any tracing and ensure you always have a crisp, clear video.
There is also a low motion blur technology that provides you with 1ms response time which is extremely expensive to everyone who plays fast paced games and doesn't have the time to stop the stream and check up on their monitor performance.
Eye care technology is present on most Asus monitors, and it will secure you with a good color gamut that won't make your eyes feel too tired.
The image is incredibly rich, and the whole experience will be stutter-free, which is a great thing for a monitor with such an affordable price.
There are also plenty of gamer-centric features that will eliminate all screen tearing and improve your image quality at all times.
This device can also connect with pretty much any other device or program, but make sure you are always connecting them with their original cables, otherwise, you may create trouble for yourself.
However, even though they claim the average response time is quite fast, most users complain about this part of the monitor and say that most monitors are much faster than this Asus one.
It can fit into any room, and it is one of the rare Asus monitors under 200 dollars, so if you believe that it is good enough for you and that it will work without problem with your graphics cards, I would recommend giving it a try.
While it may not be the best option for those of you working in desk space, if you have enough free room to hang it somewhere, it will work the best.
3. AOC 24G2 24″ Frameless Gaming IPS Monitor
---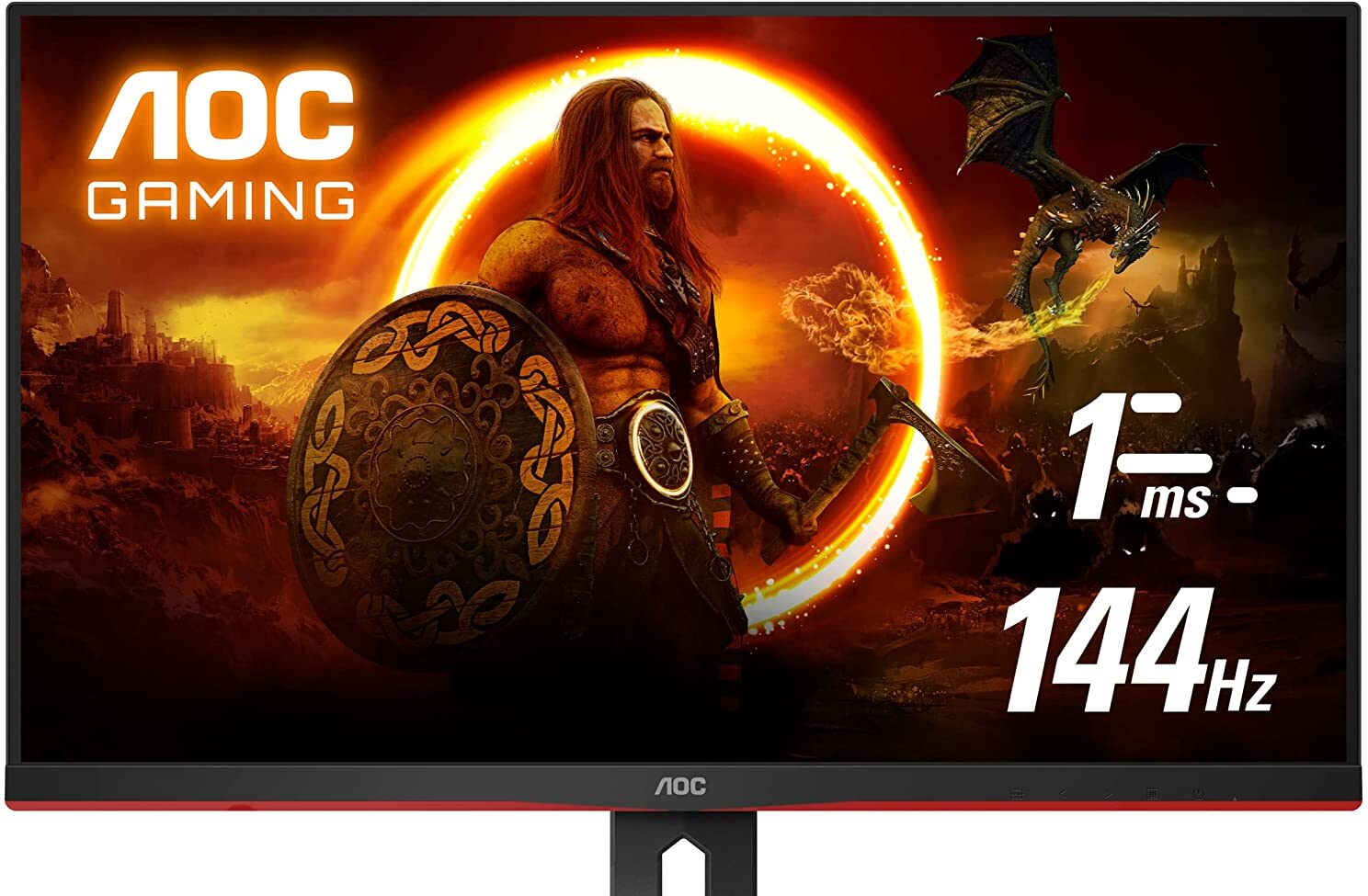 ---
AOC is known to be one of the cheapest brands for competitive gamers that have great monitor options, and its budget monitors are absolute favorites among all beginner gamers.
They have the best monitor gaming features, high contrast ratio, and many other amazing additions that will provide you with perfect performance.
This AOC 242G gaming monitor is from the G2 series and has a full resolution IPS panel that will provide you with a higher contrast ratio and a clearer picture.
It has a rapid response of 1ms and a 144hz refresh rate that will provide you with a smooth streaming process, whether you are working with an AMD graphics card or Nvidia graphics cards.
The frameless design will secure you with wide viewing angles, and it will make this budget monitor a good device for any room or place because you will easily adjust it with an ergonomic stand that comes with it.
You will also be able to see things no matter where you put them, so it provides you with the best gaming experience anyway.
It also comes with the AOC Blue mode included, but users claim that this feature doesn't seem to be working that well, at least not that well as on most other gaming monitors out there.
The proprietary eye care technology is not that good, and sometimes the contrast ratio can even be too harsh on your eyes, so if you already have some troubles with eye sight, you may need to consider another gaming monitor.
AOC gaming monitors are some of the monitors with the longest warranties, so once you purchase their device, you will receive a three year warranty with it, which is quite a good deal.
It has 1 display port but 2 HDMI ports, so you will be able to connect all of your devices to your computer monitor with ease.
There is also a low input lag free from any video signals, making it one of the best budget gaming monitors.
It also doesn't have a curved display but a flat one, so it should work fine as most other gaming monitors, but you will need to take some time to get used to it because you may feel like you are in the game physically because of how close it can get into your face.
4. MSI Full HD FreeSync Gaming Monitor
---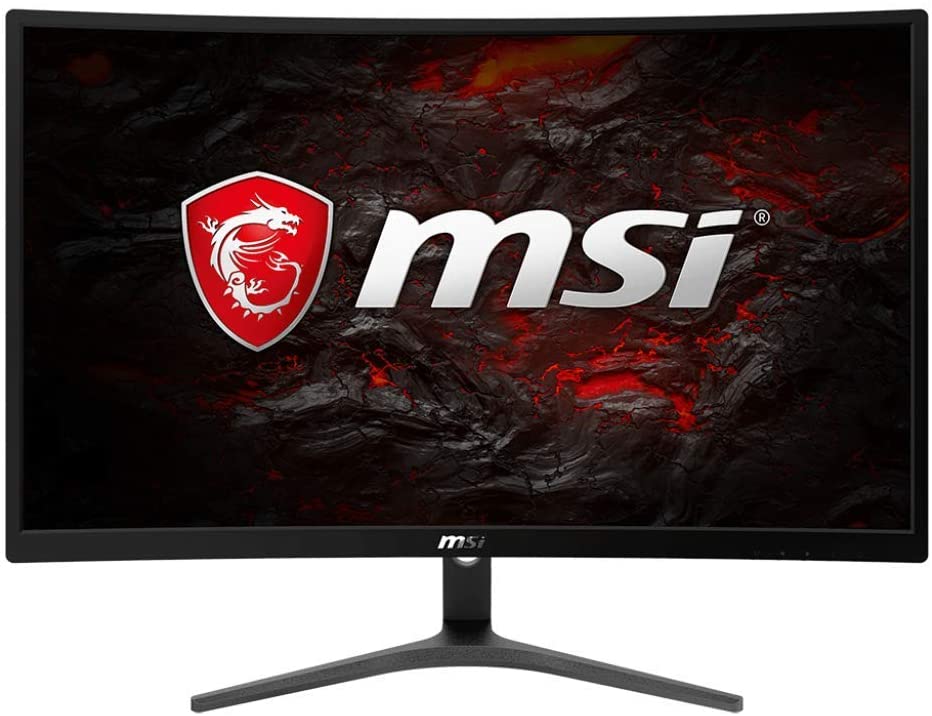 ---
MSI is a brand that has been around for a while, and even though their devices are not the first options of most people in the competitive gaming niche, they still work excellent.
Their devices are compatible with all types of graphics cards, and they are able to provide you with fantastic image quality, which is probably the key to a successful gaming experience.
The MSI Optix G24IVC gaming monitor is made specifically for Esports, and it has been considered to be the best gaming monitor under 200 dollars for the past few years.
Even though MSI is not that popular among gamers, it still has a large variety of gaming monitors that do a fantastic job.
It has a 75 Hz refresh rate which is pretty high, and a 1ms response time that will provide you with an excellent in plane switching and contrast ratio.
However, when both of these features are too high, you can often experience troubleshooting because the picture may not get loaded to the fullest, which is a big obstacle for streamers.
While the response time will provide you with excellent stream quality, it can also create problems with your internet connection, so keep all of these things in mind when choosing a monitor for yourself.
This monitor offers smooth gameplay, but many users claim that it used to go black all of a sudden, and it wasn't able to match the refresh rate, which led to a lot of problems.
Even though it is one of the monitors under 200 dollars, this is still something that shouldn't happen when you spend money on a device, especially if it is pretty new.
Unfortunately, it seems like a lot of users tend to have troubles with it, so even though its specs are pretty good and this gaming monitor sounds like a good deal, in theory, the users are not satisfied, which is always a signal to avoid the product.
5. SAMSUNG Odyssey G3 Series Gaming Monitor
---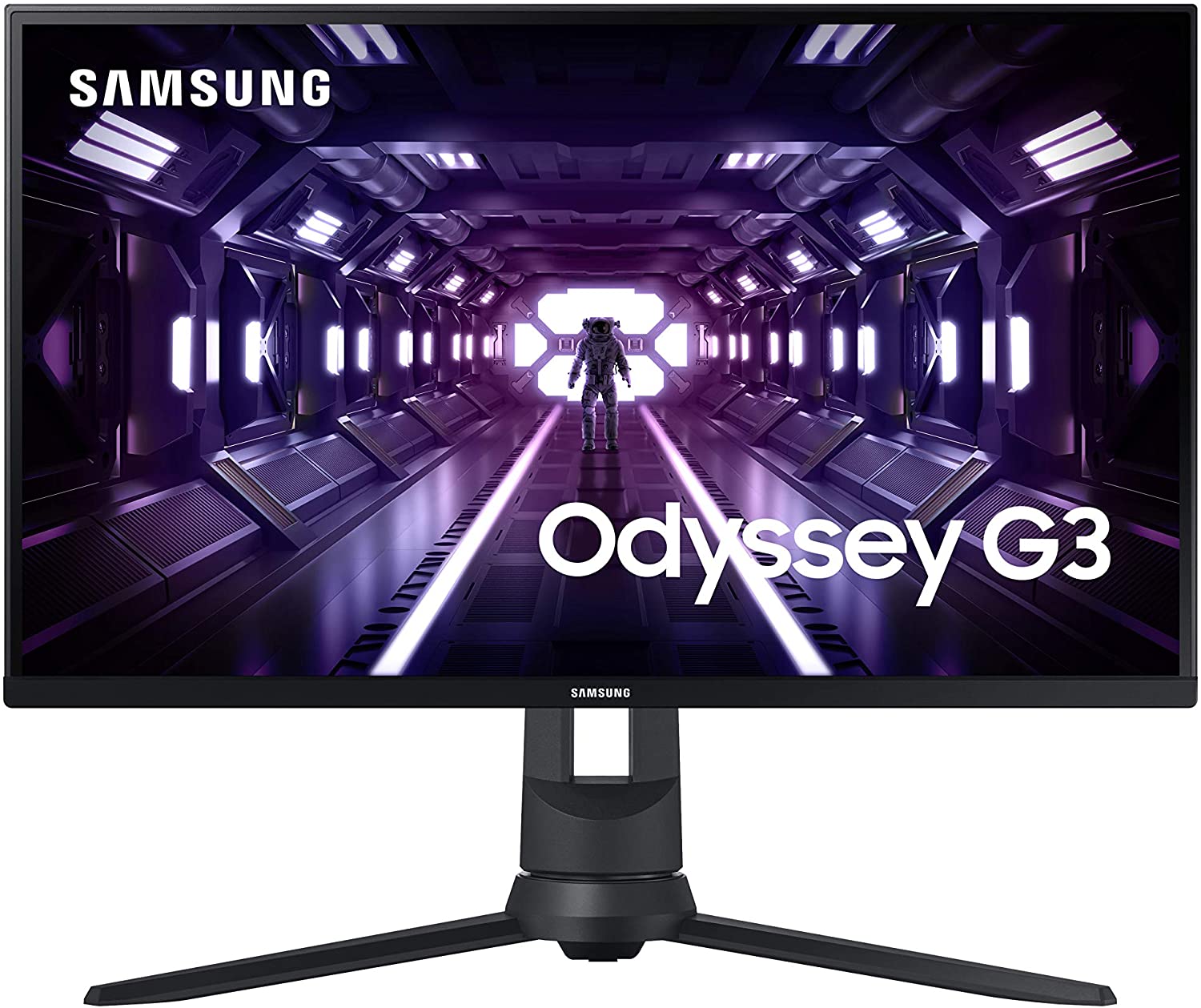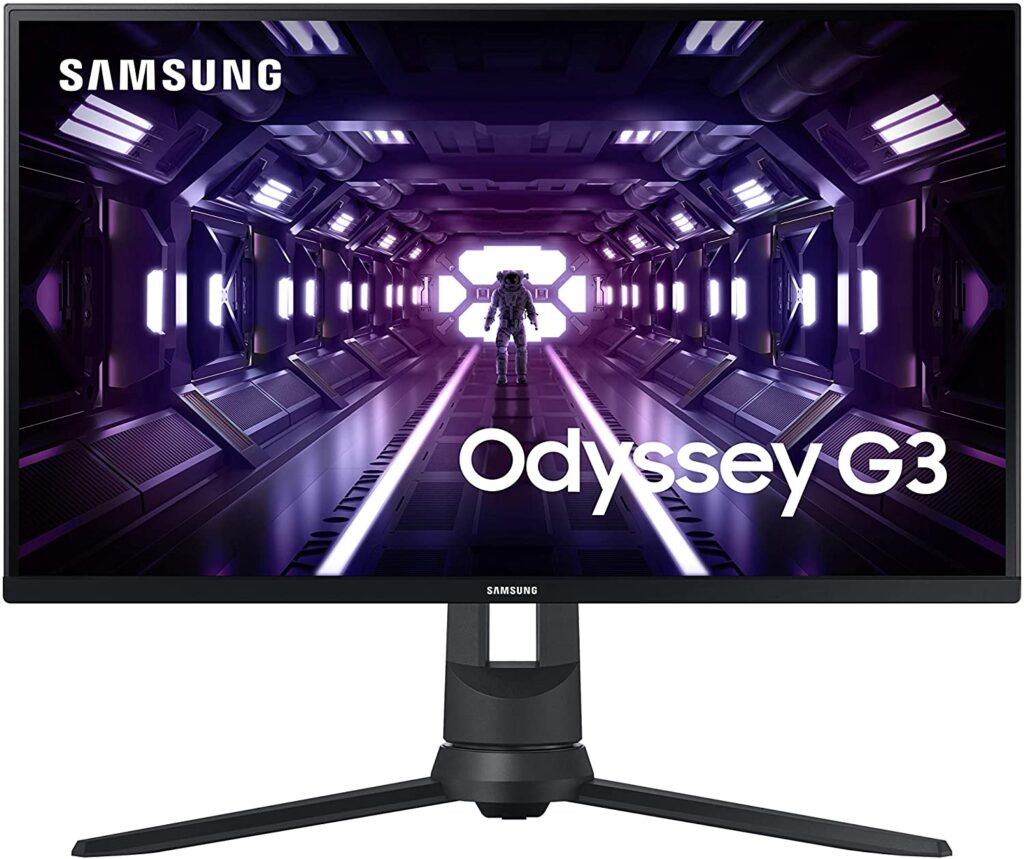 ---
Samsung is one of the most expensive tech brands out there, and even though they are known for having amazing gaming monitor options, this is one of their rare devices that is priced at less than 200 dollars.
It is a great budget gaming monitor, and since Samsung makes it, it doesn't differ too much from most of their more expensive gaming monitors.
As you probably know by yourself, this Samsung Odyssey G3 series monitor is absolutely amazing, and it is one of the best budget gaming monitors out there.
Samsung decided to create a device that will mimic some of their most successful and most popular gaming monitors that cost thousands of dollars and sell them at an affordable price so that everyone can try out some of these fantastic features and filters.
This is a monitor that is pretty huge with its 27 inches, and that has Freesync support that will help you with switching through different modes and streams.
The 144hz refresh rate will allow you to win over anyone, and the fast response time will always make you the now who is in charge of the course of the game.
Your gameplay will be smooth, and this is one of the rare monitors under 200 dollars that can do this sort of work without too much effort.
With this one, you will not have to worry about tearing or stuttering, and you will have the best gaming experience no matter what streaming app you may be using.
This one isn't a curved monitor, and since it is pretty huge, you will need to plan out the space for it because it can't fit in smaller environments.
Its size is probably its only problem because the best gaming monitors are usually a bit smaller, which makes them more suitable for streaming.
However, this is the best gaming monitor under 200 dollars we have tried out so far, and it has all the amazing Samsung features that are available on its expensive gaming monitors too.
We would recommend making some space for it because it tends to be the best gaming monitor for those on a budget, and it can provide you with an experience like no other.
Its full screen design will provide you with a fantastic overlook of the gameplay and help you take control over the game.
6. GTEK F2465P Frameless Gaming Monitor
---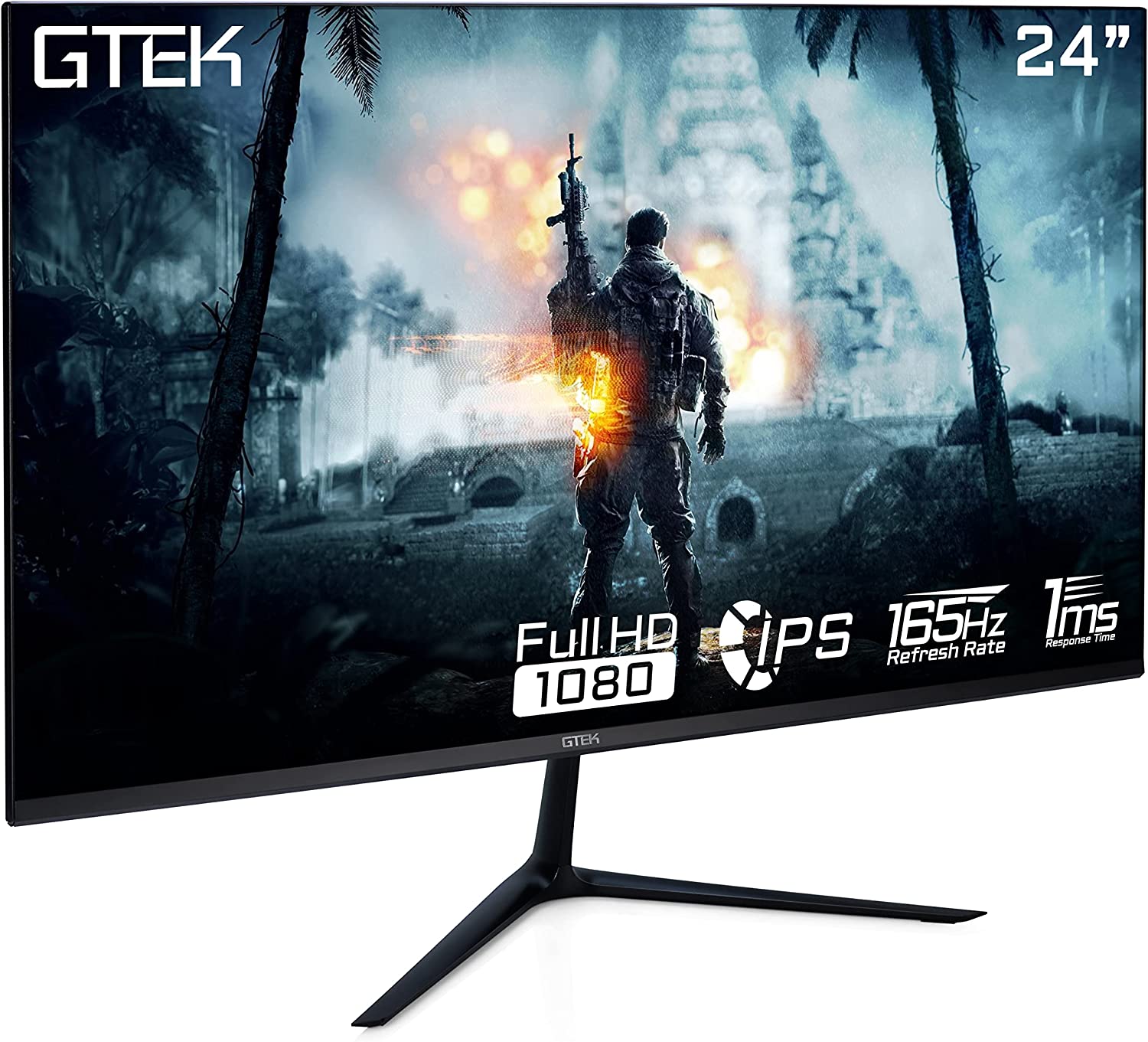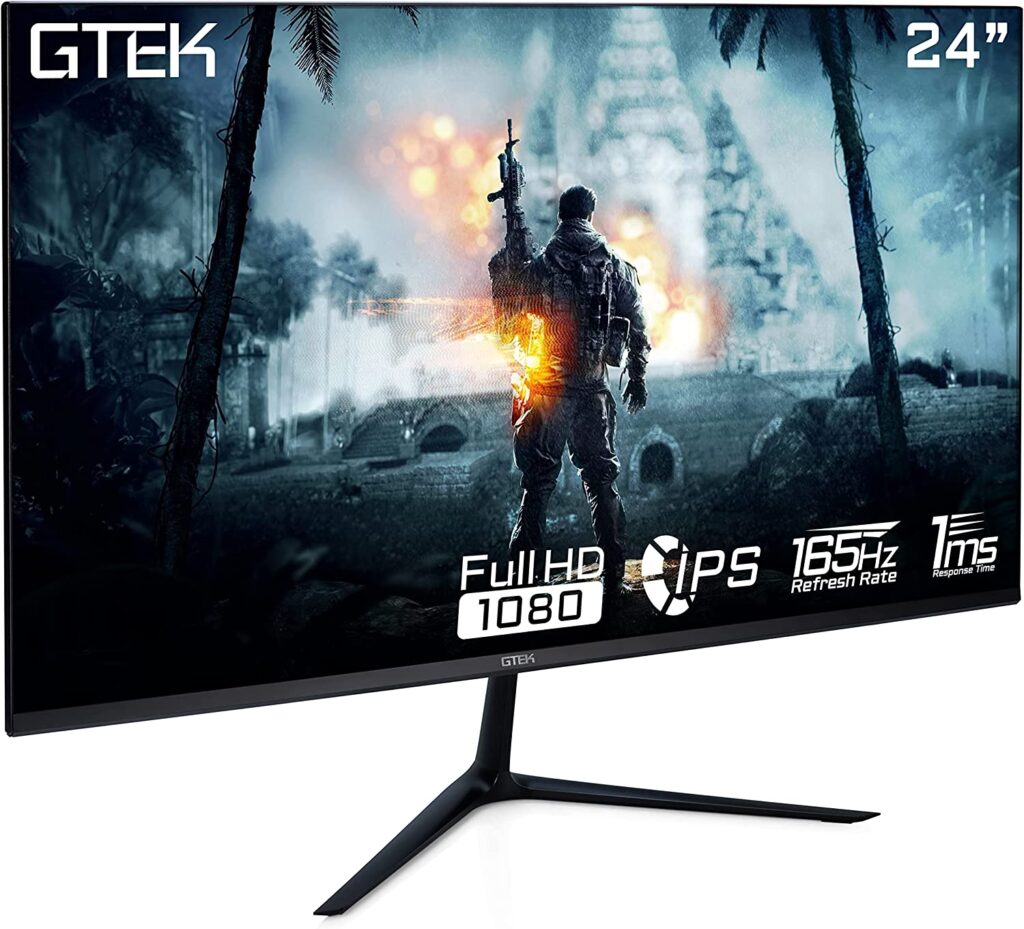 ---
GTEK monitors are some of the favorites in the gaming community, and it seems like all of their devices have amazing gaming features and provide users with the best gaming experience.
They are one of the best monitors for under 200 dollars, and they are compatible with every single graphics card out there, which makes them a perfect choice for people who are just building their gaming kit.
This GTEK Frameless gaming monitor would be the choice for most people on the budget seeking a good gaming monitor.
With a refresh rate of 165 Hz, it is one of the fastest and best gaming monitors on the market, and it can provide you with a game experience so perfect and crisp you would be surprised that a 200 dollars monitor can do that.
It has one of the top-tier FPS, and since it isn't a curved monitor, you can find it a bit hard to immerse yourself in the game and stay focused only on it.
This is an ultra-fast monitor, and with its Freesync support, you will also be able to decrease lag and eliminate all potential blur.
It is one of the essential features for those of you who are playing racing and shooting games, especially if you are streaming them on your channel.
The flexible connectivity allows you to work with HDMI ports and display ports that can connect with any other device or program, so you will have no struggles with maintaining an excellent performance and picture quality.
Its frameless design also comes with ultra thin bezel design, and it makes all the setups seamlessly connected.
However, some users complain that this device is overall way too big for them and that they can't keep track of the game with it, which can happen, mainly if you are not used to gaming monitors like this.
We still believe this is one of the best gaming monitors for under 200 dollars, so you should try and try to incorporate it into your surroundings.
The monitor angles can create some problems, but overall I believe you should enjoy your time spent while using it.
What To Look For In A Cheap Monitor?
1. Resolution
When looking for the best gaming monitors, you always need to keep your eye out for resolution and make sure that it is over 1000 p if you want to have a high-quality experience.
All monitors that offer a lower resolution won't perform well, and they are a waste of money, especially if you are a person who is looking forward to building a real career in this niche.
Our sincere recommendations are gaming monitors that have 1090 x 1080 p resolution.
2. High Refresh Rate
A high refresh rate is a guarantee for a smooth streaming process, so unless it is over 50, you can't expect to have excellent results.
We suggest gaming monitors with a refresh rate over 60 Hz because they provide you with the fastest and smoothest results.
3. Fast Response Time
Fast response time is also something that will determine your overall performance on the platform, and if your gaming monitor is slow, you can't expect to create an enjoyable live stream.
You will also struggle with staying in the game because you will face several obstacles and troubles, just like you would with a bad internet connection.
4. Screen Size
Last but not least, screen size is significant for all of you who are choosing a monitor for yourself.
Take into consideration how big your streaming room or desk is and measure it because you will need to buy a monitor that will fit well.
If you get a larger monitor, you can only create problems for yourself, and you will ultimately get lost in it, which will result in lousy gaming performance, so make sure you always get the one that fits your needs and environment.
FAQ
What Is The Best Gaming Monitor Under 200 Dollars?
The Samsung Odyssey monitor is probably the best budget monitor you can get on the market these days because it has all the original features available on more expensive monitors, and it is very smooth and fast.
Can You Get A Good Gaming Monitor For $200?
Even though most people think that gaming monitors under 200 dollars can't do anything for them, the truth is that these monitors can be equally good as some of the more expensive ones.
There are several excellent options that are under 200 dollars that will work well both for amateurs and complete professionals in this field.
What Is The Best 144Hz Monitor For Gaming Under 200?
The GTEK F2465P Frameless gaming monitor has a 165 Hz refresh rate, and it is the best option for under 200 dollars when it comes to this feature.
We are sorry that this post was not useful for you!
Let us improve this post!
Tell us how we can improve this post?
Monitors for Streaming
If you need to find other streaming gear, make sure to look at our Streaming Gear page. Here, you will find everything you need!
Post 2 of 6