There is an excessive need for quality headphones in the gaming community. The right kind of earpiece may give you the edge both in casual and competitive gaming, not to mention that it's practical and fun to use them.
Some of the better products you can acquire in this category are open-back headphones. And the best ones are Audio-Technica ATH-AD700X because of the outstanding comfort and immersive sound quality.
In this article, I'll cover some of the best open-back headphones for gaming that you can get on the market with this article.
I'll talk about the best ways of choosing the right option for your particular needs and answer the most typical questions about the matter.
COMPLETE COMPARISON: Best Open-Back Headphones For Gaming
Audio-Technica ATH-AD700X Open-Air Headphones

Excellent audio quality
The lightweight and durable casing

EPOS I Sennheiser GAME ONE Gaming Headset

Great sound
Highly compatible

SENNHEISER HD 599 Open Back Headphones

Exceptional sound quality
Super comfortable ear cups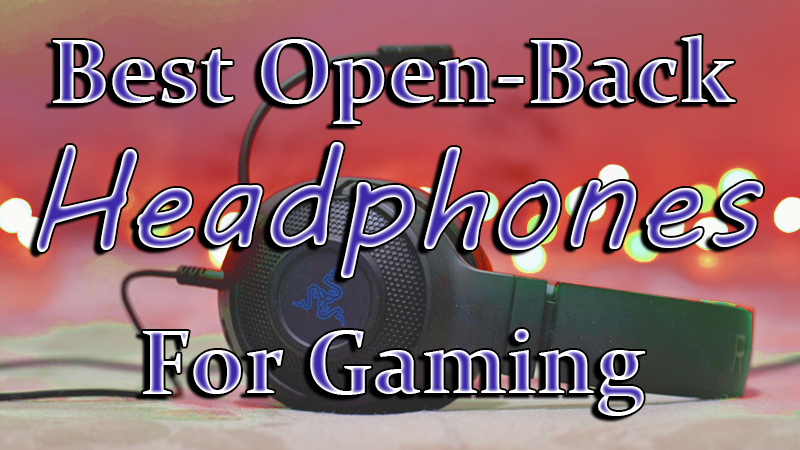 Best Open-Back Gaming Headphones
Tested & Reviewed
But first things first, what are the open-back headphones, exactly? These headphones have a build similar to a regular closed-back headset but with a significant design difference.
Unlike those closed headphones, the open-back ones have gaps built into the outer housing, allowing air and sound to flow freely through the ear cups.
That kind of design helps with eliminating air pressure build-up and produces a more natural and precise sound for you to enjoy. Still, they don't have commendable noise-canceling abilities.
They are also lightweight and comfortable to sport even for more extended periods, but it's not always easy to choose the right ones for your needs.
With that in mind, these 11 products are among the best open-back headphones for gaming, so let's carry on to the list.
1. Audio-Technica ATH-AD700X Open-Air Headphones
Best overall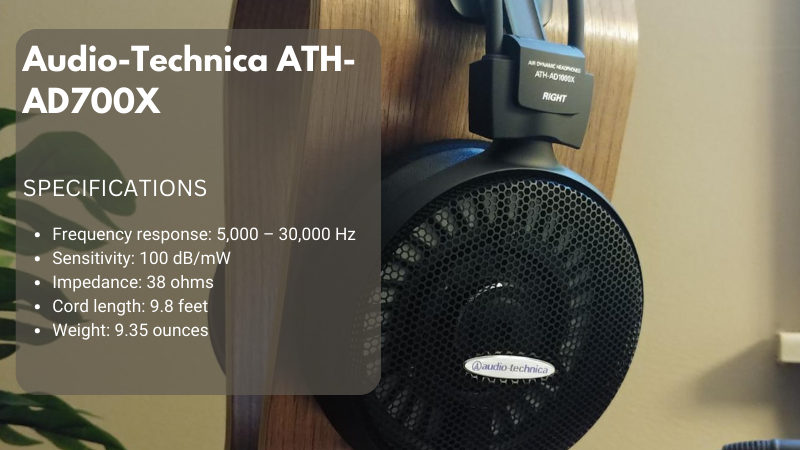 Stefan's Take:
In my opinion, these are the best open-back headphones for multiple reasons. Firstly, the design is modern and sleek, and I could wear headphones for several hours without my ears getting hot, sweaty, or my head hurting.
The next feature that I was amazed by was the sound quality. The 53 mm drivers deliver impeccably high, mid, and low tones and create a truly immersive gaming experience.
Another bonus was that it was quite easy to connect them to my PC and start gaming.
| | |
| --- | --- |
| Audio Quality | 10 |
| Size | 9 |
| Comfort | 10 |
| For Gaming | 10 |
I'll kick off this list with an audiophile treat in the form of ATH-AD700X, open-air headphones for gaming, coming from a giant of audio equipment, Audio-Technica.
ATH-AD700X headphones come in an all-black color scheme and an exciting design with a self-adjusting 3D wing support to adapt to most head sizes.
These headphones are large and comfortable, but they may be too large for some users. That's something to pay attention to if you have a tiny head size.
The lightweight honeycomb casing is made entirely of aluminum, and it offers superb acoustic properties. Besides that, the full open-air, ear-fit design produces no additional pressure on your ears and provides a natural listening experience.
Superior high and mid-tones and excellent power handling are delivered thanks to the new 53 mm drivers and bobbin-wound CCAW voice coils.
Because of the giant drivers and the fantastic frequency response, the sound in games will be crisp, clean, and airy, and give the perfect directional feeling and bring your game to life.
With 38 ohms of impedance and 700 mW of maximum input power, ATH-AD700X is protected from overload by any audio equipment.
As far as connectivity is affected, you can plug these headphones into any supporting computer device or a console using the included gold-plated 1/8 inches (3.5 mm) stereo connector.
As a bonus in this package, you'll get a handy 1/4 inches (6.3 mm) adapter if the need arise for you to connect these headphones with some other audio equipment.
There is no built-in microphone in these headphones, so that's something to consider if you're on a budget.
Overall, considering all of the features and price point they came at, ATH-AD700X is the best open-back headphones for gaming.
Pros
The lightweight and durable casing
Extremely comfortable to wear
Excellent sound quality
Surprisingly long cable
2. EPOS I Sennheiser GAME ONE Gaming Headset
Open-back headphones with the best design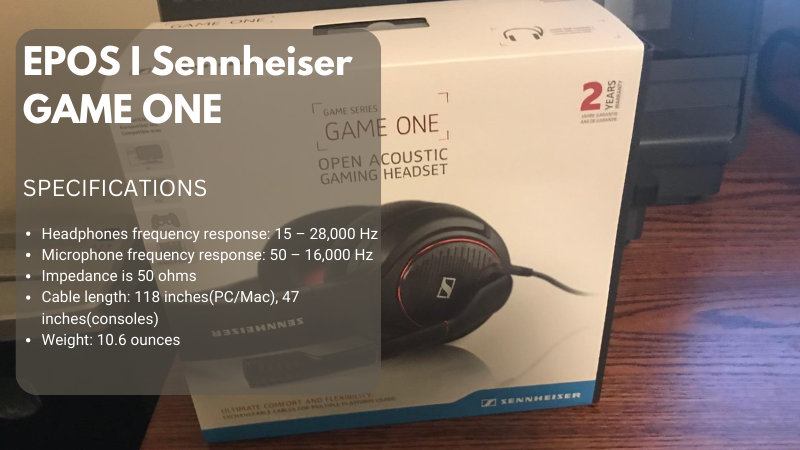 Stefan's Take:
What amazed me about the Sennheiser GAME ONE headset from Epos is the design. They look futuristic, but the manufacturer also made sure that they're practical and, most importantly, comfortable for longer gaming sessions.
You get onboard volume controls, so you can easily adjust the sound while gaming without having to remove the headphones. There is no mute button, but once you raise the arm, it will turn off.
Also, this headset is compatible with PC and various consoles, which is a big plus in my books.
| | |
| --- | --- |
| Audio Quality | 9 |
| Size | 10 |
| Comfort | 10 |
| For Gaming | 9 |
Sennheiser GAME ONE is among the most exciting gaming headsets, which is no surprise for Epos, a company known for pioneering superior audio technology.
Sennheiser GAME ONE is adorned with a classic gaming design. With a slim silhouette and lightweight body, this open-back acoustic headset is still sturdy enough to last you a long time.
This headset allows maximum comfort thanks to the padded headband and extra-large plush velvet ear pads. Your head will remain cold, and your skin will be perfectly able to breathe, even in prolonged gaming sessions.
Volume control is incorporated into the right ear cup for effortless sound adjustment, but a small minus is that you can't mute it entirely, so you'll have to take the headset off for that to happen.
You can even instantly mute the microphone on this open-back headset by putting the microphone arm upward.
Thanks to the flexible boom arm, you can easily adjust the microphone to your liking and for the best voice pickup position. The mic's design will help minimize the background noise and allow for clear communication from your side.
This open-back gaming headset is engineered for accurate and natural sound with high-fidelity and detailed audio to significantly improve your game experience and performance. At the same time, extreme acoustic clarity is possible thanks to the proprietary speaker system that delivers the bass extension balanced with the other frequencies.
The Epos Sennheiser GAME ONE is highly versatile due to the long exchangeable braided cord. That cord will allow you to connect this headset with a PC, Play Station, Nintendo, Xbox consoles, smartphones, and any other device that features a 1/8 inches(3.5 mm) jack input.
Pros
Great sound
Decent noise-canceling microphone
Highly compatible
Commendable build quality
3. SENNHEISER HD 599 Open Back Headphones
Best audio quality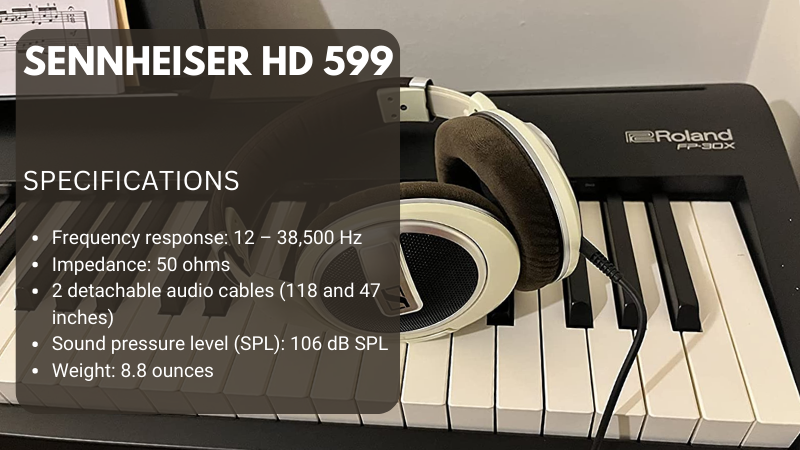 Stefan's Take:
The first thing I noticed when I tried out these headphones was the audio quality. I listened to my favorite Spotify playlist and just enjoyed the high-quality sound they delivered. They transfer different frequencies effortlessly, and even the bass is clean without crackling.
When it comes to gaming, I think that the high audio quality gave me an edge in multiplayer games because I could accurately determine where my competitor was just from the sound.
| | |
| --- | --- |
| Audio Quality | 10 |
| Size | 9 |
| Comfort | 9 |
| Design | 9 |
The next item on this list comes from Sennheiser Consumer Audio, fabulous open-back headphones for gaming in the form of HD 599, one of the best-looking headphones out there.
HD 599 is a truly gorgeous pair of audio equipment. These wired gaming headphones scream quality with their beautiful ivory color and matte finish, with brown headband stitchings and flat metallic details sporadically placed on the surface.
The HD 599 features an over-ear, open-back design. Thanks to a softly padded headband and velour-covered ear cushions, they are exceptionally comfortable for gaming for hours on end.
Because of those soft replaceable ear pads and gargantuan ear cups, there will be no unbearable pressure on your ears, and you will only get to enjoy audio from your favorite game.
The audio quality of these open-back headphones is excellent because of the premium materials and around-ear design.
Transducers inside this Sennheiser-made product use aluminum voice coils to deliver high efficiency and excellent dynamic sound with extremely low distortion.
The HD 599 offers multiple connectivity possibilities. With this package, you'll get a full 118 inches long detachable cable with a 1/4-inch (6.3 mm) jack, a 47 inches long detachable audio cable with a 1/8-inch (3.5 mm) jack, and a 1/4-inch to 1/8-inch adaptor.
There are plenty of options to connect these headphones to any gaming device available physically.
Pros
Sophisticated looks
Super comfortable ear cups
Exceptional sound quality
4. Samson Technologies SR850 Semi-Open-Back Headphones
Quite comfortable gaming headphones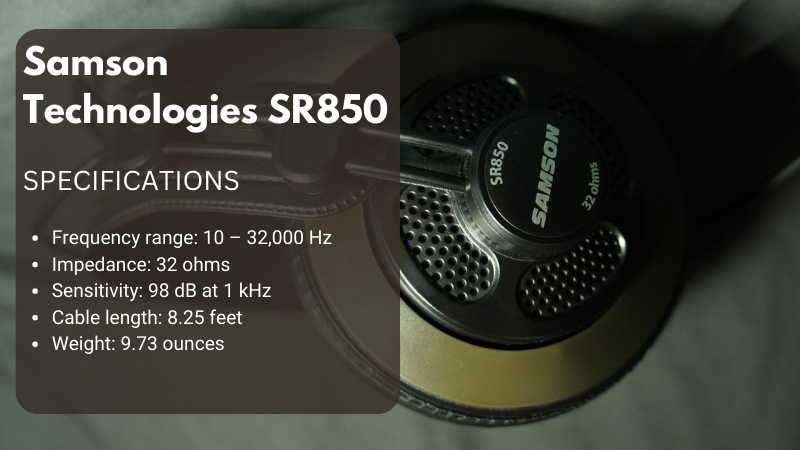 Stefan's Take:
SR850 Open-Back Headphones feature an excellent sound quality that both audiophiles and gamers will enjoy. You can listen to your favorite tracks all day long or wear them when gaming for a more immersive experience.
What stood out to me was the comfort. They were an absolute dream to wear! The cushions are soft and don't make your ears hot or sweaty. The headband is adjustable, so they fit everybody.
I wasn't too sure about the semi-open design, but it turns out it's great for preventing any sound from escaping.
| | |
| --- | --- |
| Audio Quality | 9 |
| Size | 9 |
| Comfort | 9 |
| For Gaming | 9 |
Samson Technologies SR850 semi-open-back studio headphones are a terrific choice if you're looking for competent wired headphones for many operations on a tight budget.
SR850 features a straightforward yet effective all-black color scheme, giving it a streamlined tactical look, while the structure is sturdy enough to last you for a good while.
I can appreciate the comfort they provide, even in lengthy sessions. That comfort is possible thanks to the soft, self-adjusting headband, cozy velour ear cushions, and an all-purpose semi-open design that will better deal with sound leakage than most of its fully opened pears.
SR8550 will fit most head and ear sizes, plus your ears won't get too tired during extended use.
These semi-open headphones provide truly excellent overall sound quality for the current price of just above 42 dollars. Thanks to the 50mm neodymium drivers, you'll get a warm and tight bass response and a smooth high-frequency response.
With SR850, you can enjoy 100% accurate stereo sound and quickly pick up positional audio, great for gamers and music playback, sound mixing, live monitoring, etc.
With only 32 ohms of impedance, you'll be able to plug these headphones into virtually any device with a 1/8 inch(3.5 mm) jack, from a console to a low-powered mp3 player.
The only quibble I have with this model is that the cable is not detachable, but it's an extra function rarely present with headphones with a low price tag like these. Otherwise, they are virtually the best you can get in the under-50 dollars price range.
Pros
Surprisingly good sound quality
Comfortable for extended use
Knockdown price
5. Audio-Technica ATH-PDG1 Open-Air Headset
Best choice for professional gamers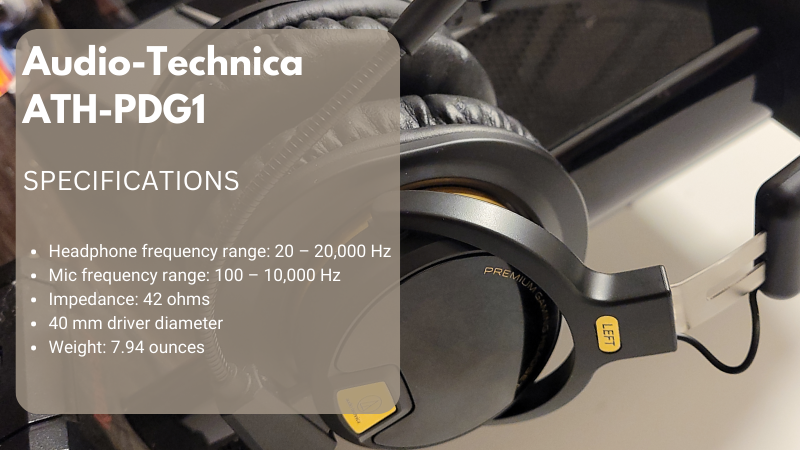 Stefan's Take:
I ordered these headphones because of their gaming color scheme and design that just fits my streaming setup. Once I tried them out, I was pleasantly surprised by other features, not just the design.
The sound is great – low tones aren't transferred well, but it won't impact your gaming experience. The mic quality is decent, and I haven't received any complaints from my teammates.
Moreover, gamers would easily appreciate their versatility – you can connect them to PC, PS, or Xbox.
| | |
| --- | --- |
| Audio Quality | 9 |
| Size | 8 |
| Comfort | 9 |
| For Gaming | 9 |
The second and last Audio-Technica product I'll talk about is ATH-PDG1, a multi-purpose gaming headset with many exciting features.
With ATH-PDG1, Audio-Technica went a little gamier with its design. The red, gray, and black color scheme makes this one of the best-looking open-back headsets on this list.
This headset is pretty durable, and if need be, it will be able to handle some abuse if you accidentally drop them or rough them up with continuous use.
Both headband and leather earpads are super comfortable to wear, while the lightweight, aluminum honeycomb casing provides you with a natural and spacious sound.
You won't feel any unnecessary pressure, and your ears will remain chill even in intense gaming environments.
These headphones do not clench your head too tight, and some sounds may leak from small-headed users. It's a minor gripe but worth mentioning.
The CCAW voice coils and the 40 mm drivers deliver powerful sound in all its lively detail, which is certainly something to be appreciated by gamers and audiophiles alike.
The ATH-PDG1 also comes equipped with a boom microphone for crystal-clear voice communication with other gamers.
The cable with which this 6-inch flexible boom mic is fitted has a volume and mute control.
This 47 inches long cable can be detached and replaced with a 47 inches smartphone cable, transforming this excellent gaming headset into regular on-the-go pair of headphones for everyday use.
As a bonus, you'll get an additional 79 inches long extension cord that works with either of the previous ones to provide extra flexibility for playing on your computer or favorite gaming console.
Pros
Commendable audio and mic quality
Flashy, gaming color scheme
Portable design
Cons
Too little clamping force for smaller heads
6. Philips Audio Fidelio X2HR Over-Ear Open-Air Headphone Bundle
Great sound quality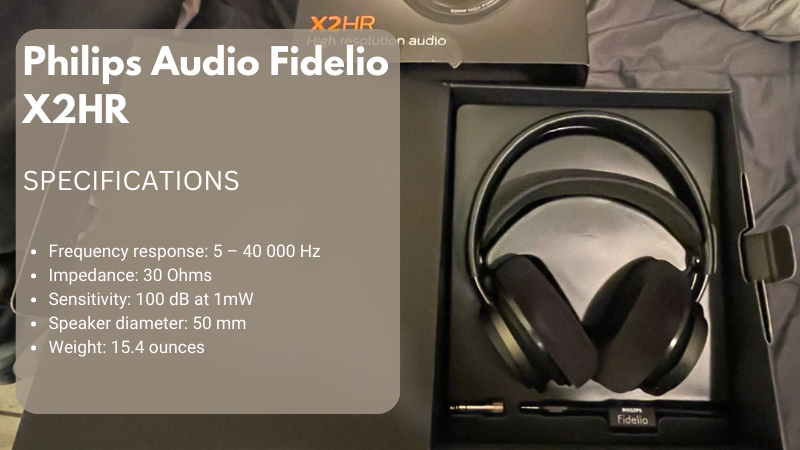 Stefan's Take:
I was amazed by several features of Philips Audio Fidelio X2HR. Firstly, they are made mostly of plastic, but yet quite strong and durable. The ear pads and headband are also comfortable, so you shouldn't experience any problems when gaming.
Moreover, the sound is clear, and good positional audio will bring your game to life. I just wasn't too happy with the microphone that came in the bundle. While the audio was good, I did find it a bit impractical and would prefer a built-in mic.
| | |
| --- | --- |
| Audio Quality | 9 |
| Size | 8 |
| Comfort | 9 |
| For Gaming | 8 |
I'll move on to Philips, and its fabulous Fidelio X2HR open-air gaming headphones for gaming, bundled with a MeeGo attachable microphone for a complete experience.
Fidelio X2HR is adorned with a professional and straightforward design, with no big surprises.
These headphones are large and comfy to wear, and due to the self-adjustable lightweight hammock with a 3D mesh, Fidelio X2HR will fit perfectly on every head.
It's also worth noting that the pressure and heat won't dispel even after extended wear, thanks to the breathable velour cushions and memory foam ear-pads of deluxe quality to adapt perfectly for your ear size.
The double-layered ear shells are 15 degrees tiltable, and they are engineered to reduce resonance and unnecessary vibrations.
The high resolution, lively, and very detailed gaming audio is possible thanks to rather large 50mm neodymium drivers and acoustic open-back architecture that allows for free movement of the diaphragm and greatly enhances sound smoothness and transparency.
As I already stated, these headphones are bundled with a NeeGo attachable mic and provide you with an instant way of creating an open-back headset for in-game or even business communication.
And while it is true that the audio transmission from this mic is smooth and precise in most circumstances. It is still a shame that the mic itself wasn't built in for convenience's sake, seeing how it's not practical to transport all the extra cables if you move around a lot.
Pros
Solid build quality
Good sound out of the box
Cons
High-quality, but a tad bit pricey
Not a real headset
7. Beyerdynamic DT 990 Premium Edition Over-Ear Stereo Headphones
Lightweight headphones
Stefan's Take:
The feature that stood out the most about DT 990 was the weight. Or I should say the absence of it. These headphones are so lightweight that you'll forget you're even wearing them.
Another great feature of their design is modularity. I didn't have to switch any of the parts since I got them brand new, but there is an option to replace any of the parts.
| | |
| --- | --- |
| Audio Quality | 8 |
| Size | 9 |
| Comfort | 8 |
| For Gaming | 9 |
Beyerdynamic's DT 990 over-ear wired stereo headphones are everything you'd expect from a German-made product. Robust build and detailed and precise sound make it a top-quality allrounder.
DT 990 Premium Edition is made of premium materials, and it features a classic Beyerdynamic design. You can get these fantastic headphones in a grey or black color scheme, and they both look very slick and professional.
Thanks to the right combination of a comfortable headband and robust aluminum yolks, these headphones are exceedingly comfortable.
The earpads are skin-friendly and breathable, and along with a flexible spring steel headband, you'll be able to enjoy gaming and music for a long time without pressure or moisture building up in your ears.
Unlike many other gaming headphones, the DT 990 Premium is almost entirely modular, which means that most serviceable parts, including ear cups, are replaceable.
DT 990 premium comes in three versions. A 250 Ohm version is ideal for home use on a stereo system. A 600 Ohm version is perfect for HiFi systems with extra amplifiers or a substantial output.
In contrast, the basic 32-Ohm version serves best for mobile devices like smartphones, tablets, etc.
Like every other open-back headphone, this model is not great at giving you good noise isolation. Still, the sound itself is rich and fantastic, thanks to the dimensional acoustic design, dynamic drivers, and extensive frequency response.
You'll also get a soft carrying case and a 1/8 inch(3.5 mm) to 1/4 inch(6.35 mm) adapter to top this great offer. A perfect thing to combine with a straight 10 feet long cable with gold vaporized stereo 1/8 inch(3.5 mm) mini-jack.
Pros
Excellent build quality with a nice finish
Clear and smooth sound quality
Cons
Requires intense energy for higher impedance
8. Philips Audio SHP9500 Stereo Headphones
Best budget option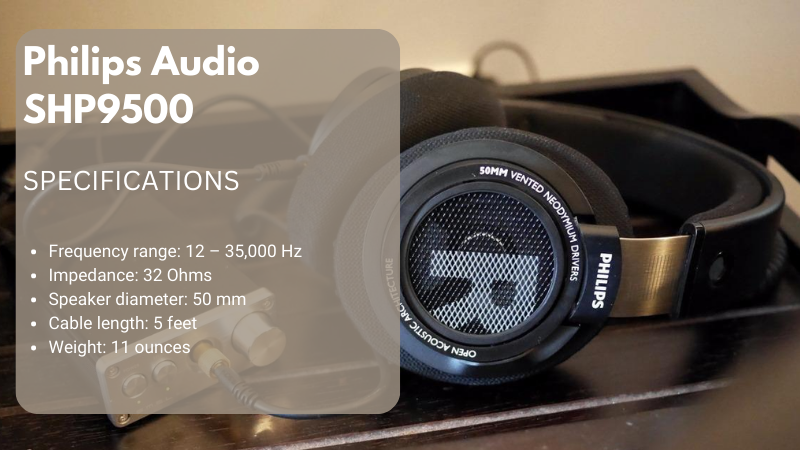 Stefan's Take:
In my opinion, these headphones have the best price-to-value ratio. The build quality is solid, with an adjustable headband and comfortable ear pads.
Considering that they are budget headphones, they feature quite powerful drivers. The sound quality is great for gaming, or just listening to music, eBooks, or watching a movie. There are some inconsistencies in sound delivery, but this didn't disturb me too much when gaming.
| | |
| --- | --- |
| Audio Quality | 8 |
| Size | 8 |
| Comfort | 8 |
| For Gaming | 8 |
Another budget option comes surprisingly from Philips, and it's the SHP9500, the perfect HiFi open-back stereo headphones for gaming, music, and everything in between.
SHP9500 comes in a stereotypical Philips design without excessive, flashy, and attention-seeking details.
The all-steel, easily adjustable headband is covered with a double-layered cushion to provide just the right amount of strength and durability. At the same time, the premium breathable ear pads will dissipate heat and pressure, so you can easily commit to those extended gaming sessions.
The replaceable earbuds would be a nice touch, but it's a minor nitpick in the grand scheme.
These HiFi stereo headphones offer an enjoyable sound signature for gaming on account of 50mm neodymium drivers aligned perfectly according to your ear geometry and an excellent directional sound pickup.
The overall sound quality is excellent. While inconsistent at times, the punchy bass pairs well with bright and crystal clear highs and strangely enjoyable mids and lows, which is especially obvious in some fps games.
The 5 feet long removable cord is an excellent choice for maximum freedom of movement indoors. A gold-plated 1/8 to 1/4 inch(3.5-6.3 mm) adapter will enable you to connect your headphones with audiophile-grade equipment.
You can also use the available 1/8 inch jack to attach a microphone, but the mic itself expectedly does not come with these budget headphones.
Pros
A fairly durable casing
Unexpectedly good sound quality
Low cost
9. Sennheiser HD 600 Open-Back Dynamic Headphones
Best for audiophiles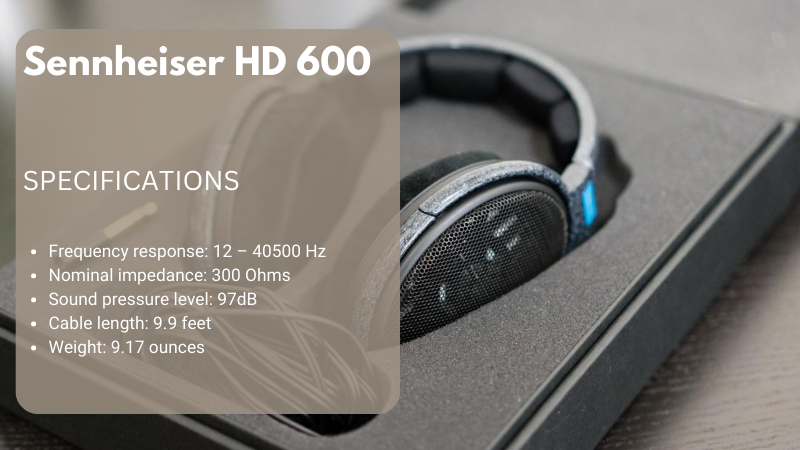 Stefan's Take:
Considering the price, I would say that these headphones are built for audiophiles. The powerful drivers deliver all tones flawlessly, so you can enjoy a fully mesmerizing experience.
I played one of my favorite songs on these headphones and enjoyed it even more because I could hear the tones I didn't hear before.
Such sound quality will also come in handy for gaming. They will last you for many years to come and are definitely worth the price!
| | |
| --- | --- |
| Audio Quality | 8 |
| Size | 7 |
| Comfort | 8 |
| For Gaming | 8 |
Sennheiser Consumer Audio has been a giant in the industry for decades, and the models like HD 600 open-back headphones are why that is the case.
HD 600 open-back headphones look slick and modern with their black and grey color scheme. Somewhat ordinary, but still sophisticated and certainly not dull. They are tough and will survive for a long, even with frequent use.
Thanks to the uniquely constructed headband with several soft, conveniently placed cushions and smooth and velvety ear pads, these open headphones are incredibly comfortable and enjoyable to wear.
HD 600 produces well-balanced sound quality and superb bass response, although it is expectedly not that great in the noise isolation department due to its construction.
Neodymium ferrous magnet systems minimize harmonic and intermodulation distortion and ensure excellent dynamic response and optimum sensitivity. At the same time, spatial imaging, great positional audio, and superb spatial imaging are enabled thanks to advanced diaphragm design.
Even the cord here is of exceptional quality. Kevlar-reinforced, almost 10 feet long oxygen-free copper cable is completely detachable and offers undisputably low handling noise.
Most parts on the HD 600 are modular, which means that with the proper maintenance, they can serve you for many years, which is one of the many reasons why HD 600 is considered to be among the best open-back headphones for competitive gaming that money can buy.
Pros
Exceptional build quality
Clear and very detailed sound
Incredibly light, pleasant, and comfortable to use
Cons
A built-in microphone is sorely missing
10. Massdrop x Sennheiser PC37X Gaming Headset
Great for gaming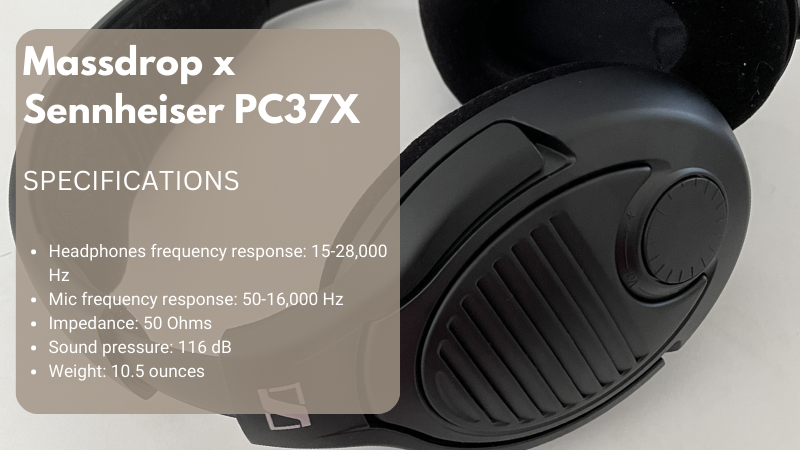 Stefan's Take:
The angled drivers are a feature that gamers will appreciate – I noticed just how much it changed the game audio and improved locational accuracy. I could easily tell where my enemies were and react promptly.
The built-in microphone was a nice addition. I didn't receive any complaints from my viewers about the sound quality, but I did have to adjust it a bit before I started streaming. Overall, this is a good choice for amateur and competitive gamers who don't want to break the bank.
| | |
| --- | --- |
| Audio Quality | 8 |
| Size | 7 |
| Comfort | 7 |
| For Gaming | 8 |
The penultimate entry in this list of best open-back headphones for gaming is Drop's Massdrop x Sennheiser PC37X, a gaming headset coming from a well-established American company.
Sennheiser PC37X is one of the more stylish-looking gaming headsets, with all plastic construction and matte black finish to seamlessly complement every gaming battle station or even professional office setup.
Thanks to the highly adjustable headband and plush velvet, extra-large ear pads, wearing headphones has hardly ever been more comfortable. Sennheiser PC37X will easily fit on every head and keep your ears cold and fresh for prolonged periods.
It is also worth noticing that the right ear cup on these open-back headphones has a very convenient volume wheel, so you can quickly react and change the volume on a whim.
Because of the audiophile drivers and excellent acoustic design, PC37X offers the best possible gaming experience and impeccable locational accuracy and stereo imaging.
However, it is somewhat lacking in the bass department. Audio and sound effects in games will seem as natural as possible, just the way developers intended for them to be in the first place.
The microphone is designed for low-distance, high-volume recording, and it will effectively handle most of the background noise and any pops and hisses, making it ideal for in-game chatting and Skype and Zoom calls, etc.
A 10 feet long detachable cable comes with the dual 1/8 in (3.5 mm) headphone and mic plug. Still, you will have to purchase the additional console adapter separately for more connectivity options, so you should keep that in check if you're on a tight budget.
Pros
Excellent microphone
Oustanding build quality
Fairly long cable
Cons
Clamping pressure is somewhat strong
The price is a little too steep
11. HIFIMAN HE400SE Open-Back Wired Headphones
Good planar headphones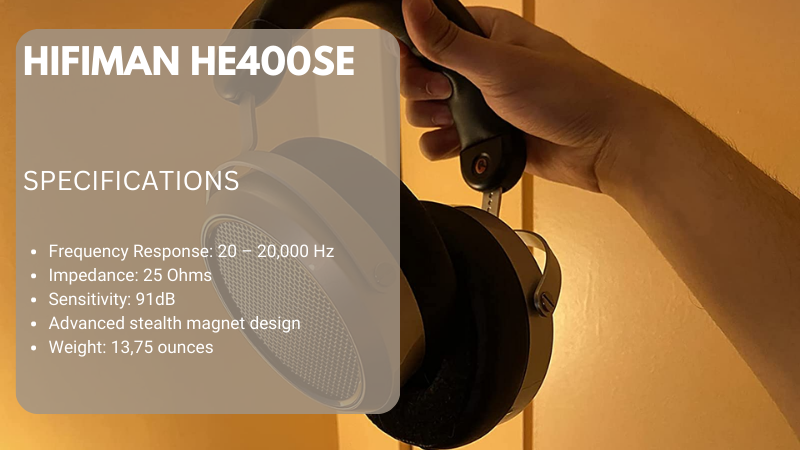 Stefan's Take:
The words I would use to describe these headphones are quality, versatile, and precise. These were one of the first planar headphones I tested, and I was amazed by how this construction lowers the sound distortion.
The audio quality is great, clear, and smooth, with excellent bass delivery, making these headphones suitable for gaming, listening to music, podcasts, eBooks, or watching TV series and movies.
| | |
| --- | --- |
| Audio Quality | 8 |
| Size | 7 |
| Comfort | 7 |
| For Gaming | 7 |
And finally, I'll close this countdown of the best open-back headphones for gaming with Hifiman's HE400SE, the only planar magnetic headphones on this list.
HE400SE are pretty open-back gaming headphones with a black and silver color combination, a modern design, and a durable, sturdy build.
Because of the lightweight and highly adjustable headband and the soft and pleasant ear pads, the HE400SE is exceptionally comfortable to wear. It will keep your ears cold and rested even in intense gaming sessions in hot environments.
As stated before, the HE400SE are planar headphones, which means that, unlike other headphones, they feature conductive layers that surround almost the entire diaphragm for significantly lower distortion than the one you'll find in dynamic headphones.
Advanced magnets design and now fully encased headphone drivers enable clear and crisp sound, good positional audio and detail retrieval, and excellent bass response to fully immerse yourself in your favorite game.
Low impedance makes these headphones perfect even for low-voltage devices, and they will undoubtedly serve you well in PC or console gaming.
You can easily plug into any compatible device thanks to the dual-sided 1/8 inch(3.5 mm) cable with a 1/4(6.35 mm) inch adapter for maximum compatibility.
Pros
Tremendous build quality
Precise and detailed sound signature
Cons
Somewhat lower sensitivity due to lower impedance
What to Look for in the Best Open-Back Headphones for Gaming
If you have a problem acquiring the right kind of open headphones for one reason or another, I'll list some helpful advice to pay attention to in your search.
Here are some of the essential things you should look out for when purchasing the best open-back headphones for gaming.
1. Size and Comfort
It is no secret that, unlike closed headphones, open-back headphones are more comfortable for both prolonged gaming and long listening sessions.
That is the case because of the very nature of its design with good airflow and sound flow, allowing your ears to breathe without moisture or heat building up, thus causing you potential problems with long-term use.
With that in mind, not every open-back headphone is created equal, so you'll have to settle for the right size and ergonomy to fit your head and ears perfectly.
That is, of course, important because longer gaming sessions may lead to extreme discomfort or even physical damage to the skin.
So please choose carefully, as always, and pay attention to the coziness factor, as headphones can be a nuisance when you have to endure wearing them for a gaming stream or a long match in Esport competition.
3. Connectivity and Portability
Whether you'll go with wired or wireless is not to be made lightly since both options have many pros and cons.
Despite the modern technology inserted into wireless headphones, the wired ones still offer superior sound reproduction. Besides that, they are easier to use and usually a lot cheaper.
Because of the way they function, they offer almost unlimited playtime, although wires in the cable can be fragile and easy to damage in some cases, leading to short circuits and other issues.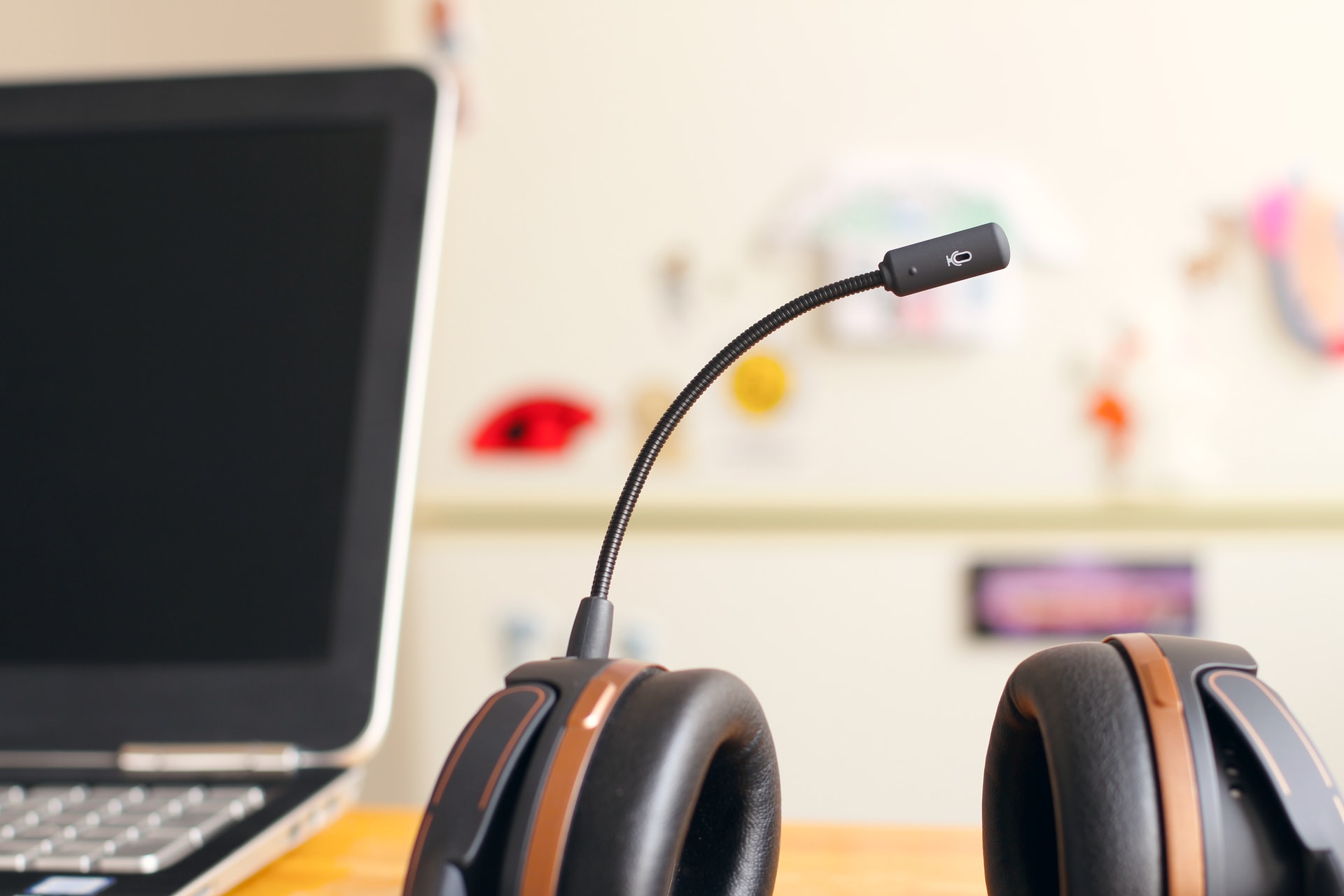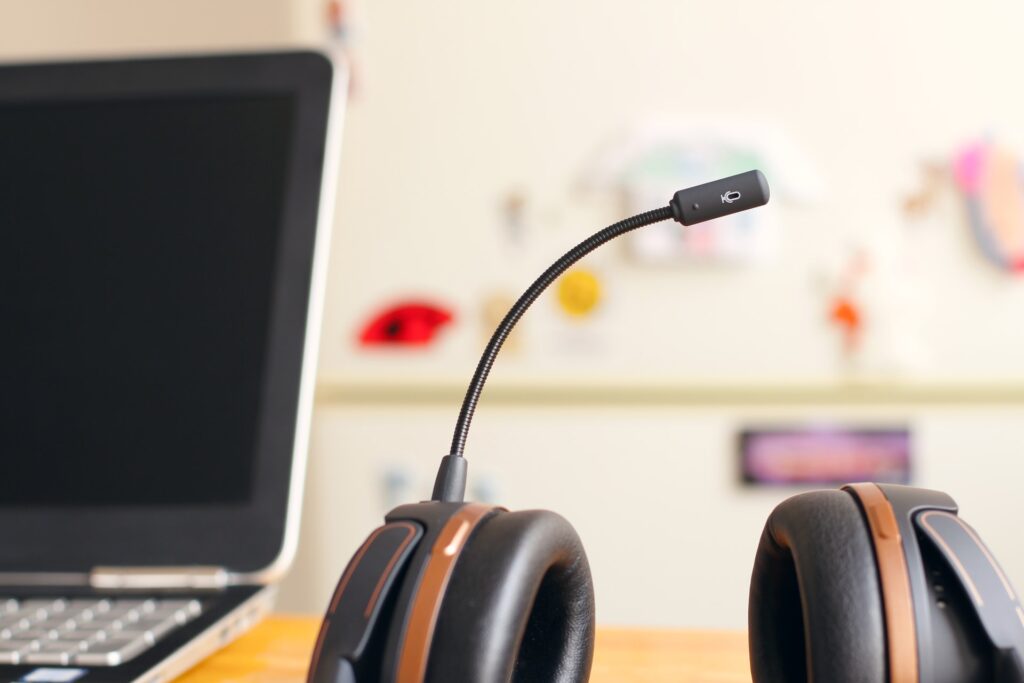 On the other hand, wireless open-back headphones allow for more freedom of movement and are more portable.
Plus, they are compatible with many modern devices, which is a plus. You do have to charge them, though, and they are usually more expensive and harder to repair.
Both have their benefits and deficiencies, so it is up to you to decide what you need for your perfect gaming experience.
3. Price and Purpose
Budget open-back headphones are not easy to pick up. These models are often more expensive than closed-back ones for many good reasons.
One way of cutting the cost could depend on the level of gaming you're exposed to daily.
You could opt for a cheaper model if you're a casual gamer who doesn't mind the somewhat lower sound quality, frequency response, distortion, or even build quality.
Not to say that you have to settle for something terrible per se, but for a casual experience, you don't need to dive into the nitty-gritty to find a product to fulfill your needs and to have fun while playing, even with a neutral sound.
This whole thing flip-flops if you're a competitive gamer or a regular at Esports tournaments.
In that case, you would need the highest possible quality to improve your experience, and that is something that doesn't come cheap with this sort of technology.
Closing Thoughts
Picking up a high-quality earpiece can be paramount for the perfect gaming performance and the best way to complete your gaming setup.
Doing this can be tricky since the trial and error method could be too expensive for most people.
Hopefully, this article will clear some issues and doubts about choosing a good pair of open-back headphones for gaming on your computer or a favorite gaming console.
If you're still unsure, here is a quick summary of my top three picks:
Audio-Technica ATH-AD700X as the best overall,
EPOS I Sennheiser GAME ONE with the best design,
SENNHEISER HD 599 with the best audio quality.
Frequently Asked Questions
Are Open-Back Headphones Good For Gaming?
Open-back headphones are perfect for gaming. They are more comfortable to wear for extended periods than most other gaming headphones, and they are also more suited for gaming because of their specific features.
These headphones usually provide superior stereo imaging, and they create a wider soundstage, providing betters and more immersive sound in the process, especially in a quiet environment because of the sound leakage.
It is also worth citing that these headphones allow for better-surrounding awareness, neat safety, and a communicative feature for competitive and casual gamers alike if you want to hear enemies long before they hear you.
Do Open-Back Headphones Offer Better Sound Quality Than Closed-Back Headphones?
Yes! Closed-back headphones may offer better protection from ambient noise, but the fact is that your ears are sealed in. That means that you'll get the echo effect and a muffled sound in some cases.
On the other hand, that won't be the problem with the open-back solution. With open-back headphones, you'll get much cleaner audio thanks to the unrestricted airflow, which allows for audio leakage and clear, airy, more spacious, and natural sound reproduction.
All that means that with a pair of open-back headphones, you can get much closer to the authentic HiFi experience of the expensive speaker systems than you can achieve with its closed-back brothers.
Open Back Headphone Gaming Headset Or Standalone Open-Back Headphones With A Separate Mic?
This a very straightforward question, and the answer is twofold. Getting an open-back headphone headset is an excellent option for simplicity and portability, while getting a separate microphone can contribute to better-balanced sound quality.
If you voyage or move around a lot, you might benefit from a headset that you can easily pack in your bag or even wear with no fuss, and as a bonus, you can set it up elsewhere just as quickly.
On the other hand, getting a separate microphone can benefit the overall recording quality of your open-back headphone. Still, it is admittedly harder to set up if you're not at least somewhat tech seavy, not to mention additional space for a mic and cables that you'll have to worry about in the process.