At first glance, PTZ cameras have little to do with streaming, but they actually do. They send videos over the internet in real-time and offer key features: remote control panning and zoom.
With so many options, picking the right one can be tricky, so I decided to test several models and give my take on each. In my opinion, the best PTZ camera for live streaming is AVKANS AV-CM20 because of its superb zoom and video resolution.
If you would like to learn more about this model, and a few others, read on!
Best PTZ Camera for Live Streaming
1080p HD
110mm maximum focal length

Low light capability
10x optical zoom
---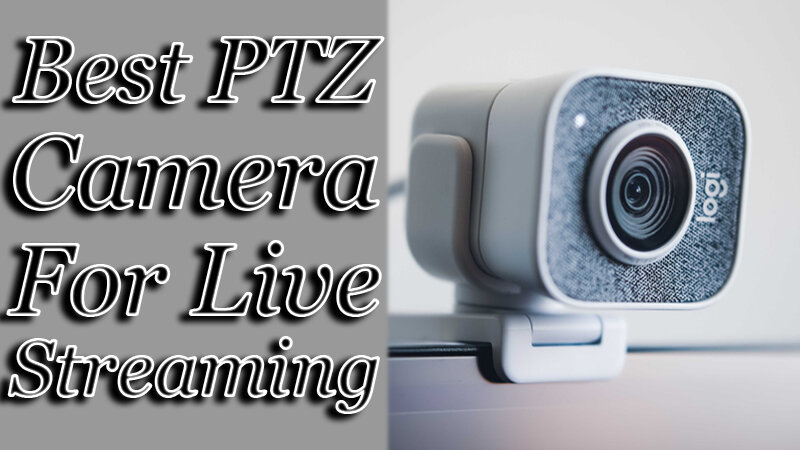 Best PTZ Camera for Live Streaming
Tested & Reviewed
How a PTZ camera helps me stream better?
Well, the most obvious answer is that it's specially designed for streaming video. The manufacturer considers that their cameras will stream the footage they record over the internet as a given. This is especially true for newer models, which I'll go through in this article.
Additionally, they can offer an advantage when it comes to recording in conditions that are considered dangerous for humans.
Most of them have automatic motion tracking, and they can autonomously pan to follow a subject without any human being there.
Without further ado, let's see what the world of PTZ cameras has in store.
1. AVKANS AV-CM2
The top choice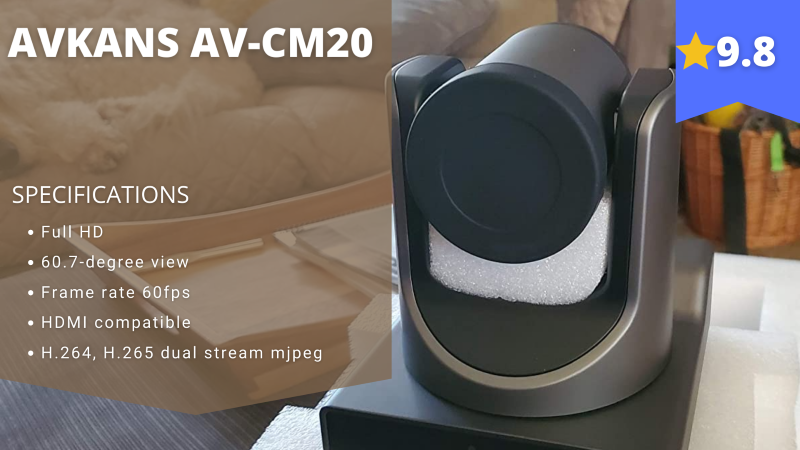 Stefan's Take:
This model had everything I was looking for – great resolution, records at 60 FPS, amazing zoom, and multiple connectivity options.
Of course, nothing can beat my DSLR camera but I was still quite amazed by the quality of the video recorded with this small camera and overall built quality.
| | |
| --- | --- |
| Resolution | 10 |
| Zoom | 10 |
| Controllability | 9 |
| Autofocus | 10 |
Why do I think AVKANS AV-CM2 is the best among these?
It's the most practical one to use, with the best specs: amazing zoom and video resolution.
Let's take a closer look at its specs.
Key Features
The AV-CM20 offers everything a PTZ camera can possibly have. It's a 1080p60 broadcast PTZ camera. In laypeople's terms, that means that it broadcasts full HD video at 60 frames per second.
Other than 60fps, you can dial it down to 50, 30, or 25fps if you want to save space when recording or bandwidth when streaming.
You can find different options for buying this camera – with or without a mount, 20x optical zoom or 30x optical zoom, etc. I choose the one with 30X optical zoom.
Connectivity is listed as USB, but the USB port can only be used for recording. The other three options (HDMI/3g-SDI/IP streaming outputs) are precisely what the name says – outputs that can stream.
Moreover, what makes it the best are Tamron lens. Tamron is a brand that most of you photography buffs out there will recognize. It comes in two variants, 20x and 30x optical zoom.
Pros
Affordable
An all-in-one package
Image stabilization
High optical zoom
2. Zowietek Pro Camera
PTZ camera with the best resolution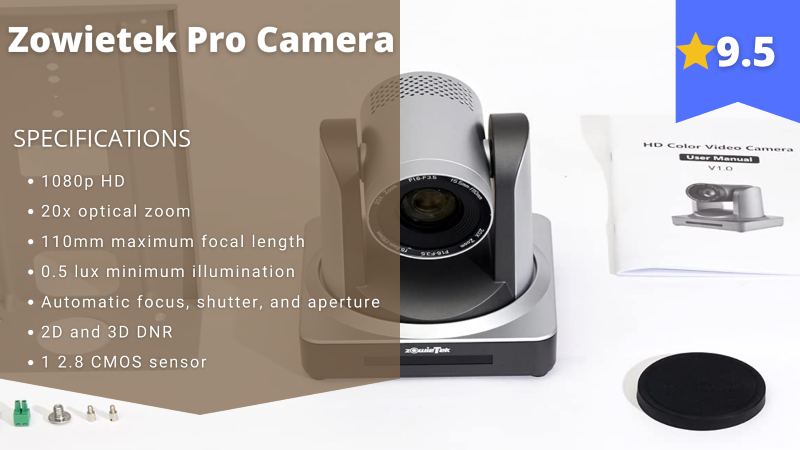 Stefan's Take:
I wanted to test the Zowietek PTZ camera because it had quite similar specs to the previous model, making it easy to compare them. What stood out to me was how quiet it was – moving smoothly from one position to another.
And while 20x zoom is amazing, the resolution is even better, I lost my patience when setting it up. It was too much of a hassle.
| | |
| --- | --- |
| Resolution | 10 |
| Zoom | 9 |
| Controllability | 10 |
| Autofocus | 9 |
The Zowietek Pro offers much of the same features as the previous camera does but with a little bit more oomph and an appropriate rise in price.
Zowietek is considered an off-brand camera, even though the quality is there.
Key Features
It comes with a mount, which tilts from about -30 degrees to about +90 degrees, and pans at a 170-degree range.
While the mount itself is easy to install on a wall, on any other surface, the camera itself isn't really that easy to install and set up.
Setting it up will demand a certain amount of knowledge in the field of internet protocols and such, or a willingness to learn.
Its panning and tilting speeds are pretty fast; up to 60 degrees per second for panning, and 30 degrees per second for tilting, which is a handy feature for quick transitions between different shots.
Of course, there's a remote control option, but you can also use an Xbox 360 joypad as a controller, and that's a pretty unique feature.
Pros
High level of versatility
Good image quality
30X optical zoom version
Cons
Locked IP and needs a dedicated PC to work
3. Logitech PTZ Pro 2
Best for low-light conditions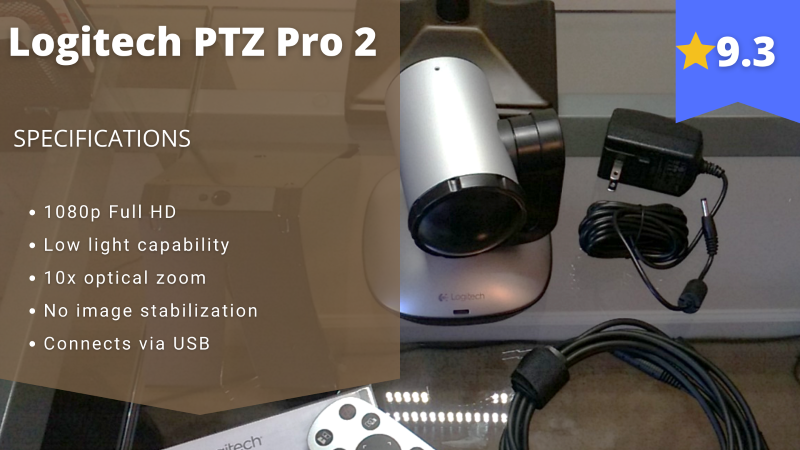 Stefan's Take:
The feature that impressed me the most was the performance in low-light conditions. And while the video quality did drop slightly in low light, I was still quite pleased with just how clear it is.

I was also skeptical about the Advanced Camera Technology feature and how well it processes videos, but it was another pleasant surprise. However, the remote control didn't work the best, and I got numerous complaints that I was out of focus during my stream.
| | |
| --- | --- |
| Resolution | 10 |
| Zoom | 9 |
| Controllability | 9 |
| Autofocus | 9 |
This is a good and very affordable PTZ camera. It offers nearly all the functionality a higher-priced camera would, but with some high-end tradeoffs.
Those tradeoffs are a sacrifice anyone who isn't shopping for a top-notch PTZ camera would gladly make, in order to get a cheaper product that will definitely do the trick.
Key Features
It's perfect for conference room meetings, or classrooms. Its panning and zoom abilities are just enough for a 20-person meeting, give or take.
It plugs into your USB port on your laptop or desktop for the easiest access imaginable. This allows it to run more smoothly and probably way better than your integrated or store-bought web camera would.
It sports a special feature that allows you to get a clearer image in low light conditions, making it perfect for nighttime surveillance.
One of the most important features it has, tho, is called Advanced Camera Technology. That feature allows the camera to process the video it records in the camera itself, thus freeing your bandwidth a lot.
It was very clear that Logitech had people with a limited budget in mind when creating this little miracle of video recording gear.
Pros
Low-light camera
USB is a nice way to connect
Covers all basic needs
Cons
Autofocus can mess up a bit
Dodgy remote control
4. OBSBOT Tiny PTZ 4K Webcam
The cheapest option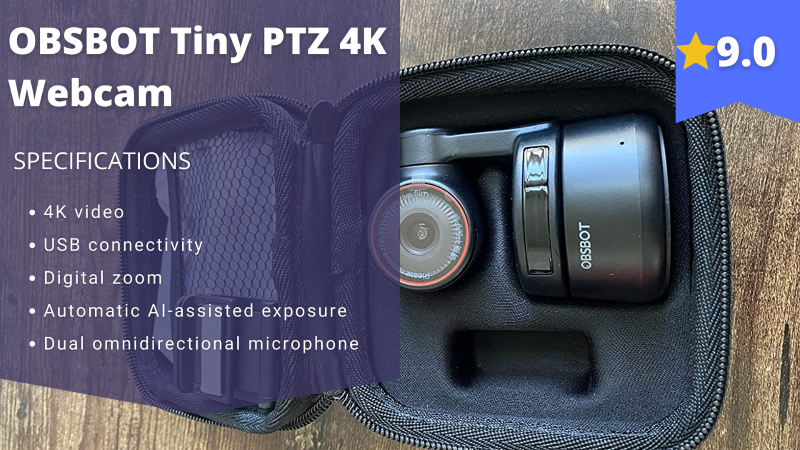 Stefan's Take:
When I saw the Gesture control, I had to get this camera – and while it took some getting used to, I liked how easy it was to change the angle or adjust the zoom.
However, the overall quality is a bit disappointing – I'm not a big fan of digital zoom, and the video quality is lower than the previous three models. Overall, I would recommend it only to people on a tight budget since it's significantly cheaper than other models.
| | |
| --- | --- |
| Resolution | 9 |
| Zoom | 9 |
| Controllability | 9 |
| Autofocus | 9 |
On paper, this PTZ camera offers almost everything a much more expensive PTZ camera would offer, but when you get into the details, some bad things become pretty visible.
It's a webcam that utilizes PTZ technology to follow you around if needed. That makes it perfect for users like Twitch gamers, YouTubers, or any other people that need to film themselves talking.
Works like any old web camera – via a USB port and it's plug and play, so there's no hassle with drivers and "hacking" it into submission.
Key Features
What makes this camera sort of revolutionary is that it utilizes AI to find and track its subject (you).
The IndieGoGo-powered company decided to put a really good Sony 1/2.8" sensor into the OBSBOT Tiny PTZ 4K Webcam.
Another interesting feature it offers is that you can control the pan, tilt or zoom options with pre-defined hand gestures! That sounds super-futuristic and fun, but it takes some time to get used to.
Sometimes those gestures are similar to your own mannerisms, and I ended up panning or zooming the camera by accident a lot, especially in the beginning.
The camera also offers a privacy mode, which is pretty instinctive – you just push the camera downwards.
There is one serious downside to this camera, tho.
It can only zoom digitally.
Digital zoom is not for anyone expecting a crisp and focused image when zoomed. It's going to be very pixelated, depending on the amount of zoom you add.
This might not be a problem, if you intend to use the camera in a small room, with not too many people.
Pros
4K video
Good sound
AI-assisted camera control
Cons
Digital zoom
Hand gestures can be wonky
5. FoMaKo PTZ Camera
PTZ camera with the best zoom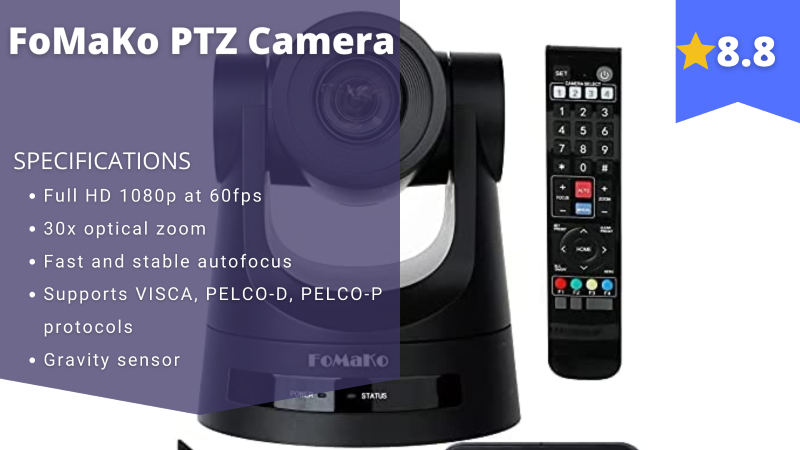 Stefan's Take:
FoMaKo PTZ Camera is the camera with the best zoom – 30X optical zoom works amazing, keeping the quality of the image even when fully zoomed. Also, autofocus adjusts quite quickly, and I received zero complaints about videos and streams being out of focus.
The issue I had was with the setup – the manual was unclear, and connecting the camera took too much time. 
| | |
| --- | --- |
| Resolution | 9 |
| Zoom | 10 |
| Controllability | 8 |
| Autofocus | 8 |
The Chinese have stepped up their game significantly when it comes to tech gadgets like these. Once upon a time, a Chinese camera was a synonym for bad performance.
After using the phones and cameras, of newer generations, I can surely say – that stereotype is a thing of the past.
This PTZ camera is a prime example of exactly how much the Chinese origin of your camera can really mean nothing about its performance. This is a top-notch camera and you'll have little to no needs left unsatisfied once you get it.
Key Features
This camera is perfectly capable to cover even a large room, such as a church or a large conference room.
The 30x optical zoom option leaves little to be desired when it comes to catching small details in an otherwise wide space.
Simultaneous 3G-SDI, HDMI, and IP Streaming mean that there will be no lack of options for any kind of streaming web conferencing video equipment you have.
It can transmit its signal to a distance of 100 meters wirelessly, while the H.264/H.265 video compression feature offers a smooth streaming experience even in low bandwidth conditions.
Unlike some other future brands and other cameras on this list, this camera pans and tilts almost perfectly quiet.
That might not be a relevant feature for all of us, but there are situations when it's among its key features.
Pros
High zoom capability
Various controllers
Can record and store video
Multiple compression formats
Cons
The user manual can be a little hard to understand
6. PTZOptics 12X SDI GEN2
Best high-end PTZ camera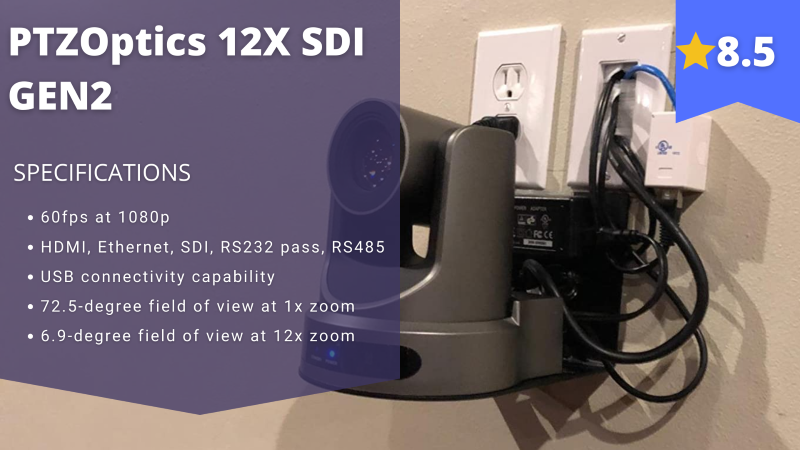 Stefan's Take:
Dedicated OBS controls stood out about this model – it's not really a must in a PTZ camera, but it made streaming quite easier.
On the other hand, it does have poor zoom (only 12X), and the videos don't have the best resolution. I did manage to get a decent-looking video after playing with the settings a bit. However, considering the price, I do think it should perform better.
| | |
| --- | --- |
| Resolution | 9 |
| Zoom | 8 |
| Controllability | 9 |
| Autofocus | 8 |
PTZOptics is a well-established brand in the digital camera world, so be prepared to pay a little bit more for their products.
The PTZOptics 12X SDI GEN2 is one of their most famous products that offer a bit more reliability than other companies that dabble in various other market niches.
Aside from their PTZ camera prowess, they also like to develop their own creative software. They've developed both PC and Mac apps dedicated to camera control.
They also developed a dedicated OBS plugin and made it fully open-source. This brought around some useful features you can't really find in other, more traditional brands of broadcast equipment.
Key Features
If you're interested primarily in connectivity features, this is your camera! On its backside, you'll find a myriad of sockets for every connectivity-related whim you could possibly think of.
You can monitor your video on a separate screen over an HDMI cable, while simultaneously streaming over SDI or LAN.
Their latest low noise CMOS sensor makes for a very good overall 2D and 3D noise reduction. The ~72-degree angle offers wide coverage, for larger rooms or conference halls.
The 12x optical zoom, though, is just enough for decent coverage of smaller details that are located a little further away from the camera.
It could do with a bit more, and PTZOptics do offer 20x optical zoom and 30x optical zoom versions of this camera.
Pros
Great optics
Versatile
Versatile controls over image quality
Cons
12X zoom
The resolution dial can be a little off
What Key Features To Look For Before You Add To Wish List?
As with all cameras, image quality is of the essence. But there are some contextual situations where that might not be the case, and I'll try to cover all those various criteria.
Durability
Some of these cameras are going to end up as surveillance cameras. Some of those will, in turn, end up surveilling an outdoor area.
It's one of the key features of a camera like this to be durable enough and, maybe, even weather-sealed, so that it could do its job for a long time, unbothered by external factors.
Durability such as this, however, isn't much of a factor if you're looking for an indoor camera.
Image quality
This is important in almost every kind of situation you need a camera like this for.
There are some situations where image quality is one of the camera's key features and that's what makes the best PTZ camera for live streaming – the best.
Those situations include worship streaming in churches and other live events such as concerts where a good and clear zoom option is crucial.
That means that you need to give an advantage to cameras that offer a large optical zoom and good optics in general.
Those options are, however, rarely present in a PTZ camera, at least on a cinematic level. For that kind of performance, you'll need a serious amount of money, and a camera that's not on this list.
If you just want your conference video to look nice, that's ok, but you shouldn't expect to be able to make a blockbuster movie with any of these.
Low light visibility is also one of the key features in this section.
You should keep an eye out for cameras with 0.5 lux minimum illumination. Those are the ones that do well in low-light conditions.
Mobility
A wider angle of mobility for panning and tilting can go a long way. A narrow-angle lens can only go so far, but if you're able to move it around, it can cover a lot more.
Couple that with an extensive zoom capability and you're good to go!
Optical Zoom
The bigger the optical zoom – the better.
I'm limiting this to just the optical zoom, because there are, as stated before, serious downfalls when it comes to digital zoom.
For almost any kind of use, optical zoom is the bread and butter of a PTZ camera, and one of its key features.
Price range
Of course, depending on your needs, there are no real reasons to buy an overpriced, state-of-the-art PTZ camera.
Unless you're looking for a serious piece of equipment for a professional TV or movie production, keep an eye out for some of the cheaper solutions. Especially the ones on this list.
Controllability
Some of them are controlled via an IR remote, others have different kinds of controllers.
Most of them come with an IR remote, but that can often be a little bit dodgy, being that it needs a direct line of sight between you and the camera.
Some other control options, such as LAN control or others, are proving to be more reliable, but they come at the cost of the ever-dreaded cables.
Conclusion
There you have it – 6 best PTZ cameras for live streaming. The three that stood out to me the most are:
AVKANS AV-CM20 as the best overall,
Zowietek Pro Camera with the best resolution,
Logitech PTZ Pro 2 as best for low-light conditions.
I hope you have found the model that suits your needs and are happy with the new gadget. Have fun streaming, and I'll make sure to stop by!
FAQ
Are PTZ Cameras good for live streaming?
Yes, absolutely. It's been a long while since any of these cameras didn't have an output suitable for internet streaming, but that's not what their main forte is.
Aside from streaming, they offer some serious automatization of the very process of filming. Whether you need help in panning and zooming smoothly, or you're just too busy to constantly keep an eye on what the camera is filming, this is the thing you need.
That makes them perfect for beginners as well as seasoned pros who only want to relieve their workflow of some unnecessary responsibilities.
How do I live stream with a PTZ camera?
Either very easy, or a little bit more complicated, but the answer is always – via their various possible outputs. These outputs include USB, LAN, Wi-Fi, and others, which are all readily available in all the best PTZ cameras.
It's imperative to have your bandwidth in mind when opting for your camera of choice, especially if you plan to use a Wi-Fi connection to stream your footage. Aside from that, in the vast majority of cases, you'll need a computer to do so. So keep that in mind, too.
How do I know which PTZ camera is best for me?
Pretty easy, actually. It all depends on what you need it for. Here's a little key for that kind of dilemma. If you need a webcam that will be able to follow you around for your Zoom meeting or your Twitch stream, even the cheapest ones will do the trick.
If you want to stream a big conference, and you want all of the people to be seen, you'll need something with a wider camera angle of coverage and a more powerful optical zoom.
Those are immediately a little bit more expensive, and there are a couple of great deals on this list for this kind of purpose.
If you want to automatize and replace your camera operator on a film set, a large-scale live event, or a big concert, the cameras you'll need go up towards a big 4-figure price or more. Those cameras are not included in this list.