HyperX QuadCast is a mic of choice for many aspiring streamers and podcasters. It's cool, slick, and efficient, thanks to 4 polar patterns for sound pickup. But if you're looking for some extra mobility and flexibility with your recording configuration, then getting an excellent boom arm to go with it might be your best and only bet.
With so many models currently on the market, it can be hard to pick one. My pick is TONOR T20 because of its quality construction, outstanding carrying capacity, and extra accessories that really improved the sound quality of my streams.
In this article, I'll talk about the best boom arms that would go well with your brand new HyperX QuadCast microphone. I'll talk through some of the pros and cons of each model and answer critical questions in the hope of helping you pick yours.
QUICK OVERVIEW: Best Microphone Boom Arm For HyperX QuadCast
TONOR T20 Boom Scissor Mic Stand

All steel construction
Maximum reach of 27.6 inches

RODE PSA 1 Microphone Boom Arm

Supports mics up to 2.4 pounds
32.5 inches horizontal, 33 inches vertical reach

InnoGear Microphone Boom Arm

Premium cast metal construction
28 inches horizontal, 27 inches vertical reach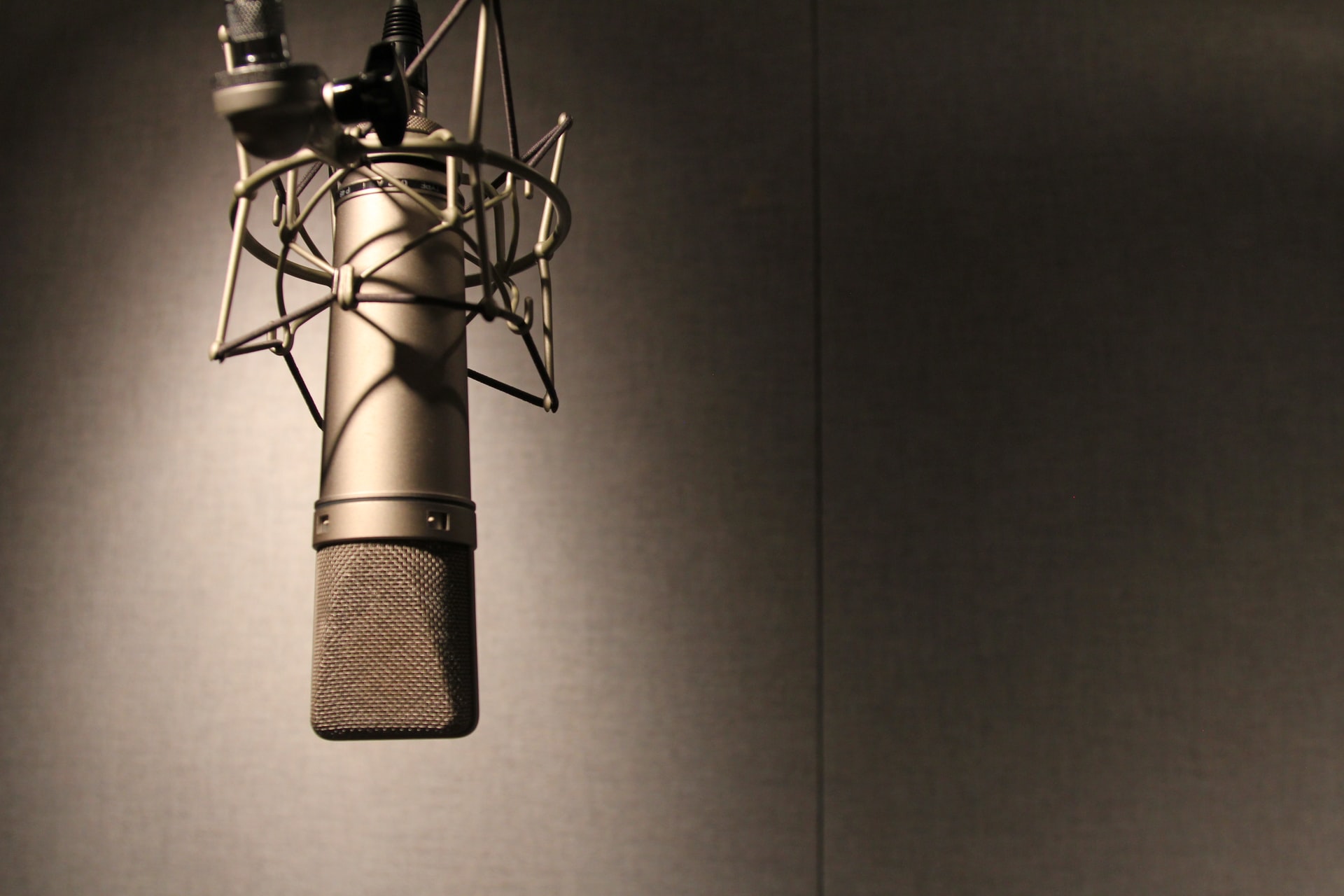 Best Boom Arm for HyperX Quadcast
Reviewed & Tested
HyperX QuadCast is a modern-looking, feature-rich USB condenser mic, a product of outstanding quality, a quality that deserves a proper follow-up with the suitable microphone boom arm to round off your home or studio setup.
I handpicked 6 microphone best boom arms for you to consider for your HyperX microphone, so without any delay, let's move on to the list.
1. TONOR T20 Boom Scissor Mic Stand
Stefan's Take:
The boom arm that became a part of my streaming setup is TONOR T20, and I could go on for days on why I like it so much.

The construction is sturdy and tough and holds the mic in place. It is a smaller size yet strong enough to hold HyperX Quadcast. I also really liked the extra accessories that came with the mic stand, like Velcro ties to keep the cables out of the way and a pop filter for a clear sound.
I'll open up this list with one of the most budget-friendly microphone stands, a T20 model coming from Tonor.
T20 is a remarkably sturdy mic arm with high-grade steel rods and super-strong springs. That accounts for a maximum supported weight of 4 pounds while also having a good length and flexibility.
A 360 degrees swivel on a pretty secure upgraded desk clamp enhances that adjustability. At the same time, the metal adapter ensures a high level of attachability for basically any shock mount and microphones like Blue Yeti and Snowball.
The kit also comes with 4 ties for effective cable management, as well as a pop filter, though in all fairness, you won't be using it much since the HyperX QuadCast microphone already has a pretty good built-in pop filter.
By and large, it is a pretty solid microphone boom arm for HyperX QuadCast, especially for this price.
Pros
Stable and durable
High level of adaptability
Excellent price for a complete bundle
2. RODE PSA 1 Microphone Boom Arm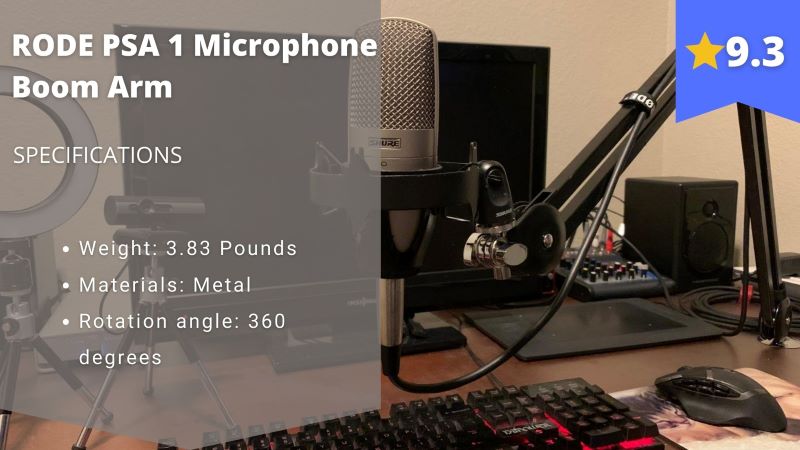 Stefan's Take:
The feature I liked the most in RODE PSA 1 is its versatility. I like to change my streaming setup from time to time, and I liked that I could position the boom arm as I pleased. It has a great range and keeps the mic in place, which is the most important.
Next, I'll talk about the legendary Rode PSA 1, one of the best sellers and most widely used mic stands out there.
Substantial strength and solid build characterize this great boom arm for HyperX QuadCast. Thanks to its quiet and durable internal spring system, it can support most microphones that weigh up to 2.4 pounds with a shock mount.
The most enjoyable thing about this model for me was its tremendous vertical and horizontal reach, 32.5 inches and 33 inches, respectively, with great flexibility.
It can support two mounting options, a desk clamp and a desk insert styles of attachments, and with a 360 rotation on a 2-axis swivel, you can easily adjust your microphone however you see fit.
Rode PSA 1 comes with a 3/8 inch to 5/8 inch thread adaptor, thus making it compatible with HyperX Quadcast, Blue Yeti, and most other microphones you can throw at it.
At the same time, the cable management is effortlessly done via included velcro cable wraps, though I would have appreciated it if it was possible to hide cables completely.
A minor nitpick in the grand scheme of things.
Pros
Top-notch quality internal springs
Multi style desk mount options
3. InnoGear Microphone Boom Arm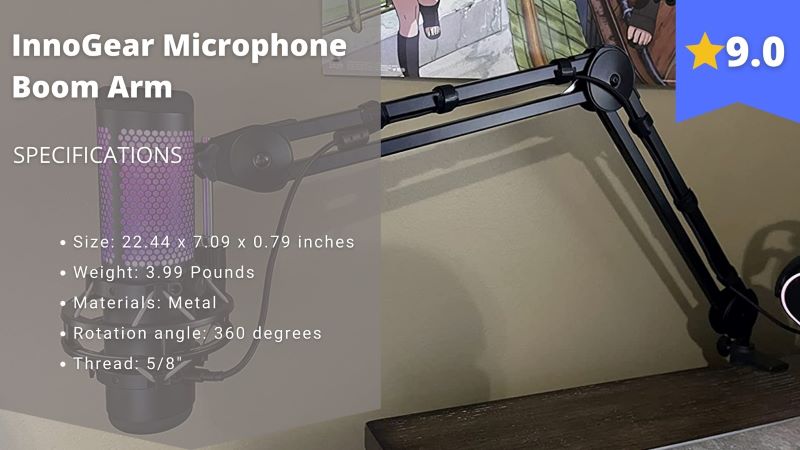 Stefan's Take:
In my opinion, this is the best boom arm to get if you don't have enough desk space. Even though I do, it was great to enjoy some extra desk space while I was testing it out. The carrying capacity is outstanding, more than enough for HyperX, and the max reach of 38 inches allows you to position it as needed.
If you're tight with space and in need of something compact and practical, InnoGear has you covered with this remarkable little microphone boom arm for HyperX QuadCast.
InnoGear's suspension boom scissor arm is made from premium steel with a smooth finish for that professional look. Its impressionably thick arm tube holds internal springs that can support any microphone up to 3.5 pounds of weight.
It's effortless to set up, and it's endlessly adjustable. You have 360 degrees rotation 180 degrees of up and down movement at the elbow with more than decent horizontal and vertical range.
You can also fold it entirely to save extra desk space when you're not using it.
The c clamp is effective, secure, and safe for your desk because of a sponge base that acts as a protective cushion to avoid scratches.
Decent cable management options are also made possible by including 5 handy cable ties.
The only actual drawback, in my opinion, is a lack of a 3/8 inch screw adapter. XyperX QuadCast does come with a mount adapter included, so it's not a deal-breaker, but it's worth mentioning.
Pros
Easy to use and highly adjustable
Excellent load capacity
Cons
The joint rotates only up and down
4. Blue Microphones Compass Broadcast Boom Arm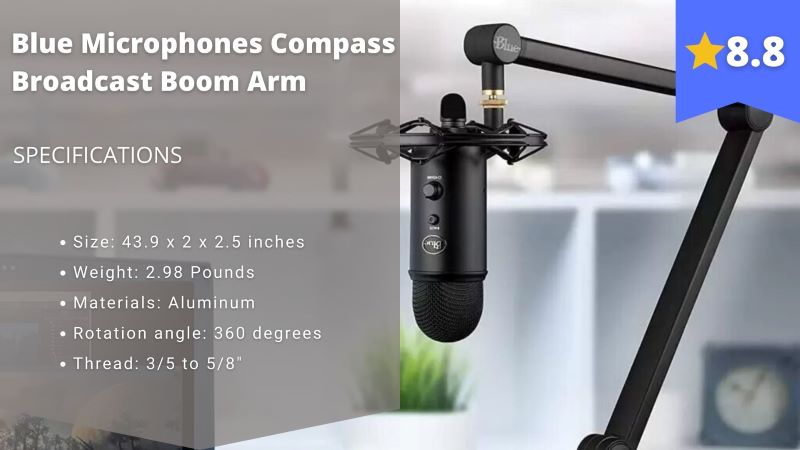 Stefan's Take:
Blue Microphones Compass Boom Arm is a studio-grade mic stand that is worth every penny! I really liked the cable management system, the quality construction, and how easy it was to set it up. The only thing its missing is a pop filter.
Going past the halfway point in this list, we have a slick-looking mic boom arm for HyperX QuadCast in the form of a Blue Compass, made by Blue Microphones.
First thing first, Blue Compass is, in my opinion, the most aesthetically pleasing mic stand on this list.
A black-painted enclosed aluminum body hides a solid internal spring system able to handle any heavy-duty mic that weighs up to 2.4 pounds with a shock mount.
For that matter, this stand might even be a little too strong for some lighter mics, which can be mitigated to a degree via an available tension screw.
Blue Compass is 360 degrees adjustable and has a pretty good reach at 32 inches, and thanks to the hand tightened friction-hinges, you'll be able to position your microphone however you want quietly.
At the same time, the c clamp desk mount will keep everything securely in place.
To top things off, you'll get 5/8 inch thread with a 3/8 inch mount adapter that'll work with most mics you'll encounter, and there won't be any cable mess, thanks to the excellent hidden-channel cable management system.
Pros
A modern, streamlined look
Good reach
Internal spring and cable management system
Cons
Not a budget-friendly mic arm
5. Neewer NW-35 Boom Scissor Arm Stand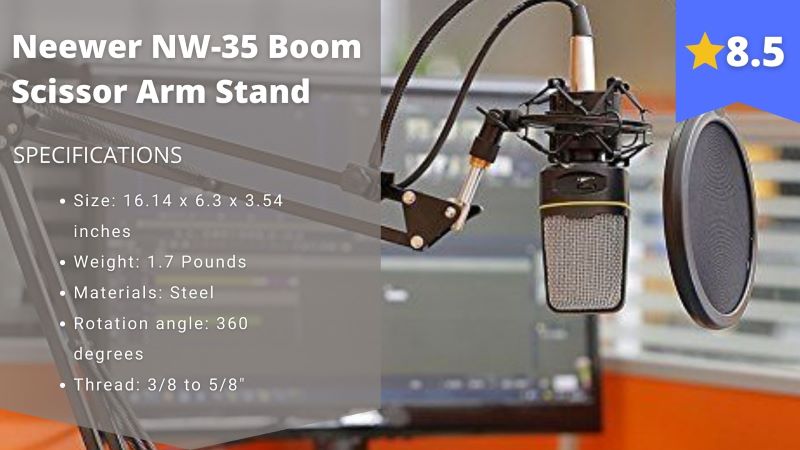 Stefan's Take:
I was most amazed by the construction and carrying capacity of Neewer NW-35 Mic Stand. The 3.3 carrying capacity is truly outstanding. I tested with mics other than HyperX Quadcast, and it held them in place.
NW-35 is a nice little budget mic stand from Neewer, bundled up with some nifty additional accessories.
This mic stand features solid steel construction and a decent spring system. NW-35 is not your typical heavy-duty boom arm, but it can deal with weights up to 2.2 pounds, including shock mount.
Quite enough to handle HyperX QuadCast or some Blue Yeti models, except for Blue Yeti USB microphone, which is not compatible.
The arm is foldable and adjustable at every angle, with a standard 360 degrees rotation at the base, with a pretty typical range of 27.6 inches.
This kit also contains a standard desk mount for clipping onto any table up to 1.7 inches thick and a metal shock mount to keep your audio free of vibrations and noise from handling the microphone.
To top things off, you'll get a double-layer nylon pop filter, just in case you find that the internal pop filter inside the HyperX QuadCast microphone is not enough for you.
Neewer dropped the ball a little bit regarding cable management, seeing how straps or ties aren't included in this kit, but it is a budget bundle, so take from that what you will.
Pros
Complete package for a low price
Arm is highly adjustable
6. Boom Arm for HyperX QuadCast Microphone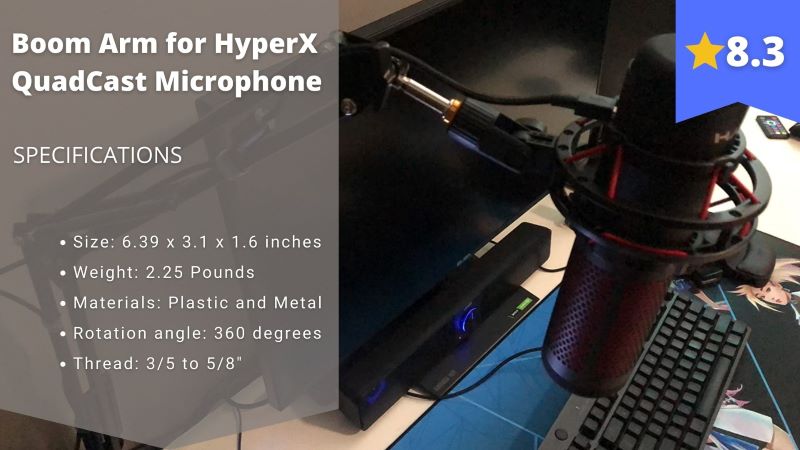 Stefan's Take:
This mic stand is designed specifically for HyperX QuadCast, and it didn't disappoint. I liked the construction, stability, and all the accessories that came with it. It's quite similar to T20 Boom Arm but cheaper, so I recommend it to those on a budget.
As a closer, I'll talk about a suspension boom scissor arm designed for HyperX QuadCast, but also the one that's more than capable of dealing with the most popular heavy-duty microphones out there.
This microphone stand comes with a sturdy metal frame and powerful springs. Along with an upgraded desk clamp, it's able to hold its own with any microphone up to impressive 4.4 pounds.
The arm has a 27-inch reach, and it is easily adjustable with 360 full rotation, everything you need to center your mic in the best way possible for perfect audio input.
Simultaneously, all the vibrations and unnecessary sounds from handling the microphone won't trouble you, thanks to a practical shock mount with an adjustable mic clip.
As a complement to its adaptability, you'll get a separate 3/8 inches to 5/8 inches threaded mounting screw.
This all-in-one kit is rounded off with a neat phone holder, a pop filter with a mic foam cover, and 5 cable ties to keep your USB or XLR cable tidy and in order.
An excellent cost-effective bundle worth your attention.
Pros
All-in-one bundle
Low-cost but efficient solution
Easy to install
Cons
The phone mount is not the best
Things to Consider When Getting the Best Boom Arm for HyperX QuadCast Mic
Whether you're making the first purchase or trying to improve your existing studio setup, these are some basic things to ponder when buying the best boom arm for HyperX QuadCast.
1. Mind the load
One of the first characteristics to consider when getting the right and the best boom arm for HyperX QuadCast is the maximum load that arm can take.
QuadCast is not a light microphone by any means, and that weight will go up if you decide to attach a shock mount, additional pop filter, a windshield, or maybe even a phone if the arm has the means and you require it.
That's a lot of weight for a boom arm to handle, and you should pick one that can deal with extra weight. Solid build, capable springs, and high-quality joints are some of the desired characteristics your ideal mic stand ought to have in that case.
You could go with a cheaper one at your own risk, but the last thing you want is for your microphone to sporadically lose position and drop down due to poor-quality build.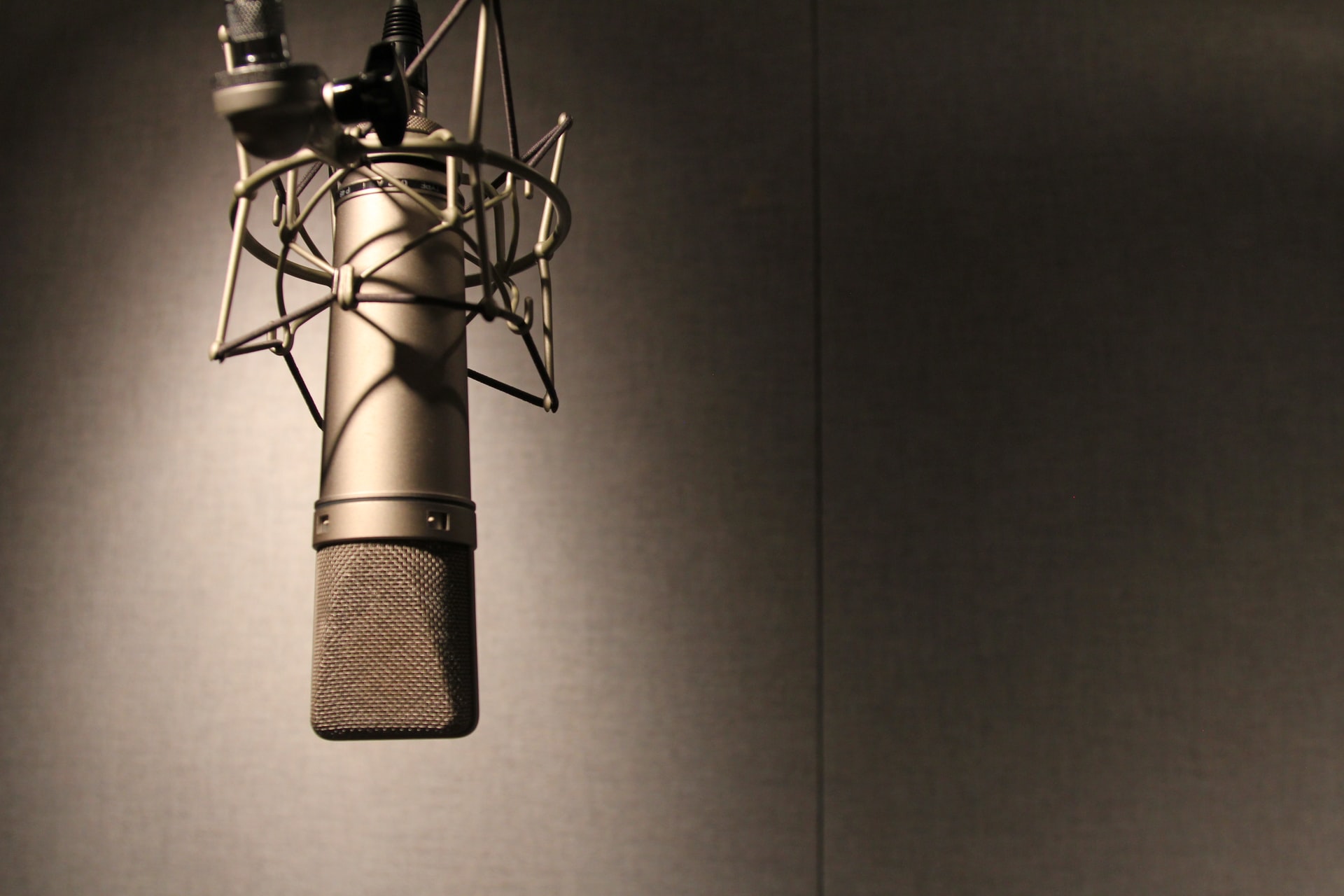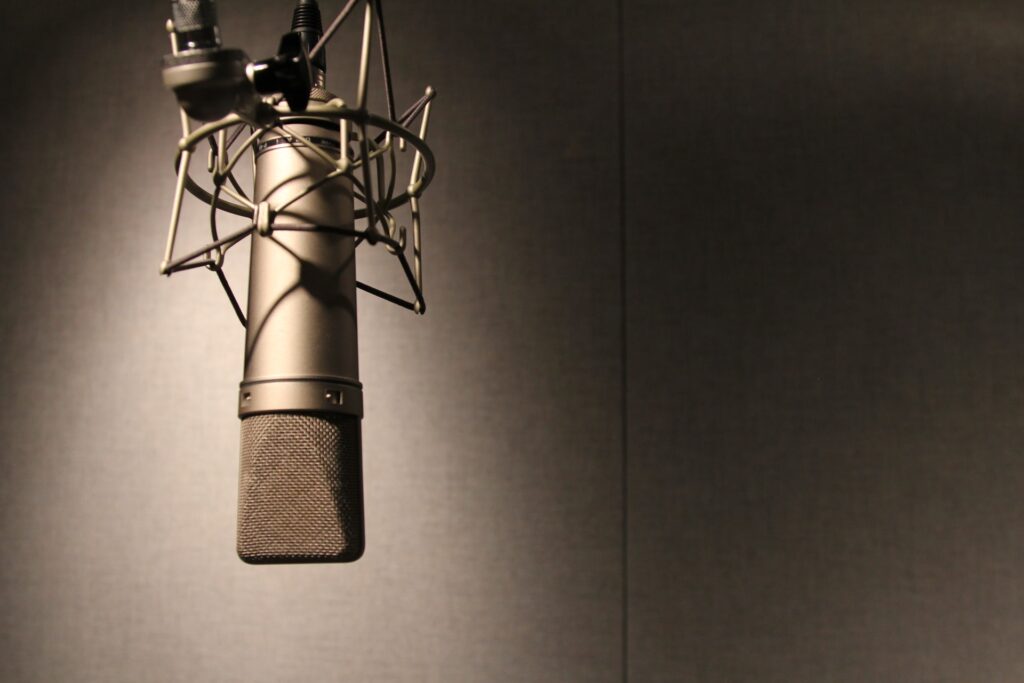 2. Height and space requirements
The next thing you should be aware of is how much room you have in your studio and where and how you will position your microphone.
If you're tight on space, you will need a foldable type of boom arm for HyperX QuadCast that you can quickly deal with when you're not using it, especially if you travel and move around a lot.
Additionally, arm's reach can also play an essential role for numerous reasons.
Your microphone may have multiple polar patterns that would require different positioning, or you're just attaching it further away from where you sit.
Longer arms are usually a better choice because you can always fold them to your liking.
Shorter ones can sometimes limit your options significantly when it comes to positioning, which you wouldn't be able to deal with since there is no more reach to be had.
3. Aesthetics
Aesthetic is not something you can easily disregard, especially if you're doing a video podcast and want everything compatible with your style.
QuadCast is a uniquely looking microphone, so if you are someone who appreciates those sort of things, you might want to consider boom arms with internal springs and hidden cable management options.
That way, everything will look clean and neat, leaving your mic to be the center of attention in your studio.
Conclusion
Getting the right mic boom arm can make a world of difference in the sound quality of a recording because you can get that ideal position for the perfect sound of your voice, especially with specific polar patterns in mind.
I hope I made your search for the boom arm for HyperX Quadcast a bit easier. Let's quickly review my top three picks:
TONOR T20 Boom Scissor Mic Stand as the best overall,
RODE PSA 1 as the most versatile,
InnoGear Microphone Boom Arm with the best carrying capacity.
Happy streaming!
FAQ
Can the HyperX QuadCast go on a boom arm?
HyperX QuadCast is a standalone microphone, which means it features a dedicated desk stand, and you can employ it straight out of the box.
If you want to improve your audio quality further, you can undoubtedly mount this microphone on a separate suspension boom scissor arm and use any standard shock mount with it.
Even if you're using a cheaper boom arm for HyperX QuadCast, without good connectivity options, HyperX has you covered with a versatile adapter that fits many 3/8-inch and 5/8-inch threaded setups, so adaptability will never become an issue with this fantastic product.
What boom arm for HyperX QuadCast is the best?
There are many schools of thought when picking the best boom arm on the market. It can all come down to arbitrary categories and conditions that users may set up for themselves, like a budget or applicability.
But there are however some stands that, objectively speaking, do stand out for their overall high quality, flexibility, and compatibility.
Some of the most prominent and most highly rated boom arms are:
Rode PSA 1
Rode PSA 1+
K&M 23860
Blue Compass
InnoGear MU059 etc.
Is it worth getting a boom arm?
If you're thinking of getting serious with podcasting, streaming, or any other studio work, it is always a good idea to elevate your microphone via boom arm.
You can further eliminate unnecessary sounds and vibrations from performing other tasks on your work desk, like typing on a keyboard.
Besides that, you will get additional positioning possibilities, and you'll be able to center your microphone more efficiently and more precisely so that your audio output is always as clean and crisp as possible.
Never mind that your studio setup will look more professional as a result.