Making it big on any platform that's meant for both streaming and content creation seems to be more about how clear your audio is than how crisp your video quality is, so if you're on the lookout for a new mixer, you're on the right path.
The GoXLR has been one of the most loved mixers for quite some time now, but you're probably wondering whether it's worth the money or is one of its most recommended alternatives – the Rodecaster Pro – actually the better option to go for.
After reading this article, you'll be able to decide, and hopefully, automatically improve the sound quality of your streams without much effort.
Let's compare these mixers and see which one is the one for you!
Rodecaster Pro vs Goxlr
Comparison
Specifications
Frequency range: 20Hz to 20kHz
Maximum output level: +3dBu
Dynamic range: 100 dBA
Gain range: 0dB – 55dB
Power requirements: External DC power supply from 12v to 15v
Output connection: USB-C
Bit Depth: 24-Bit
Sample rates: 48kHz
Frequency range: 10Hz to 20kHz

Dynamic range: >110 dBA

Gain range: 0dB – 72dB

Power requirements: Standard 12v DC

Output connection: USB-B

Bit Depth: 24-Bit

Sample rates: 48kHz
RODEcaster Pro vs GoXLR – What's The Difference?
The GoXLR mixer is a great mixer that was made with musicians in mind, and it makes sense that a mixer like that will provide you with the amazing sound quality that this one does.
Some of the things that it can do are acting as an effective voice transformer and being an audio mixer in real-time, which is why it is so appropriate for streaming.
It's widely compatible with varying hardware and software alike, and it is a 4-channel mixer. With audio mixers like that, you'll be able to have control over the audio sources in real-time, which is great to have if you make some in-person collabs or if you want to have a guest on the stream. Obviously, this works great for a podcast production studio, too.
However, problems may arise because the GoXLR doesn't work with macOS.
The Rodecaster Pro, on the other hand, is mainly built for podcast recordings, so it's overall a great option for anyone who wants to create content with more than just themselves in focus. It can be a great choice, even if you do solo live streaming, too.
When it comes to podcasting, what's great about this mixer is the fact that it can record audio without being connected to a computer, so you can efficiently work with multiple audio sources wherever you want. And don't worry, it comes with phantom power, so the mics you connect to it are ensured to work smoothly.
The setup time with this one is also minimal, as it comes with Class-A preamps and has automatic level control settings that keep the sound quality on point throughout the whole thing.
Both of these mixers come with a set of amazing features, but since they both come at a high price, you should definitely decide cautiously which one is the best one for you.
Product Quality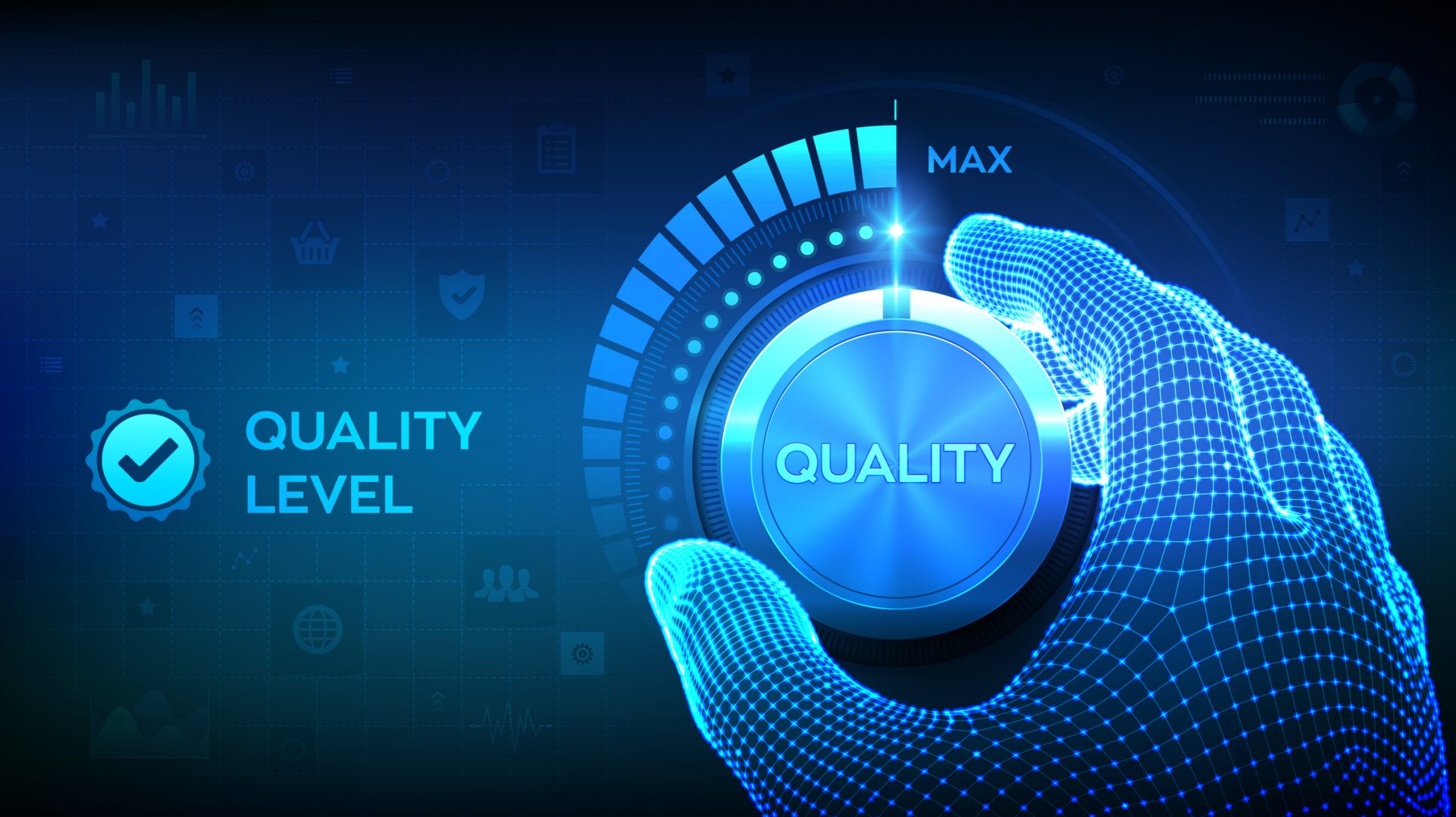 Both of these devices are on the more expensive side, which might indicate how well they are made. One thing is for sure – these are two very high-quality mixers.
The GoXLR really looks like an impressive device, as its design is sleeker and more modern, but the Rodecaster Pro device is also quite sturdy, so when the hardware is in question, both of them will probably serve you well with the advanced features worthy of an audio engineer.
Suppose you have been doing what you're doing for quite some time now, and you could justify buying such a device. In that case, all the features of these devices will surely improve the audio quality of a wide variety of online broadcasters.
You will get superior sound quality and a mini digital audio workstation with one relatively compact device, able to add sound effects, control audio levels, mix independent audio mixes, and overall enhance your audio files with easy-to-use controls.
Audio Quality
The main thing about any audio mixer is how good it can make your voice sound while you're live streaming, so let's get into some details about these audio mixers and what makes them have the title of some of the best audio mixers on the current market.
Channels
The GoXLR is a 4-channel mixer, meaning it's able to work with 4 different audio channels simultaneously.
Like it's expected from a high-end multi-channel mixer, you can change the volume of all input signals, as well as mute them in real-time.
The Rode Rodecaster Pro can also do multi-track recording, also with up to 4 different channels. All the inputs can be controlled on a touchscreen display. There is also a screen with advanced features where you can set things like noise gate, whether you want a high-pass filter and compressor to be on, and some other things.
As you can see, the Rode Rodecaster Pro is a bit more advanced with its features, so if you're not as accustomed to working with a professional-grade device like this, then maybe it will be easier to switch between the channels with the GoXLR.
Tuning Knobs
The GoXLR has a classic set of tuning knobs with different functions. The things you have a knob for are very important functions for every audio mixer, so you'll be able to control the reverb, pitch, echo, and gender with each one.
Besides the knobs, the additional 4 buttons help with the sound quality, making the GoXLR a fully customizable control panel.
With both buttons and the knobs, you'll be able to make and add sound effects to your streams with not much effort needed. The vocal sounds and effects that you'll be able to make are similar to those used in the music industry, which will absolutely make your streams even more interesting to your viewers.
When it comes to the Rode Rodecaster Pro, some settings are on the mixing board, like a volume control for the headphone outputs, and some are done through the small display.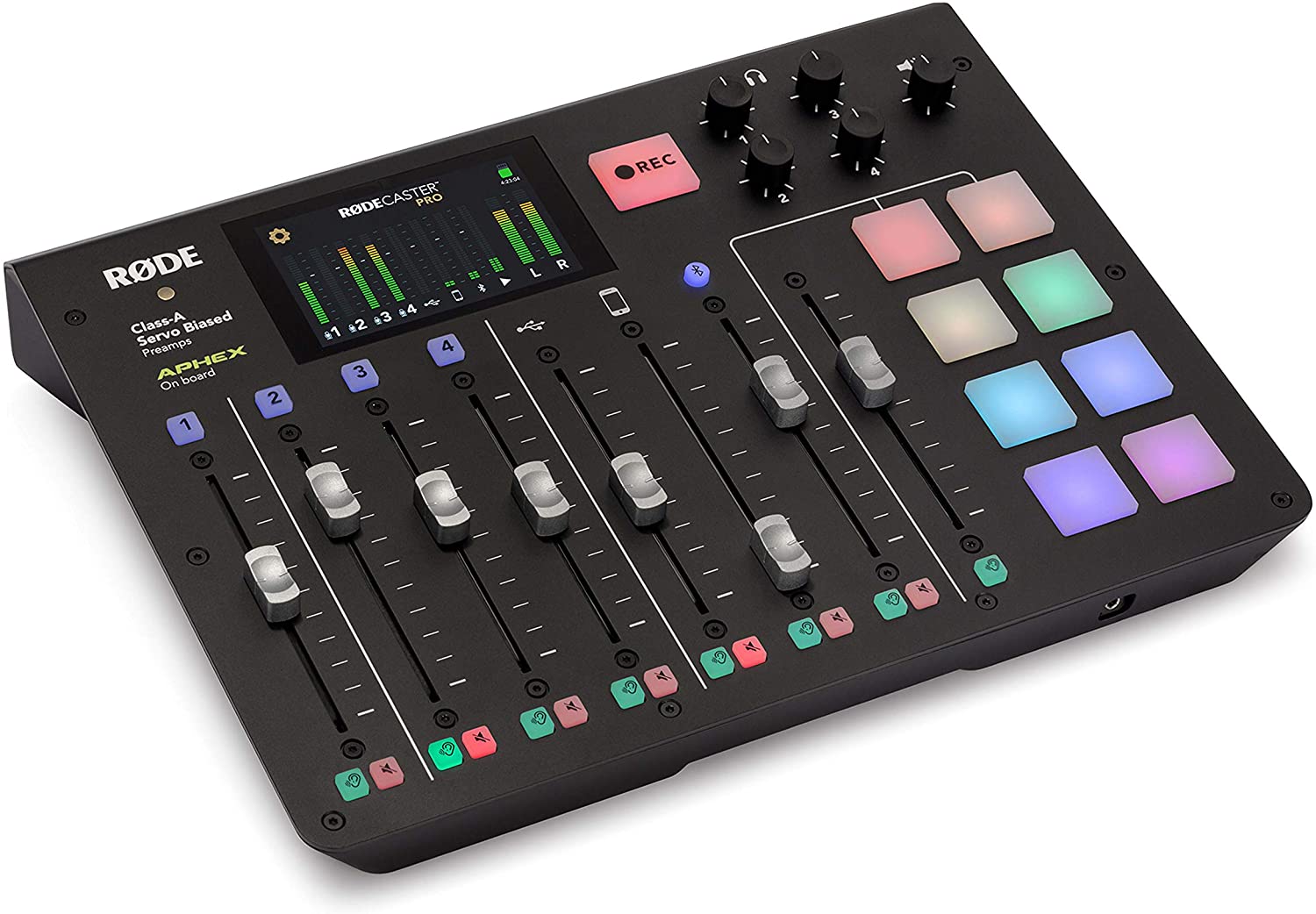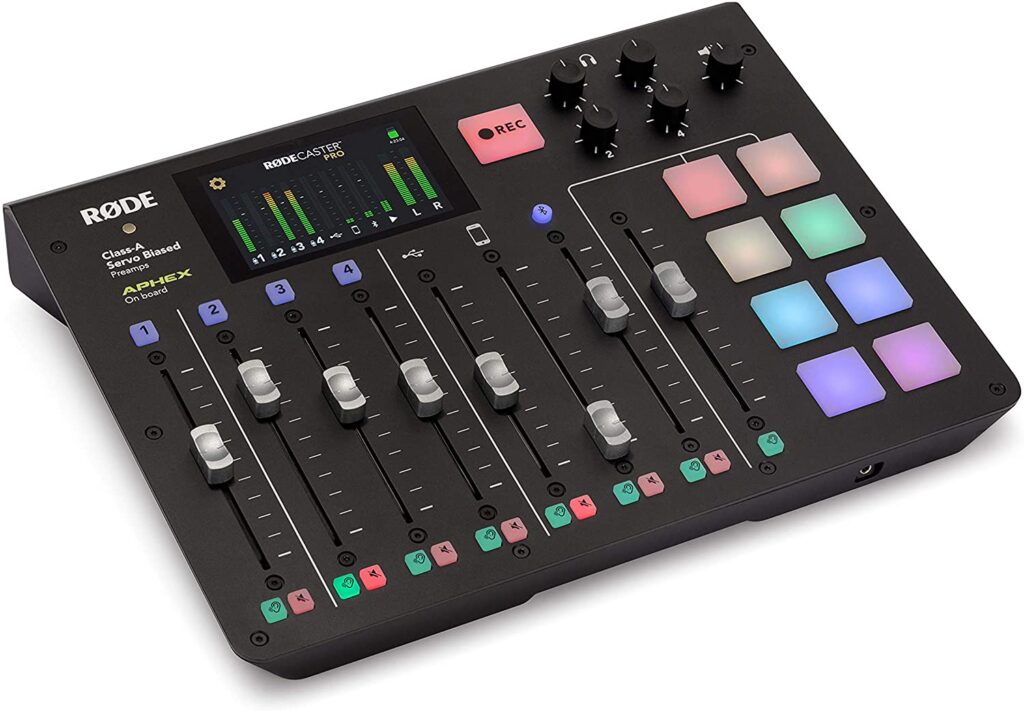 When it comes to sound effects, this multitrack recording mixer can save up to 8 different sound effects that are imported from your computer and use them, and you'll just need to press on the sound pads.
Phantom Power
The GoXLR comes with an adapter that's used to get phantom power to condenser microphones, and it can work with up to +48V, however, that's something that can be changed in the app.
The Rode Rodecaster Pro has some even more advanced settings when it comes to this aspect of the audio mixer, too. You can set the phantom power for each of the channels separately, which means that if you have two independent audio mixes, they can have the phantom power set to different things.
As already said, the Rode Rodecaster Pro is a mini-podcast production studio where you can have instant control of all the different aspects of the recording.
Ease Of Use
The GoXLR looks more like a classic mixer that you're used to seeing with dedicated function buttons and multitrack recording abilities, so it could be easier for you to work with this one if you're already used to working with something similar while streaming or in a podcast production studio.
It's the intuitive USB-based mixing that you're probably already used to.
On the other hand, the Rode Rodecaster Pro has both those basic, typical buttons and knobs, but the main audio mixer business is done on the small screen. If you're used to working with only knobs and sliders on an audio interface, then it will definitely be a learning curve to get used to this.
However, this doesn't mean that you won't find your way around this one if you're a beginner. Even more so, if you are a beginner but tech-savvy in general, then this one might be even easier for you.
Finally, while both have some different benefits when it comes to ease of use, it's important to state that looking overall, both are not at all hard to comprehend and can be worked quite easily.
Software
The GoXLR mixer software is actually very well equipped to work during streams, as it is an effortless way to control the settings of your audio source and add on some cool features like the sound effects.
Some additional features for improving the quality of the software include an equalizer, deessers, and controls for gating. Basically, it brings the fine-tuning to a bit of a higher level than you'd be able to have without it.
The Rodecaster Pro also comes with a companion app that you can download for free from their website. Also, whenever any new updates come, you'll be notified, so you'll be able to keep everything up to date. The PC app lets you add in the effects you previously added, but it also works to set the threshold, ratio, grain, and some additional functions for all 4 of the channels.
These two are one of the best mixers available, so it doesn't come as a surprise that the programs that accompany them work great, too. The GoXLR software and the Rodecaster Pro app could be considered to be the best PC app for this kind of thing.
FAQ
Is the GoXLR good for music?
The GoXLR is a mixer that was primarily made with musicians in mind, so using it for music will work more than great.
There are many features of this mixer that will benefit streamers and musicians alike since it lets you highly customize the sound, enhance its quality, and add any kind of sound effects you want your music to have.
Its design is also one of the advantages, as it is sleek and very easy to work with. It comes with knobs and sliders that you are probably familiar with, and even if you're not, this one is easy to go around.
Is RODECaster pro an audio interface?
Yes, the Rodecaster Pro is an audio interface that is made for recording audio for your software.
It's easy to work with; as a 4-channel mixer, it has the ability to record from 4 different audio sources simultaneously, so besides streaming, it's also great for recording podcasts. Its little display gives you a lot of different ways to fiddle with the sound, so you can really customize everything to your liking.
What is the difference between the GoXLR and GoXLR mini?
There are several differences between the GoXLR mini and the GoXLR. Firstly, when you look at them, the mini has its headphone outputs jack in the front, together with the microphone jack, while these things are on the back of the GoXLR.
The audio processing is also different when it comes to equalization, with the mini having 6-band EQ and the GoXLR having 10-band Studio Quality EQ. Also, the GoXLR has options for the motorized fader, and the mini doesn't have that.
And obviously – there is a significant size difference since the mini doesn't have a sample pad and the vocal effects panel that the GoXLR has, meaning that the mini will have less ability to alter voice fx.
Conclusion
Overall, no matter which one of these you choose to get for your audio interface for streaming, you will end up with very high-quality sounds.
Both are also pricey, so it will be a big investment on your side either way.
The choice more or less boils down to what you need a mixer for, do you need it only for your streams, or do you think of, or are maybe already doing, a podcast that includes filming things in places that are not only your home or your office. If your case is the first one, then going for the GoXLR might make more sense, while the Rodecaster Pro will work better with the latter.
If your budget is slim, but you like both of the mixers equally, then simply wait for any type of discounts that may appear, and the first one to go on sale can be your new mixer. The general conclusion stands – both of these mixers are amazing devices that have the ability to greatly improve your content!