YouTube is getting increasingly populated with users trying to make a name for themselves and reap the financial benefits from it.
In fact, you might be a YouTuber yourself and since you are here, the chances are that you are struggling to increase the number of views, likes, and subs from other users.
We've got you covered. YouTubers don't have to do all the work by themselves since there are view bots operating in the background that increase the number of your likes, views, and comments on your videos like real users.
In this article, we will introduce you to the best YouTube View Bots that will increase the number of likes, subscriptions, views, and comments that you get on your videos.
But first, let's tackle the question of why you need a YouTube viewbot in the first place.
Post 2 of 6 in the Viewbots
Why Do You Need View Bots
Increase Traffic and Sell Products Faster
Given the exponential number of YouTube users and the highly competitive environment, it is blatantly obvious why famous brands invest in viewbotting for their social media platforms or YouTube engagement.
They need to increase online traffic and attract their target audience in order to sell a product or service, irrespective of the social media platform they are using.
This wasn't the case two decades ago when YouTube was still in its infancy and when a video would instantly go viral regardless of the quality of the content. Now, drastic times call for drastic measures and this is one of them.
Financial Benefits and Collaborations
Another reason why experienced YouTubers resort to using view bots is that they derive financial benefits from it in turn. Whenever users search YouTube channel of yours, watch your content, and like it, you can get money from it.
With the possibility of using view bots, you can even get a free YouTube views service and get the numbers of your views, likes, and comments to skyrocket.
As a result of a high number of views and likes on their YouTube accounts, YouTubers increase the chances of getting renowned brands to collaborate with them and make lucrative deals.
Credibility and Quality Proof
Let's face it, we all attach importance to the number of views and likes video content has before making a decision whether to watch it or buy a product.
The fact is, the numbers are social proof that gives the estimation of the credibility and quality of the content being watched. YouTube search engine also recognizes such video content as quality and prioritizes it over videos with fewer views and likes.
So as viewers, we already assume whether the content, product, or service is good even before watching the video.
Many viewers fall victim to this faulty logic, but you can use it to your advantage to attract more users and sell your products more quickly.
Best View Bots for YouTube
1. Use Viral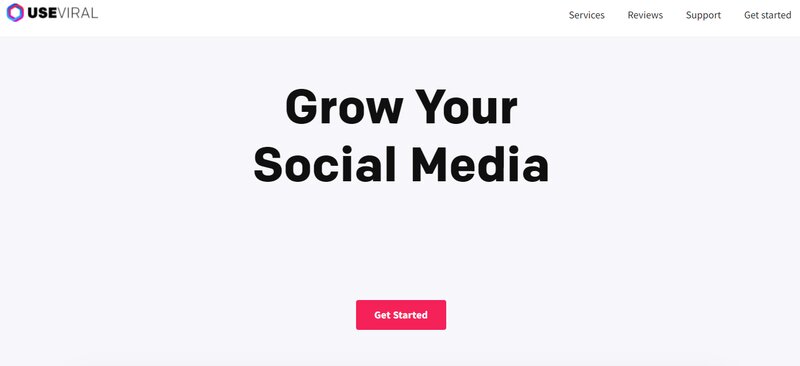 What's a more efficient YouTube bot to use to boost your numbers than Use Viral? Use Viral is a handy tool to boost your social media networks and get high-quality views on your YouTube channel and grow your YouTube account in the blink of an eye.
It offers services for Instagram, Facebook, YouTube, Twitter, TikTok, LinkedIn, Spotify, Twitch, Pinterest, and more.
The price form depends on the type of service, starting at $0.50 to $76.99. Once you choose the social media you wish to boost, click "Get Started" and choose a service among views, likes, and followers.
However, Use Viral has one important disadvantage. It doesn't offer a free trial so you won't know what you are getting and whether it will be as successful as you want until you have purchased the service. Take pot luck and see if it works.
2. Media Mister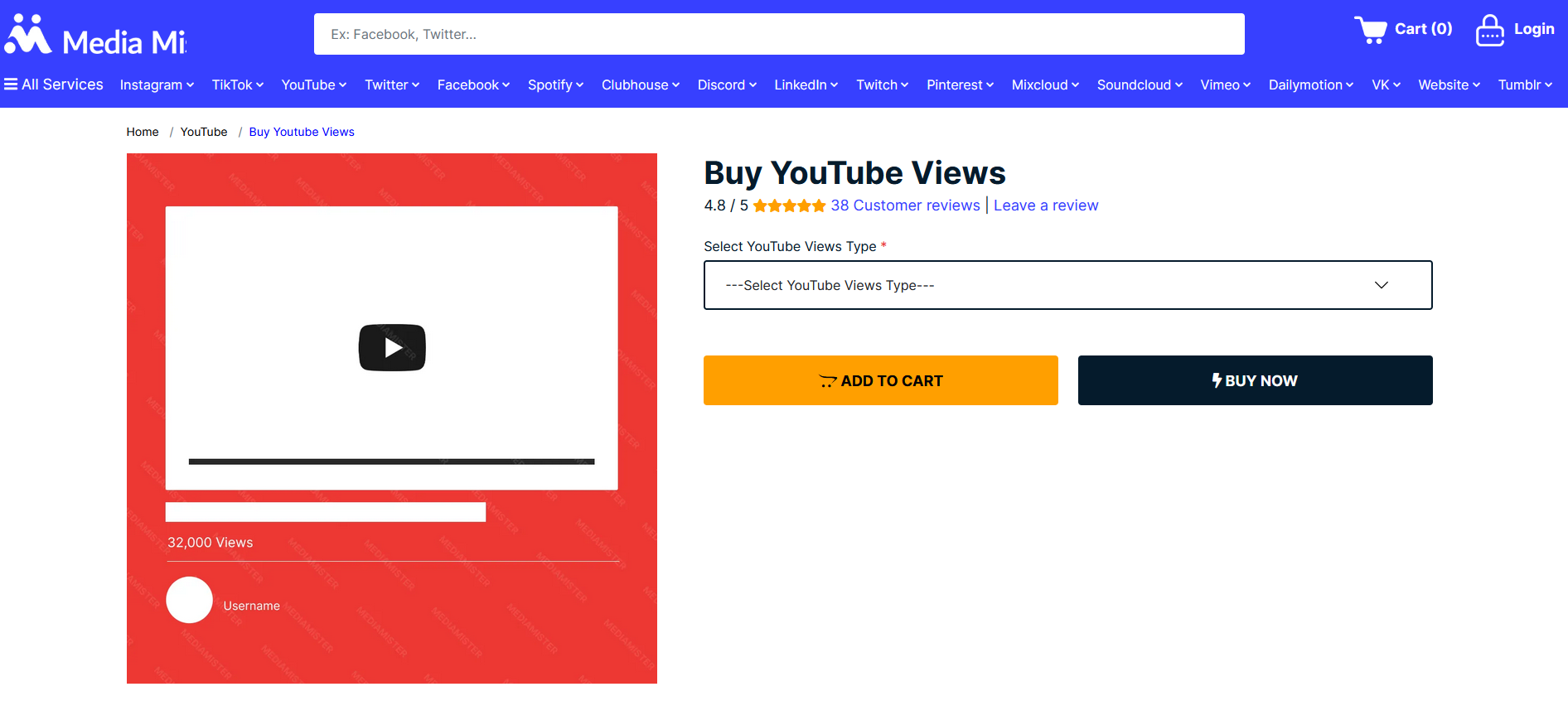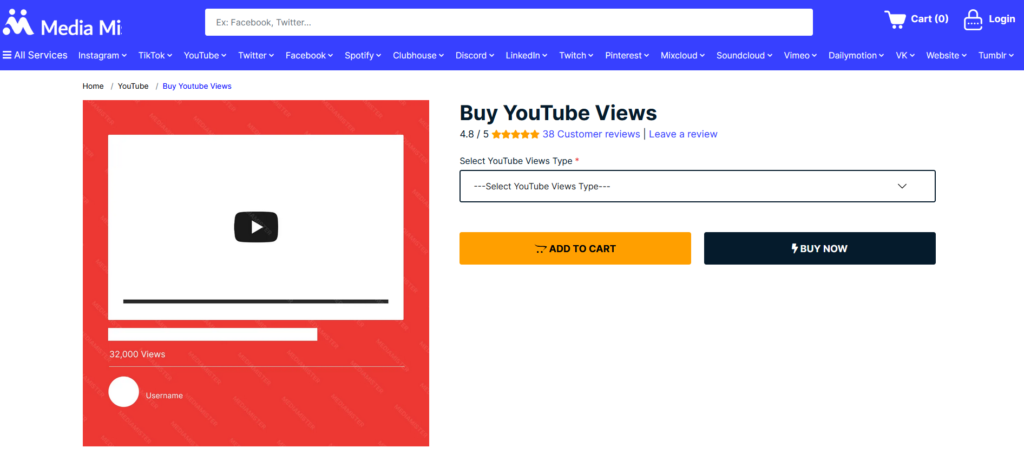 Media Mister is a place where you can buy not only youtube views and followers but followers for any social media platform. They are quite all over the place offering services for Youtube, Twitch, Facebook, TikTok, and whatnot.
I personally used them and was super content with the results (really what they promise is what they deliver), and I haven't gotten banned, if that's what you are wondering – they are perfectly safe.
They operate carefully without "irritating" the algorithm so you profile doesn't pop with any red alerts. Media Mister is cheap, and definitely should be your no1. go if you are into buying followers or views to increase your presence.
3. Sides Media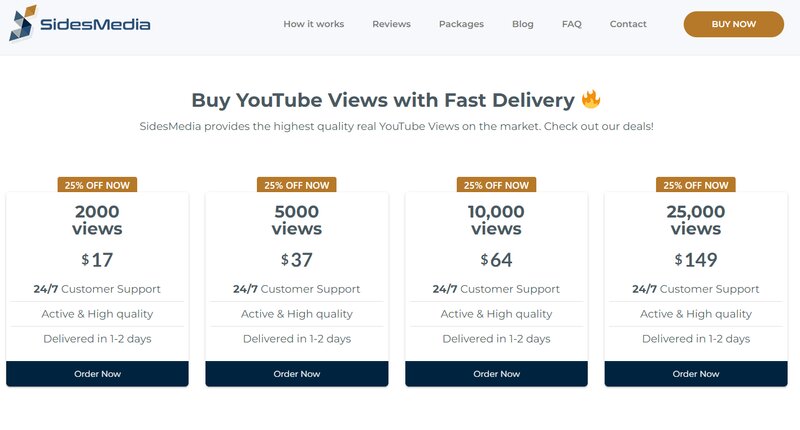 Sides Media is among the top YouTube view bots. It is geared towards increasing the number of views, likes, shares, and subscriptions on YouTube, Instagram, Facebook, TikTok, Twitter, Twitch, LinkedIn, Pinterest, Soundcloud, Spotify, and Clubhouse.
The deals are currently 25% off and start at $17 for 2000 views, while the most expensive package amounts to $449 for 100,000 views.
Each package is delivered instantly, in one or two days, and comes with 24/7 active and quality customer support. The service is also customizable.
Like with Use Viral, there is no free trial, which deters many users from trying out a package. You need to invest in it and see what you get.
4. Stormviews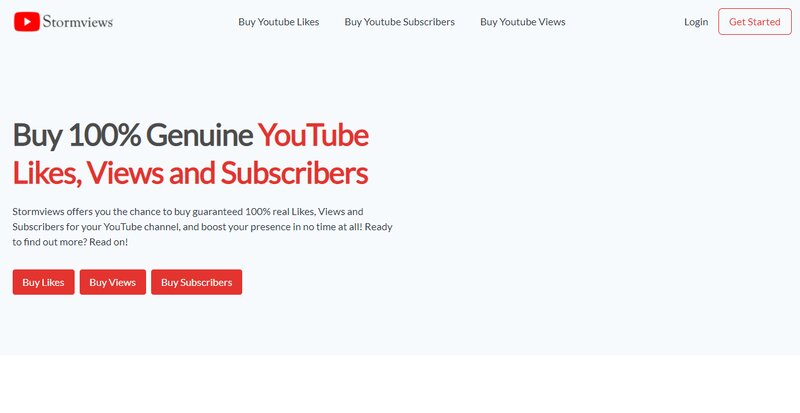 Stormviews is one of the best YouTube bots. It prides itself on providing real, genuine likes, views, and subscribers for your YouTube channel that will put your YouTube videos in the limelight.
In addition, Stormviews is said to provide top-quality service, instant delivery, real likes from real active people, and 24/7 customer service, all working harmoniously towards increasing the number of YouTube views for your channel.
You can choose between purchasing 50, 100, 250, 500, and 1000 likes and subscribers. The lowest number of YouTube views you can get is 500, while the highest number is 250,000.
If you are lucky, there will be a 50% discount. If not, I'd encourage you to wait patiently for it.
I'm sure you can guess by now what the disadvantage of using Stormviews is. That's right, there is no free trial, unfortunately.
5. SubPals
SubPals offers efficient and effective view bots for your YouTube videos. SubPals as a YouTube view bot will make it easier for you to manage and skyrocket the number of subscribers that you get in your YouTube community and thus the number of views and likes.
Not only is it easy to use but they follow practices that are in line with YouTube's policy, so you won't encounter any problems in your YouTube growth.
It is a free marketing tool thanks to which you can get ten free subscribers every twelve hours, but there are also premium services that are paid.
These paid services include buying YouTube channel evaluation, video SEO, graphic design, and optimization. You also get quality customer support, risk-free service, and definitely visible results.
6. Followinglike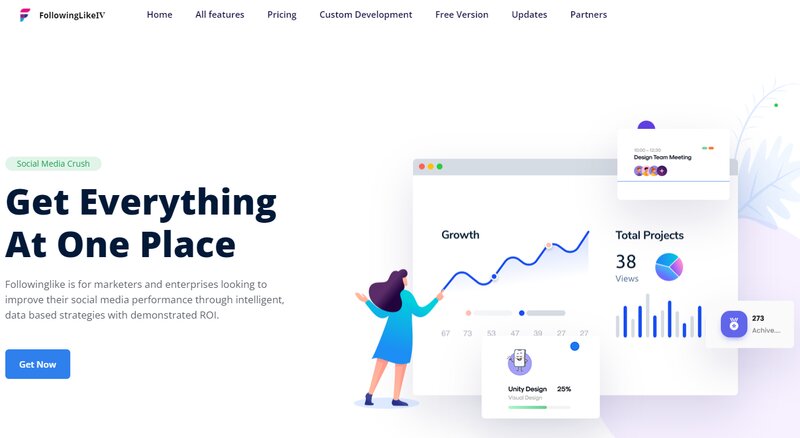 Followinglike has been designed for marketers and companies that constantly strive to improve their social media performance.
It claims to be fully customizable and works with Facebook, Instagram, Pinterest, Reddit, Tumblr, Quora, LinkedIn, and Ultimate Edition. In this way, it will help you grow your multiple channels and provide you with task data statistics and account data statistics.
What's more, they are adding some other social networking sites such as My Space and Snap Chat. You can browse the features depending on the package you want to purchase.
Oddly enough, there is a free version to try it out.
7. TubeBuddy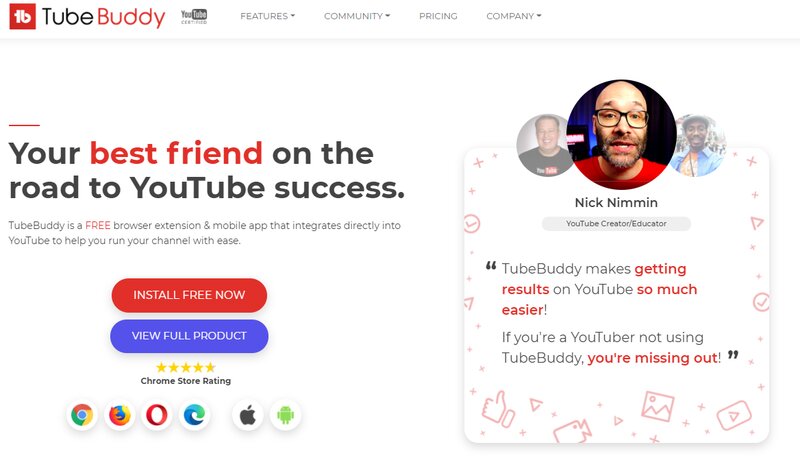 TubeBuddy is for you if you need help to get more views and manage your growing channel. It is a free extension that works on almost all browsers and a mobile app that is integrated into your YouTube channel. In this way, you can manage your channel with supreme ease.
It has credibility as its partners are YouTube, Paladin Software, Facebook, and Patreon. Using Tube Buddy works in a way that will help you be shoulder to shoulder with your rivals in terms of tags and video SEO optimization.
What's even better, you can use TubeBuddy features online, without downloading anything. TubeBuddy will do research, publishing, optimization, promotion, and testing for you.
You can choose a one-month or one-year offer, the former starting at $2.50 and the latter starting at $2 taking the discount into account.
8. FollowersUp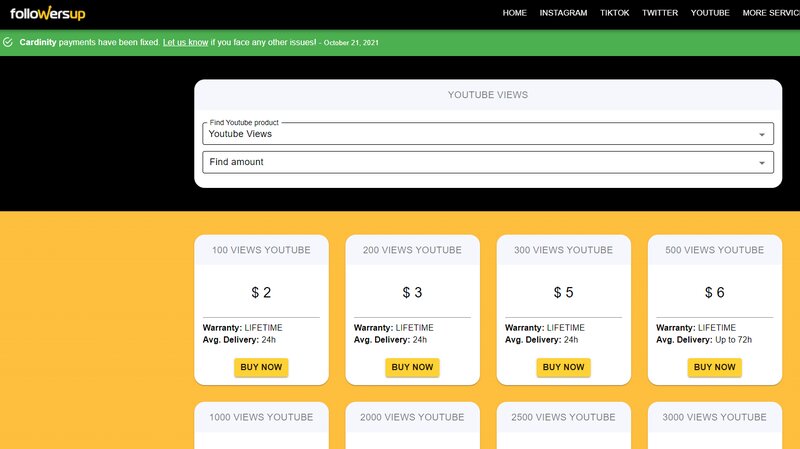 FollowersUp is another useful tool for skyrocketing the number of views that you get. It operates across different social media platforms like Instagram, TikTok, Twitter, and YouTube channels.
Other social media platforms include Likee, LinkedIn, Pinterest Snapchat, Spotify, Telegram, and more – literally everything you can think of. No matter which one you choose to boost, they promise to increase your website traffic.
The best thing about FollowersUp is that they collect information about you in a safe manner and use it to learn about you and reach your target audience. Most importantly, they ensure that you attract real accounts.
Also, they have a money-back policy in case you are dissatisfied with the service they provide you with. They offer free trials for getting free views and likes on your Tiktok or Instagram.
When it comes to payment, it depends on the number of views you want to purchase. For example, the lowest number of YouTube views is 100 and it costs 2 dollars with an average delivery of 24 hours. The highest number of views on YouTube you can get is 100000 and it costs almost 4000 dollars.
9. TubeAssistPro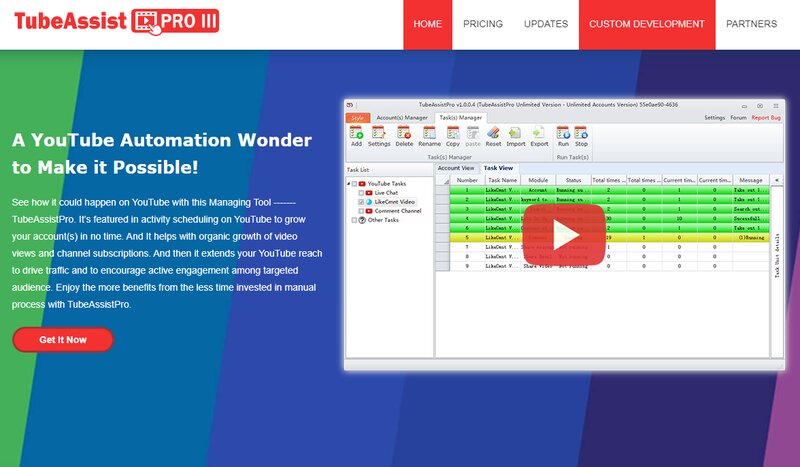 TubeAssistPro is another handy marketing tool designed with the aim of growing your YouTube community, attracting a wider audience no matter how many channels you have.
It uses pretty advanced features and operates in a way that is compliant with YouTube's terms and conditions, which safeguards against being banned.
Some of the typical features are liking and unliking videos, commenting on other users' videos, following people, but view bots can also like and reply to any comment that you get on your own YouTube channel. How cool is that, right?
This saves you time and lets you focus on other things. Simultaneously, since your YouTube bots have liked or commented on other people's content, they are more likely to visit your channel and subscribe to it.
The features you get depend on whether you choose the standard version, live version, or ultimate version. You can get the one account version, five accounts, or unlimited accounts and the pricing depends on that.
The one account version is perfect for focusing closely on growing a single account, the five account version is great for small businesses, while the unlimited accounts version helps you manage all your accounts, guaranteeing occasional updates and new features.
10. Hypeddit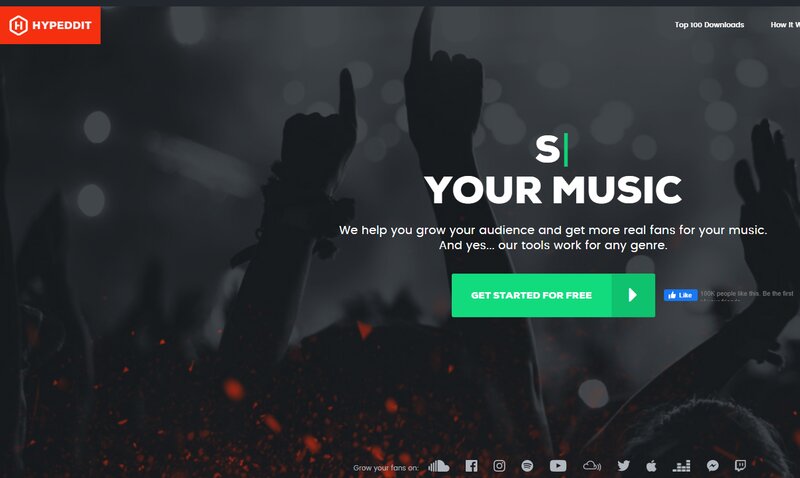 Are you into making music and do you want to increase the number of your fans and gain stronger online exposure? Hypeddit has tools that work for any kind of genre and it will provide the YouTube music support that you need.
Hypeddit operates by sharing downloads of your music in return for getting likes, followers, comments, and re-posts on various social media websites.
Next, you can also use Hypeddit's fan promotion tool, launch your own campaign and get your music heard. Another option is to use the Facebook music tab, so fans can play your songs with just a couple of clicks.
In addition, this marketing tool helps you to promote your music videos by displaying it on the list of Top 100 new releases. You can also learn about the strategies other music makers use and do the same in others to promote your music more effectively.
The price and flexibility you get depend on the plan you choose, monthly or annual which gives you a nice discount. The two types of packages are Rookie which is made for beginners and Pro which is made for emerging artists.
11. Sub4Sub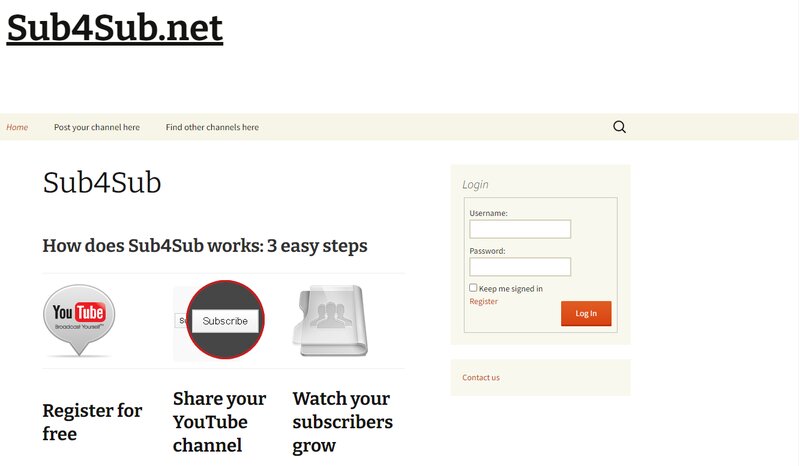 As the title suggests, this platform conducts business on a quid-pro-quo basis. What exactly does this mean?
You exchange subscribers with others and you get points by watching YouTube videos. Then, these points get transformed into clicks to your YouTube channel. In this way, you don't pay for anything.
Sub4Sub operates in three very simple steps. First, you need to register on their website. Next, you need to share the link of your YouTube channel on their website. At that point, you can sit comfortably and watch the numbers of your subscribers soar.
Some of the advantages of using Sub4Sub are the ease of use, the service that's completely free of charge, and the procedure for registering and getting subscribers is quite fast. They also have a money-back policy if you are not satisfied with their service.
Finally, you can download it for free, without paying for anything. You are welcome!
Potential Risks
I am guessing that you are wondering by now whether view bots go against YouTube's terms of services and I regret to inform you that they do.
That said, there are several risks you need to be aware of if you still decide to purchase view bots to help you increase YouTube video views, video comments, YouTube subscribers, and others.
First of all, your content may be banned from YouTube. In other words, your videos will get deleted. Secondly, you are likely to lose the right to monetize your content.
Next, you might lose search rankings as YouTube takes bot views as clicks and not really watching the content.
In case of repeated offenses, you will most likely be banned from YouTube.
Alternatives to Using YouTube Viewbots
One final point to address here is: Are there any alternatives to using view bots? Let me tell you, there are several options that might come across as safer and risk-free.
The first one is View2be to grow your YT likes and views instantly. You will get organic growth and increase your search engine rankings in no time.
Another option is to use Ultraviews which is a traffic exchange service that operates by navigating to some websites immediately upon opening your browser. The tactic is as follows, the number of views you get increases with the number of websites you visit. It is that simple.
Both of these alternatives are more attractive and safer than using view bots and minimize the risk of being banned from YouTube.
At the end of the day, it all boils down to creating content that is good and of great video quality. You can try using a catchy video title and a picture. You can also share the video link to your other social media websites.
Final Word
YouTubers have a heavy workload on their plates. Not only do they need to create content, edit and upload it but they also need to find ways to increase their YouTube engagement and the number of views, likes, subscriptions, followers, shares and re-posts that they get. Creating and uploading the content is, in fact, only the entrance ticket to an even longer ride.
Luckily, you are not alone in this highly competitive world of social media. There are social media marketing tools you can use such as Tube Buddy, Use Viral, Sides Media, Stormviews, SubPals, original Tube Assist Pro and others. No matter which one you choose, their bots will help you gain organic traffic on your social media and boost your online presence.
We are sorry that this post was not useful for you!
Let us improve this post!
Tell us how we can improve this post?
Viewbots
To learn everything you need to know about Twitch streaming, check out our Twitch page!
Post 2 of 6