| | |
| --- | --- |
| Full name: Bryan Quang Le | Education: Dropped out of University of Nevada |
| Date of birth: November 19th, 1996 | Height: 5 feet 9 inches / 175 cm |
| Place of birth: Las Vegas, NV | Weight: 155 lbs / 70 kg |
| Current residence: Los Angeles, CA | Estimated net worth: $8 million |
Who is Ricegum?
About, History, and Ricegum Net Worth
---
Ricegum is a highly successful YouTube personality and musician from the US, known for various music videos and collaborations with many other famous YouTubers.
His long-lasting presence on YouTube and the massive success of several of his videos have made him a very wealthy man. But just how much is Ricegum's net worth? Let's find out.
Ricegum Net Worth
Ricegum is believed to have a total net worth of around $8 million. The origins of this wealth are pretty diverse, though he earned most of his money through his two YouTube channels. In addition to that, he is also collaborating with famous brands, making money from sponsorship deals.
Ricegum YouTube Career
Ricegum has been on YouTube for a long time, even before he dropped out of university to make a career on it. He first appeared on this platform in 2012, playing Call of Duty and various other games and streaming them on it.
Unsatisfied with the lack of attention his YouTube channel was receiving from the audience, in 2015, he decided to move away from gaming in favor of making a different kind of content, which would soon bring him fame.
His first success came from a YouTube comedy series, "These kids must be stopped", which prompted many other famous YouTubers to make reaction videos and significantly boosted Ricegum's earnings.
His success grew until he became one of the biggest web celebrities in Nevada and the broad US, breaking the 1 million subscribers mark on YouTube in 2016 and rising to an incredible 9 million until the end of the same year.
His success prompted the Monster headphone brand to reach him for their 52nd Superbowl commercial in 2017, boosting his popularity even further.
Some of his other successful works include music videos, such as "It's Every Night Sis", which reached a top 40 position on the US R&B/Hip-Hop chart and a #80 spot on the Billboard Hot 100 with certified platinum, only cementing his presence as an upcoming American YouTube personality.
After this debut came God Church and Frick da Police, released in 2017, which were just as successful as the previous song.
As time passed, this YouTuber of Chinese and Vietnamese descent became well known for his diss tracks, frequent roasting of other YouTubers, and his funny but no-nonsense attitude.
Today, Ricegum has two YouTube channels, with his main channel having a total of 10.1 million subscribers and accounting for most of his earnings and net worth. This famous YouTuber also has a second channel with 1.5 million subscribers.
Ricegum Twitch Career
At one point, Ricegum also decided to try to become a Twitch streamer, though he hasn't been active on the platform since 2021. Before his (probably temporary) retirement from Twitch, however, he had managed to amass almost a million followers on the platform and an unknown number of subscribers.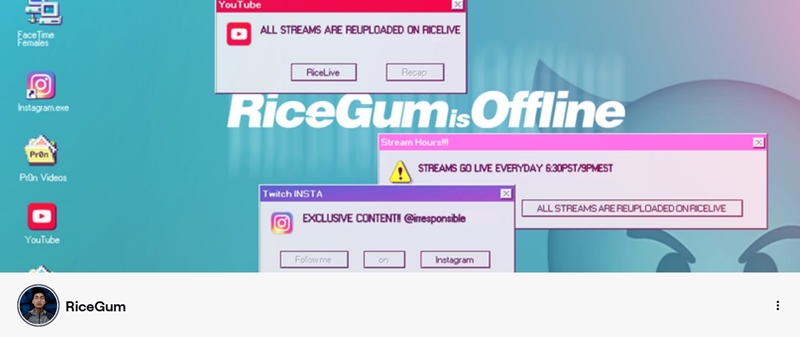 While his Twitch account currently has no contribution to his earnings due to its inactivity, it is almost certain that if he was ever to return to the platform, Ricegum could earn a lot of money on it.
Ricegum Brand Deals
While it is unknown just how many active brand deals Ricegum has and how much money he earns from those deals, based on his appearance in a Superbowl commercial in 2017, we can assume that he is very attractive to various companies to market their products to the American youth.
In addition, Ricegum has his merchandise store, one that sells everything from shirts and mugs to laptop sleeves and various other odds and ends with his face and logo on them, earning a percentage of each sale.
Conclusion
Ricegum is a very popular American YouTuber with two sizeable channels and an estimated net worth of around 8 million dollars. His music videos and diss tracks have made him a somewhat controversial personality but also netted him a great deal of profit, making his online career one of the most successful on the platform.
FAQ
Is Ricegum active on Twitch?
Ricegum hasn't been active on Twitch since 2021, but his account still has about 900 thousand followers, down from the 1.2 million at the peak of his popularity on this platform. It is unknown if he will return to it, either.
Is Ricegum single?
There was a lot of controversy regarding Ricegum's romantic life in the past. Currently, however, he is dating Ellerie Marie, an American Instagram model with 560 thousand followers on the platform.