One can witness constant improvements in the gaming area. Gaming has never been funnier and more interesting than nowadays.
Generally, due to technological improvements, we can play the same games on different platforms.
---
When a game is marked as cross-platform it means that you can play from your PC with other players who are playing from their consoles and vice versa.
Best Free Cross Platform Games (PC & Consoles)
1. Fortnite (competitive FPS)
2. Heartstone (collectible card game)
3. Among Us (multiplayer social deduction game)
4. Call Of Duty: Warzone (FPS – first-person shooter)
5. World of Warships: Legends (vehicular combat game/TPS)
6. Rocket League (vehicular soccer game)
7. Paladins: Champions of the Realm (FPS)
8. DC Universe Online (MMORPG)
9. Brawlhalla (2D platform fighting game)
10. Smite (MOBA)
11. Phantasy Star Online: New Genesis (MMORPG)
12. Dauntless (action RPG)
13. Minecraft (sandbox/survival/building game) – not free on every platform
14 APEX Legends (battle royale/hero shooter) – not free on every platform
---
Imagine yourself sitting with your friends, and wondering how to play Fortnite (for example) if you do not have an equally good Xbox or PC.
Nowadays, the choice is easy and obvious. You can connect to the same online server via different devices. Just use cross-platform games.
In order to help you, I have created a list of the best free cross-platform games.
How Does a Cross-Platform Function?
Before I get to the best crossplay games, I would like to explain how cross-platform games function.
Let us get straight to the point. It means that someone can play Fortnite on their PC while others can play the same game with him/her on their PS or Xbox.
Thanks to the online servers that provide versatility for gamers, a group of people can connect to the same online server via different consoles and enjoy a multiplayer game without hardware issues or hiccups.
Cross-platform is generally still in its developing stages, therefore, there is not a huge number of games that support all the platforms.
However, there are potential problems with cross-play games due to the price of enabling them to work smoothly by using so many different ports.
Nowadays, Sony and Microsoft are the only ones capable of doing so without financial difficulties. But, we see that other companies are trying to make their games more versatile, as well.
Be that as it may, there is a huge choice of games in the market that are free and enjoyable. But be careful they might be too addictive!
Check Humble Bundle for the best deals!
---
Related: Streaming Equipment for PS4
Best Free Cross Platform Games
Reviews
---
1. Fortnite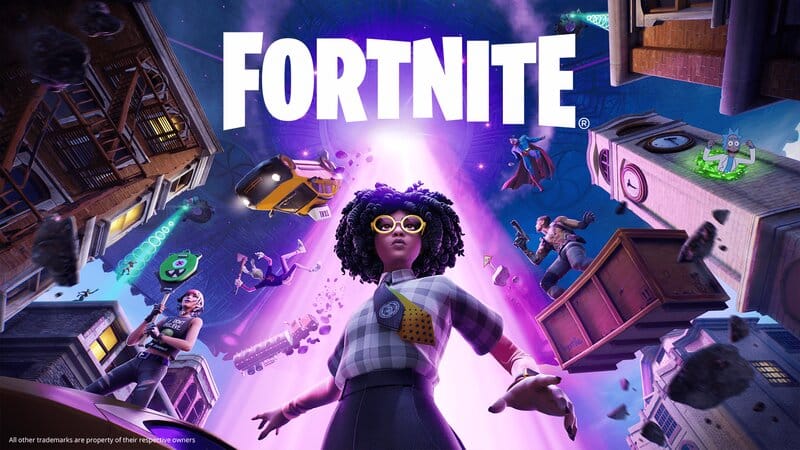 An iconic battle royal game was and is an absolute sensation in the gaming world. It is still popular in 2021, and it is available on the most popular consoles.
Generally, Fortnite is prone to constant changes, as someone said- it is a box without a bottom. Many predicted that it was just a one-season wonder, but it is obvious now that it is here to stay.
The theme of the latest season is a kind of a dimensional overlap, so there are characters such as Predator or Mandalorian, etc.
The gameplay and unusual creativity is the reason behind the huge popularity of this game.
Take the available tools for example. The best tools for your characters are available at specific locations. They are available for those who take out a named character and represent a high reward for players.
The in-game economy is something that makes this game demanding and challenging. The Epic Games introduced a reward for quests or bounties, and the rewards are gold bars.
The aforementioned examples of gold bars and tools serve to show how Epic Games understands the undertaking of keeping this game at the top all the time.
Moreover, if you do not feel like playing with people, you can always choose alternative mods, such as horror maps or death runs. If you feel creative, you can create your island, as well.
But do they manage to keep up with the trends?
Well, I admit that it is hard. They are not as popular as they were, the competition is greater than ever, and it is hard to expect Fortnite to be such a phenomenon as it once was.
However, because of the constant upgrades, innovations, and healthy foundations, I believe that Fortnite will stay at the top for a long time. Maybe not as the most popular and best, but as one of the most iconic and innovative cross-platform games for sure.
2. Hearthstone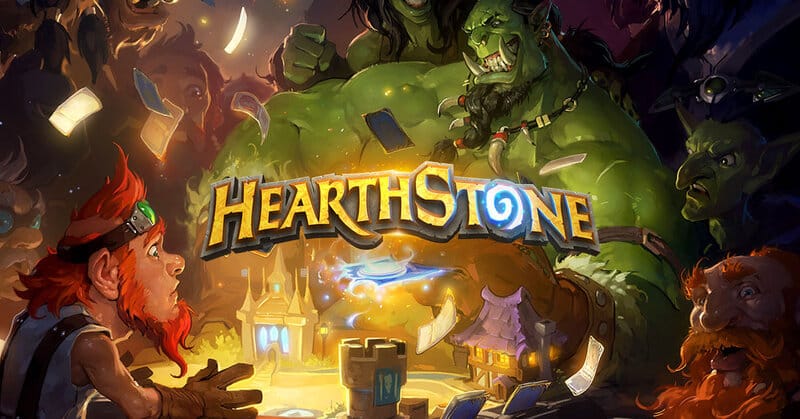 Hearthstone is one of the most popular cross-platform multiplayer games, realized in 2014 by Blizzard.
It was one of the most important CCG games (collectible card games) because it helped in populating the genre globally. A lot of time has passed since its realization, but no CCG has ever managed to overcome its success.
The main advantages of Hearthstone are that it has managed to keep things simple enough, while at the same time it has retained its complexity, and kept the players hooked.
Hearthstone has its tutorial at the beginning. It consists of six easy challenges against AI opponents. Generally, the challenges are instructive so both, newcomers and players experienced in CCG will find it interesting and useful.
Some people mind find CCG boring, but Hearthstone proves that they are wrong. One can see how much effort is invested in its design and animations, so you will get surprised from time to time, and definitely not get bored. 
The game is free, but if you want, you can invest in your deck- your money or your time. You can pay for card packs with money or with time because you can earn gold from daily quests and buy a card pack eventually.
Generally, I recommend you purchase an additional deck from time to time. Yes, I know that this CCG is a free cross-platform multiplayer game, but it would be nice to support the manufacturers for a great job by purchasing their products and improving your deck.
After all, you want to be as competitive as possible.
Overall, this pretty addictive and one of the most popular free cross platform games requires time and strategy for handling the 40 cards that you have at your disposal during the game.
Therefore, I strongly recommend this CCG to those who have already played them and to those who want to try it.
3. Among Us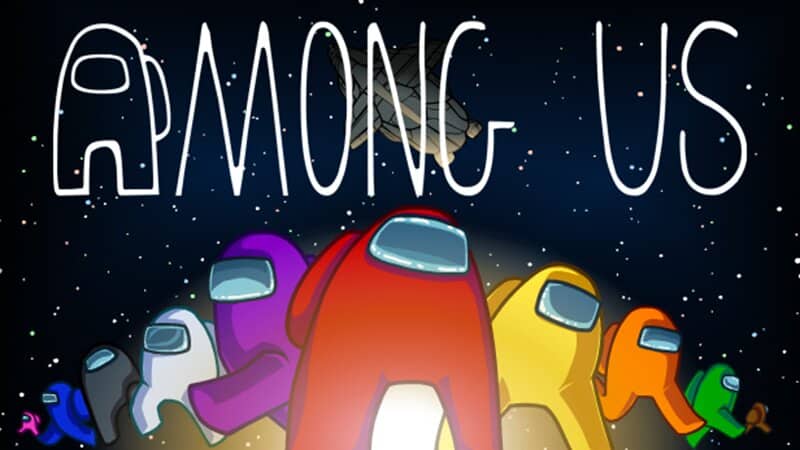 It is interesting how Among Us has become popular almost two years after its original realization, during the period of the coronavirus quarantine. One can say that it is because of deceit and murders in a void space, but we will never know…
Generally, Among Us is one of the crossplay games that is about social deduction. You have to decide who the impostor is. Moreover, an impostor has to perform assigned tasks while quietly killing the allies or crewmates at the same time.
When a body is discovered, the group has a meeting where they vote and decide who an impostor is.
This intriguing game does not require a lot of time. Moreover, you decide if you want to play it for hours (and possibly stream it, trust us it is pretty interactive, and therefore exceptional for streaming) or for a few minutes during your break.
The game is free for mobile devices and PCs as well.
4. Call Of Duty: Warzone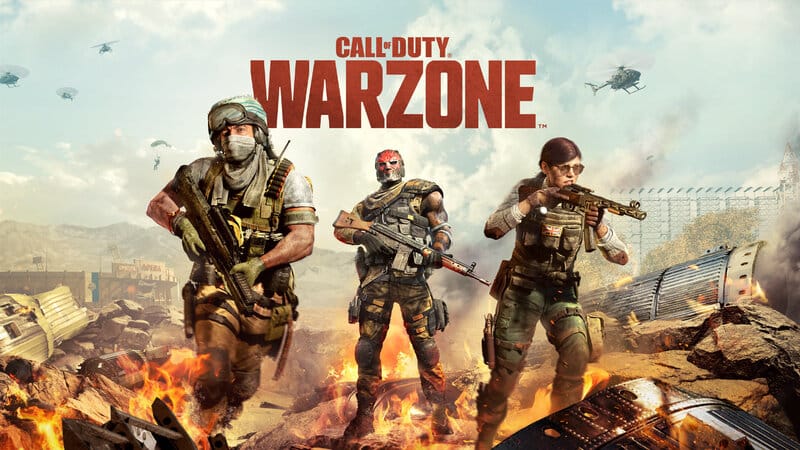 CoD: Warzone is a free, standalone battle royal game. It is a Call of Duty: Modern Warfare's spinoff.
I can say that emphasis is not on kitting up or looting, therefore, you will not spend hours trying to get weapons or additional gear.
The area where CoD shines is a firefight. Its firefight is similar to Apex Legends, but there is a higher lethality in CoD. Unlike Apex Legends where you can get an impressively strong body shield, in CoD there is no super armor.
Shorter time to kill and a few armor plates that help your health bar are the foundations of this game.
Thanks to the CoD in-game invention called Gulag, it is easier to re-enter the game with your crewmates. Namely, you can win a 1v1 duel in the Gulag and earn a ticket for re-entering the game.
Generally, thanks to the Gulag invention the game is more interesting and explosive.
When it comes to maps, the only available map at the moment is a map of Verdansk. It has a dense city center and industrial areas and zones, thanks to which around 150 people can play the game.
From my experience the CoD: Warzone plays are no different from ordinary CoD plays. It means that your game consists mostly of middle-range and close play.
The CoD: Warzone economy is based on contracts that your team can complete, and earn reward money. For example, in order to earn money, you have to capture a building.
Therefore, the game motivates you to be active and not only to wait for your enemies.
Overall, one can only hope that constant upgrades of the game will not spoil the game, and that good shooting skills and great positioning will stay the most important things for winning the game.
5. World of Warships: Legends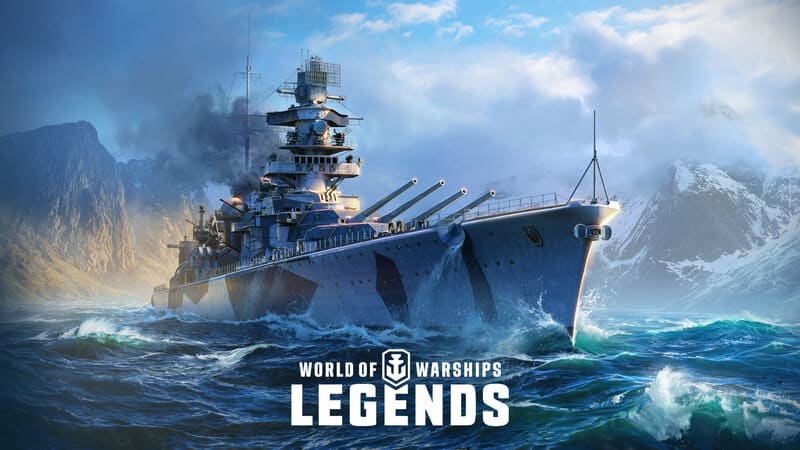 Its publisher Wargaming has done a decent job when it invented World of Tanks and World of Warships because both of the games dominate the genre of tank and seas action respectively.
In the beginning, the game was available only for PCs, but Wargaming managed to transit the game over to consoles and it proved to be a great success.
Let us say a few words about gameplay. Namely, you select a ship as a commander, then join an alliance and fight against the enemy forces.
At first, you will fight against AI opponents, and afterward, as you improve, duels versus humans will become more often.
As you might guess, the biggest ship is not always the best one, so it is up to you and your team to use most of each ship in the terms of tactics.
For example, torpedoes are devastating when they hit an opponent, but they are much slower and can be evaded, unlike deck guns.
When it comes to purchasing things there are silver and gold doubloons. Gold doubloons can be bought with money, while silver doubloons are earned through missions and objectives.
Of course, gold doubloons are more powerful and you can get better loot boxes and special ships. On the other hand, with silver doubloons, you can upgrade your ship or buy basic ships for your units.
But, from my experience, the deadliest weapon in the World of Warships is one's experience, and then the purchasing ability.
That is great because experienced players with worse battles can easily beat those who have spent a lot of money on their ships, but who do not know how to play.
The ships that one uses in the game are the ships from the Second World War.
Moreover, I can say that attention that they dedicated to details is astonishing, from the way the ships look to the gameplay details and graphics, you will enjoy it.
I think that you cannot make a mistake with this game. The fact is that this is one of the best free cross play games.
6. Rocket League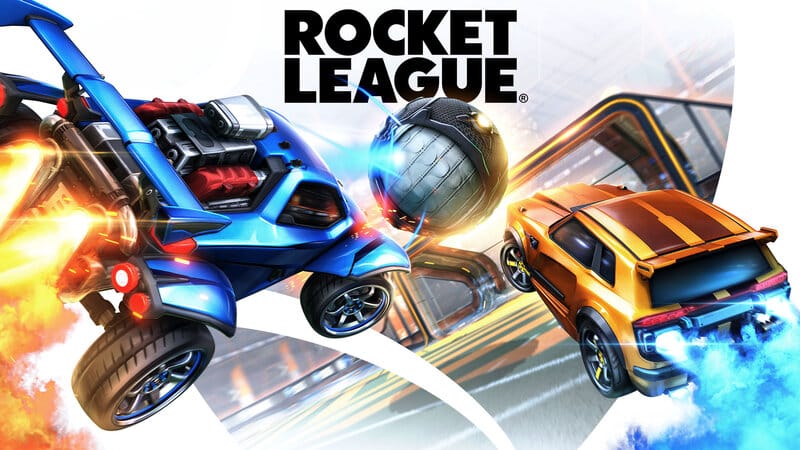 At first, the game was available only on Steam, but now you can get it on all platforms for free. For example, on Epic Games you can download it for free.
Generally, it provides a lot of fun, although at first glance the game concept sounds ridiculous. Moreover, the game is now played as an esport.
Acceleration, jumping, boosting, and reversing while at the same time trying to outscore the opponent team definitely sound like good fun.
The main point is to hit the ball with a toy car into the other team's goal. You can team up with your mates and play against people around the world.
The game is competitive and fun, so if you are looking for something, not to tire your brain, this might be a perfect choice for you.
7. Paladins: Champions of the Realm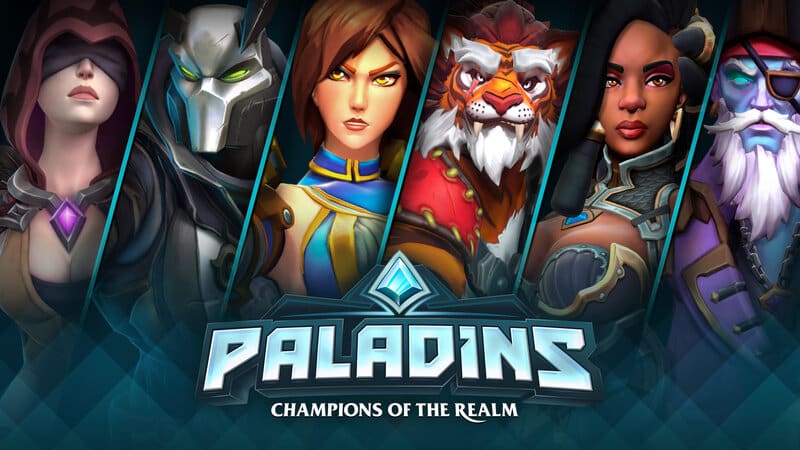 Paladins Champions of the Realm is one of the best crossplay games that empower customization and experimentation.
As far as I know, it is available on Epic Games, Steam, Xbox, Switch, and PS stores.
But let me get back to the game. Have you ever wanted to blast an enemy team off the stage or heal your allies? Then I have something for you.
Paladins champions offer you in-depth item and card customization, genially imagined characters, wonderful graphics, and plenty of other options. And all that for free!
Really, you will be interested to learn about the characters of Seris, Bomb King, Inara, Terminus, and many others. Each one of them has a special ability or particular importance for the game. So, once you start you will spend some time reading about them… Trust us.
But, the most important thing is that you can customize your heroes by five cards you pick from 16. Therefore, you improve or change their abilities and enhance their stats.
Moreover, at the beginning of a game, you choose a particular talent for your paladin.
For example, if a game is going to be fast and hectic, you should choose a talent that increases damage at a short distance.
During the game you get credits based on your success, with them you can buy items that can boost the stats of your paladin.
That is the true charm of this game, paladins always need your attention, even when you think that you have mastered it, it is not over.
When it comes to the game's cons, a few strange graphical problems and odd bugs might occur from time to time.
Energy beams might spread across the whole screen, HUD overlay might stay longer than needed or simply the menu could disappear, and leave a mess of colors behind it.
However, these things do not affect the gameplay.
The most important thing is that investing money does not guarantee success. Skills and experience do.
To conclude, I think that Paladins Champions of the Realm are worth your time and effort. They have been constantly improving the game over the years, but the main advantage of the game-endless customization and creativity- is still the cornerstone, which by the way, I like a lot.
8. DC Universe Online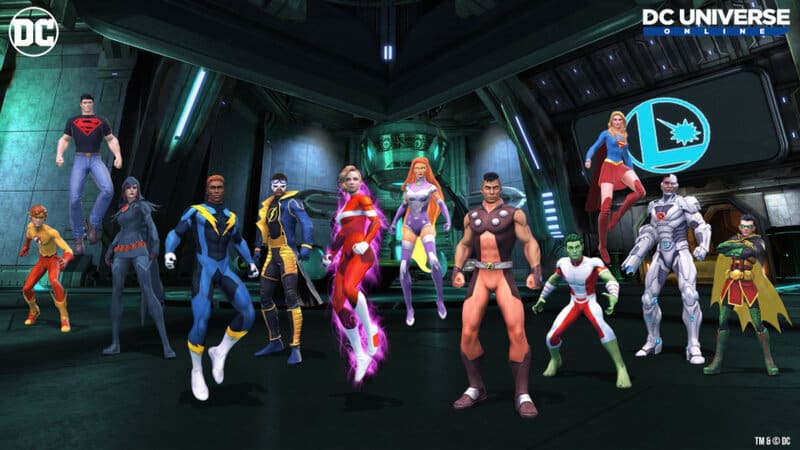 Well, what can I say about one of the most interesting games that are cross-platform? Based on DC comics heroes this has become one of the cult MMO crossplay games.
Not only fans of comics like it, but newcomers and gamers, as well.
After you connect to the same server as your friends, you are all free to create your custom hero or even a villain. The only problem is that all the popular names are occupied, so you will have to be pretty creative with the names.
The gameplay has stayed almost the same since its beginning. At first, you rely on your fists rather than on your powers. So, expect a lot of punching.
As your character develops, you get more and more powers. But, bear in mind that the potential powers you might get, could not be appropriate to the background story of your character.
If you follow the storyline content, when you end up at level 30, there is not much else to do. You can restart your game with a new character or replay missions.
Although it is available on PC and three other platforms, my absolute favorite to play this game on is PlayStation. 
9. Brawlhalla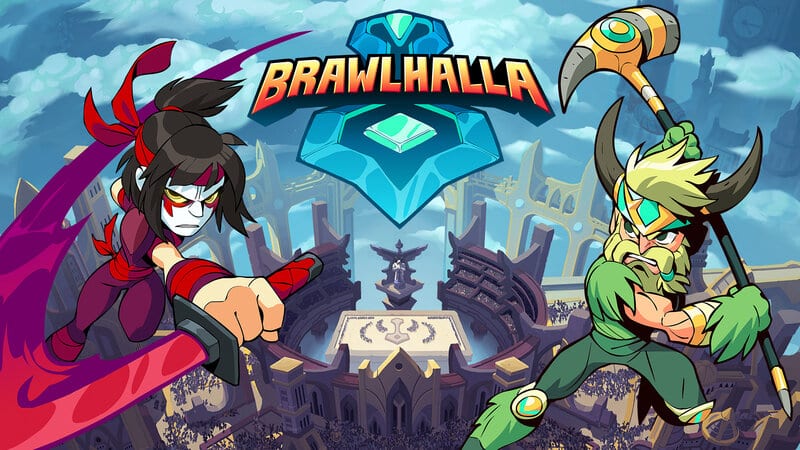 If you are looking for Nintendo's Super Smash Bros alternative, look no further.
The casual gameplay consists of fighting, jumping, and running, and the main point is to knock out your opponent. You achieve a knockout by making more and more damage to it.
However, there are items and superpowers available. Namely, you can use special attacks from swords, guns, axes, and even spike balls and bombs.
But, I would say that characters are not so distinctive, and most certainly they lack depth, so additional effort by game developers could be invested in that.
Another disadvantage of Brawlhalla is that you will eventually have to spend money, whether on store purchases or battle pass subscriptions.
On the other hand, if you like the game and you are willing to pay something to upgrade it, I recommend purchasing 20$ one-time pass for unlocking current and future characters.
To conclude, I think that Nintendo's Super Smash Bros is better and that Brawlhalla has huge disadvantages, such as paywalls for discovering new characters and characters who are not distinctive, especially during the battle.
10. Smite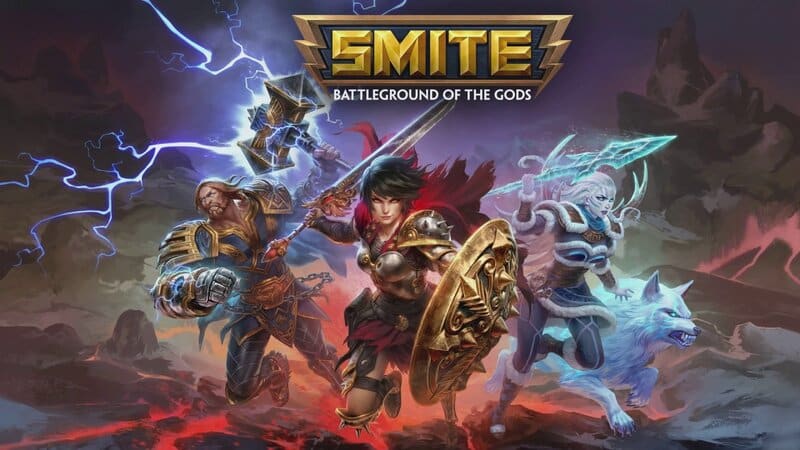 Smite offers a completely different perspective on a familiar type of game. Namely, the creators have placed a camera down behind a character, which is a huge change from an ordinary, up above view.
The game incorporates characters from seven different religions or mythologies. Their MOBA roles are based on their mythological backgrounds. Moreover, the characters are distinctive and detailed.
Different perspective fosters more action and dynamic.
However, the creators had good humor in their minds when they created a match of the day feature. Namely, in the match of the day, Norse vs South might fight, where Norse team can consist solely of the Norse gods, while South team can be made of Egyptian and Greek Gods.
These matches are pretty hectic, but they are humorous and enjoyable.
Generally, Smite's unique angle of the camera is enough to place it high and set it apart from other MOBAs, but the creators have paid special attention to the graphics and sound effects, as well.
My verdict is that Smite should be appreciated for its innovation and it would definitely be a nice choice for your cross-platform multiplayer game collection.
11. Phantasy Star Online: New Genesis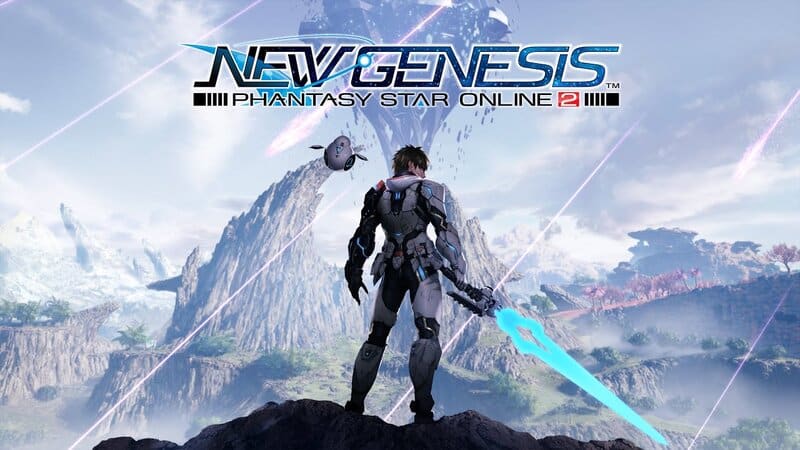 PSO 2 or PSO: New Genesis is a decade-old game, which has always been in the shadow of more popular MMOs like World of Warcraft or Final Fantasy IV.
However, thanks to the fan demand and Microsoft's involvement it has gotten the attention it deserves recently.
If I would have to describe the game in a few words, I would say that it is not a traditional MMO game, but instead, it gets some of the most interesting features of the older best crossplay games.
Namely, it reminds us of the old Guild Wars because of its lobby where the players could meet, mingle and accept quests. The social hub or a particular server can host around 200 people.
When it comes to graphics, one can see that the game is pretty old.
I do like that vintage feeling and colorful, anime aesthetics, but if you prefer state-of-the-art components of a game, you will not like the fact that the graphics have not been improved a lot since 2012.
But, when you get into the action and feel the in-game fight, you will understand why this is a good choice.
I can be so free to say that it stands shoulder to shoulder with some other and newer free cross platform games.
I recommend you, if possible, to play it mostly on Xbox consoles because you might face many problems when it comes to playing on a PC if you have installed the game from Microsoft Store.
On the other hand, I think that it is more practical to use Steam's version.
12. Dauntless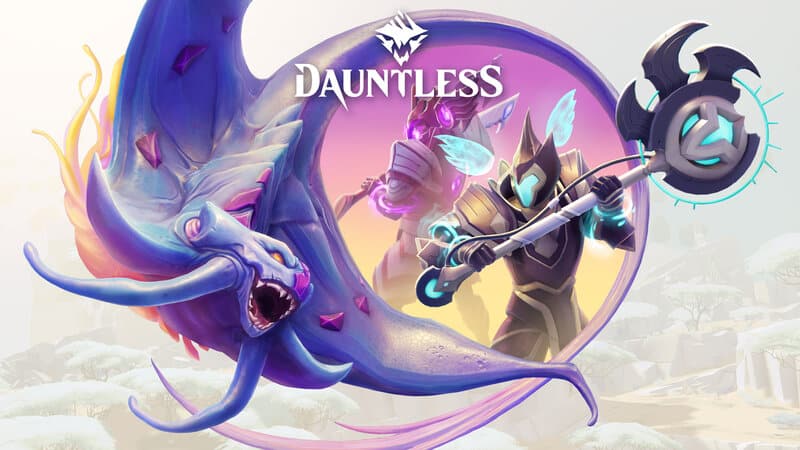 Well, if you have played Monster Hunter, then you will recognize the motifs behind this game. Generally, Dauntless is a stripped-down version of Monster Hunter.
One can say that it uses the best and funniest elements of Monster Hunter to create an accessible and funny game. However, there is an obvious lack of depth so, if you do not like to play not-so-deep games avoid this one.
Why do I say that it is not deep? Well, basically you only have to slay in the game. By slaying, I do not mean like dominate the game, but literally, slay the creatures called behemoths.
Storytelling is not the selling point of this game. You get an attempt at it at the beginning, and after you end the mission, but they are insignificant and superficial so, you will quickly forget about it.
On the other hand, progression is important. You have to progress constantly, kill the monsters and collect crafting materials like feathers and hides.
For example, you need to kill fire-based monsters to collect fiery weapons and items that will help you in defeating ice monsters.
You do not need tactical knowledge or deep planning to be successful, nor the game is based on that. Instead of that, you need to hunt and craft. And that is all.
Although there are not many activities in the game, except well-known crafting and hunting, the game provides wonderful moment-to-moment gameplay.
Generally, I recommend this game if you are looking for a joyful and competitive game with a lot of action, without troubling your nerves or brain.
---
Two more best cross platform games that are not free on every platform, but I recommend them, are:
13. Minecraft
Before I continue with the review, I would again like to point out that this game is not free! From time to time there is a huge sale thanks to which you can purchase it cheaper. Moreover, you can choose a free trial period and if you like it, buy it later.
Minecraft is another iconic game that stimulates creativity.
It simply cannot be defined what it is about Minecraft that makes it so special.
Namely, it has no particular genre or context or even a story, but the retro graphics and the fact that you shape the blocky world around you make it beautiful for children and many adults we know.
No, I am not talking about myself… well, maybe… okay I adore Minecraft. 
When it comes to its gameplay, it is interesting because you do not have any powers except those for building and mining.
Trees, rocks, and dirt around you serve as materials for building a perfect shelter for yourself. Your character feels hunger, as well, so you need to learn how to prepare food.
The landscape where you are is a mixture of woods, savannas, taigas, rivers, oceans, and many more surroundings.
There it seems like things like wolves, rare minerals or materials can be found. One can stumble upon domestic animals and friendly creatures, but upon zombies and skeletons as well. Therefore, you have to be ready to protect yourself and pay attention to every single detail.
The game is all about exploring and being creative. Moreover, it gives you a chance to play it in multiplayer mode with your friends and compete in an unknown world of endless creativity.
14. APEX Legends
APEX Legends is simply an addition to the genre which is already imaginative and action-packed. However, APEX Legends constantly push back the boundaries and improve its quality.
So, if you like an action where you can launch yourself to the sky and dodge bullets from there, I have something for you.
You can form a team with your friends and compete with many other teams or groups, try different heroes and their compatibility, and see the results.
The only issue I have had is with audio and server, but that does not harm gameplay.
Conclusion
There are plenty of games available at the moment. I have had the toughest assignment to choose the best.
I believe that I have chosen the right ones, but who knows, games like Among Us or Minecraft literally have skyrocketed in downloads over the night.
Therefore, it is to be expected that some new and unknown games appear soon.
But from the current gaming scene, I would choose World of Warships: Legends and Fortnite as my favorites.
I hope that this review helped you and informed you well about cross platform games.
Frequently Asked Questions
1. What free games are crossplay?
I have provided a list above of 12 completely free crossplay games, and I added two more popular games that are not free for each platform.
Hopefully, you will find them interesting and eventually try!
2. What are fun crossplay games?
It depends on your opinion. If you like constant fight then Paladins Champions or DC Universe will be the best.
If you put tactics and experience first, then World of Warships is something that I would recommend.
Anyways, I believe that every game on the list can offer you something distinctive and joyful.
Related: Best Games to Stream