If you have ever created or launched a TikTok video, then you are definitely aware of the TikTok watermark that simply appears on every single one of them.
However, not all TikTok influencers want to stick only with this platform, so they are looking for a way how to remove TikTok watermark in order to share their TikTok video with their social media following on other platforms.
---
If you want to remove the TikTok watermark from your videos for further upload or any other reason, here are the 5 best free apps to do that.
The Best Programs To Remove Tik Tok Watermark
1. Apowersoft Watermark Remover
2. Remove & Add Watermark
3. Video Eraser
4. Kapwing
5. Musically Down
---
In case you want to find out what is the easiest and fastest way to remove TikTok watermark online, we will reveal a few ways you can do it.
How To Remove TikTok Watermark?
If you want to learn how to remove TikTok watermark, you don't really need to be a genius because there are several special apps that can be used to remove watermarks off of TikTok videos within seconds.
It can be tricky to remove them if you try to do it by yourself through video editors, but if you decide to use some of these free online video editor programs made specifically for TikTok and Youtube users, you will definitely be able to get rid of the watermark on your TikTok videos immediately.
These are some of the best free online video editor programs that will allow you to both download TikTok videos and remove a watermark off of them.
1. Apowersoft Watermark Remover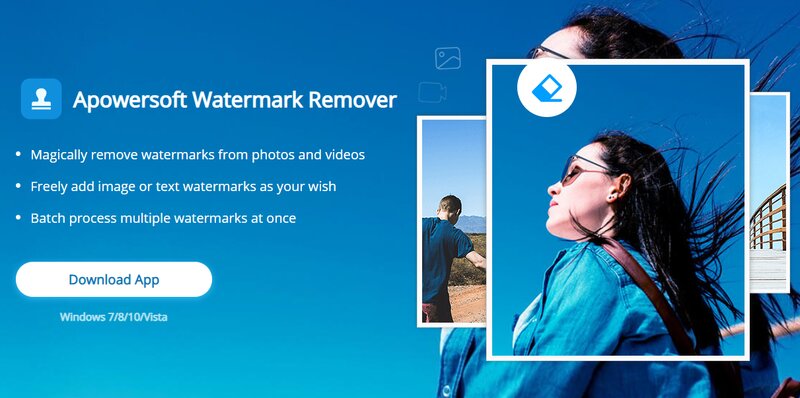 If you want to remove the TikTok watermark online, this is definitely one of the best video eraser apps that will allow you to upload your TikTok video in the highest resolution and edit it to perfection.
This program is compatible both with Android and Windows devices, so you can download it both to your mobile phone and to your computer.
If you want to remove TikTok watermarks as fast as possible, this is definitely the best video editing software for it because you will be able to upload downloaded TikTok videos from your gallery and get rid of the TikTok watermarks with just one click.
This is a special TikTok watermark remover app that can solve everything within minutes, and after you have done using it, you will be able to save video that is watermark-free in its highest quality.
You will need to select the video from your camera roll and upload it by clicking the Upload button in the upper right corner.
It is very easy, and the only thing you need to do is select the Remove watermark from the video option and use the rectangle selection tool to crop out the watermark.
Once you remove the watermark, just make sure you save a copy that will look fine on other social media platforms.
By choosing some of the options in the bottom right corner, you can also upload more things to the original video, but you are the one who makes the decision whether something is worthy of including in the video or not.
2. Remove & Add Watermark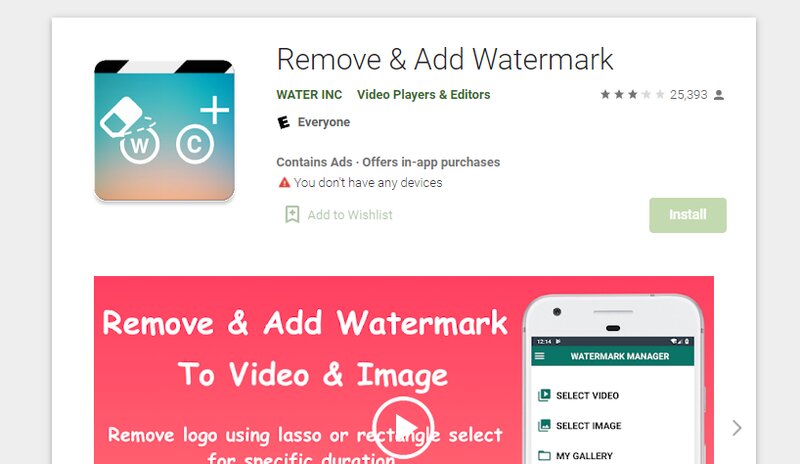 This is a pretty simple app you can download from Google Play Store to your Android device, and people use it to edit their TikTok content and Instagram reels.
You can learn how to remove TikTok watermark quite easily with this one, and every TikTok video you upload will automatically get recognized by the app, and they will start recommending to you the ways you can remove TikTok watermarks.
The best thing about this TikTok watermark remover app is the fact that you don't even need to upload a video, and you can only link one TikTok video online.
This is a great way if you want to repost other people's TikTok videos or just keep them in your archive for fun.
Also, this watermark app works even better because it will immediately recognize the watermark and ask you to remove it immediately.
3. Video Eraser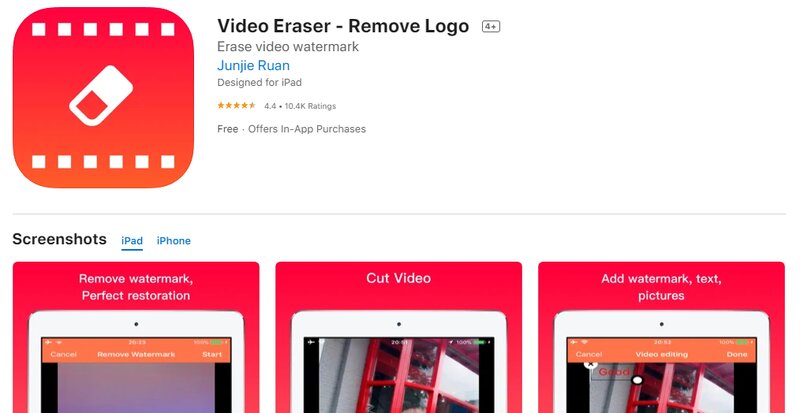 Video eraser is another way how to remove TikTok watermark, and every time you upload a TikTok video, you will be able to choose the things you want to remove and the things you want to add to it.
This TikTok watermark app can be used to remove TikTok watermarks only on iOS devices, but it will work equally well on iPhones and iPads, so you definitely won't have any problems with it.
4. Kapwing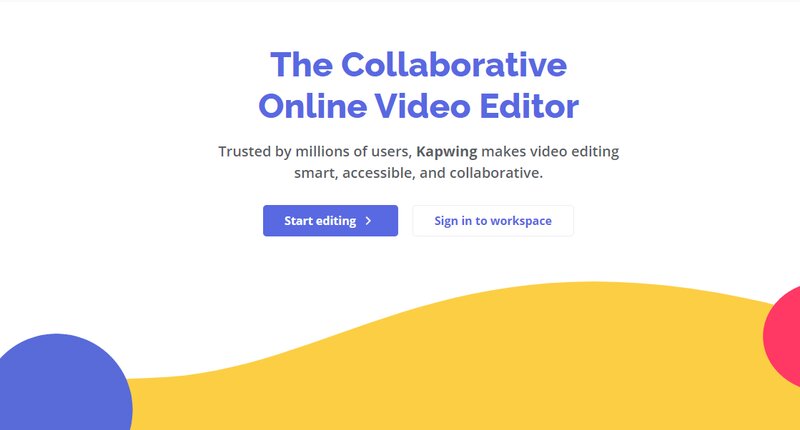 Kapwing is also one of the amazing ways how to remove TikTok watermark, and even though it is used for plenty of different editing things, it definitely works amazing for removing watermarks because it gets rid of them within seconds.
All you have to do in order to remove TikTok watermarks is upload a downloaded TikTok video and turn it into a watermark-free video by using this option on the app.
TikTok watermarks will disappear after just one click, and you can remove watermarks from TikTok and all other social media platforms.
You don't even need to remove the watermark because you can just replace it with some other sign or mark, and that can be done without you even engaging in video editing, just by uploading a new photo or sign you want to see.
In case you really want to make sure the video will look perfect, you can always crop it out, and a cropped TikTok video often looks a lot better than those that have an export icon or signs of a removed TikTok logo on it.
You can also choose to blur it, but I believe the cropping tool will work the best, especially if you are using it as an Android app.
5. Musically Down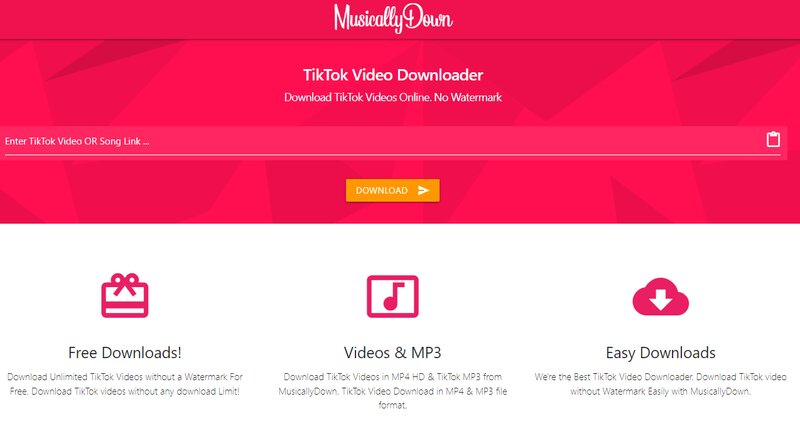 Musically Down is probably the only watermark app that was made specifically for TikTok videos and removing or adding watermarks to it.
You can do whatever you want with the TikTok logo, select a video, and mesh it up with another one, so it is basically multiple apps all in one.
It has an edit icon, crop icon, blur icon, and basically every single feature you may need in order to create an amazing TikTok video.
Since it is aimed specifically at TikTok users, it will provide you with everything other apps may lack, and once you finish editing and finish watermark removal, all you need to do is tap save, and you will find this video in the camera roll of your Ios or Android phone.
It is available both to iOS users and Android users, so everyone will be able to gain access to the app when they click the download button.
If you were really struggling with TikTok watermarks and you are a regular TikTok user who keeps on uploading videos to the TikTok app every single day, then this is probably the right option for you.
What Are Other Ways You Can Remove The TikTok Watermark?
If you want to remove the watermark from your TikTok video, you can do it through several different video editing apps or even Photoshop.
However, these apps and programs are usually not aimed at TikTok users but rather at a complete professionals in the video editing industry, so you may find it hard to navigate through them and remove the watermark the way you want.
For that reason, I would suggest you stick with these TikTok watermark remover apps because they are extremely easy to use, and you can learn how to remove TikTok watermark without any struggles.
You can do it with your original or a downloaded TikTok video, and these apps really offer a variety of different options so I believe you will be able to get what you were looking for without any problems.