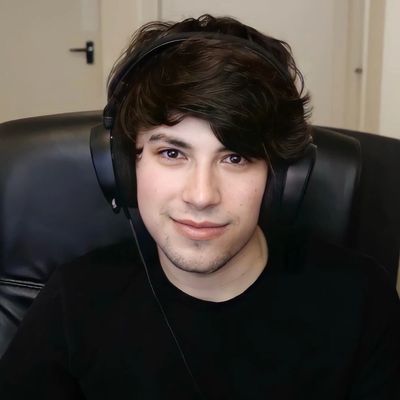 | | |
| --- | --- |
| Full name: George Henry Davidson | Education: College graduate |
| Date of birth: November 1st, 1996 | Height: 5′ 9″ / 175cm |
| Place of birth: London, England, UK | Weight: 143lb / 65 kg |
| Current residence: Brighton, England, UK | Estimated net worth: $2 million |
Who is GeorgeNotFound?
About, History, and Net Worth
---
Before I answer what is GeorgeNotFound net worth, let's learn more about him.
A young British Youtuber and Twitch streamer by the name of George Henry Davidson, GeorgeNotFound is an internet personality of some renown with an established presence on several different platforms.
The millions of followers he had gathered allowed him to turn his streams into quite a lucrative business, with monthly earnings measuring in tens of thousands of US dollars.
Georgenotfound Net Worth
GeorgeNotFound net worth is estimated to be in the range of $2 million. The majority of this wealth originates from his social media popularity, best seen on his two main platforms, Twitch and Youtube.
In addition to those, however, GeorgeNotFound is also present on other social media platforms, has multiple brand deals, and even has his own merch store.
Before giving a more detailed description of each of these sources of income, however, we will first look into the man behind the channel, George Henry Davidson himself.
GeorgeNotFound's Twitch career

GeorgeNotFound is an incredibly successful partnered Twitch streamer and a master of digital marketing. He has over 5 million followers on Twitch. This truly impressive number allows him to make quite a lot of money from various subscriptions, Twitch payouts, and straight-up donations from his numerous fans.
He primarily plays and streams Minecraft on this channel, but recently he has picked up a game called Stray, an up-and-coming hit that has you play as a cat and try to find your way out of a post-apocalyptic city without getting run over or eaten.
From the initial humble beginnings, GeorgeNotFound grew the channel into a force to be reckoned with, participating in the Minecraft championship series and joining other famous Youtubers on their streams.
Most notably, he has been present on Badboyhalo's Minecraft server and Dreams SMP Minecraft server.
GeorgeNotFound's Youtube career

While he has achieved a lot of success on Twitch, GeorgeNotFound's primary account is, without a doubt, his Youtube one. In fact, this online streamer has not one but five Youtube channels, the main of which, titled simply GeorgeNotFound, has over 10 million subscribers.
His other channels are less popular, but they still have a significant contribution to his net worth, mostly through the AdSense algorithm.
Here is a list of GeorgeNotFound's channels and the number of subscribers he has on each one:
Each of these channels is used to share a different type of content, making it not just more accessible for the audience to find a specific video, but significantly increasing the ad revenue he gets by multiplying the number of views.
The majority of his Youtube videos are Minecraft related, from gameplay highlights to discussions and tours of various locations built in his Minecraft worlds.
Overall, the majority of his net worth comes from these five channels, all of which are continuing to rise in terms of subscriber count and are expected to continue to do so.
GeorgeNotFound's sponsorship deals
GeorgeNotFound has for the most part remained quite silent about the various Youtube and Twitch sponsorship deals he may have signed, but it is almost certain that a streamer of his renown would have quite a few lucrative offers.
Whether he has accepted any such deals, however, remains to be seen, as there was no official confirmation from either the streamer or any of his potential business partners.
GeorgeNotFound merchandise
Another avenue that GeorgeNotFound uses to make money is through his merchandise store, which sells hoodies, t-shirts as well as various trinkets.
The sales of his merch, while not as high as his Twitch or Youtube earnings, still have a significant contribution to his overall income and net worth, measuring in tens of thousands of dollars every year.
Conclusion
An up-and-coming Twitch and Youtube star, GeorgeNotFound's many channels have been steadily rising over the last couple of years, allowing him to gain a net worth of over 2 million USD.
FAQ
How much money does GeorgeNotFound make?
GeorgeNotFound owns several Youtube and Twitch channels with over a million subscribers, as well as a very successful merch store. Taken together, all these sources of income add up to somewhere in the range between 750 thousand and 1.2 million USD each year.
Is GeorgeNotFound single?
GeorgeNotFound remains unmarried as of right now, and it is believed he isn't in a committed relationship either. That being said, there is always a possibility that he has a girlfriend that he hasn't shown to the public yet.
Is GeorgeNotFound a part of the DreamTeam?
Yes, along with a number of other streamers, GeorgeNotFound founded the DreamTeam, the organization standing behind the almost legendary Dream SMP Minecraft server.