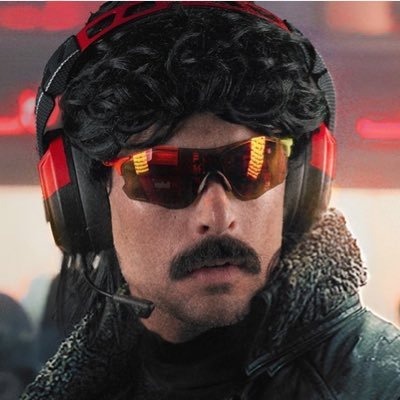 | | |
| --- | --- |
| Full name: Herschel Beahm IV | Education: California State Polytechnic University, Pomona |
| Date of birth: March 10th, 1982 | Height: 6′ 8″ / 203cm |
| Place of birth: Encinitas, California, USA | Weight: 209lb / 95 kg |
| Current residence: Encinitas, California, USA | Estimated net worth: $6 million |
Who is DrDisRespect?
About, History, and Net Worth
---
DrDisRespect is a fictional persona created by the American internet celebrity Herschel Beahm IV. How much is Dr DisRespect net worth? Let's find out.
DrDisRespect is a prominent Youtuber and video game streamer, boasting millions of followers. Naturally, this level o long-lasting success allowed him to amass quite a lot of money.
Dr DisRespect Net Worth
Dr Disrespect is estimated to have a net worth of around $6 million. The majority of this wealth comes from his Youtube channel.
In the past, he was also very active on Twitch, with several million followers on that platform as well.
He has moved away from Twitch for reasons we will explain below. But before we get into such details about DrDisRespect's career, we will take a look at the man himself.
DrDisRespect Twitch career
DrDisRespect has been active on Twitch for over a decade, initially starting his streaming career all the way back in 2010. DrDisRespect's streams were extremely popular, as he was playing video games of various genres and was quite good at them, attracting a lot of viewers.
At his peak, DrDisRespect had over four million followers on Twitch, as well as a large number of paid subscribers to his channel.
He became a big streamer following his deal with Sledgehammer games that had him appointed as their community manager.
Further successes followed, with DrDisRespect trying out more battle royale video games such as Apex Legends and shooters like Call of Duty warzone and advanced warfare.
His greatest success was streaming Playerunknown's Battlegrounds, which had his channel explode in popularity while the game was at its peak.
The internet personality, however, hit a significant setback in 2020 when he was given a permanent Twitch ban for an unspecified reason just months after signing a multi-year, multi-million dollar deal with the same platform that would have seen his net worth rise tremendously.
Still, DrDisRespect hasn't let this setback ruin his confidence and has since moved to other platforms such as Youtube, where he continues entertaining millions of viewers.
DrDisRespect Youtube career

While DrDisRespect has been present on Youtube even before his Twitch ban in July of 2020, it has become his main platform since.
This former Twitch streamer is now streaming full-time on Youtube, where he has just under 4 million subscribers.
This means that nowadays, most income streams are based on Youtube ad revenue and various merchandise sales, rather than streaming donations as they were on Twitch.
DrDisRespect mainly streams various Call of Duty games, but he occasionally plays other games such as Fortnite, Apex Legends, and even Fall Guys.
The Youtube account keeps growing in popularity, and we can safely assume that it will continue to do so in the future, increasing DrDisRespect net worth.
DrDisRespect sponsorship deals
Ever since he entered the streaming world back in 2010, one of the main ways DrDisRespect used to earn money was through various sponsorship deals.
The first major sponsorship he signed in 2011 was when the company Sledgehammer games took him on as their community manager.
DrDisRespect cooperates with various brands, such as G Fuel and Rocat. He endorses these brands in his Youtube streams and, in return, receives money and various other benefits.
It is currently unknown how much money DrDisRespect earns from these endorsements.
Still, we are certain that they significantly contribute to his total net worth, especially after he was banned from Twitch.
Dr DisRespect merchandise income
Dr DisRespect, much like many other big streamers, has created his own merchandise store which sells various items with his logo on them to his fans.
As he keeps a high percentage from each sale as profit even after the production costs are taken into consideration, it is undeniable that Dr DisRespect net worth is greatly augmented by the success of his online store.
Conclusion
Dr DisRespect is an American Youtuber and gaming streamer with several million followers and a net worth of over 6 million USD.
With very diversified income streams and a continued rise in popularity and subscriber count, it is expected that his net worth will continue to increase despite the unfortunate Twitch ban that he suffered in 2020.
FAQ
How much is Dr DisRespect's net worth?
DrDisRespect is believed to have a total net worth of around 6 million USD, with the majority of that wealth coming from his Youtube channel, followed closely by the various endorsement deals and his merchandise store.
Why was DrDisRespect banned from Twitch?
Twitch never issued an official statement regarding the reason they banned Dr DisRespect, other than a pretty vague explanation citing that he broke the ToS in some way.
This means that we cannot say with any certainty why he was banned from Twitch and whether the ban will be reversed in the future.
How much does Dr DisRespect earn each year?
He makes about $2000 a day from his streams alone, adding up to around $500K a year as he doesn't stream every day. Added to that is an unspecified amount of money he earns from his sponsors and the merch he sells.
While he doesn't have a conclusive, exact amount to share, it is estimated that his yearly income is in the range between 750 thousand and 1 million USD.