If you're in need of a tablet, that you mainly plan on using for streams, you've come to just the right place!
After thorough testing of several key factors, I concluded that Apple iPad Pro would give you the best performance for your money.
To see other products I picked for my test, scroll down and you'll know exactly where you should put your money when it comes to the best tablets for streaming.
QUICK OVERVIEW: Best Tablet for Streaming
10MP wide back camera
USB-C connector

12.3 inch HD display
128GB installed flash memory

10,090mAh battery
12.4-inch screen size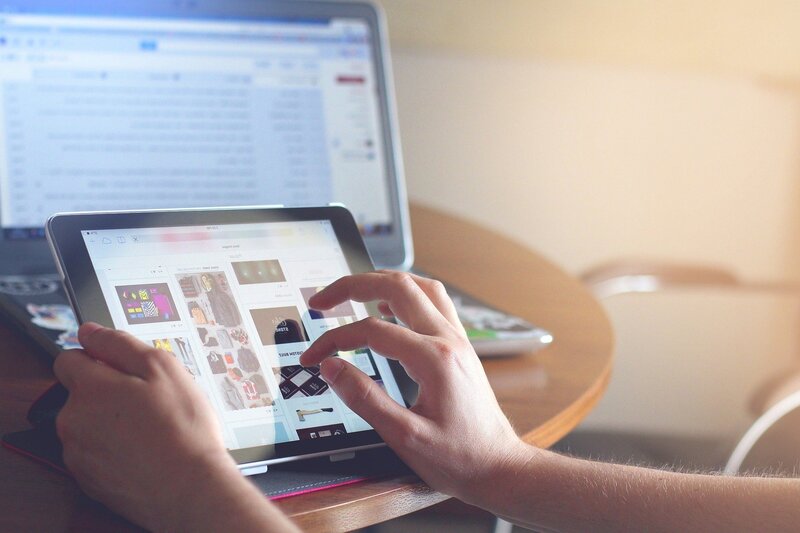 Best Tablet for Streaming
Reviews
---
Streaming on Twitch, especially streaming games, can seem a tiny bit overwhelming.
When you watch your favorite streamers, and their setups are brought up, it can lead you to the wrong impression that you have to have an expensive and extensive setup in order to stream.
But that's not exactly true.
If the type of content you wish to stream doesn't strictly require having a PC, a tablet can be a great option.
Especially if you know you'll need a portable device for your streams.
Here are my top picks for you!
1. Apple iPad Pro
Best streaming tablet overall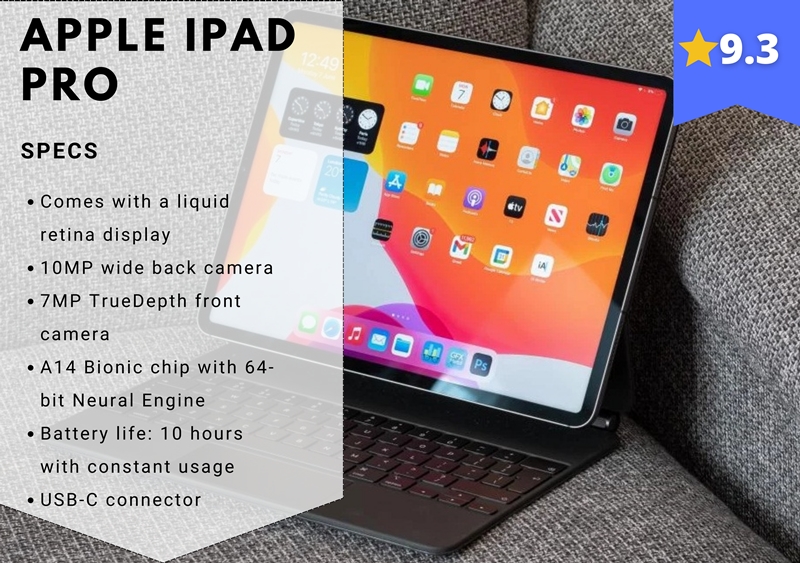 Stefan's Take:
Apple iPads have many benefits to them, and they have been considered the industry standard for a long time.
Apple iPad Pro has all the specifications professional streamers look for in a device. There is an awesome front camera, battery life is great (you can go streaming for hours), and a built-in chip will start any game you like. Also, Apple did a solid job of preventing overheating of its iPad, so that is a big plus.
| | |
| --- | --- |
| Performance | 9.4 |
| Camera | 9.3 |
| Screen | 9.1 |
| Battery Life | 9.5 |
The 4th generation Apple iPad Air comes with a very nice liquid retina display, and the Air model has a display of 10.9 inches.
If you wish to get something with a bigger screen but stay loyal to the Apple iPad, you should try looking into the Apple iPad Pro, which is significantly more expensive, and that big screen is not the main priority when it comes to streaming.
As with all Apple products, there are several different colors that you can choose from if that's something that's important to you. Personally, I fancy black and silver ones.
But, to get back to the really important stuff, this Apple iPad Air comes with a 12MP back camera, and even more importantly, a 7MP front camera that will do a great job for streaming.
It has an A14 Bionic chip with Neural Engine, and this one is meant to significantly improve the AI performance of your device.
To be technically even more precise, this bionic chip makes the Apple iPad perform 11 trillion operations per second, so it will be able to run everything that needs to be running during a stream.
And, finally, the battery life.
Binging through a whole season of a Netflix series, e-book reading during a long trip, and obviously, many a round of the Plague game (which I didn't open for quite some time now, wonder why that is).
If you use the Apple iPad without any pause whatsoever while watching videos and surfing the Internet, the battery life is somewhere around 10 hours, and possibly even longer when the brightness is turned down to the minimum.
This is a very important feature to look out for when choosing a tablet for streaming, and it really is the feature that makes this product worth it.
A gadget that you might consider if you decide to go with this one is the Apple Pencil, which isn't a priority, but a great and very helpful addition.
One downside of the Apple Pencil is the fact that it is sold separately whether you buy this model or the Apple iPad Pro, but I guess all of us expected that from Apple.
Pros
Extremely long battery life
Sturdy and hard case
Good front and back cameras
High-resolution display with True Tone and P3 wide color
Cons
On the more expensive side
2. Microsoft Surface Pro 7
Best gaming laptop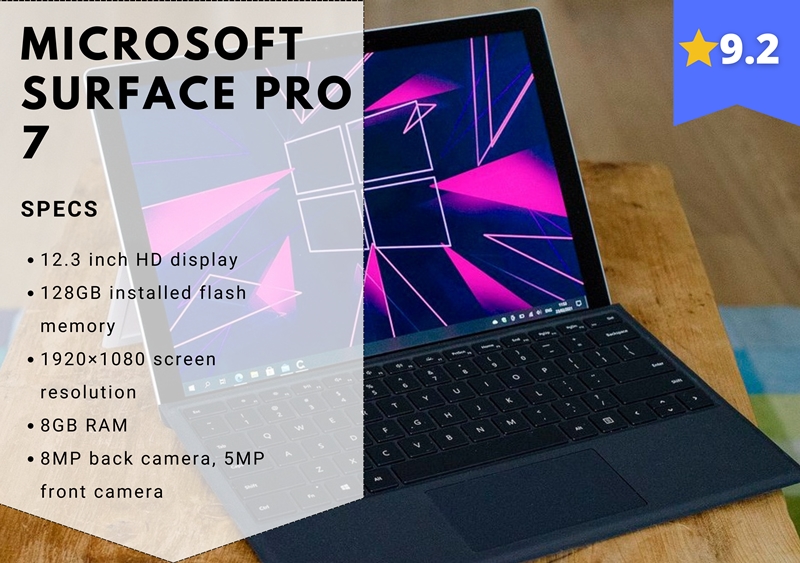 Stefan's Take:
If you are a fan of Microsoft surface products, then this device can be a great option for you. It's still on the pricier side, but if you like what you see when it comes to its features, then a Windows tablet might be the thing for you.
Microsoft Surface Pro 7 has many useful abilities, so besides streaming, you can use it for things that require typing, drawing, working, and obviously, playing games.
| | |
| --- | --- |
| Performance | 9.2 |
| Camera | 9.1 |
| Screen | 9.3 |
| Battery Life | 9.3 |
Something that is probably to be expected from a Microsoft tablet is that it has laptop features in the form of a tablet.
The processor it has is the 10th Generation Intel Core processor, making it more than two times faster than the previous model, the Surface Pro 6.
When it comes to the display, it is a high-resolution PixelSense one, and it also has great automatic brightness settings.
It senses ambient light automatically, so it adjusts to lighting conditions without you having to worry much.
One of the main benefits for streaming purposes is the fact that this tablet has multiple ways of connecting – it has both and USB-C port, and a USB-A, so you can easily connect different types of monitors and all devices you need while you stream.
Another thing that is great about this tablet that you should really consider if your content requires you to take your tablet out and about, is the fact that this one is very slim and very light – it weighs only 1.70 lbs.
And of course, the battery life is great.
I wouldn't even put this here if that wasn't the case, but to be specific, this very good tablet has a battery life of up to 10 hours, depending of course on what you do – binging a web series, web browsing, or something else.
But the 10-hour mark is about having the big screen on the whole time, which is exactly what you need for streaming, and while you play games. After playing for 5 hours straight, the battery was still on 60 percent, which impressed me.
Finally, this tablet has fast charging support, so it reaches 80% in just around an hour.
And the operating system is something very familiar to most of us, as it is the Windows 10 Home, so working with this tablet will be more than easy.
Pros
Large screen
Familiar operating system
Multiple types of connectors
Has a micro card reader
Cons
The surface pen often fails to connect
3. Samsung Galaxy Tab S7 FE
Tablet with the best screen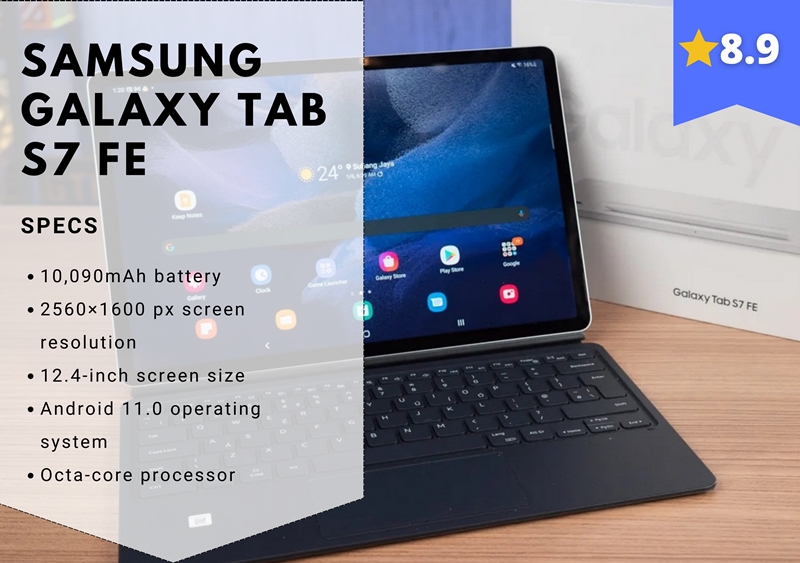 Stefan's Take:
Android tablets are a logical next step if you're already an avid Android operating system user and enjoy phones with Android, even more, if you've been loyal to Samsung Galaxy phones over the years, the Samsung Galaxy Tab can be great for you.
Android tablets are famous for their versatility, and this one isn't an exception. Samsung made an incredible streaming tablet with a big, nice screen with excellent resolution and a satisfying battery. Just what you need for streaming.
| | |
| --- | --- |
| Performance | 9.0 |
| Camera | 8.5 |
| Screen | 9.4 |
| Battery Life | 8.8 |
If you are a fan of a larger and better screen as well as an Android tablet, you'll be very happy when I tell you that this one has a 12.4-inch display.
Similar to the Apple iPad Air and the Apple iPad Pro, the Samsung Galaxy Tab S7 comes in a wide variety of different colors that you can choose from.
Another great addition that caught my attention is the S pen.
S pen makes it easy to go through your Samsung Galaxy Tab, as well as to write and draw.
If you upload VODs to a YouTube channel, or if you have a channel besides your streaming one, having something like that will make it very easy to edit them.
The operating system this comes with is Android 11.0, and when it comes to storage space, you can choose between a 64GB and a 256GB version, and it is also expandable, so if you have lots of stuff you need to keep, don't worry.
The large screen also comes with a great screen resolution – it's 2560×1600 pixels.
The battery life is very satisfactory, as the battery is at 10.090 mAh.
For me, this can be considered the best Android tablet currently available.
Just a few features differentiate it from the Apple iPad Air, as well as Apple iPad Pro, but the price is way better.
Pros
Big screen
Great screen resolution
Great price-point
Up-to-date Android OS
Very good battery life
Cons
On Samsung devices, Android becomes outdated after 1.5 years
4. SAMSUNG Galaxy Tab S7+ Plus
Tablet with the best sound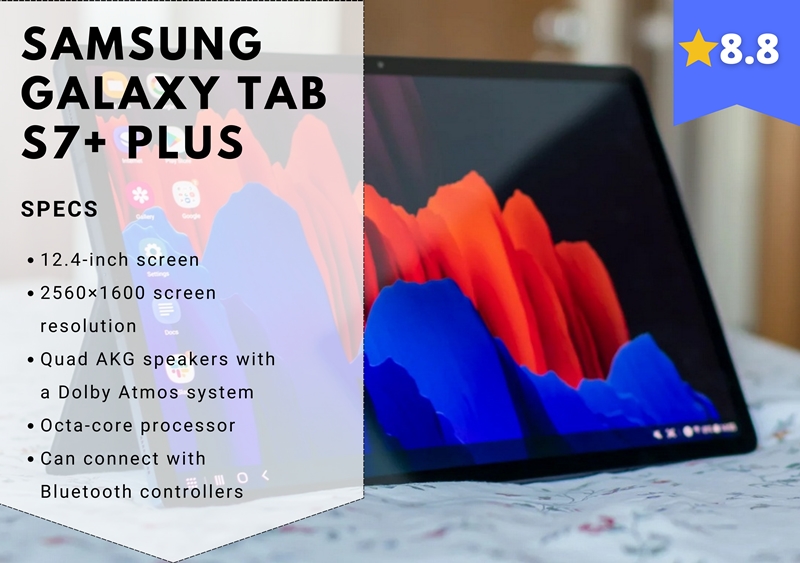 Stefan's Take:
Having PC-like performance is what you will want to have for a task like live streaming, so tablets like Samsung Galaxy Tab S7+ Plus are the best tablets you can get.
The biggest selling point of this tablet is its excellent sound system. If you don't mind the sound being on full blast, you will have a great experience watching movies online or playing games.
| | |
| --- | --- |
| Performance | 9.2 |
| Camera | 8.4 |
| Screen | 8.8 |
| Battery Life | 8.6 |
Just like the previous, more affordable Samsung Galaxy Tab, this one comes with a great screen size of 12.4 inches.
The operating system this one comes with is the Android 10, but it's still completely up to date when it comes to Google apps and their availability.
This Samsung Galaxy Tab promises PC performance, and what that means is that it is compatible with an optional keyboard, that also comes with an expanded trackpad.
The keyboard is, of course, sold separately, but if you happen to need it, it's always great to know that the possibility is there, and a good one at that.
This one is also great for entertainment purposes, as the display is an edge-to-edge LCD.
Also, the sound quality is great because this tablet comes with AKG quad speakers, and Dolby Atmos Surround sound. You wouldn't believe how good some games sound.
Contrary to the keyboard, the S Pen is something that is included with the purchase of this Samsung Galaxy Tab, so having that included will make it even more available for you to make the edits you need.
Having a pen for your tablet will generally make your life much easier, so I really love the fact that they are including it with this one.
Oh, and are you maybe a console player?
Do you wish to stream games that you play on a console?
I have the greatest news for you!
The Samsung Galaxy Tab S7+ can connect with Bluetooth-enabled controllers, so combined with the mentioned sound quality make it really great for gaming and streaming.
And of course, watching movies online during the breaks.
The display resolution is great, and it's at 2560×1600 TFT, so the fact that the screen is quite big won't make the quality worse.
When it comes to the internal memory, the storage space that's available depends on which version you choose to buy – you can get 128, 256, or 512GB tablets.
It's the same with RAM, you can choose between 6GB and 8GB, of course depending on what your needs and your budget are.
But in general, I would always opt for a bigger RAM for streaming when it's possible to get it.
The internal memory is expandable, so if you can't purchase the 512GB one right now, that shouldn't be a worry, as you can upgrade it later with a MicroSD card that's up to 1TB later.
The processor is an Octa-Core that works and multitasks very well, so that also shouldn't be a concern with this model of the Samsung Galaxy Tab.
It's also extremely slim and light, as it weighs only 1.1 lbs.
Pros
Amazing sound system
Can connect with Bluetooth controllers
The Pen comes with the tablet
Great design
Great replacement for a laptop or PC
Cons
You can't turn vibrations off, only put the device on silent mode
5. VASTKING KingPad K10
Best cheap tablet for streaming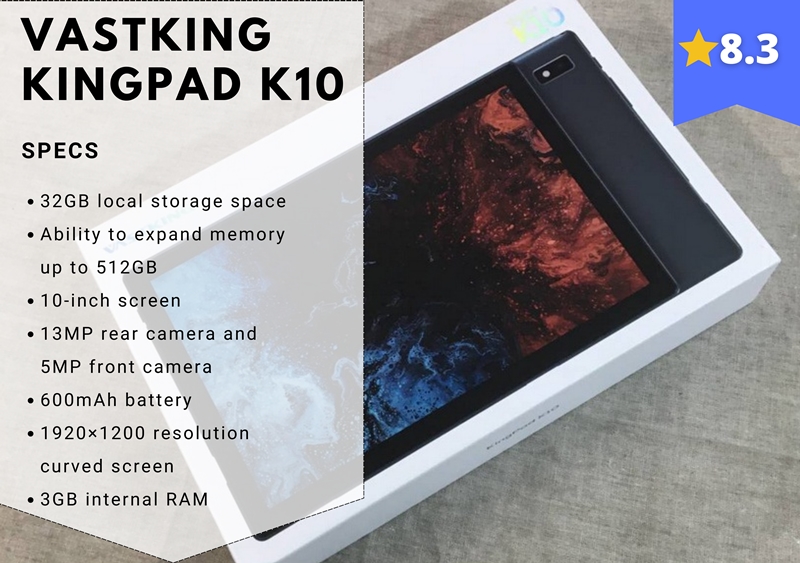 Stefan's Take:
If you are in search of a highly inexpensive tablet, it will be a good idea to look into this one.
The low price comes with some downside, however, the things that do come with it make it worth the purchase, so if you're only at the start of your streaming career, or your streams aren't high maintenance, then this is something you should consider.
| | |
| --- | --- |
| Performance | 8.0 |
| Camera | 8.2 |
| Screen | 8.5 |
| Battery Life | 8.6 |
The first downside actually comes with the RAM – it's only 3GB.
In general, this wouldn't be much of a problem for a tablet, however, streaming requires good RAM so it swiftly works with all the open tasks.
If your streams don't include gaming on the tablet itself, then it will probably work well.
It will probably work even if you do, but it's questionable how fast and smooth everything will go.
The CPU is a good one, an Octa-core that supports frequencies up to 1.8GHz.
When it comes to watching videos and streams, it will be able to show you these in 4K.
The screen is a smaller one at 10 inches, but most people, myself included, find tablets of this size just right.
The display is a full HD display with a resolution being 1920×1200, which is more than great for a tablet of this screen size.
The screen is also a curved one, so watching things will be as comfortable as streaming.
When it comes to long screen time and screen exposure, this tablet is up-to-date with everything and has the Eye Comfort mode available.
Battery life is not bad, it's average, with a 6000 mAh battery, which will probably last for a stream that's a few hours long, but I recommend you to be near an outlet where you can plug the charger in, or have a power bank available at all times if you plan on streaming somewhere outdoors.
Like most tablets nowadays, this one can easily connect to a keyboard, so you can use it as a laptop when you need that – if you play a game that needs keyboard commands, or when you need to interact with your chat more easily.
It has Bluetooth connectivity, so basically, any wireless accessories will be able to connect.
The rear camera has 13MP, and the front one is at 5MP, which is basically a standard that you can expect from most Android devices at a lower price point.
The OS is Android 10, which is pretty up-to-date and it won't make any problems for you.
The storage is not the largest – it's 32GB, however you can easily upgrade it with a MicroSD card that's up to 512GB.
When it comes to connectors, this device has a Type-C cable so you can connect it to most modern devices.
Pros
Very low price
Overly good quality despite the low price
Bluetooth connection
Able to work well with a keyboard
6. Microsoft Surface Go 2
Best budget tablet for streaming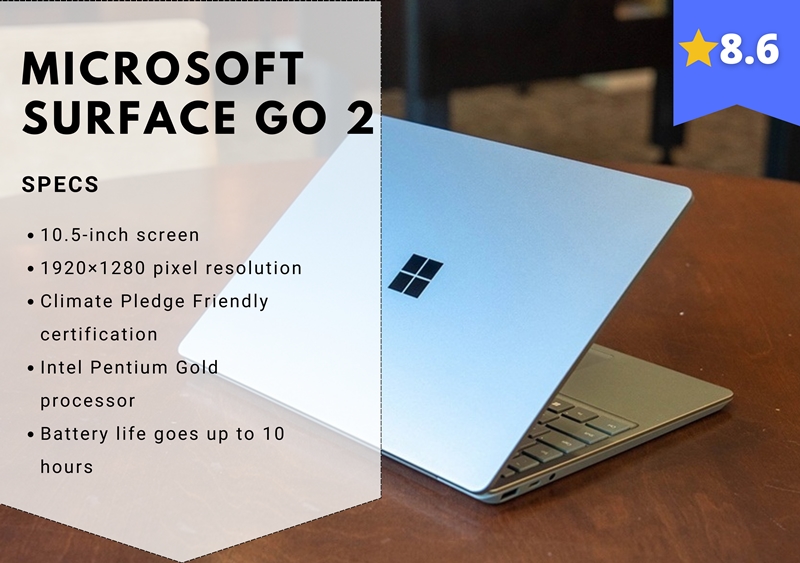 Stefan's Take:
If you like what Microsoft tablets offer but are looking for something that won't break the bank, this one might be the one for you.
If having a mobile device with a big screen is not what you need, this is probably the best tablet you can get that has a good price-to-quality ratio.
| | |
| --- | --- |
| Performance | 8.8 |
| Camera | 8.4 |
| Screen | 8.5 |
| Battery Life | 8.7 |
This Microsoft tablet comes with a screen that's sized at 10.5 inches, which is a great, even the perfect size for a tablet, in my humble opinion.
Obviously, the OS this works with is Windows 10 Home, so everything will probably be very familiar and easy to use for you.
Battery life seems to be good with the battery being able to last up to 10 hours.
Just as you would wish from a PC-like tablet, this one is easily connected to a keyboard.
Speaking of things that you can connect to it, this tablet comes with a headphone jack (which is actually a great addition these days) and a USB-C port.
Both the rear and the front cameras are full HD, so your streams will be nice and sharp.
An update for Windows 11 is free, so if you fancy going for that, it will come for free.
One great benefit of this device is that is made with the Climate Pledge Friendly certification, so it's going in the right direction in that sense as well.
The processor this tablet works with is the Intel Pentium Gold processor.
When it comes to internal memory, you can choose whether you want RAM of 4GB or 8GB, and the storage can be either 64GB or 128GB.
The screen resolution is 1920×1280 pixels and it gives satisfactory picture.
Pros
The Climate Pledge Friendly certification
Good pricing
A headphone jack is included
Very user-friendly
What To Look For When Buying A Tablet For Streaming
RAM And Processor
Since streaming on Twitch means that you will have multiple tasks running on your device the whole time you're doing it, you should definitely look into the RAM and processor specifications.
The minimum required RAM on a tablet for streaming should not be lower than 2GB, and the processor should work at a minimum of 1.5GHz.
Software Encoder
Another important thing to consider is the fact that you will need a software encoder on your tablet, in order for your video and audio content to be easily translated to a live stream.
To be able to switch screens during the stream, and have control over other activities as well, you'll need to have a stream deck, so make sure you check if the specific model you're looking at has the ability to connect to one.
Screen Size
Considering the various tasks that are open during streaming again, you should probably opt for tablets that have their screen size on the larger side.
But, if gaming is not the main type of content you stream, then a 10-inch tablet could work just fine for you.
Battery Life
Of course, battery life is of huge importance.
It's expected that the battery will drain way quicker when you do a stream, but make sure that it lasts for at least 5 hours in such conditions.
Most tablets on the more high-end side of the market have a battery life of around 10 hours, so if you end up getting an Apple or a Samsung product, your battery life will probably be great for a long time.
Internal Memory
You should avoid tablets with storage of only 16GB.
An affordable tablet might be tempting, but a shortage in storage space is usually the downside it comes with.
Display
Finally, an HD display will probably be useful to you as the person who watches all the material while it's filming.
Make sure that the resolution is good, so you don't end up with a huge screen that doesn't have the best quality graphics.
FAQ
What are good streaming tablets?
As with the best tablets for any other purpose, when it comes to streaming, some of the best tablets are the ones from the industry's leading companies.
If you use Apple products religiously, getting some of the newest iPad models can be a perfectly good choice.
I'd say look into the 4th generation iPad Air, especially because the size of the screen might not be the most important thing for your streams.
If you don't like Apple and you're more of an Android fan, depending on your budget, the best ones that you can choose from are the Samsung Galaxy Tab S7+ if money is not an issue, and the Samsung Galaxy Tab S7 FE if you would like to go the more affordable route.
However, if you are used to doing streams on Windows, and you prefer the desktop version of Twitch compared to the app, then go for the Microsoft Surface Pro 7.
Personally, I am a Samsung fan so I would most likely purchase that.
Are tablets good for live streaming?
Mainly yes, but this also depends on the type of content you plan to stream. If you want to stream games that are primarily meant for PC, then you will obviously need to do that from a PC or a laptop.
But, if your content isn't fully about gaming, then a tablet can be a great option for you. You won't have a tablet that's just for streaming, you will have a multi-purpose tablet that could be useful to you in many different ways like most portable devices are.
This also means that you could easily stream from anywhere, not just from your room.
Conclusion
As with the best tablets for any other purpose, when it comes to streaming, some of the best tablets are the ones from the industry's leading companies.
So, the final conclusion of my test would be to go with the following tablets
Apple iPad Pro – the best choice for streaming;
Microsoft Surface Pro 7 – the best choice if you want to have a gaming tablet as well;
Samsung Galaxy Tab S7 FE – tablet with the best screen.
Whatever tablet you choose for streaming, don't worry, they work great for streaming on Twitch, just as long as its operating system supports the Twitch app – which most tablets do.