Due to the huge interest in recently released MacBooks, I have decided to write an article about them.
You will see all the details about the MacBook's best laptops, their advantages, and disadvantages, and finally, why I think that the Apple MacBook Pro M1 is the best for live streaming.
So, let's see what these laptops have to offer.
QUICK OVERVIEW: Best MacBook for Streaming
Screen display size: 14.2 inches
RAM: 16 GB

Weight: 3.5 pounds
Flash memory (Storage): 512 GB

MacBook Pro Intel Core i7

RAM: 16 GB
Battery life: 8-10 hours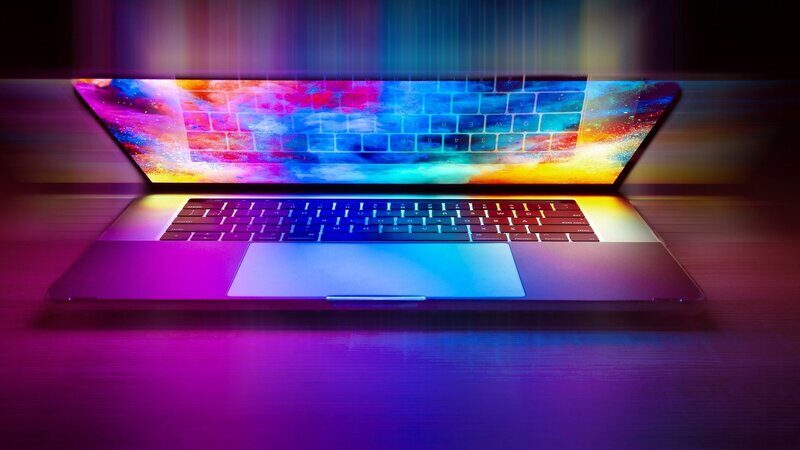 Best MacBook for Live Streaming
Reviews
The most popular streaming platform, Twitch, has around 30 million active users daily.
Other live streaming platforms such as Facebook or Youtube gaming have millions of users, as well.
And, it seems that many of those active streamers are looking for alternative devices for video streaming.
Nowadays, due to a revolution in the world of laptops for live streaming, more and more people choose MacBooks.
You might think that I exaggerate when I use the terms undreamed-of or revolution.
Still, the fact is that Apple has designed a specific system that changes everything, called Apple M1 or simply Apple Silicon.
Apple Silicon is an ARM-architecture-based basis for every new MacBook Pro that will literally make laptops more potent than many PCs.
Moreover, video streaming via MacBook Pro devices is as simple as via PC.
You only need to make sure that you download the Mac-compatible live streaming software.
1. Apple MacBook Pro M1
Best MacBook for streaming
Stefan's Take:
The lightning speed of this MacBook will blow you away. This laptop executed all the tasks I gave to it without breaking a sweat. Simply amazing!
Overall, not only does it run fast, it has a prolonged battery life, redesigned keyboard, and software that enables you to use every app you need for live streaming, as well.
| | |
| --- | --- |
| Chip & Memory | 9.4 |
| Display | 9.0 |
| Ergonomy | 9.6 |
| Battery Life | 9.4 |
When I first saw this Apple MacBook, I thought that nothing had changed about them.
However, when I turned it on, I saw that it had improved dramatically.
My first impression was that it ran at lightning speed, thanks to its M1 chip or the new Apple Silicon.
Although some might object that it does not have an excellent RAM setup, I have not noticed any problem during my live videos or other actions, such as video editing.
No matter how old your desired apps are, they will work as well as those that are specifically designed for their new Silicon.
Moreover, you do not have to give up iPadOS or iOS apps because they can work on this laptop for streaming without any problem at all, thanks to the M1 chip.
I know that many users expect to see various additions and changes in design from time to time.
However, nothing new could be seen when it comes to this model, just the good old design of the Apple MacBook Pro.
If you have used Apple MacBook before, you will notice that even the headset jack, sockets, ethernet port, HDMI port, and USB ports are in the same places as before.
The chassis has always been one of the MacBooks' stronger sides, and fortunately, there have not been any changes to it.
It is still as strong and durable as ever, which is great if you like streaming live sports or traveling a lot to stream from unusual places.
Even though the operating system has been improved, and laptop features are better, there is no increase in the weight of this streaming laptop.
It is still practical and light.
However, there is one important change that I like to emphasize.
It is not an actual change in design, or at least you would not notice it straight away, but it is the change that has made typing more pleasant and quiet.
Namely, the so-called "butterfly" keyboard has been replaced with a more trustworthy "scissor" type backlit keyboard.
Thanks to that, the controversies about Apple MacBook keyboards are finally over.
I do not need to spend words on the MacBook touchpad, which is absolutely reliable and pleasant to use.
The face time camera in the top part is still 720p, so streamers who do not have their own cameras will need to find them in order to avoid looking like mush during their live streams.
That is definitely an aspect on which Apple designers will need to work.
Bear in mind that people are spending a lot of money on this powerful laptop, so they expect to have a decent webcam, as well.
On the other hand, speakers and microphones are absolute beauties, so you do not have to invest in them unless you want something that falls into the state-of-the-art category.
Except for Space Gray, there is a Silver color model, as well.
Now you will see why I think that this model is one of the best MacBooks for live streaming.
M1 chip incorporates GPU, CPU, I/O, and various other things, thanks to which we get a faster laptop for streaming live videos.
Namely, if you stream games, you will be more than satisfied to see that it has 8 CPU and 14 GPU cores.
In other words, it means that this powerful live streaming laptop is capable of performing around 1 trillion operations per second!
So, to check its performance, I used the famous Geekbench 5 and compared my Mac with other laptops.
Seriously, Intel core creators should be worried because, according to Geekbench parameters, my M1 MacBook has outclassed every single laptop from the list on graphics-heavy tests.
Apple claims that this MacBook model is faster by at least 2.8 times than other laptops in its category.
I have not measured how many times it is exactly faster, but I noticed that it is fast enough to ensure comfortable live streaming and gaming.
You can test it yourself.
Just try to create a basic project that you might need for or even during your live stream.
I have chosen to see how much time my Macbook will need to arrange 4K clips into real footage.
It needed around 1 minute and 10 seconds.
On the other hand, MacBook with Intel Core i7 and 16 GB RAM needed around 1 minute and 54 seconds for the same action.
One of the things that confirms the hypothesis about a huge performance bump is that this MacBook wakes up from sleep mode at a lightning speed.
I would compare its speed with an iPad or iPhone, which was, for a laptop, unimaginable before.
When it comes to this HD display, Apple uses the famous IPS tech and the Retina display of 2560 x 1600.
The pixel density is 227ppi.
However, the screen refresh rate is not the best of the best.
Therefore, it is not the most powerful gaming laptop, but it can run some not-so-demanding games.
On the other hand, this laptop can deliver 97.9% of the Display P3 range of colors.
It has a pretty high Delta E color accuracy, as well.
Overall, this display is pretty nice for live streaming.
When you end up streaming videos and forget to turn the laptop off, do not worry, its long battery life ensures that your laptop is still active whenever you turn it on again.
Overall, Apple leading computer science engineer, claims that its battery lasts for around 15-20 hours, depending on the things you do on your laptop.
However, I have managed to live stream and surf the internet for about 13 hours without a need for a charger, which is also seriously amazing.
In my second test, I decided to play a movie on repeat (it was "Godfather I", and yes, I'm a sucker for classics), and the battery lasted for 16 hours!
On the other hand, Intel Core-based laptops can endure between 7 to 10 hours of web use or video playing.
However, I have to say that Intel Core i5 Samsung Galaxy was also excellent when it comes to battery life (10 hours of web use).
There are various apps that you need for live streaming, and not all of them have been designed recently.
So, you might think that the M1-chip devices would not run the apps as smoothly as you need because they are too old.
But, do not worry.
The M1 chip has a kind of "translation" that changes slightly outdated or non-M1 apps into the M1 native versions.
On the other hand, many corporations and third-party developers nowadays redesign their apps to be fully compatible with the M1 chip.
For instance, Adobe is currently converting its creative apps like Photoshop, Microsoft has developed its M1-native Office package, and Google has released the native version of Chrome.
And it seems that it is just the beginning because other third-party developers, such as BlackMagic Design, have also announced that they will develop M1 native versions of their products, as well.
I expect that various streaming programs develop their M1 native software too.
For example, OBS studio is available for Mac users, but it seems that some users are having problems with running it on the M1 chip because it is not a native app.
However, I believe that as long as you use the apps from the Apple App Store and those with at least minimal compatibility with Mac devices, you will be more than satisfied.
It is well-known that live streaming and gaming were not the first associations on Mac, but with the M1 chip, MacBooks' performances have been boosted, and everything runs so smoothly.
Pros
Capable of performing multiple actions fast
Compatible with various streaming and editing apps
Amazing battery life
Cons
Same design as previous models
Not a gaming laptop
2. Apple MacBook Pro 14 inch
Best gaming MacBook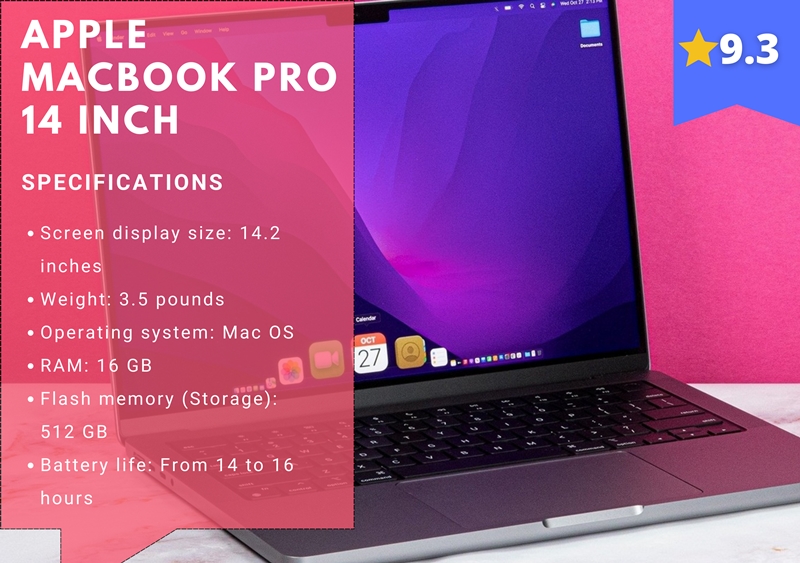 Stefan's Take:
With MacBook Pro, you get one of the best laptops – a real portable workstation for creating cutting-edge live streaming videos.
This laptop, thanks to its powerful graphics card and a screen with a high refresh rate, can be used as a gaming laptop, as well.
| | |
| --- | --- |
| Chip & Memory | 9.4 |
| Display | 9.4 |
| Ergonomy | 9.2 |
| Battery Life | 9.3 |
Another laptop that offers endless possibilities to people who are into live streaming, music production, photo or video editing, or programming.
If you are a fan of the famous MacBook's thin and light design, opt for Apple MacBook Pro because this model has finally put functionality over its traditional design.
And, as far as I can see, it has proven to be a good move.
Finally, you will not need all those hubs or dongles because now, it has all the sockets or USB ports that you need.
Now, let me be honest, it has a hefty price, just like the other two laptops for streaming from my list.
However, one of the best laptops for streaming needs to have a high price.
If you are looking for a live streaming laptop at a more reasonable price, I recommend you to check the article about the ten best budget laptops for streaming in 2022.
Thanks to the M1 Pro chip, you can edit 8K footage, produce and insert various music backgrounds for your live streaming videos, run complex codes, and much more.
When it comes to design, it is slightly different from other Mac Pro models, and at the same time, completely different from MacBook Air models.
The chassis is still well-built and provides stability to the whole device.
The base and lid are flat, and the edges of the device are slightly curved.
It is lighter than the first model from this list, with just 1.6 kilos, and it seems to me that it is pretty easy to carry around.
If your live streaming career is based on vlogs or photography, you will be happy to hear that the SD card slot and SD card reader are reintroduced.
On the other hand, you can find a well-known HDMI port, ethernet port, Thunderbolt (4 ports), audio jack 3.5 mm, and a charging connector- MagSafe.
Therefore, you can choose between two options for charging – via Thunderbolt or via MagSafe.
The webcam at the top of the screen has a resolution of 1080p.
So, webcam streaming is possible at a solid resolution, but I do not think that everybody will be satisfied with it.
However, it is a good step up from the previous MacBook camera.
This model has a backlit keyboard, the so-called "Magic Keyboard" is responsive and beautiful for typing.
Therefore, after a few hours of chatting with your fans while streaming videos, your fingers will not hurt.
The touchpad, which is now glass-topped, is, as usual, responsive, accurate, and well-built.
Again, it seems that it has become a rule that MacBook devices have great speakers.
The M1 chip successfully debuted in 13-inch MacBook Pro and the 2020 Apple MacBook Air, but now it has even more power, thanks to its upgraded versions.
This MacBook is available with both M1 Pro and M1 Max chips.
I have chosen to review the version with the M1 Pro chip.
M1 Pro chip can handle up to 32 GB of unified memory, and it has a bandwidth of 200 GB/s.
Now, imagine how powerful is the M1 chip, and multiply it three times!
That is how powerful the M1 Pro chip actually is.
M1 Pro has the ability to switch between the CPU's two high-efficiency cores and six high-performance cores.
Therefore, it can run and do whatever tasks you choose, even while you live stream.
Its graphics card comes with a GPU with 14 cores and slightly less than 2,048 execution units.
The graphics card, thanks to its cores and units, ensures that its performance is around 5.2 teraflops.
According to Apple designers, its graphic performance is two times faster than the M1 chip.
That is great if you play games and stream them, then decide to stop streaming videos on your PC and choose this laptop instead.
On the other hand, if you have money to burn, you can opt for the M1 Max chip, whose graphics card has 32 cores!
Imagine the feeling of playing games there…
I wish I could choose it for a test, but maybe I will try it in another article.
When it comes to M1 Pro's day-to-day use, I do not have to spend words.
Everything runs so smoothly, from surfing the internet to streaming Twitch.
Therefore, I can say that its operating system works hand-in-glove with the M1 Pro chip.
However, I know that you do not want to spend a small fortune on this to only surf the web or watch Youtube clips.
So, do not worry.
Thanks to the unified memory, you will be able to create 3D scenes in 4D cinema, and perform complex editing of them without any problem, at all.
Moreover, I created and edited an 8K video without any sudden interruption.
After some time, I split the screen, added three more 8K videos, and ran them simultaneously, again without any problems.
I must admit that I was amazed by its graphics card and ultra/full HD resolution.
I am not so talented in music, so I checked with my more gifted friends and was told that even music producers can use this great laptop.
Namely, they had a task to work with 1500 tracks.
Firstly, they downloaded it at lightning speed, edited it, and finally improved parts they thought should be improved.
We are all in the streaming job, more or less, and we have often had a need to insert or edit some music that would be crucial for our streams.
Therefore, I am pleased to say that this laptop for live streaming has proven to be exceptionally good in the task of music production.
Most streamers wear headphones while they are streaming videos, but if you still do not have one or simply do not like how you look with them on your head, this great laptop has a solution.
Namely, its system of six speakers ensures great sound, just like I said above.
Finally, I have to praise its dual-fan cooling system because I have not heard them while I was using the Mac.
It is pretty annoying when the sound of fans kicks in during a live stream, but you will not have problems with that with this laptop for streaming.
This is most definitely one of the best laptops when it comes to the quality of the display.
It has an aspect ratio of 16:10 and a sharp Retina 3,024 x 1,964 resolution.
Thanks to the mini LED panel technology, your pictures and videos will look sharper than ever.
This Mac also has the so-called True Tone technology that adapts display brightness to the lighting in the room, ensuring that you enjoy every second of using it.
Moreover, a high refreshing rate is crucial for every gaming laptop, and the rate of 120Hz is highly respectable.
Many people exaggerate when they talk about gaming laptops' battery lives, but thanks to the M1, M1 Pro, and M1 Max chips, we can see that not all rumors are false.
Namely, it has a similar battery life to other MacBooks with an M1 chip – from 13-16 hours, depending on what you do.
My estimate is that you could stream around 13-14 hours without a need for a charger.
But bear in mind that this is a powerful gaming laptop and one of the best streaming laptops with unique features, so the battery life of around 13-16 hours is astonishing.
Moreover, its charger needs only 30 minutes to charge 50% of the battery.
What Apple is doing is a real revolution, and it seems that Intel core designers have a lot to learn from Apple designers when it comes to batteries.
Finally, even if the battery is low, you will be able to perform all tasks the same as you would when it is full.
Pros
Great performances
Compatibility
Battery life
Portable
Can perform as gaming laptops
3. Apple MacBook Pro Intel Core i7
Best deal for beginners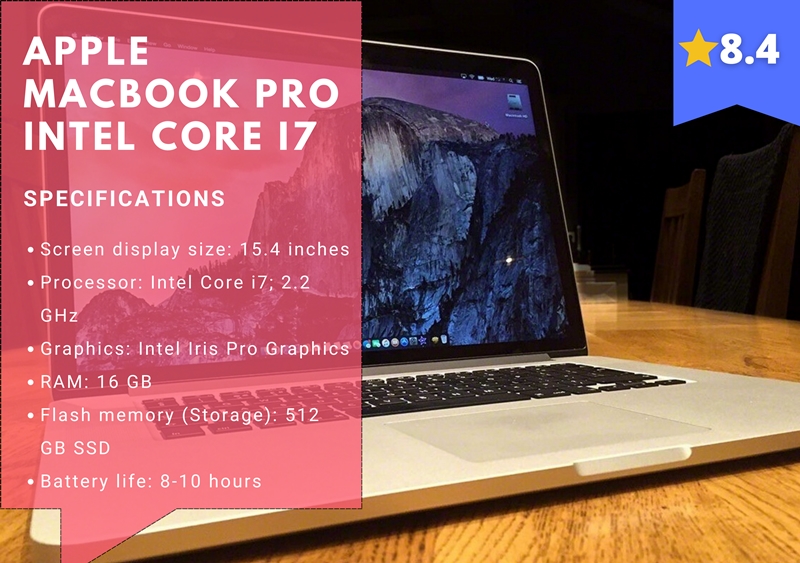 Stefan's Take:
I wanted to include one MacBook built on Intel Core, so I chose the Apple MacBook Pro Intel Core i7.
This Intel Core i7 MacBook was something a few years ago, but nowadays, it simply cannot compete with the powerful M1 chip-based MacBooks. If you are looking for a quality laptop for live streaming that can perform demanding tasks all the time, I strongly advise you to look further.
| | |
| --- | --- |
| Chip & Memory | 8.2 |
| Display | 9.0 |
| Ergonomy | 8.4 |
| Battery Life | 8.1 |
The search for the best streaming laptop from Apple could not be legitimate without at least one Intel Core representative – Apple MacBook Pro 15-inch Intel Core i7
Bear in mind that this model is the oldest on my list.
Therefore, I do not think that streamers who are rolling in cash will consider this as their future streaming or gaming laptop.
However, I do believe that this can be a good investment for starters or those who are yet to earn money from streaming.
This Intel Core i7 MacBook has a traditional MacBook design.
It weighs around 2.74 pounds, and it is pretty comfortable for carrying around.
However, when I talk about its ports, the situation is sad.
Namely, it has only 4 ThunderBolt ports and a headset/headphones jack.
And it means that you will have to buy an adapter if you need external hard drives, an SD card reader, mice, or a keyboard.
From the very beginning, I see that streamers might have problems with this laptop.
However, Apple designers wanted to preserve MacBook's famous thin look, so they have chosen to leave just a few ports.
Thank God they have corrected that mistake in the previous two M1-chip models.
Users of this Apple model will have to deal with the not-so-popular "butterfly" keyboard, which was replaced a few years ago on some other laptops, but unfortunately, this model still has it.
Anyways, Apple did improve the "butterfly" keyboard on this model because I had been using this laptop for some time, and I did not have any issues as I had in the past with some other older models.
Moreover, they are backlit, so if you prefer to be streaming video in the dark, you will be satisfied.
Above the keyboard is a so-called fingerprint scanner, which enables you to log in to your computer or pay your bills online without having to type anything.
If you do not use an external mouse, you will be happy with the touchpad, which is responsive and large, so you will have no problems with it.
As you have seen above, the results of the M1 chip versus Intel Core-based laptops are absolutely in favor of the chip.
The chip is faster, more responsive, and with a better graphics card.
Maybe the results of this Intel Core i7 laptop would have been better if it had had a dedicated graphics card.
On the other hand, this laptop has a great RAM memory of 16GB, which ensures, among other things, that everything you do goes smoothly.
However, you cannot expect that streamers who are into music production or 8K or 4K clip editing could do that on this laptop without bugs.
Intel Core i7 Macbook has a display of 15.4 inches, which is more than any other laptop on my list.
The famous Retina display has a 2,880 x 1,800 resolution, and it supports DCI-P3 color space.
There is the True Tone feature, as well, which makes the display more adaptable to the environment.
Generally, I do not have any serious objections to the display of this laptop, but I sincerely doubt calling it a gaming laptop.
This Intel Core i7 laptop possesses power, and it is undeniable.
However, the power has taken its toll, so the battery lasts for about 6-7 hours when streaming, and around 10 hours when surfing the web.
All in all, I believe that it is solid battery life.
But, other laptops for live streaming from my list are still better in that aspect.
Pros
RAM
Old-fashioned MacBook design
Fine display
Cons
Not a gaming laptop
Does not have dedicated graphics cards
Conclusion
As you can see, each laptop has some weaker and stronger sides.
My sincere recommendations are as follows:
Apple MacBook Pro M1 as the best laptop for live streaming,
Apple MacBook Pro 14 inch if you need a gaming laptop as well,
Apple MacBook Pro Intel Core i7 as the entry-level model for new streamers.

However, the decision is up to you, so I recommend you take a close look at my review, consider which of these suggestions suits you the most, and decide after careful thinking.