Arranging your PC setup can really be a lot of work, especially if you don't know too much about tech and different gadgets that can make your life a lot easier.
Something most people struggle with is finding great custom PC cables that will satisfy all their needs but still not occupy too much space or cause problems with other cables and wires. My top pick as the best custom PC cables is Antec Sleeved Cables.
If you're looking for other options, I have gathered some of the best custom PC cables you can find on the market, and I sincerely recommend checking them out.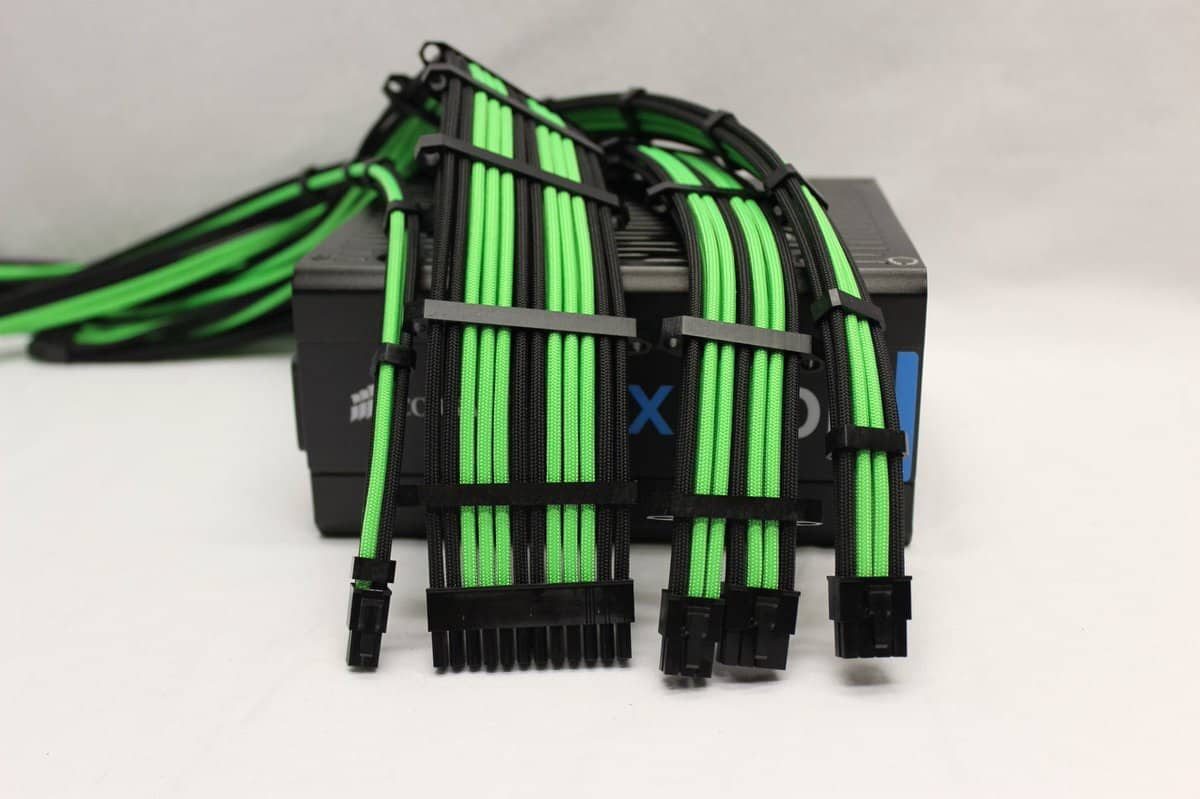 Best Custom PC Cables
Reviewed & Tested
QUICK OVERVIEW: Best Custom PC Cables
Weight: 1.04 pounds
Length: 300mm

Dimensions: 15 x 2.8 x 1.8 inches
300mm

Weight: 2.1 pounds
1000 Titanium
1. Antec Sleeved Cables
Best Overall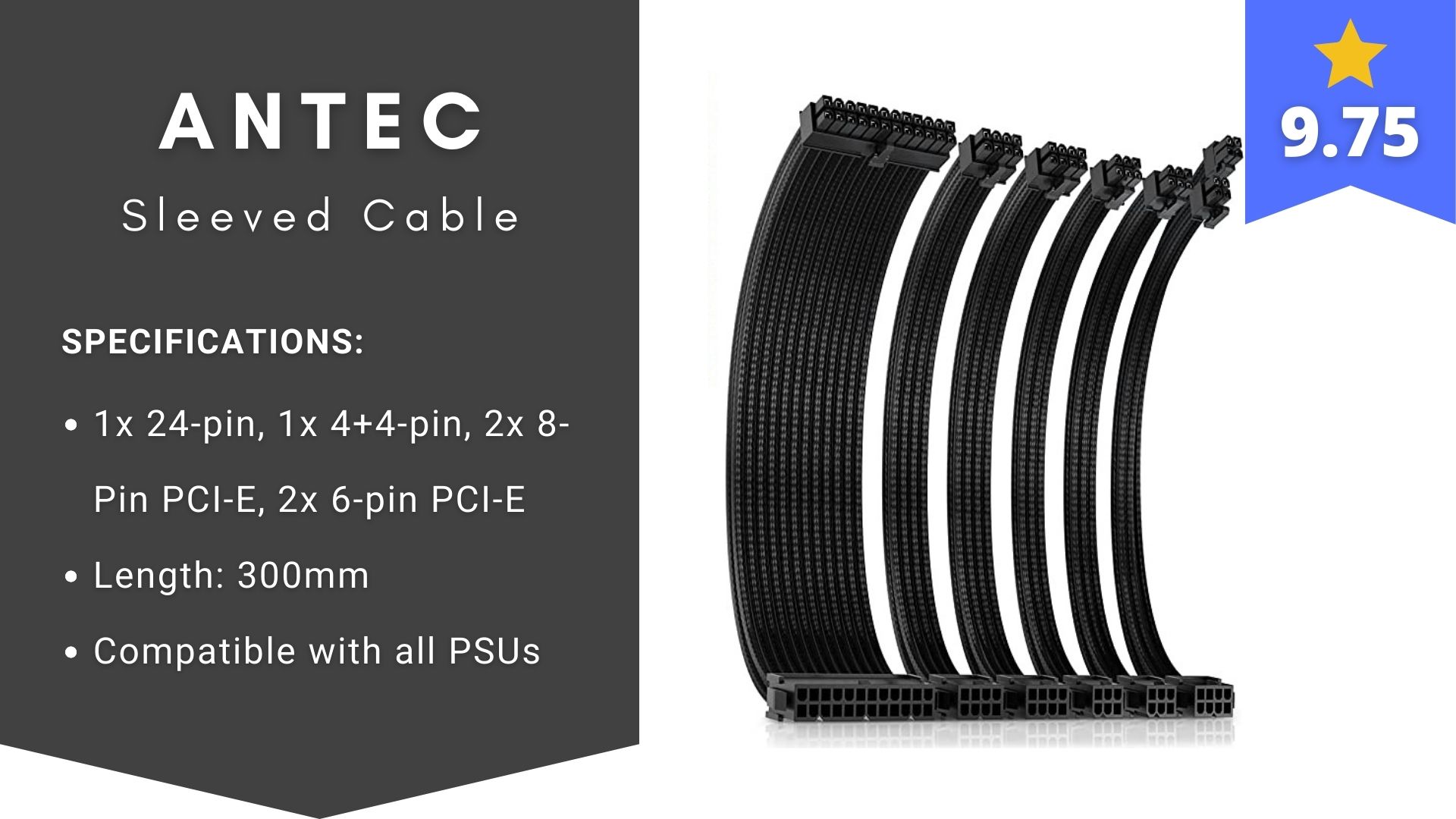 Stefan's Take:
Antec Sleeved Cables are one of the highest-quality cables on the market. They are compatible with every mainstream PSU and don't take up much space, so you don't have to worry if the cables will fit your PC build.
Keep in mind that these are extension cables so you still have to use the cables your PSU came with. Some users are reporting issues with the stiffened of these cables.
| | |
| --- | --- |
| Quality | 10 |
| Selection | 10 |
| Compatibility | 10 |
| Price | 9 |
Antec offers PSU cables that are known to be one of the most resilient cable extensions on the market, and they won't interfere with other parts of your setup in any way.
Their cable kits are compatible with all power suppliers, so you can basically connect them to any PSU you have at home, which makes them a great investment. You can choose a custom PC cable that will match your streaming motherboard, cooler, or case fan easily.
This product comes with 24 cable combs, and it is a great option if you are looking for easy cable management.
These custom-sleeved cables have a three-layer braiding system, with the outer one providing us with an ultra-dense one and the medium one being resistant to flame, moisture, acid, and alkali.
You can always count on a stable transmission when it comes to Antec cable kits because all of their products are based on high-quality segments in wire rods.
This cable is 300 mm long, so it won't take up too much of your space, and you will be able to keep your PC area completely organized.
However, you should know that this is only the extension cable, and it will not be able to replace your original wire.
Once your cables are formed, they definitely won't shrink or sag, and you can be sure they won't break without reason.
Unfortunately, even though this cable kit is a great option, many users had a problem with its stiffness, and they needed to reconfigure their whole PC layout in order to start using them.
Pros
300mm long

24 cable combs

3-layer braiding system,

Stable transmission
Cons
Very stiff cables

Can't replace the original wire
2. Asiahorse Cable Kit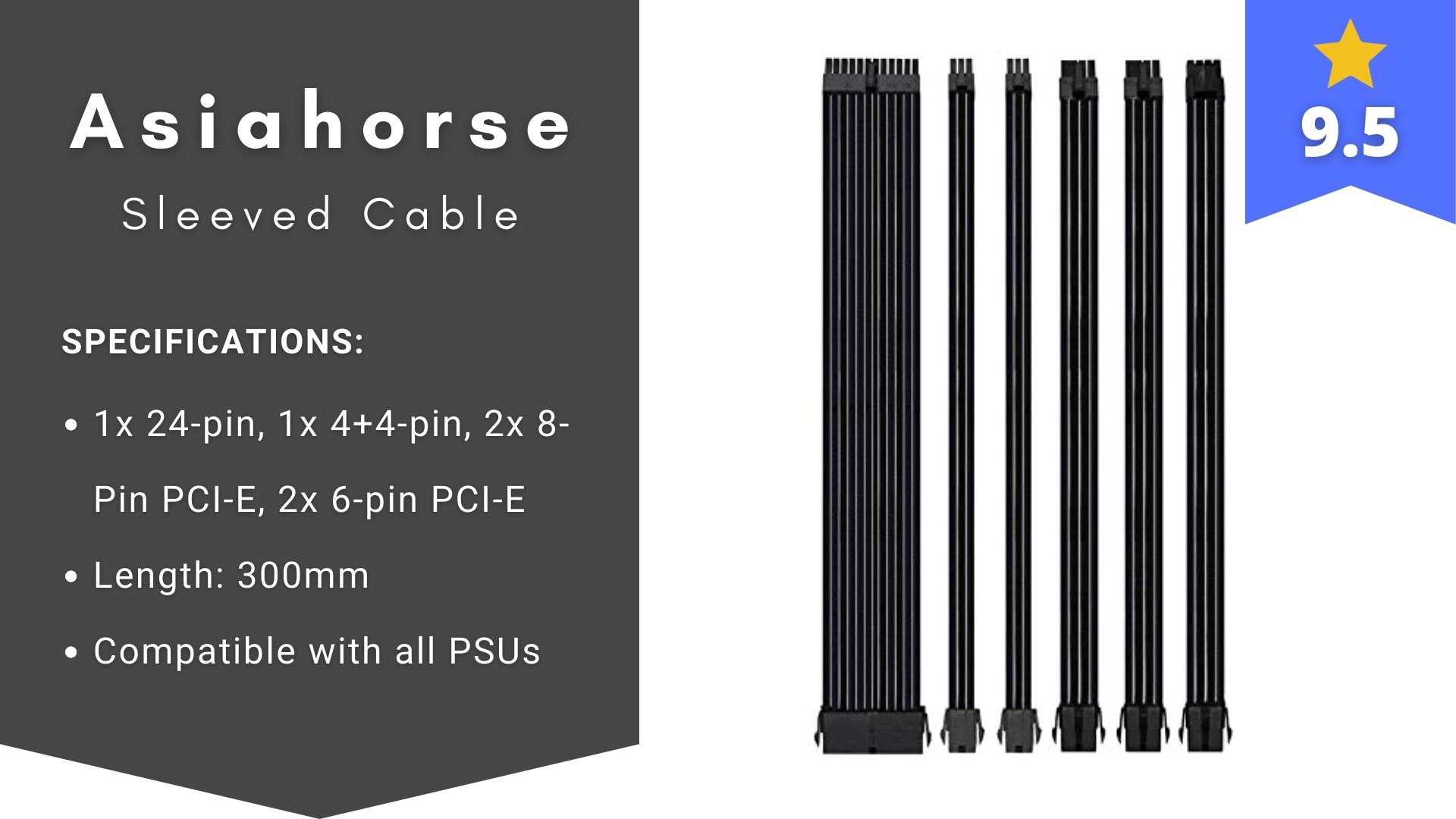 Stefan's Take:
Even though Asiahorse is not a popular brand, its products shouldn't be overlooked. They offer high-quality cable kits which fit any PSU and motherboard.
A great thing about Asiahorse cable kits is that you can choose the cables' length, thickness, and colors, though you are limited to only 4 colors. The cable kits come at a very affordable price.
| | |
| --- | --- |
| Quality | 9 |
| Selection | 9 |
| Compatibility | 10 |
| Price | 10 |
Asiahorse is also a very popular company that produces custom cables and different gadgets for PCs, but it seems like they still didn't manage to gain as much popularity as most other brands.
However, that doesn't mean their products aren't equally as good as those of other companies, and I would really encourage you to buy custom-sleeved cables from this company because they are amazing.
Asiahorse cable kit is identical to most other kits on the market, but they are known for having the customizable length option, which is great.
This way, you can choose to receive cables in several different lengths or a whole cable kit that is of your preferred length.
Even though their regular cable kit is 300mm long, you can always ask for a shorter or longer one, and you will receive your unique cables in 2 to 3 weeks.
When purchasing this product, you can also choose whether you want thinner or fatter wires, which is also a great option and something only a few companies offer nowadays.
You can also choose cable colors and create the sleeving you want, but you will be limited to only 4 colors.
It is also compatible with every single PC you can think of, so if you guys are looking for something as versatile as that, this is the right option for you, and I believe this product is often overlooked just because Asiahorse is not that popular.
This is also one of the most affordable cable kits you will find on Amazon, so I really believe it is 100% worth it.
Pros
You can choose the length

Very affordable

Thick wires

Compatible with all PCs
3. CableMod RT-Series Pro ModFlex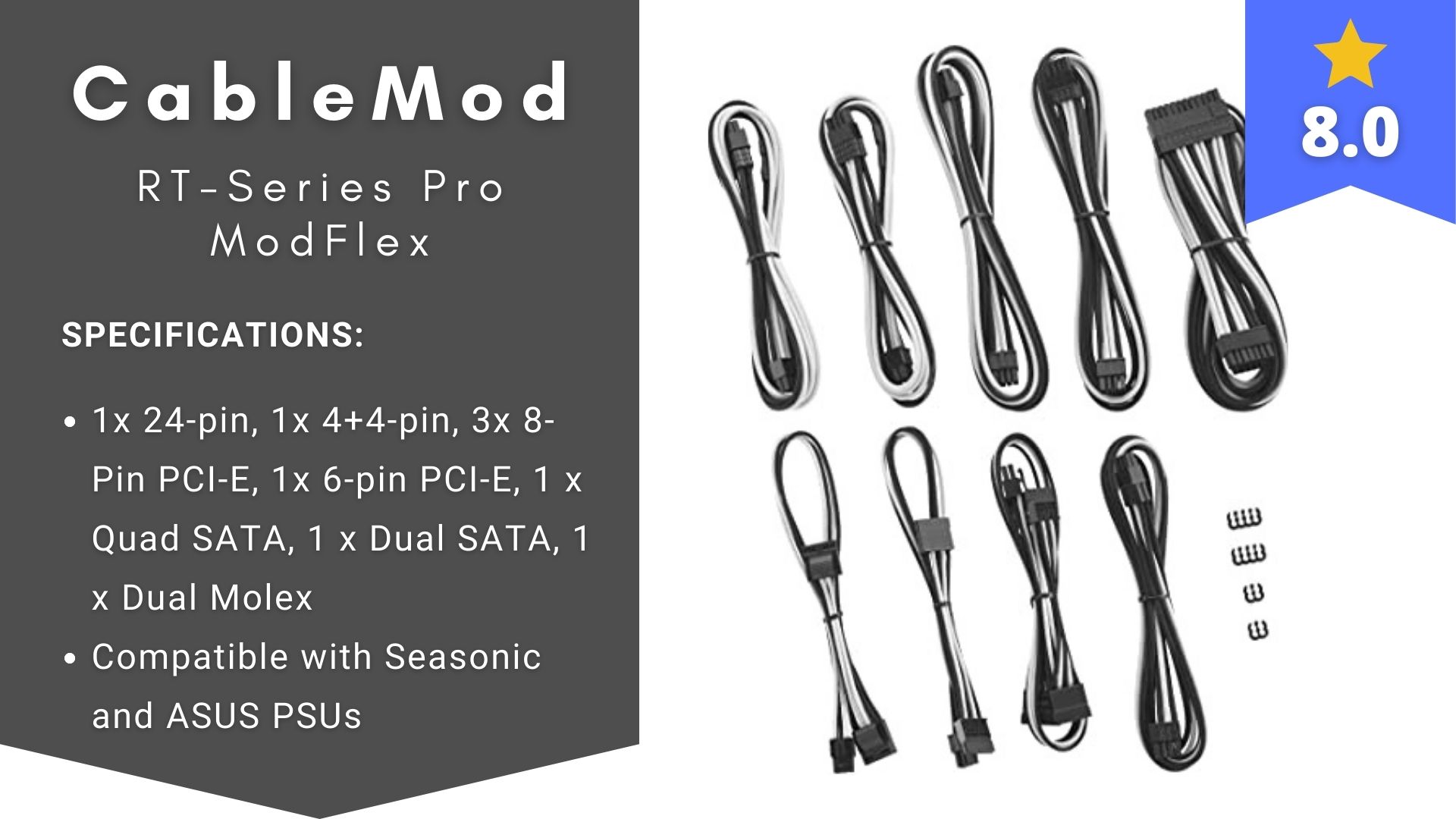 Stefan's Take:
CableMod offers premium quality custom PC cable kits at a premium price. There are a lot of color options to choose from. You're getting a lot more cables with this kit than any other from this list, therefore it's not a surprise that the price is a lot higher.
Keep in mind that not all cable kits are compatible with all power supplies, so pay attention to the compatibility
| | |
| --- | --- |
| Quality | 10 |
| Selection | 9 |
| Compatibility | 5 |
| Price | 8 |
These CableMod deluxe cable kits are known for their premium quality and design, but also for very thick wires and closed cable combs that can't be found often.
Not only will you get a luxurious custom sleeving and the ability to choose the color and the design of your cable kit, but you will also enjoy the newest ModFlex technology that allows you to move the cables the way that you want without fear of breaking them.
The ModFlex sleeving will also provide you with rich color schemes and help you match your cable kit with your RGB setup and the vibrant colors that grace it.
However, PC enthusiasts are very disappointed in this kit because it is compatible only with Asus and Seasonic power supplies, which means you don't need to invest in it unless you have a compatible device.
If you have one of these devices, then I sincerely recommend investing in this kit because its cable sleeves are amazing, and it will serve you a lot longer than kits from other companies.
Thanks to hundreds of complaints that were sent to the company, we can expect a new and better option in the next few months because CableMod promised to release an identical product that will support all types of power supplies on the market.
Pros
Amazing cable sleeves

Rich color scheme
Cons
Compatible only with Asus and Seasonic power supplies
4. COOCAT Sleeved Cables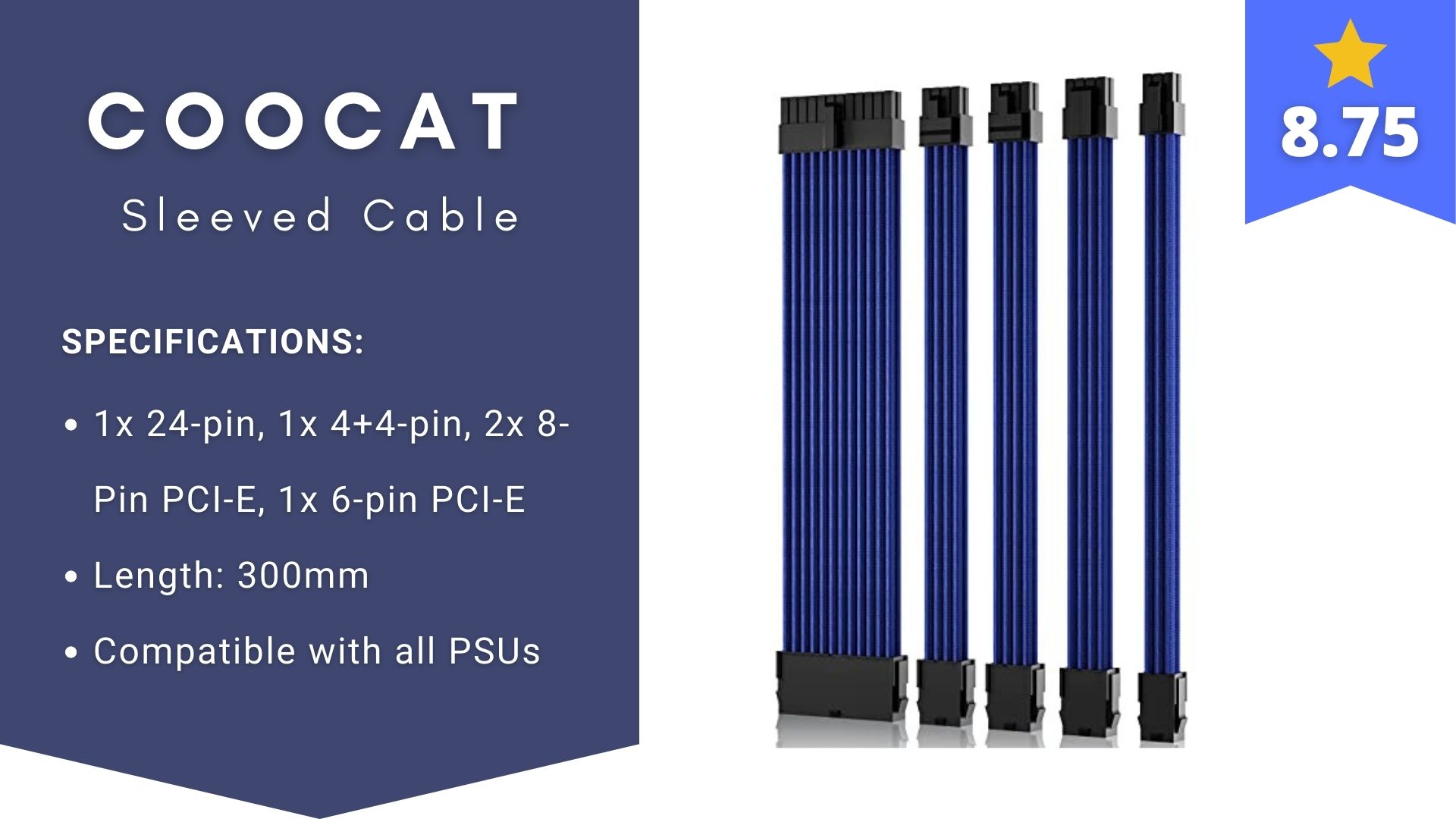 Stefan's Take:
Coming at around $18, COOCAT Sleeved Cables are a great budget pick. They offer more than 15 color options and all cables are wrapped in thick nylon rope making this cable kit a great quality product.
You should keep in mind they are not compatible with all power supply brands.
| | |
| --- | --- |
| Quality | 8 |
| Selection | 9 |
| Compatibility | 8 |
| Price | 10 |
COOCAT cable sleeving is very diverse, and that is probably the reason why they are so popular among the audience.
Their cables have a structured inner core that is made from tinned copper and is able to survive extremely high temperatures without any consequences.
The cable kit is adapted to power supplies anywhere between 500W and 1600W, and they are compatible with Corsair, EVGA, Seasonic, Thermaltake, ASUS, ARESGAME, NZXT and CoolerMaster power supply brands.
All of their products have a thick nylon rope that can endure a lot, which makes it a cable kit that is created by the gold standard.
There are also 4 combs for each cable, and all of them have great corrosion and oxidation resistance but also amazing conductivity.
COOCAT cable kits are so popular because they come in more than 15 different colors, and you can choose how your sleeve will look, so they are a perfect fit for someone who cares about having a beautiful background and PC setup.
These cables are also extensions, and you will an original wire in order to connect it to PC components, so keep that in mind too.
Pros
Comes in 15 different colors

Enduring because of nylon rope

Very affordable
Cons
Can't replace original cables
5. Funtin Sleeved Cables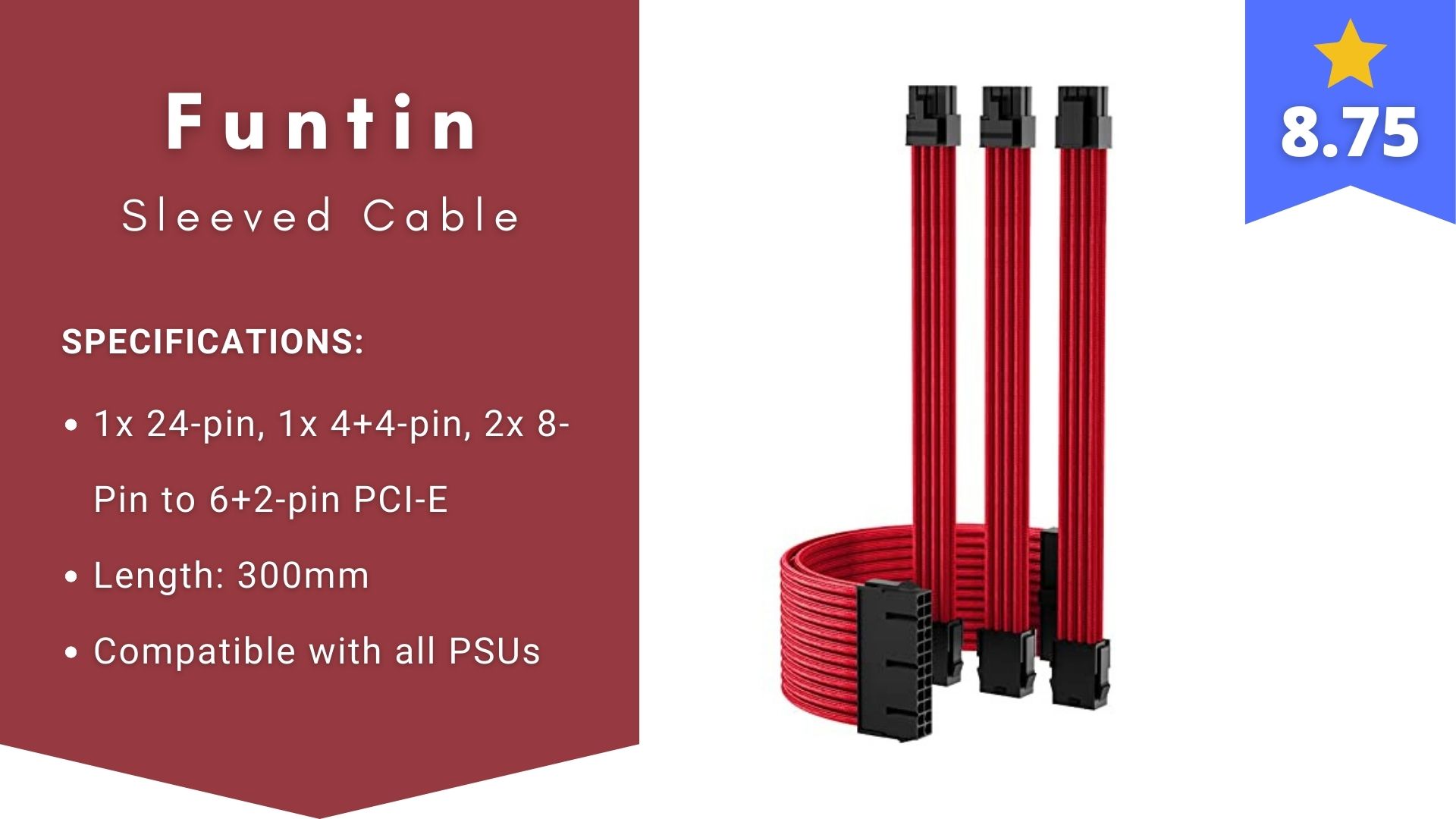 Stefan's Take:
Funtin Sleeved Cables are available in 13 different colors and variants. They are priced very reasonably, but with such a low price, don't expect these cables to last very long.
| | |
| --- | --- |
| Quality | 6 |
| Selection | 9 |
| Compatibility | 10 |
| Price | 10 |
Funtin is also a very popular company, and their sleeved cables are similar to that of COOCAT, both in terms of design and the variety of colors it offers.
However, they are a bit cheaper, and their connector is known to be one of the strongest on the market, so most people claim that in terms of functionality, this is the best option you have.
When it comes to the length, these extension cables are identical to the previous COOCAT cable kit, and they are also 300mm long.
This cable kit has a 3-layer sleeve, where one is enriched with inner copper, the other is made for high-temperature insulation, and the third is just braided by gloss fibers all over.
Its interface is made from ABS material that provides you with compression and flame retardancy, and it is adapted to power supplies anywhere between 500W and 1600W.
You can also find this cable kit in 10 different colors, which makes it a great option for those who want to experiment a little bit and find a product that will look cool with their RGB lights.
The package also provides you with 4 combs of each cable, so I believe this is really a great option if you don't want to spend that much on COOCAT because it will do the same job for less money.
However, users claim that it isn't really long-lasting, so after the 1-year warranty has expired, you will probably have to purchase a new kit.
Pros
Adapted to power supplies between 500W and 1600W

Made from ABS material

3 layer sleeve
Cons
Doesn't last for too long
6. GIM RGB Sleeved Cable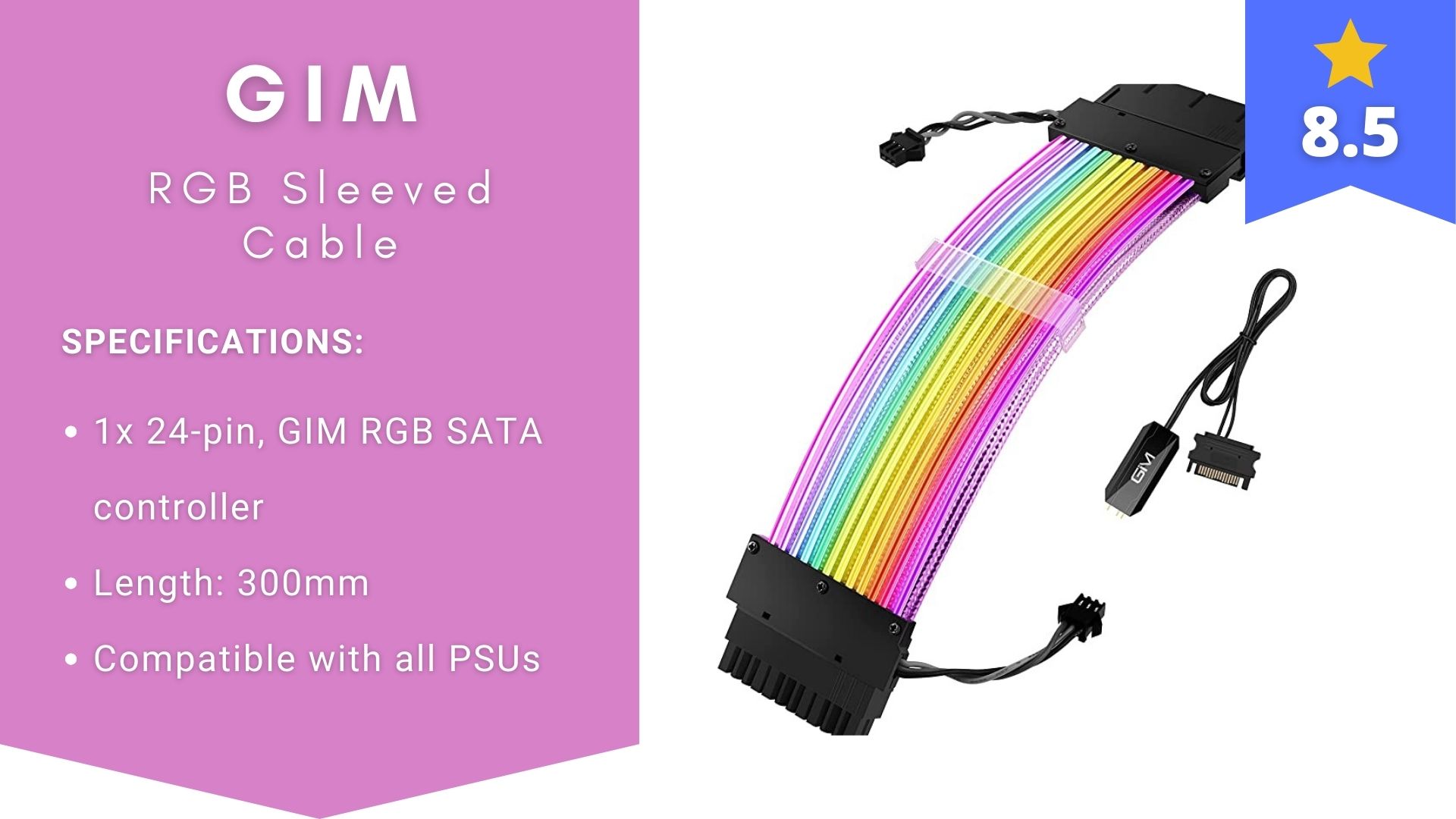 Stefan's Take:
The GIM RGB Sleeved 24-pin Cable is a good choice if you're looking for an RGB extension cable. However, you get what you pay for so quality is not the best.
It works seamlessly with all PSUs and motherboards and you can sync the cable's RGB with your RGB software. You're only getting the 24-pin cable at the price of 4 or 5 cables from other manufacturers. Cables are sold out most of the time so you'll have some trouble getting them.
| | |
| --- | --- |
| Quality | 6 |
| Selection | 10 |
| Compatibility | 10 |
| Price | 8 |
This GIM 24-pin extension cable is one of their latest and most revolutionary products that come with a real lighting controller.
With this feature, you will be able to light up all the lights on your cable through your remote controller, and you can do that whenever you want during the stream or game.
Since it has an RGB header, this kit is compatible with all other ARGB products, and you can easily sync them through your computer.
You can change the colors on the cable and sync them with the colors in the rest of your room, but also choose whether you want a sparkly, shiny finish on it.
The kit also has a double-layer design which makes colorful cables stay at a proper distance from each other and don't interfere.
It is also compatible with all motherboards with a 3-pin RGB kit, so you will be able to use it with a variety of different products.
The connectors on the cable sleeve are also compatible with ATX connectors, which will make the cable compatible with all other ATX power supply cables.
However, it can be harder to get this product if you are living in the USA because it is often sold out on Amazon, and there is no other retailer you can buy it through.
Pros
Compatible with all motherboards and power supplies

Double-layer design

Comes with a remote controller
Cons
Hard to find in the USA

Only 24-pin cable is available
7. GIM PSU Cable Extension Kit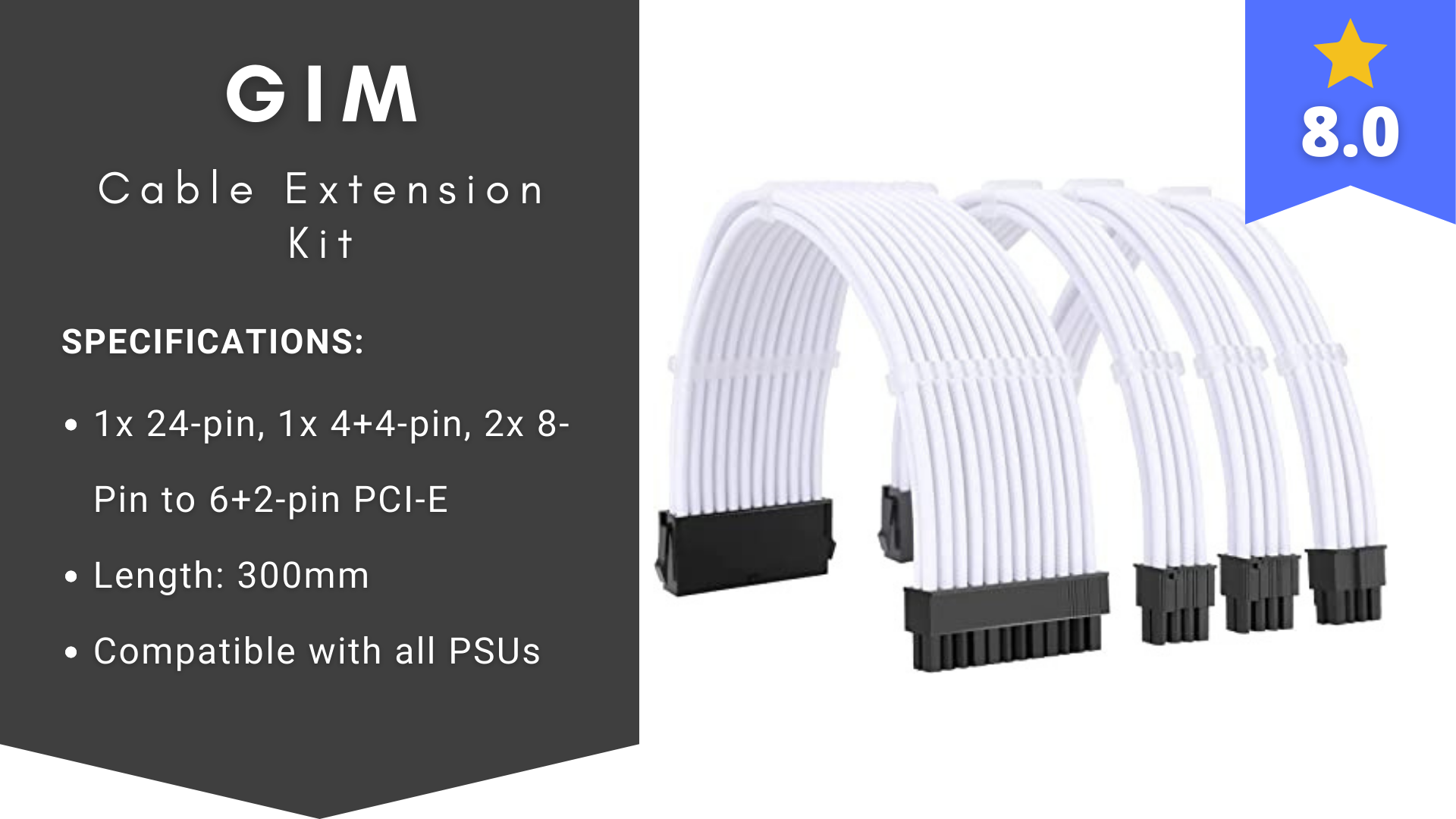 Stefan's Take:
This GIM PSU Cable Extension Kit is a good choice if you're looking for solid cable extensions at a reasonable price. The price is great, but that cannot be said about the quality, you're getting what you're paying for. There are higher-quality products on this list, but this is still a good option.
This Cable extension kit comes only in white, is easily bendable and works with every PSU and motherboard.
| | |
| --- | --- |
| Quality | 7 |
| Selection | 5 |
| Compatibility | 10 |
| Price | 10 |
Even though this cable extension is a lot simpler than the previous GIM one, it is also very easy to bend, and it will not interfere with other gadgets.
Its outer and inner lines are designed in a way that will adopt both a long and short design, depending on the circumstances, and you can be sure they won't break after bending.
The sleeve of these cables is made from high-quality copper, and it has round edges in order to prevent potential breakages.
It is also enriched with a Nylon Braid design which makes the sleeve very flexible and easy to keep organized, especially because of the vivid cables.
What makes this product really special is the fact that it is one of the rare GIM cables that is made from 18 AWG wires that provides the perfect balance and a cable that will fit anywhere.
Just like most other cables, this one is also 300mm long, and you don't really get to choose the color because, for now, it only exists in white.
For that reason, if you are looking for something that will look interesting in combination with your RGB lights, then you should definitely look for other options.
It is also one of the cheapest GIM products, so if you are just looking for a cheap custom cable, then this should definitely be your choice.
Pros
18 AWG wire

300mm long

Nylon Braid design

Very affordable
Cons
Comes only in white

Not the greatest quality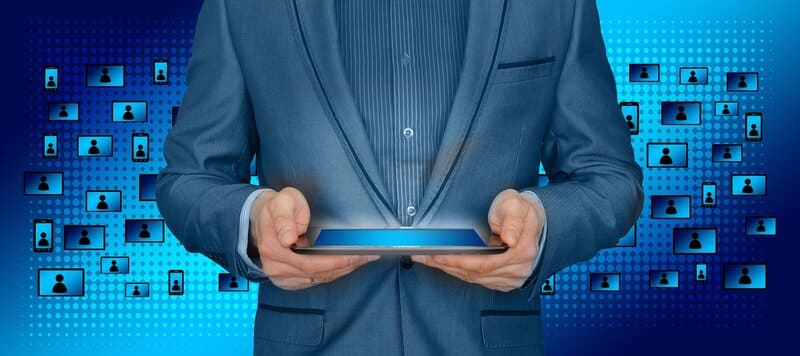 What to Look for When Searching for a Custom PC Cable
Buying Guide
Sleeving
When you are looking for a custom PC cable, the most important thing is to find one with a strong sleeving that won't break or bend.
Best custom PC cables are usually braided and are not stiff at all, but rather made with a special technology that allows them to move or bend without breaking up.
Wires
High-quality PC cables have hidden wires, not only because it looks better that way, but also because it looks way more organized and you don't risk breaking something.
Never choose cables that don't have sleeves and are not able to keep the wires invisible; otherwise, you can cause yourself some problems.
Proper cable management
The best thing you can do both for yourself and your computer is to try to get cable replacements that will save you a lot of time and space.
Many people rely on sleeves extension that takes up a lot of space and causes a lot of problems, so it is best to find short cables and get rid of extensions.
Related: Best CPU for Streaming on Twitch
FAQ
Should I always get sleeved cable kits?
Sleeved cable kits are definitely the best ones because they keep all the cables and wires in one place, and they save you a lot of space.
You can also find kits that have amazing colorful sleeves that can look great if you are a gamer or a streamer, so I would always recommend getting these, both because of functionality and aesthetics.
What are the differences between 3-pin, 4-pin, and 24-pin connectors?
Many people find themselves not being able to differentiate between these when the difference is pretty simple.
The difference between the 3 of these connectors is the number of holes or pins on the connector.
Differently pinned cables are used for different components. For example, a 24-pin cable is very wide and is used as a main power supply for the motherboard while 8-pin connectors are usually used to power your graphics card.