Whether you are streaming professionally or just for fun, you need a high-quality computer with a strong processor that can withstand the strain of demanding games or other programs you might use.
In this text, we have listed 9 of the best CPUs for streaming. We have conducted extensive research, and we hope that your choice will now be much more comfortable.
Post 9 of 9 in the Streaming PC Components
Best CPU for Streaming
Reviews
To find the best CPU for gaming and streaming, we have combined how you would use it and the CPU's specs.
Those two factors determined our search and its results, so if you are looking for the best streaming CPU, take a look at our list.
QUICK OVERVIEW: Best CPU
12 Core / 24 Threads
Up to 4.6 GHz Maximum boost

8 cores/ 16 threads
4.4 GHz Maximum frequency

8 cores / 8 threads
Up to 4.9 GHz turbo frequency
1. AMD Ryzen 9 3900X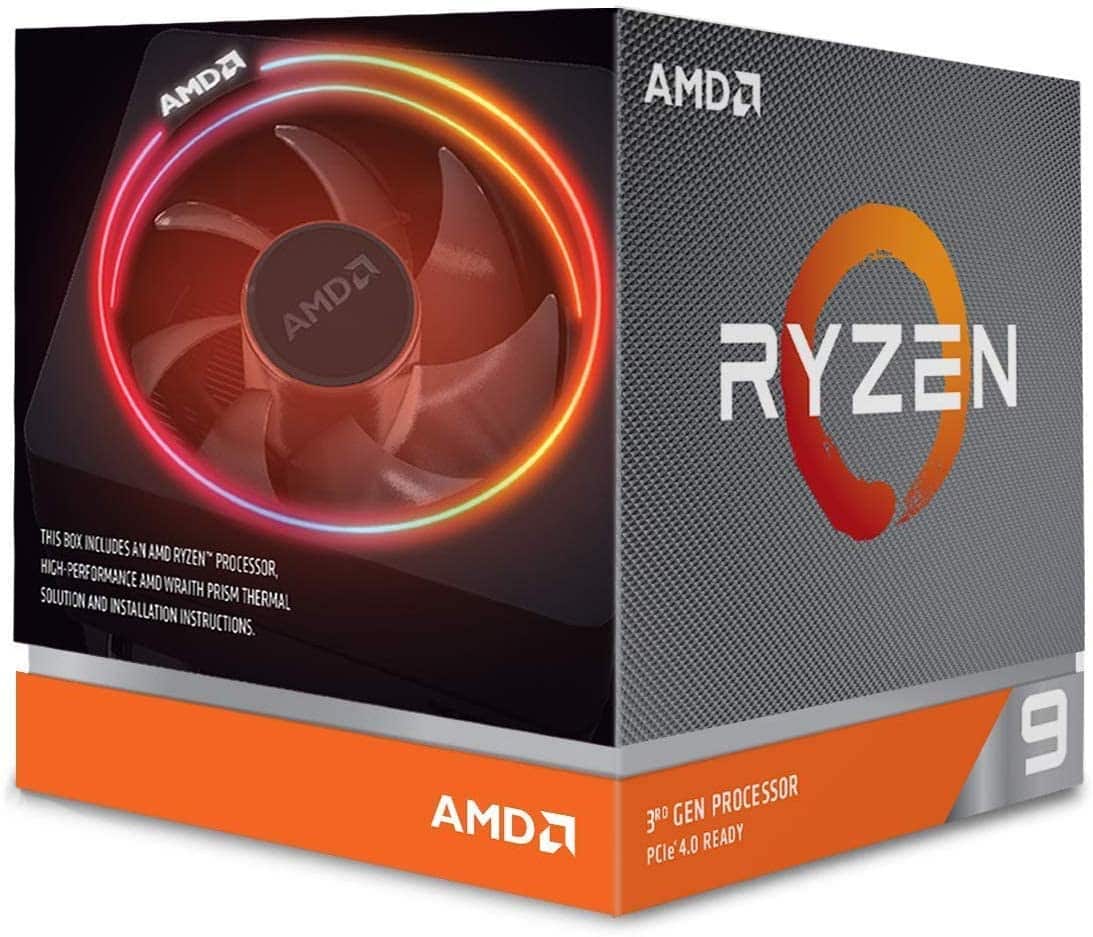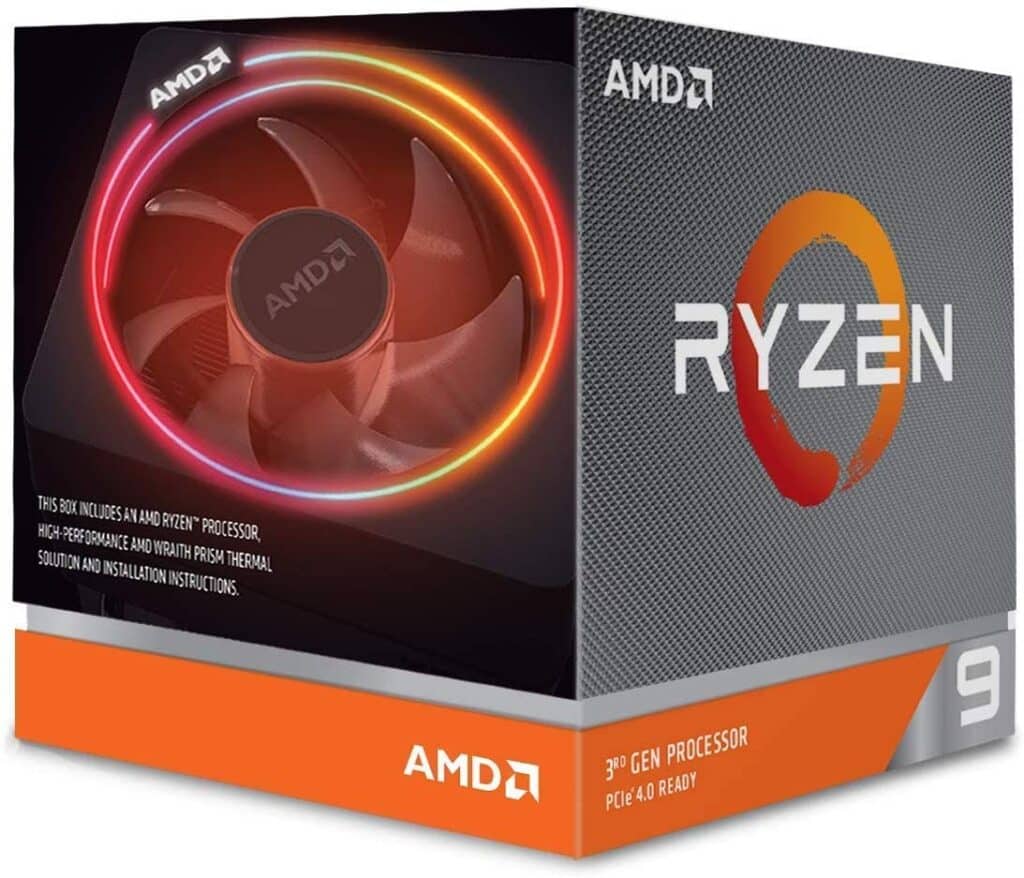 Trusted and experienced AMD says for Ryzen 9 3900X, one of their most popular products that it is "Built to Perform. Designed to Win. The world's most advanced processor with 12 cores for the world's elite gamers."
It belongs to the third generation of AMD 12 core processors, and with 4.9/5 Amazon stars and a bunch of fantastic reviews, it is sure to fulfill all your gaming and streaming needs.
Who is it Best for?
With this number of core and threads, it is perfectly suited to those of you who like to multitask. It gives great results while using different demanding processes that take up your Cache and overload your cores.
Combining streaming with gaming is highly doable with this AMD processor.
Key features
When it comes to desktop processors, the Ryzen 9 3900X is the most advanced in the world. It owes its high honors to its 12 cores and 24 threads that ensure efficient and quick information processing. With the 3.6 GHz base clock with the ability to boost to 4.6 GHz max and the fact that it is fully unlocked for overclocking, it proves itself to be the beast of a processor.
This amount of strength requires a strong cooling system that will keep it cool and noise-free for a smooth and seamless streaming session. The processor comes bundled with AMD's Wraith Prism cooler. Aside from being effective and managing to keep your processor at up to 70 degrees C temperatures (works well until 95°C ), the RGB LED lights I've it a modern, out-of-the-world look.
The processor has 70GB of Cache memory, which is significant and essential for productive and effective task switching properties (particularly important when using one CPU for both gaming and streaming). Combine this with 100+ FPS performance, and as a result, your Twitch streaming videos will be high-quality regardless of the resolution and the game's demands.
---
2. AMD Ryzen 7 3700X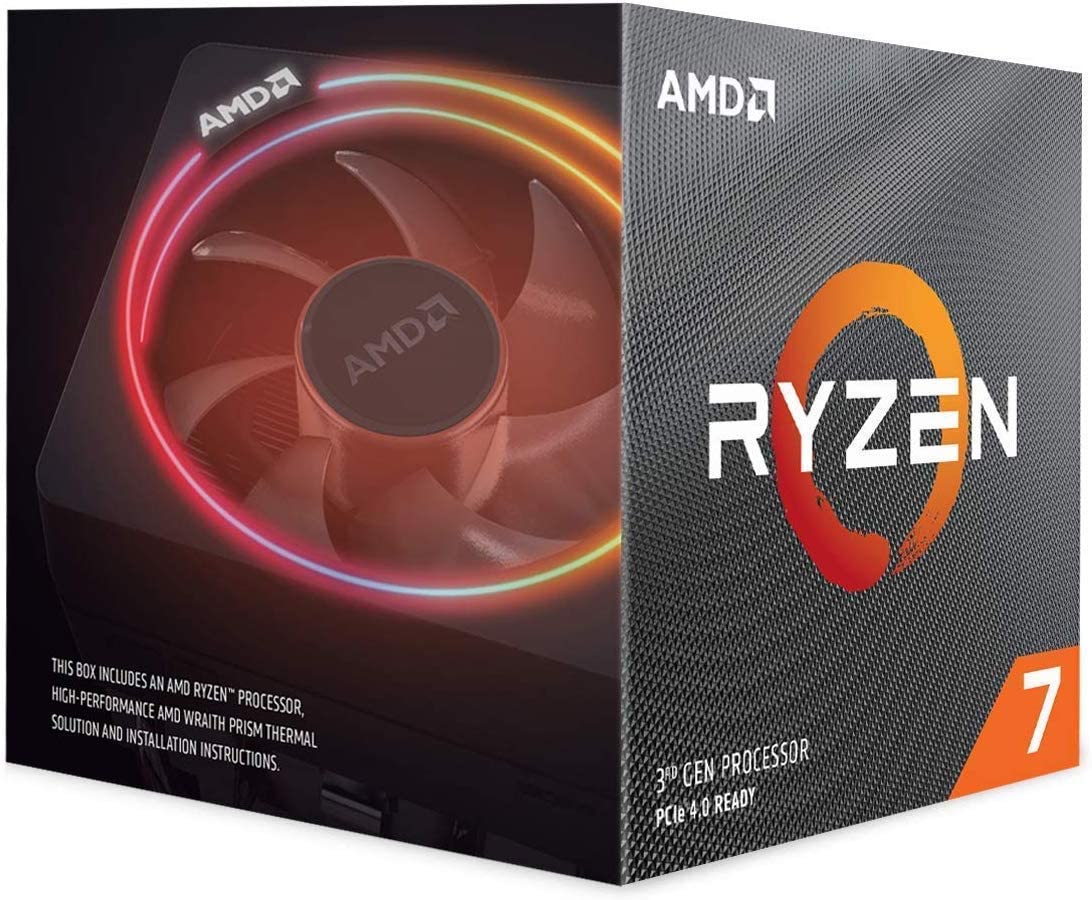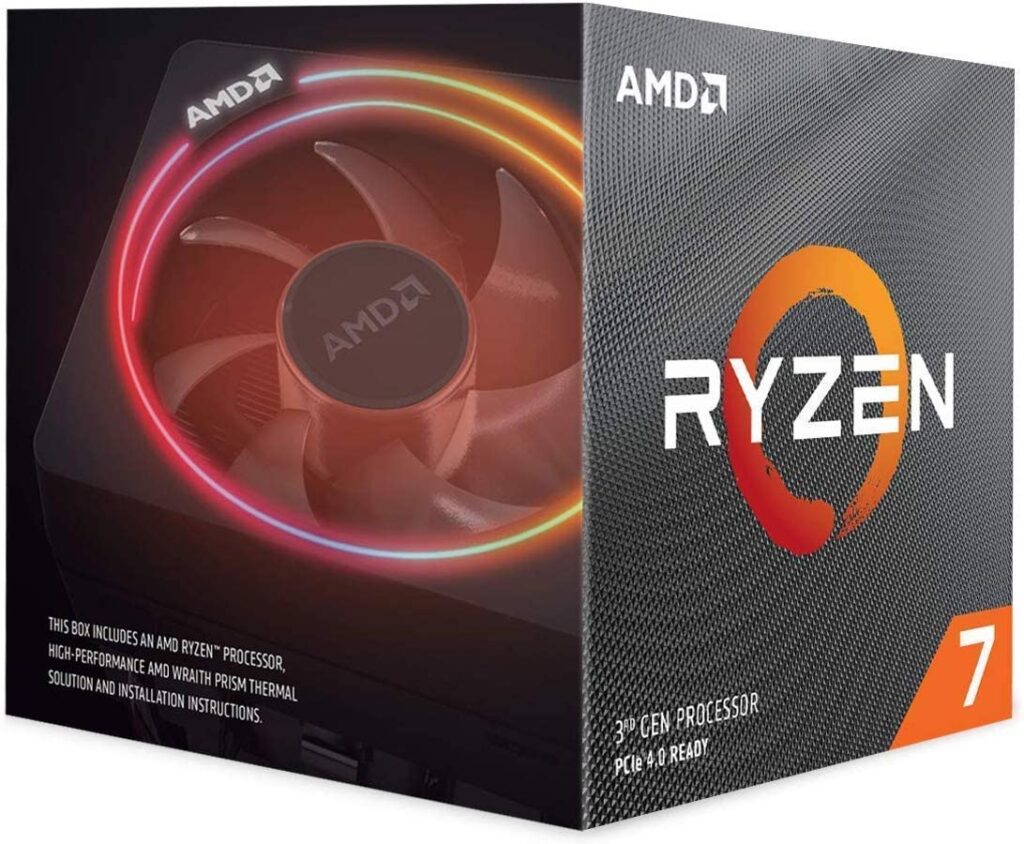 Founded in 1969, AMD started as a small company producing semiconductors. Today, they are a leading company in delivering high-quality and high-performing CPUs as well as other graphics and visualization products.
AMD Ryzen 7 3700X is one of the 3000 series CPUs developed specifically with gaming and streaming in mind. It is using new technologies to improve your gaming experience, so check it out. Amazon score for this streaming CPU is almost unattainable, 4.9 out of 5.
Who is it Best for?
According to AMD itself, Ryzen 7 is designed for "serious PC enthusiasts" – the keyword being "serious." It is an affordable CPU in the mid-range quality, so it is not the best one there is, yet the performance is much better than with other gaming CPUs in the same price range.
It supports the demands of online gaming and streaming simultaneously. If you are into other things like video editing and other things and productivity is your goal, then this is the CPU for you.
Key features
The 8 core/16 thread processor is a good option for the best CPU for streaming. Its maximum frequency is 4.4 GHz when boosted, while its base frequency operates on is 3.9 GHz which is quite good as well. It can be overclocked, and it includes Precision Boost Overdrive. The 7-nanometer technology helps Ryzen 7 3700X perform efficiently and almost quietly.
The CPU temperature it can withstand is 90 degrees C because it comes with a Wraith Prism cooler with color-controlled LED lighting. It can get too hot while overclocking. It has a serious 35 MB Cache and DDR4 3200 MHz system memory specification – two features that ensure smooth multitasking. The super-fast performance of 100+ FPS enables high-quality streaming.
---
3. Intel Core i7-9700K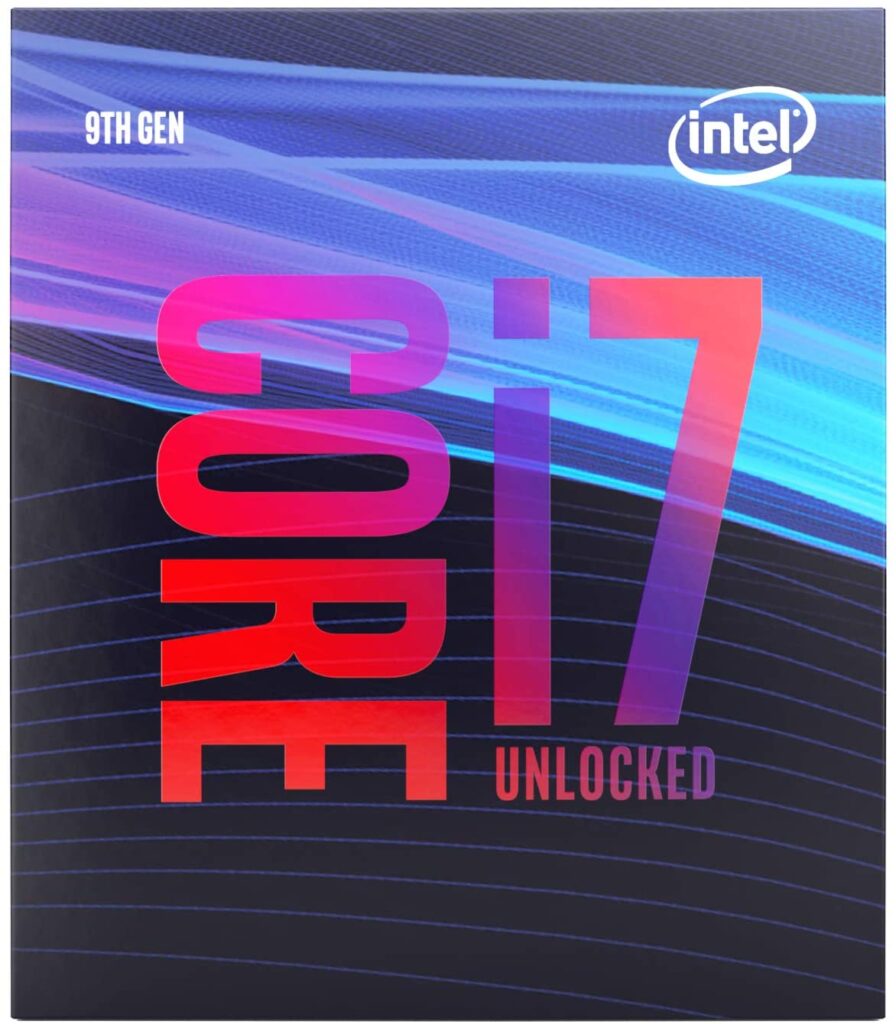 Intel is committed to bringing high-quality products to its customers, and they are delivering. This i7-9700K brings an outstanding balance between your money and the CPU's performance.
With great Amazon reviews, you are sure to purchase a stable and reliable streaming CPU with innovative technologies and an Intel warranty to support it.
Who is it Best for?
This is an excellent CPU for gaming and streaming, especially if you want an outstanding game performance. If you are playing games demanding a lot from your computer and want that to remain unseen from your games, then i7-9700K is for you.
Also, if you are ready to invest in a good GPU, you will safely and effectively be able to play games in 4K with 1080p at 60 FPS. Intel claims that with these features, you can stream without losing your gaming experience.
Key features
This CPU for gaming and streaming comes with a 3.6 GHz base clock, but it can be overclocked and reach the maximum frequency of 4.9 GHz, which is truly powerful. Eight cores combined with 8 threads allow multitasking. You can be sure that with Solder Thermal Interface Material (STIM), your CPU will remain cool even when pushed into overclocking, making sure that your streams or games do not crash mid-game.
The 12 MB smart memory cache allows for the smooth operation of "behind the scenes" processes. The CPU is compatible with 300 series motherboards, but it might require a BIOS update on z370 motherboards. It comes with included graphic, eliminating the need for additional expenses.
---
4. Intel Core i5-10400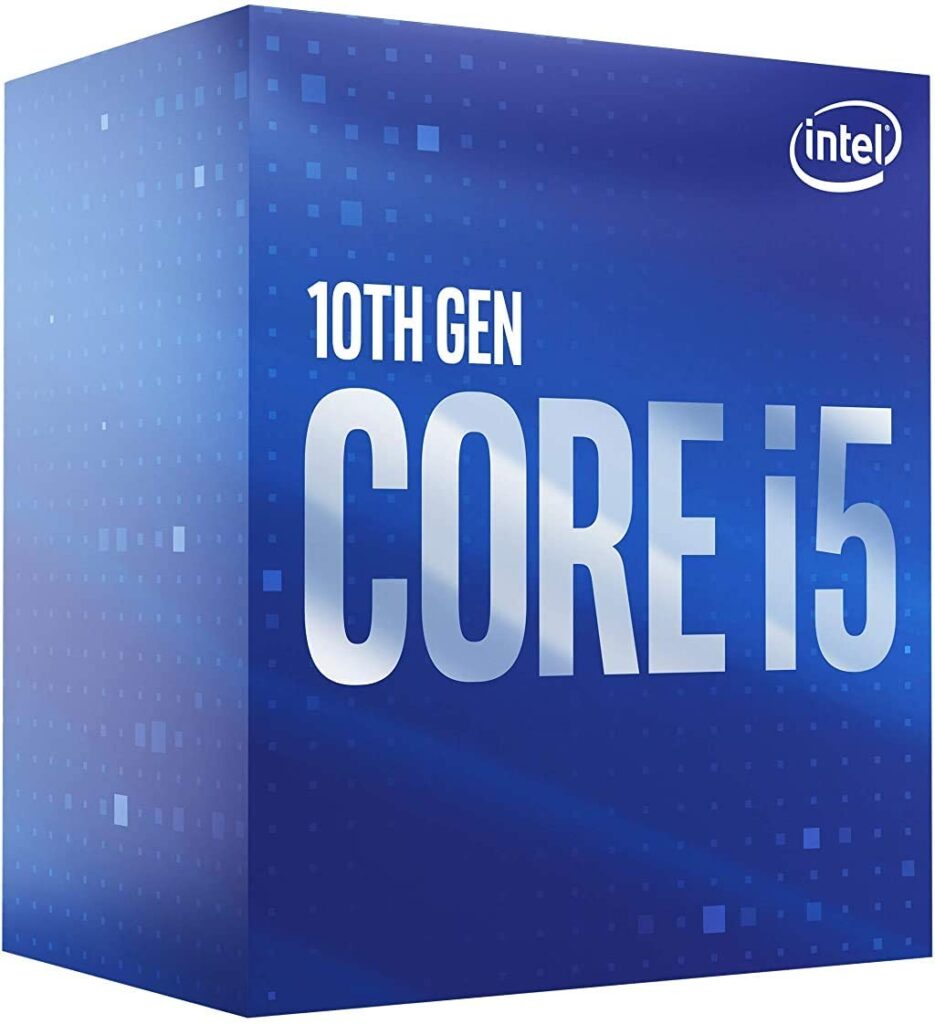 The 10th Gen intel CPU is the only one on this list with solid 5 stars in the "for gaming" category (4.8/5 Amazon stars overall) among the budget and mid-range CPUs for streaming and gaming.
Intel is a trusted processor manufacturer, and this model is great for productivity tasks and/or gaming. Read on to check i5-10400 out.
Who is it Best for?
Intel Core i5-10400 is an optimal CPU if you want to use it to stream your games because it is created with Intel Quick Sync Video technology.
Also, multitasking and performing behind-the-scenes functions will not be an issue for this streaming CPU – it will not show on your streams.
Key features
With a base clock speed of 2.9GHz, it is not the strongest out there, but Intel Turbo Boost technology allows reaching up to 4.3 GHz of maximum speed. Intel Hyper-Threading allows for efficient multitasking – necessary for performing simultaneous operations. The Quick Sync Video technology lets you create HD video content with high speed.
It comes with a bundled cooler that eliminates expenses and is compatible with Intel 400 series motherboards. Its 6 cores and 12 thread ensure that this streaming CPU will perform much faster than those of similar price and lower threads.
---
5. Intel Core i7-10700K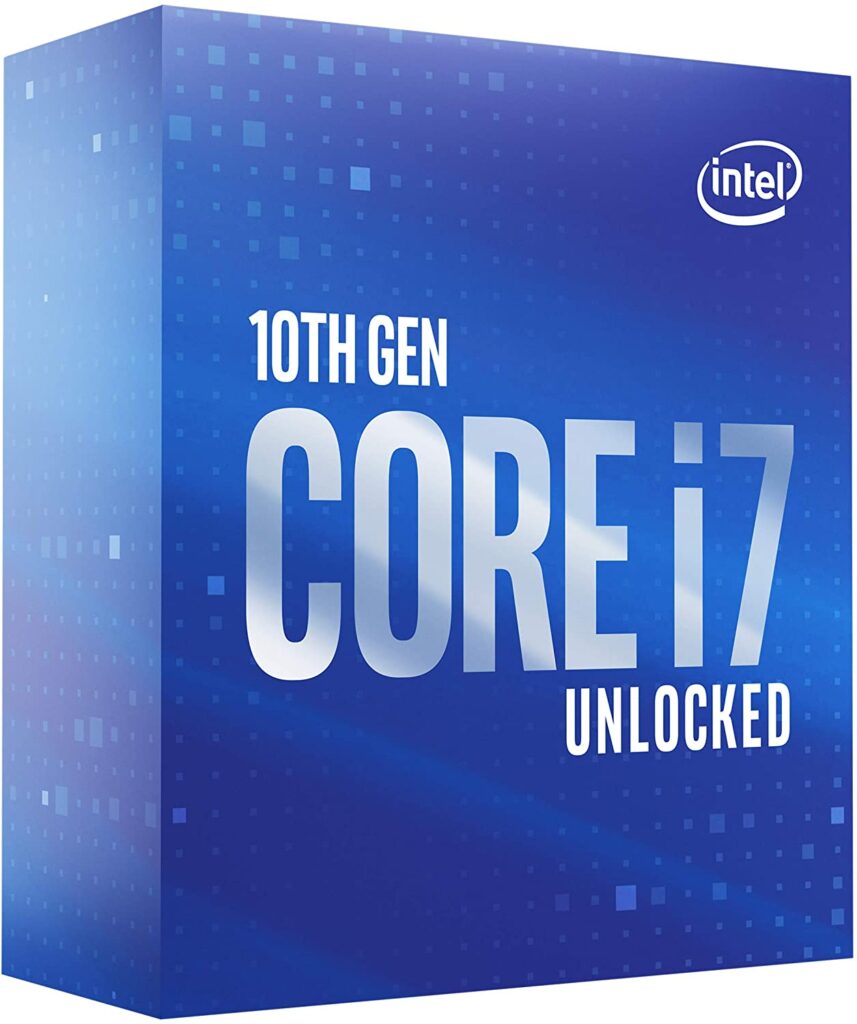 Intel Company constantly does the market research and tries to cater to the needs of its customers as well as compete with its top contenders. With i7-10700K Desktop Processor, they did a great job.
It has excellent specs and even better reviews – with great Amazon rating, and it is sure to give you your money's worth.
Who is it Best for?
Due to the specifications – 8 cores and 16 threads combined with 5.1 GHz clocking frequencies, the i7-10700K is a perfect choice for those in competitive gaming, content creation, and high-quality streaming.
It is the last generation CPU for gaming and streaming that is dedicated to experienced gamers that like to witch stream their gaming sessions. So if you are ready to set aside a decent sum and invest in a first-class streaming CPU, then this one is the one for you.
Key features
This streaming CPU's most essential features that enable it to work at high speeds and produce high-quality content are the 8 core /16 threads combination and the extremely high clock frequency. These will prevent your CPU from lagging and will enable t to silently and seamlessly perform "behind-the-scenes" operations that keep you going.
It has a 16 MB cache memory and two-channel memory support. It is constructed with Hyper-Threading Technology that allows for multitasking, and according to Intel, it has "new overclocking controls that offer additional performance tuning flexibility."
---
6. AMD Ryzen 5 3600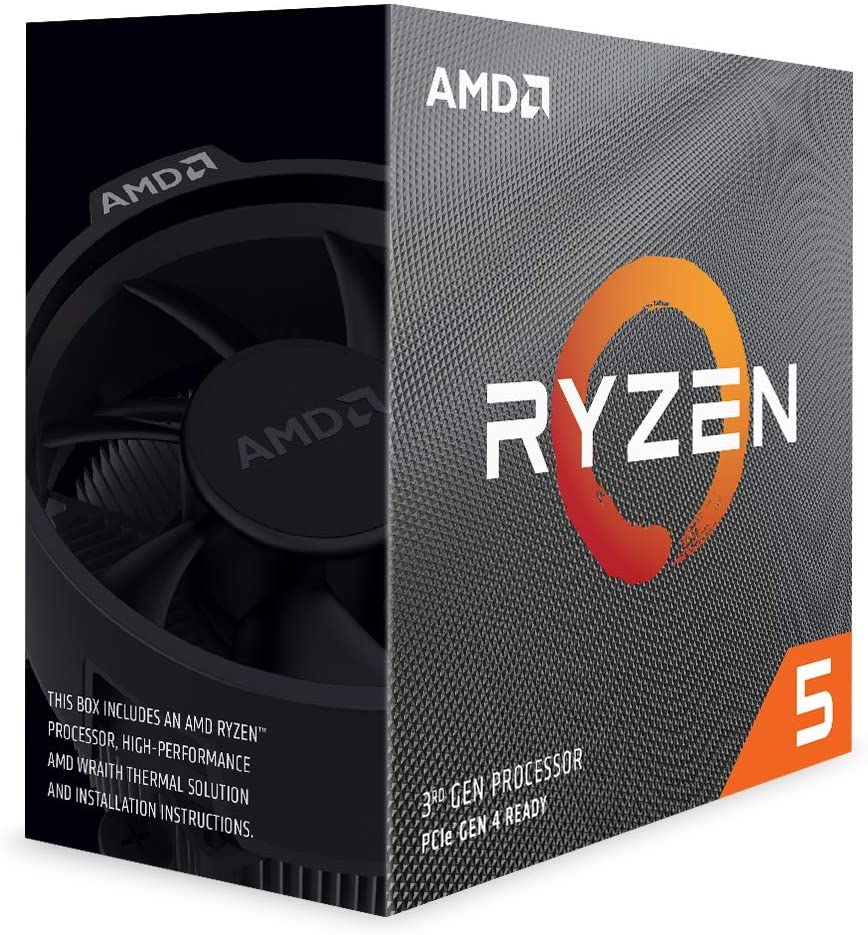 We have already mentioned AMD as one of the best and oldest processor manufacturers. Its generations and generations of processors, as well as high Amazon scores, give you the insurance that your money will be well spent.
The Ryzen 5 3600 model is one the best Twitch streaming CPUs out there, especially if you are on a budget. It gives excellent value for money, and, as AMD claims, "Everyone deserves a powerful processor."
Who is it Best for?
When you first get into the world of streaming and gaming, you are looking for the best CPU for twitch streaming. The AMD Ryzen 5 3600 is a great first choice, and here's why. It offers a sold streaming power and the desired high performance at a very affordable price. It is half of the cost of other streaming and gaming CPUs while still being at the top of the game.
If you are gaming, streaming, broadcasting, or doing other creative (or less so) work on your computer, then Ryzen 5 3600 is a safe choice, and with an excellent graphic card, it will perform almost as well as some of the best gaming CPUs here are.
Key features
The 6-core processor combined with 12 threads gives any gamer the minimum strength for optimal gaming and streaming experience. The AM4 platform is compatible with and supports PCIe on the majority of motherboards for streaming. The fundamental frequency it operates on is 3.6 GHz, yet if you find this too low for you, it can be boosted to 4.2 GHz. This means that it has a somewhat slower clock speed compared to others in its category, but it can be overclocked.
For safe overclocking, you might want to consider replacing its Wraith Stealth cooler with a liquid one. The Wraith Stealth cooler, although quiet, and Its System Memory Specification and type are DDR4 3200 with two memory channels that help with performance speed. The processor works at 100+ FPS and can deliver outstanding performance even with the most demanding of games.
---
7. AMD Ryzen 5 5600X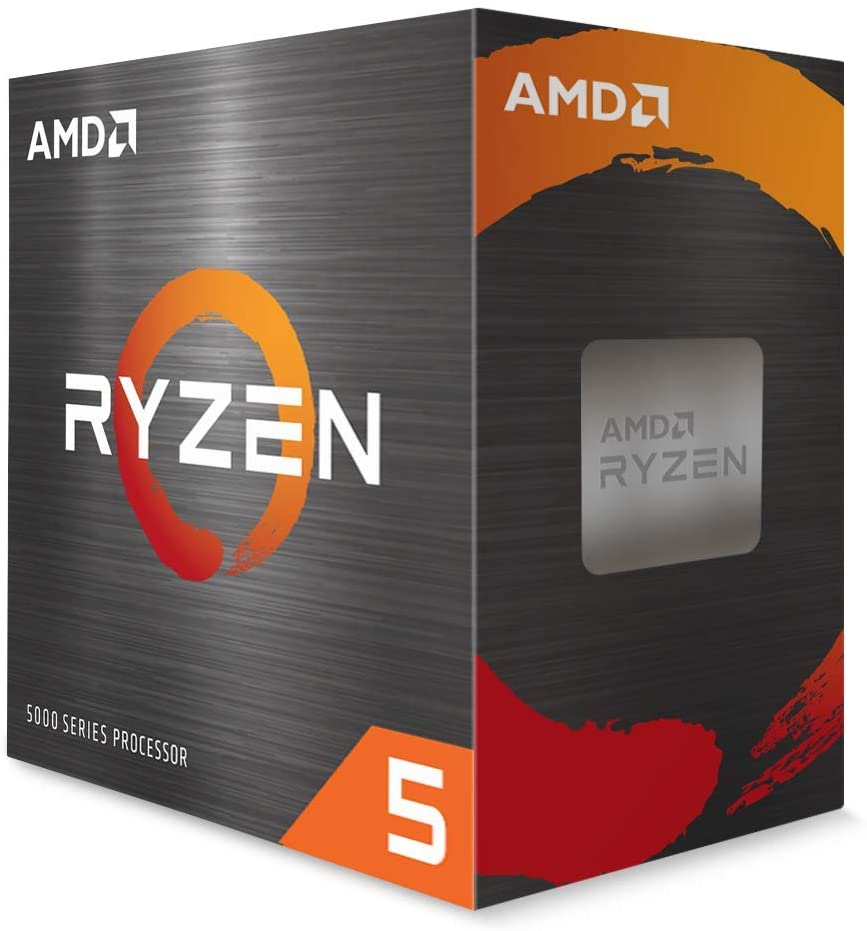 AMD, one of the top manufacturers of best processors for streaming, has another one in the race. It is the Ryzen 5 5600X. It belongs to the 5000 series that is advertised as suitable for "those who just want to game." It is among the most potent 6-core processors there are.
It is relatively pricier than other AMD processors, but it gives you back your money's worth, and with 4.8. out of 5 Amazon stars and great customer reviews, it is almost impossible to be disappointed with this product.
Who is it Best for?
If you are into anything from design, photography, science, or gaming and streaming, this 5000 series AMD processor is the one to beat. It supports all the latest and most demanding games and gives you the ability to simultaneously stream without the need for a second CPU simultaneously.
It is perfect for you if you want to upgrade from the more basic Streaming CPU to something more powerful but are not ready to take it all the way. This CPU for gaming and streaming is at the top of the mid-range ones
Key features
According to tests, it has the best power efficiency. In addition to that, it is the most potent 6 core processor and ensures high performance at 100+ FPS. It has strong performance, both single-threaded and multi-threaded. This model is the only one from the 5000 series with a bundled cooler, making it a lot easier for the CPU to cool down. This is especially important with overclocking. The base clock is 3.7 GHz, but it can be boosted up to 4.6 GHz.
It has System Memory SpecificationUp to 3200MHz System Memory Type DDR4 and the advanced Socket AM4 platform that is compatible with both 400 and 500 AMD motherboards (if it does not work, it needs a BIOS update ).
---
8. Intel Core i5-9400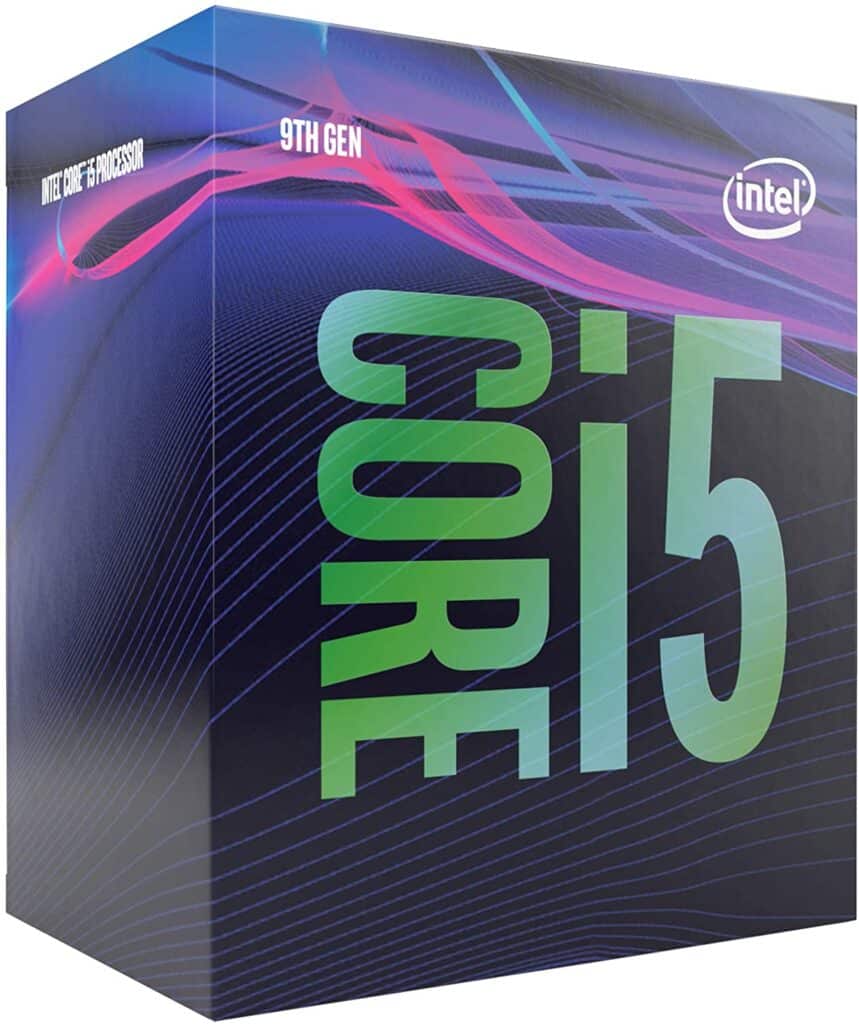 Intel is probably the most well-known CPU company in the world, and its CPUs and processors are great and the ones to compete with from their first generation.
The Intel Core i5-9400 is highly affordable but delivers solid performance while using productivity apps and watching 4k quality videos. It has got amazing reviews on Amazon and great value for money.
Who is it Best for?
Intel dubs this i5-9400 Desktop Processor as suitable for everyday use while delivering amazing performance. It is perfect for you if you are looking for a beginner CPU to start your gaming and streaming experience before you dare to invest in its more expensive cousins.
Due to its affordable price and the fact that it performs better than others in the same price range, it is a great budget option if you want to build your own streaming CPU.
Key features
With 6 cores and 6 threads, it gives you the minimum core strength for serious gaming, although the single-core performance is great. It has a slightly lower base clock frequency of only 2.9 GHz, but it can go up to 4.1 GHz for higher performance.
It has a 9 MB cache which is quite low comparing to other streaming CPUs on this list which can lower the streaming quality. As a plus, it has a reliable graphics card included. A cooling fan is also included, although it is not specified on the package. It will remain cool, especially if you are not overclocking.
---
9. AMD Ryzen 7 5800X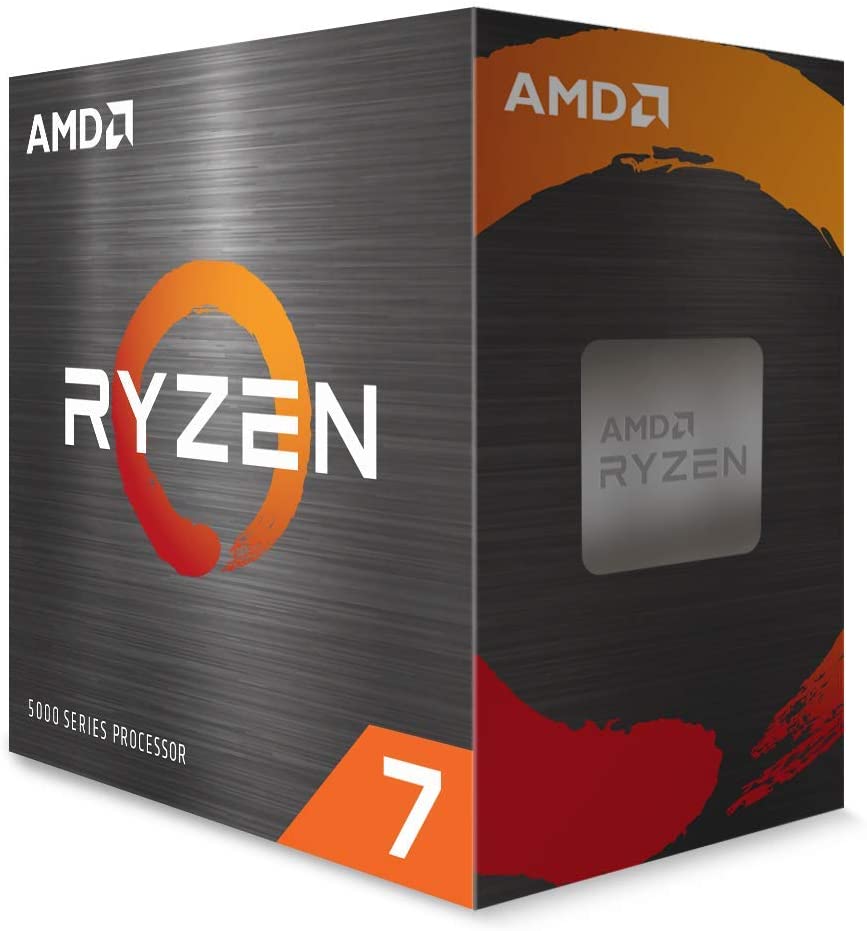 AMD claims that "AMD Ryzen™ 5000 Series desktop processors set the bar for gamers and artists alike." Great at 3D and video rendering and software compiling, the 5000 Series is the faster one there is.
If you want one of the best CPUs for streaming that belongs to the high-end CPUs, then Ryzen 7 5800X is the right choice. With a high Amazon rating, it is definitely worth checking out.
Who is it Best for?
Those of you who are gaming for yourself might consider this CPU a bit overpriced since the gaming performance is very close to the performance of the less expensive Ryzen 5 5600X. However, if you are looking for a great CPU for streaming, then Ryzen 7 5800X is an excellent choice since its encoding high-resolution video power is higher.
So, get your money's worth with this 5000 Series machine that will enable you to create high-quality streaming content that will set you apart from the competition.
Key features
The 8 core/16 thread gaming and streaming CPU is high-FPS gaming optimized (100+ FPS) regardless of the game's demands. Its base clock is 3.8 GHz which is excellent all in itself, but the CPU is unlocked for overclocking and can reach a maximum boost clock of up to 4.7 GHz. A 36 MB combined L2 and L3 Cache memory allows for high-resolution video encoding, which gives great quality streams.
Provided you use an easy BIOS update, the processor is compatible with both the 400 and 500 motherboards. Unfortunately, the Ryzen 7 5822X does not come with a bundled cooler, so the purchase of a separate cooler which is necessary, adds to the price and makes this one of the most expensive streaming CPUs on the market.
---
What to Consider when Buying a CPU for Streaming
Buying Guide
Your Twitch streaming quality will depend on various things – from your streaming CPU, headphones, internet connection to lightning.
We have listed 9 of the best CPUs for streaming and gaming, and here is what you should consider if you want to continue your research or decide on one of our choices.
1. Purpose
This one is kind of a given, but we feel obligated to mention it. All of these CPUs are great and at the top of their class; however, when you are choosing to buy one, you want to buy the one that will fit your needs.
If you are going to use your CPU only for gaming purposes, you might not need as much Cache or encoding power as when you are looking for a CPU that will be your biggest ally if what you do is streaming the games you play (or other content).
2. Processor Strength
A weaker processor will most likely not be up to the task of supporting the demands of online gaming and simultaneously streaming the games (on Twitch or YouTube, for example).
So, here are a few things that you need to consider when it comes to the processor strength
Clock Frequency
The higher the clock frequency, measured in GHz, the better, i.e., stronger your processor is. It measures the number of signals that can work their way through the processor in one second. Some processors allow "overclocking," which means that the processor runs at a higher clock speed than originally designed.
Cores
Multi-core processors have separate cores that process different kinds of information simultaneously. The fact that the information is divided between two, four or more cores makes the processor faster. It will not slow down the CPU, as can be the case with single-core processors that get clogged with information—more cores-stronger processor.
Some streaming CPUs work better on a single-core benchmark, while others are great at multitasking with multi-cores.
Cache
Cache memory lets the processor access information and instructions faster than when you are not using it. The bigger the Cache memory of your CPU, the faster it will be.
3. Cooling
Cooling systems are very important when it comes to streaming since the process is demanding. Cooling is even more critical when your processor is overclocking.
Adequate cooling protects your CPU from overheating and crashing in the middle of a gaming or streaming session.
Some processors come with a bundled cooler, while others require separate purchases.
Conclusion
Which would be the best CPU for streaming and gaming to meet your needs, and budget is up to you to decide, but our opinion is that AMD Ryzen 9 3900X is the most optimal choice with i7-10700K as a close second.
We haven't made this decision lightly, and we stand behind our verdict.
If you disagree with us, we hope that this text would at least point you in the right direction of what you need to find to suit your needs the best way possible.
Frequently Asked Questions
Here is a list of a few of the frequently asked questions when it comes to a good CPU for streaming.
What is a good CPU percentage for streaming?
CPU percentage relates to the processor usage percentage during gaming or streaming. You can stream even at 100%, but your streams will lag, and the stream quality would be lower.
So, for optimum streaming quality, keep your CPU percentage at 70% or under if it is possible.
Do I need 2 PCs for streaming?
The simple and easy answer is no, you do not need two CPUs for streaming. The reason why some gaming streamers use two CPUs is to help the computer withstand the heavy load of streaming.
They use one CPU for gaming and another for broadcasting, and this ensures a better quality of the video, and the CPU will remain as cool as possible.
How many cores do you need for streaming?
Most processors are two or four processors. The minimum for gaming and Twitch streaming is 4, but 6 or more cores are preferable.
We are sorry that this post was not useful for you!
Let us improve this post!
Tell us how we can improve this post?