| | |
| --- | --- |
| Full name: Benjy David Fish | Education: Homeschooled |
| Date of birth: April 2, 2004 | Height: 5′ 11″ / 180cm |
| Place of birth: Surrey, United Kingdom | Weight: 176lb / 80 kg |
| Current residence: Surrey, United Kingdom | Estimated net worth: $1 million |
Who Is Benjyfishy?
About, History, and Net Worth
Benjyfishy is a popular gaming Youtuber who has managed to attract many video game lovers and create original and unique content.
This fantastic 17-year-old was able to build a serious career in a very short time, and people love him because of his honesty and humor.
If you want to find out more about Benjyfishy net worth, his career, and personal life, you are in the right place!
What Is Benjyfishy Net Worth?
Benjyfishy has an estimated net worth of around 1 million dollars, which is incredible for a 17-year-old who has just gotten into the gaming industry.
Benjy is a Twitch streamer, has his own Youtube channel, and is a professional Fortnite player who has participated in dozen of tournaments.
These are some of the ways Benjy can make money at such a young age.
Twitch channel
Benjyfishy has a Twitch channel with more than 3.5 million followers, and he started streaming intensely during lockdown 2020.
He was able to gain a large number of followers in a really short period, mainly because he was so young and still had so many excellent gaming skills.
Since he has a large number of Twitch subscribers, he can earn up to 30 000 dollars this way.
He also has, on average 16, 000 viewers on his Twitch streams, so his gameplay videos are a great place for marketing different things.
Benjy can earn around 10 000 dollars from ads, and he streams for a few hours every single day so that he can add plenty of different ads.
While donations and bits are a regular way for Twitch streamers to earn some more money, this information is not visible on Benjy's Twitch channel, so we can only guess how many donations he gets for every stream.
However, he gets at least 1000 dollars in donations because he has such a vast and loyal fanbase.
He is also an exclusive Twitch content creator
Youtube channel
Benjyfishy also has a great Youtube channel with almost 2 million followers, and he uses it as a place to upload stream highlights, VODs, and fun gaming content.
He gets 2 million views per month on average, so people watch videos on his channel regularly, which makes Youtube a great income source for him.
His Youtube Adsense revenue is at least 7000 dollars per month, but depending on the situation and how many videos he has uploaded, it can be much higher, mainly because he also earns money by adding different products to his videos.
Benjyfishys channel is managed by Rockit, so all of the best moments will get automatically updated.
Fortnite tournaments
Benjyfishy is also an important figure in Esports, and he has made a lot of money by participating in different tournaments.
His talent for Fortnite: Battle royale was recognized by sponsors early on, and his performance on the Fornite world cup proved he is one of the top players in the industry.
He was the first part of Clairvoyance Esports, and during his time in this agency, he participated in more than 80 tournaments, and he has won 18 of those.
In the European region, he has qualified 4 times and has won several competitions until now.
Shortly after, he became a member of the NRG esports Fortnite team, so he earns money from this company too.
Overall, since 2019, Benjy has been able to learn more than 555 000 dollars in prizes only, and Benjyfishy makes around 20 000 dollars per month this way.
Brand deals
Once he started participating in different tournaments and appearing on the Fortnite world cup, Benjyfishy gained recognition on the internet, and money started flowing to him from different income sources, including different brands and sponsorships.
He has collaborated with Turtle Beach, Roccat, Purple, Levis, The General Insurance, and Hot Pockets, so his brand deals are pretty big.
Benjyfishy can make around 2000 dollars per month, but with his popularity growing, he will have many more sponsorships.
How Did Benjyfishy Start Streaming?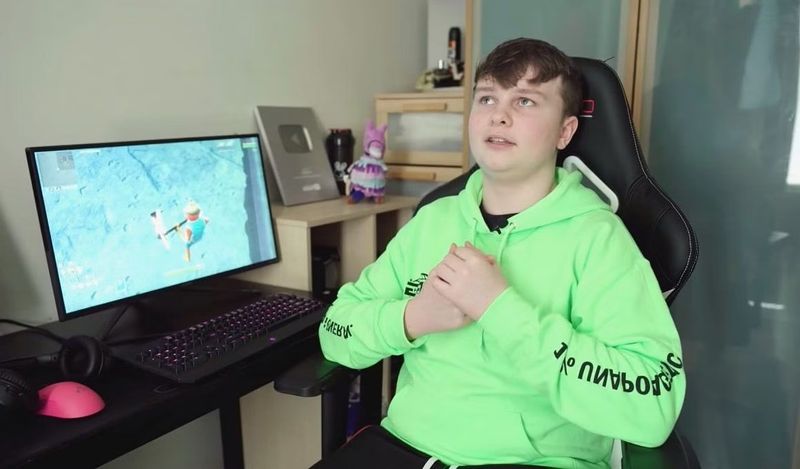 Benjyfishy started playing games when he was just a kid, and he got introduced to the world of video games by his older brother.
He started playing different games on Playstation and became a huge fan of Guitar Hero and Call of Duty when he was 7 years old.
Benjy was spending more and more time on his consoles, and his dream was to become a professional player who could do this all day long.
He was also a huge fan of bowling, but since he broke his leg at a young age, he was forced to stop playing it.
In 2018, he started playing Fortnite all the time, and when he discovered people earn money by streaming their gameplay, he decided to do it too.
He met MrSavage, and his gaming career skyrocketed, leading to him becoming one of the Twitch streamers people enjoy watching and making his Twitch channels a great source of income.
Once he started professional gaming, he gathered more than a million subscribers on his Twitch subs and became one of the most popular people in the gaming category.
He started winning tournaments and competing for NRG Esports, started getting sponsorship deals, and making money by streaming on Twitch.
Benjy David became a massive star, and he was just 16, which seemed to be the reason why viewers loved him so much.
Money Benjyfishy makes becomes huge, so he will continue his Twitch live streams and Fortnite competitions in the future.
What Is BenjyFishy Like?
This English Twitch streamer became extremely popular by streaming his games and telling his commentary on different players.
His career took off at a very young age, and although he didn't have a clear idea of what he should be doing, his family supported him to continue streaming on Twitch and get homeschooled.
This has allowed him to explore everything the gaming industry has to offer while still being a teenager figuring out what should be the right next move for him.
He has attracted people with his warm smile and sincere engagement so that he will have a lot of loyal fans in the future too.