What used to be a small platform for you to post pictures and videos of your everyday life has become an online journal of your feelings, thoughts, and everyday activities.
You feel like you can express yourself the best on Instagram, but you don't feel comfortable sharing your life with all your followers.
This could be your family members, people from work, or anything in between.
---
What does CF mean on Instagram?
CF stands for Close Friends. This feature allows you to share your Instagram stories with picked accounts, and keep them hidden from the rest.
---
Scroll down to find out how to enable the Close Friends feature and why you should use it.
What Does CF Mean on Instagram?
Many people are wondering what the meaning of CF is.
CF or Close friends feature on Instagram is a limited audience that you select and it's a feature that enables you to share content with people you want without the fear of anybody else seeing it.
This feature enables you to choose Instagram followers and Instagram accounts you want to share your content with.
This private story setting enables you to make your close friends list and to mark Instagram users who can see your Instagram stories.
This means you can share exclusive content with your closest friends and inner circle directly on Instagram.
Below you can find more information on how to share your most intimate content with the most exclusive people and close friends through the Instagram app.
Activating the Close Friend Feature
The close friends feature is currently available only for Instagram stories.
There are two ways to activate this feature:
Selecting CF through profile settings
Go to your profile,
Click on the three lines in the upper right corner of your screen,
Click on the option "Close friends" from the drop-down menu.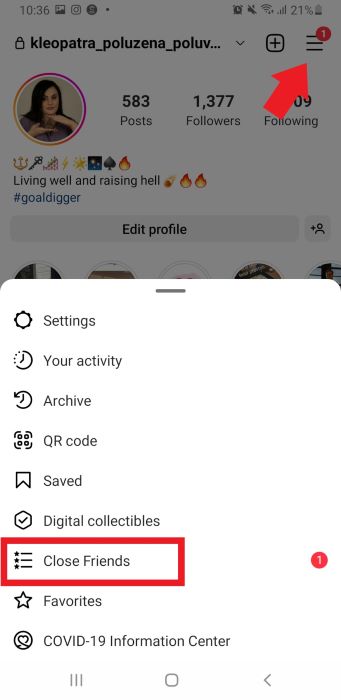 Type in usernames on manually pick friends you want to include in your close friends list.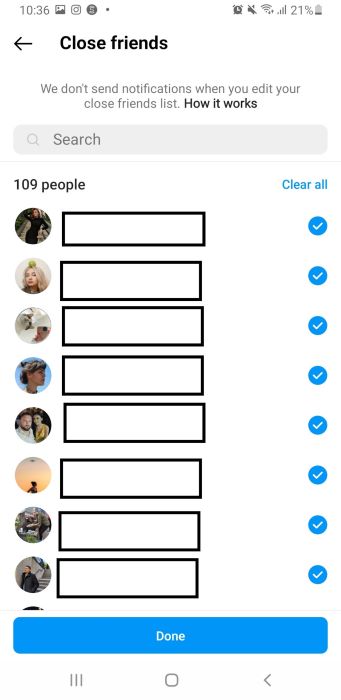 Click Done.
Selecting CF when posting a story.
Another way to select close friends is to do it directly while posting a story.
Here is how you can do that:
Go to the Instagram story,
Select a picture or a video you want to post,
Click the arrow in the bottom right corner.
When a pop-up window opens, click on "Close friends."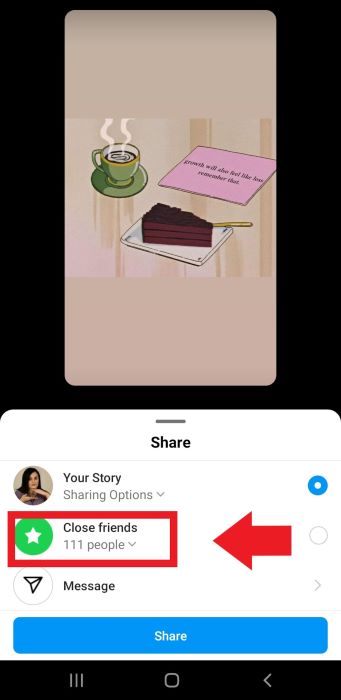 Type in usernames on manually pick friends you want to include in your close friends list.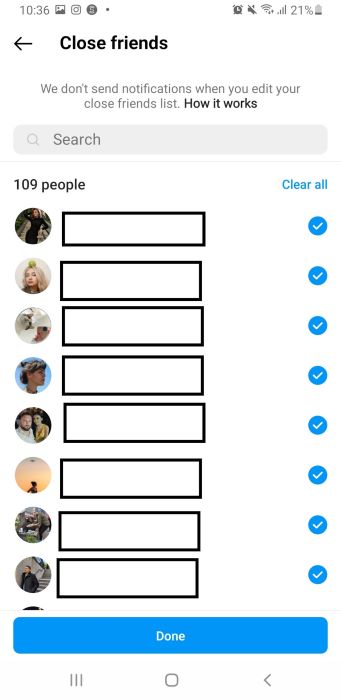 Post a story.
You can also use both of these ways to add or remove people from your close friends list at any moment and you can always change your list when you get new followers.
How Do You Post on Instagram CF?
When you have activated the feature and made your close friends list, all you need to do is select share with close friends when posting a story.
Make sure that you have chosen your close friends before this and then just click on the green icon when posting a story.
4 Reasons to Use the Close Friend Feature
1. It's easier than sending multiple DMs
Sometimes, you just want to share specific content with your closest friends and it's easier just to post it on a story than to send it to each one of them individually.
2. You can avoid unwanted attention
Sometimes you just have a picture in which you look great, but you're afraid to post it because of many unwanted comments, opinions, or judgments. This way you can be sure that only the right audience will see it.
3. You can remain professional
In some situations, it's impossible to avoid people from work following you on social media.
Of course, you want to remain professional and don't like the thought of them having an insight into some private parts of your life.
This is when the close friends feature comes in handy. This feature helps you to keep private and personal parts of your life separate.
4. It's faster than hiding stories from people one by one
Even if you made an Instagram account private, sometimes you would like to share a story that wouldn't be appropriate for all people in your followers' list to see.
Instead of picking them one by one, with close friends list, you can share your content with the selected group of people without much hassle.
Conclusion
Close friends list makes life much easier.
You choose what to share, when, and with whom. This is particularly important for people who need to separate their private and professional life or just want to share different content with different groups of people.
Create your list and enjoy having a secret side of your Instagram story.
FAQ
What does CF mean on social media?
CF is an abbreviation for Close Friends which is a feature that enables you to share certain content with a specific group of people without your other followers seeing it.
What does CF mean on Snapchat?
CF doesn't mean anything on Snapchat as it means Close Friends and Snapchat has a similar feature, but it's called private stories and its abbreviation is PS.
This Snapchat feature is different from Instagram CF because on Snapchat you have to first select a private story before adding content, and then add friends that can see that story every time, while on Instagram you make your close friends list once and can always share with only those people.
What CFS means on Instagram?
CFS means Close Friends Stories and is the same as CF (Close Friends), an Instagram feature that allows users to select members to be a part of their private stories.
Can my followers see that they are on my Close Friends list?
Stories shared with Close Friends have a special mark on them so you can know which ones you shared regularly and which ones to CF only.
Also, your close friends will see this and will know that they are on your Close Friend list.
You will also know that you're on someone's CF list when you see a green mark at the top of their story.