Like many websites, the Twitch website has introduced a dark theme to reduce eye strain and make it easier on the eyes of Twitch users, especially during the night. For that reason, it is not surprising that Twitch dark mode is increasingly gaining popularity.
---
Whether you are using the Twitch app on your android phone or the Twitch website on web browsers like Google Chrome or Edge, enabling the dark mode setting is quite simple. Here is how!
How to Enable Twitch Dark Mode via Browser?
* Go to Twitch in your preferred browser;
* Click on your profile avatar and enable Dark Mode;
How to Enable Twitch Dark Mode on Mobile Device?
* In your Twitch app, tab the user profile icon;
* Click Account Settings > Preferences;
* Enable Dark Mode and enjoy!
---
This brief guide will show you how to enable or disable Twitch dark mode easily, in just a few steps. Let's start!
How to Enable Twitch Dark Mode using Chrome or Firefox
To activate Twitch dark mode in Web browsers like Google Chrome, Edge, or Firefox, you need to do the following steps: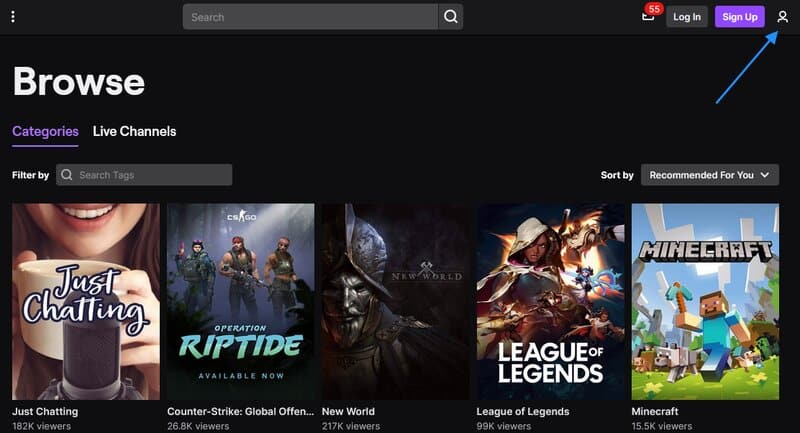 The next time you open Twitch in your browser, it will be in the night mode so you won't have to select that option again.
To disable dark mode on Twitch, simply click on the "Dark Theme" again and the darker theme will disappear.
You can enable or disable darker themes on other recommended channels too on your browser. It is usually as simple as the procedure in Twitch, but if you encounter any difficulties, search for a guide on your browser.
How to Enable Twitch Dark Mode on Your Mobile Device
You can also use Twitch on your mobile device. Follow the same steps to enable the night mode: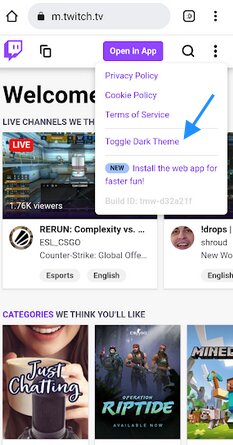 To disable dark mode on Twitch, simply click on "Toggle Light Theme".
How to Enable Twitch Dark Mode on Android Twitch Mobile App
Using the Twitch website on mobile phones and Web browsers is the usual way to watch Twitch, but you can also install the Twitch mobile app if you prefer. Enabling the dark theme, in this case, is also a piece of cake. Follow these easy steps to enable the dark mode setting:
To disable dark mode, simply click on the same button again.
Conclusion
Dark mode makes everyone's life easier, especially during late-night Twitch watch parties. No matter if you are using Twitch on your phone or PC (via Chrome, Edge, or Firefox, or a different browser), dark mode makes the whole UI more appealing to the eyes and saves battery life, too.
Frequently Asked Questions
Does Twitch app have dark mode?
Dark mode on Twitch was introduced in 2017 and since then it has gained a lot of popularity in the Twitch community, among many users, live streamers, and viewers.
Read the steps above to learn how to enable dark mode in Twitch. There are other browser extensions to add to Twitch such as better Twitch TV and Twitch Live.
What is Twitch dark mode stream?
A dark mode is an option available on various websites including Twitch. When you switch from light to dark mode, the whole UI and the background of the app will be in dark black color with grey and purple buttons. Disable easily by tapping on the same option you have previously clicked one more time.
What colors appear in Twitch dark mode settings?
The background color is black while buttons can be light grey or purple depending on whether you use the Twitch website or app. In case you are wondering, you cannot change Twitch colors according to your preferences like when creating websites yourself. The colors are fixed, so you can only choose between light and dark mode.
What operating systems does Twitch support?
You can use Twitch on your Mac, PC, Android, iOS, Fire TV, and even gaming consoles like PlayStation 4. To enable or disable the dark mode, always go to the settings profile and switch the mode as you like, be that on your browser or the app itself.