---
Here is how to stream on Discord in three steps:
Step 1: Create a new server
Click on the "+" icon to create a new server. Enter the name of your server and choose an image.
Step 2: Connect your game
Click on the clog icon, select Game activity, and then "Add." Now you can select the game.

Discord can automatically recognize the game, so all you need to do is click "Go Live."
Step 3: Start streaming
When you click to go live, you'll be able to set the frame, resolution, sound settings, and what is displayed. Tweak the settings as you like, and start streaming.
---
Discord is definitely the most popular streaming service on the market that has attracted millions of users with its efficiency and great quality.
Starting off the streaming process on Discord can come with many misunderstandings, especially if you have never streamed before.
However, learning how to stream in Discord app doesn't have to be too much of a challenge if you follow these simple steps.
Here you will learn how to set up a streaming account on Discord even if you never did it before so make sure you read carefully!
Post 5 of 5 in the Discord Streaming
How to Stream on Discord
1. Open the Discord App on Your Computer
If you want to start using Discord for streaming you will have to download their original app through Chrome or a similar browser and you should know that the Discord app is available to all Microsoft Windows computers and laptops, but also to Mac devices.
However, make sure you download the Discord Window Client app because this is the only one that is capable of streaming.
In case you don't already have a Discord account, you can easily create it through the app and get access to all of its features in a matter of just a few minutes.
All you have to do is carefully follow the instructions once you open the app and agree to all Terms and conditions of Discord.
Once your app is downloaded it will appear on your Windows desktop and you will not need to use the web browser in order to access it.
The "How to stream on Discord" guide you will get when you download the app is pretty thorough and I am sure you will be able to successfully install it by following these instructions.
2. Create or Enter The Server
Once you have created your profile or logged in to it, open the menu and go far left and click "Create my own" or "Enter".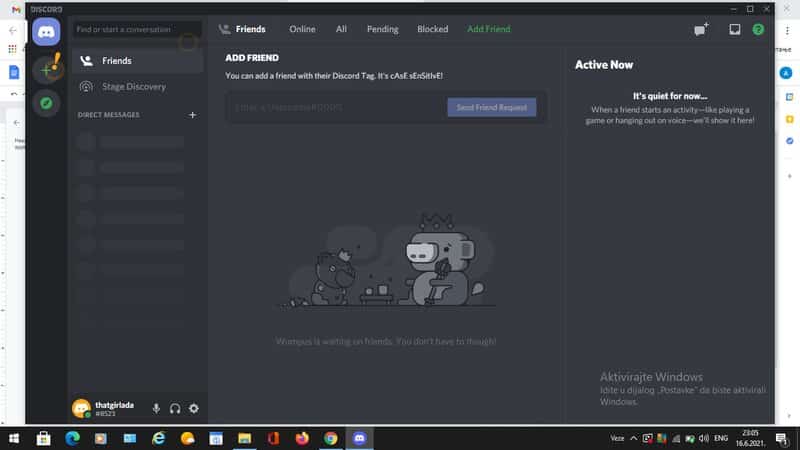 Here you will be able to choose whether you want to create your own Discord server, or whether you want to join an existing one.
If you have decided to create your own server you will have to come up with a name for it and upload an image that will serve as its icon.
Once you have uploaded all of these things, go to the bottom left corner and click "Create".
You will have to wait for a few seconds for your server to get approved, and when this process finishes, you will be able to find it in your menu, on the far left side.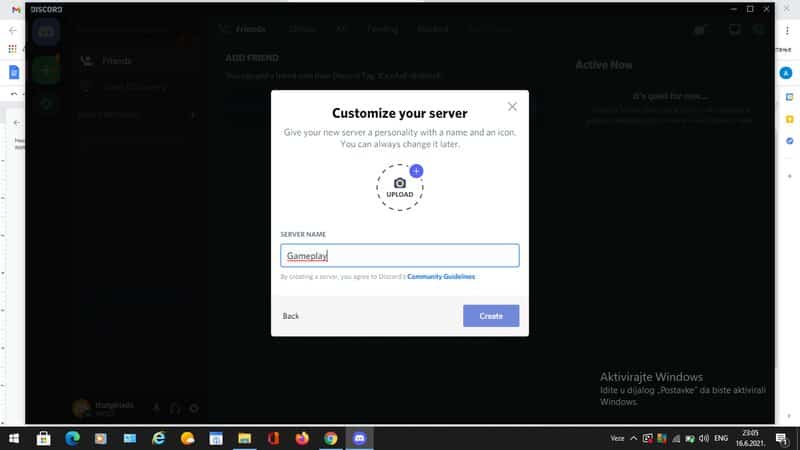 When your server is created you can send invites to your friends to join you on here, add additional text channels and voice chats in order to communicate with other streamers.
3. Start Streaming Your Game
Streaming a game on Discord will not take you more than 10 seconds because the app has integrated software that recognizes almost every single game that is available on the market these days.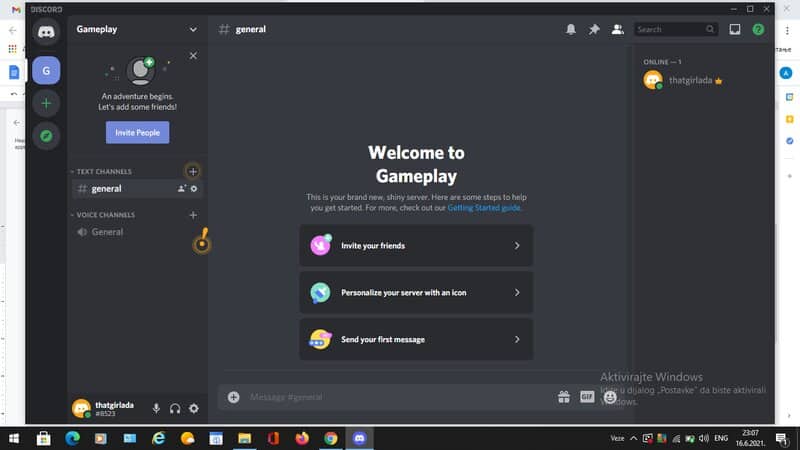 Open the Discord and enter the server in which you intend to be streaming.
If the game is already recognized by Discord you will only have to click on the "Go Live" button in the bottom left corner next to your username.
However, if Discord didn't recognize your game, you will have to enter the "Go Live" menu and choose the "Change" button.
Once you have started streaming you will also be able to choose your frame rate and resolution, but these are some things that can depend on your Discord subscription too.
You can also choose whether you want to share your whole screen and sound, and these are some things that can be regulated by clicking on the "Sound" or "Screen" button in your bottom left corner.
How to Add a Game to Discord?
In case your game is not recognized by Discord automatically, you can add it manually through the Setting menu.
Click on the cog icon in your bottom right corner and access the drop-down menu which will lead you to the Setting menu.
On the left, you will see the "Game activity" tab and the "Add" option.
Here you will be able to select your preferred game, confirm it, and come back to the original menu and click on the " Go live button".
Once your stream has started, you will see a small preview of the stream in the Discord window.
By clicking on this window you will also be able to change the quality and the frame of your stream easily.
How to Screen Share with Discord?
Discord can be used for screen sharing many applications and you don't necessarily need to be a gamer in order to use this platform.
If you want to start sharing apps that are not related to gaming or you just want to share your entire screen with other users, you can join whichever voice channel you find interesting.
Once you establish the voice connection with Discord, you will see the option for a video call too.
You will have to choose the "Video" button to join the server and then the "Screen" button that will allow you to start sharing your screen.
When you have clicked the "Screen" button a pop-up window will appear and it will allow you to choose the app that you will be sharing.
This is also where you will be required to choose which screen you will sharing, in case you have more of them.
Once you have completed all of these steps you can start inviting other people to your server by clicking on the "General channel".
However, the only people that will be able to join stream are the ones you have invited or have already participated in your stream before.
Stopping the Discord stream is also very easy and all you will need to do is click the round red "Disconnect" button in the lower-left corner.
How to Stream on Discord from an Apple Device?
Some people think that there are not stream settings that will allow you to use Discord from a Mac device, but in reality, you can use it on these devices the same way you would on other computers.
All you have to do is download the Discord app for Mac OS and follow the simple installation instructions.

You can start Discord streaming both from your Mac laptop or computer and from your iPhone device.
Streaming on Discord is the same for all devices so you can look up our "How to stream on Discord" section above.
However, if you are starting a Discord live stream from your iPhone, you will have to follow a few more steps.
Once you have clicked on the "Go live" button you will have to tap the General voice channel and confirm this action.
Now, you will have to allow Discord to access your microphone, camera, and speaker and you will be notified every time they are active.
When you have finished with this, you will see the General voice call and if you want to enable it, you will simply have to click on the camera sign in your bottom left corner.
How to Live Stream on Discord from an Android Device?
You can also stream to Discord through your Android smartphone, no matter how old it may be, all you will need is to download the app for the Google Play store.

However, when you are streaming from an Android device you will have to share your full screen, not only a part of it.
When you join the Voice channel, at the bottom of your screen you will see an icon that looks like a smartphone with an arrow.
Once you click on it and choose the "Start now" option you will be able to start sharing your screen with other streamers.
If you have started streaming, you should be aware that people will see everything you are doing on your phone and also the notifications you are getting, so make sure all of this is off and you can focus on your game or the app you are streaming.
How to Connect Twitch to Discord?
Most Twitch uses choose Discord as their preferred streaming app because it can easily be downloaded to all devices and it is very fast and reliable.
Connecting your Twitch account to Discord is pretty easy, especially if you are here for game streaming.
All you will have to do is create a Discord profile and go to the Settings menu where you will select the "Selections" button.
Once you click on it, you will see the Twitch icon and you will receive a thorough explanation that will help you connect your Twitch profiles to Discord one.
What Are Some Things You Should Know Before You Start Streaming?
Even though streaming on Discord is pretty easy once you go through the whole process, there are some things you should know before you are even taught how to stream with Discord.
There are different versions of Discord available on the market and depending on the option you choose for yourself you will get access to streaming of different quality.
The free version of Discord support only 480p and 720p resolutions, and in order to stream in higher ones you will have to purchase a membership.
Discord Nitro is the paid version of Discord and for 10 dollars per month, it will provide you with amazing stream quality at the resolution of 1080p and higher.
Depending on your version of Discord you will also see a difference in your frame rate.
The free version can provide you with only 15 to 30 frames per second, while the Discord Nitro subscribers will get 60 fps.
What Can I Actually Stream on Discord?
People use Discord for streaming all sorts of things, and while some of them have a loyal audience with whom they share tutorials or games, others use this in order to connect with their friends.
Live streaming can be done only for groups of 2 or 3 people and you can use it to watch Netflix together with your friends.
You do not even have to be streaming anything, you can just turn on your webcam and start a video chat with other users on your stream.
However, most users use it to stream games and Discord game streaming is something that helps plenty of people earn a living so you can share your gameplay with others and earn some money too.
We are sorry that this post was not useful for you!
Let us improve this post!
Tell us how we can improve this post?